This easy avocado alfredo is a twist on the classic but doesn't use any dairy. To lighten things up, even more, we're using zucchini noodles instead of pasta! This post is sponsored by Almond Breeze!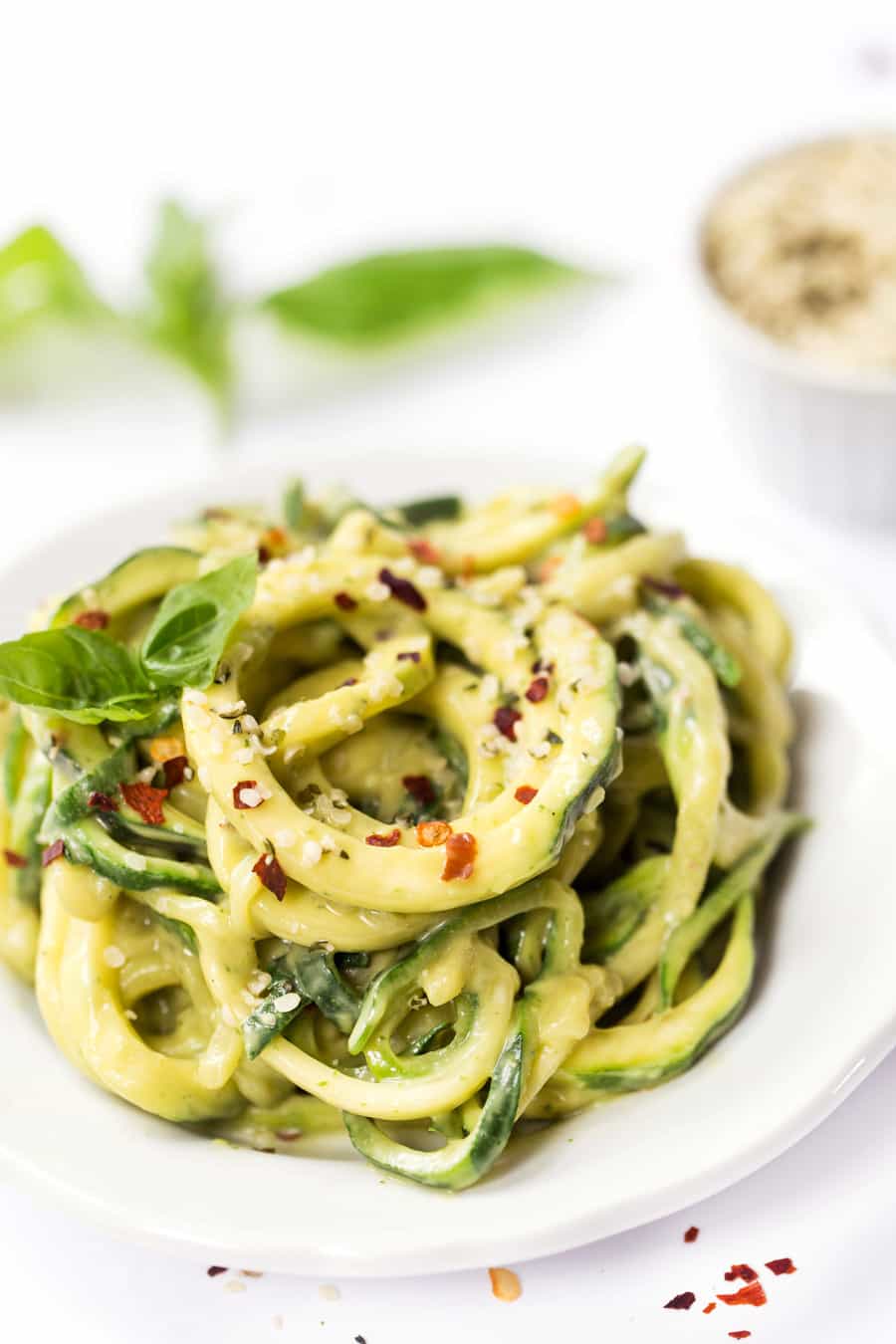 Is there anything avocado can't do? We can turn it into the best housemade guacamole, we can make healthy vegan mousse out of it, we can make the creamiest chocolate smoothie and now…pasta sauce!?
Yes, today we are making avocado alfredo and showcasing this superfood in all its glory.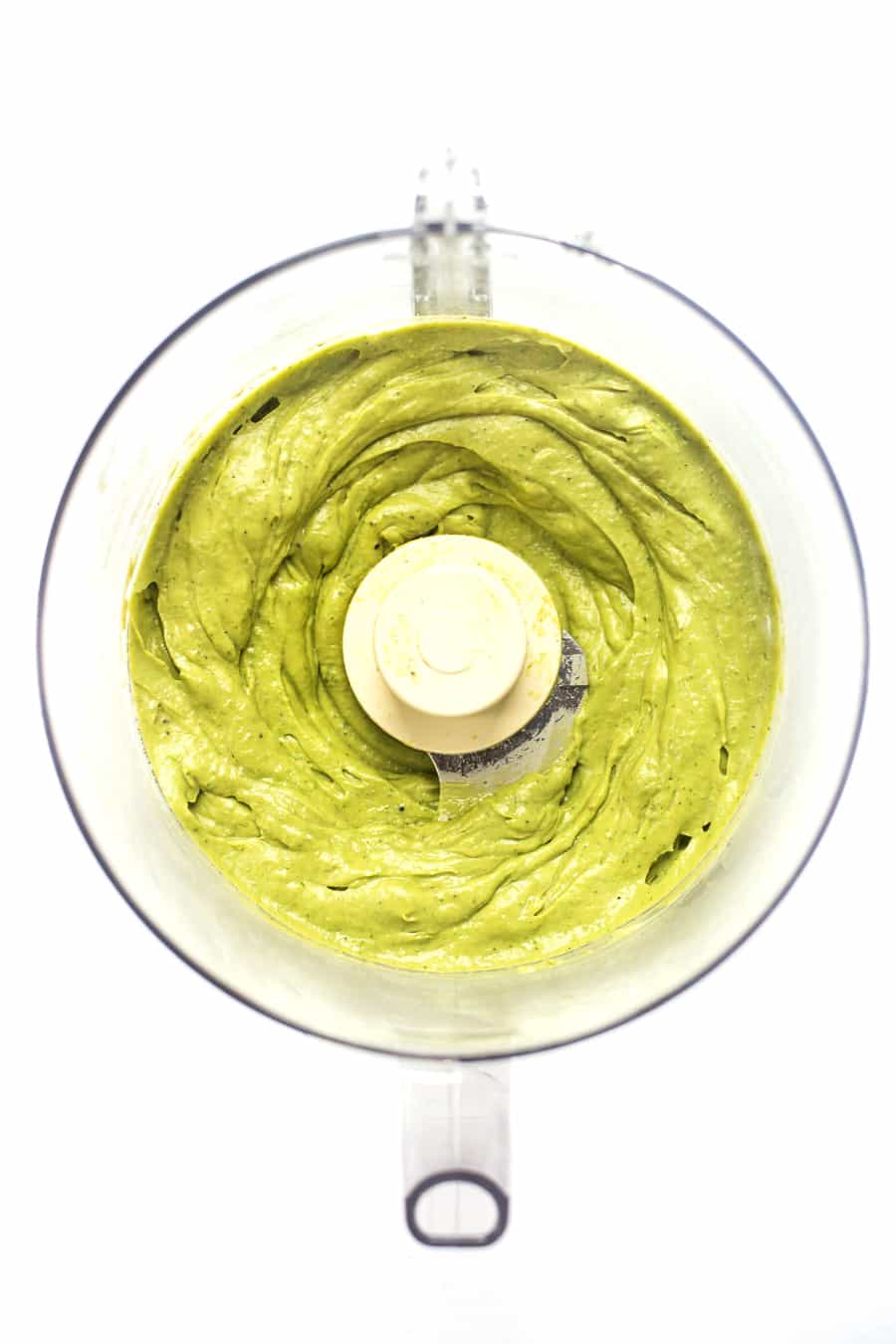 Avocado has been a staple in my diet ever since I was a baby. It was my favorite food then, and it still is today. You will never find my counter without an avocado sitting on it.
But why are avocados so amazing?
For years, avocados got kind of a bad rap because they're high in fat. The diet industry made us scared of fats, so we looked at avocados more as a treat rather than a staple. But nowadays, there are countless studies that show how incredible avocados are for our health.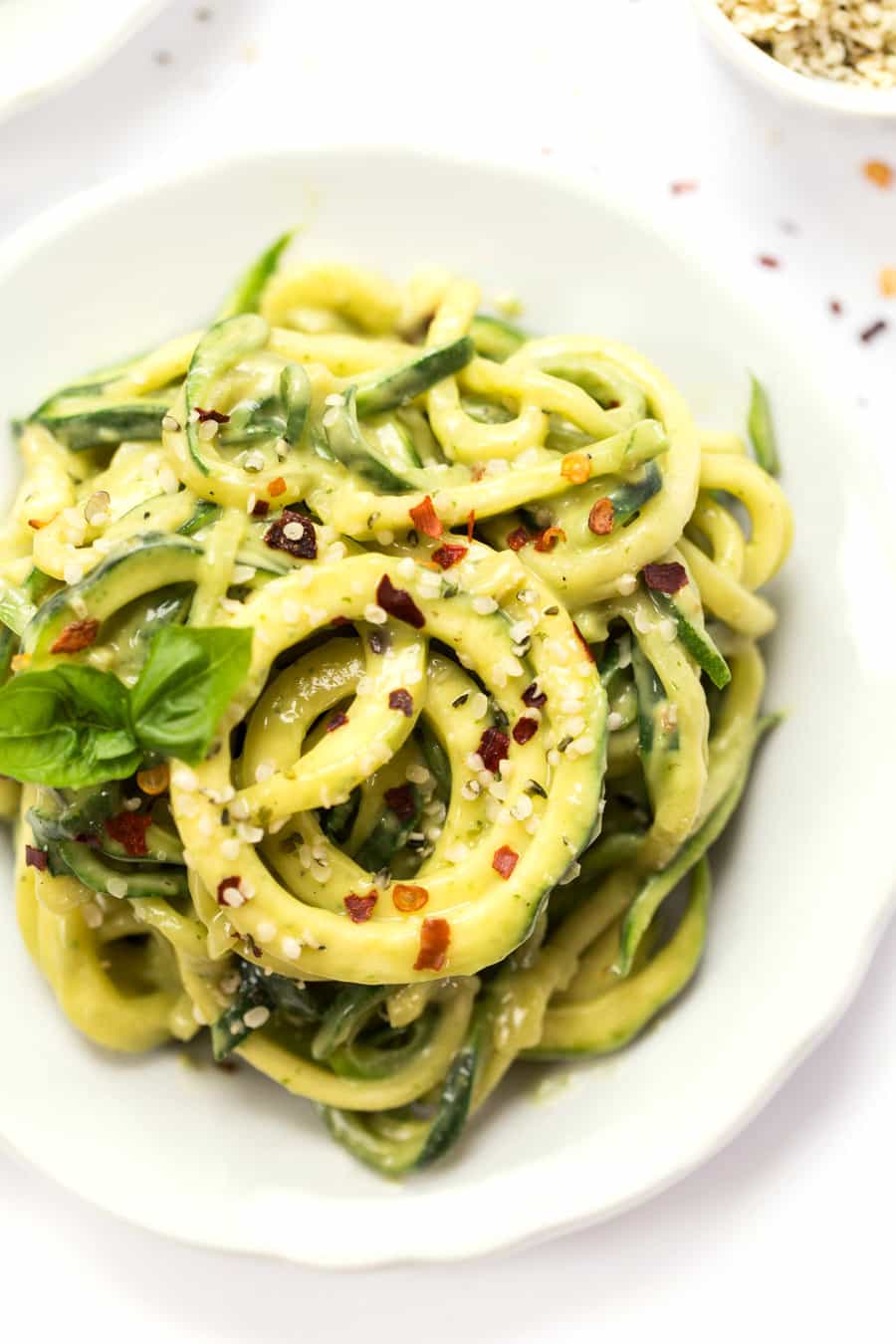 For starters, avocados are high in monounsaturated fats which have been shown to help regulate blood sugar and support brain and heart health. One of the main monounsaturated fats in avocados is called oleic acid which can help lower inflammation, promote healthy growth and development, and even boost immunity.
Aside from the fat, which is what avocados are most well known for, they're also very high in fiber which also helps regulate blood sugar, keeps our digestion running smoothly and leaves us feeling fuller for longer. And lastly, but certainly not least, avocados are high in vitamins A, C, E and K, as well as minerals like folate, potassium and magnesium.
So…don't fear the fat! Embrace these beautiful fruits and incorporate them into your diet in some way shape or form as frequently as you can.
Today that means avocado alfredo served over zucchini noodles!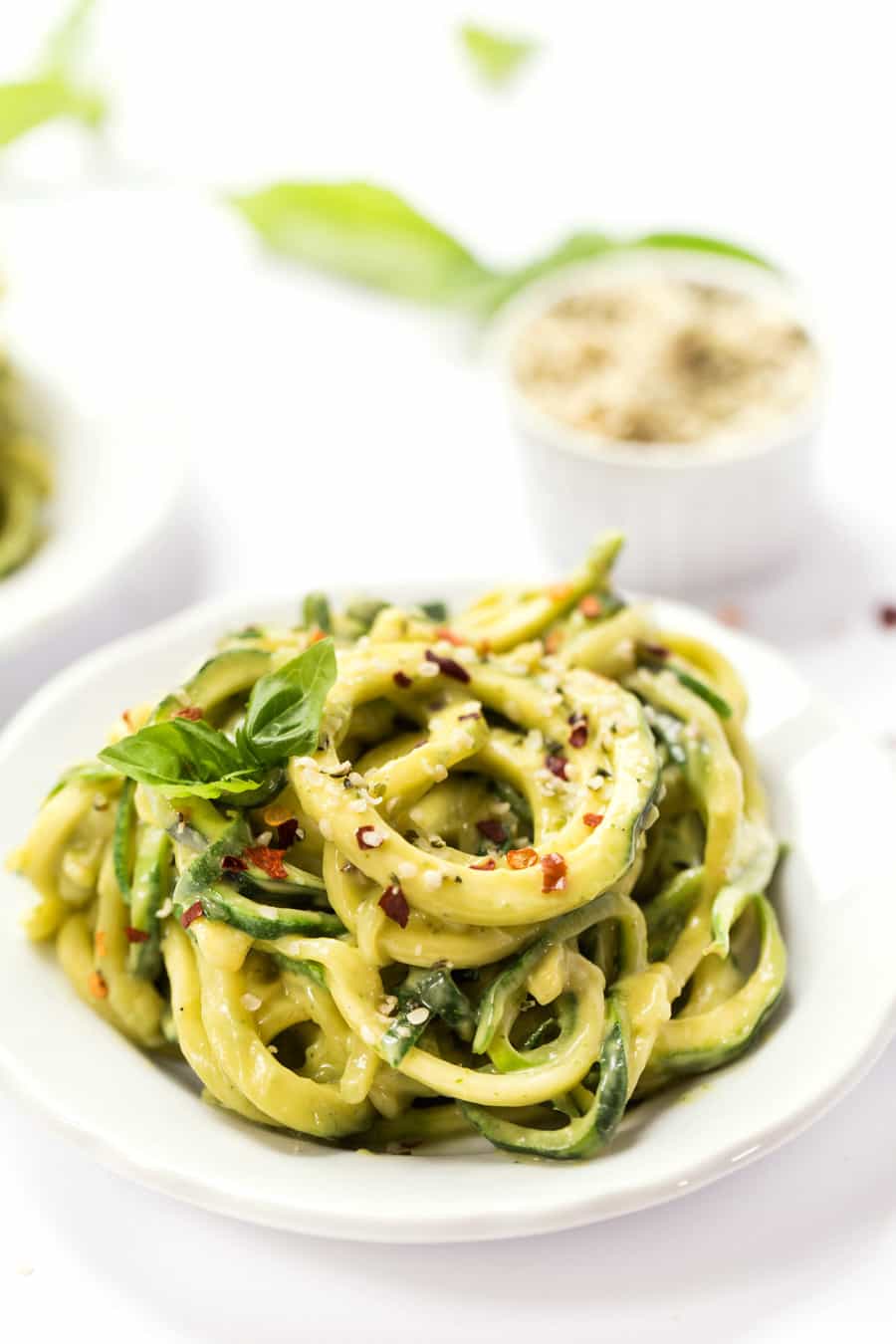 This couldn't be an easier recipe to make. We just need a handful of ingredients, two kitchen tools and about 10 minutes of your time.
We start by making the sauce which we blend up in our food processor until it's nice and smooth. The sauce is actually similar to my avocado pesto recipe, but I've made it extra creamy, and more alfredo-like by adding in some Almond Breeze Unsweetened Almondmilk.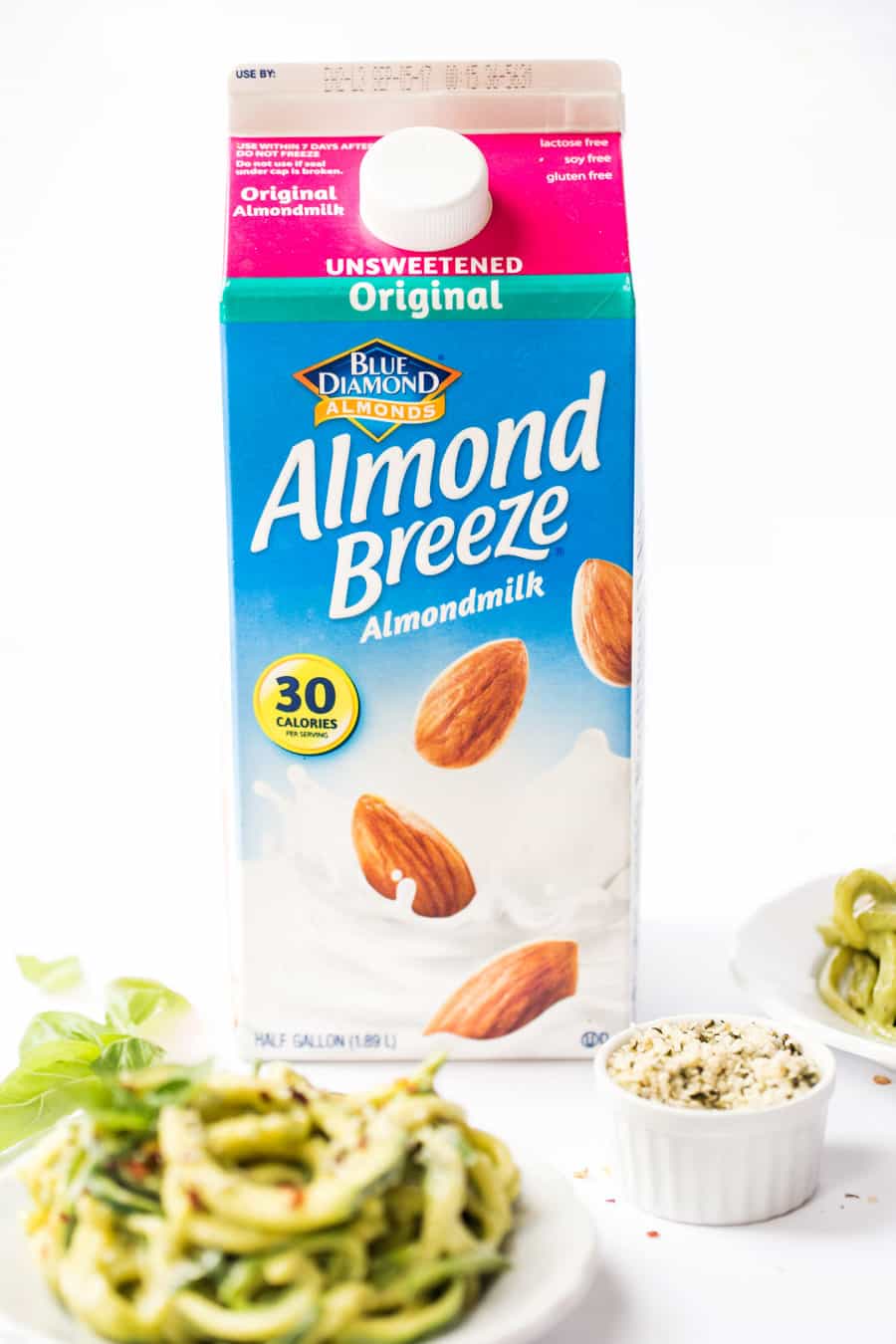 I love the Almond Breeze almondmilk in this recipe because it helps us keep that intensely creamy texture of a traditional alfredo sauce, without the need for heavy cream. By swapping out almondmilk for heavy cream we're saving nearly 200 calories, over 20g of fat, and getting just about the same amount of protein.
And it tastes perfect in this sauce!
Because almonds have a slight natural sweetness to them, I find that it pairs perfectly with the bright flavors of the lemon and the herbaceous nature of the basil. Mixed with the creaminess from the avocado, and it ends up being a sauce that you are going to want to make over and over and OVER again!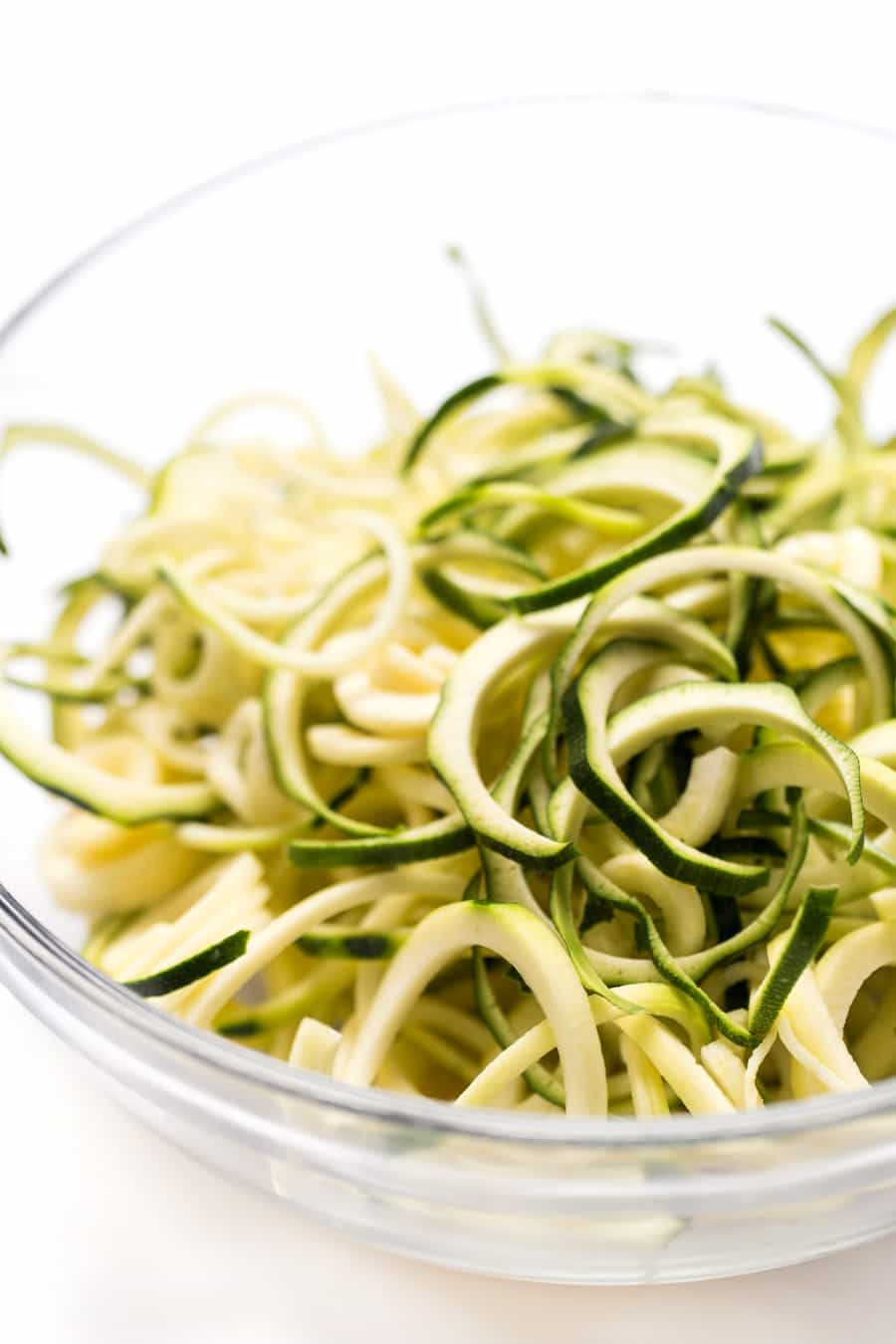 The other way in which we're lightening this pasta dish up is by replacing traditional pasta with zucchini noodles!
I've talked about zucchini noodles before, and have raved about my favorite spiralizer, and the zucchini noodles are the perfect balance with this avocado alfredo. Not only do they soak up all the flavor, but by just quickly sauteing them, we still get a tiny bit of crunch which is oh-so-satisfying!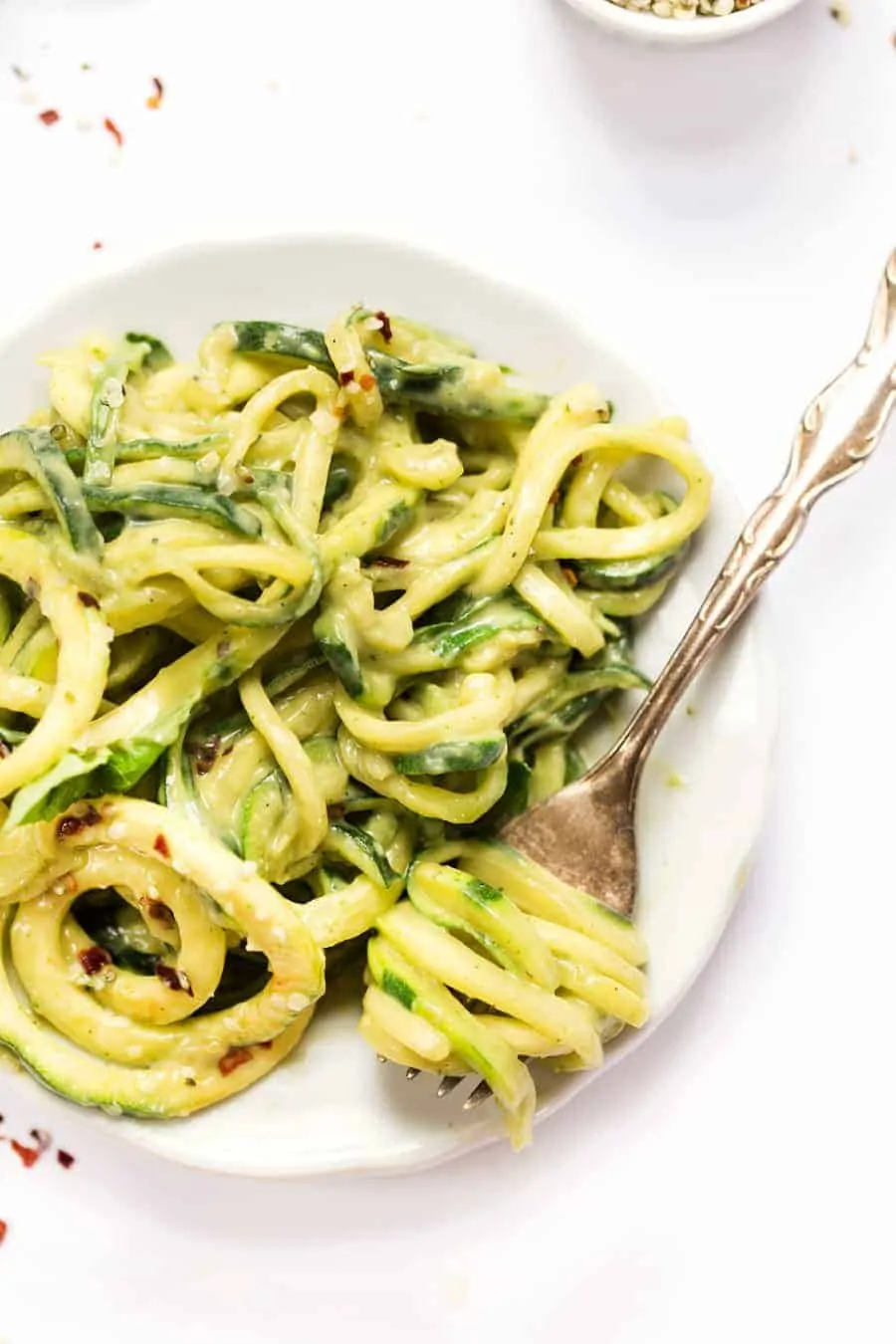 This dish is delicious as is, but there are also a ton of ways you could jazz it up or make it, even more, filling (although I found the avocado alfredo to be enough for me).
Here are some ideas:
Add sauteed summer veggies like snap peas, broccoli and/or tomatoes for a "primavera" type feel
Bulk it up by adding grilled chicken, shrimp or tofu on top
Swap the zucchini noodles for a bean-based based for added protein and fiber
Store in the fridge before serving to make it cool and refreshing
Skip the sauteing and eat this baby totally raw!
But honestly, no matter which way you choose to enjoy it, I know you are going to L-O-V-E this dish! It's so summery, super simple to make, light on your system and totally satisfies that creamy pasta craving with zero of the bad stuff!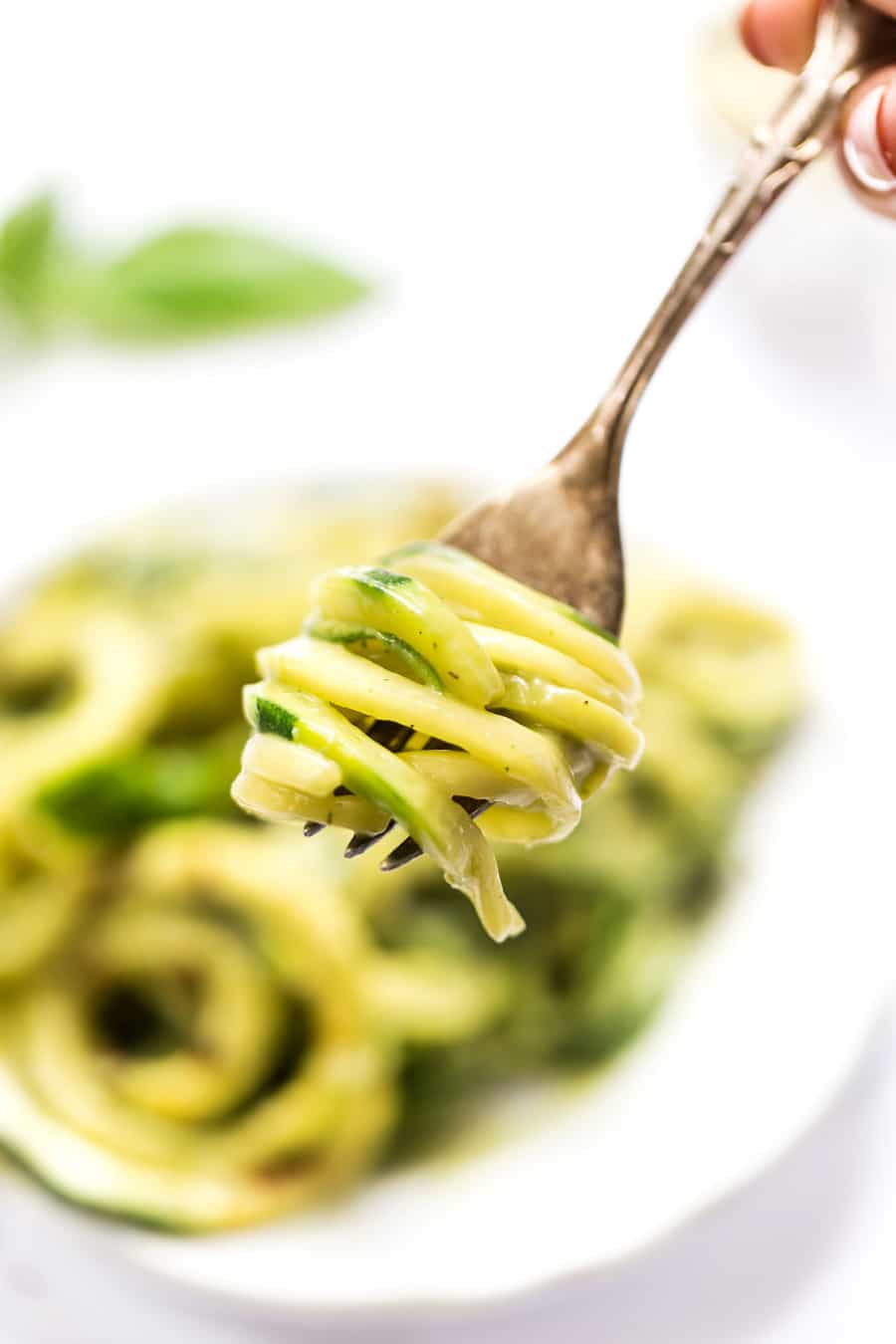 When you try this zucchini noodle avocado alfredo, I'd love for you to share a photo with me! Make sure to tag me on Instagram if you snap a pic using #simplyquinoa or @simplyquinoa!
xo Alyssa
More Healthy Zucchini Recipes You'll Love
Avocado Alfredo with Zucchini Noodles
This healthy avocado alfredo is a twist on the classic but doesn't use any cheese or milk. To lighten things up even more we're using zucchini noodles!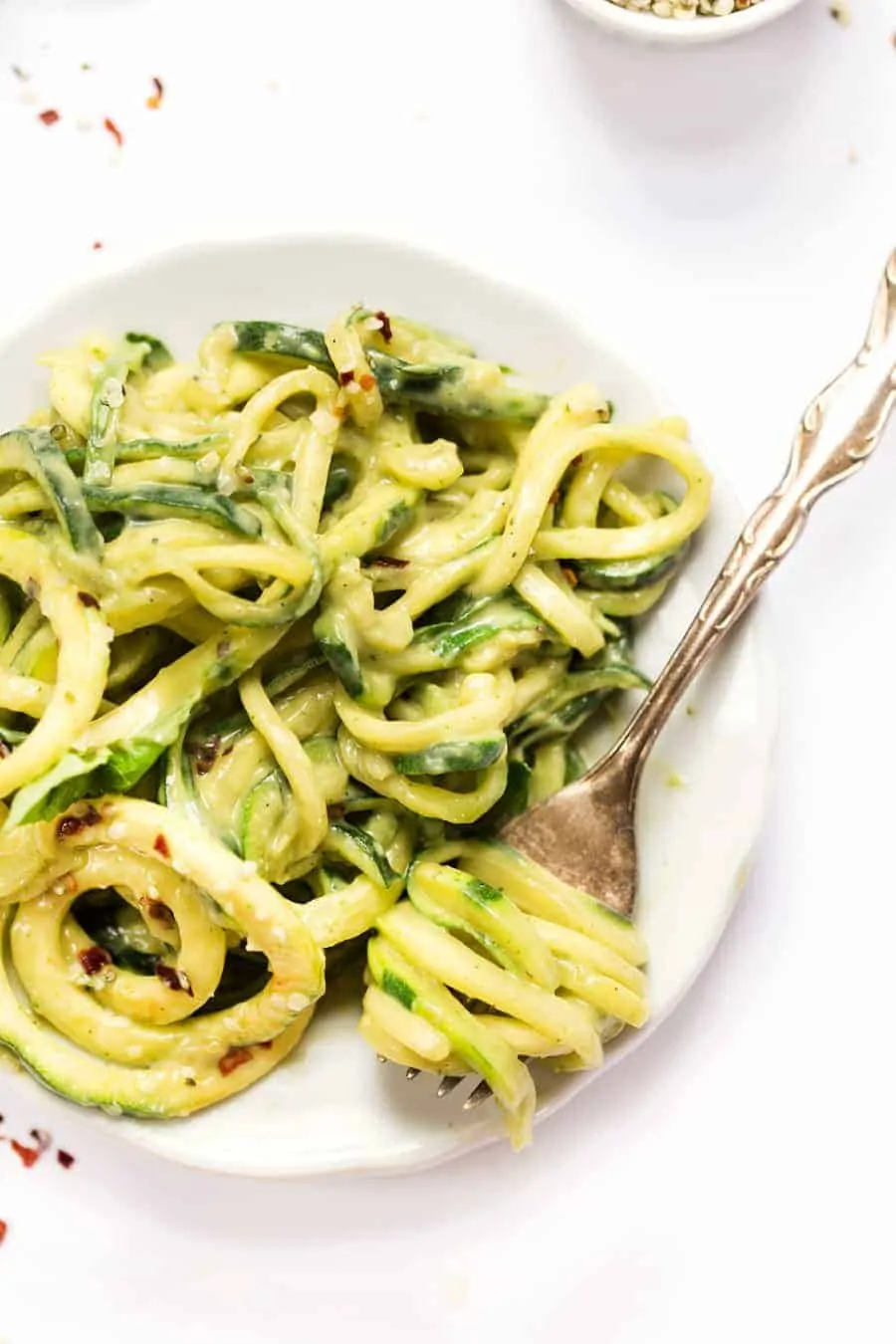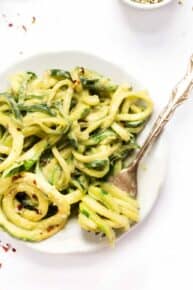 Ingredients
for the sauce
1

large avoado

1/4

cup

nutritional yeast

1/2

teaspoon

garlic powder

1

cup

fresh basil

1/4 - 1/2

cup

Almond Breeze Unsweetened Almondmilk

depending on consistency
Instructions
Add all the sauce ingredients into a food processor, starting with just 1/4 cup of almondmilk. Process on high until smooth and creamy.

Depending on the size of your avocado, you might need to add more almondmilk. Add additional almondmilk 1 tablespoon at a time, until you reach the consistency of a soft pudding.

Prepare the zucchini noodles by first spiralizing them into long noodles. Then heat the oil in a large pan over medium heat. Add garlic and red pepper flakes and saute until fragrant, about 60 seconds. Add zucchini noodles and saute until just tender, about 2 - 3 minutes.

Transfer zucchini noodles to a bowl and top with sauce. Toss to with salad tongs until all the noodles are evenly coated.

Divide evenly among four dishes and serve!
Nutrition
Calories:
191
kcal
|
Carbohydrates:
15
g
|
Protein:
14
g
|
Fat:
11
g
|
Saturated Fat:
1
g
|
Sodium:
51
mg
|
Fiber:
8
g
|
Sugar:
7
g
Filed Under:
This recipe is brought to you in partnership with Blue Diamond Almond Breeze. As always, all opinions are my own. I only share companies I love and trust, so thank you for continuing to support Simply Quinoa!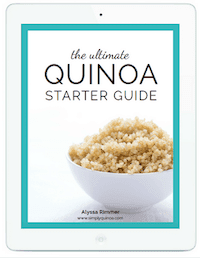 New to cooking quinoa? Grab your FREE Quinoa Starter Guide!
Become part of the Simply Quinoa community and receive weekly emails with exclusive content that I only share in email, as well as my in-depth guide to starting your quinoa journey.