These chewy chocolate orange cookies are a healthy sweet treat and just perfect for the holidays! Easy to make, packed with flavor, grain-free & vegan too!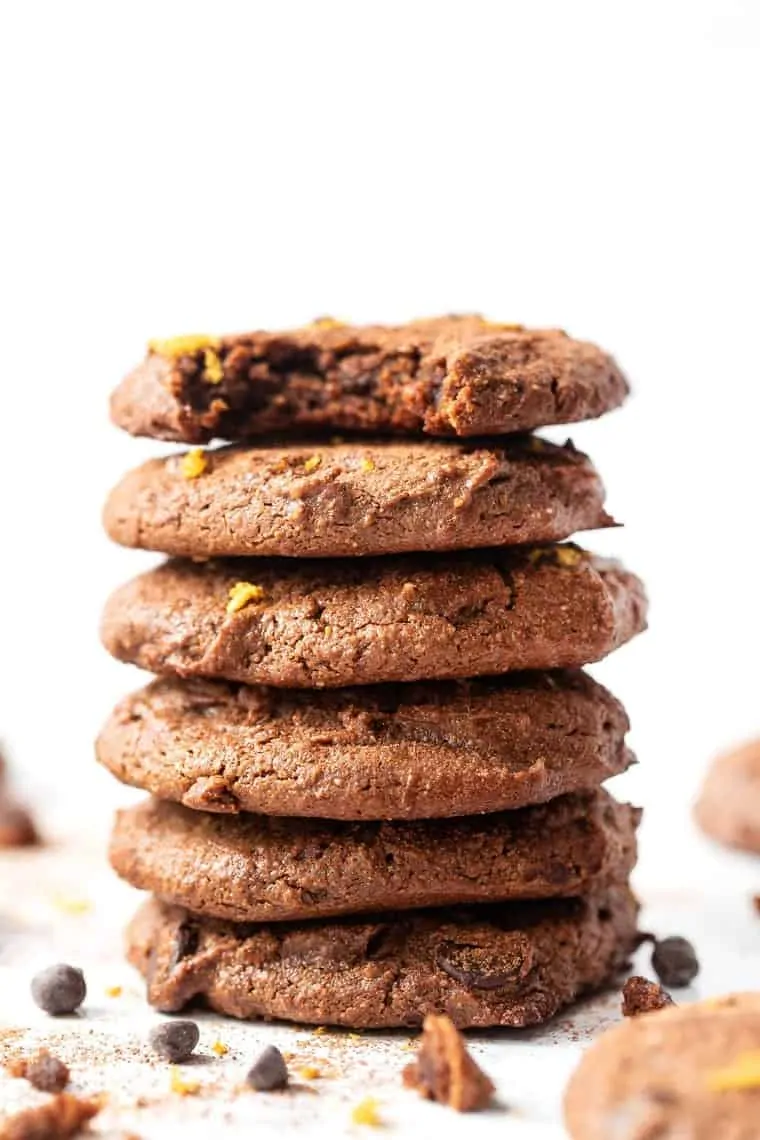 Who's getting excited for the holidays? This is one of my favorite times of year! Not only am I able to see all my family, but it's also a time of giving. I get so much joy from finding special things for the people I love.
One of the other ways I give this time of year is to bake for others. Everyone appreciates a fresh batch of something sweet and since I love baking general, so it's a double win. I make cookies for my USPS woman, my UPS delivery man, the homeless men and women in my neighborhood, and my family and friends. Just makes my heart so full!
For me, cookies are the ultimate holiday baked good. There are a million different flavors, they're quick to make, they're easy to package and they're just so cute. This year I'm baking up a bunch of different flavors – and will be sharing the recipes with you  – and the first one on our list are these chew chocolate orange cookies!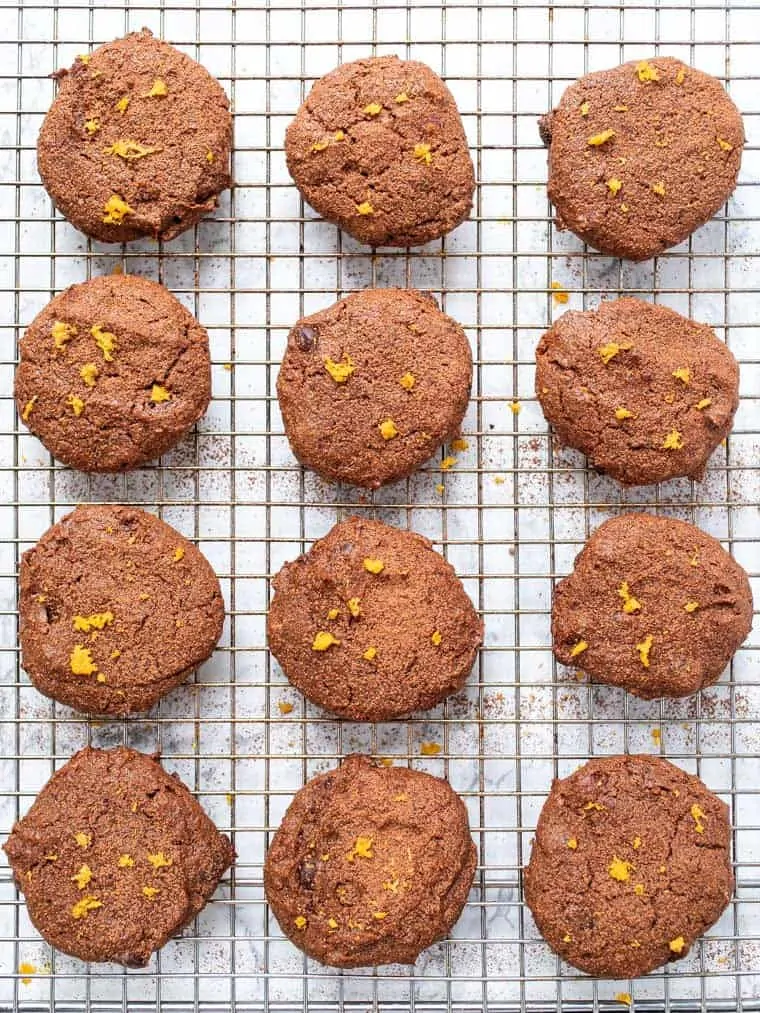 Easy & Healthy Christmas Cookies
By now you might know my cooking and baking style, so it's no surprise that my two main criteria for my Christmas cookies are this:
They must taste good
And they've got to be healthy
That's exactly what these chewy chocolate orange cookies are. They taste incredible and they're made with only nutritious ingredients. They're gluten-free, grain-free, dairy-free, vegan, oil-free and refined sugar-free.
But I promise…they do NOT sacrifice on flavor at all!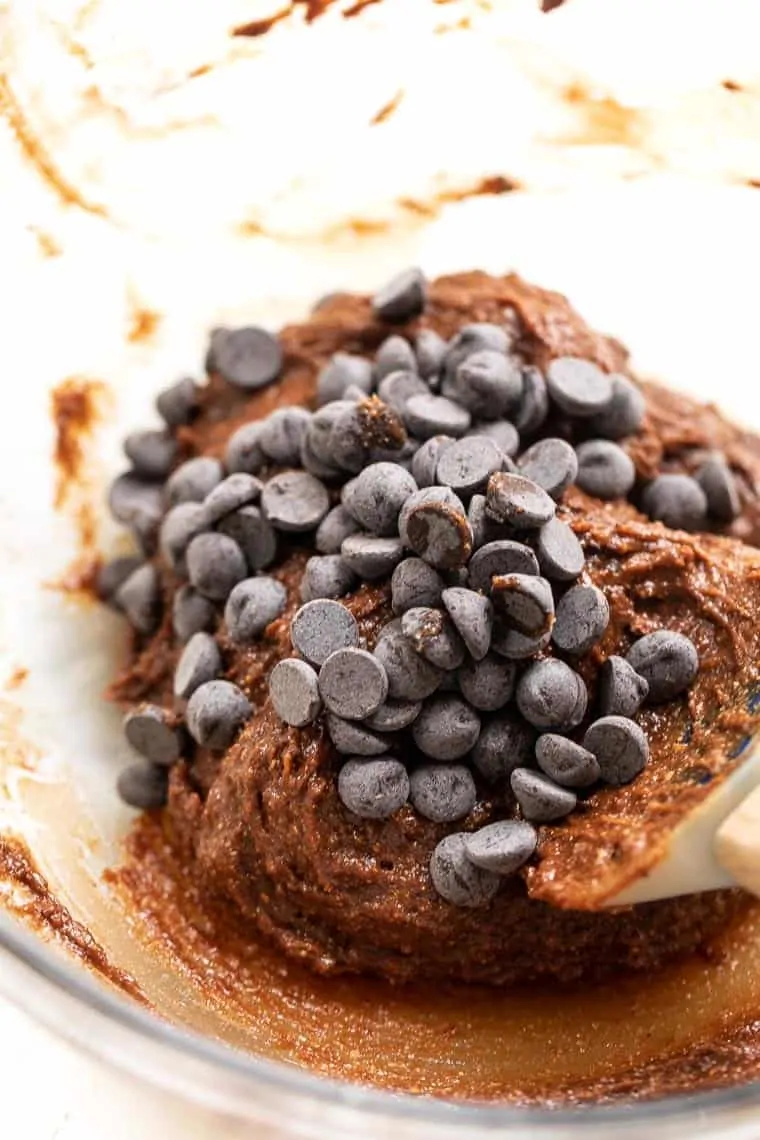 Perfect Grain-Free Chocolate Cookies
The secret to making these grain-free chocolate cookies is using nut butter as our base. I actually created this recipe based off of my Chewy Ginger Molasses Cookies since those were so delicious, but swapped some of the ingredients to make them with the chocolate and orange flavors.
We're using cashew butter as the base, which I find is milder than something like almond or peanut. Since orange can be a somewhat delicate flavor, I really wanted it to shine.
From there, we sweeten these cookies with a blend of maple syrup and coconut sugar. Then bind it all together with some raw cacao powder and coconut flour. This combo yields a soft, tender cookie that has the most lovely chewy texture!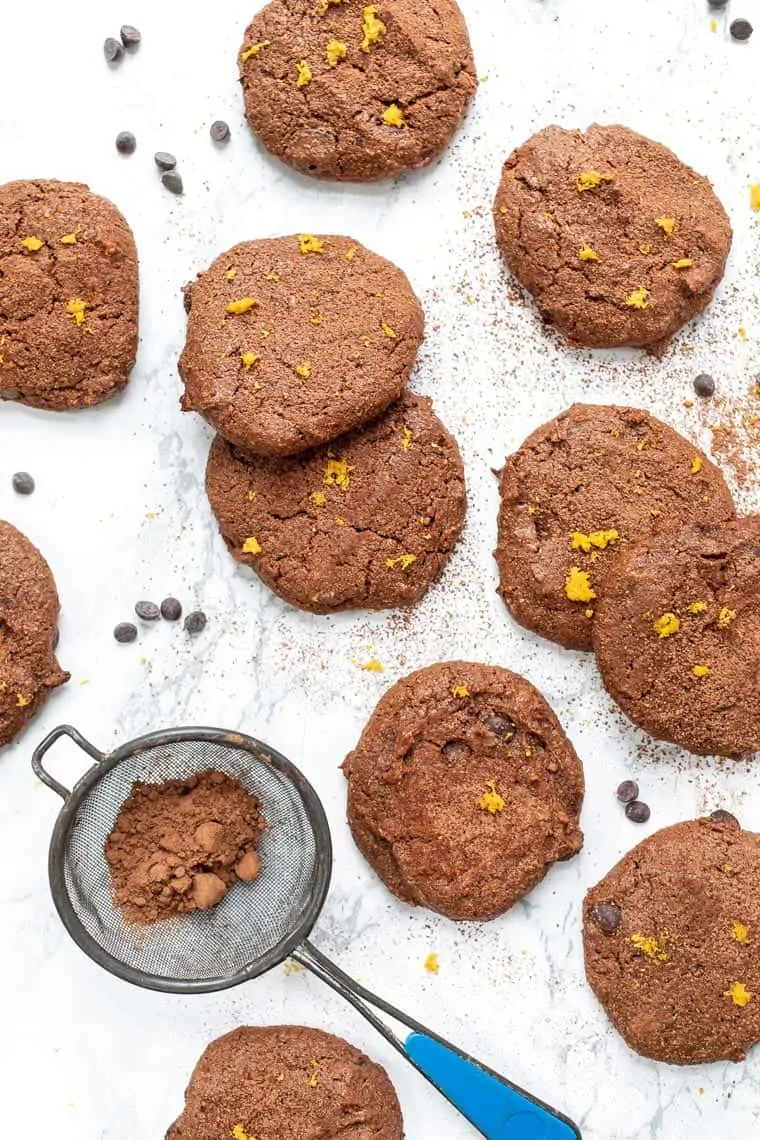 Chocolate Orange Cookies for the Holidays
When I polled our Instagram community, this was actually the #1 request that I didn't already have on the site. We've never had chocolate orange cookies at Christmas, but that all changes this year!
These cookies are absolutely delicious. They have a rich, chocolate fudginess that reminds me of a brownie, but with the brightness of the orange!
To get the right amount of orange we're using orange zest and a bit of orange extract. I tested them a few times using orange juice and the texture just wasn't how I wanted them. But this combo? It gives just the right amount of punch without completely overwhelming the taste. With each bite, you get the chocolate and the orange coming through.
And since we're using chocolate chips too, it's extra sweet!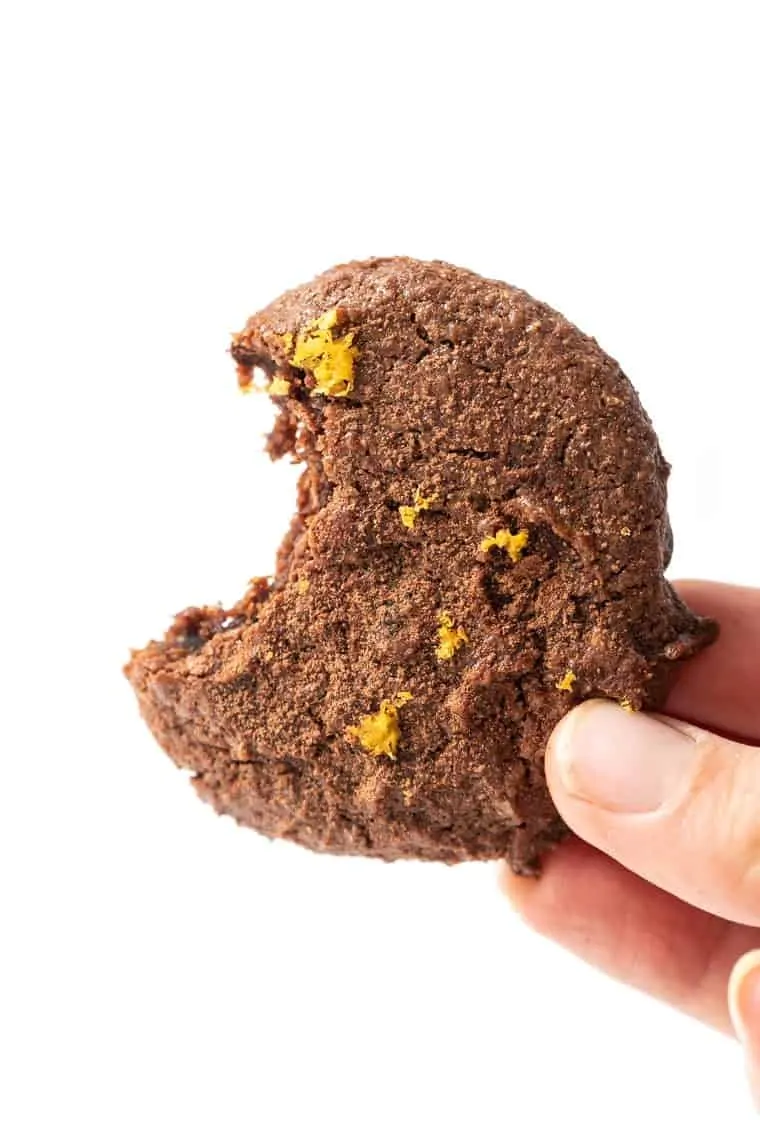 I can't wait to hear what you think of this recipe! Since it was so highly requested I have a feeling we're going to be seeing a lot of recreations 🙂 If you do end up making them, be sure to share a photo with me on Instagram! You can just tag @simplyquinoa and I'll be able to see them ❤️
Happy holiday baking!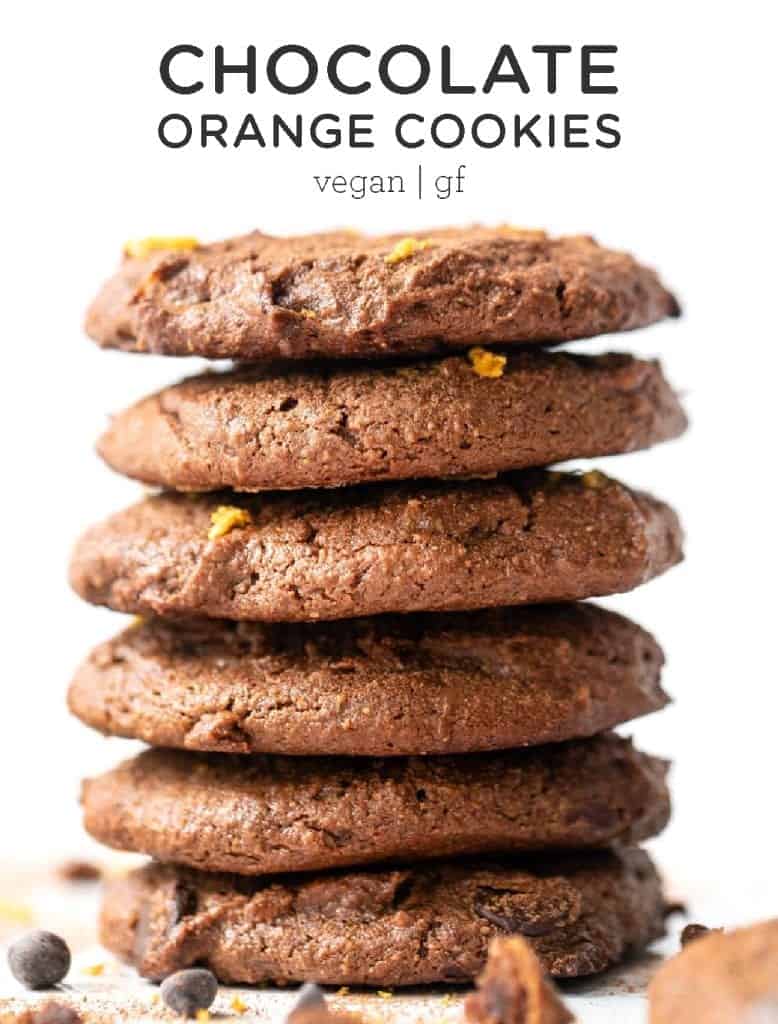 Try one of these Healthy Christmas Cookies next!
Chewy Chocolate Orange Cookies
These chewy chocolate orange cookies are a healthy sweet treat and just perfect for the holidays! Gluten-free, grain-free & vegan too!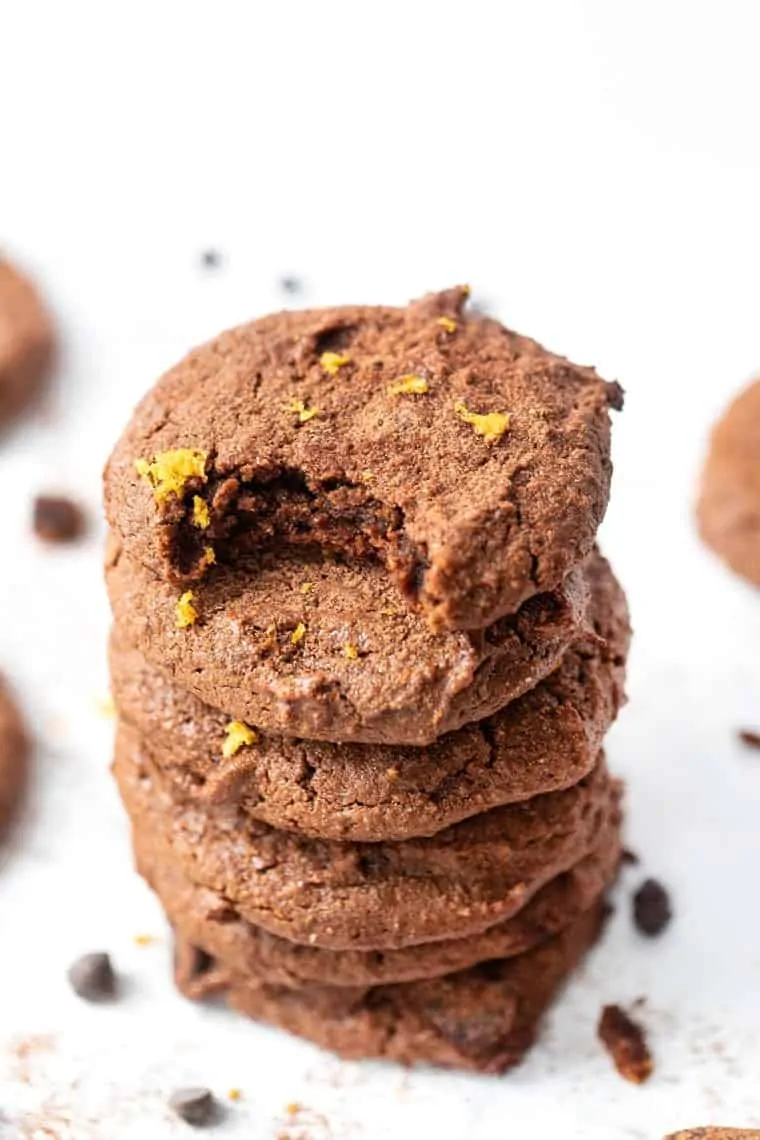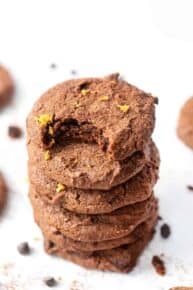 Instructions
Preheat the oven to 350ºF. Line a baking sheet with parchment paper and set aside.

In a mixing bowl, combine the flax egg, cashew butter, coconut sugar, syrup, and orange extract. Beat with an electric mixer until smooth.

Add the raw cacao powder, coconut flour, salt, and baking soda, and beat again until a sticky dough forms. Fold in the orange zest and chocolate chips.

Using a small cookie scoop, drop the dough onto the baking sheet, spacing the cookies at least 2" apart. Repeat until all the dough has been used.

Gently flatten the cookies with your hands and bake on the center rack for 12 minutes.

Remove from the oven and allow the cookies to cool for 10 minutes on the pan before transferring them to a wire rack to finish cooling.

Once cool, pack up and/or enjoy!
Nutrition
Serving:
1
cookie
|
Calories:
118
kcal
|
Carbohydrates:
13
g
|
Protein:
3
g
|
Fat:
7
g
|
Saturated Fat:
2
g
|
Cholesterol:
1
mg
|
Sodium:
89
mg
|
Potassium:
109
mg
|
Fiber:
1
g
|
Sugar:
6
g
|
Vitamin C:
1
mg
|
Calcium:
23
mg
|
Iron:
1
mg
Filed Under: