Make the creamiest coconut steel cut oats with quinoa, coconut milk, and maple syrup topped with fresh mango and more coconut for a healthy high-protein vegan breakfast option.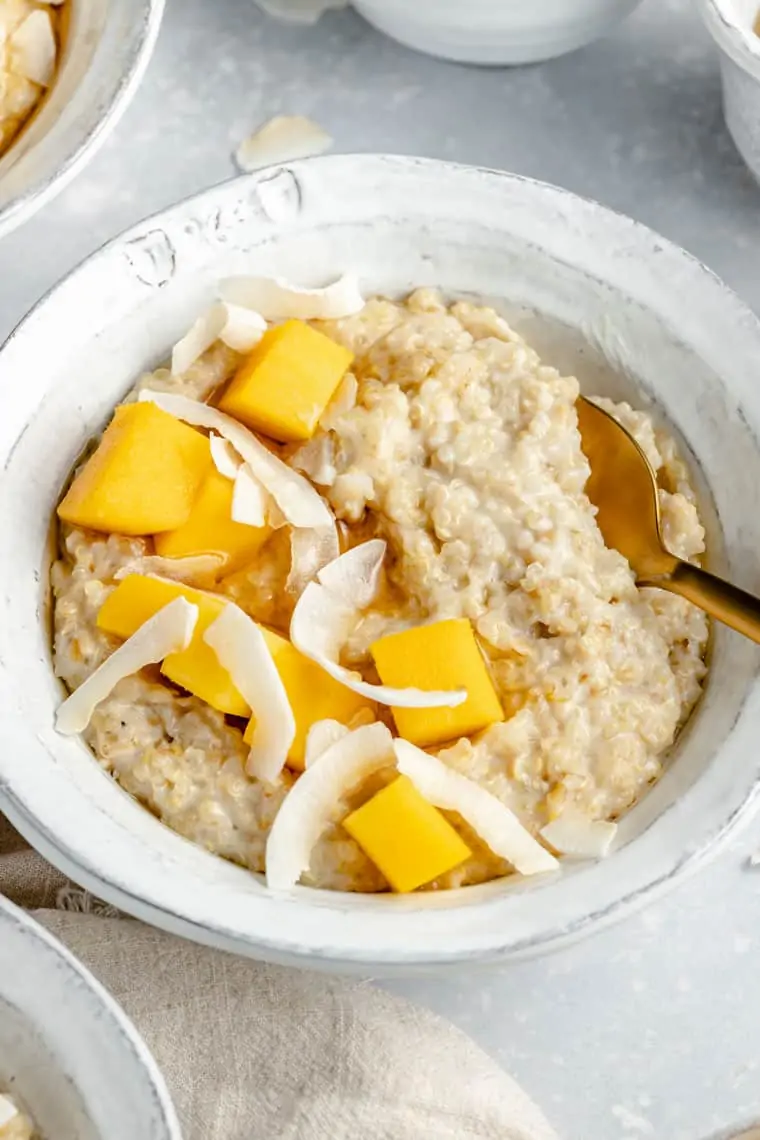 The tropical flavors in this creamy breakfast bowl were inspired by the first trip Matt and I took together, to Costa Rica. We had the sweetest ripe mango and creamiest, freshest-tasting coconut. They're truly a match made in heaven.
But the good news is that you don't have to travel to a tropical location (as much as we'd all love to) to enjoy this delicious combination. This vegan oatmeal bowl unites creamy, dreamy coconut and mango in a warming and comforting breakfast for any weeknight morning.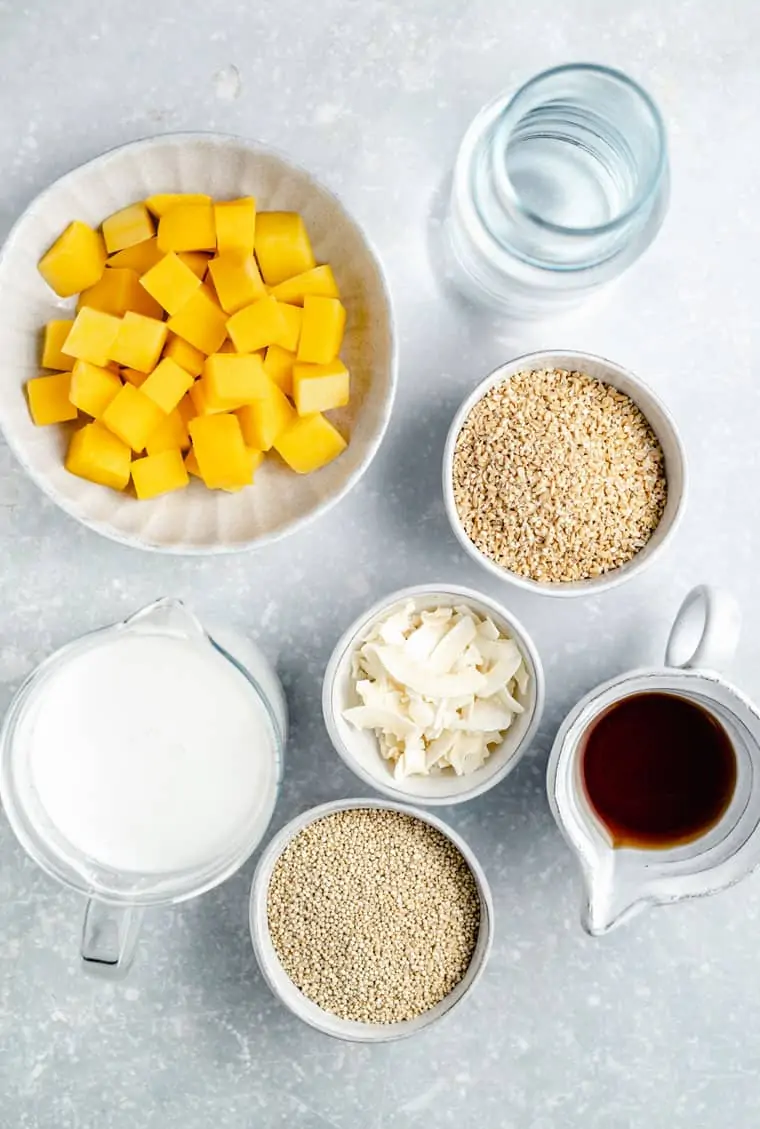 How to Make Coconut-Mango Oatmeal Bowls
This dreamy and healthy breakfast bowl comes together with just seven ingredients (including water) and one pot on the stove.
Ingredients
Steel cut oats. I love Bob's Red Mill oats. Steel cut oats cook up creamier and softer than other varieties of oats. Plus, they have even more protein.
Quinoa. My favorite ingredient, of course! Quinoa adds a layer of nutty flavor and even more plant-based protein to these bowls.
Coconut milk. For the creamiest, thickest oats, use full-fat canned coconut milk. Or if you prefer a lighter breakfast, you can use light coconut milk or milk from a carton.
Maple syrup. I recommend pure maple syrup for the best flavor.
Mango. Make sure your mango is nice and ripe! Give it a gentle squeeze, it should have some give to it.
Coconut flakes. On top of your bowl, these add crunch and another layer of coconut flavor.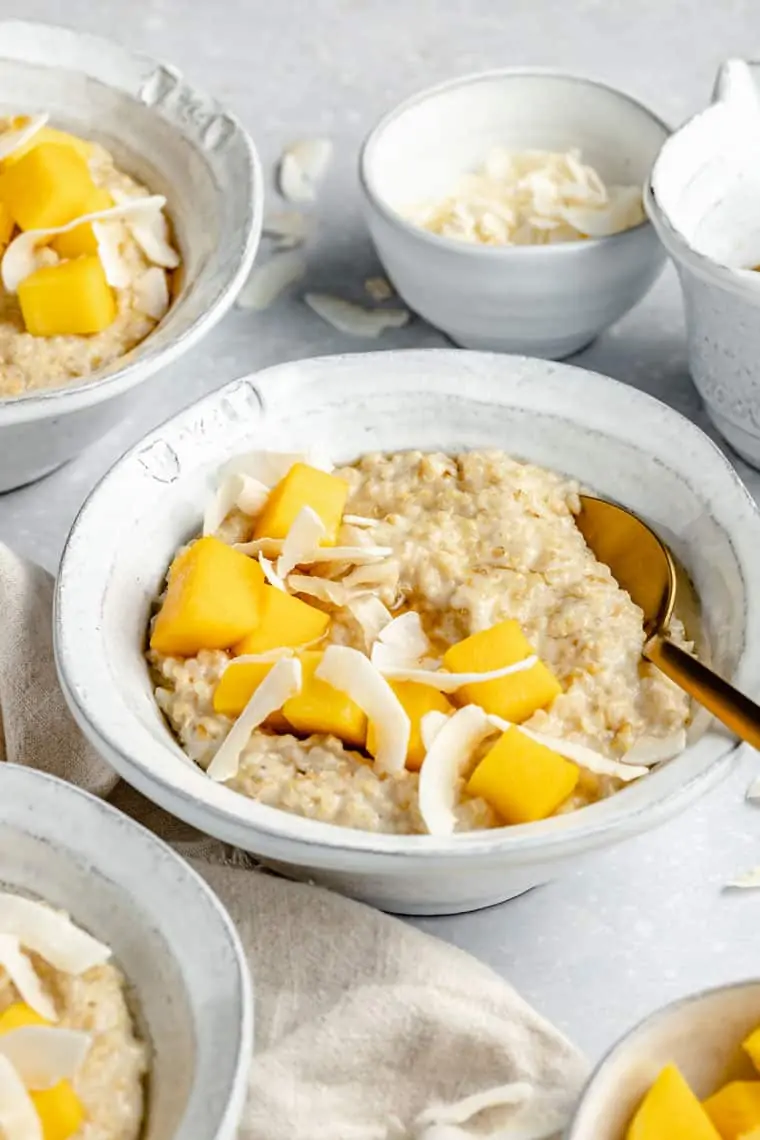 Steel Cut Oats. vs. Old-Fashioned or Rolled Oats
While I usually use rolled oats for my oatmeal bowls, steel cut oats are a nice treat. They're made with a slightly different processing method and therefore have more of the bran attached. For this reason, the steel cut oats take a bit longer to cook. But the wait is worth it!
Steel cut oats soak up the cooking liquid, in this case coconut milk, better than rolled oats. And this way, they turn even creamier and more satisfying.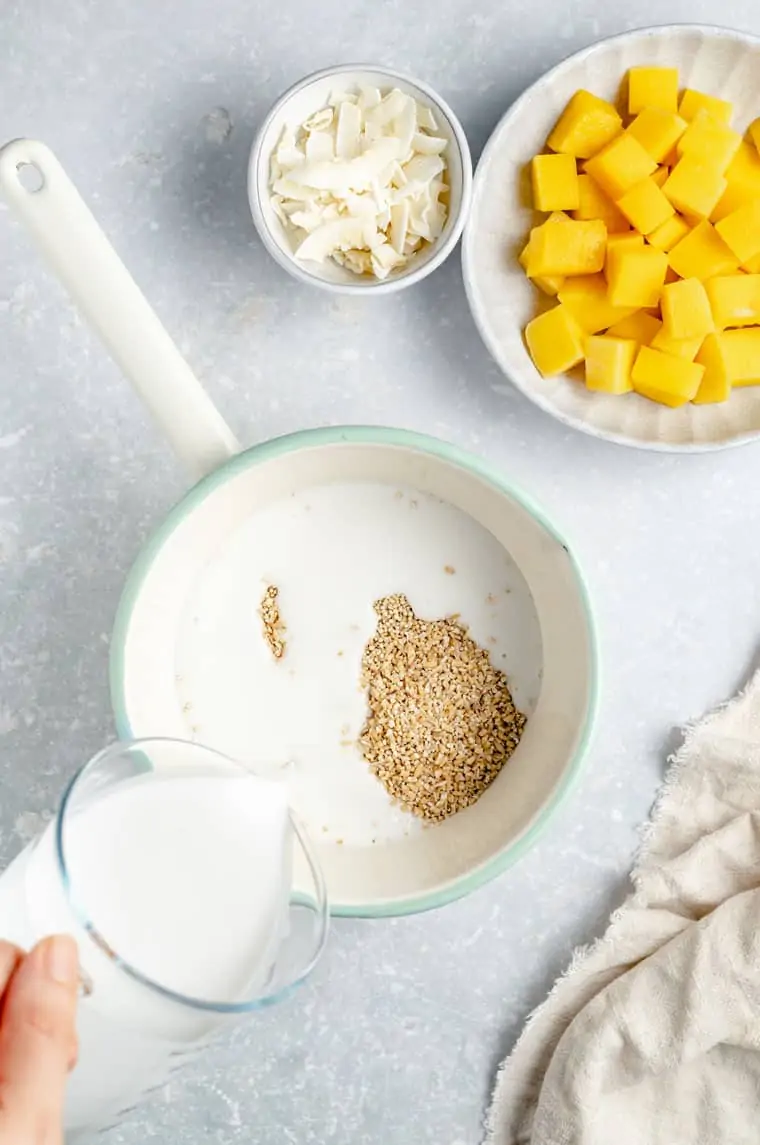 Are Steel Cut Oats Gluten-Free?
If you have celiac disease or avoid eating gluten,  I have some good news: Bob's Red Mill makes a CERTIFIED gluten-free version of steel cut oats! These oats are guaranteed to be free of cross-contamination with gluten-containing ingredients.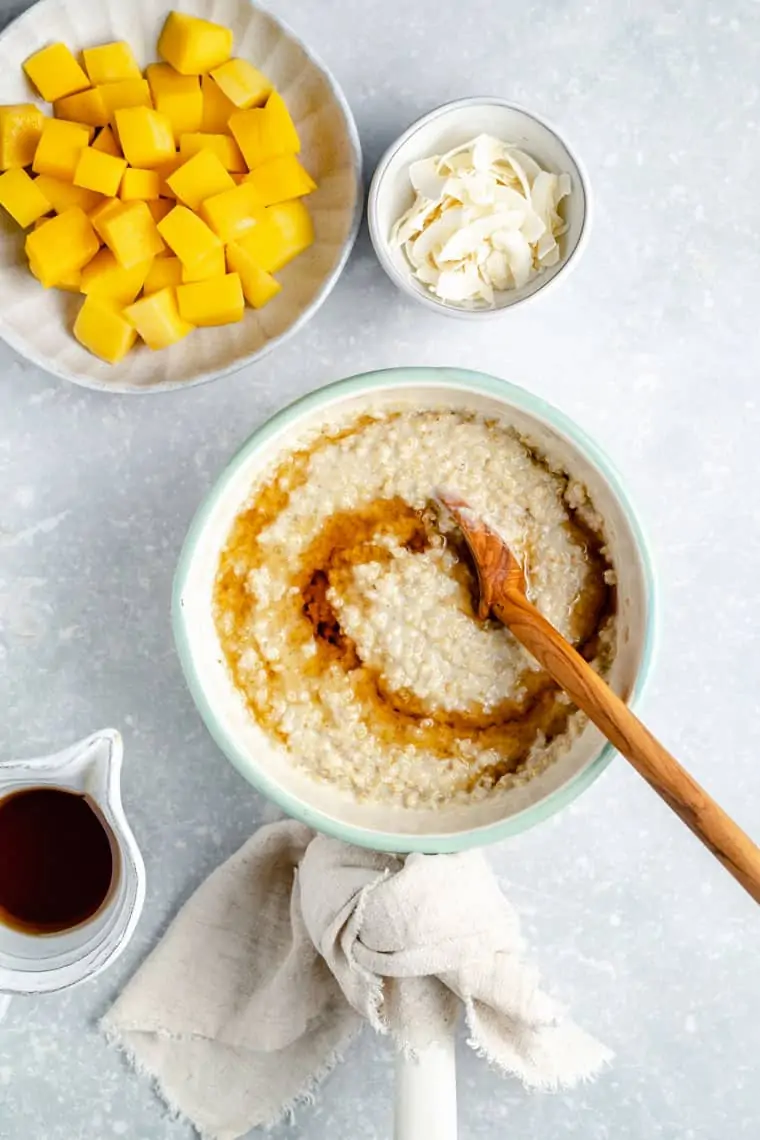 Make-Ahead Steel Cut Oats
You can make a double (or even a triple) batch of these oats and enjoy them all week long!
Store them in an airtight container for up to five days. You can enjoy them cold with your mango and coconut on top. Or, if you prefer warm oats, reheat them on the stove or in the microwave. If they're thicker than you'd like, add more coconut milk until they reach the creamy texture you're looking for.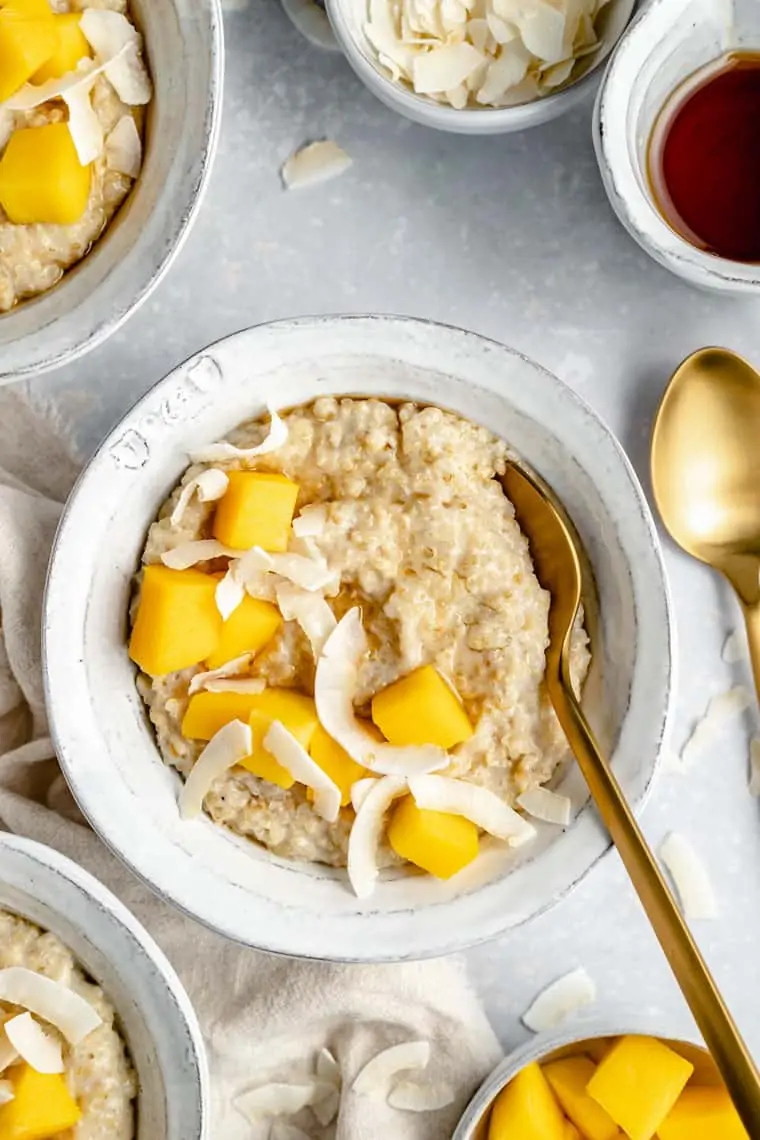 More Healthy Oatmeal Bowl Recipes
Creamy Coconut Steel Cut Oats + Quinoa with Mango
This coconut steel cut oats with quinoa, mango and coconut flakes is creamy, dreamy and delicious. It's healthy, gluten-free + vegan too!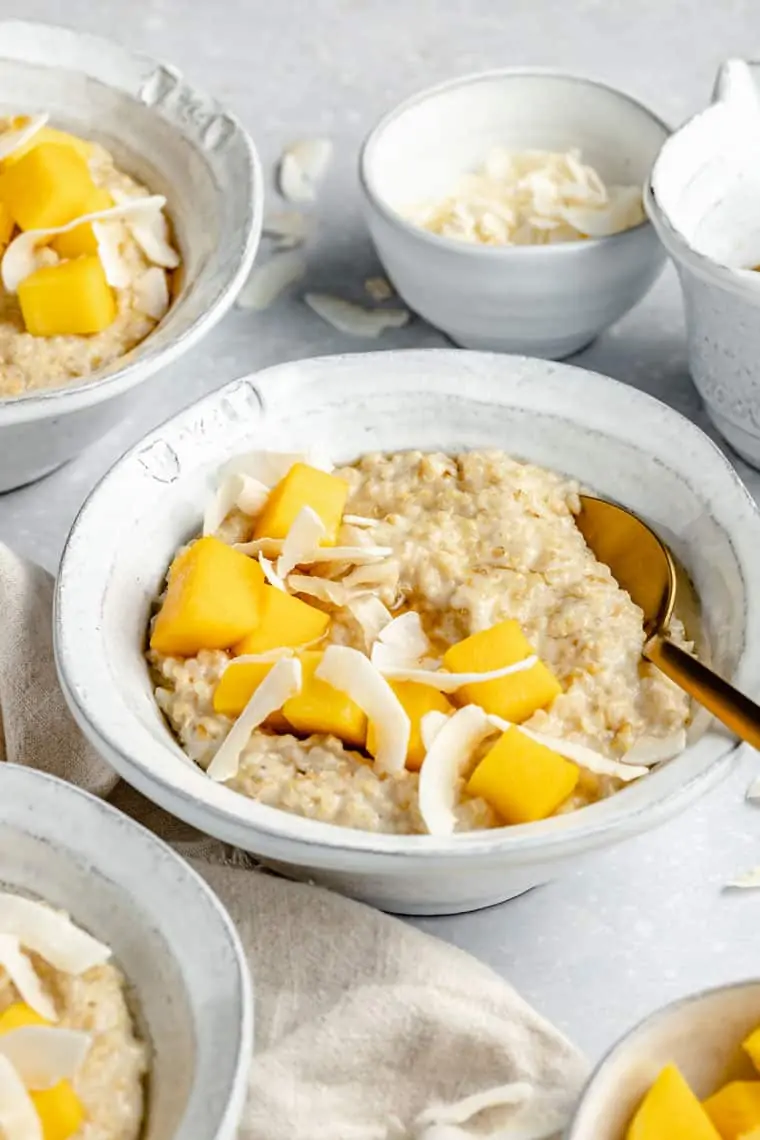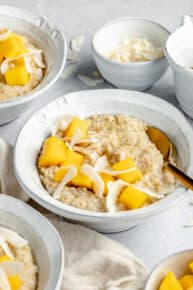 Instructions
Add steel cut oats, quinoa, milk and water into a small saucepan. Bring to a boil then reduce to simmer and let cook for 18 - 20 minutes until thick and creamy.

Stir in the maple syrup and transfer to bowls.

Top with mango and flaked coconut (and a drizzle of maple syrup if you'd like) and enjoy immediately.
Nutrition
Calories:
492
kcal
|
Carbohydrates:
51
g
|
Protein:
9
g
|
Fat:
30
g
|
Saturated Fat:
24
g
|
Sodium:
26
mg
|
Potassium:
511
mg
|
Fiber:
5
g
|
Sugar:
18
g
|
Vitamin A:
445
IU
|
Vitamin C:
16.2
mg
|
Calcium:
71
mg
|
Iron:
5.8
mg
Filed Under: