This healthy almond butter oatmeal uses fresh figs for a pop of flavor and sweetness. Vegan, high protein, and the perfect healthy breakfast idea!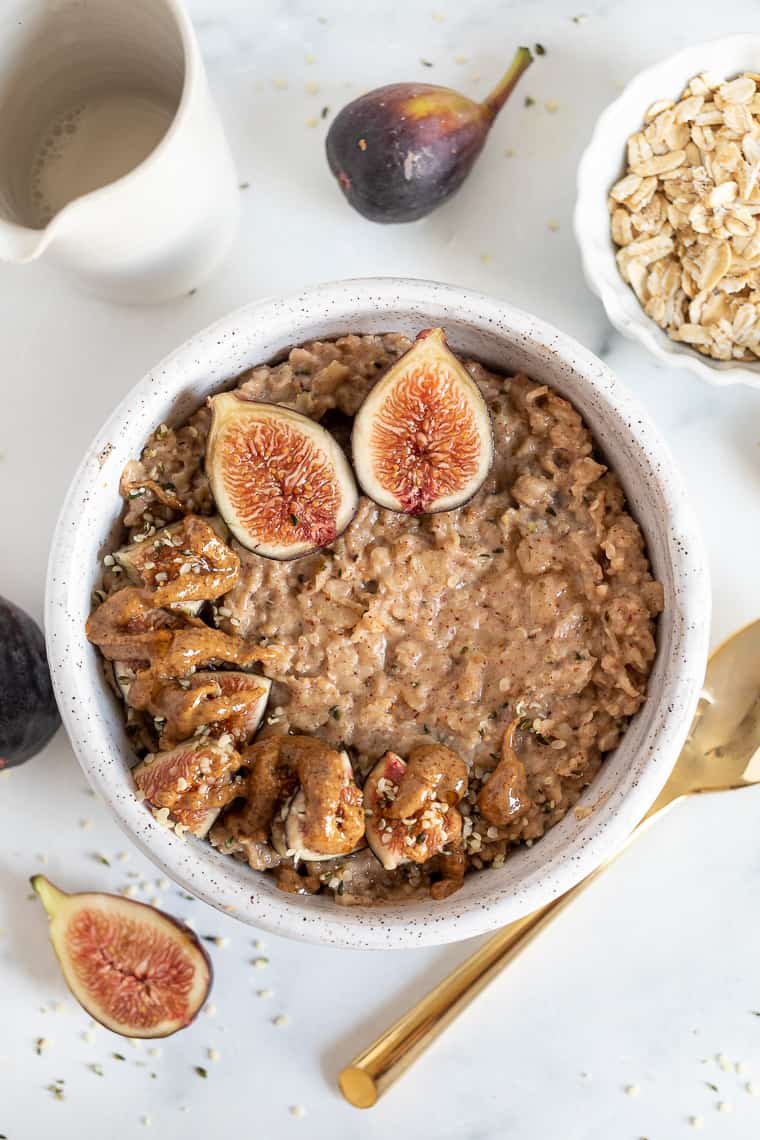 I fell in love with fresh figs a few years ago and since then have been looking for ways to use them – that isn't on toast or just straight out of the carton. I created an amazing gluten-free fig cake, but I also wanted to do something that was more breakfast-inspired.
So…oatmeal immediately popped into my mind!
I wanted to create a healthy breakfast recipe that was full of protein and healthy fats – so you'd actually stay full eating it! And that's exactly what we have with this Fig & Almond Butter Oatmeal!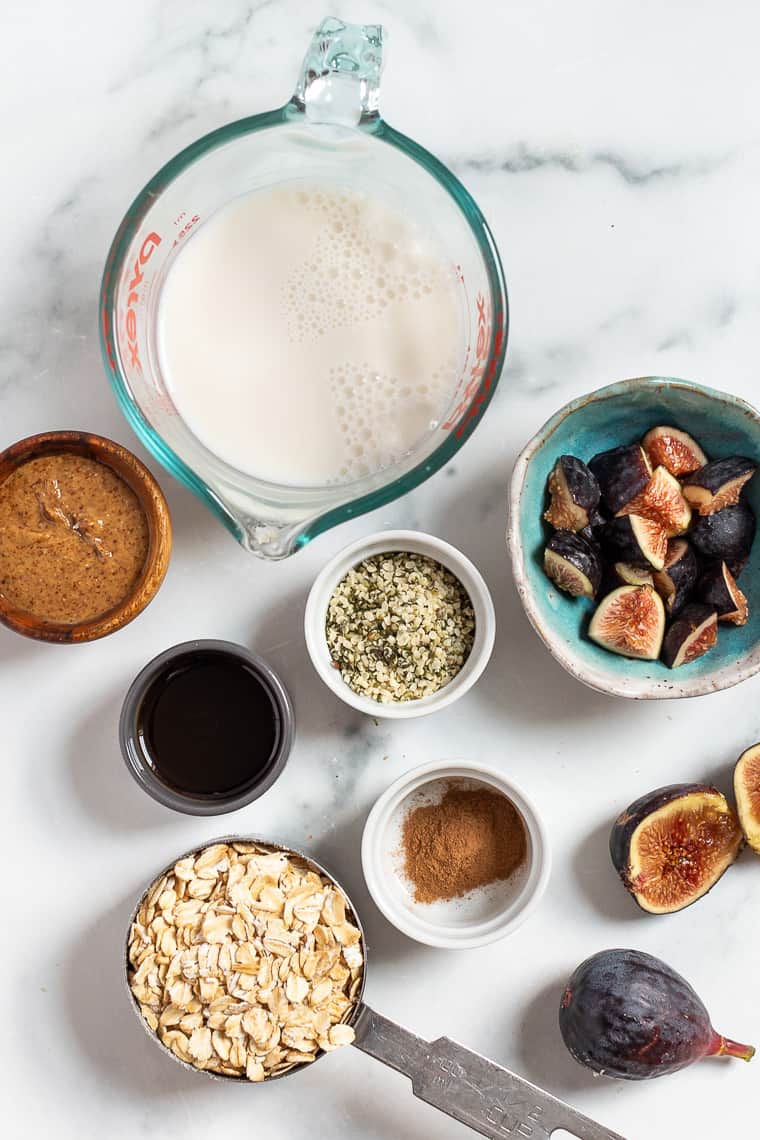 What You Need to Make This Recipe
Okay, so you know that oatmeal is like crazy simple to make, but I do want to walk through the ingredients so you know what to expect. And I'll also provide some substitution ideas in case you need it!
Old fashioned rolled oats: my favorite kind of oat since they're fast to make, but also hold their shape.
Unsweetened almond milk: my go-to plant milk, but you can swap with whatever you'd like (even water)
Maple syrup: just for some added sweetness – totally optional or swap with honey
Hemp seeds: for some added protein – again, optional or swap with chia seeds (just add more liquid)
Cinnamon: adds the perfect spice to complement the flavors (skip if you're not a fan)
Almond butter: another sneaky way to add protein and healthy fats – feel free to swap with any other nut/seed butter
And of course…fresh figs! We're putting them in and on top of our oatmeal bowls!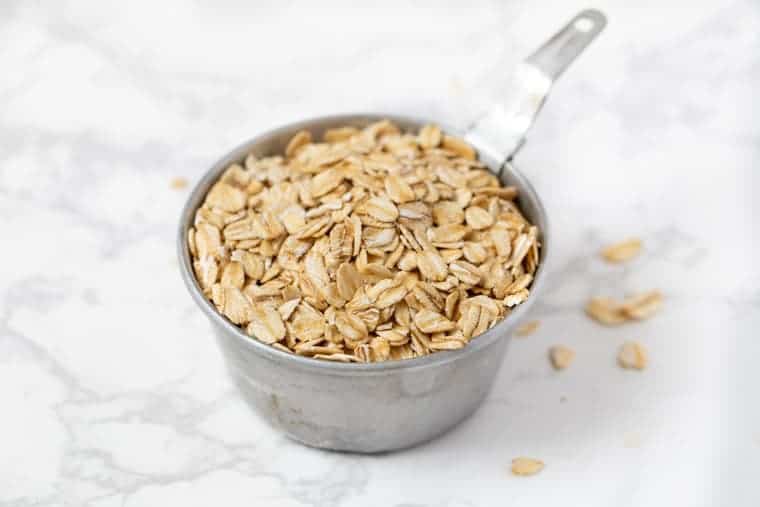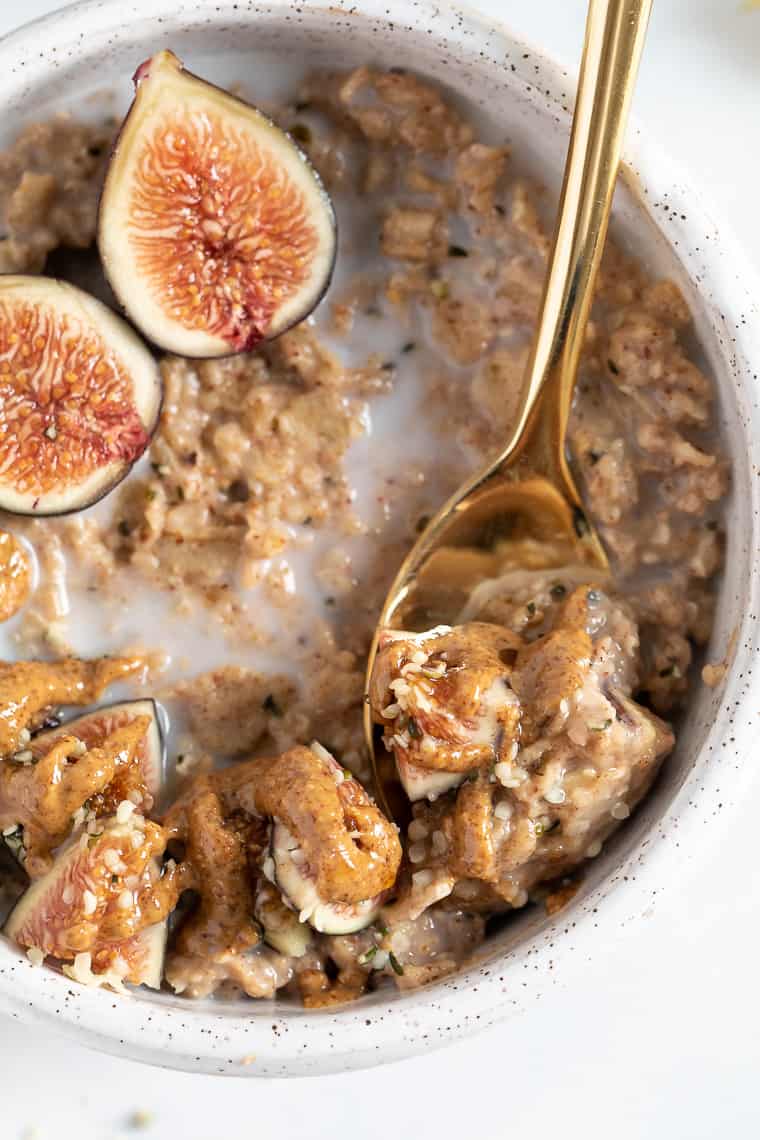 Best Types of Oats for Oatmeal
Now before we get into the nitty-gritty of making this almond butter oatmeal, let's chat oats. As I said, I like old fashioned rolled, but there are so many other types to choose from.
Here's a quick overview of the different types of oats:
Quick Cooking/Instant Oats: as the name suggests, these cook super quickly, but also lose their texture a bit more and get kind of mushy. They should cook in about 90 seconds.
Old Fashioned Rolled/Rolled Oats: these are your "classic" oat – not too thick, not too thin. They cook in 3 – 5 minutes, hold their texture, and are perfect in oatmeal.
Steel Cut Oats/Scottish Oats: a thicker, coarser cut of the oat, these are a bit crunchy and take much longer to cook (about 20 minutes). They have a really great texture, and I love them, but you have to have patience. You can also cook them in a slow cooker if you want! Here's my tutorial for slow cooker steel cut oats.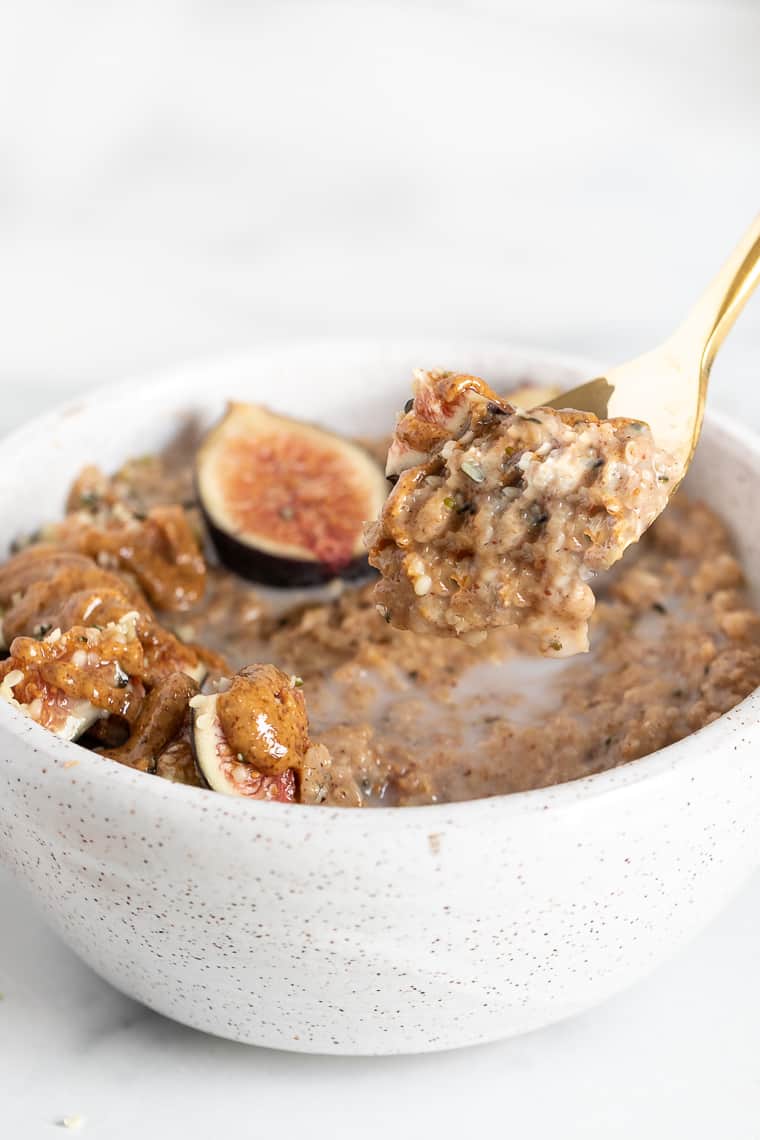 How to Add Protein To Oatmeal
One thing I like to do when I make oatmeal is to make sure I add protein (and healthy fats). Oats are carbohydrates and do have some fiber, but they won't stick with you that long unless you amp them up a bit.
Here are some ways to add protein to your oatmeal:
Nuts & seeds
Nut butter
Protein powder
Spirulina
All of these will help make your oatmeal a bit more filling and will help you digest them more slowly.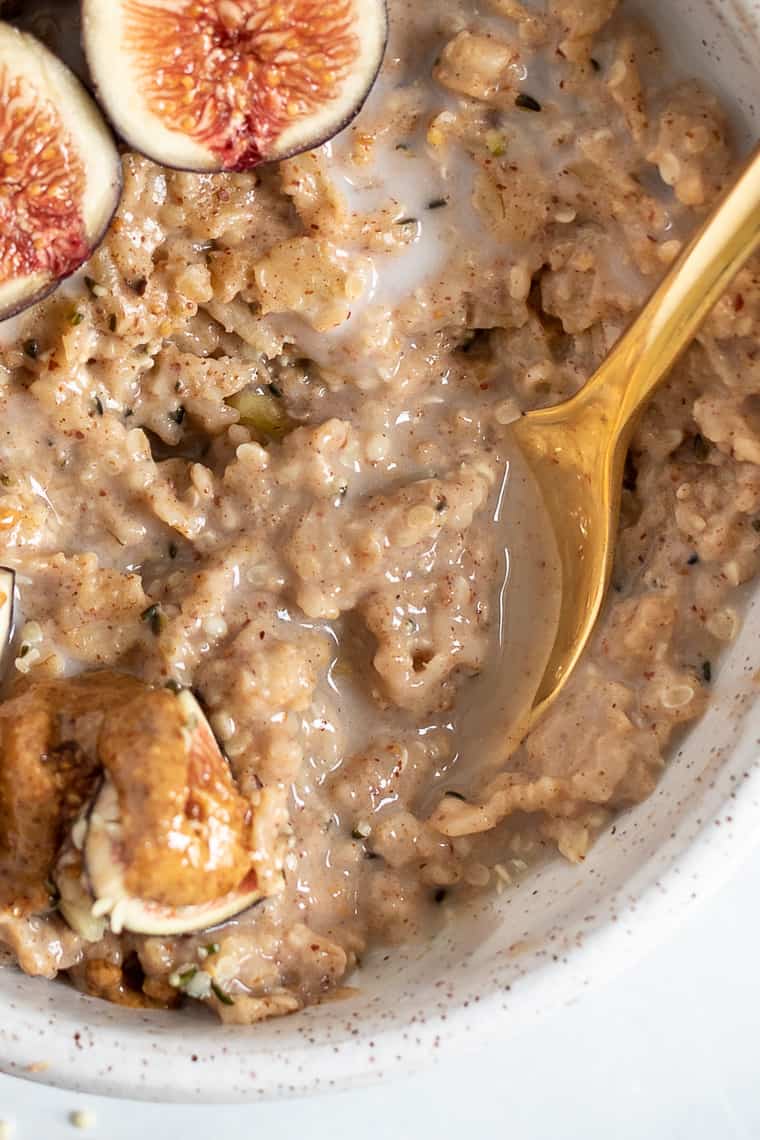 A Perfect Bowl of Almond Butter Oatmeal
All this to say, this is absolutely the most perfect bowl of oatmeal! It's cozy, comforting, creamy, perfectly sweet and packed with nutrients.
In each bowl of this almond butter oatmeal, you'll get:
16g of protein
11g of fiber
22g of healthy fats
It's a bowl that will fill you up, but also keep you full all morning long. Plus, it's an easy way to sneak in some fresh figs into your day!!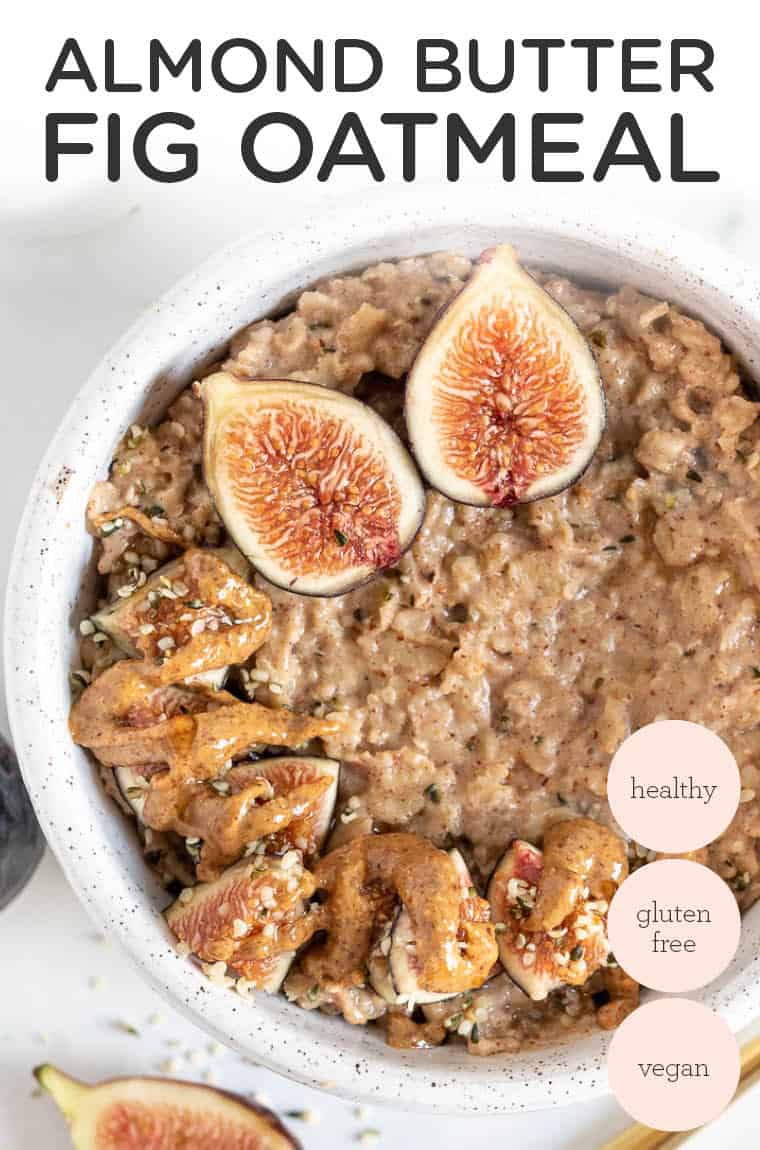 More Amazing Oatmeal Recipes you need to try:
Fig & Almond Butter Oatmeal
This healthy almond butter oatmeal uses fresh figs for a pop of flavor and sweetness. Vegan, high protein and the perfect healthy breakfast idea!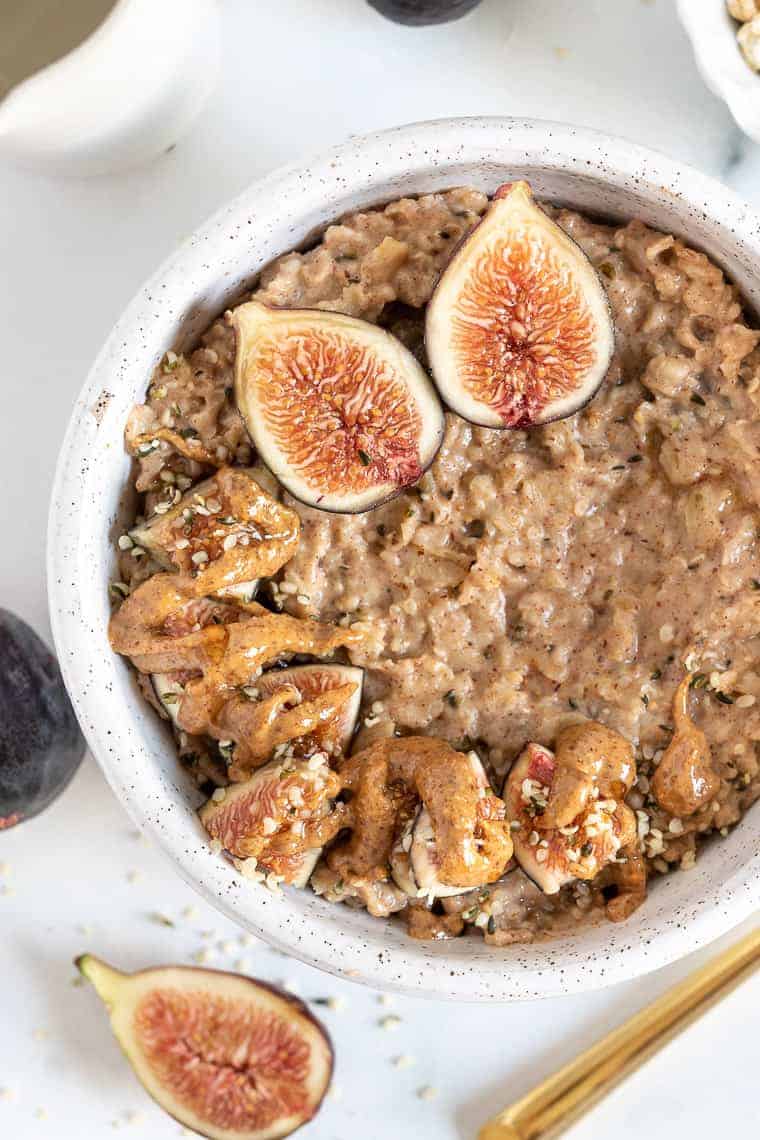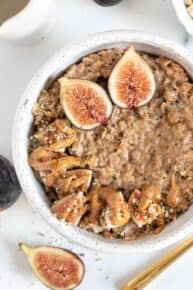 Instructions
Add the oats and almond milk into a saucepan. Bring the mixture to a boil, then reduce to simmer. Stir in the cinnamon, hemp seeds and maple syrup.

Continue to cook until the mixture has started to thicken, about 2 - 3 minutes. Then stir in the almond butter and half of the figs.

Transfer the oatmeal to two bowls. Top with the remaining figs and drizzle with some almond butter if desired. Enjoy!
Nutrition
Serving:
1
cup
|
Calories:
520
kcal
|
Carbohydrates:
70
g
|
Protein:
16
g
|
Fat:
22
g
|
Saturated Fat:
2
g
|
Sodium:
332
mg
|
Potassium:
586
mg
|
Fiber:
11
g
|
Sugar:
33
g
|
Vitamin A:
246
IU
|
Vitamin C:
2
mg
|
Calcium:
481
mg
|
Iron:
5
mg
Filed Under: