This peanut butter oatmeal recipe is packed with plant-based protein, is super flavorful and simple. It's great for meal prep, is vegan and gluten-free too!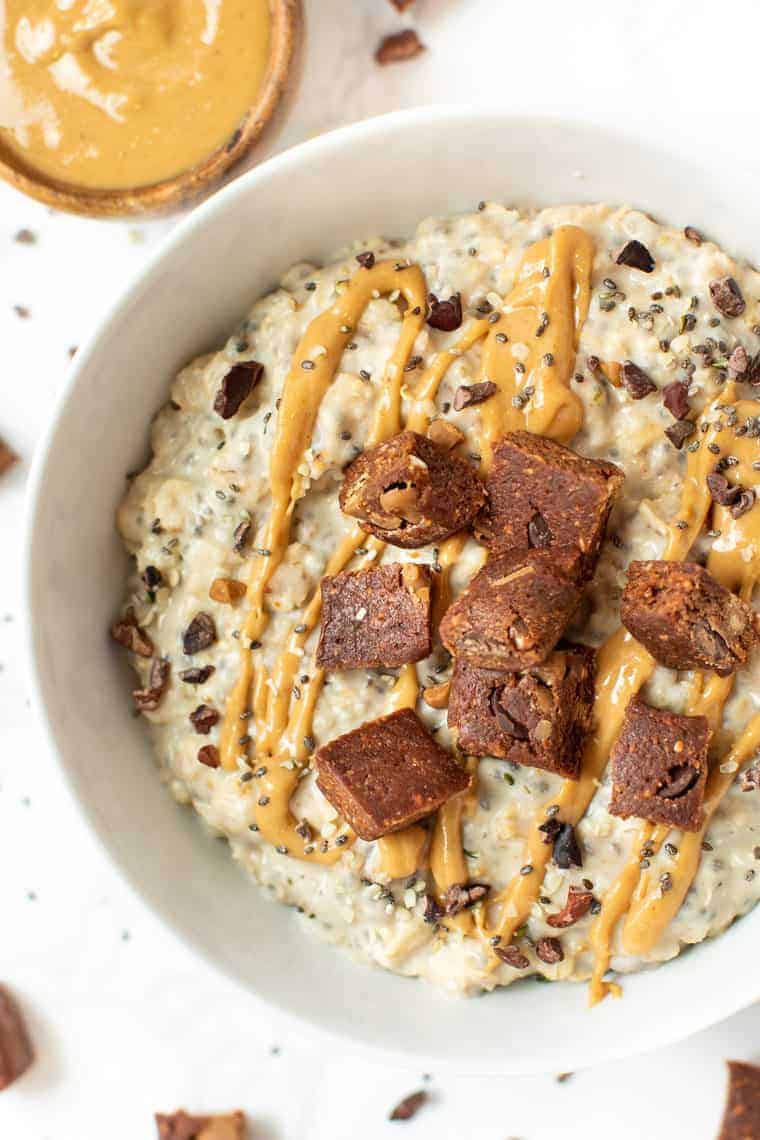 As soon as I wake up in the morning I start thinking about breakfast. What am I going to make? What do we have on hand?
Some of the things I always have on hand: oats and peanut butter.
This is peanut butter oatmeal recipe is actually something I make quite frequently, just haven't ever shared with you before. But since I know you all..
a) love oatmeal
b) love peanut butter
…I felt like it was about time to give you this recipe. It's easy, it's healthy, it can be meal prepped and it's super tasty!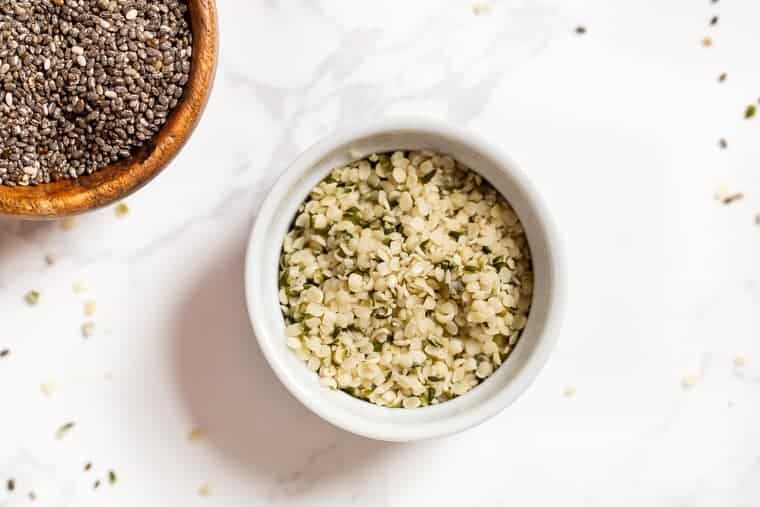 How to Add Protein to Oatmeal
While I'm all about a big bowl of carbs in the morning, it doesn't always agree with me. I need to make sure that I'm balancing some of those carbs out with healthy fats and protein. These two macros help make your meals more filling, but also more sustaining meaning you won't be reaching for a snack mid-morning.
Here are a few ways to add protein to oatmeal:
add some protein powder while cooking (you'll have to up the liquid ratio)
stir in some high protein seeds (like hemp and/or chia)
top it with some nut butter (peanut butter is especially great!)
I would recommend picking at least two of these things off the list so you can try to get your oatmeal bowl in the 15g per serving range.
Ingredients for Peanut Butter Oatmeal
We're picking two of those protein items to add to this peanut butter oatmeal recipe: seeds and nut butter. These additions actually bring our oatmeal 16g of protein per bowl (and that's excluding toppings). That's a surefire way to keep you nice and full until lunchtime!
So here's what we'll be using in today's oatmeal recipe:
Oats: feel free to use any variety, just know that the cooking time will vary
Chia seeds: high in omega-3s, healthy fats and protein
Hemp seeds: super high in protein and another form of healthy fat
Peanut butter: adds amazing flavor (duh!), but also gives our bowl even more protein and healthy fats
Maple syrup: for a bit of sweetness – this is optional, but I think is worth it!
Almond milk: feel free to swap with water or your milk of choice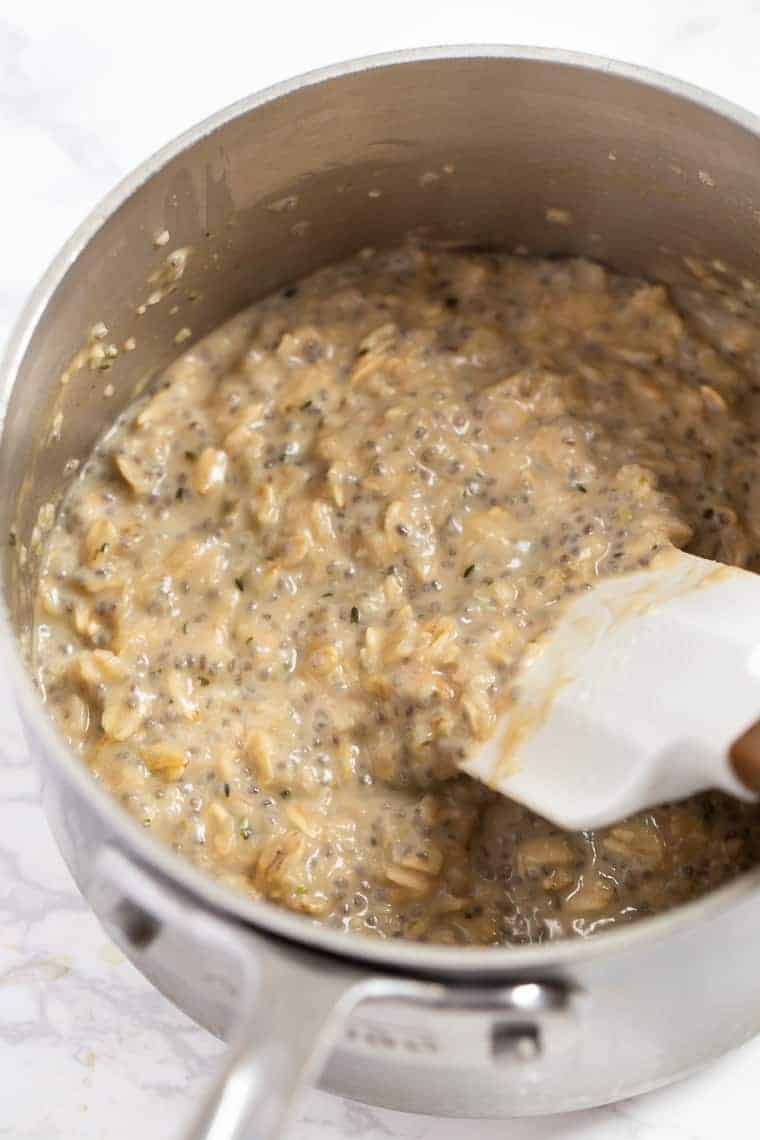 How to Make Peanut Butter Oatmeal
Did you know that there are actually multiple ways to cook oatmeal? The stovetop method – which we're using in today's recipe – but you can also cook oatmeal in the slow cooker or in your instant pot!
But we're using the stovetop method because I find it the easiest with rolled oats.
I make my oatmeal by adding my oats and liquid together into the pot first. I bring that to a simmer then stir in the rest of my ingredients. I continue to stir until the oatmeal is thick and creamy. Then I pour it in my bowl and have fun with my toppings!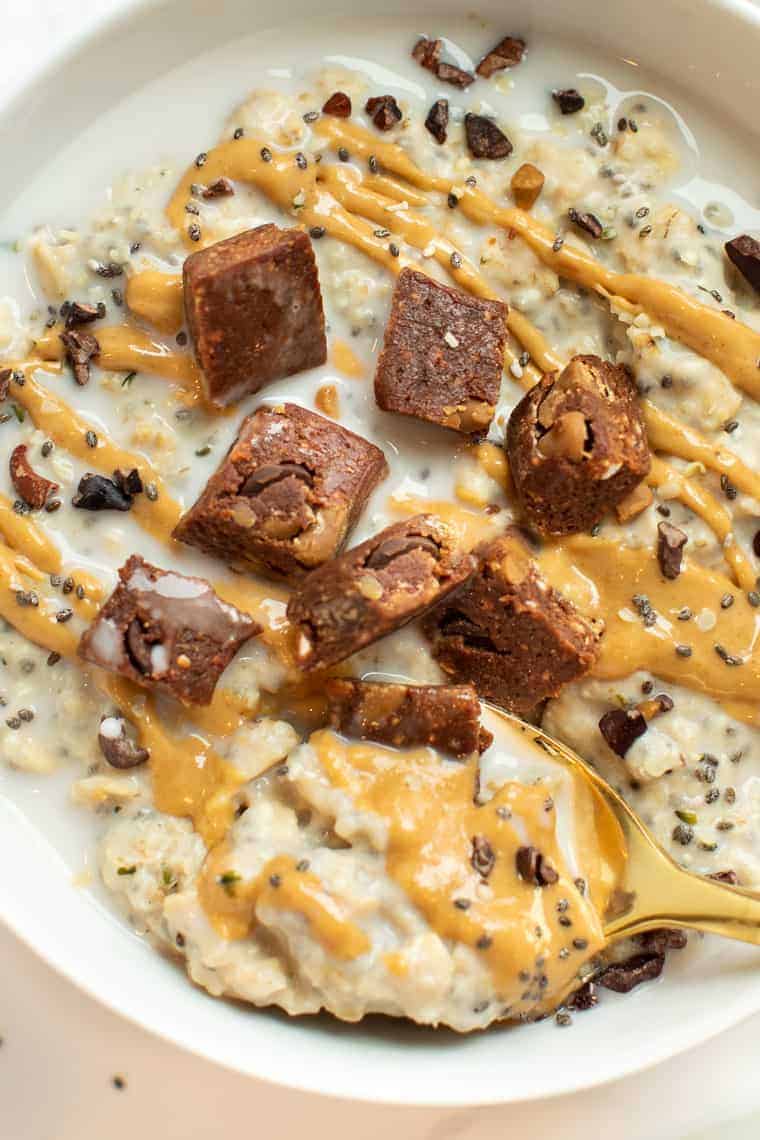 Fun Toppings for Oatmeal
I'm all about toppings when it comes to my oatmeal. Not only does it make the bowl really pretty, but the added textures just make it more interesting to eat. I was feeling hungry the day I shot this so I added quite a few toppings! Feel free to follow my list or pick and choose your favorites.
chopped up protein bar (I used half of a chocolate one – YUM!)
cacao nibs
more peanut butter
more hemp seeds
Other topping ideas for this peanut butter oatmeal recipe would be:
sliced banana
chopped apple
chopped peanuts
But really, it's up to you to make this oatmeal bowl your own. I hope you love the flavor and I hope you love how filling it is!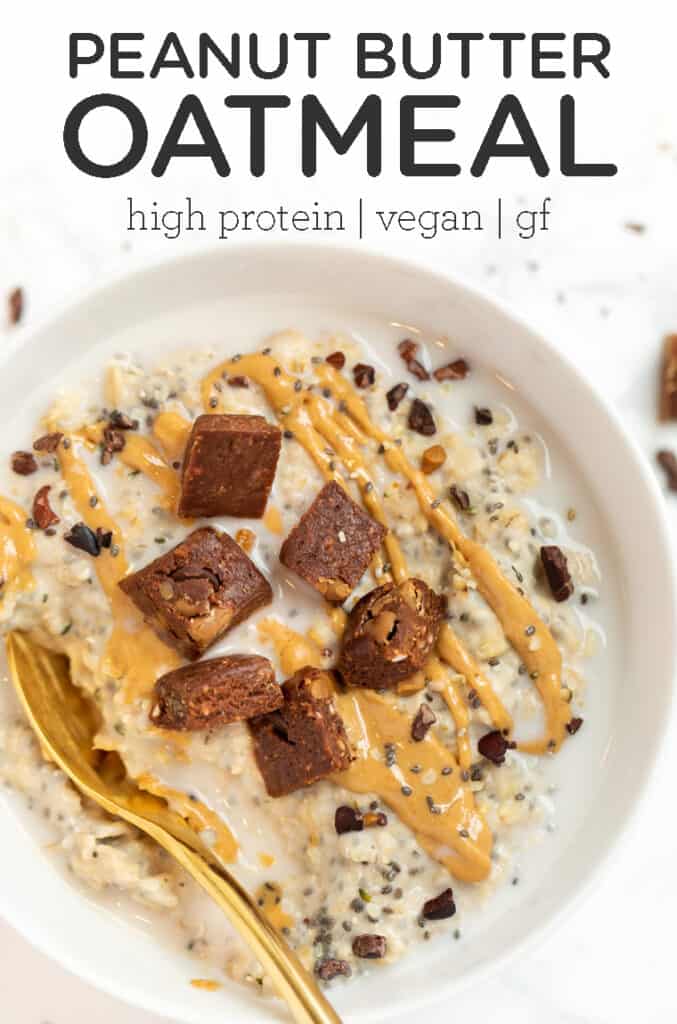 More Healthy Oatmeal Recipes to Try:
Creamy Peanut Butter Oatmeal
This Creamy Peanut Butter Oatmeal recipe is so easy to make and absolutely delicious! Nutritious, vegan, gluten-free and made with whole food ingredients like rolled oats, chia seeds, hemp seeds, maple syrup, and peanut butter! You'll love this homemade recipe - it's great for meal prep and tastes like dessert!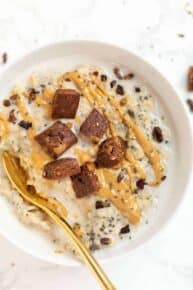 Ingredients
optional toppings:
chopped protein bar

(I love these ones)

drizzle of peanut butter

sprinkle of chia seeds

sprinkle of cacao nibs
Instructions
Add the oats and milk into a saucepan. Bring to a simmer, then stir in the seeds, peanut butter, and maple syrup. Continue to stir and cook until thickened.

Add to a bowl, and top with any toppings you'd like!
Notes
* nutrition facts do not include toppings!
Nutrition
Calories:
419
kcal
|
Carbohydrates:
42
g
|
Protein:
16
g
|
Fat:
22
g
|
Saturated Fat:
3
g
|
Sodium:
295
mg
|
Potassium:
295
mg
|
Fiber:
9
g
|
Sugar:
14
g
|
Vitamin A:
78
IU
|
Calcium:
332
mg
|
Iron:
4
mg
Filed Under: