This ultra creamy coconut and turmeric wild rice soup is vegan, bursts with robust flavors and is packed with veggies. Makes for an easy, one-pot dinner and freezes well for leftovers!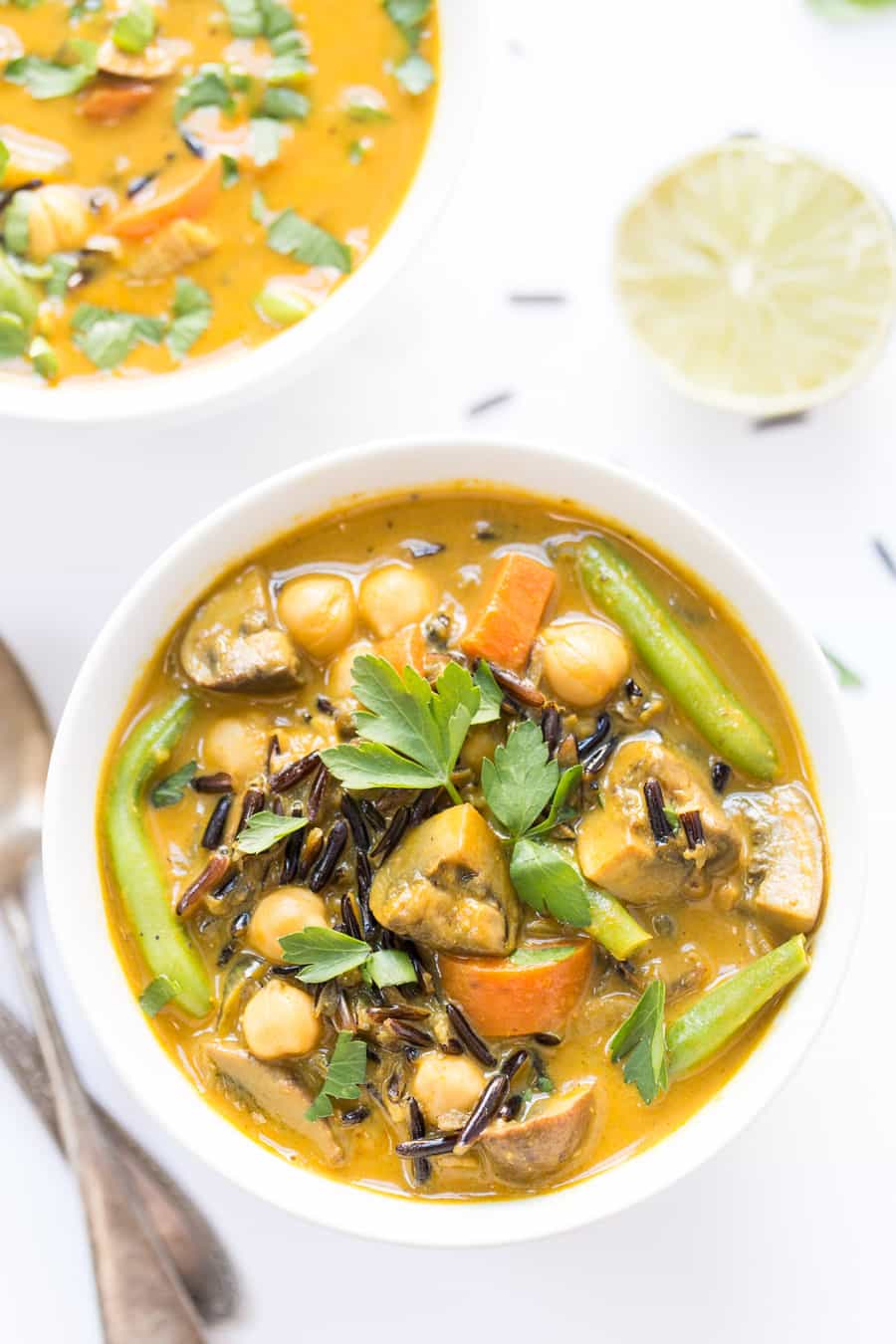 We've made it! It's Day 5 of Whole Grain Week and you guys have been amazing! I've loved all the support and excitement, your pictures have been incredible, and your feedback on the recipes has been stellar. You guys seriously rock! And of course, it's been so fun having Bob's Red Mill along for the ride with us!
Before we dive into the final recipe, here's a quick recap of what's been going on this week if you're just joining us. Whole Grain Week is a concept I came up with to hopefully inspire people to incorporate more whole grains into their diets. I've shared a new recipe (and video) every single day this week, all featuring a different whole grain. Here's what we've covered so far
And we're ending this week on a savory note with this amazing wild rice soup that combines coconut milk, aromatic spices like curry, ginger and turmeric, and tons of veggies. It's made in just one pot, stores great in the fridge (yay for more meal prep!) and freezes well also. I just had the leftovers for dinner last night and YUMMO!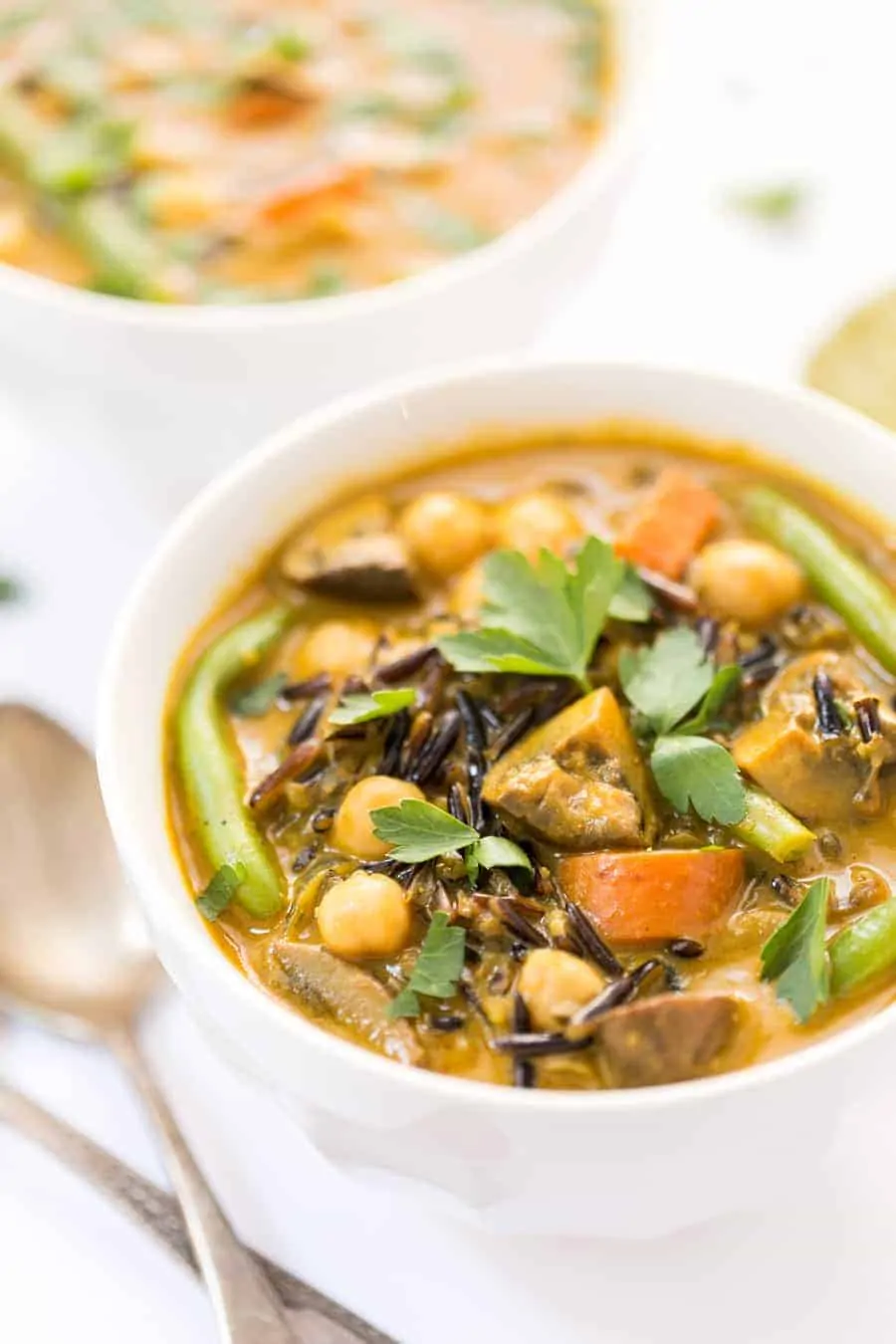 Of course, the recipe title gives away which whole grain we're featuring today, and it's…wild rice!
Wild rice is a semi-new-to-me ingredient, meaning that I haven't cooked with it much, but each time I try it I like it even more. It's got a lovely crunchy texture, it's a teeny bit chewy, tastes quite nutty and of course, has that stunning black color which really pops in our turmeric soup!
We're using the wild rice from Bob's Red Mill, but as I mention in the video, you can also use their quick-cooking wild rice which would reduce the overall cooking time of this soup by about half.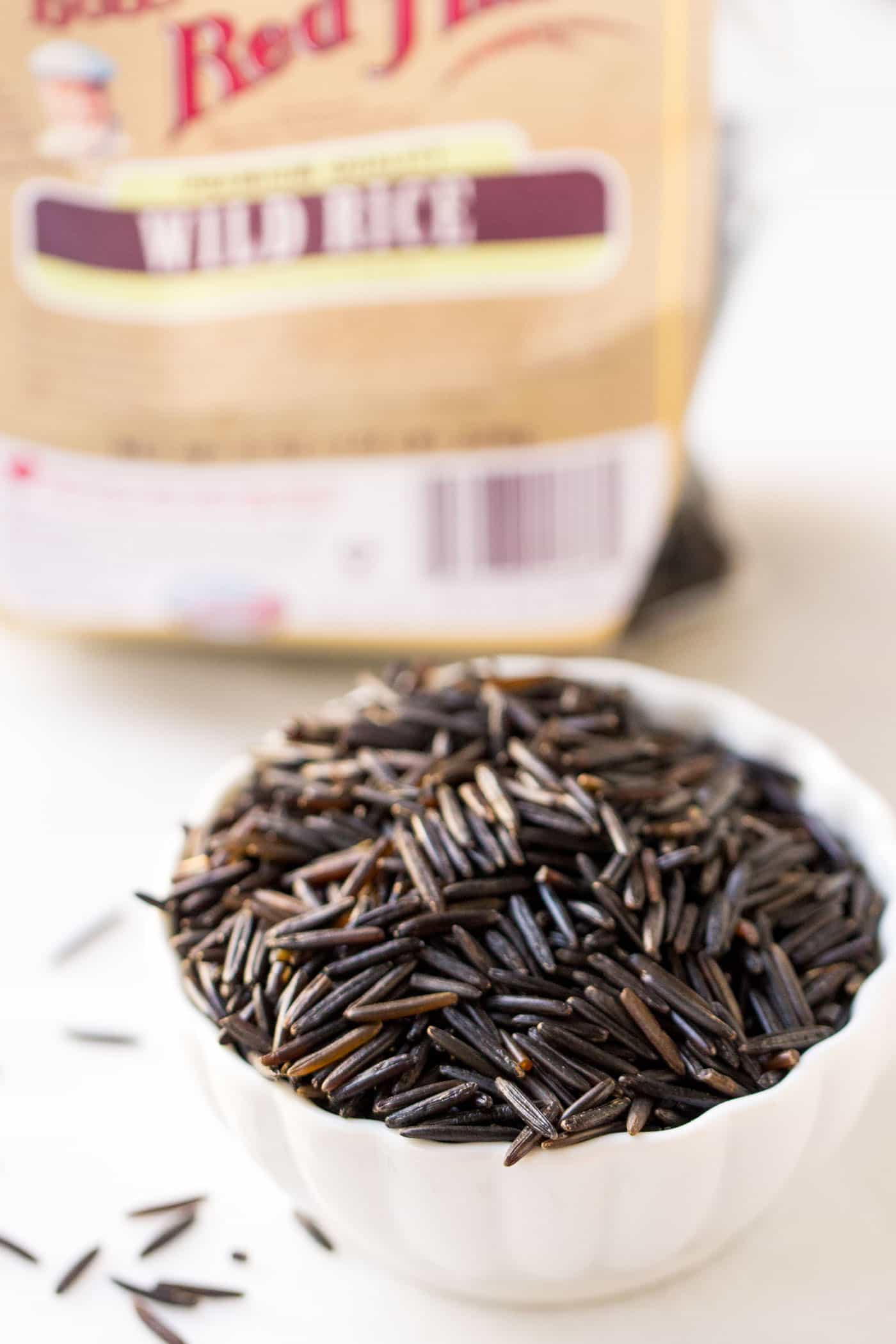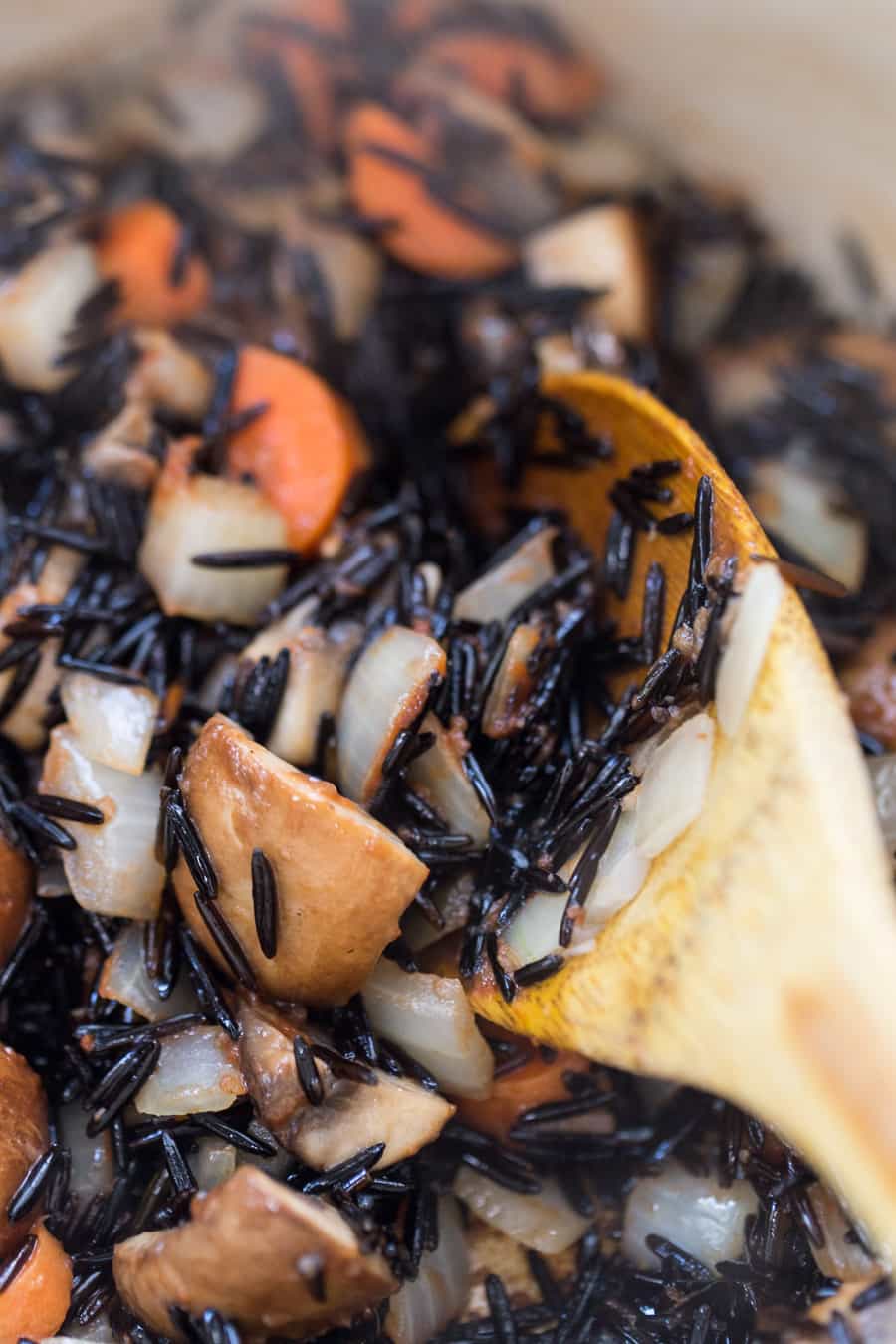 When it comes to cooking wild rice, it takes about as long as brown rice, which is why this soup takes so long to cook. But since we're cooking the rice in the soup liquid, it's totally a set it and forget it kind of meal.
When you get home after work, just pop everything in the pot and let the soup simmer away while you wind down. It's simple, delicious and also really hearty too!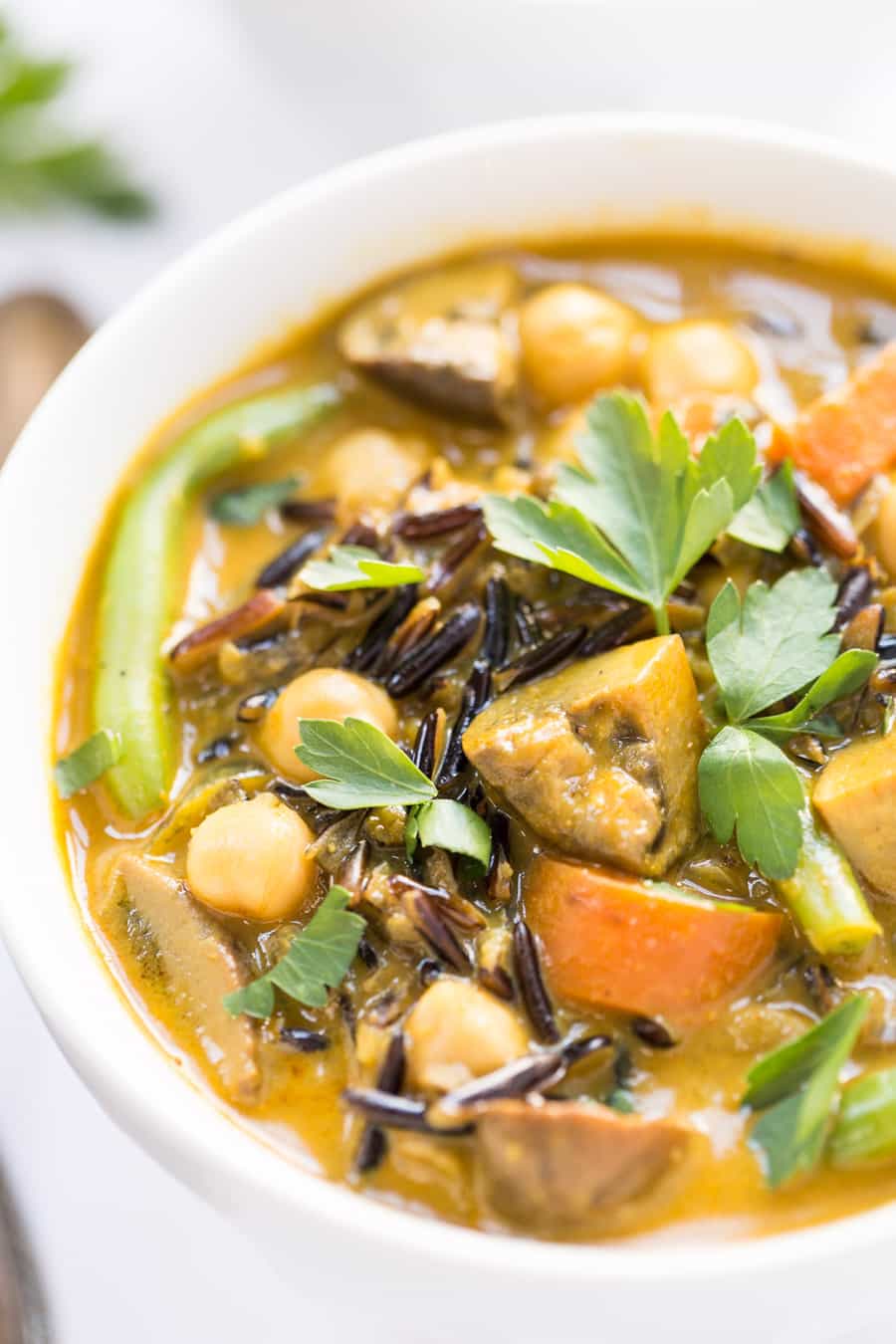 To flavor this soup, we're using curry powder, ground turmeric, ground ginger, and ground cumin. I wouldn't normally add cumin in with these flavors, but I really enjoyed it! I think next time I might also add a dash of smoked paprika to round it out.
And then for our add-ins, we went with a simple blend of veggies, but you could totally customize what I used for whatever you have on hand. Anything that you might normally throw in a curry would work in this soup. (next time I'm going to add broccoli and/or cauliflower!)
In addition to customizing the vegetables, you can also make this soup non-vegan if you (or your family) enjoy meat. Some substitution ideas:
Change vegetable broth for chicken broth
Stir in a bit of fish sauce to amp up the flavor
Swap chickpeas for shredded chicken
Add shrimp instead of chickpeas (add with 10 minutes left in cooking)
But personally, I think trying how it is first and see how you like it is the way to go 😉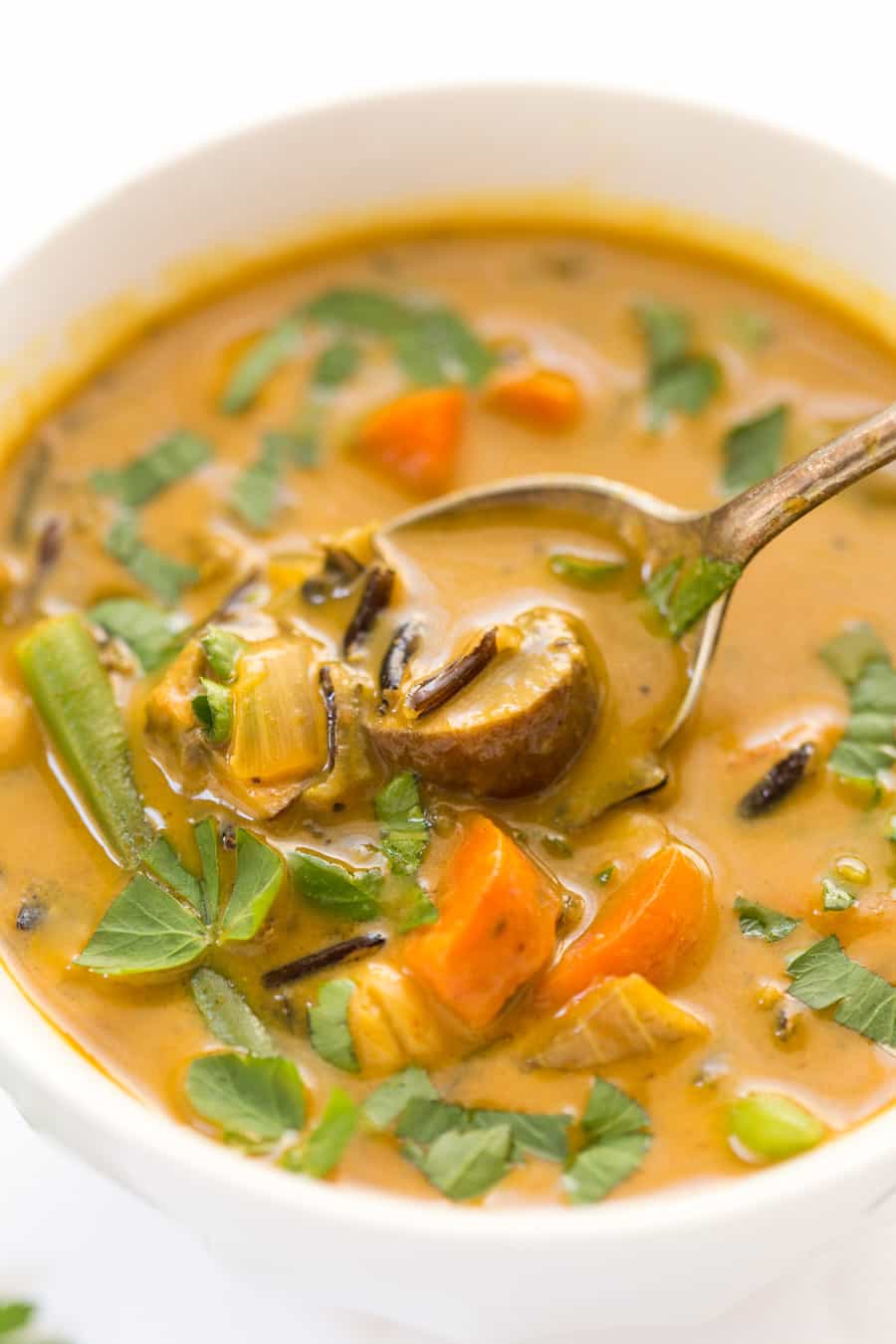 VIDEO: How to Make Creamy Coconut & Turmeric Wild Rice Soup
More Wild Rice Recipes to Try:
Creamy Coconut & Turmeric Wild Rice Soup
This ultra creamy coconut and turmeric wild rice soup is vegan, bursts with robust flavors and is packed with veggies. Makes for an easy, one-pot dinner and freezes well for leftovers!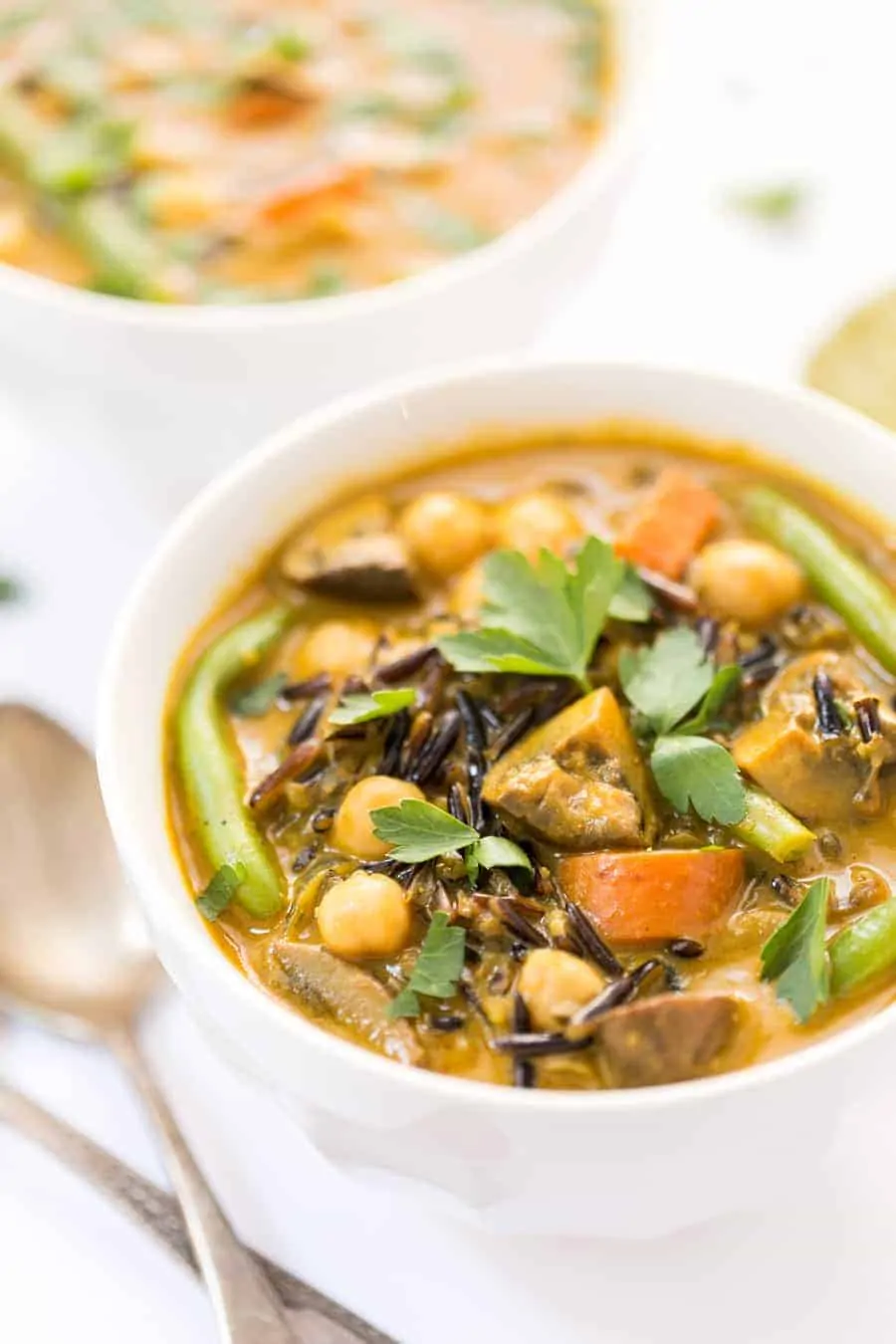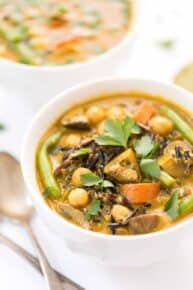 Instructions
Melt the coconut oil in a large stock pot or dutch oven. Once melted add onion and carrots and saute until starting to brown and onions have softened. Add mushrooms and garlic and cook another 2 - 3 minutes. Stir in wild rice, tomato paste and spices.

Add liquids to the pot and bring the mixture to a bowl. Reduce to a simmer and cook for 50 - 60 minutes, until rice is tender. Once tender, stir in green beans and chickpeas and cook until they are heated through.

Serve immediately with a garnish of lime juice and/or cilantro if desired!
Nutrition
Calories:
368
kcal
|
Carbohydrates:
44
g
|
Protein:
11
g
|
Fat:
19
g
|
Saturated Fat:
15
g
|
Sodium:
1075
mg
|
Potassium:
692
mg
|
Fiber:
8
g
|
Sugar:
6
g
|
Vitamin A:
2293
IU
|
Vitamin C:
7
mg
|
Calcium:
68
mg
|
Iron:
5
mg
Filed Under:
This post was sponsored by the awesome folks Bob's Red Mill! Make sure to check out their entire line of products – there are tons of amazing gluten-free options. Thank you for supporting the brands that I am passionate about, it allows me to continue to produce these recipes for you!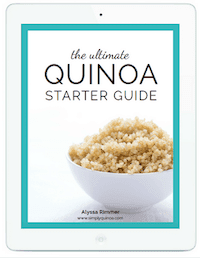 New to cooking quinoa? Grab your FREE Quinoa Starter Guide!
Become part of the Simply Quinoa community and receive weekly emails with exclusive content that I only share in email, as well as my in-depth guide to starting your quinoa journey.
Want more healthy soup recipes?
Follow my board on Pinterest!