This is my method for making the creamiest steel cut oats on the planet. Served with pan-fried caramelized bananas and pecans, it becomes the ultimate breakfast bowl!
Friends, we're already on Day 4 of Whole Grain Week! Doesn't it feel like it's flying by? This has been a really fun challenge for me, because instead of going with a particular category of food (like we did with Salads), I've been able to give you a really wide variety of recipes. From Fajita Quinoa Bowls to these creamy steel cut oats, there's lots to choose from!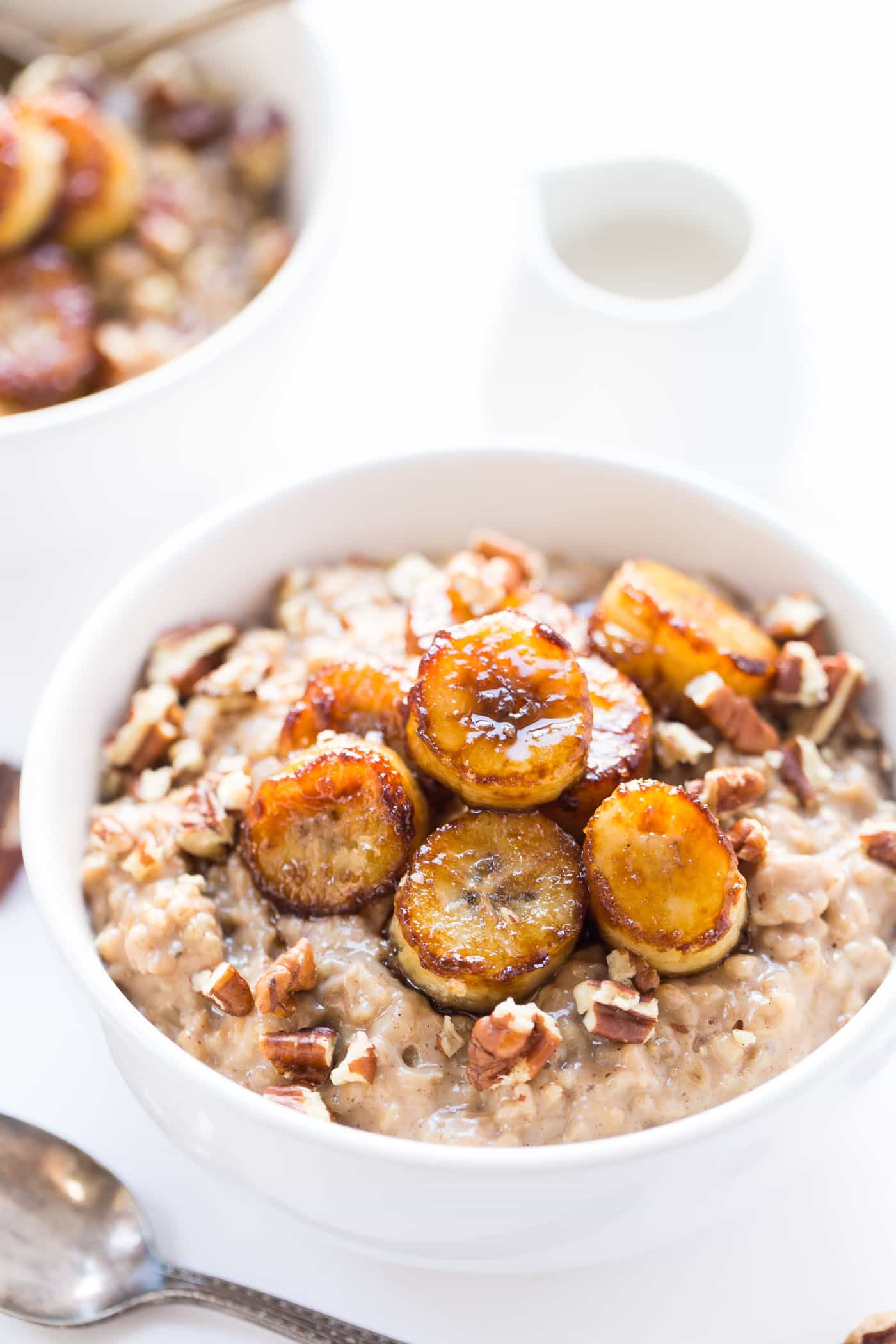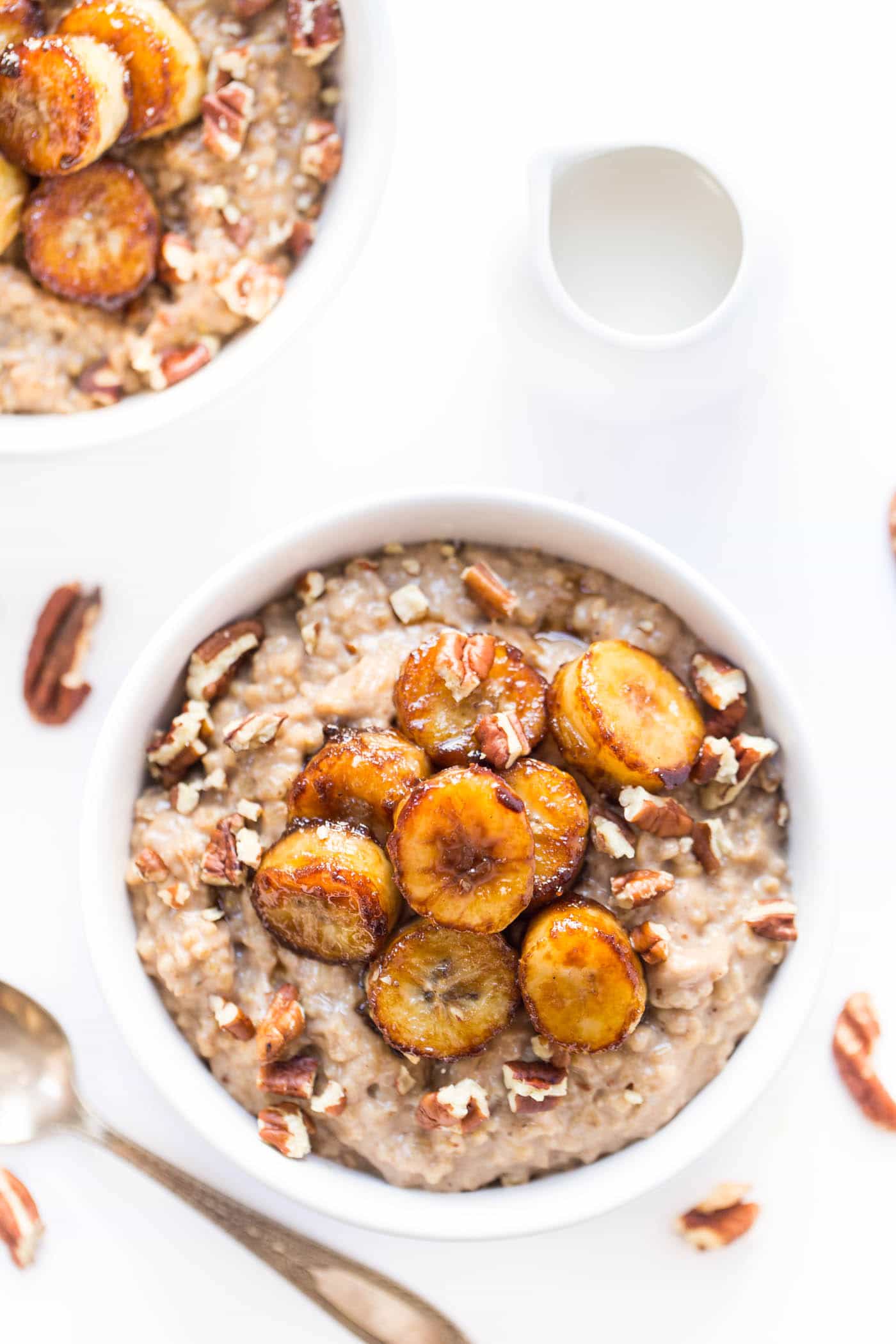 While I'm pretty partial to my quinoa recipes, I have to say, this is my favorite recipe of the week so far!
If you're an oatmeal lover like me, then you're in for a real treat. I'm showing you how to make THE creamiest steel cut oats, and then we're topping everything off with caramelized bananas and chopped pecans.
It might sound a little intimidating, but trust me, this recipe is simple to make and tastes out of this world.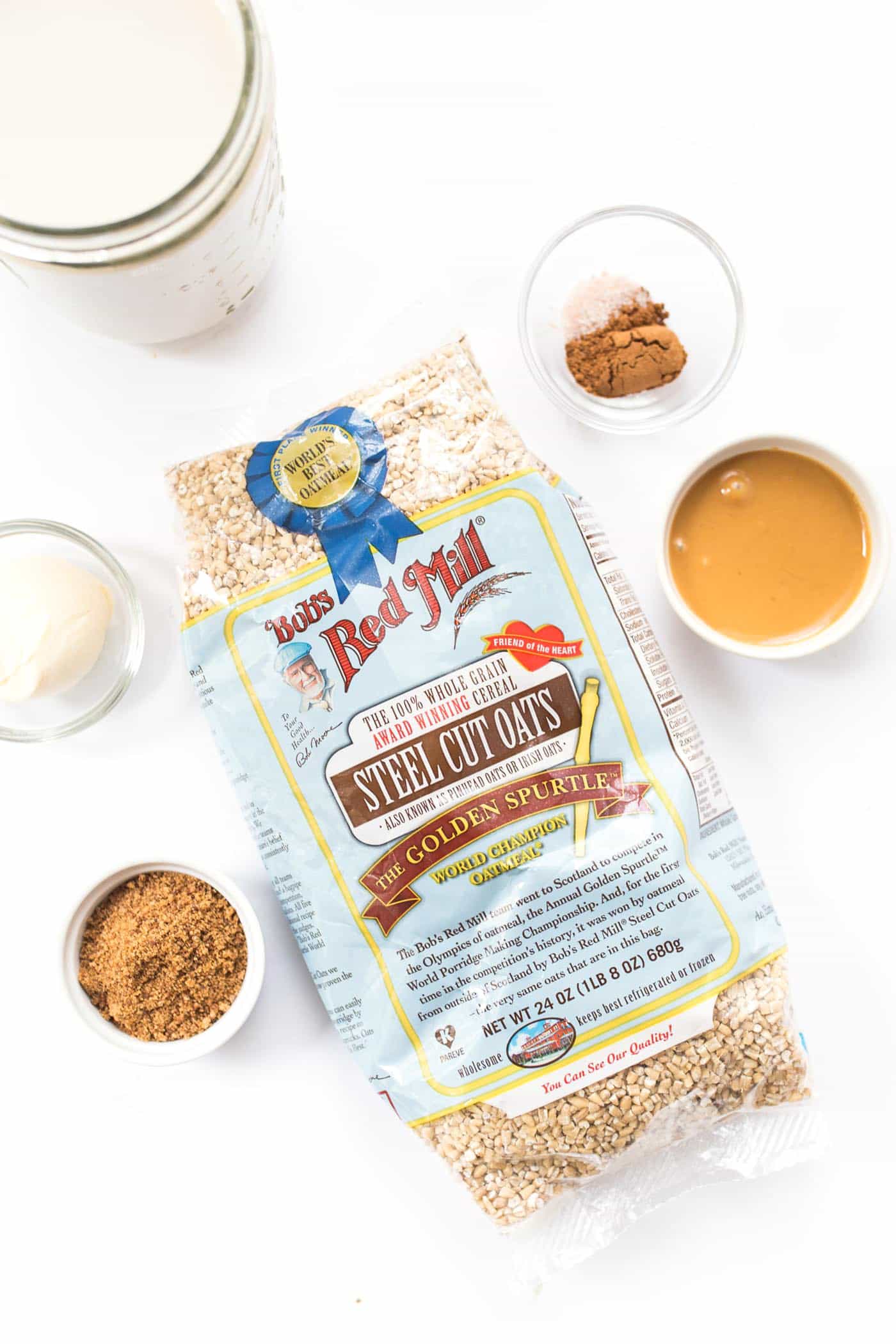 To get started, we're gonna need some steel-cut oats. If you're unsure what steel-cut oats are, they're just whole oat groats that have been slightly chopped up (unlike oat flakes which have been flattened). This is why they take longer to cook, but nutritionally speaking, they're just as great. High in fiber, a complex carbohydrate, and a wonderful way to fuel up in the morning.
We're using Bob's Red Mill steel cut oats in this recipe, and what's great about Bob's is that they have a bunch to choose from. You can use their traditional steel-cut oats, their organic steel cut oats (both of which are award-winning), as well as their certified gluten-free steel-cut oats. But Bob's has also got those of us who are short on time covered with their quick-cooking variety of all three.
So basically, any scenario you're finding yourself in, they've got a steel cut oat for you!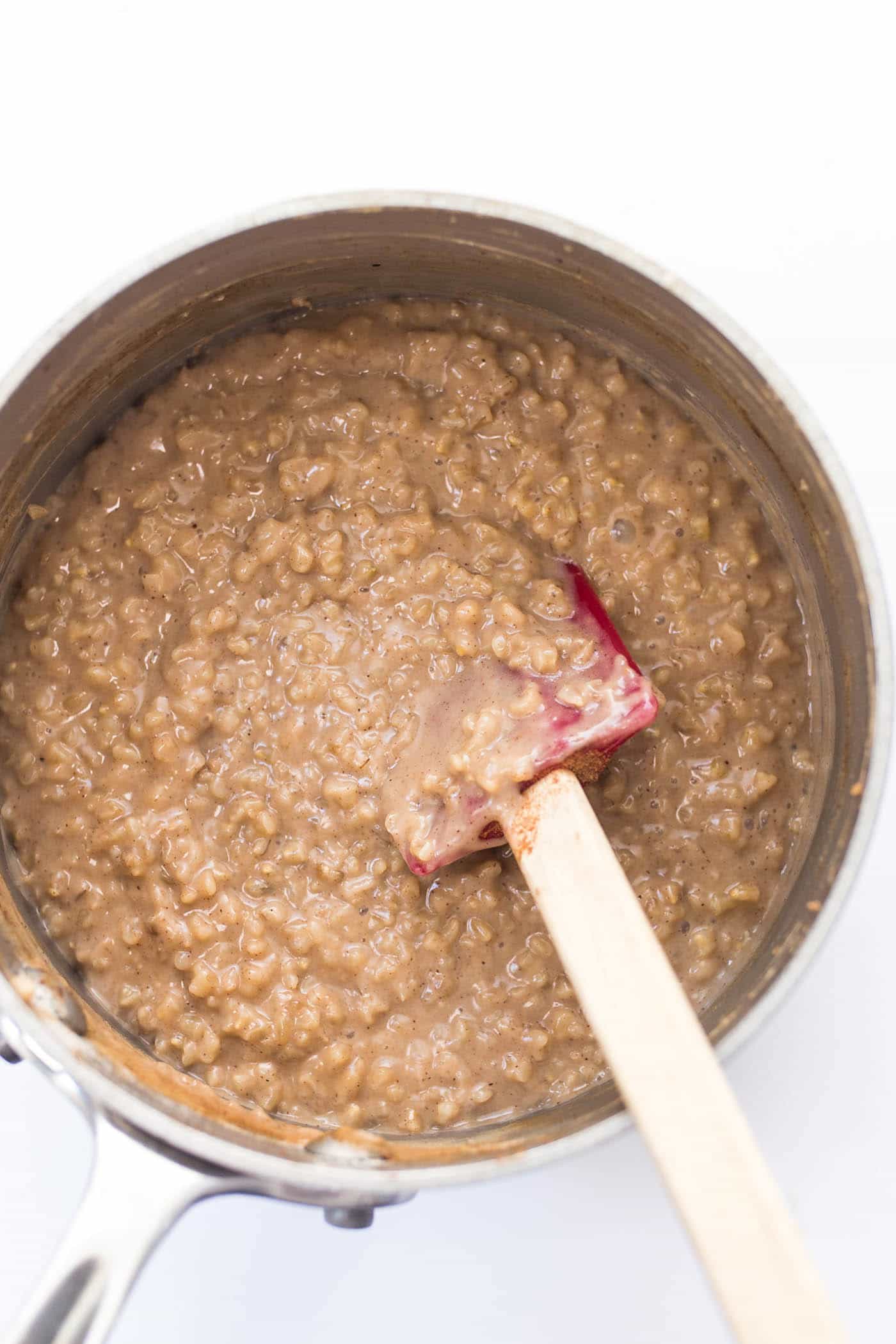 I chose their standard steel-cut oats for this recipe, which means that they take about 20 minutes to cook. Most of the time when you're cooking oatmeal, you find that it's cooked in water. And while that's perfectly acceptable, to get super creamy oatmeal, you'll want to cook it in milk. I used almond milk, but you can certainly use whatever type of plant milk you'd like (or traditional milk if you're not vegan/dairy-free). Just
Just like regular oatmeal, you'll just let these steel cut oats simmer on the stove until they turn soft and creamy. I simmered mine for 15 minutes, then added in my other ingredients.
As for the stir-ins, which we all know is the best part, we used a little bit of vegan butter which adds even more to the creaminess, some coconut sugar for sweetness, salt and cinnamon to heighten the flavor, and peanut butter because…well everything is better with peanut butter!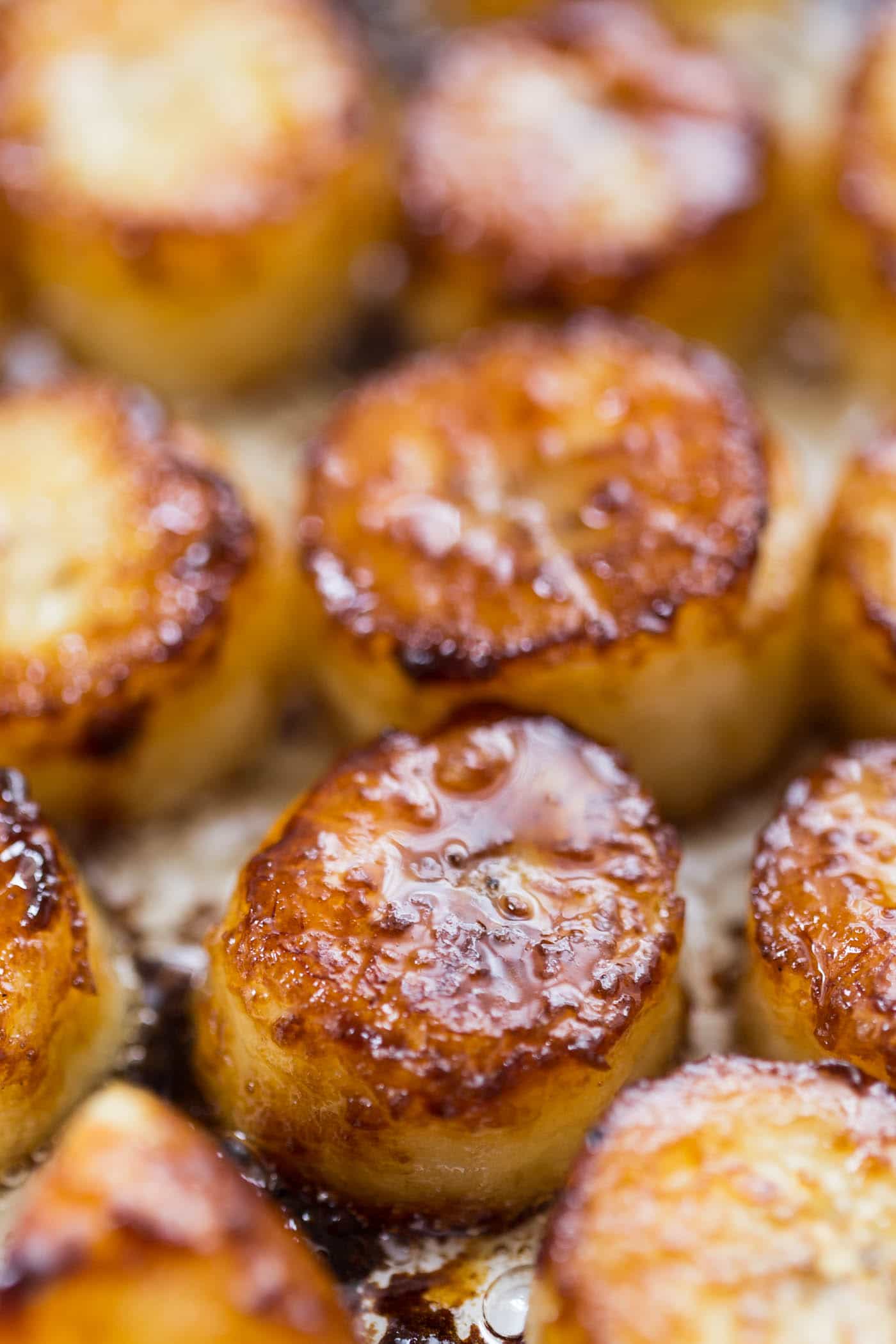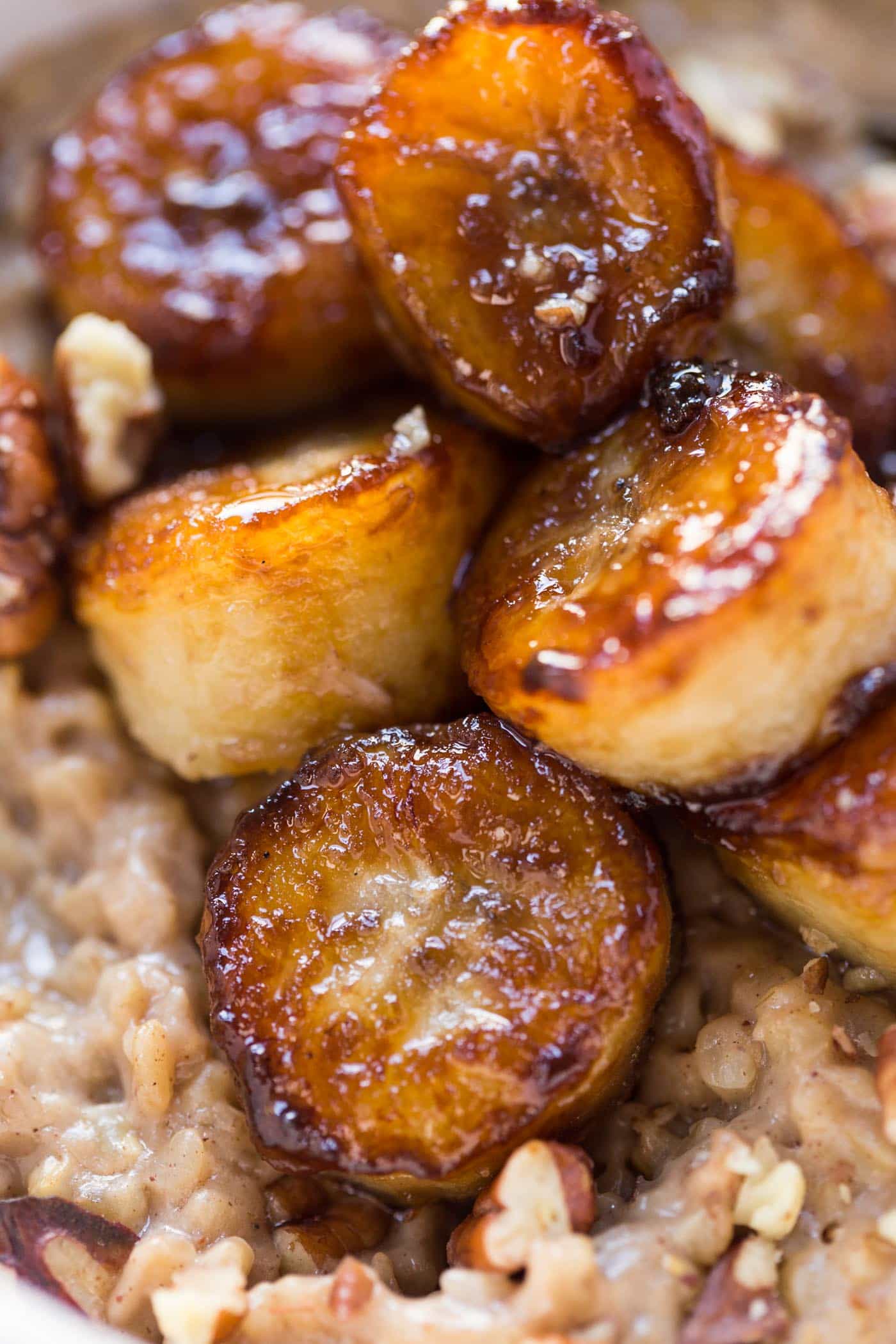 And then there's the topping… CARAMELIZED BANANAS!
So simple to make (takes about 3 minutes) and seriously the most legit oatmeal topping I've ever had.
All we'll need are bananas, coconut sugar, and coconut oil. You just pan fry the bananas until they're nice and caramelized on both sides, pop them on top of your oatmeal and you're good to go.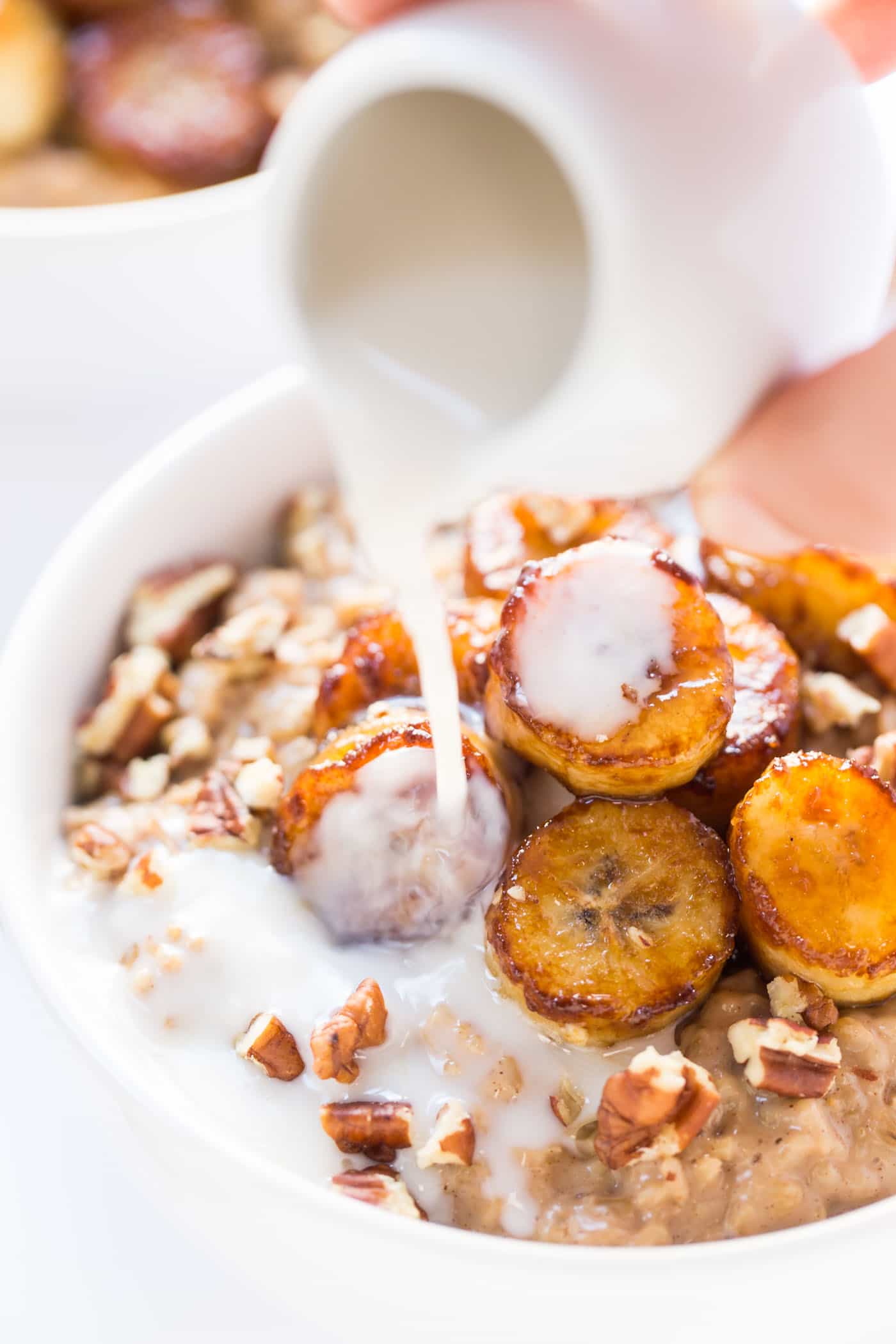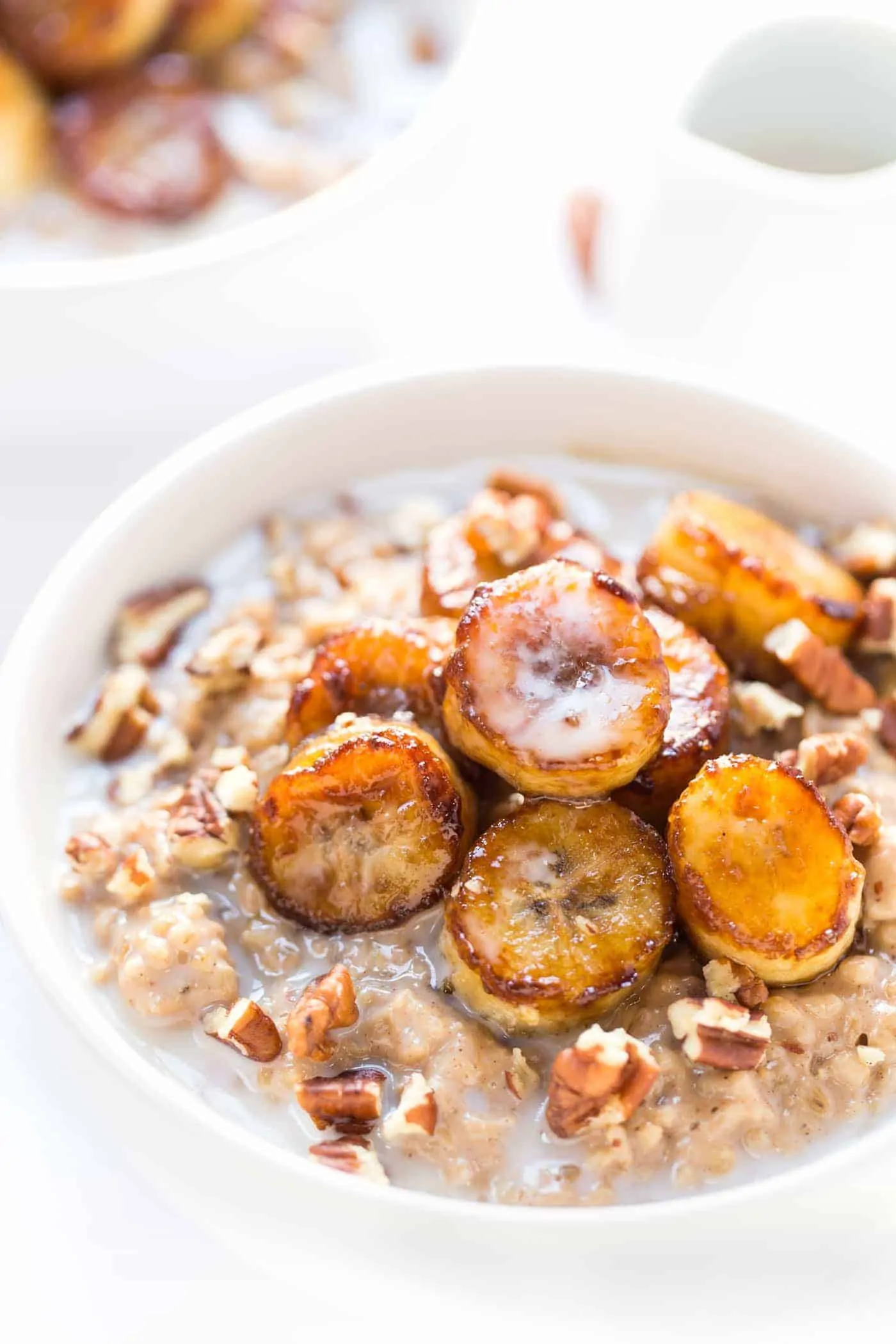 I also sprinkled my oatmeal with some pecans, but that's optional. I just personally like a little crunch!
And finished it all off with a drizzle of almond milk, but you could also do yogurt if you wanted to. I love stirring in something cold with the hot oats. Again, it's optional, but I highly recommend it!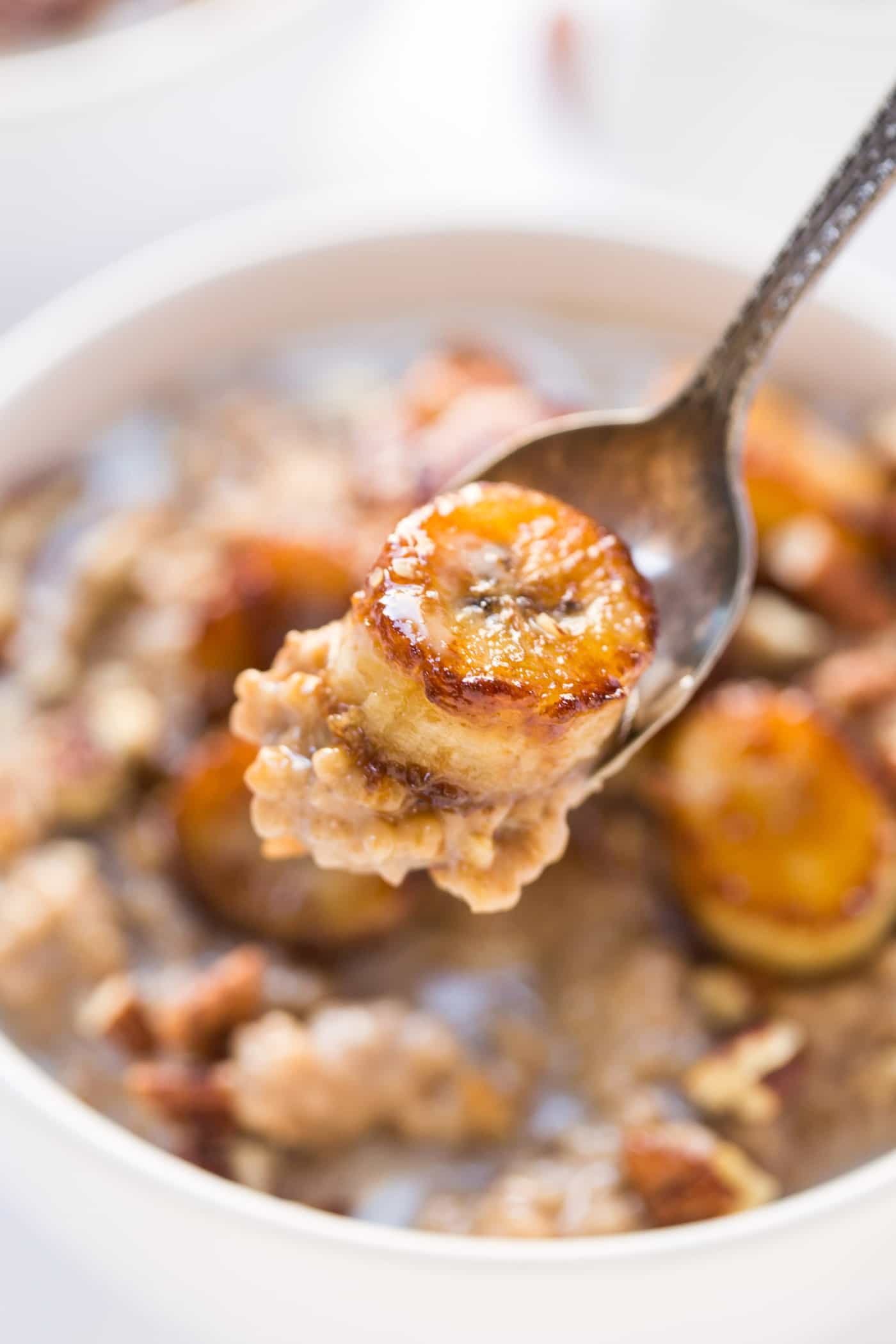 Before I let you dive into this incredible breakfast bowl, I just need to say one more time, this is hands down the best oatmeal I've ever tasted. It's creamy, it's just lightly sweetened, it has a faint buttery note and those bananas are killer. I can't wait for you guys to make it!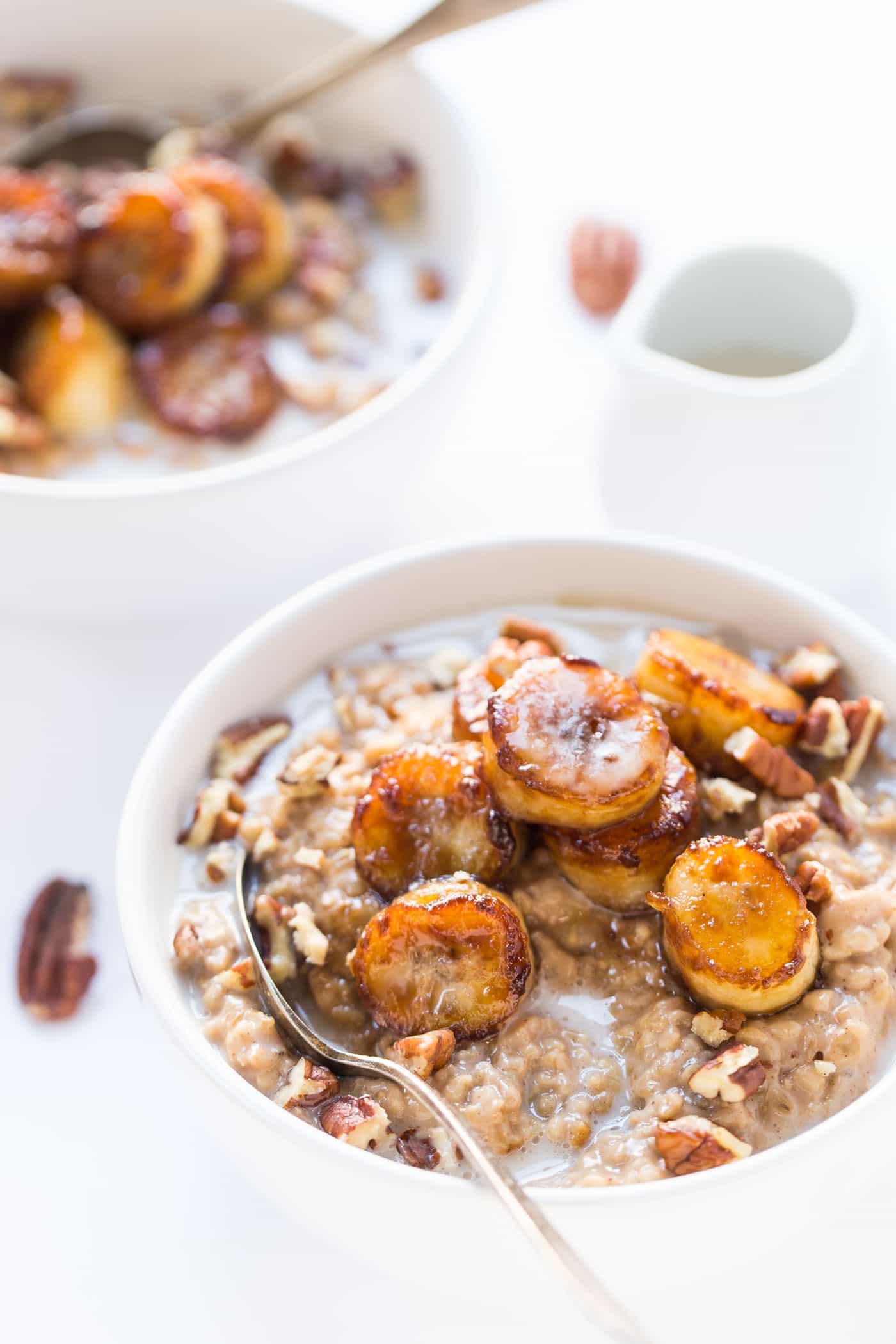 p.s. I'll be giving away a FREE ebook at the end of Whole Grain Week with all the recipes, so just sign up for my newsletter by clicking right here and I'll make sure you get it when it's available!
More Steel-Cut Oat Recipes to Try:
Creamiest Steel Cut Oats with Caramelized Bananas
This is my method for making the creamiest steel cut oats on the planet. Served with pan-fried caramelized bananas and pecans, it becomes the ultimate breakfast bowl!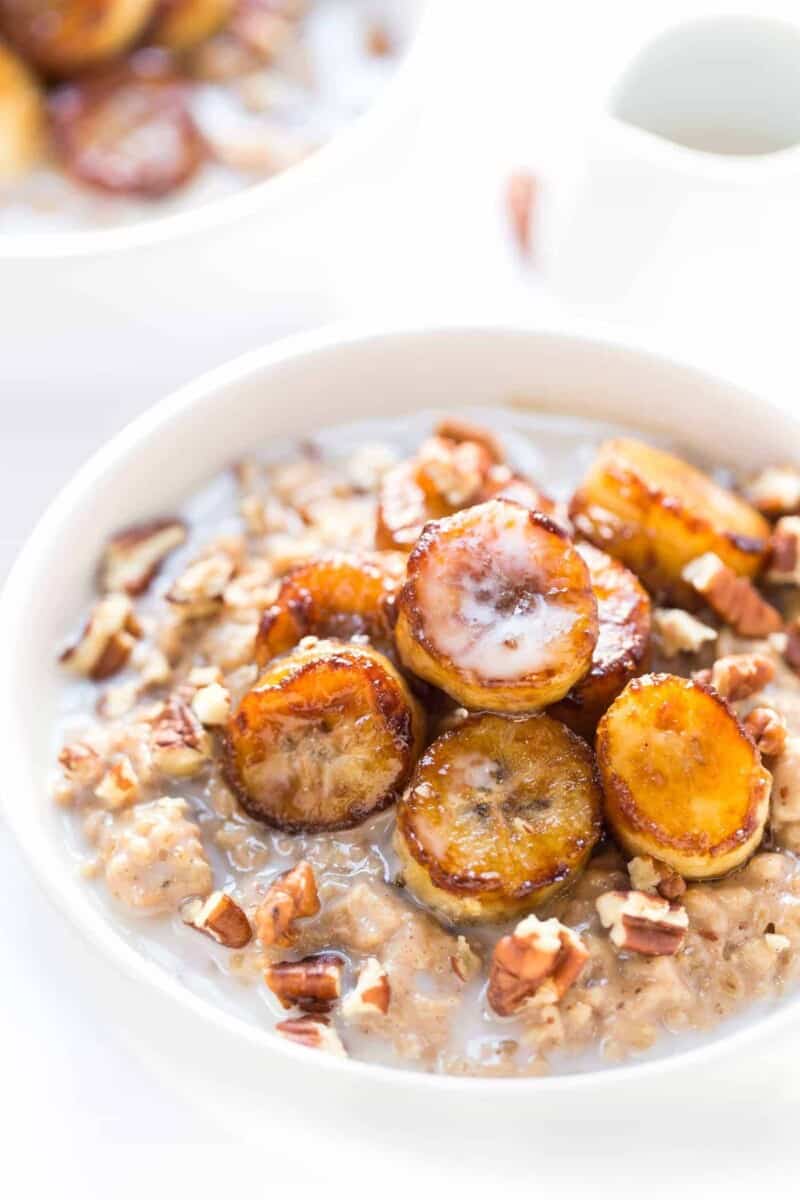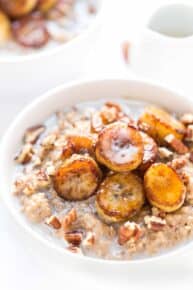 Instructions
Add oats and almond milk to a small saucepan and bring to a boil. Reduce to low and simmer for 15 minutes, stirring occasionally.

After 15 minutes, stir in butter, 2 tablespoons coconut sugar, cinnamon, salt and peanut butter. Simmer for another 5 minutes then remove from heat and cook bananas.

For the bananas, add the coconut oil and remaining sugar to a large saute pan. Once melted and shimmering, add bananas. Cook flat side down for 3 minutes until caramelized, then flip and cook another minute more. Remove from heat and plate the oatmeal.

To serve, divide the oatmeal evenly between bowls (serves 2 - 4). Top each bowl with bananas, sprinkle with pecans and a drizzle of almond milk and enjoy!
Notes
Nutritional data is based on 4 servings
Nutrition
Calories:
344
kcal
|
Carbohydrates:
44
g
|
Protein:
7
g
|
Fat:
16
g
|
Saturated Fat:
4
g
|
Sodium:
450
mg
|
Potassium:
262
mg
|
Fiber:
6
g
|
Sugar:
14
g
|
Vitamin A:
170
IU
|
Vitamin C:
5.1
mg
|
Calcium:
247
mg
|
Iron:
1.6
mg
Filed Under:
This post was sponsored by the awesome folks Bob's Red Mill! Make sure to check out their entire line of products – there are tons of amazing gluten-free options. Thank you for supporting the brands that I am passionate about, it allows me to continue to produce these recipes for you!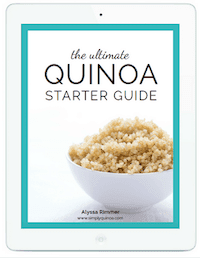 New to cooking quinoa? Grab your FREE Quinoa Starter Guide!
Become part of the Simply Quinoa community and receive weekly emails with exclusive content that I only share in email, as well as my in-depth guide to starting your quinoa journey.
Want more healthy breakfast recipes?
Follow my board on Pinterest!