Okay so two things are happening this weekend. First, we're starting our yoga challenge (yippee, come join us!), and second it's the Super Bowl.
If you follow football (in fact, even if you don't I'm sure you know this already), the Super Bowl is this Sunday at Meadowlands Stadium in New Jersey (just across the river from NYC). To say that the City is going to be a nut-house, is an understatement. Hundreds of thousands of people will be descending on the island, so the city is doing all they can to capitalize on this influx by creating a bunch of Super Bowl attractions.
They've closed down an area near Times Square, that they're calling Super Bowl Alley, where they've created rides, football themed games, and other craziness that I want absolutely no part of. I'm not even that big of a football fan, so this to me sounds like torture.
You better believe I'll be holing up in my apartment steering clear of all the chaos. I'd so much rather cook and bake all weekend than deal with that. So that's exactly what I plan on doing.
What I do love about the Super Bowl, besides the funny commercials, is the party food. When you think of football food, what comes to mind? For me, it's little appetizer bites like pigs-in-a-blanket, jalapeño poppers, chicken nuggets, and creamy dips like spinach artichoke or buffalo chicken.
While delicious, all that food makes me feel sick just thinking about it – loaded with calories, fat and other unhealthy ingredients (not to mention gluten and dairy).
So when I'm sitting down to watch the big game on Sunday, I'll be eating a salad instead. I'll be eating a salad that is topped with all my favorite things (and also things traditionally served at Super Bowl parties). We're talking carrots, guacamole and crispy chicken strips.
Yes, crispy chicken strips. That are actually healthy.
When I first started making "breaded" things, like chicken tenders or chicken nuggets, I would dip them in a little almond milk, cover them in my bread coating, and then pan fry them. While they' tasted great, that darn coating never stuck. As soon as I took a bite, the whole thing would fall off.
So I did a little digging and here's what I learned:
Getting the perfect breaded coating a four step process. (Side note, I know I keep saying bread coating even though many of us are gluten-free and not in fact using bread of any kind, but I'm just not sure what else to call it!)
First step is to make sure we're starting with dry meat. Pat everything dry with a paper towel before you start.
Next is a light flour dredge – just toss the meat in some flour (I like to use brown rice), until it's lightly coated all over.
Then it's into the egg wash, which is simply beaten eggs with a little milk (milk is optional here).
Finally, you add it to your breading. Make sure it's coated entirely, before adding it to the pan.
Oh, and you also want to make sure your oil is hot, so that the coating will crispy up immediately.
And you know what? Worked like a charm 🙂 We now have a fool-proof way of making healthy breaded chicken (or fish, or whatever you feel like coating!).
The coating for my crispy quinoa chicken tenders couldn't be easier, or more delicious. It's simply unsweetened shredded coconut, mixed with a little cooked quinoa, and seasoned with a little salt, pepper and smoked paprika. See? Super simple, but I promise, the flavor will blow your mind.
We've made this recipe twice within the last week. The first time we had it, we just dipped the tenders in some ketchup (mixed with Sriracha of course) and called it dinner. I wanted to spice things up a little bit, while also demonstrating how healthy this chicken really is, so when we made it again a few days later, we decided to opt for a salad.
We tossed our mixed green salad with a homemade vinaigrette (olive oil, balsamic vinegar, crushed garlic, whole grain mustard, salt & pepper), then topped it with shredded carrots, chopped cherry tomatoes, sliced green onions, our crispy quinoa chicken pieces and a big dollop of guacamole. The first bite took me straight to salad heaven, and I know you're going to love it too.
Plus, it's totally doable to turn this recipe into a salad bar and serve it at your Super Bowl party. Just have a big bowl of greens, then the toppings in different bowls, then the dressing and you've got a super healthy meal to serve to your guests. Happy football watching!
ps: good luck Broncos!!
pss: I had to say that or Matt would get mad
psss: enjoy this yummy salad 🙂
Crispy Quinoa Chicken
A salad that is topped with all my favorite things (and also things traditionally served at Super Bowl parties). We're talking carrots, guacamole and crispy chicken strips.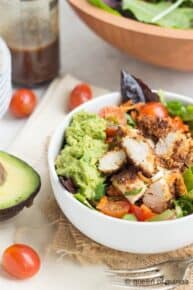 Instructions
Heat oil in a large skillet over medium-hight heat.

Add chicken tenders to rice flour and toss to coat.

One at a time, dip tenders in egg wash, then into coconut-quinoa coating, and place on a plate. Repeat until no tenders remain.

Cook tenders in skillet until browned on one side, 3 - 4 minutes. Flip and cook for another 3 - 4 minutes.

If just dipping in ketchup, serve immediately. If chopping and putting on salad, let chicken cool completely. Dice into bite sized pieces and add to salad.
Notes
Our salad was:
Mixed Greens
Shredded Carrots
Chopped Cherry Tomatoes
Thinly Sliced Green Onions
Guacamole
Crispy Quinoa Chicken Pieces
Balsamic Vinaigrette
Nutrition
Serving:
2
g
|
Calories:
582
kcal
|
Carbohydrates:
30
g
|
Protein:
41
g
|
Fat:
32
g
|
Saturated Fat:
20
g
|
Cholesterol:
205
mg
|
Sodium:
331
mg
|
Potassium:
912
mg
|
Fiber:
7
g
|
Sugar:
3
g
|
Vitamin A:
370
IU
|
Vitamin C:
2.3
mg
|
Calcium:
43
mg
|
Iron:
3.3
mg