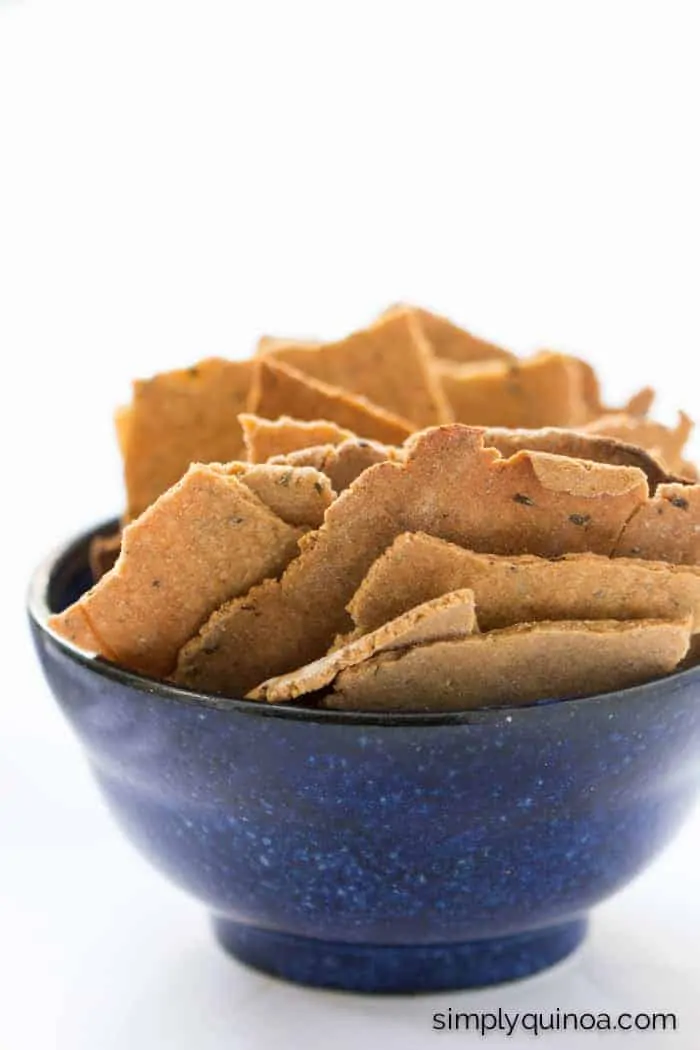 The first time I made homemade quinoa crackers, it was a complete disaster. It was right after I went gluten-free and I discovered Mary's Gone Crackers (<- which I love!) but the price tag? Not so much. Especially when you're a broke post-college gal like me.
After looking at the label and reading the ingredients though (p.s. did you know they have quinoa?), they didn't seem too hard to make on my own. I decided to test my gluten-free prowess in the kitchen and give it a go.
I followed a recipe I found via my trusty friend Google – who of course you can always trust (right?) – and like I said, total fail. They were hard to work with, there was brown rice-quinoa gloop all over my kitchen, they were hard to bake and tasted like awful. Nothing like the packaged variety. (bye bye paycheck)
So for a while there, I kept my distance. Me and homemade crackers were not friends.
That was until I discovered quinoa flour.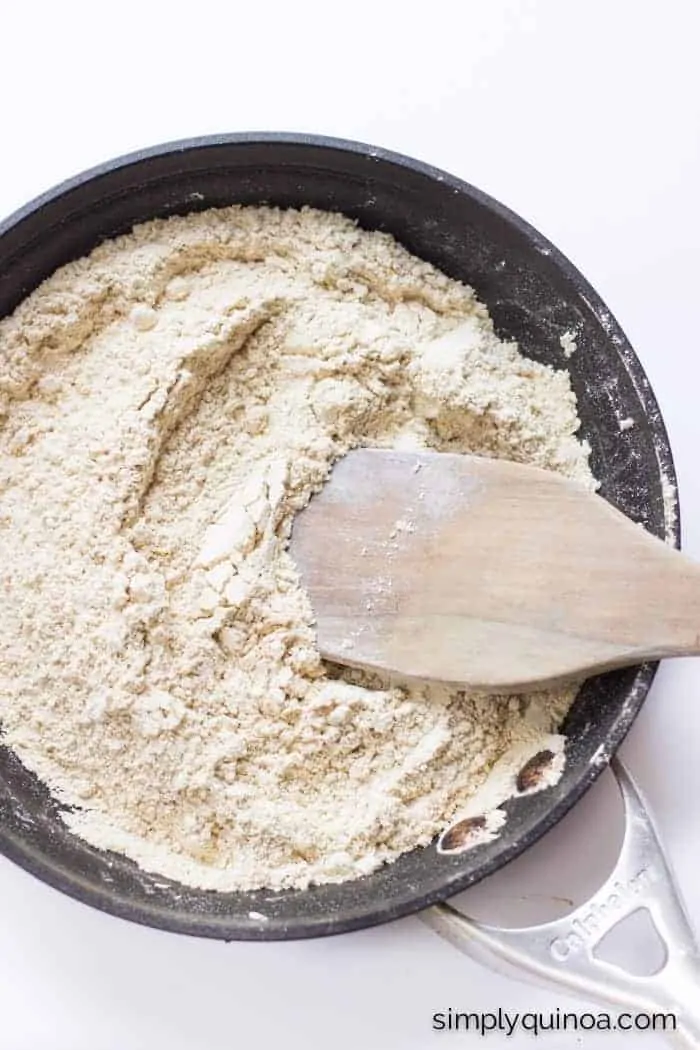 Initially, the taste of quinoa flour really threw me for a loop. It was like nothing I had ever tasted before – very pungent, kind of grassy, and strong. I think I made pancakes or something and whew they were almost too hard to eat.
And then I figured out the secret: toasting it.
If you've ever noticed the distinct flavor of quinoa flour, and it's deterred you from using it much, then toasted quinoa flour is going to rock your world. It's nutty, mild and goes well with everything. From cookies, to pancakes, to muffins and yes, crackers. It's now one of my favorite flours to use in my baking.
Usually when I toast quinoa flour, I'll make a giant batch and roast it in the oven on low heat for a few hours. I didn't have the time with this recipe, so I simply added what I needed to a dry skillet and toasted it right on my stovetop. Both methods are extremely effective, the upside of this one being it's faster, but the downside being you have to do it every time you want toasted quinoa flour.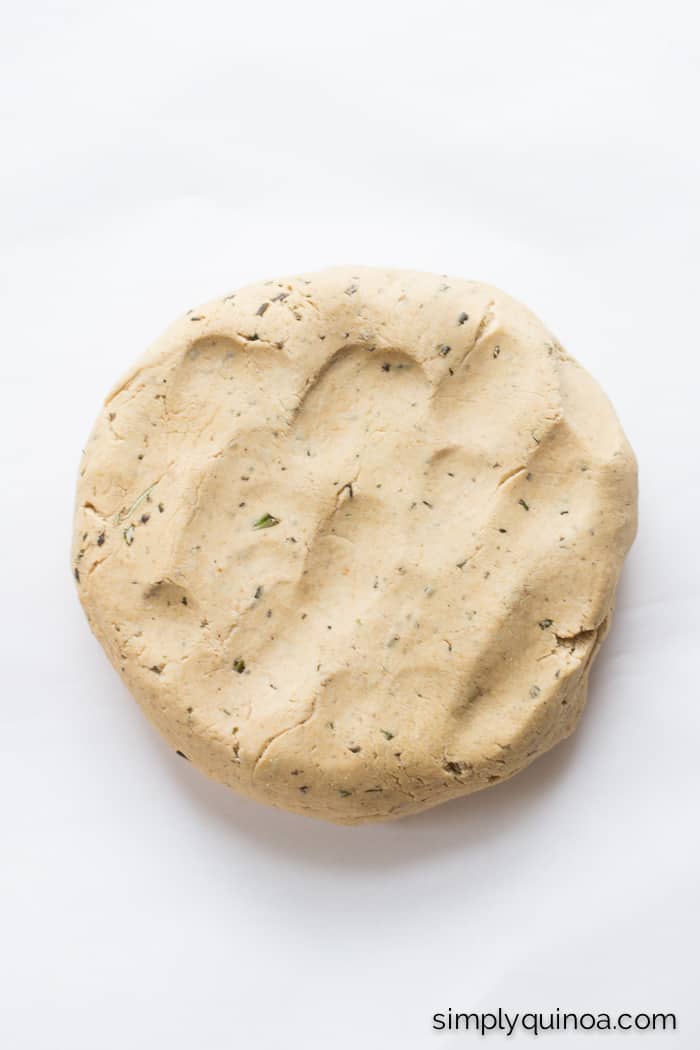 With the base of these quinoa crackers being the toasted quinoa flour, I knew I was going to need something to make them pliable. This is a dough that you roll out (like pie crust), but since quinoa flour doesn't have gluten, there's nothing there to act as a binder.
The times that I've made crackers before, I haven't made them super thin because the dough ends up cracking when you roll it too much. This time around I wanted them to be really thin and crispy (like these ones that I found from Pinch of Yum).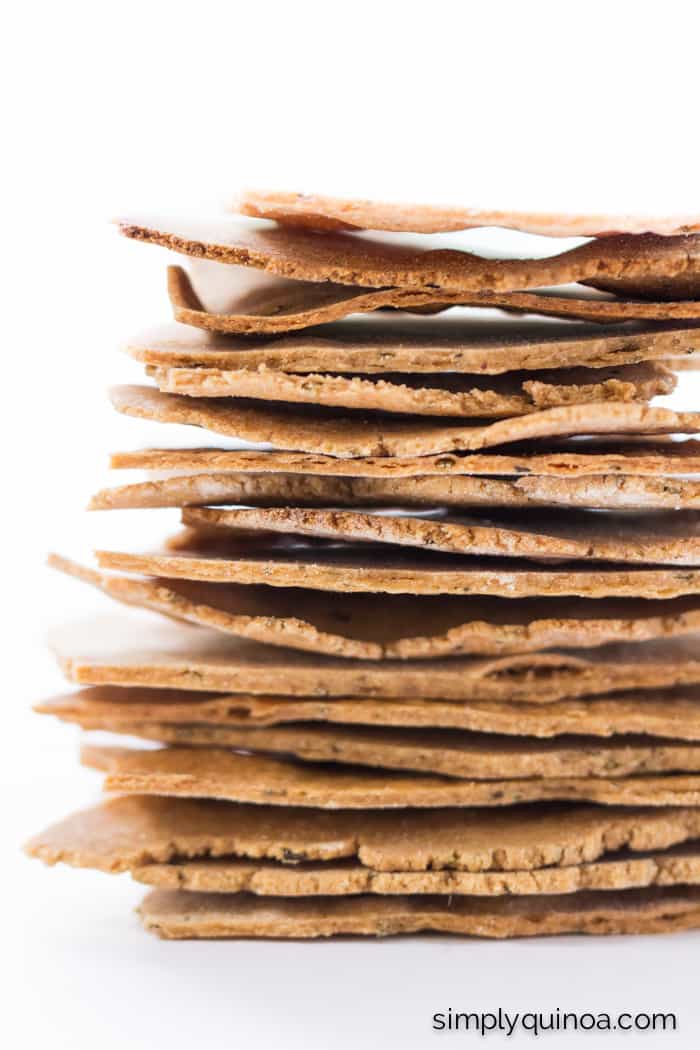 I mean look how thin I could roll the dough. AND they're gluten-free! Whaaat!?
I was shocked. Seriously floored with the results. The dough was totally pliable, soft and smooth, just like I remember gluten-based doughs being. I could roll them out until they were almost paper thin.
And the result? Oh man, so good. Perfect for dipping into hummus, guac, salsa, vegan queso, bean dip, you name it.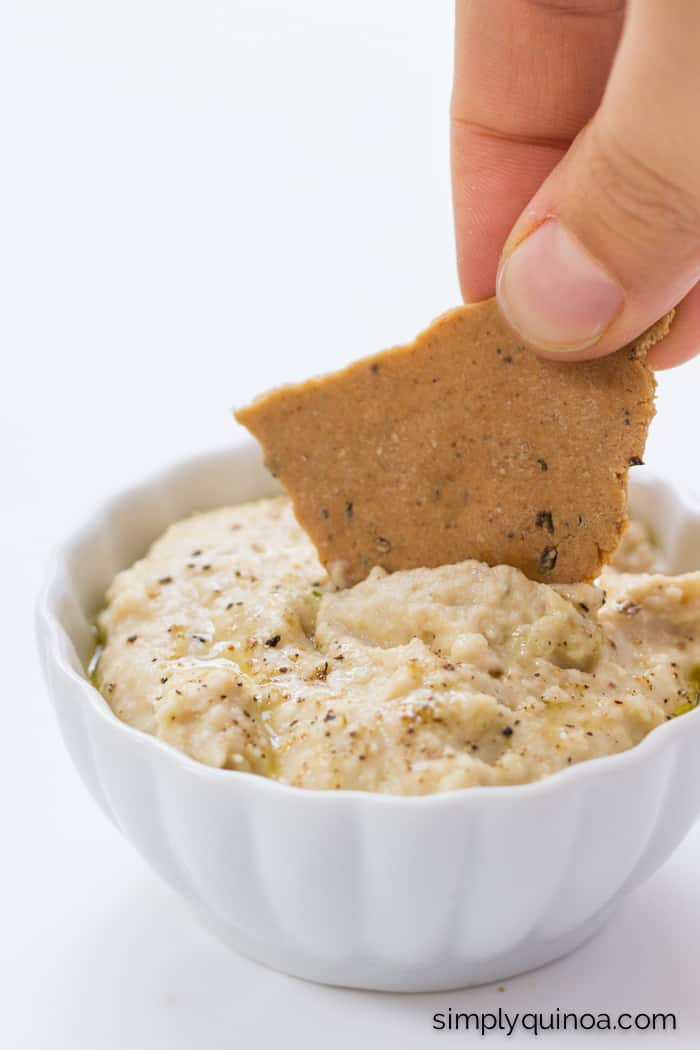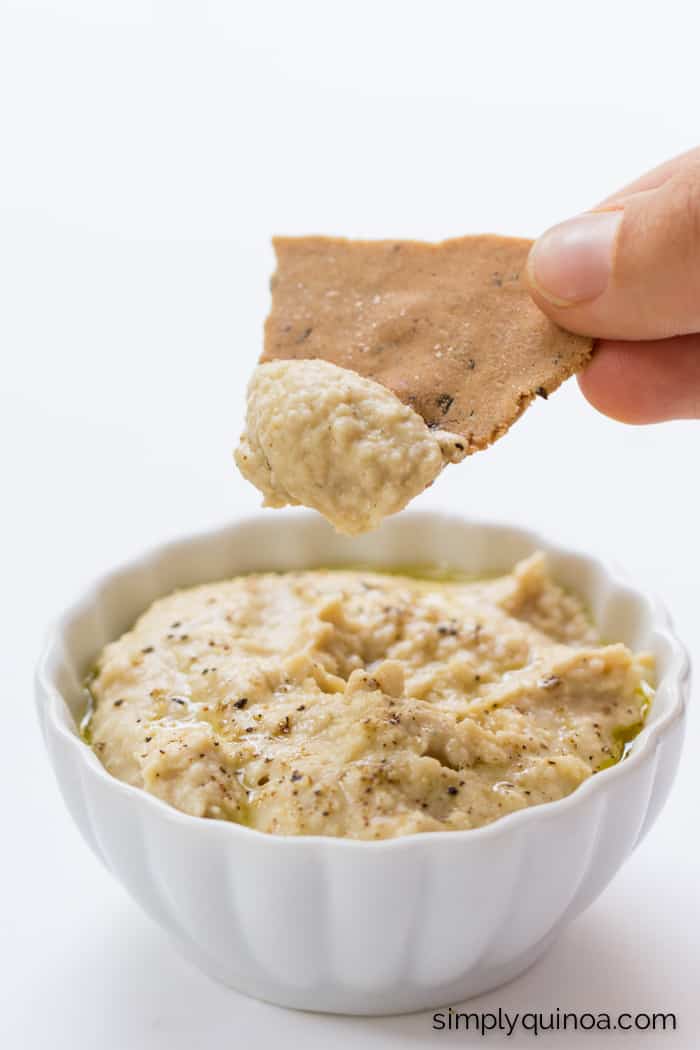 The crackers really are simple, in every sense of the word. They're made completely in the food processor, take only 10 minutes to bake and they're full of rustic charm. Just broken into whatever-sized pieces you like, I love how they look tossed into a bowl and served with a few different dips.
Next time you need an easy appetizer or fun happy hour snack, these quinoa crackers need to happen.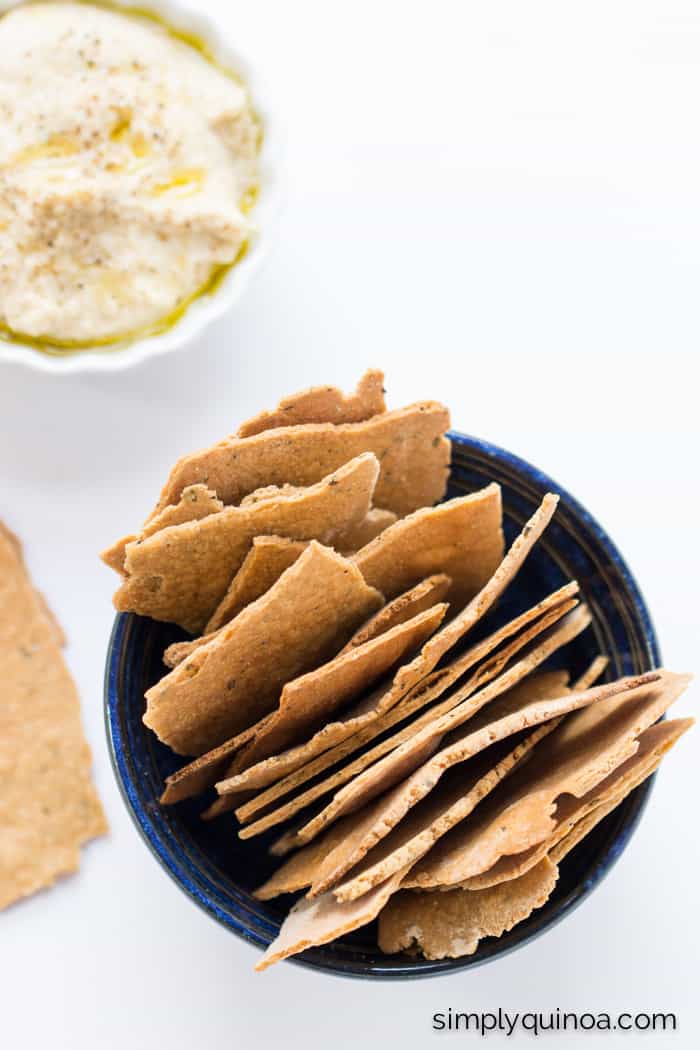 The flavors are so wonderfully simple too. Just a sprinkling of fresh rosemary, a touch of garlic powder, some coarse sea salt and cracked pepper. It doesn't get more straightforward, or any more delicious. Pure and easy, just the way we like it around here.
So friends, if you've been a) hesitating jumping on the quinoa flour train OR b) the homemade cracker train, we're putting those doubts to rest with this recipe. It's a must-try and I know you're going to really love them.
Oh and if you're not feelin' the rosemary, go with what feels right. You know what you like – have some fun 🙂
xo Alyssa
p.s. if you make this recipe, I'd love to see a picture! Tag @simplyquinoa or #simplyquinoa on Instagram!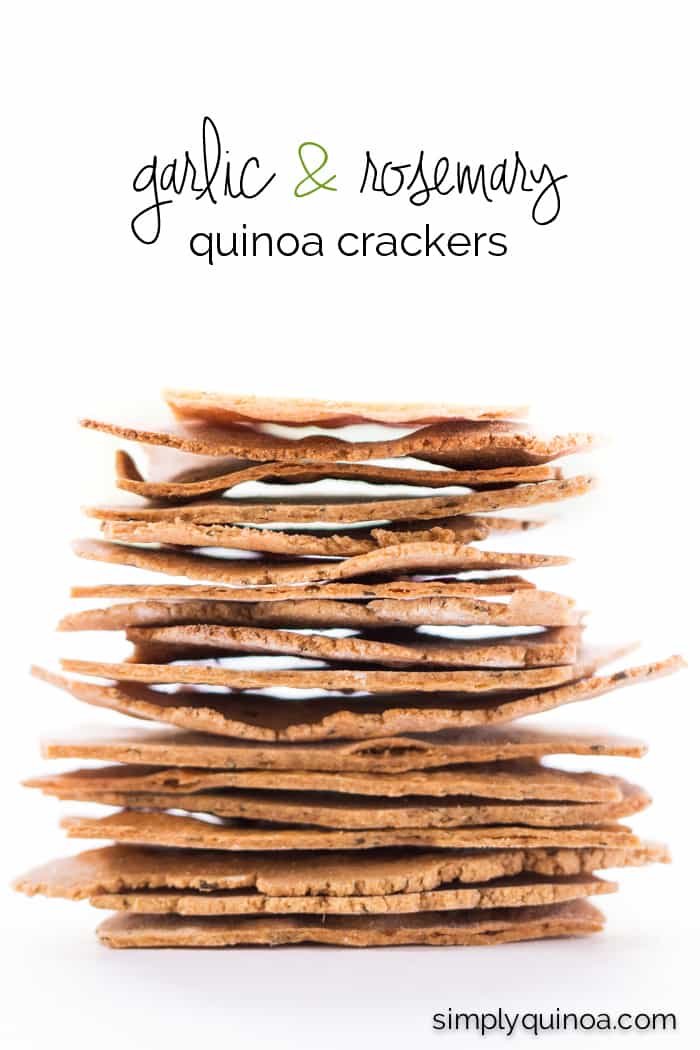 Garlic Rosemary Quinoa Crackers
Next time you need an easy appetizer or fun happy hour snack, these quinoa crackers need to happen.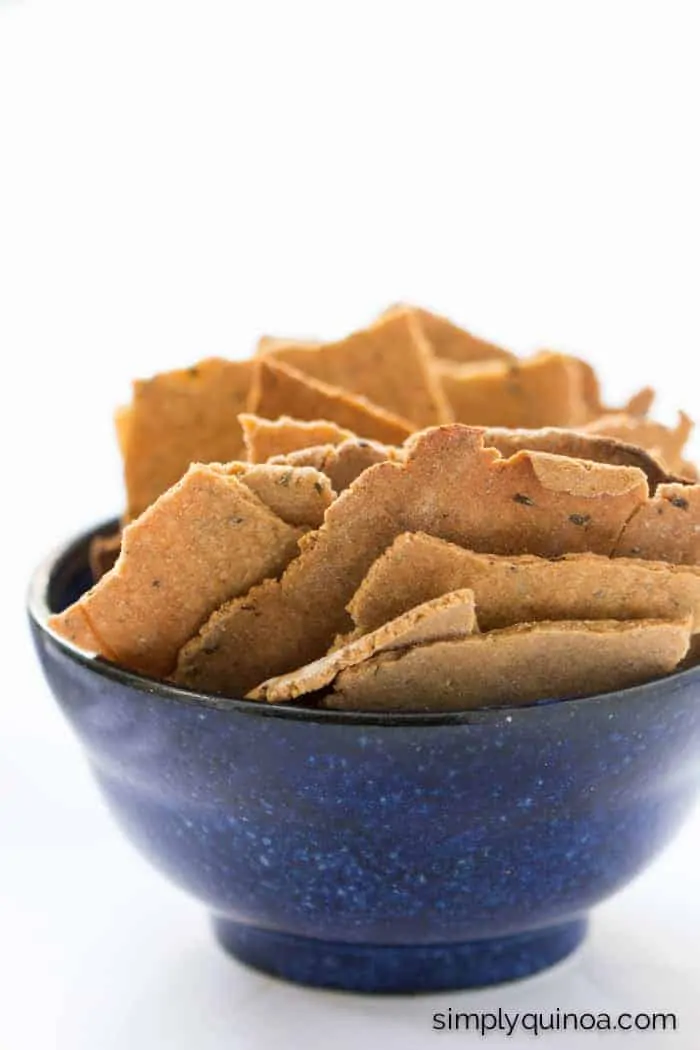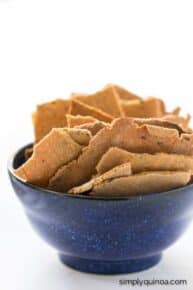 Ingredients
1

cup

toasted Ancient Harvest quinoa flour*

1/2

cup

brown rice flour

1

teaspoon

psyllium husks

here's the oneI use

2

teaspoons

fresh chopped rosemary

1

teaspoon

garlic powder

1

teaspoon

sea salt

1/2

teaspoon

fresh cracked pepper

Dash of stevia or 1 teaspoon sugar

optional

2

tablespoons

olive oil

1/2

cup

+ 2 tablespoons cold water
Instructions
Preheat the oven to 450 degrees. Toast your quinoa flour using our stovetop method. Allow the flour to cool for 5 minutes before adding to a food processor along with the brown rice flour, psyllium, rosemary, garlic, salt, pepper, stevia and oil. Pulse until evenly distributed.

Add the water and pulse again the dough comes together into a ball, about 30 seconds. Remove and form into a ball. Let rest for just a few minutes.

Cut the dough into four pieces. Knead one piece with your hands, place it on a piece of parchment and roll it as thin as you can. You'll probably need to sprinkle the dough with a little flour so that it doesn't stick. Repeat with the other three pieces and transfer the pieces of parchment to baking sheets.

Bake the crackers for 4 - 5 minutes per side, watching closely so they don't burn. Careful when you flip them over too! Turn off the oven and let them sit in the warm oven for 1 - 2 hours so they get super crispy.

Break them into pieces, add them to a bowl and serve them with your favorite dips/spreads.
Nutrition
Calories:
50
kcal
|
Carbohydrates:
7
g
|
Protein:
1
g
|
Fat:
2
g
|
Saturated Fat:
1
g
|
Sodium:
119
mg
|
Potassium:
13
mg
|
Fiber:
1
g
|
Sugar:
1
g
|
Calcium:
3
mg
|
Iron:
1
mg
Filed Under: