An easy vegan recipe for black bean quinoa bites that are served with an even easier vegan queso dip. A healthy alternative to that traditional orange dip.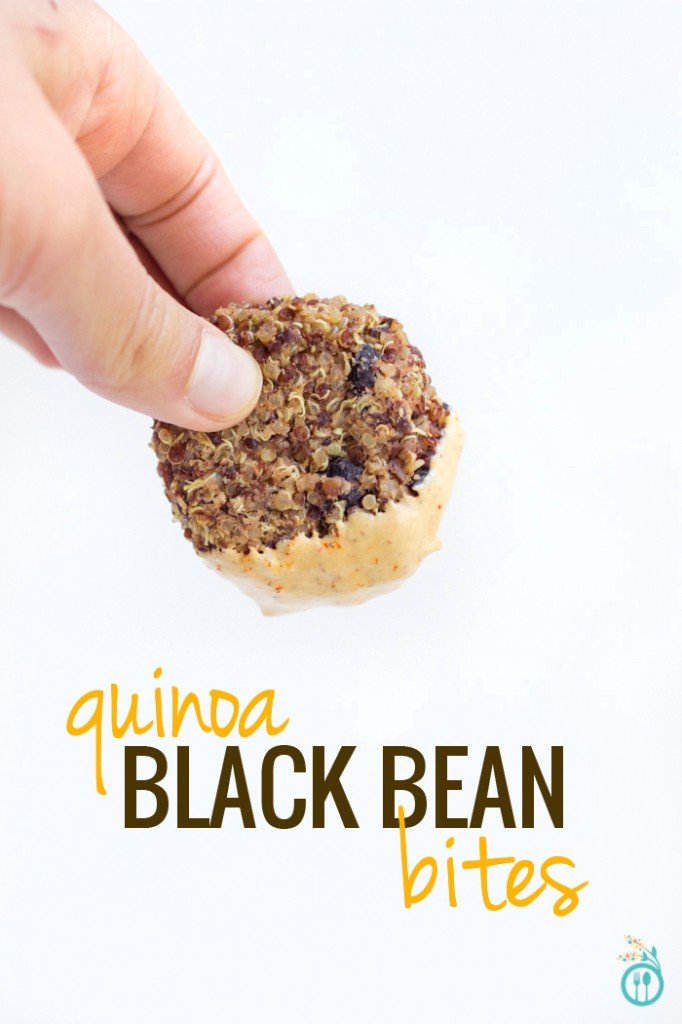 As many of you know, it's been a stressful past few weeks. But what's made it easier is knowing that I have this group of people around me cheering for me, sending me notes and reassuring me that everything is going to be okay.
And thankfully, it is.
We came out the other side of a scary situation and in large part it's because of all the thoughts and prayers that were sent out way. I truly believe that and am humbled by each and every one of you.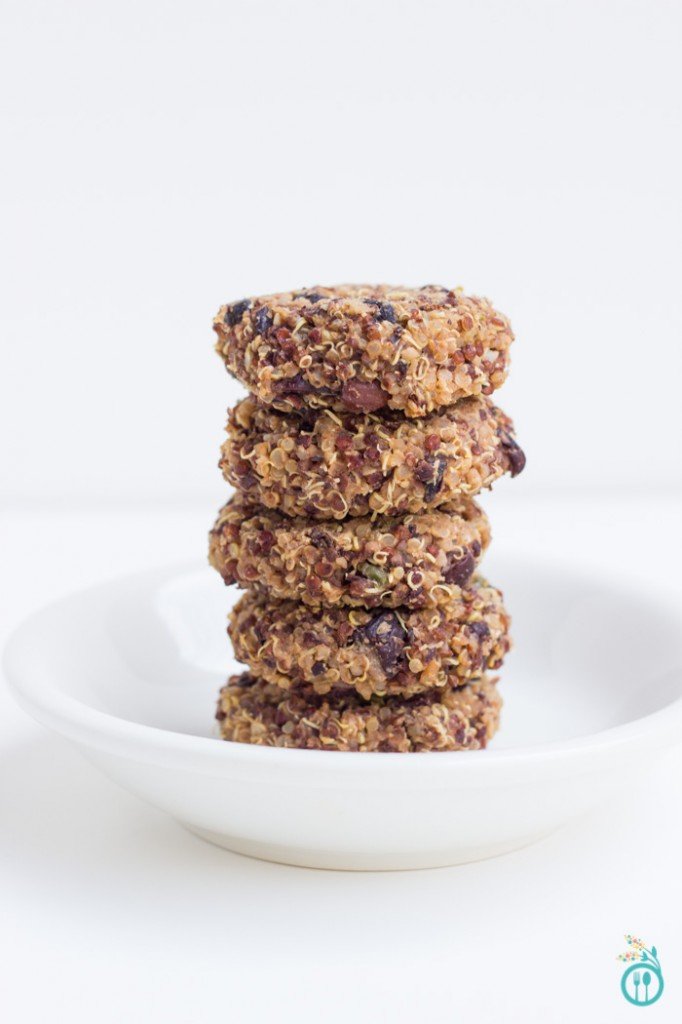 When times are tough, all I want to eat is something comforting. Something ultra cheesy or oeey-gooey (or both really), and it has to be delicious.
Cookies would be the obvious choice, to satisfy that ooey-gooey craving, but while I'd love to eat an entire batch of cookies in one sitting, that's just not something my body would respond well to. Hello, sugar crash!
We need to go in a different direction with this type of craving. Something savory. Something that can be dipped in something ultra cheesy. Yes, dippable. That sounds perfect.
Are you thinking what I'm thinking? Queso dip.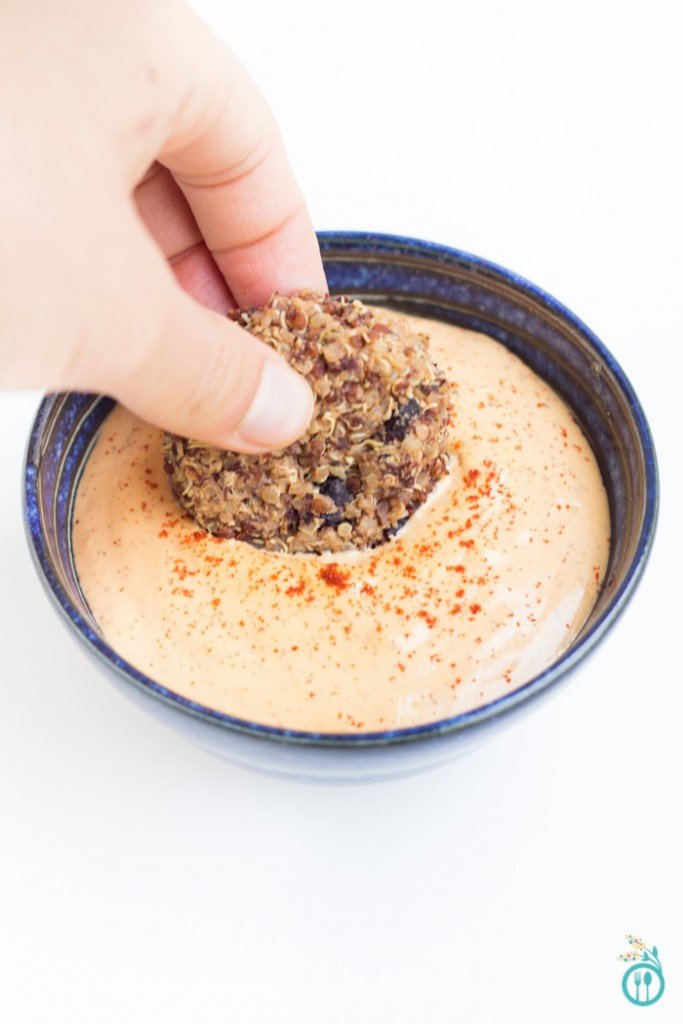 I went the Latin American route for a few reasons. First, I'm obsessed with the flavors. Second, queso is one of my favorite cheesy dipping sauces (which we'll get to in a minute). And third? Well, third is just that you can pretty much never go wrong using quinoa in this type of cuisine. It just works.
Lately, you may have noticed that I'm cooking a lot more plant-based. It's not for any particular reason, it's just that I've found that I don't miss meat. It's not something I crave or even look forward to in a meal. So why have it?
For this recipe, I wanted to make something that was packed with protein but skipped the meat. Black beans and quinoa were my starting point, and from there my mind immediately jumped to queso. So instead of making my traditional burger-style quinoa patties, I figured what's better in queso that something you can dunk and pop into your mouth?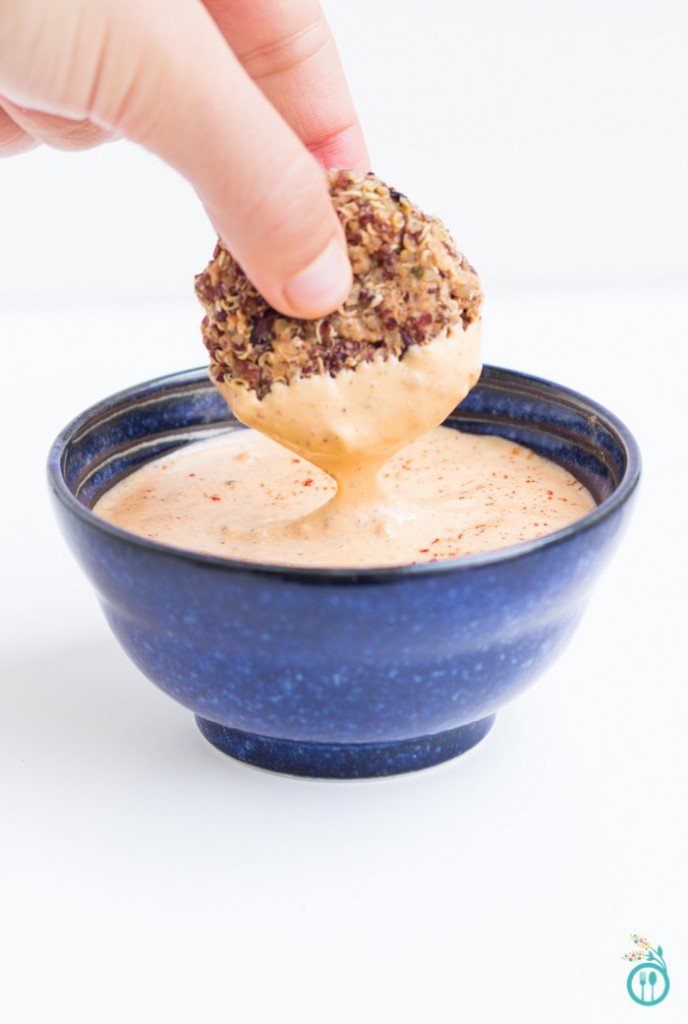 I'm telling you, these black bean quinoa bites dunked in my vegan queso dip will change your life. They're…
Spicy
Bold
Crunchy
Gluten-Free
Vegan
and totally dunkable
Pretty much my new favorite dinner/lunch/snack on the planet. And while the quinoa bites are utterly delicious, it's really the queso I'm most excited to talk about.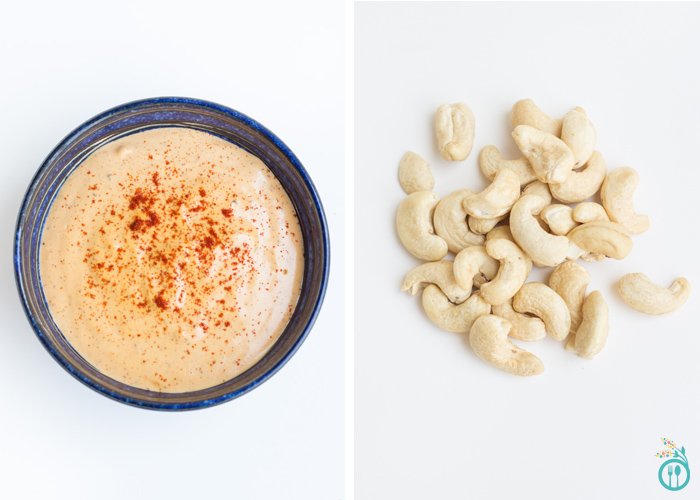 For the longest time, I felt like making vegan cheese dips was impossible. Especially cheese dips that actually taste like cheese. But as I've played around with raw cashews, I've discovered something amazing.
You really can make a vegan cheese dip (or sauce, or dressing, or cream, etc.) out of nuts. And it's super easy. All you need is a high-powered blender and you're off to the races.
I made this vegan queso a little on the spicy side, so you can back down on the heat if you're not a fan. The cheese flavor comes from the nutritional yeast, then there are chiles in adobo sauce for some smokiness and heat, and some garlic to round out the flavors.
And I swear, it tastes exactly like queso dip. Delicious with chips, crackers, smothered on tacos, added to a burrito or used as a vessel for black bean quinoa bites 🙂
More Healthy Dip Recipes To Try:
Black Bean Quinoa Bites with Vegan Queso Dip
An easy vegan recipe for black bean quinoa bites that are served with an even easier vegan queso dip. A healthy alternative to that traditional orange dip.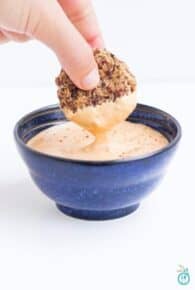 Ingredients
for the quinoa bites:
3

garlic cloves

minced

1

shallot

diced

1

jalapeno

seeded and diced

2

chiles in adobo

1

cup

cooked quinoa

3 - 4

tablespoons

chickpea flour

Salt & pepper to taste



Instructions
Preheat oven to 350 degrees F. Spray a baking sheet with cooking spray and set aside.

Add garlic, shallot, jalapeno, chiles and half the black beans into a food processor and pulse until mixture is coming together, 10 - 15 pulses. Transfer to a bowl.

Add remaining beans, quinoa, chickpea flour and spices and stir together to form a dough. Season with additional salt and pepper to taste.

Shape dough into golf ball-sized patties and place on baking sheet. Repeat until no dough remains.

Bake on center rack for 30 minutes, flipping halfway through, until bites are browned and crispy on the outside. Remove and let sit for 5 - 10 minutes.

While the bites are resting, prepare the queso. Add all the ingredients to a high-powered blender and blend on high until smooth.

Add blender contents to a sauce pan and heat on low until warm. Transfer to a serving bowl and dust with additional paprika.

Arrange the bites around the bowl of queso on a serving plate. Serve slightly warm.
Notes
If you're not using quinoa in your queso dip, you can substitute with 1 - 2 tablespoons of chia seeds. This will help the mixture stay thick.
Nutrition
Calories:
38
kcal
|
Carbohydrates:
4
g
|
Protein:
1
g
|
Fat:
2
g
|
Sodium:
55
mg
|
Potassium:
64
mg
|
Vitamin A:
105
IU
|
Vitamin C:
1.3
mg
|
Calcium:
4
mg
|
Iron:
0.5
mg
Filed Under: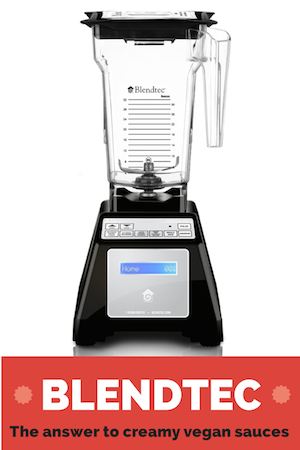 If you're looking for a new blender, then there's only one choice: a Blendtec. Blendtec's are far and above the best blender on the market and it's hands down the best kitchen investment I've ever made. I use my every single day and love it each time. It blends everything; makes perfect smoothies, soups, sauces, dressings, ice cream and I even use it to make my own flour.  I know you'll love it just as much as me!