A simple, healthy and totally delicious gluten-free flour tortilla recipe served with lightened up turkey tacos and fresh salsa.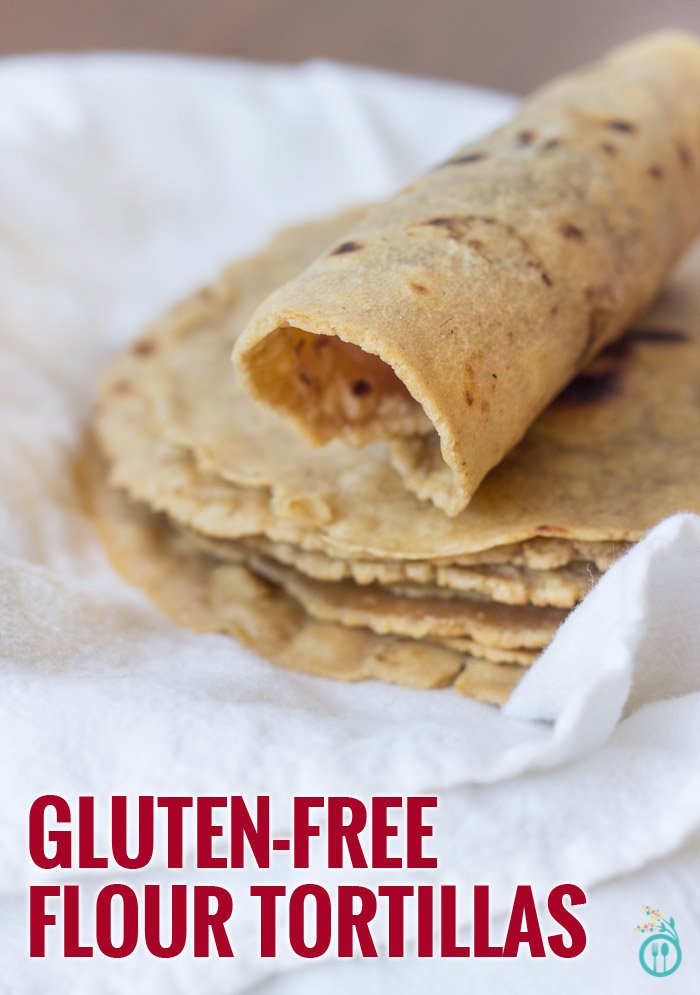 I'm really excited to be sharing two things with you today:
1) A lightened up version of a classic recipe (hint: it involves jalapeños!)
2) A brand new gluten-free flour blend that I'm just crazy for.
We'll start with the recipe though because the flour is what makes this recipe so fantastic.
I've always loved Mexican food – I've sang its praises here, here, here AND here – I seriously can't get enough. If I had to choose one cuisine to eat for the rest of my days, it would be Mexican food (shh…don't tell my Italian family that!).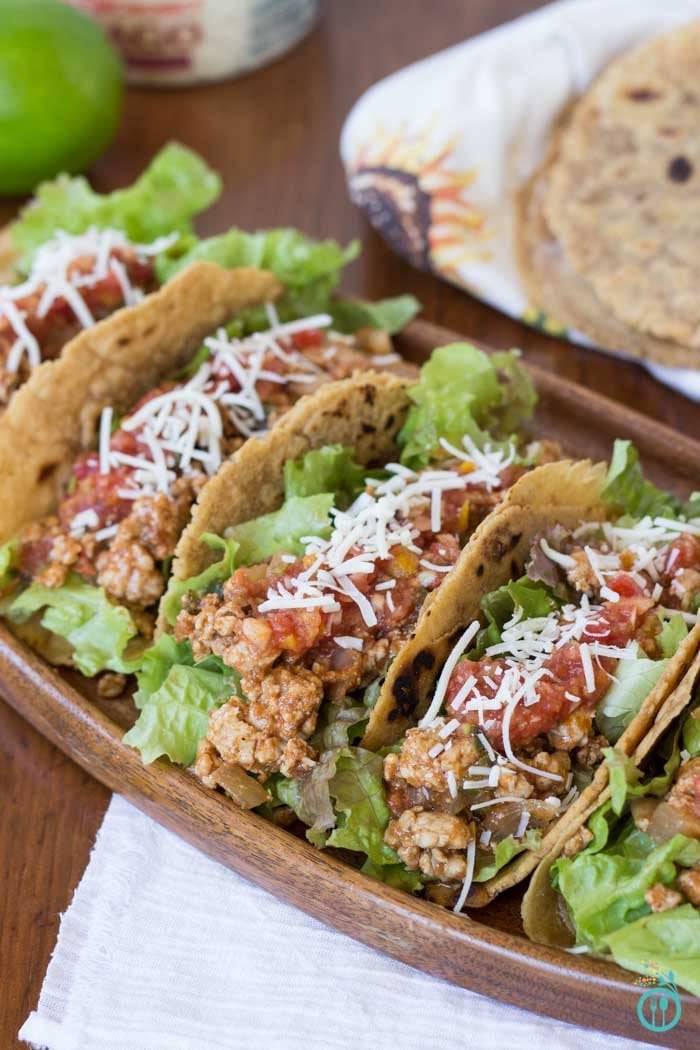 And tacos have to be at the top of my list. What I love about tacos is how you can pretty much fill them with whatever ingredients you want and they'll still be good. Whatever your thing is – fish, shrimp, steak, veggies, chicken, pork, etc. – there is a recipe for you to make a baller taco.
While I love to spice it up, add crazy ingredients, and make my tacos super unique, sometimes I just like the basics. A good old ground beef taco can totally hit the spot.
But….since it's me and I choose not to eat red meat very often, it's not the typical ground beef that makes these tacos awesome. I've lightened them up using organic ground turkey (which has far fewer calories and fat), pumped up the flavor with tomatoes and jalapeños, and wrapped them in multi-grain homemade flour tortillas.
These rival any beef taco you can find. Anywhere.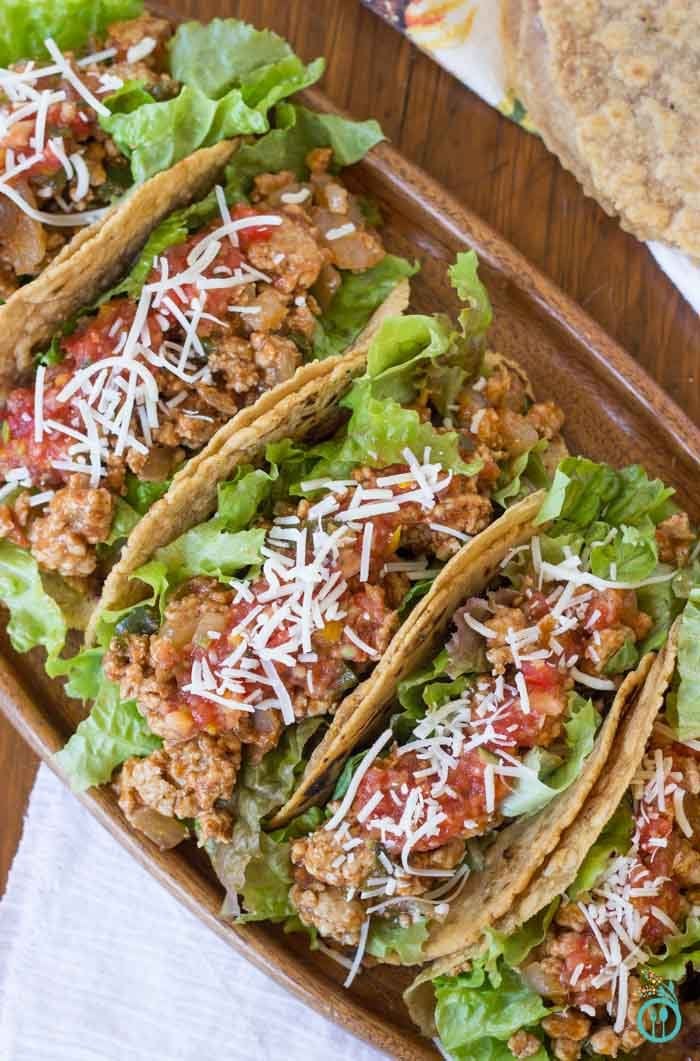 Now, let's talk about the tortillas because those are truly the star of the show.
In my four years of being gluten-free, I have yet to find gluten-free flour tortillas that truly rivals their gluten-filled counterpart. The ones I've bought taste okay, but they're flimsy, crack and simply aren't pliable enough to actually wrap.
Whenever I do try to use them for a wrap, they break apart and I'm left with the fillings on my plate, juices running down my hands and a few measly pieces of tortilla in my fingers.
Not the ideal taco eating experience.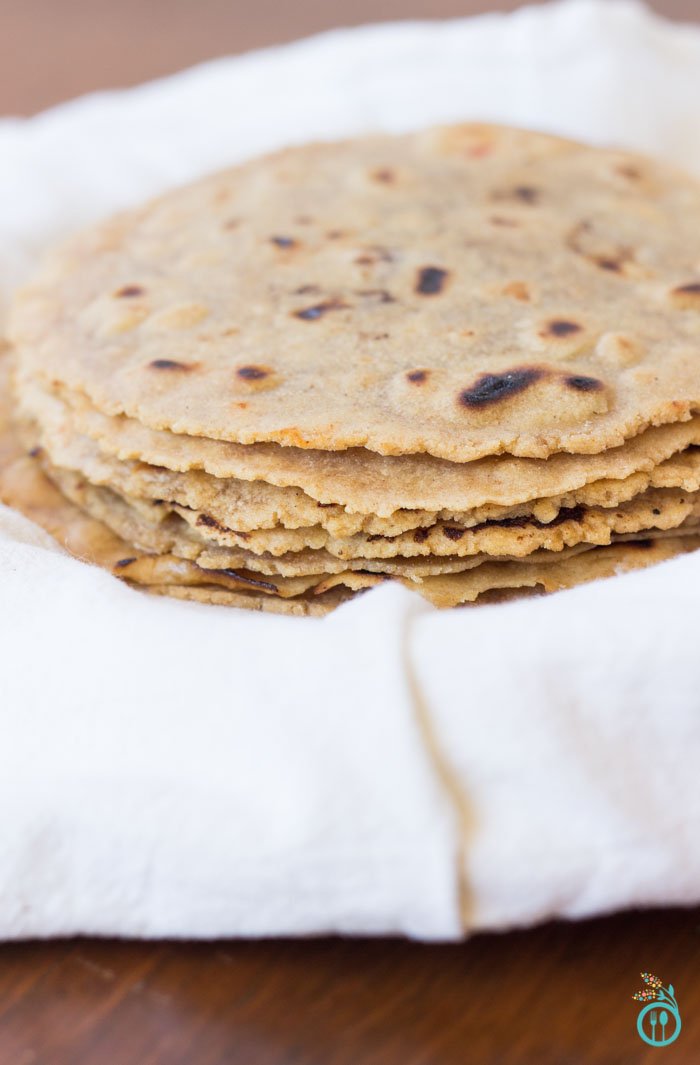 Which is right where these tortillas come into the mix. I was recently introduced to Bob's Red Mill's latest gluten-free masterpiece: their 1-to-1 Baking Flour.
Bob's has been making stellar gluten-free products for years, and have a very popular all-purpose flour made primarily from garbanzo bean flour and starches. The flour is super versatile, but it does have a rather strong bean taste if you're not used to baking it with. While people still love it, I know some are put off by the taste.
Which is why I'm SUPER excited about their latest release! An all-purpose gluten-free baking flour that's made with a blend of rice flours, sorghum flour and starch. It's great for all your baking needs – cookies, cakes, brownies, pancakes, pies, muffins & more.
But that's not the best part. The best part is you can use this flour as a 1:1 substitute for wheat flour in any recipe. Meaning, you see a cookie recipe online that you're just dying to make and it's not gluten-free? Instead of trying to adapt your recipe with a variety of flours, adjusting your liquid ingredients, etc., you can just use the 1-to-1 Baking Flour!
It's as easy as that 🙂
And that's just what I set out to test with this tortilla recipe. The recipe I found seemed easy enough and was only 5 ingredients – flour, salt, baking powder, water and oil – so it seemed like the perfect recipe to try.
They turned out absolutely perfect. They were pliable, bendy, foldable, everything you want a flour tortilla to be. Plus, they tasted great. My only wish is that I made them larger so I could use them burrito-style. Next time!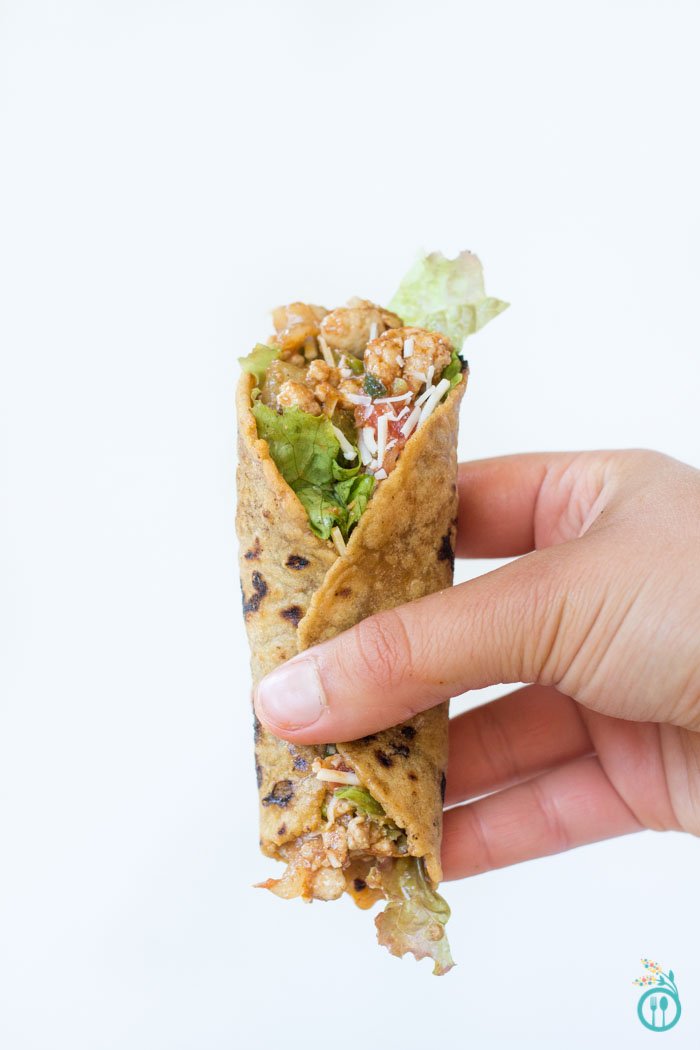 In addition to today's tortilla and taco recipe, I also have some exciting news. I'm partnering with Bob's Red Mill to share the new 1-to-1 Baking Flour and will be showcasing three more recipes over the next few weeks.
And to make this launch even more exciting, one lucky reader will be able to win a pack of gluten-free flours with each of these four posts.
That's right, FOUR bags of flour with each recipe. This is an awesome opportunity for anyone who's new to gluten-free baking or has been looking for a wheat flour alternative and hasn't found something that works. You're going to absolutely LOVE this flour!
Gluten-Free Flour Tortillas + a giveaway
They turned out absolutely perfect. They were pliable, bendy, foldable, everything you want a flour tortilla to be. Plus, they tasted great. My only wish is that I made them larger so I could use them burrito-style. Next time!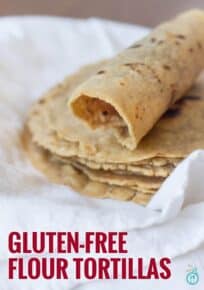 Ingredients
for the taco filling:
1

lb

ground turkey

2

fresh jalapeños

seeded and chopped

1

small red onion

diced

1

garlic clove

1

tomato

diced

2

tablespoons

tomato paste

2

teaspoons

cumin

1

teaspoon

chili powder

1

teaspoon

paprika

Pinch

cayenne pepper

Salt & pepper to taste
for the toppings:
Fresh lettuce

Red salsa

Guacamole

Cheese

Grilled corn
Instructions
Heat a pan drizzled with olive oil over medium heat. Add turkey and cook until almost done, about 5 minutes. Break the turkey up with a wooden spoon as you cook.

Transfer turkey to a plate and return pan to stove.

Drizzle a touch more olive oil to the pan then add the peppers, onions and garlic. Saute until garlic is fragrant, 2 - 3 minutes.

Transfer turkey back to the pan, add tomatoes, tomato paste and spices and simmer until meat is fully cooked, juicy and flavorful, another 5 - 10 minutes.

While tacos are cooking, prepare the tortillas.

Whisk together dry ingredients in a large mixing bowl. Measure water into a glass measuring cup (start with one cup first) and stir in oil.

Slowly pour liquids over dry and mix with a wooden spoon or hands until moist and can easily form a ball or be kneaded. If dough feels dry, add more water 1 - 2 tablespoons at a time, kneading well after each addition.

Take a piece of dough, slightly larger than a golf ball and roll it into a ball. Using a

cast iron tortilla press

, press the dough into the machine until they're the thickness of traditional tortillas.

Cook on medium in a dry cast iron pan for 2 - 3 minutes per side.

Repeat with remaining dough until no dough remains.

When ready to serve, place a scoop of taco filling into a tortilla, top with desired toppings and enjoy!
Notes
To keep the tortillas warm during the cooking process, wrap them in a clean, dry dish towel.
* To reheat totillas, wrap in a dish towel and microwave on high for 30 seconds (alternatively, you could do this in the oven at about 250 degrees F.
Nutrition
Calories:
177
kcal
|
Carbohydrates:
18
g
|
Protein:
10
g
|
Fat:
7
g
|
Saturated Fat:
1
g
|
Cholesterol:
17
mg
|
Sodium:
227
mg
|
Potassium:
191
mg
|
Fiber:
2
g
|
Sugar:
1
g
|
Vitamin A:
270
IU
|
Vitamin C:
4.5
mg
|
Calcium:
45
mg
|
Iron:
1.4
mg
Filed Under: