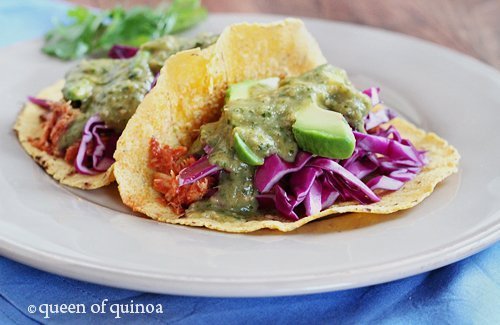 I'm a huge fan of all things involving Mexican food. Smoky parika, super spicy cayenne, sweet tomatoes and soft avocado, all make Mexican dishes unique and delicious. It makes me feel like I'm having a fiesta in my mouth, with bursts of flavor erupting with every bite.
The base of many Mexican dishes is corn, which lends itself very well to someone living on a gluten-free diet. Most traditional Mexican food is naturally gluten-free and needs little adaptation, if any, to make it safe for all us who are sensitive to gluten.
But one of things I admire most about Mexican cuisine is its emphasis on fresh ingredients.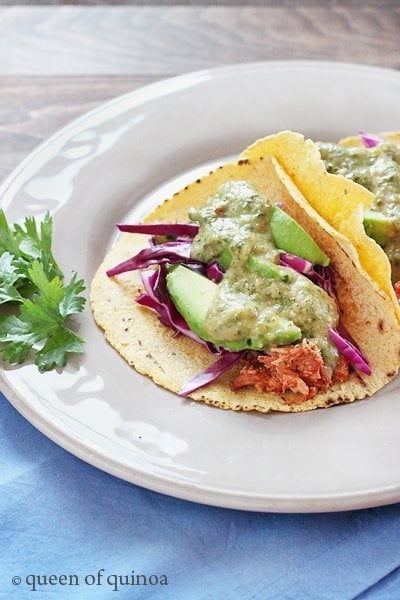 And here in VT, classic Mexican ingredients are in full bloom and we're getting loaded up with these delicious goodies in our CSA basket each week. This week we opened our bag to find gigantic heirloom tomatoes, brilliantly green and purple tomatillos, crunchy purple cabbage and a bunch of fresh cilantro.
Are you thinking the same thing as me? It was time to throw a Mexican feast for me and Mr. Henderson. This time featuring fresh salsa verde served over warm, shredded chicken tacos. Oh boy was this gonna be good!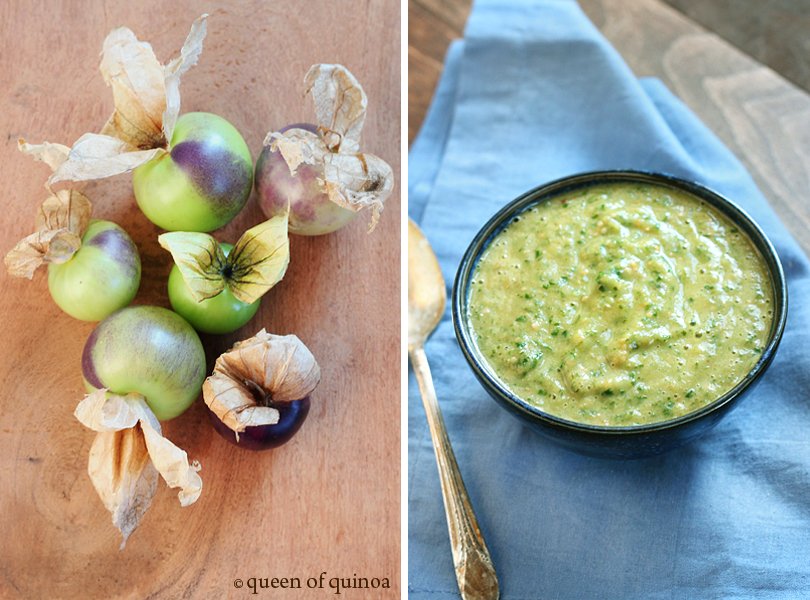 And in proper summer fashion, I decided I needed to add a BBQ flare to this dish for a little added fun. Wary at first how the two flavors would intertwine, I was elated when I took my first bite.
The sweet tang from the barbecue sauce was the perfect balance to the smoky roasted tomatillo salsa. Topped with a perfectly ripe avocado and crispy purple cabbage, the tacos were simply sensational!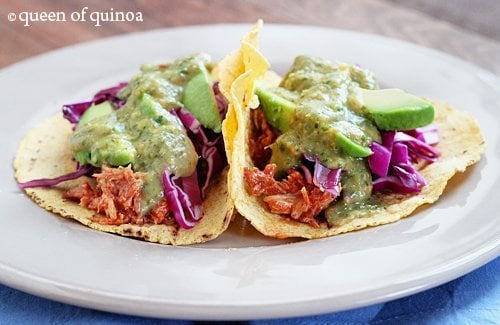 Now, if you don't already know this about me, I try to avoid eating refined sugar whenever I can. Since sugar is one of the top ingredients in barbecue sauce, I decided I needed to whip up my own, easy homemade version for this recipe. You could easily replace this sauce with your own favorite barbecue sauce and the recipe would be just as tasty!
This post is shared on: Gluten-Free Fridays Recipe Party, Whole Food Fridays, Slightly Indulgent Tuesdays