Simple, delicious and starch-free, this multigrain pizza is loaded with healthy flours and stands up well to all your pizza topping desires!
For the longest time, as in like two years, I haven't been eating red meat. It isn't because I don't like the taste, or that I'm against eating meat in general, I just stopped eating it one day and never started again. Until Eataly.
Have you been to Eataly? It's amazing. I mean for someone who is gluten-free, it's a bit of a torture chamber as you're surrounded by homemade pasta, bread, and pizzas, but for someone who is obsessed with Italian food, like me, it's a little slice of heaven in the hustle and bustle of New York City.
I went there with my mom for the first time a few months ago and was blown away. Not only did they have perfect produce, but the cheeses, the wines, the cured meats, the chocolates, the cookbooks, the gelato…oh the gelato! I literally wanted to stuff my face with everything in sight.
Being that that's not humanly possible, I opted for stuffing my face with goat cheese and Proscuitto. My first red meat in almost two years. And it was A-M-A-Z-I-N-G. Thinly sliced, just the right balance of salty and fatty. It was O-M-G yum!
And since then, I've been pretty much obsessed. I buy it at the store every week. We love adding it to salads, to bruschetta, and pizza. Oh and with eggs? Holy yum. It's pretty much on everything. Some people are obsessed with bacon, I'm obsessed with Proscuitto.
So the other day I was watching Food Network – Giada at Home to be precise – and she was making something with Proscuitto. Honestly, I don't even remember the dish, because what she did with the Proscuitto was genius. Rather than slicing the Proscuitto into ribbons, which I usually do, and scattering it on top of the dish, she baked it. She placed it on a baking sheet, popped it into a 400-degree oven for about 5 minutes, and bam. Out came this sensationally crispy Proscuitto. Like bacon bits but better.
I took this approach with this gluten-free multigrain pizza I made last week. I didn't have any starch on hand, so I decided what the heck, I'll just make a starch-free pizza and see how it goes. The texture is definitely denser, but not in a bad way. In more of a "Huh, this tastes pretty darn good for a starch-free pizza crust" kind of way. I was pleasantly surprised.
Although I can't say that this multigrain pizza crust tops my Best Gluten-Free Pizza Crust recipe, it's a nice alternative for someone who wants to eat whole grains and avoid starches. It's got a richer flavor, a deeper golden color and is loaded with healthy flours.
You know, this is getting me thinking…perhaps I need to start experimenting with more starch-free baked goods. Would you want to see them? Let me know what to play around with in the comments below!
Oh, and totally get your pizza on. That's a given.
Craving More? Other Pizza Recipes to try:
Gluten-Free Multigrain Pizza with Crispy Proscuitto
A nice alternative for someone who wants to eat whole grains and avoid starches. It's got a richer flavor, a deeper golden color and is loaded with healthy flours.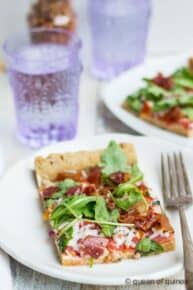 Ingredients
for the toppings:
1 1/2

cups

grated cheese

I used a goat gouda from Trader Joe's

5 - 6

slices

spicy sopressata

1/4

cup

thinly sliced red onion

1

cup

arugula

5 - 6

slices

thinly sliced proscuitto
Instructions
Whisk together all the dry ingredients (minus the yeast) and set aside.

In separate bowl, combine the wet ingredients. Add the yeast and 1/2 cup of the flour mixture. Whisk together then set aside and allow the yeast to bloom for about 30 minutes. Once the yeast has gotten nice and fluffy, add the wet ingredients to the dry ingredients and mix together until and smooth batter forms. Let rise for 30 - 45 minutes.

With 15 minutes left in the rise, preheat the oven to 425 degrees F. Scoop the dough onto a parchment lined baking sheet and spread it out using wet hands until it's about 1/4" thick.

Bake in the center of the oven for 18 - 20 minutes until golden brown and a little crispy.

Assemble the pizza by first starting with a thin layer of grated cheese (about 3/4 cup). Add the onions, then layer on the sopressata. Add the remaining cheese and pop the pizza back in the oven for another 10 minutes until the cheese has melted and is starting to brown.

Remove the pizza from the oven and let cool while you prepare the proscuitto. Grease another baking sheet with non-stick spray and line the pieces of proscuitto along the sheet so that they are not overlapping. Place the baking sheet in the oven and cook for 5 - 7 minutes, until the proscuitto is nice and crispy. Remove the pan and let it cool until you can handle it.

Now that the pizza has cooled slightly, sprinkle the arugula over the top and then crumble the proscuitto on the very top.

Sprinkle with salt, pepper and crushed red pepper and enjoy!
Nutrition
Calories:
570
kcal
|
Carbohydrates:
50
g
|
Protein:
23
g
|
Fat:
31
g
|
Saturated Fat:
12
g
|
Cholesterol:
59
mg
|
Sodium:
1058
mg
|
Potassium:
426
mg
|
Fiber:
7
g
|
Sugar:
4
g
|
Vitamin A:
545
IU
|
Vitamin C:
1.5
mg
|
Calcium:
387
mg
|
Iron:
3.2
mg
Filed Under: