How to make a vegan almond flour pizza with just a few simple ingredients. This crispy gluten-free crust is easy to make, doesn't require any yeast and is delicious!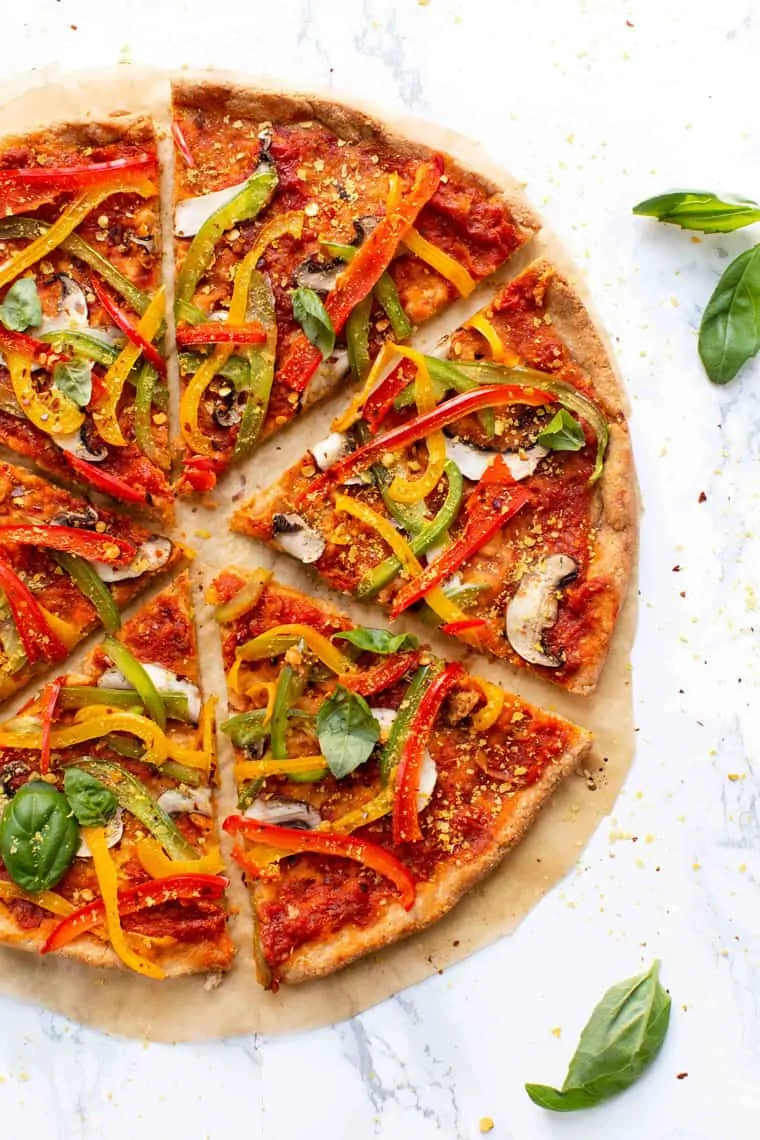 Pizza is def one of my favorite foods. I could eat it every single week and not get sick of it. And I personally think that homemade pizza is the best!
Typically I make my ultimate quinoa pizza crust recipe. It's a tried and true recipe that is just awesome. The only flaw? It requires soaking your quinoa which frankly sometimes I just don't have the time to do. That's where this but when I don't have time to soak the quinoa, this almond flour pizza crust comes in handy!
It's quick, it's easy, it's got that crispy texture that I love and it has a really great flavor. Oh, and it's also vegan!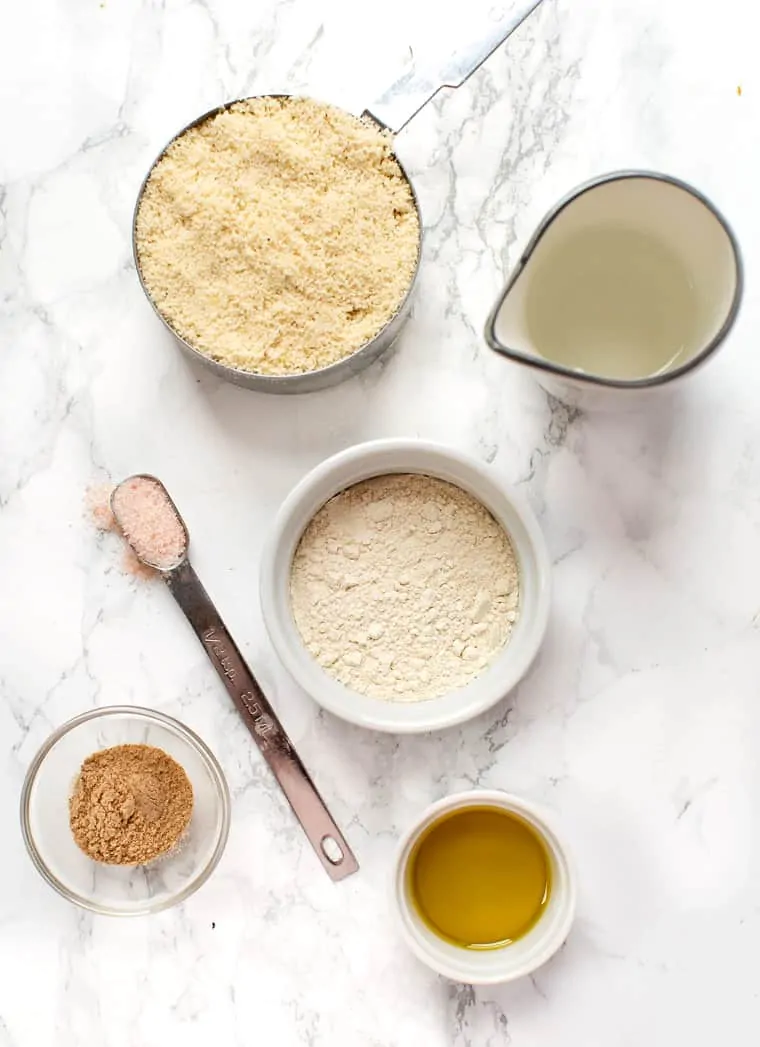 What You'll Need to Make This Vegan Pizza Crust
First things first, let's chat ingredients! Most almond flour crusts that I found online used eggs as the binder. But since I know a lot of my readers are egg-free, I wanted to create a recipe that was as versatile as possible.
My solution? Psyllium husk powder!
When mixed with water, psyllium husk powder turns into this super gelatinous substance which can act quite similar to eggs in terms of binding. It helps hold all the ingredients together and is also giving you a little fiber boost as an added bonus.
It's the perfect egg substitute in this recipe because we don't need the crust to rise at all. If you're doing some vegan baking and need the baked good to rise or be fluffy (i.e. muffins, pancakes, bread, etc.), use my vegan egg substitute guide instead of psyllium!
In addition to the psyllium we just need a few other simple ingredients:
almond flour
quinoa flour
water
salt
and oil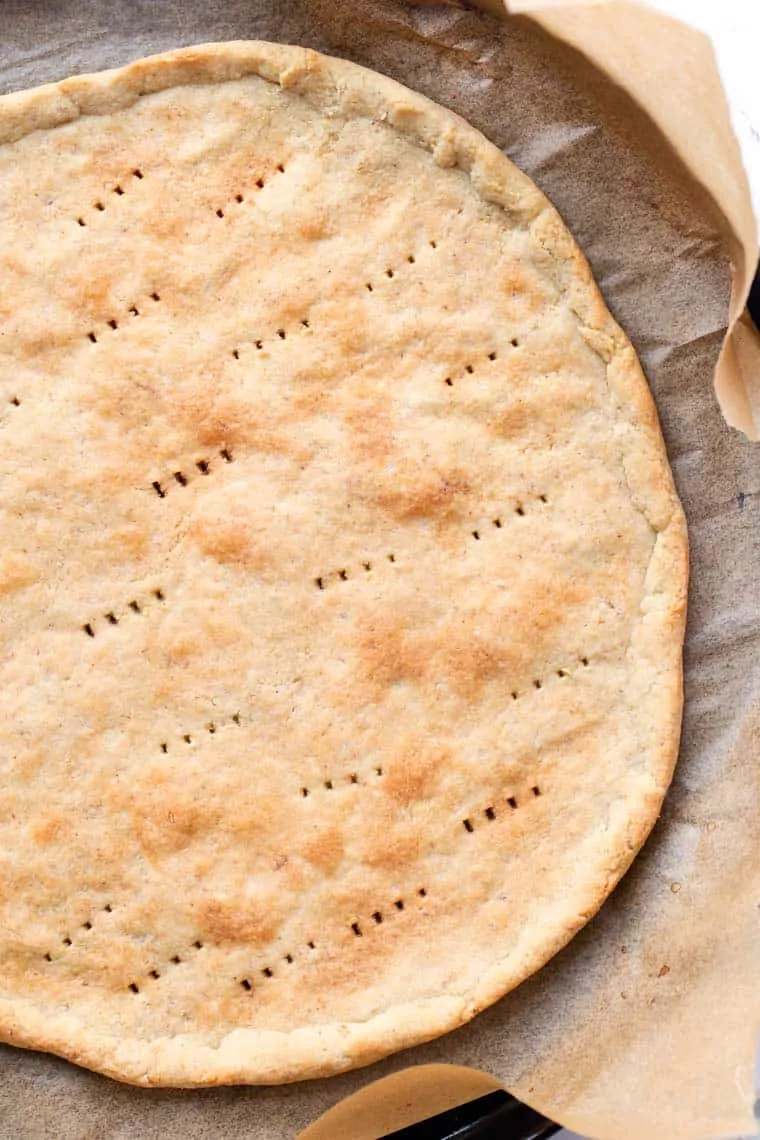 The Easiest Gluten-Free Pizza Ever
I've claimed before that my quinoa pizza was the easiest gluten-free pizza crust ever, but I'm changing my tune with this one! This vegan almond flour pizza crust is legit so easy.
One bowl
6 ingredients
Ready in under 30 minutes
No yeast which means no rising
And it tastes absolutely delicious! It's crispy, it holds onto toppings and it's got this really lovely, almond buttery flavor from the blend of almond flour and olive oil. This is definitely going to become my go-to weeknight pizza!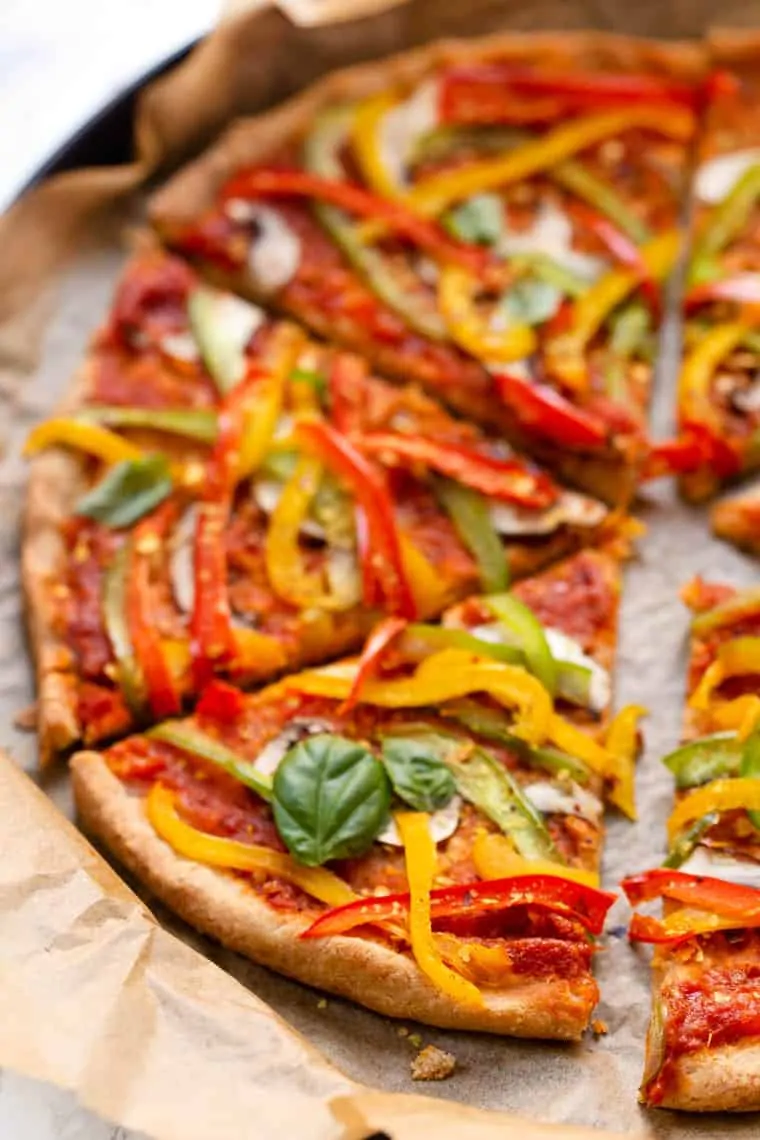 How to make the Ultimate Vegan Pizza
As I mentioned, I wanted to make an almond flour crust that was not only gluten-free but also egg-free (i.e. vegan). Which means that we're also going to keep the toppings vegan!
When it comes to making a vegan pizza, the options might feel a little limited. But actually, it's the exact opposite! You can make so many amazing recipes that don't use cheese. I shared a video on my YouTube channel today which includes three different ways to make it:
Classic: tomato sauce, sliced peppers, sliced mushrooms
Pesto: vegan pesto, shaved asparagus, peas, arugula
Fun: butternut squash, sauteed spinach + shallots, kite hill cream cheese
I've also put them in the recipe box below!

More Gluten-Free Pizza Recipes to try:
Gluten-Free Vegan Almond Flour Crust
How to make a vegan almond flour pizza with just a few simple ingredients. This crispy gluten-free crust is easy to make, doesn't require any yeast and is delicious!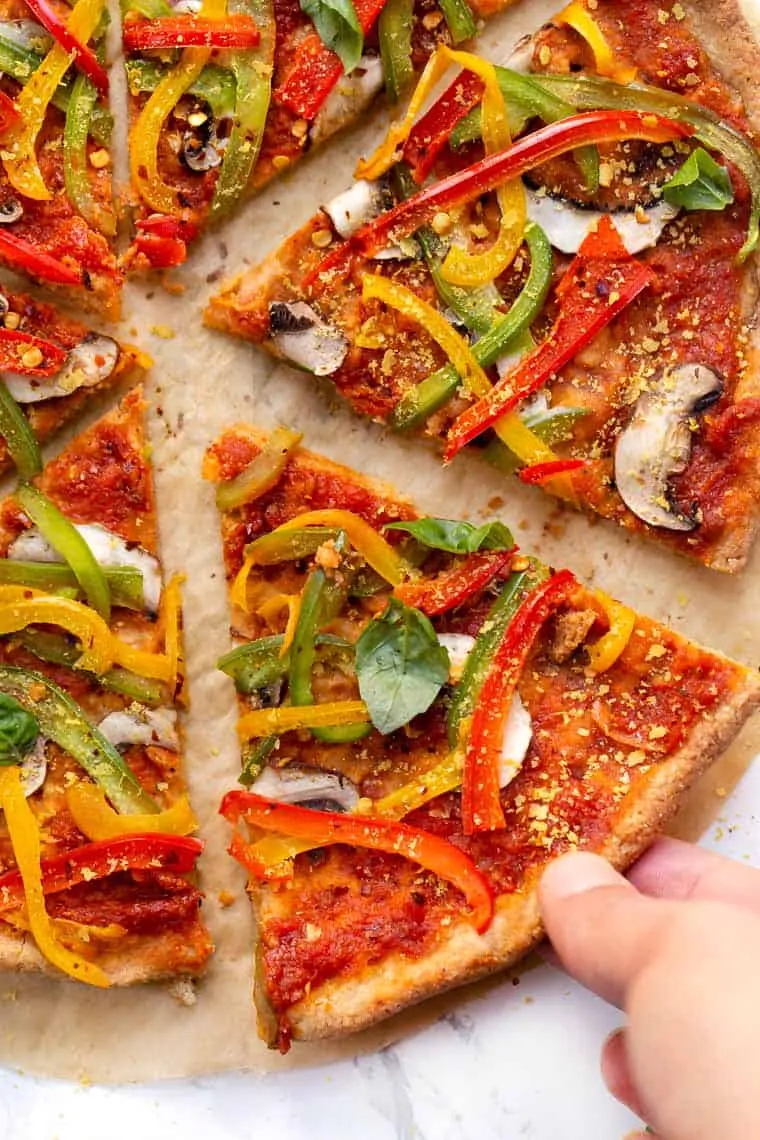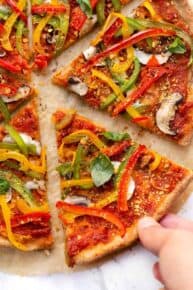 Ingredients
Instructions
Preheat the oven to 400ºF. Line a baking sheet with parchment paper and set aside.

In a large mixing bowl whisk together flours, salt and psyllium. Add the oil and water and mix to form a dough.

Place the dough ball on the baking sheet and shape them into a disc, about ¼" thick. Bake on the center rack for 10 minutes until crust is golden brown.

Add sauce and toppings of choice, then place back in the oven for another 10 - 15 minutes.

Allow to cool slightly, then slice and serve.
Notes
Nutrition is based on just the crust – doesn't include toppings.
Nutrition
Serving:
1
slice
|
Calories:
168
kcal
|
Carbohydrates:
7
g
|
Protein:
4
g
|
Fat:
14
g
|
Saturated Fat:
1
g
|
Sodium:
195
mg
|
Fiber:
2
g
|
Calcium:
44
mg
|
Iron:
0.9
mg
Filed Under: