Now you can have chocolate for breakfast and never think twice. This supercharged, healthy chocolate quinoa breakfast bowl recipe will be sure to satisfy!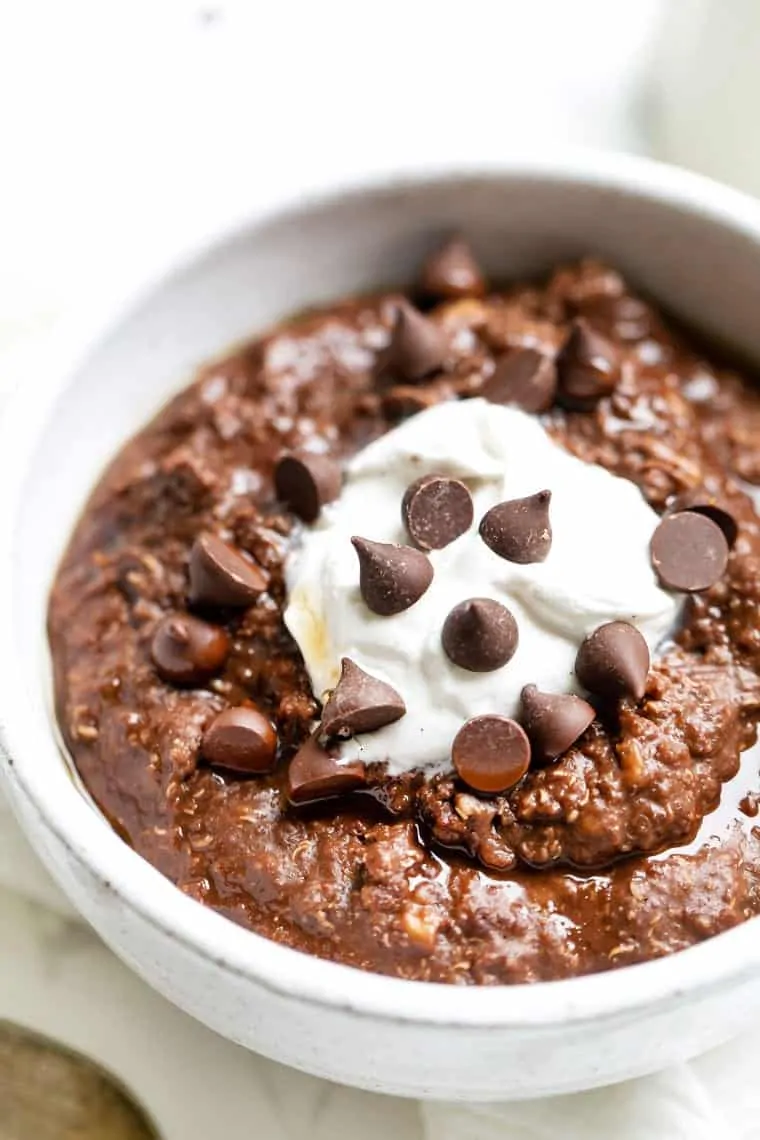 Can you think of anything better than hot chocolate for breakfast?! The kid in me thinks this is a dream come true!
When we were little, hot chocolate was something we looked forward to anytime it snowed. We knew that once we were done playing in the fresh powder, building snowmen, sledding and tubing down our hill and chasing each other with snowballs, we'd come back inside to a steaming cup of hot cocoa.
It's just one of those things that instantly makes me feel good inside. It's creamy, rich, sweet and everything I love about winter.
I figured why not reimagine this winter classic and turn it into a cozy breakfast bowl? So let me introduce you to these healthy Hot Chocolate Quinoa Breakfast Bowl.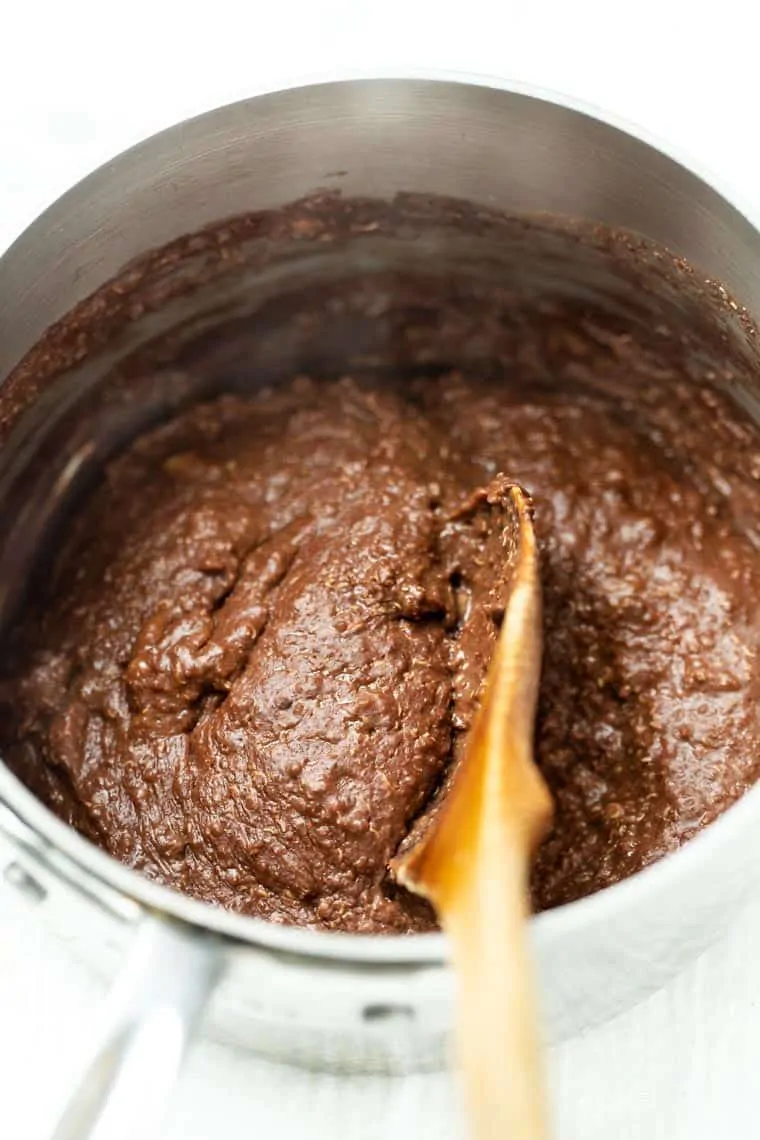 The Best Chocolate Breakfast Recipe
Chocolate is one of those things that you're totally don't associate with breakfast. Well, at least I don't. Chocolate means sweet treat in my world – it's something you have as a treat, not as a way to start your day. Right?
Acutally…NO! Chocolate is rich in nutrients and is actually a great thing to add to your morning routine.
Not only is chocolate energizing (it has a touch of caffeine for that), but it's also packed with vitamins, minerals, and antioxidants. All of which are amazing for your body. So rather than saving chocolate for an after-dinner treat, let's whip up a super-charged, chocolate-filled, insanely-decadent breakfast, that is packed with superfood ingredients and actually good for you. Sound good?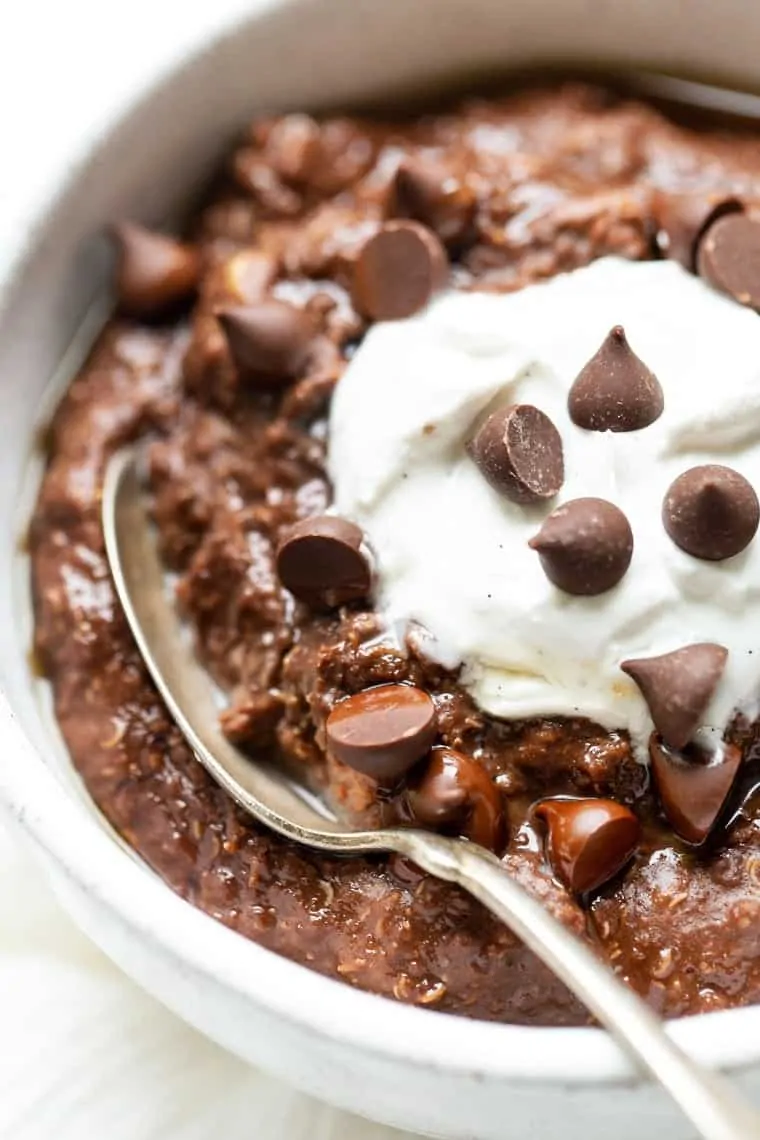 How to make a Healthy Breakfast
For most, breakfast is the most important meal of the day. It's how you set the tone for your day ahead. When you eat something healthy for breakfast, you feel better all day long. When you eat something crappy and loaded with sugar, you'll probably be napping by 10am (if you even last that long).
So when I'm creating a healthy breakfast, I think of my macronutrients in this order:
protein
fat
carbohydrates
I focus mostly on filling my plate (or bowl) with protein, then make sure to get in some healthy fats and finally, the carbohydrates. Now you might be wondering the exact numbers of each, and I'll be honest and tell you that I don't calculate those. And since every person is different, even if I did give you a number it might not be the best for your body.
So instead, just thinking of them in a priority level, I know that I'll be fueling my body in a way that keeps me feeling full, satisfied and energized all day long.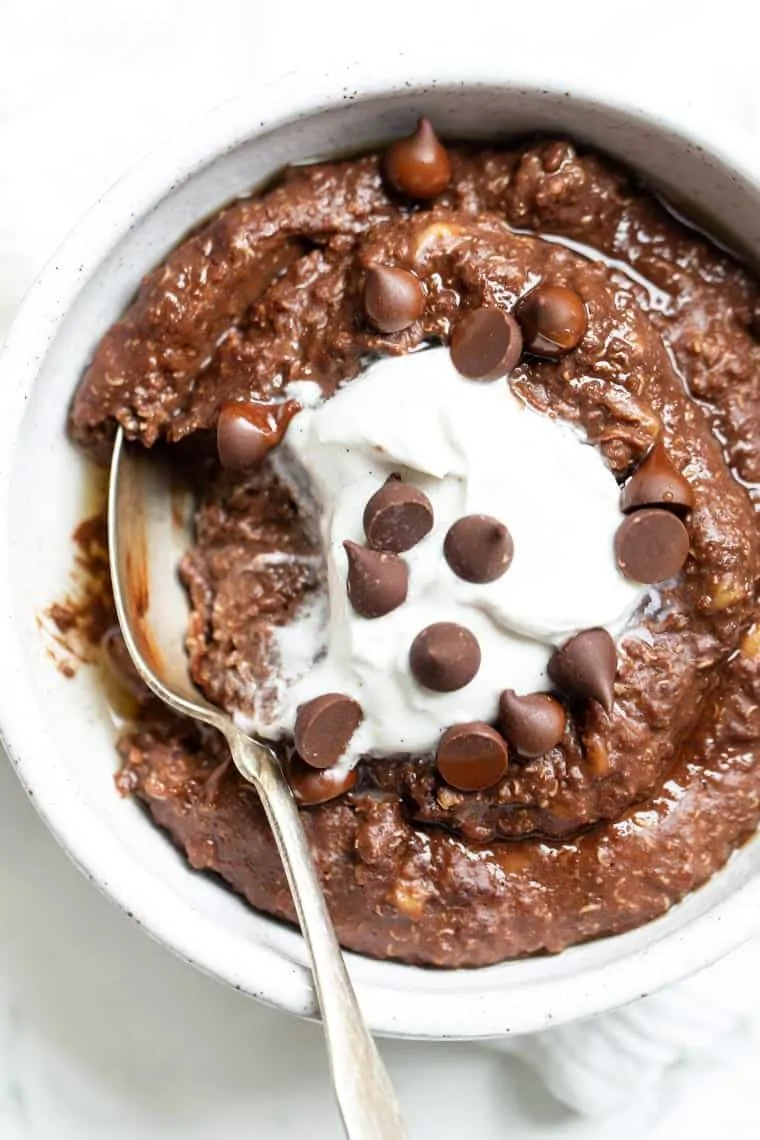 How to make Quinoa Breakfast Bowls
With this recipe, we've been able to turn hot chocolate into a healthy, breakfast-approved meal. It's thick, creamy, sweet (but not overly so), rich, filling, lick-your-lips-good…okay, you get the picture.
The base of this quinoa breakfast bowl is actually quinoa flakes. I love using quinoa flakes for breakfast because they're like oats only higher in protein and cook quicker. You can cook quinoa flakes in about 90 seconds!
From there, we've got our raw cacao powder, some protein powder (which is optional but again, makes it more filling) and banana which is helping with the sweetness. Then just whisk it up with some unsweetened almond milk, stir it until it's thick and your breakfast is ready!
Since I wanted this to feel like a mug of hot chocolate, we're topping it with some coconut yogurt (our whipped cream) and chocolate chips. It adds just a touch of richness, but still keeping it nice and healthy. This really is the ultimate breakfast treat!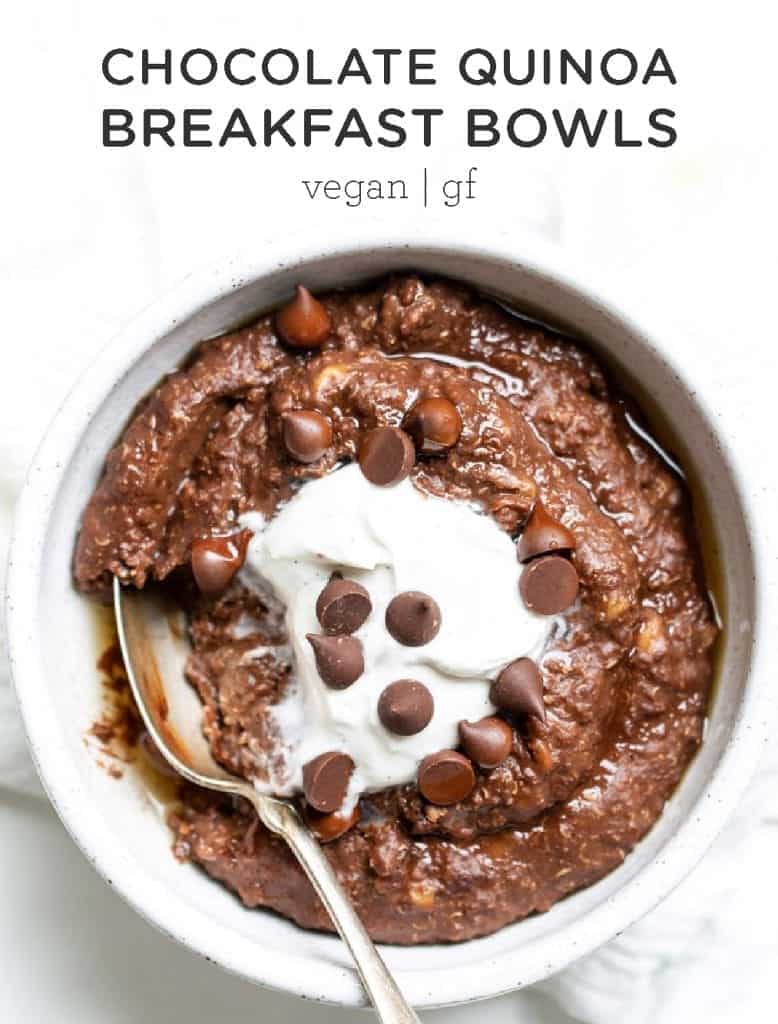 Other Healthy Chocolate Breakfast Recipes
Healthy Hot Chocolate Breakfast Cereal
We're making hot chocolate breakfast cereal and it's the perfect winter treat. It's thick, creamy, sweet, rich, filling, lick-your-lips-good...okay, you get the picture.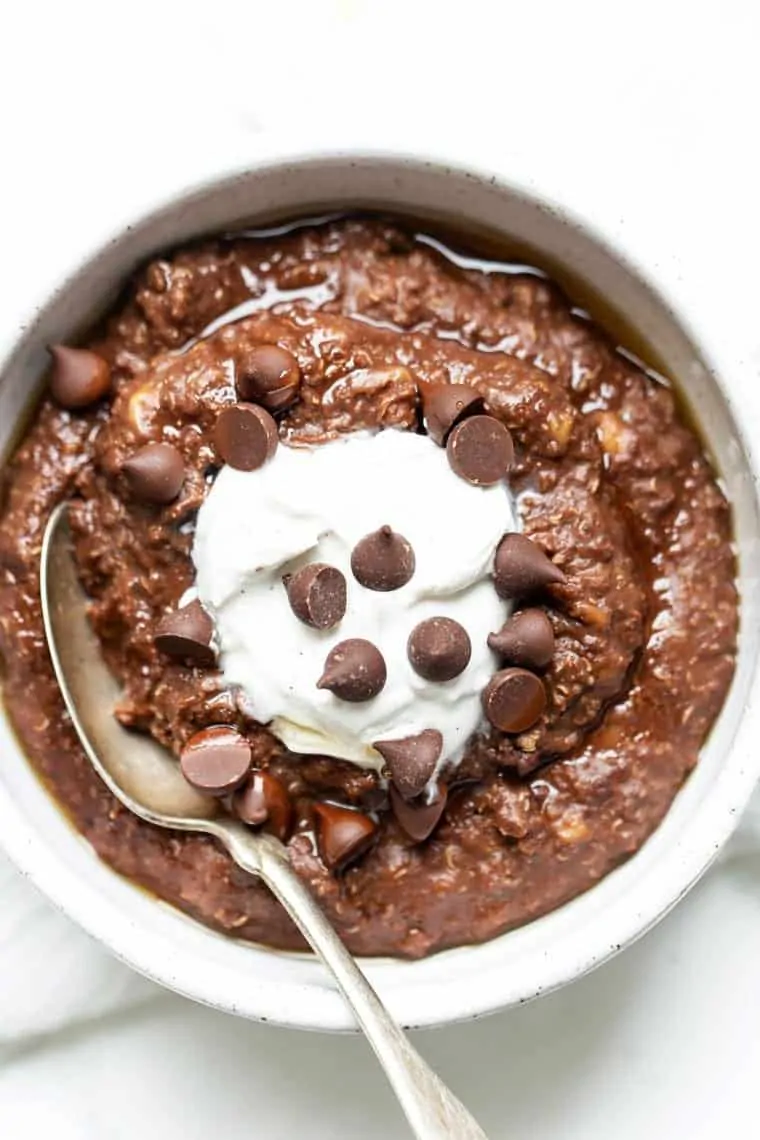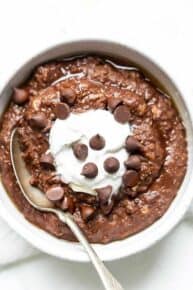 Instructions
Combine all ingredients into a small saucepan (minus the yogurt and chocolate chips). Whisk together until fully incorporated.

Bring mixture to a boil, then reduce to a high simmer until desired consistency, 2 - 3 minutes.

Transfer to a bowl, top with yogurt and chocolate chips, and enjoy!
Nutrition
Calories:
482
kcal
|
Carbohydrates:
73
g
|
Protein:
19
g
|
Fat:
15
g
|
Saturated Fat:
10
g
|
Cholesterol:
31
mg
|
Sodium:
247
mg
|
Potassium:
826
mg
|
Fiber:
9
g
|
Sugar:
28
g
|
Vitamin A:
75
IU
|
Vitamin C:
14.2
mg
|
Calcium:
370
mg
|
Iron:
3.2
mg
Filed Under: