These healthy chocolate muffins are the perfect breakfast treat! Topped with a raspberry chia seed jam swirl, they're flavor-packed and naturally sweetened!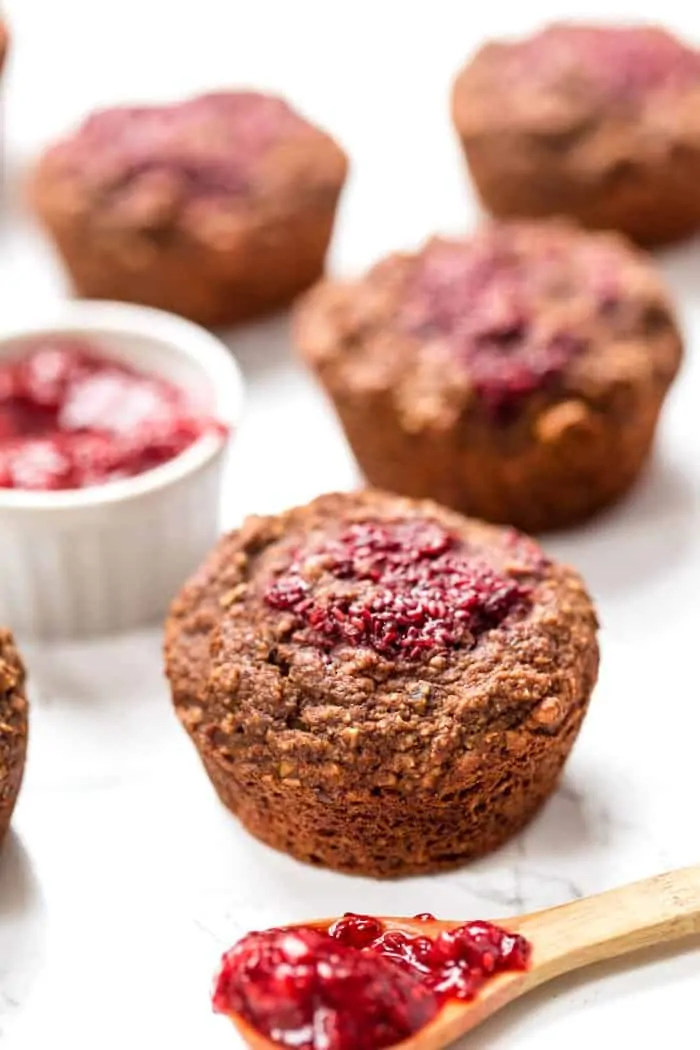 One of the biggest debates in our house is breakfast. I like sweet, he likes savory. And 9 times out of 10, I end up making two separate meals. I can rarely convince him to swing onto the sweet side, and I'm pretty set in my ways, so most of the time we're left at an impasse.
Until these healthy chocolate muffins.
Chocolate + raspberry + breakfast = a match made in heaven (for both of us). And what I think we both liked most about them was that they weren't one of those gigantic bakery-style muffins where you're pretty committed to making that your complete meal. Nope, these babies are on the smaller side when it comes to muffins, meaning we could both have one and make something else on the side. (<– for me that meant two muffins, for him that meant muffin + eggs)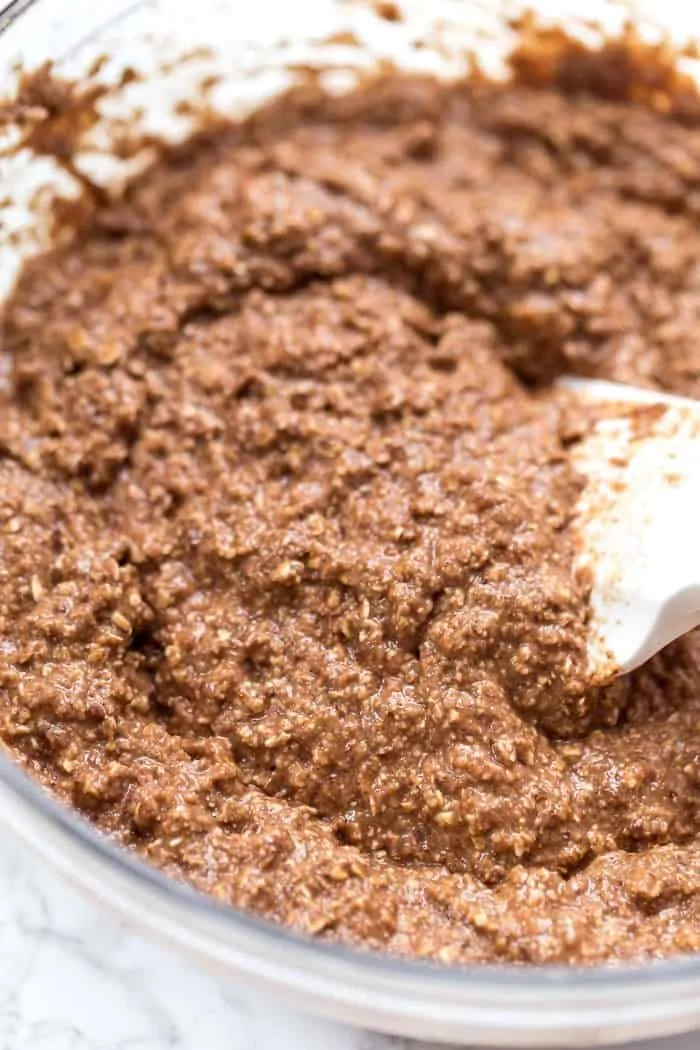 One thing that I've noticed over the years of gluten-free and vegan baking is that it tends to be best if you stick with a tried and true recipe. If you've made one of my healthy muffins before, then you probably recognize a pattern. I use a similar blend of flours, a similar blend of sweeteners and mix things up with my flavors.
It helps us have consistently good muffins every single time AND it helps me ensure that I'm not wasting my expensive baking ingredients!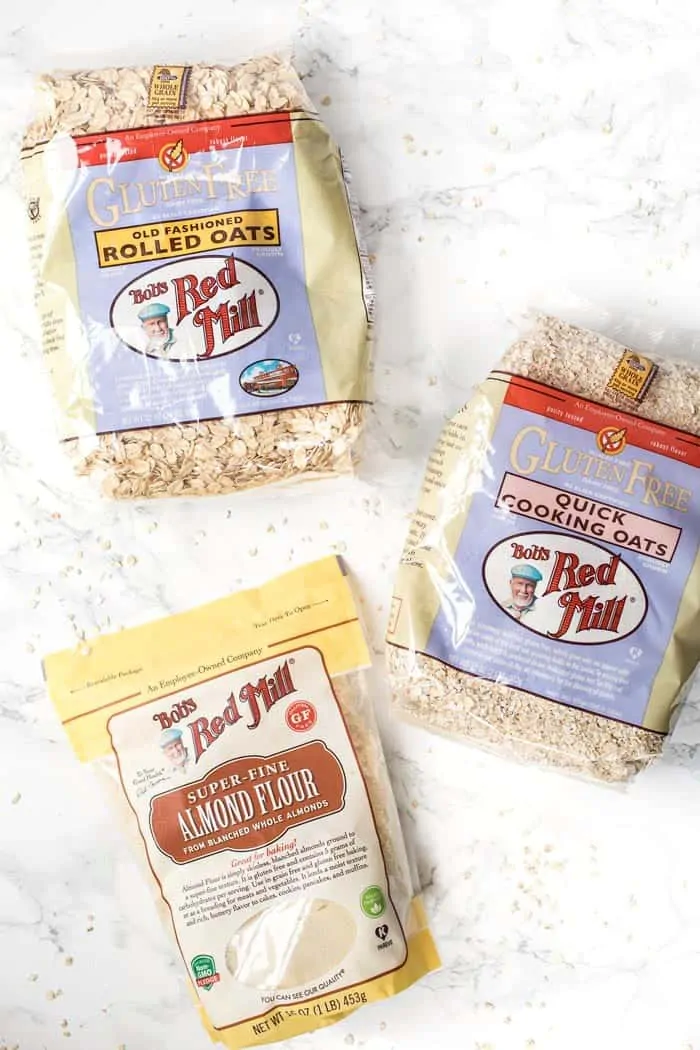 When it comes to healthy baking supplies, there's no one better than Bob's Red Mill. If you aren't already familiar with their products, they have pretty much every type of baking ingredient you could need. From whole grain flours, gluten-free flours, nut-based flours, gluten-free oats, sugars, and even baking powder and baking soda.
Kind of like your one-stop-shop for gluten-free baking!
And to show you what I mean, I've used 6 different products in this recipe (7 if you include the chia seeds for the jam)! From their gluten-free oats, almond flour and a few of their other staples, they really are my go-to when it comes to filling my healthy baking needs!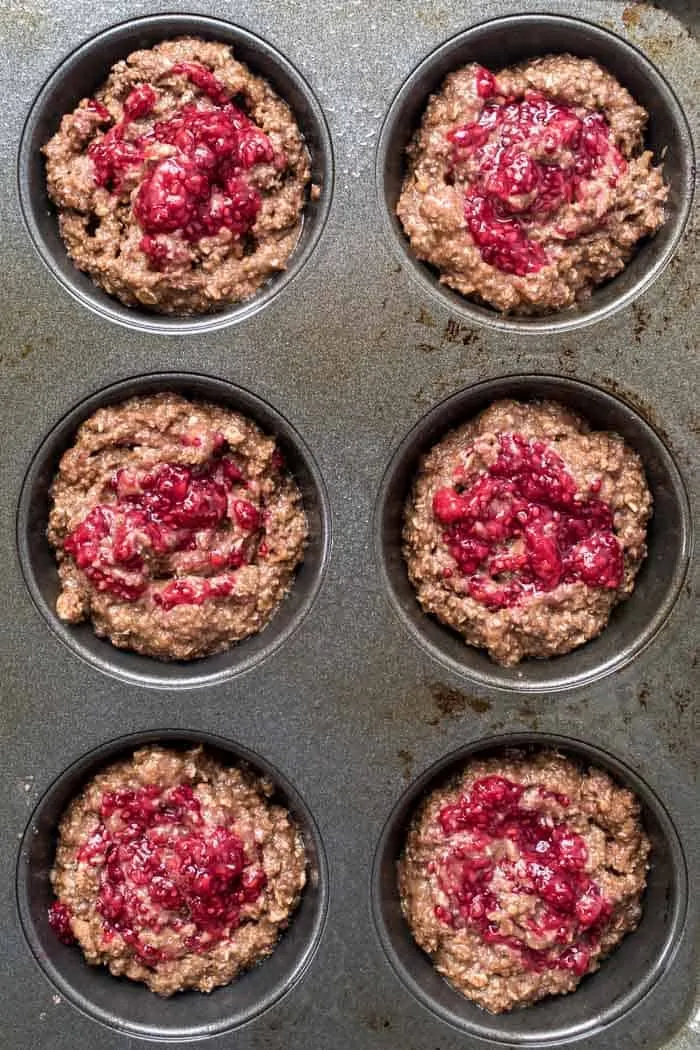 The secret to these healthy chocolate muffins, and how we actually keep them healthy, is by using oat flour as our main flour base. You can either buy premade oat flour, but I actually like grinding my own as I find the texture yields a slightly fluffier and less dense muffin. It's also cheaper this way!
Our other secret is to swap some of the traditional oil and sugar you might find in a standard muffin recipe with fruit!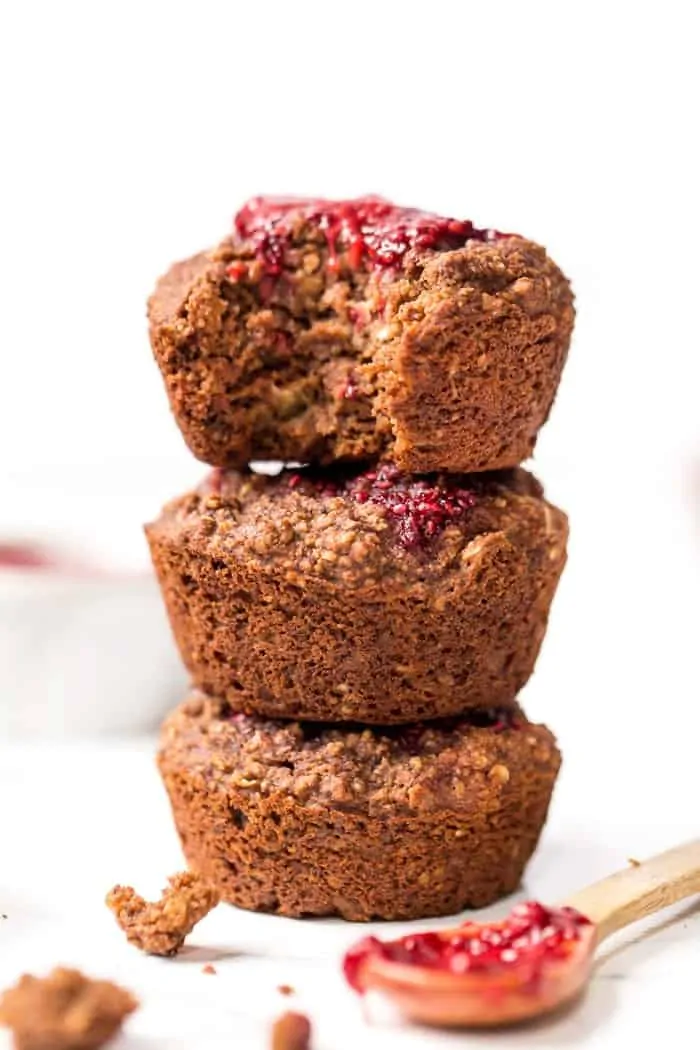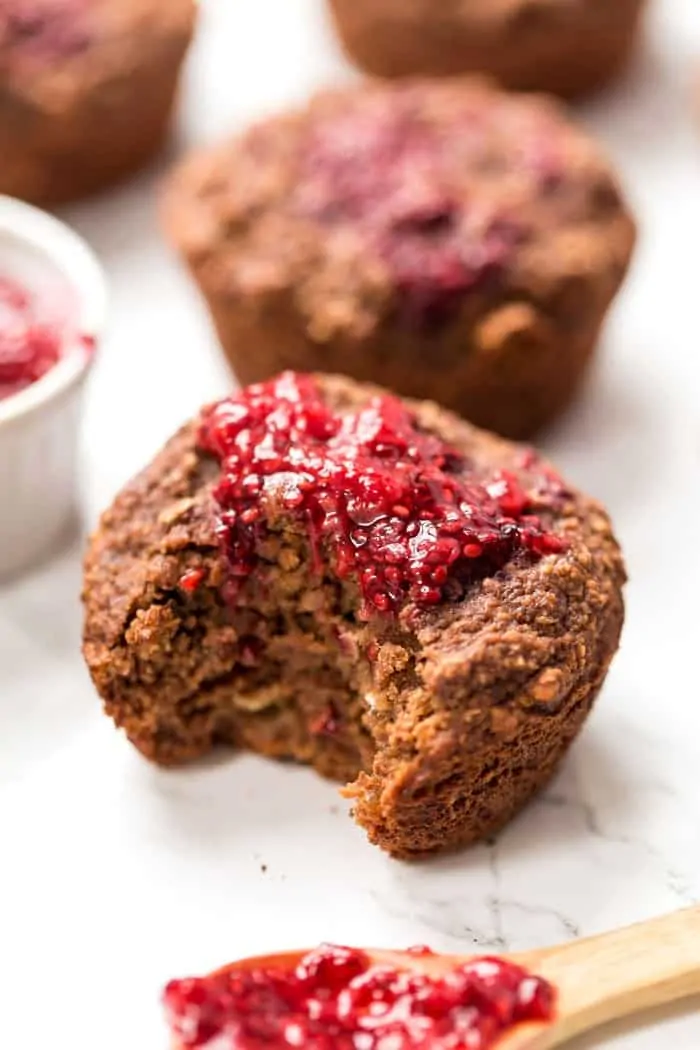 I love using fruit puree in baking for a few reasons:
It adds moisture and texture
It adds natural sweetener without the need for added sugars
It can be used to replace oil (this recipe is oil-free!)
And it can also be used to replace eggs!
I actually talked about the best way to replace eggs in baking last year, so if you're interested in learning more about that, check out my beginner's guide to Vegan Egg Substitutes post ♡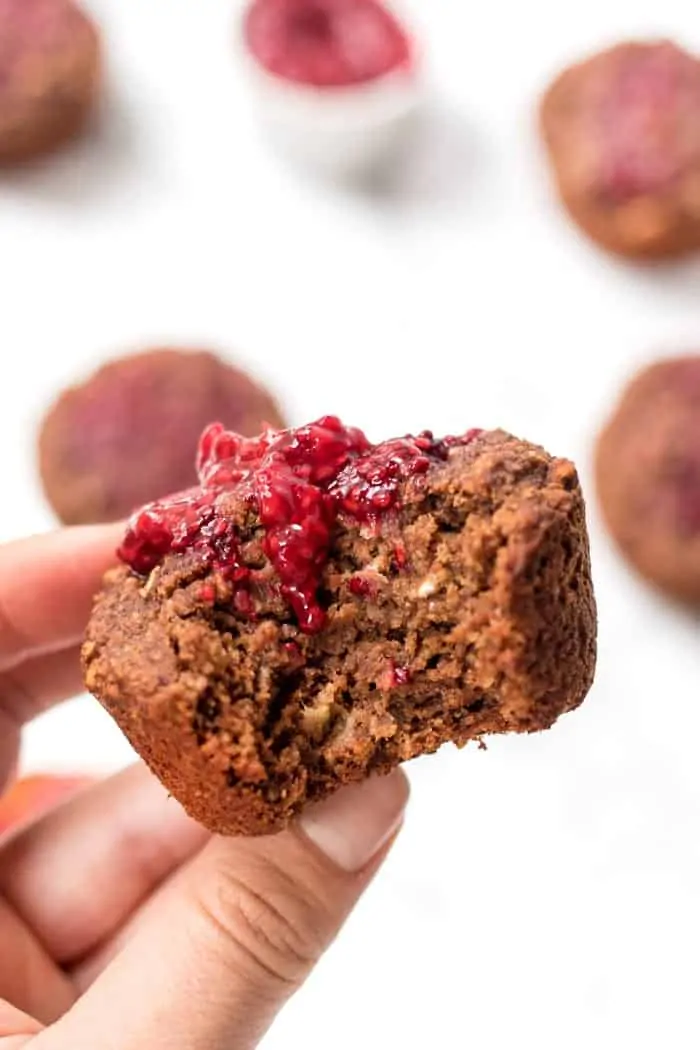 So all of those things are coming together in one epically healthy chocolate muffin recipe and you're going to LOVE them!
I've even given you two different ways to top them! One uses my raspberry chia seed jam and the other is a simple peanut butter swirl! Because honestly, if you're anything like me, it's hard to decide what you want to eat so the more options the better!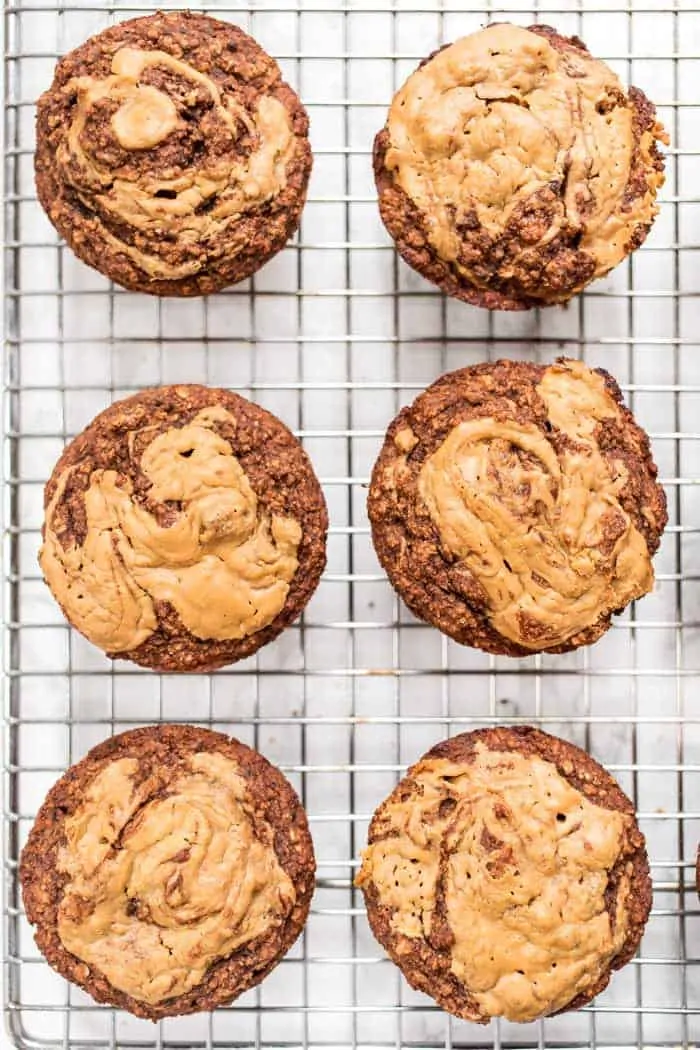 But I gotta say… that chocolate + raspberry combo sure is the perfect Valentine's Day combo ???? happy baking loves!
More Muffin Recipes To Try!
How to make these Healthy Chocolate Muffins:
Healthy Chocolate Muffins with Raspberry Swirl
These healthy chocolate muffins are the perfect breakfast treat! Topped with a raspberry chia seed jam swirl, they're flavor-packed and naturally sweetened!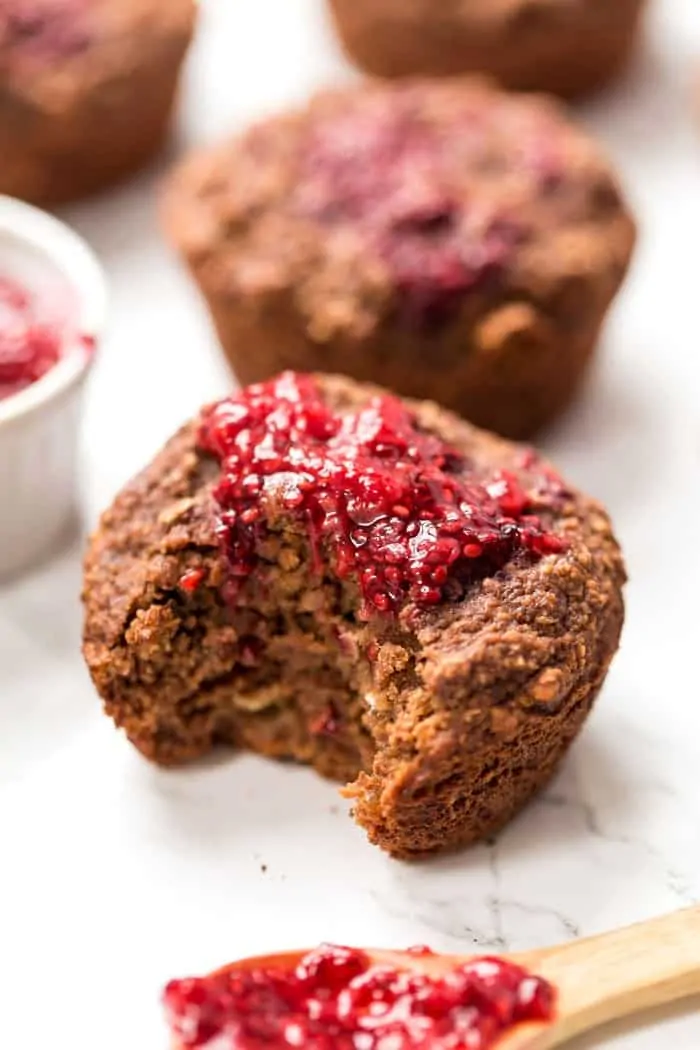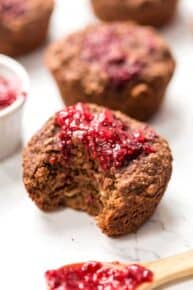 Instructions
Preheat the oven to 350ºF. Line a muffin tin with paper liners (or grease with coconut oil) and set aside.

Beat together wet ingredients in a large mixing bowl and set aside.

In a separate bowl, whisk together the dry. Add dry ingredients to wet and stir together until incorporated. Fold in chocolate chips if using.

For the raspberry swirl, top each muffin with 1/2 teaspoon raspberry jam and swirl around using a toothpick.*

Divide batter among the 12 muffin cups. Bake on the center rack for 23 - 25 minutes until a cake tester inserted into the center comes out clean.

Allow muffins to cool in the pan for 5 minutes then transfer to a wire rack and cool completely.
Notes
* to make a flax egg, mix 1 tablespoon flaxseed meal with 3 tablespoons warm water. whisk together and let sit for 3 minutes until thickened.
** feel free to substitute peanut butter in place of the jam if you like that combo more! (or even better do a 1/2 and 1/2 batch!)
Nutrition
Calories:
149
kcal
|
Carbohydrates:
25
g
|
Protein:
4
g
|
Fat:
4
g
|
Saturated Fat:
1
g
|
Cholesterol:
13
mg
|
Sodium:
113
mg
|
Fiber:
3
g
|
Sugar:
11
g
Filed Under:
This recipe is brought to you in partnership with Bob's Red Mill. As always, all opinions are my own. I only share companies I love and trust, so thank you for continuing to support Simply Quinoa!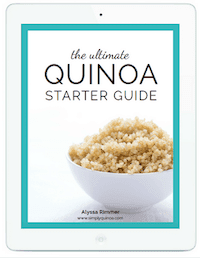 New to cooking quinoa? Grab your FREE Quinoa Starter Guide!
Become part of the Simply Quinoa community and receive weekly emails with exclusive content that I only share in email, as well as my in-depth guide to starting your quinoa journey.