Traveling to London? Check out my Healthy London Travel Guide with all my favorite healthy restaurants! From breakfast, lunch, dinner, dessert and even takeaway!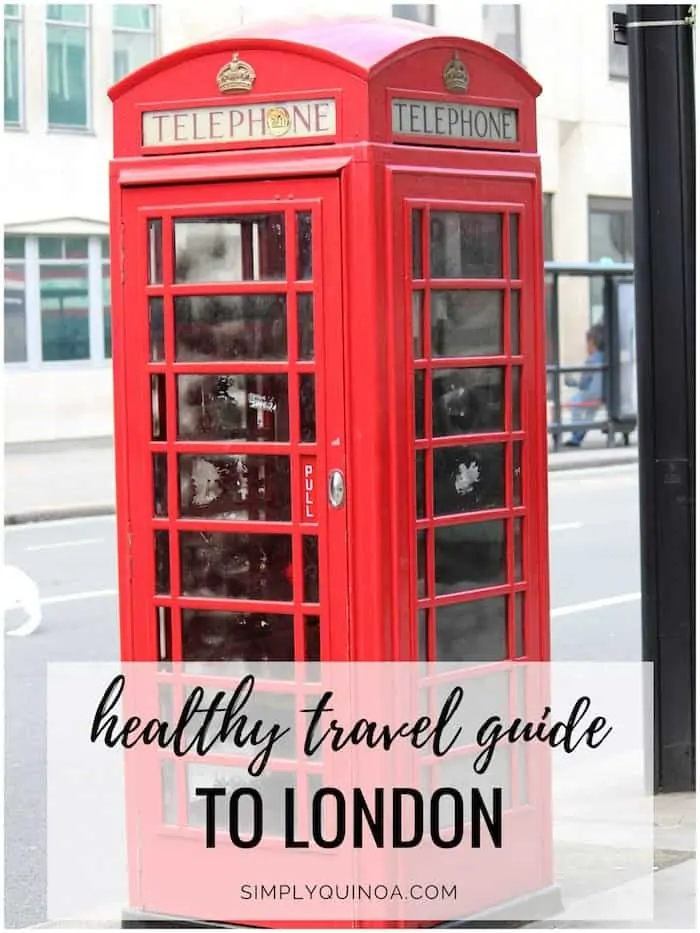 Traveling is one of my favorite things! I caught the travel bug at an early age and have since tried to take as many international adventures as possible. I love experiencing other cultures, seeing new places, trying new food. And this year, I've made it an even bigger priority!
My first trip of the year? A week-long stay in England!
This was actually my Christmas present to Matt this year, but it was just as much for me as it was for me. We planned our trip around some soccer games (which is the sport he's most passionate about <– #awesomegirlfriendaward), but we were also able to explore some fun new spots in London.
Since travel is going to be a bigger goal for me, I want to start sharing some of my favorite spots with you here. So today I'm sharing my Healthy London Travel Guide! I'll tell you what we did, where we ate and some of the spots you absolutely MUST check out!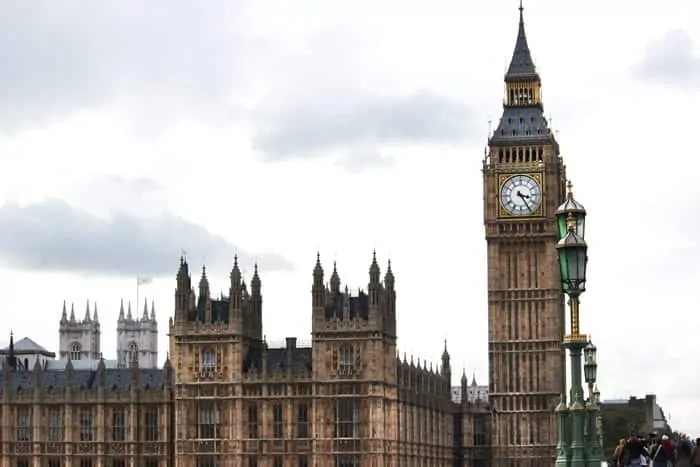 We actually just got back home two nights ago, but I wanted to get this up as quickly as possible since it was all fresh in my mind. Make sure to read until the end, because I'm sharing some of the shots in a video!
One thing I can tell you right off the bat, London has some AMAZING plant-based restaurants! Like even more so than New York. And secondly, you guys were all so incredibly helpful on Instagram telling us where to go ❤️ most of the places on this list are actually recommendations from you, so thank you!!
Let's do this!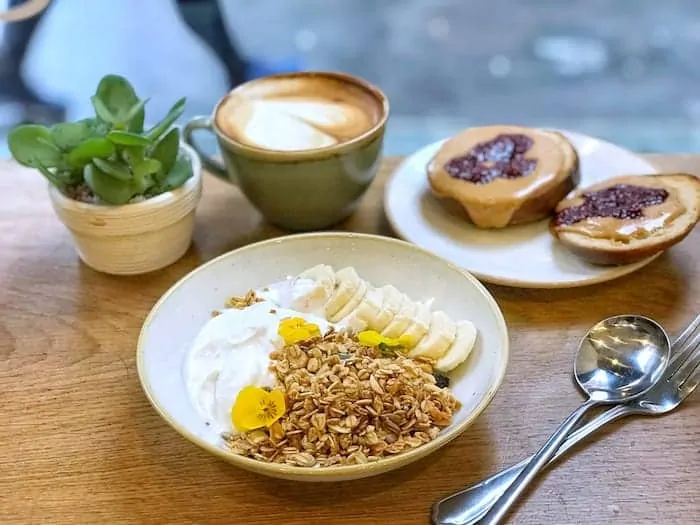 Deliciously Ella – okay, I absolutely HAD to start with the Deliciously Ella delis because they were by far the most recommended. And I can tell you it did not disappoint! We went to the one in Mayfair for breakfast and the moment you walk in you know it's going to be good. All the food is in a counter in front of you, the vibe is light, bright and beautiful and the menu is spot on. I had trouble deciding what to order! I ended up opting for a PB+J sourdough gluten-free bagel, with a side of coconut yogurt, homemade granola and banana. Oh and a matcha of course! Matt got the avocado toast and a cappuccino and we both loved it. I've also heard wonderful things about their lunch/dinner menu, so this place is a must if you're looking for healthy plant-based meals.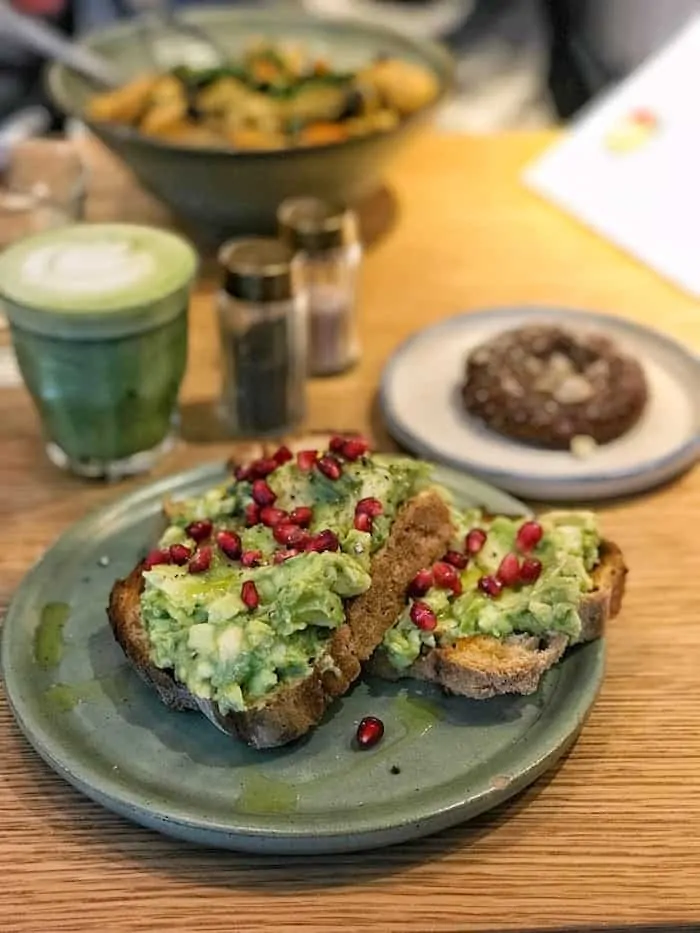 Farm Girl – another awesome breakfast place, Farm Girl, has two locations. One was a bit out of the way for us, but the other was actually right on Carnaby Street inside the Sweaty Betty store. They've got fresh juice, smoothies, bowls, toasts and lunch options and it was seriously good. I got the avocado toast on gluten-free bread and it was far and away the BEST gluten-free bread I have ever tasted. It was crunchy like a classic sourdough – I was in heaven.
Detox Kitchen – this little health food shop is a juice/smoothie bar with a few nibbles and was a great way for us to kickstart our day. We went to the one near Carnaby Street, which I think had a more limited menu than the other location, but it was still nice to get some greens into our system!
NOPI – this is one of Yotam Ottolenghi's restaurants (the author of Plenty), and it was incredible. Tons of plant-based options, but with other options for non-vegetarians, and the food was super flavorful. I'm a big fan of all things Mediterranean, so I was thrilled to find a spot like this. I'm pretty sure the menu changes, but my favorite dish was the roasted squash with onions, pomegranates, pine nuts and tahini. SO GOOD! (fun fact: Ella from Deliciously Ella was eating there the same time we were!!)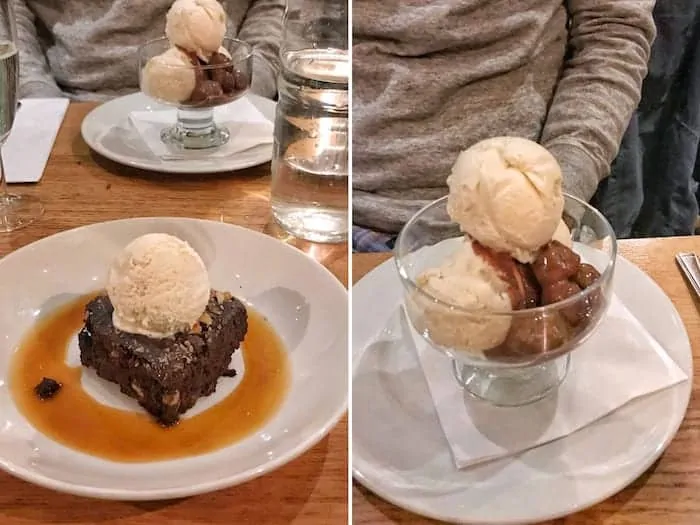 Mildred's – a plant-based lover's dream come true! I wish we had eaten here for lunch or dinner, but we actually just stopped by for dessert one night. There are a few locations around the city and it's 100% plant-based, with tons of gluten-free options. I'd say it skews more towards comfort food with bowls, burgers, etc., but their dessert is out of this world good! We got the salted caramel brownie (OMG!) and the ice cream sundae and it was dessert perfection!
Pret a Manger – if you're racing around the city and need a quick snack, this is the perfect place. They are everywhere (like how we have Starbucks all over the US), and they've got lots of healthy options. From fresh juice, sandwiches, chia puddings, to coffee and tea, it's great for on-the-go!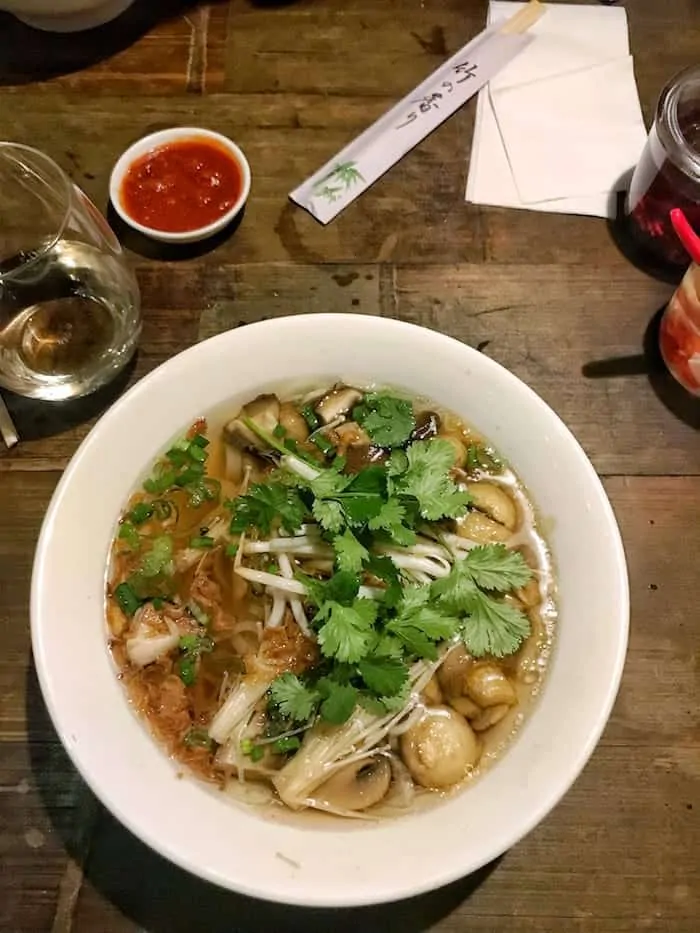 Pho – a chain restaurant serving up fabulous Vietnamese food with locations all over the UK! We actually didn't eat here while we were in London (we ate at the one in Liverpool), but I can tell you it was some of the best pho I've had. They have tons of veg options – I got the mushroom pho – including appetizers. Most is also gluten-free since they use rice noodles in their soups!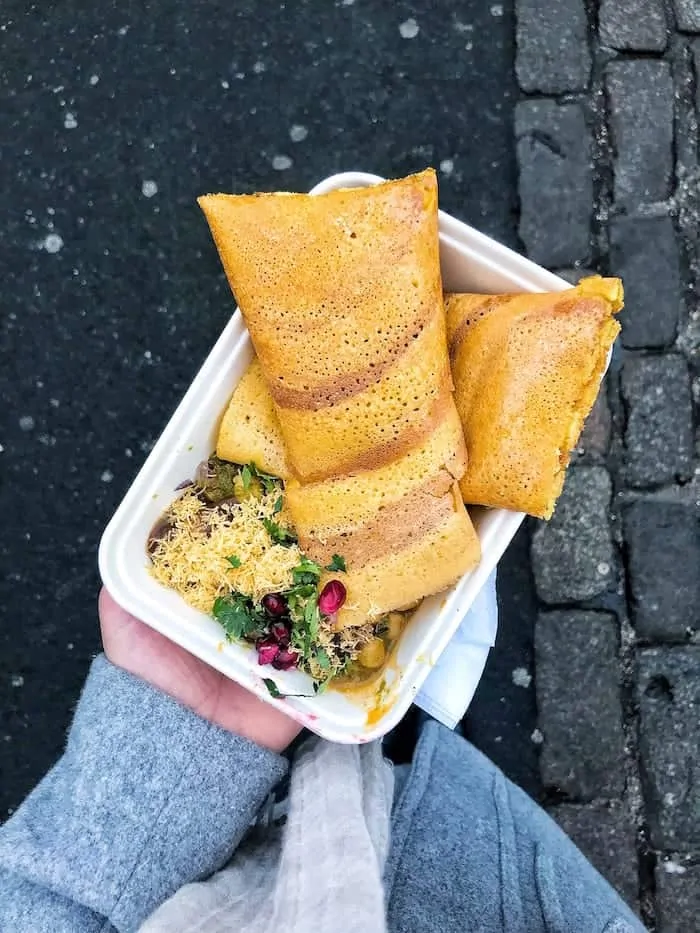 Borough Market – I would say that you can't go to London and not visit Borough Market, especially if you're a foodie. This place was amazing! It's an "outdoor" market on the south side of the city with TONS of amazing food stalls. Everything from fresh produce, meat and seafood, to classic international street food, tea shops, spice markets and bakeries. There is something for everyone here! It's also just fun to cruise around, try a few different things and people watch! We ended up finding an awesome vegetarian Indian stall as well as a gluten-free bakery, so I walked away happy as a clam!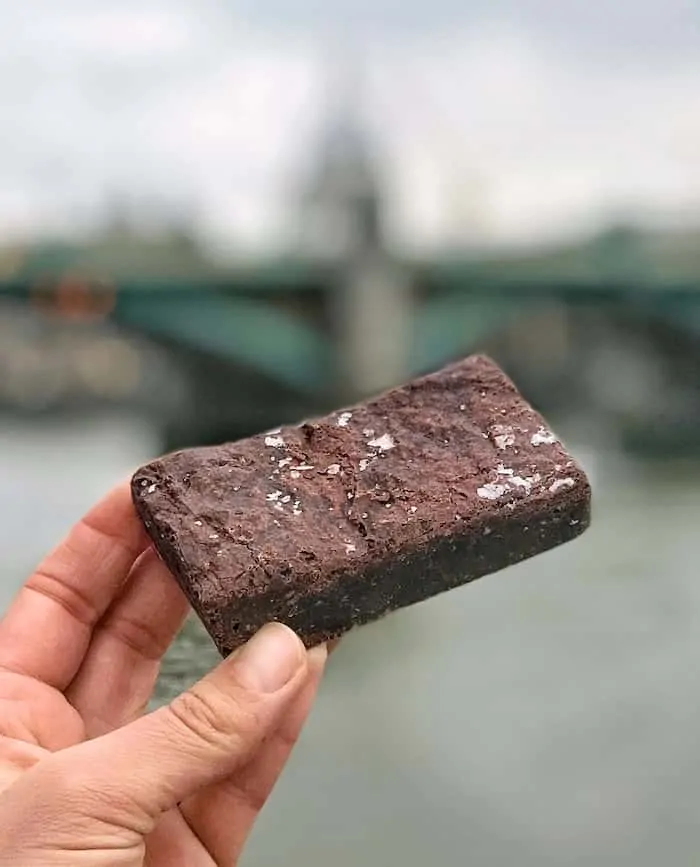 Free From Bakehouse – this is the bakery that we found in Borough Market and I was so pumped to find some healthy gluten-free treats! Everything they had was gluten-free, but they also offered a ton of other options including nut-free, vegan, sugar-free, etc. We opted for a vegan brownie and a lemon cupcake and both were excellent. Even Matt, who doesn't have a big sweet tooth, couldn't' get enough of the brownie!
Black Roe – one thing I love about London is the eclectic nature of the restaurant scene! Just like New York, you can pretty much find any type of cuisine you want. Matt and I are big fans of Asian-inspired food, so when we found this poke place (which happened to be right around the corner from our hotel), we made sure not to miss it. The menu is mostly centered around seafood, but there were a few vegetarian options for those who don't want the fish. We ordered two poke bowls and I got the salmon as my entree and we both walked away feeling like it was the best meal we had in London!
Roka – a semi-upscale Japanese restaurant with a few locations in the city, Roka was really fun. It was definitely on the pricey side, but the food was solid and they had lots of plant-based/vegan options. From sushi, or bowls, salads, and a whole veggie section, it was one of those places that everyone could find something yummy. The vibe is also really fun – we sat at the bar so we could actually see them cooking while we ate. Definitely worth a try if you're looking for something a little nicer!
The Stoke House – we ventured over this way on the hunt for a good happy hour and boy did we luck out! We found this place, which is just south of Buckingham Palace, and it had an awesome atmosphere, 2-for-1 drinks and delicious cocktails. We sat here for a few hours before getting dinner and we both had a blast!
And that pretty much covers where we ate while we were in London! I just have to give you all a HUGE thank you for sending me your recommendations! We tried to hit as many as we could, but I'm so happy to have a list for when I go back.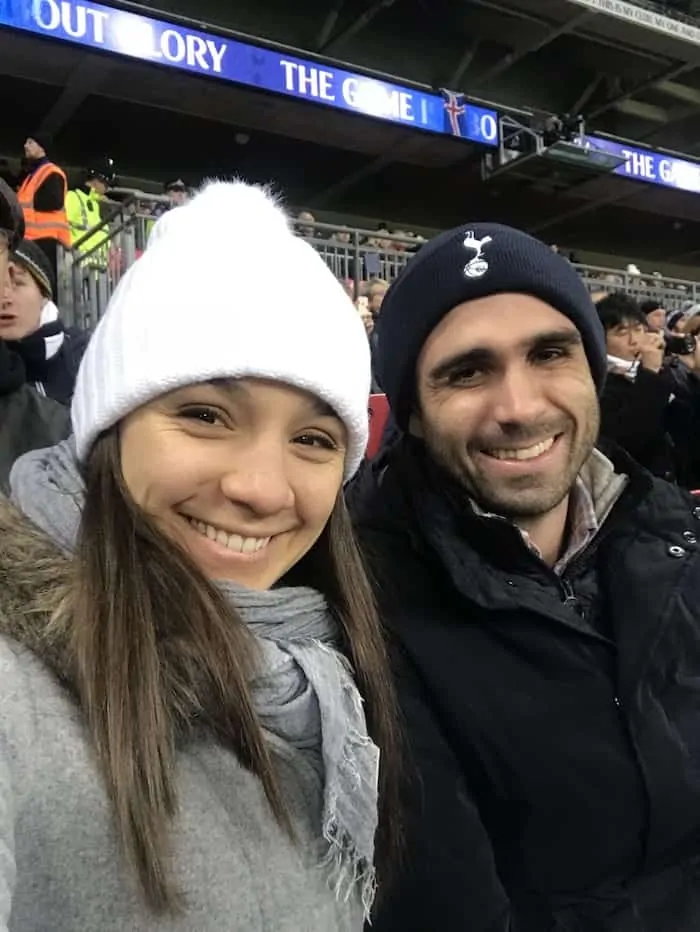 While we didn't get to every single one, I do just want to share a few of the other places that came highly recommended:
Farmacy – vegan restaurant & cafe
Wild Food Cafe – vegan cafe
Trishna – Indian with veg options
Gallery Cafe – good for matcha
Chotto
Churchill Arms – great Thai food
Hummus Bros – healthy takeaway
Check out my video: What I Ate in London!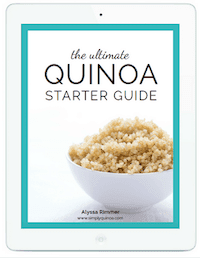 New to cooking quinoa? Grab your FREE Quinoa Starter Guide!
Become part of the Simply Quinoa community and receive weekly emails with exclusive content that I only share in email, as well as my in-depth guide to starting your quinoa journey.