This healthy carrot cake recipe is made using almond and quinoa flours, and is naturally sweetened and uses applesauce to reduce the amount of sugar and oil!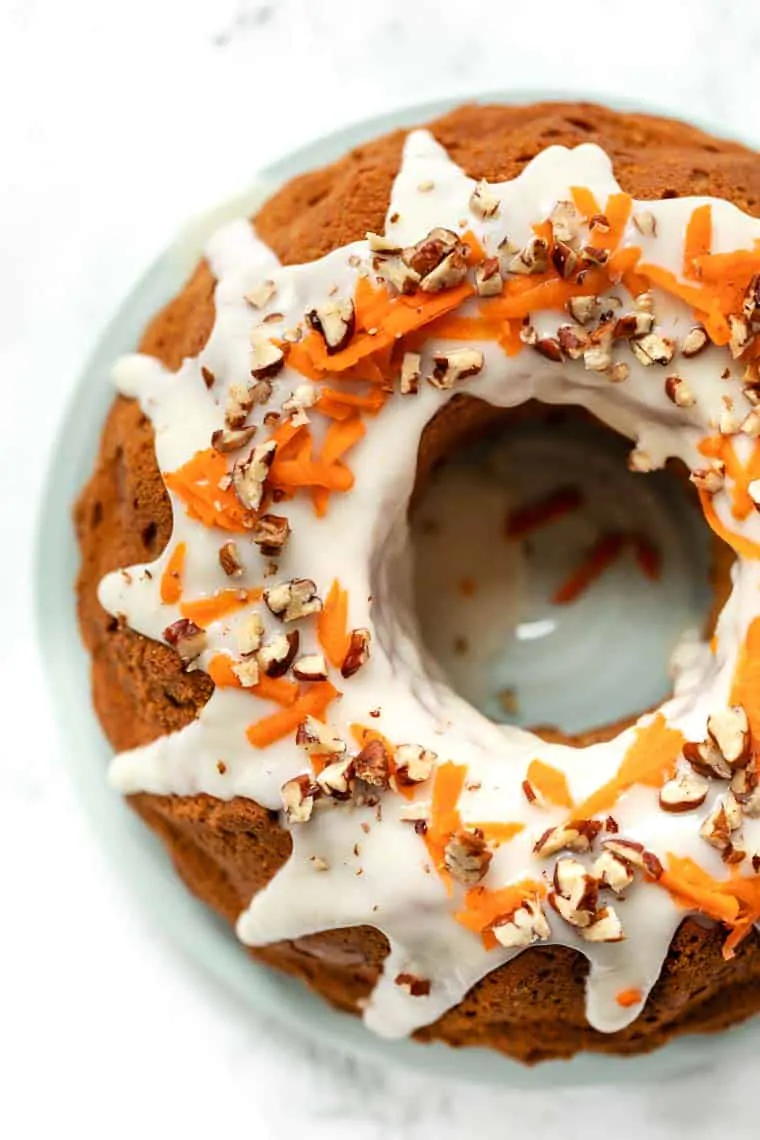 When I was a little girl, I always used to have carrot cake on my birthday.
I'm not sure if it was because my parents thought it was healthier (there are veggies inside of course), or if it was just what my dad enjoyed baking (he's the baker in our family), but either way, my birthday cake was usually a carrot cake topped with homemade cream cheese frosting.
At the time, I wasn't the biggest fan. It was the name that got me; I didn't want to be that girl that always had healthy food. I just wished my parents would make me a vanilla cake out of a box like all the other kids. It was so much more normal.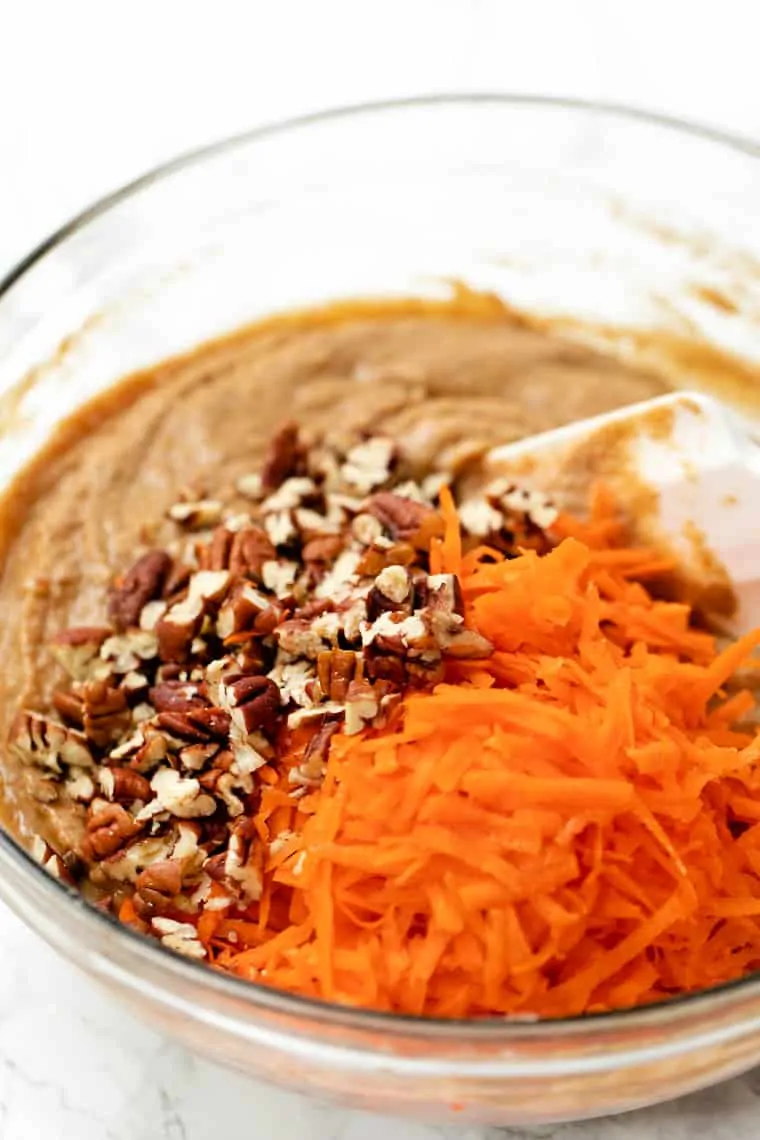 How Do You Finely Grate Carrots?
When I went to search online to see what questions people had about making carrot cake, I was surprised to find that not everyone knows how to finely grate carrots. Well, if that's you, I'm here for you!
There are two main ways to grate carrots: with a box grater or in a food processor.
Box Grater Method
This is the more time intensive, but a cheaper way to do it. If you don't already own a food processor, you can pick up a box grater for less than $20 on Amazon. It just requires a bit more elbow grease! To grate your carrots using a box grater, just use your hand to move the carrot up and down along the largest blade. Since this recipe uses just about 1 medium carrot, it won't be too difficult!
Food Processor Method
This method is an absolute breeze but also more of a pain to clean up (especially since the amount is so small). Most new food processors come with a grating blade, so you'll just swap out the standard S-blade, turn the machine on and run your carrot through the top hole. It's super fast, but again, it means cleaning your food processor which to me is a deterrent!
How do you like to grate your carrots? Let me know in the comments!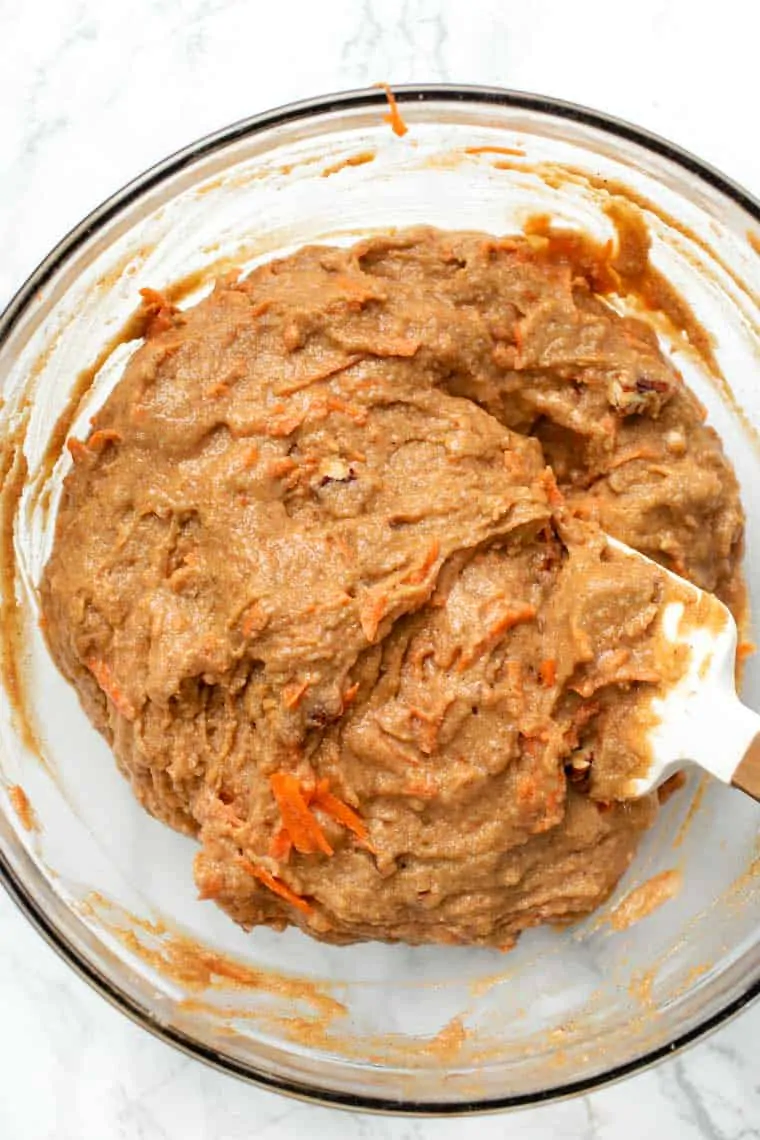 Is Carrot Cake Healthy?
But here's the thing: now that I'm familiar with healthy baking and cooking, I've realized that traditional carrot cake recipes really aren't healthy. And that just because something contains a vegetable in its name does not make it good for you.
In fact, I'd venture to say that carrot cake is almost worse than many other cakes. Loaded with vegetable oil, sugar, and white flour, and then topped with a mixture of cream cheese, butter, and sugar…yikes.
Definitely, something that I'm excited to lighten up and make give you a healthier alternative.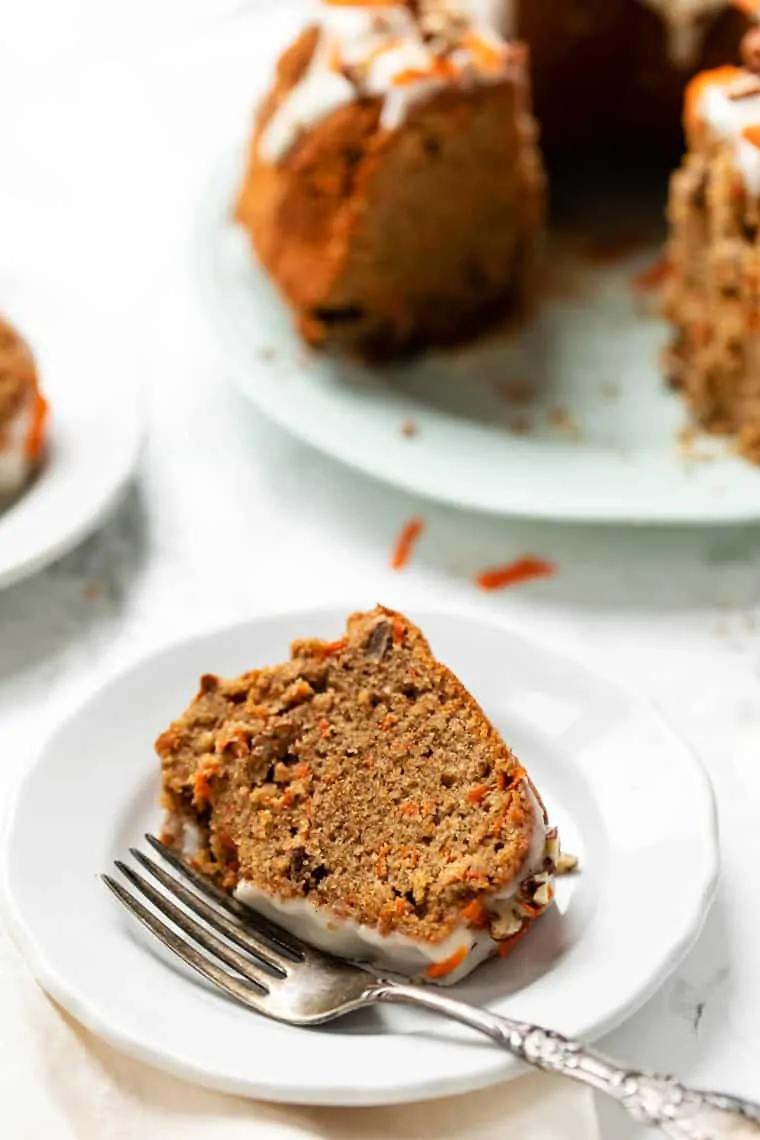 Can I Substitute Applesauce For Oil in Carrot Cake?
An easy way to make your carrot cake instantly healthy is to reduce the amount of oil. The reason for using oil in baked goods is to help provide moisture and crumb. So we can't just leave it out, we have to swap it for something else.
My favorite solution? Using applesauce!
You can substitute applesauce for oil in your carrot in almost exact proportions. However, when I'm baking I don't like to do all the oil in cakes because it does help give it a really nice, classic texture.
You'll see below that we're using applesauce and yogurt in the wet ingredients. Those two things are there to replace 1/2 cup of oil. So in total, this recipe would have called for 3/4 cup of oil, but we're using 1/4 cup of applesauce and 1/4 cup of yogurt. You could also do just applesauce if that works better for you.
So the long answer to that question is…YES. You can totally substitute applesauce for oil in carrot cake which will still keep it moist, but reduce the fat content by a ton!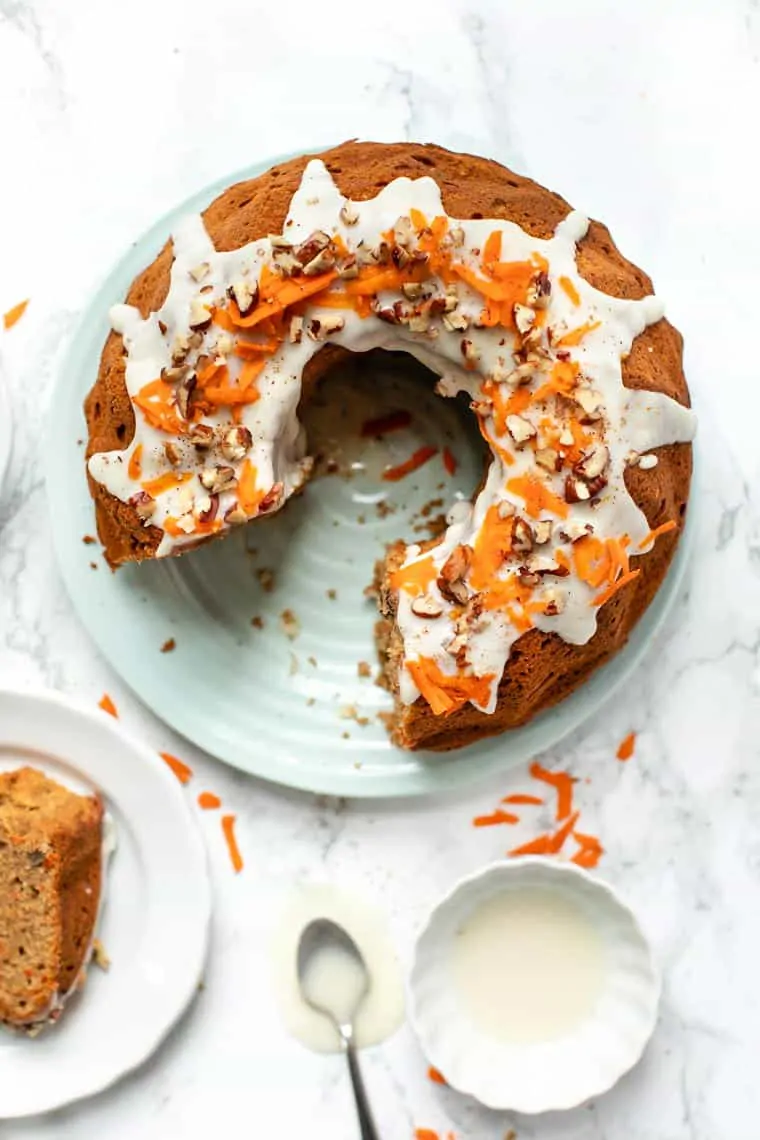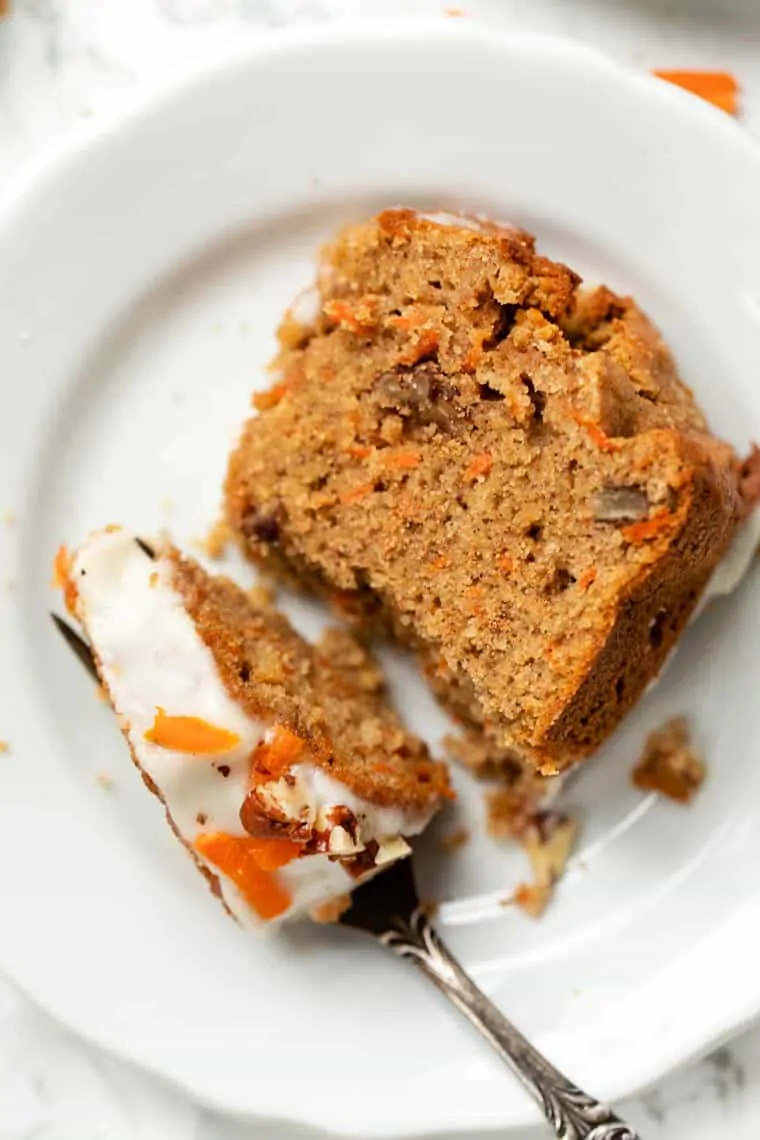 How to Make Healthy Carrot Cake
The flavors that go into this uber healthy carrot cake are what I love the most. I'm a sucker for anything with cinnamon in it, and I can't resist tossing in a sprinkle of nutmeg and ginger to spice things up a little more. Plus, a baked good with chopped nuts? I love the crunch!
To make this healthy carrot cake actually healthy, I started with nutritious flours. The cake is a blend of almond flour, which is low in carbs and packed with healthy fats and protein, and quinoa flour, which is also high in protein and vitamins. Unlike other gluten-free cakes, there are no starches or rice flours.
And finally, for my sugars, I went with something less refined – a simple blend of maple syrup and the natural sweetness from the applesauce. I love the flavors of both, and really enjoyed the level of sweetness they brought to the cake.
What is most special about this cake is the texture. It's perfectly moist, has a soft texture, a slight crunch from the walnuts and a warm, comforting flavor that you come to expect from a decadent cake such as this.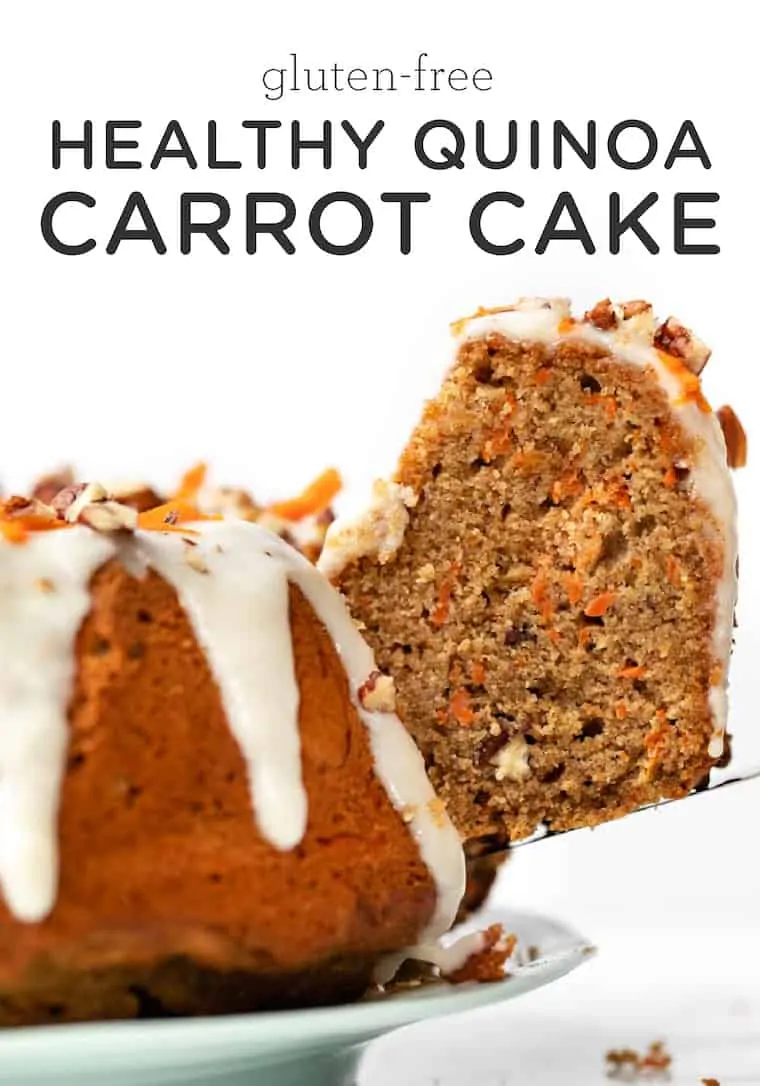 Other Healthy Carrot Cake Inspired Recipes
Healthy Quinoa Carrot Cake
This healthy quinoa carrot cake recipe uses a blend of almond flour and quinoa flour for a light, yet tender cake that's high in protein and absolutely scrumptious!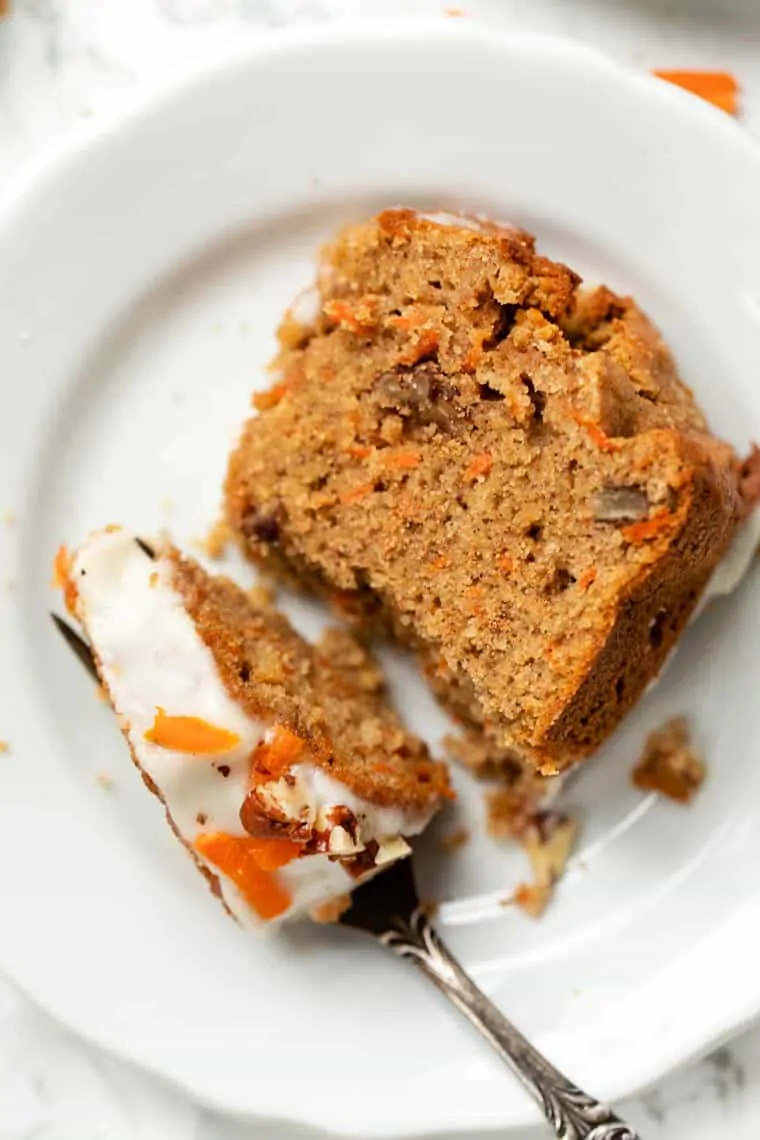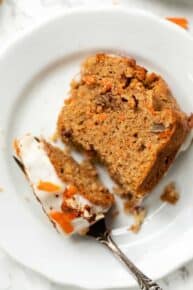 Ingredients
mix-ins
1

cup

grated carrots

1/2

cup

almonds

chopped (or nuts of choice)
Instructions
Preheat the oven to 350ºF. Grease a bundt pan and set aside.

In a large bowl, whisk together the dry ingredients.

In a separate bowl, beat together the wet ingredients. Pour the wet ingredients into the dry ingredients and stir together until fully combined. Fold in grated carrots and nuts.

Transfer the cake batter to the prepared baking tin. Bake on the center rack for 40 - 45 minutes until a cake tester inserted into the center comes out clean.

Allow the cake to rest for at least 10 minutes, then turn it out onto a cooling rack and cool completely before slicing.

For serving, we love it with some drizzled coconut butter on top!
Notes
* for the ICING: melt 1/4 cup of coconut butter. If it's not quite pourable, whisk in some melted coconut oil.
Nutrition
Serving:
1
slice
|
Calories:
290
kcal
|
Carbohydrates:
25
g
|
Protein:
6
g
|
Fat:
19
g
|
Saturated Fat:
7
g
|
Cholesterol:
35
mg
|
Sodium:
23
mg
|
Potassium:
155
mg
|
Fiber:
3
g
|
Sugar:
14
g
|
Vitamin A:
1580
IU
|
Vitamin C:
0.6
mg
|
Calcium:
93
mg
|
Iron:
1.5
mg
Filed Under: