These healthy smoothie bowl recipes are a great way to make sure you're getting all the nutrients you need! Improve digestion, kickstart weight loss and fuel up for the day ahead!
I often talk about my smoothie bowl obsession, but I realize that I usually don't share the recipes with you! I'll give you another breakfast recipe, like my Chocolate & Raspberry Chia Pudding, and say it's how I'm changing my breakfast game up. But in full transparency, 9 out of 10 mornings, you'll find me with a smoothie bowl in my hand.
I'm a big time creature of habit, as I'm sure many of us are, and once I find something that works for me (i.e. smoothie bowls for breakfast), I don't stray too far out of the lines.
But what I love about smoothie bowls is that you can eat a smoothie bowl every day and make it different each time! And that's what we're gonna do today; make 4 healthy smoothie bowl recipes to help you change it up a little bit!
But first…how the heck do you make a smoothie bowl?!
How to Make a Smoothie Bowl
STEP 1: Choose Your Base
For me, my base is almost always greens, but I like to think of the base as your fresh ingredients. So fresh fruit, fresh veggies, and greens are all great options.
STEP 2: Choose Your Frozen Goodies
Next, we go with our frozen goodies like fruit and veggies. I'm partial to frozen banana and berries, but you'll see in these smoothie bowl recipes that I also often add a frozen (steamed first) veggie like cauliflower or zucchini. Frozen avocado is also amazing!
STEP 3: Choose Your Powders
I'm all about adding powders, potions and elixirs to my smoothie bowls. Even though I haven't gotten too wild with these ones, I do often add a vegan protein powder, as well as medicinal herbs and adaptogens.
STEP 4: Choose Your Liquid
Smoothie bowls need liquid to blend, but only a tiny, tiny bit. I don't typically add more than 1/4 cup of liquid to my smoothie bowls because I like them extra thick and creamy. You can use pretty much any base you want: non-dairy milk, non-dairy yogurt, coconut water, juice or distilled water are all great.
STEP 5: Get Your Blend On!
Then just blend it all up until it's smoothie and creamy, then transfer it to a bowl and you're off to the toppings!
STEP 6: Choose Your Toppings
And step six, aruguably the most fun step, is TOPPINGS! You can go totally crazy and wild with your toppings, so have at it. I love adding nuts/seeds, fresh berries & fruit, nut butter drizzles, bee pollen, granola, etc. But honestly, the possibilities are endless. I recommend checking out my Smoothie Bowl board on Pinterest for some topping inspiration.
Tools for blending the perfect smoothie bowl
Now, let's get to our smoothie bowl recipes! Here are the four smoothie bowls we'll be blending up today:
Chocolate Dreams Smoothie Bowl
Berry Bliss Smoothie Bowl
Detox Green Smoothie Bowl
Spirulina Green Smoothie Bowl
I can't wait for you to try these recipes, especially if you're new the world of smoothie bowls! I tried to create unique combinations of ingredients, and also show you how you can sneak veggies into every bowl. This is a great way to get in a ton of nutrients, while basically feeling like you're eating a bowl of ice cream for breakfast. Enjoy!
Chocolate Dreams Smoothie Bowl
---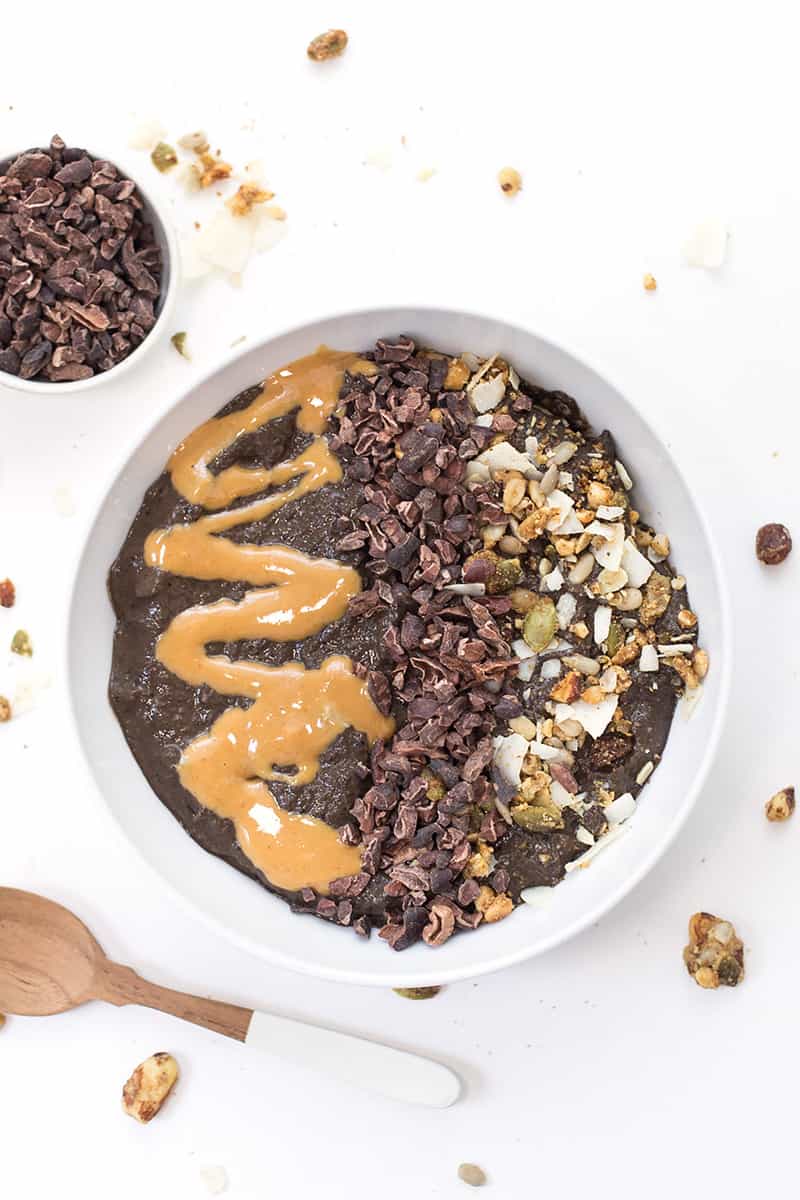 Can you think of anything better than starting your day with chocolate? This is the smoothie bowl recipe I make most frequently and I L-O-V-E it! And when it's drizzled with peanut butter on top? You can't beat it!
To make this chocolate smoothie bowl, you will need:
2 cups spinach
½ cup frozen cauliflower
½ cup frozen blueberries
2 tbsp raw cacao
1 tsp maca powder
1 scoop vegan protein
¼ cup liquid of choice
Add everything into a blender and blend on high until smooth and creamy. Transfer to a bowl and add your toppings. I went with: granola, cacao nibs and peanut butter.
Berry Smoothie Bowl
---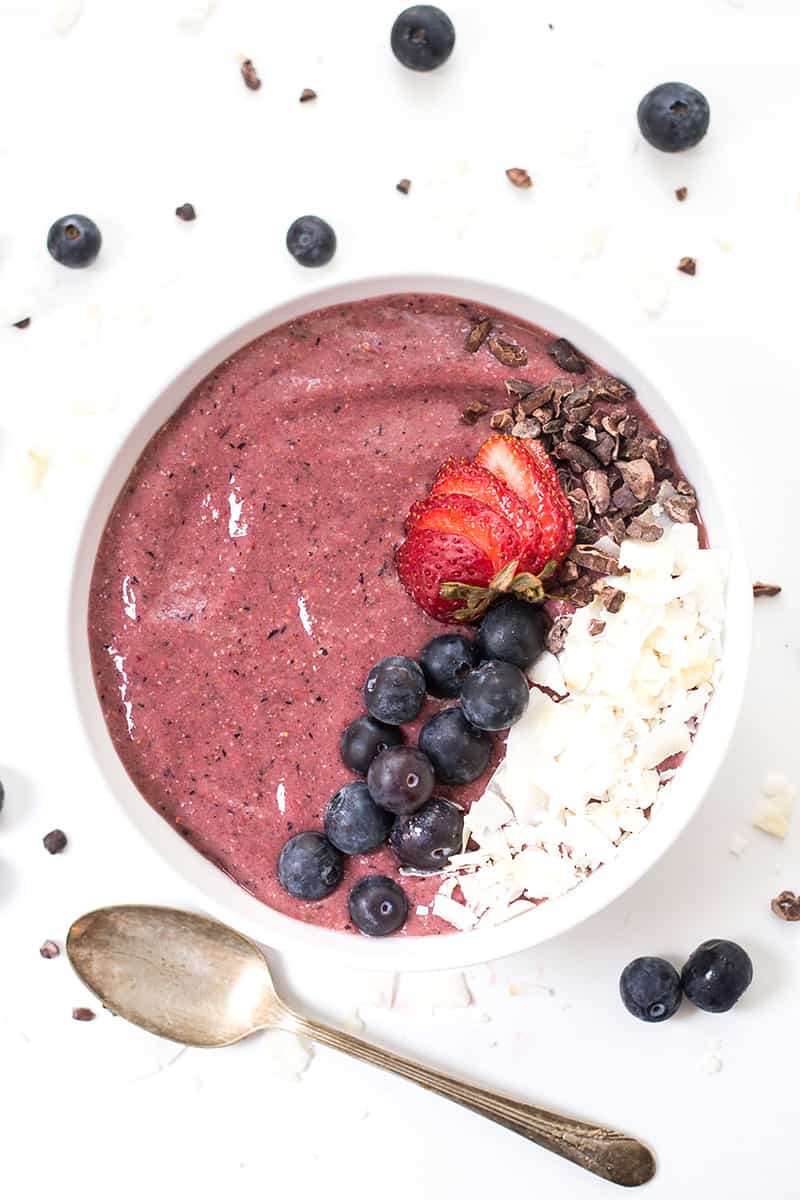 Berry smoothies are also near the top of my list because even though they taste quite sweet, they don't have a lot of sugar. Berries are lower on the glycemic index than other fruits, so this one won't spike your blood sugar and send you on an energy roller coaster all day long!
To make this berry bliss smoothie bowl, you will need:
1 cup strawberries
½ cup blueberries
1 cup frozen zucchini
2 tbsp chia seeds
1 scoop vegan protein (or hemp powder)
¼ cup liquid of choice
Add everything into a blender and blend on high until smooth and creamy. Transfer to a bowl and add your toppings. I went with: blueberries, coconut, cacao nibs and sliced strawberries.
Detox Green Smoothie Bowl
---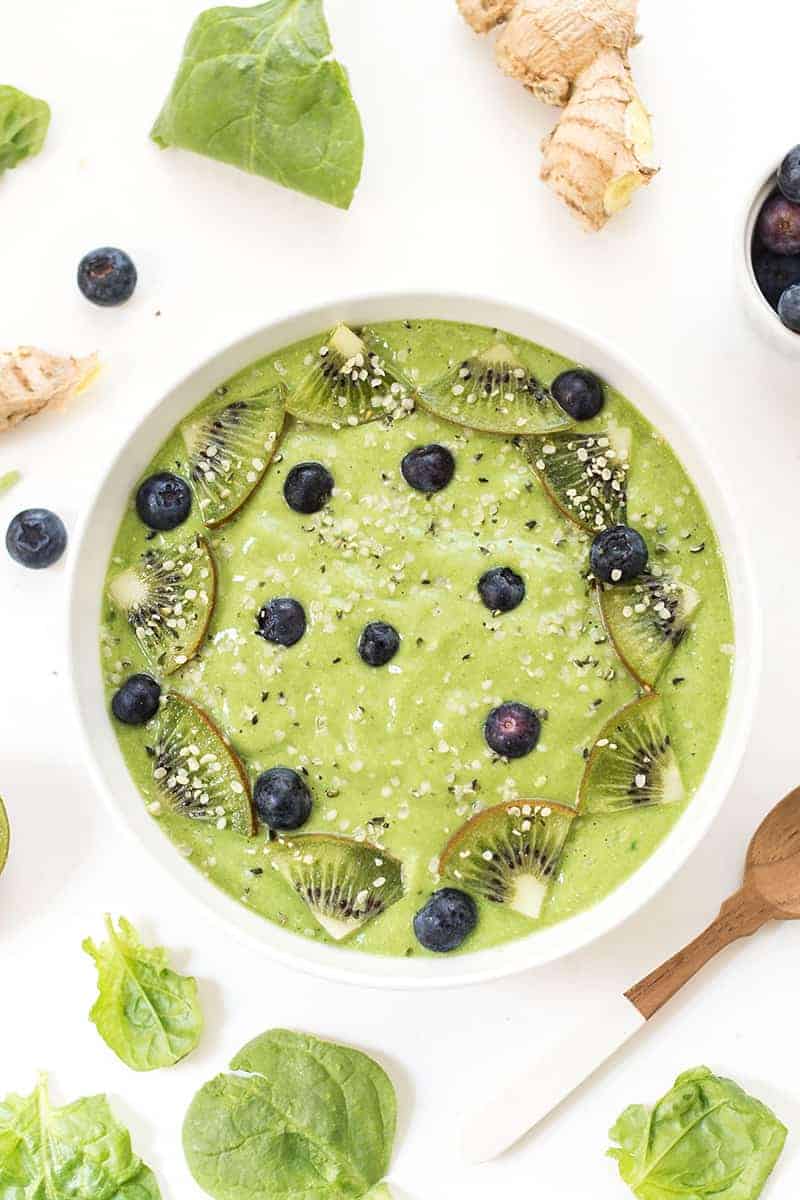 This green smoothie bowl is amazing for detoxification and digestion! It's packed with high-enzyme fruits, has tons of greens in it and tastes incredible. Even if you're not a grapefruit fan, I think you are going to adore this recipe!
To make this detox green smoothie bowl, you will need:
1 cup spinach
1 cup pineapple
½ grapefruit, meat only
¼ of an avocado
1 tbsp fresh grated ginger
3 tbsp hemp seeds
Ice as needed
¼ cup liquid of choice
Add everything into a blender and blend on high until smooth and creamy. Transfer to a bowl and add your toppings. I went with: sliced kiwi, blueberries and hemp seeds for a touch more protein.
Spirulina Green Smoothie Bowl
---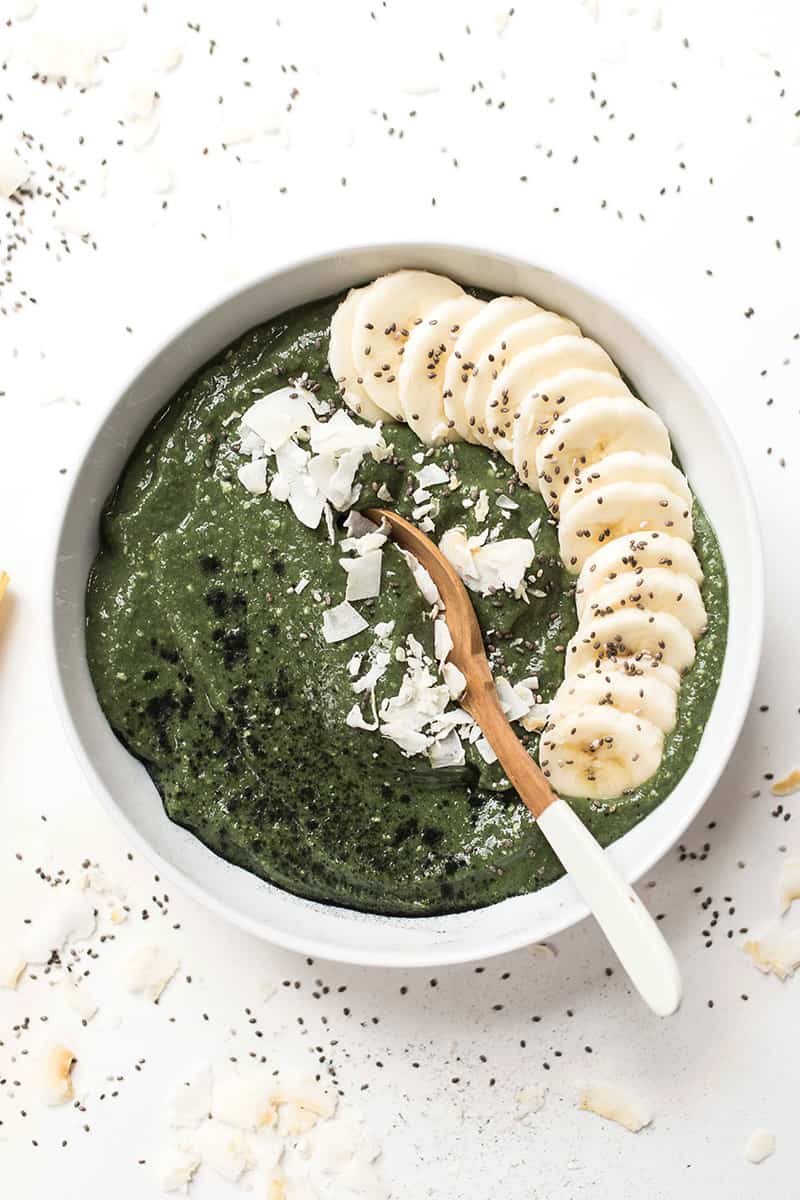 The star ingredient in this green smoothie bowl recipe is spirulina. If you aren't familiar, it's a blue-green algae that is 65% protein, packed with chlorophyll and is a great tool for naturally pulling toxins from the body. Only issue? It definitely tastes like seaweed! So if you're new to spirulina, start with just 1/4 tsp and work your way up from there.
To make this spirulina green smoothie bowl, you will need:
1 banana
1 cup frozen cauliflower
1 scoop vegan protein powder
1/2 – 1 teaspoon spirulina powder
1 tablespoon coconut flakes
1/4 cup almond milk
Add everything into a blender and blend on high until smooth and creamy. Transfer to a bowl and add your toppings. I went with: sliced banana, coconut and chia seeds.
Take your smoothie game to the NEXT LEVEL!
---
And join my 5-day Smoothie Cleanse! It's totally FREE and will help you get back on track, increase energy, decrease bloat, improve digestion and SO much more!
Every one of these recipes is "cleanse approved", but when you sign up, you'll get 8 additional smoothies to choose from!
Here's what to expect from this cleanse:
When: whenever you want! (this is designed to work within YOUR schedule)
What: 2 smoothies per day + 1 whole food, plant-based meal
How: Smoothies will replace 2 meals (either breakfast/lunch or breakfast/dinner) + healthy snacks (included in the kit)
Where: Downloadable booklet of tips, tricks, sample meal plans, recipes, printable guides and MORE
Bonus: Access to a Private FB Group for support & encouragement
…and SO much more!
To sign up, click the button below and you'll get instant access to our cleanse guide and booklet. I know that you are going to feel AMAZING and I can't wait to share this experience with you!

---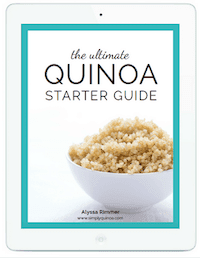 New to cooking quinoa? Grab your FREE Quinoa Starter Guide!
Become part of the Simply Quinoa community and receive weekly emails with exclusive content that I only share in email, as well as my in-depth guide to starting your quinoa journey.
Want more smoothie & juice recipes?
Follow my board on Pinterest!