Here's how to make caramelized onions. Just two ingredients and about 5 minutes will make the perfect caramelized onions every time.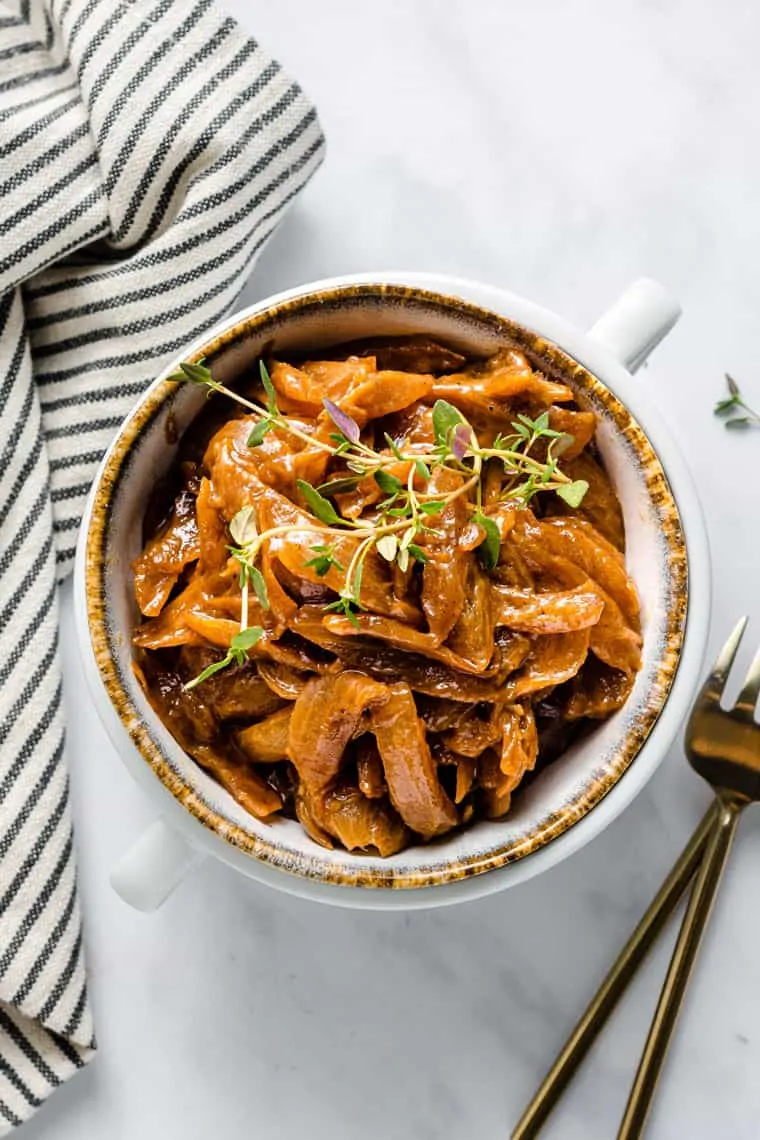 We're back with another tutorial post and today is all about one of my favorite things: caramelized onions.
These sweet little strings of goodness are an underrated topping/condiment in my book. Not only are they a cinch to make, but they're also so good on top of pretty much everything. Pizza? Check. Burgers? Check. In a dip? Check and check!
There are tons of ways to use caramelized onions – which we'll definitely be covering – but to kick things off, let's talk about how to make caramelized onions!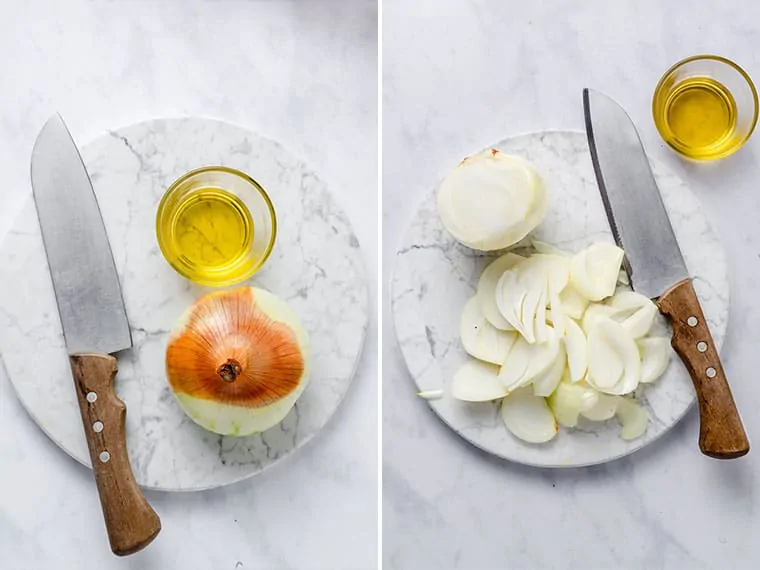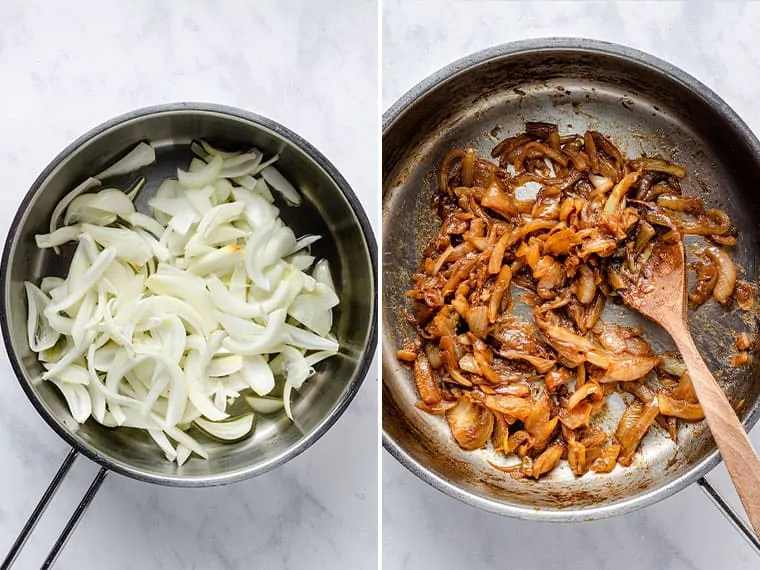 Ingredients for Caramelized Onions
Lucky for all of us who love caramelized onions, they only require two simple ingredients:
That's what makes them so great!
Does it Matter What Type of Onions?
It doesn't matter what type of onions you use to make caramelized onions. You can use white or red, or you could even use shallots if you wanted.
How to Make Caramelized Onions
Similar to the ingredient list, making caramelized onions is also simple.
STEP ONE: Slice
First, you'll want to slice your onion. I like to cut it in half, peel it, and then place the cut side down and thinly slice it (into half-circle shapes). Want to make the slicing even quicker? Use a mandolin slicer!
STEP TWO: Cook
Once you have your slices of onion, heat the oil in a large skillet. Add the onion and cook it over medium-low heat, stirring occasionally until the onions and softened and caramelized.
STEP THREE: Enjoy
And that's it! Once they are caramelized, you can use them as you'd like!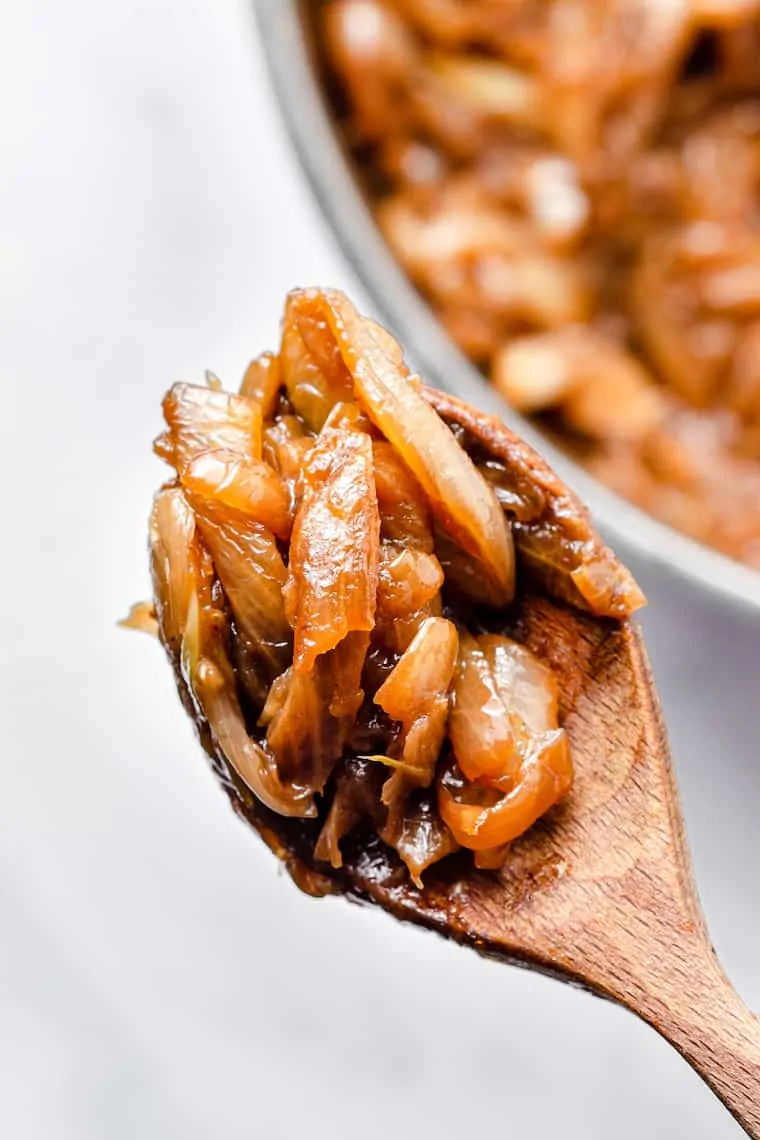 How to Use Caramelized Onions
Now that you know you to make caramelized onions, let's focus on using them. For me, caramelized onions are best used as a topping. I love to put them on pizza, on top of veggie burgers, or even on a salad.
But you can also use caramelized onions in a recipe. I think they're amazing stirred into some pasta (they'd be an awesome addition to my One Pot Creamy Lemon Broccoli Pasta), or as a dip. I have a vegan caramelized onion dip that is to die for!
How to Store Caramelized Onions
Finally, storage. Caramelized onions can easily be stored and kept in the fridge for a few days. Just let them cool completely, place them in a sealed container, and store them in the fridge. You can enjoy them cold, or reheat them on the stove or microwave.
And that, my friends, is pretty much all you need to know about caramelized onions 😊 Can't wait for you to make them and use them in your own recipes!
Recipes that use Caramelized Onions:
How to Make Caramelized Onions
Here's how to make caramelized onions. Just two ingredients and about 5 minutes will make the perfect caramelized onions every time.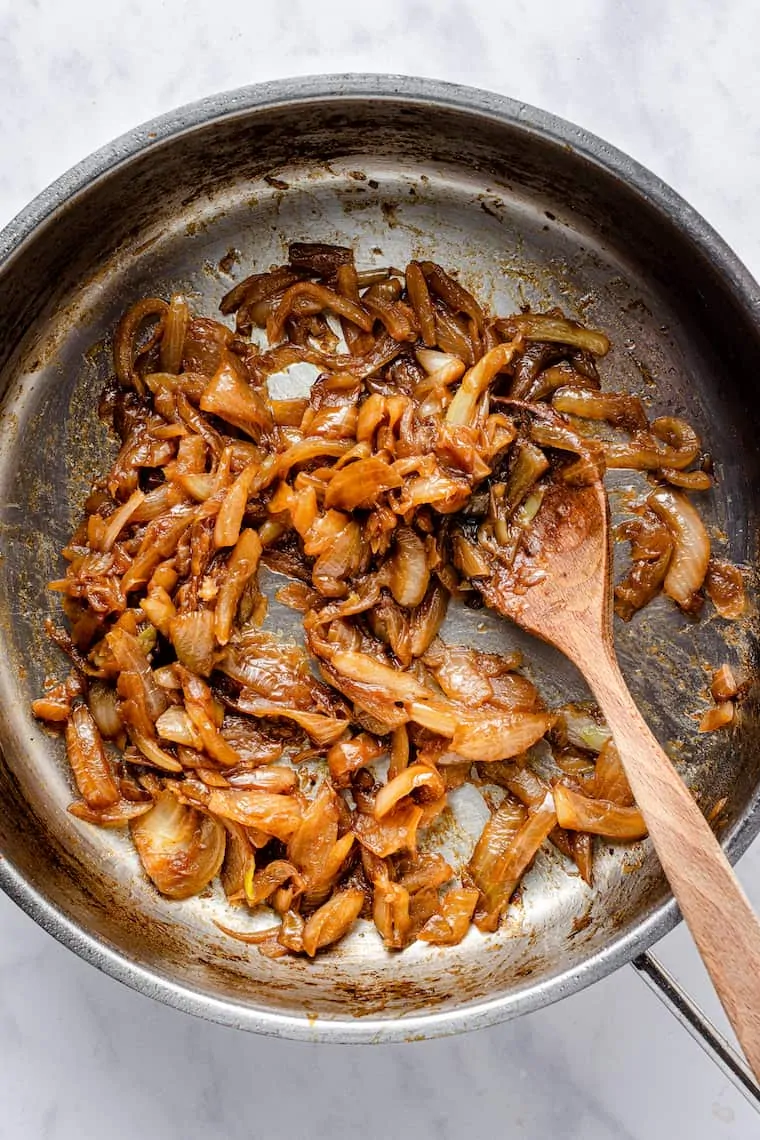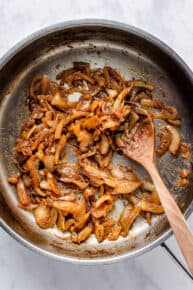 Instructions
Heat the oil in a skillet over medium-high heat. Add the onions and cook until soft and caramelized, about 5 - 10 minutes.

Use however you'd like!
Nutrition
Serving:
2
tablespoons
|
Calories:
42
kcal
|
Carbohydrates:
3
g
|
Protein:
1
g
|
Fat:
4
g
|
Saturated Fat:
1
g
|
Sodium:
1
mg
|
Potassium:
40
mg
|
Fiber:
1
g
|
Sugar:
1
g
|
Vitamin C:
2
mg
|
Calcium:
6
mg
|
Iron:
1
mg
Filed Under: