12 Simple & Healthy Holiday Dip Recipes
Brought to you in partnership with Simple Mills
Spice up your holiday with some delicious and healthy holiday dip recipes! These holiday dips are all plant-based, easy to make and perfect for a crowd!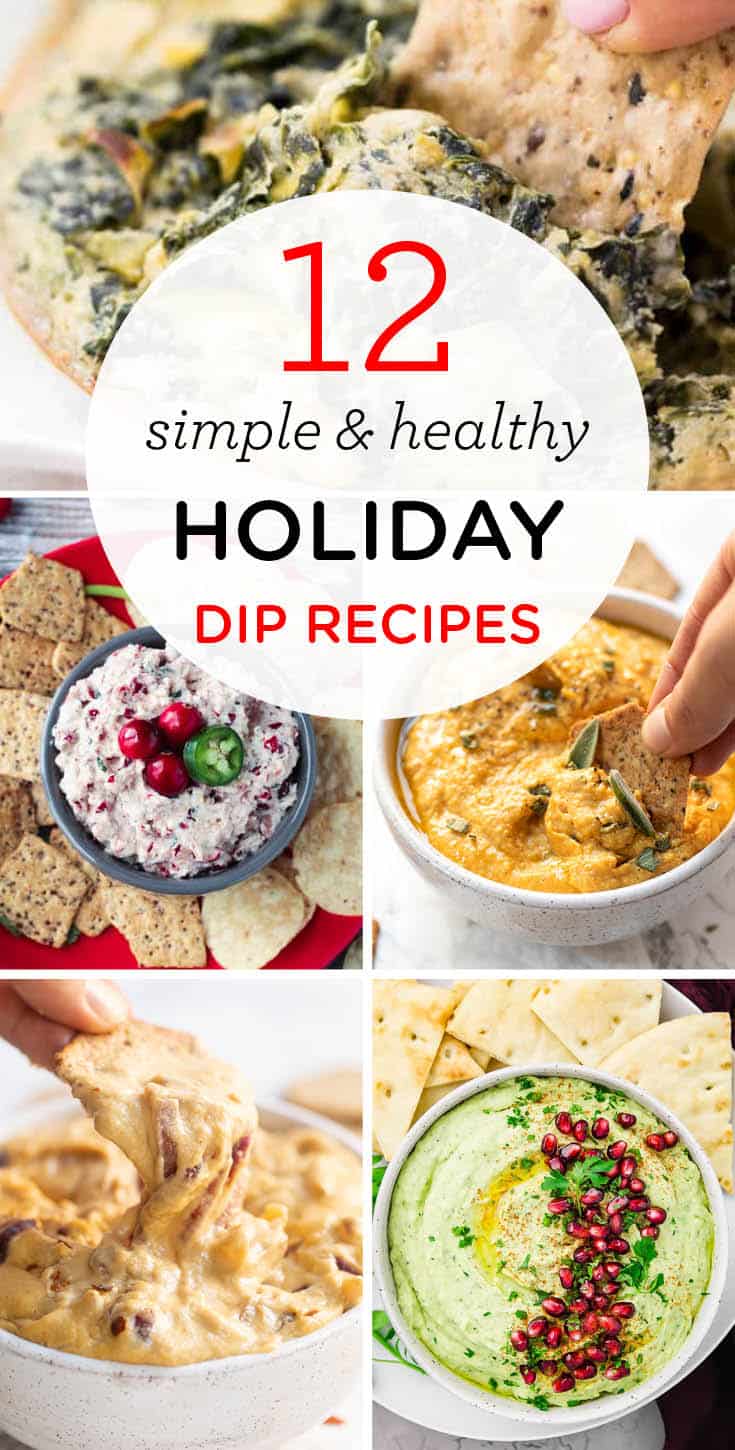 The holidays are almost here, which means it's almost crunch time! I don't know about you, but the holidays always seem to sneak up on me and from mid-November until the end of the year, I'm racing around like crazy.
My goal for this year? To actually plan ahead! Especially when it comes to the food.
Whether you're hosting or attending a holiday party this year, you know that if you're trying to be healthy/following a plant-based diet, it can be tough. So this year I wanted to give you some go-to holiday dip recipes that you can make for whatever sort of gathering you have planned. These dips are simple to make, packed with nutrition, naturally plant-based, but most importantly DELICIOUS!
Holiday Dip Recipes (video)
1. Vegan Caramelized Onion Dip
Talk about your ultimate vegan dip! This vegan caramelized onion dip is made with a base of cashews and nutritional yeast so it's creamy and "cheesy", while still being healthy. And the addition of caramelized onions adds just a touch of sweetness. I love serving this slightly warmed up – it reminds me of a better-for-you (and fancier) queso!
To make this Vegan Caramelized Onion Dip you'll need:
1 large red onion
2 tablespoons olive oil
3/4 cup raw cashews, soaked in hot water for 30 minutes
1/3 cup nutritional yeast
1 cup almond milk
1 tablespoon lemon juice
1 tablespoon tapioca starch
1/2 teaspoon garlic powder
1/2 teaspoon smoked paprika
1/2 teaspoon salt
Soak cashews in hot water and set side. While the cashews are soaking, thinly slice the red onion. Heat the oil in a non-stick pan and saute until they're caramelized – about 15 – 20 minutes! Drain the cashews and add them to a blender with the remaining ingredients. Blend until smooth. Pour into a small saucepan and heat on medium, stirring continuously until the mixture starts to thicken, about 1 minute. Add in the onions and continue cooking for another minute or so. Transfer to a bowl and enjoy!
2. Honey, Sage & Pumpkin Hummus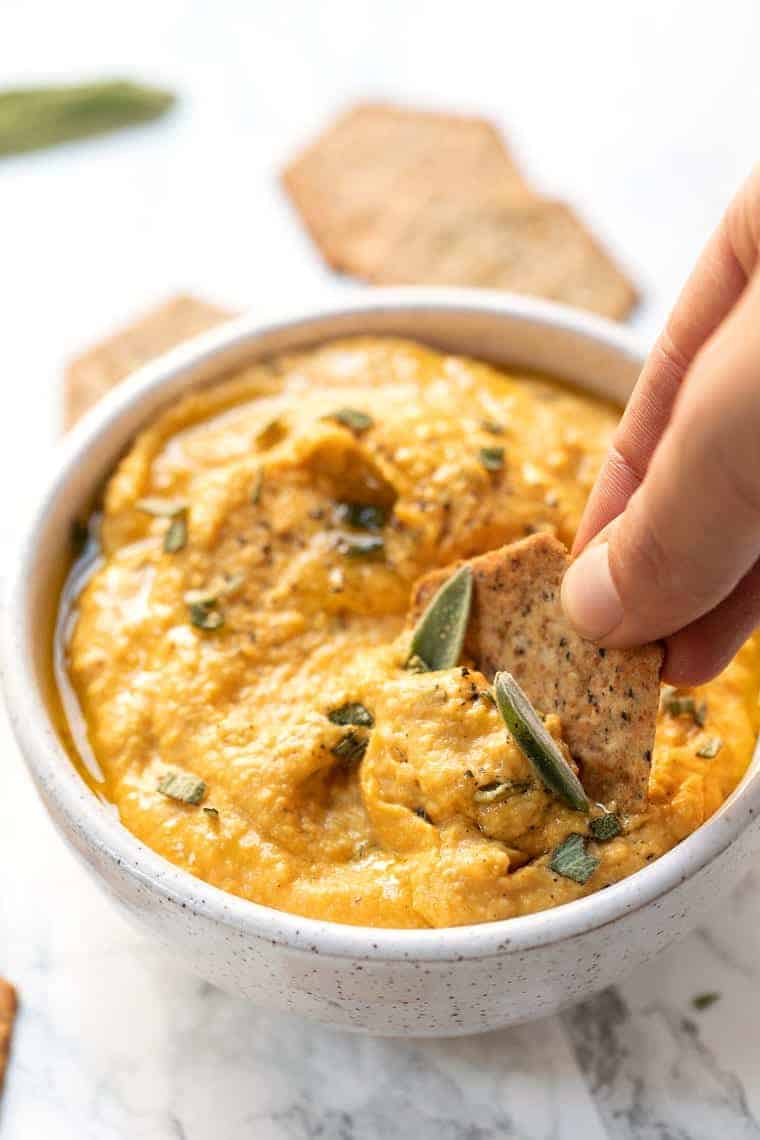 Who says pumpkin always has to be sweet?! This fun twist on hummus uses pumpkin in the base, along with honey and sage. It sounds sweet, but it's actually got that perfect balance of sweet and savory. The honey brings out the natural sweetness of the pumpkin and pairs so well with the earthiness of the sage. There's also tahini in there for a little extra nuttiness and lemon to brighten it all up! It's personally my favorite of all the holiday dips we've got in this post!
To make this Pumpkin Hummus Recipe you'll need:
1 (15 oz) can of chickpeas, drain & rinsed
1/2 cup pumpkin puree
3 tablespoons olive oil
2 tablespoons tahini
2 tablespoons lemon juice
1 tablespoon honey
1 tablespoon chopped sage
Salt & pepper to taste
Add all the ingredients (minus the sage) the bowl of a food processor. Blend until smooth. Pulse in chopped sage. Transfer the hummus to a bowl, drizzle with a touch of olive oil, sprinkle with sage and enjoy.
3. Spicy Adzuki & Black Bean Dip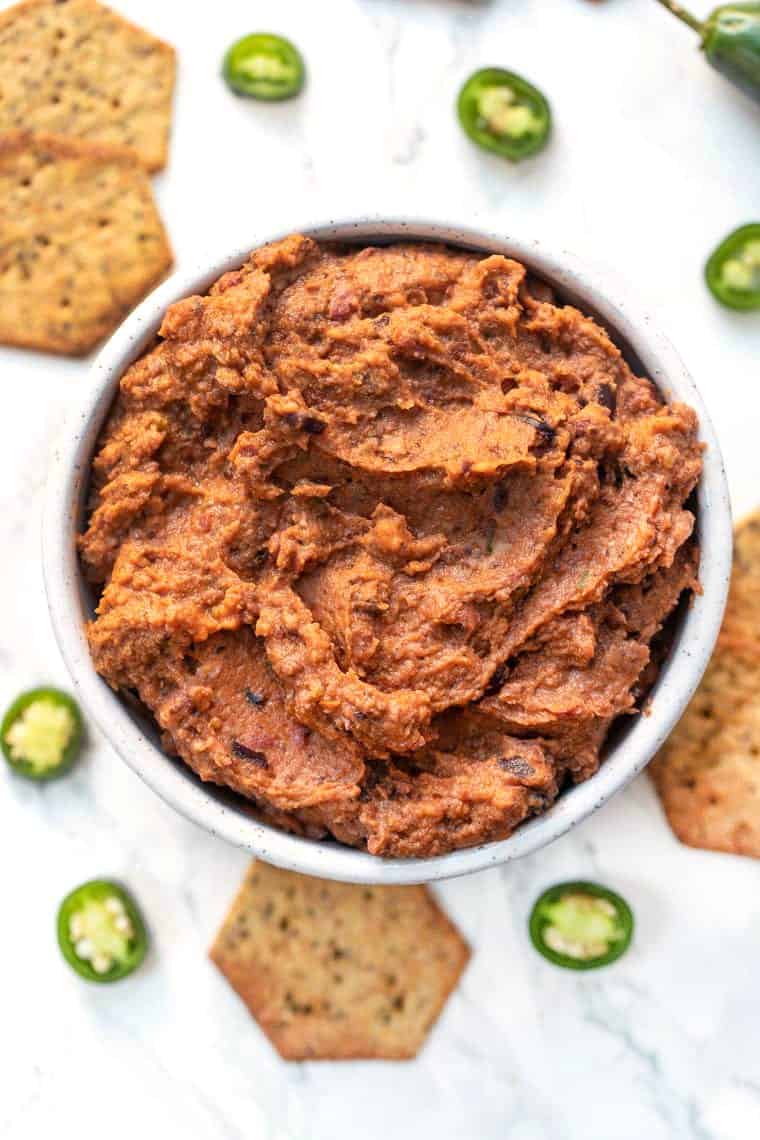 For those of us who love chili, this is holiday dip is like chili and hummus had a baby. It's got the texture of hummus, but with the undertones of a pot of chili. We're using tomatoes and sweet potatoes for our base and adding two types of beans or added protein and texture. This dip is awesome warm or cold, and is oh-so-comforting!
To make this Adzuki Black Bean Dip you'll need:
1 cup chopped & peeled sweet potato
1 (8 oz) can tomato sauce
2 tablespoons olive oil
1 (15 oz) can adzuki beans, drained & rinsed
1 (15 oz) can black beans, drained & rinsed
1 teaspoon chipotle chili powder (or plain)
1 teaspoon cumin
1/2 teaspoon smoked paprika
1 teaspoon garlic powder
1 teaspoon onion powder
1 jalapeño, seeded and chopped
Water as needed
Add the potatoes to a pot and cover with about 1" of water. Cover and let simmer for 10 – 15 minutes, until the potatoes are fork tender. Drain and allow to cool. When ready to assemble, add the potatoes, sauce, oil, half of the adzuki beans, half of the black beans, spices and jalapeno and blend on high until smooth. Add a splash of water if needed. Once smooth, pulse in the rest of the beans and serve.
More Holiday Dip Recipes
In addition to the three recipes listed above, I've also sourced some more delicious dip recipes to try over the holidays. We've got a blend of sweet and savory dips, so hopefully there's something for everyone to love!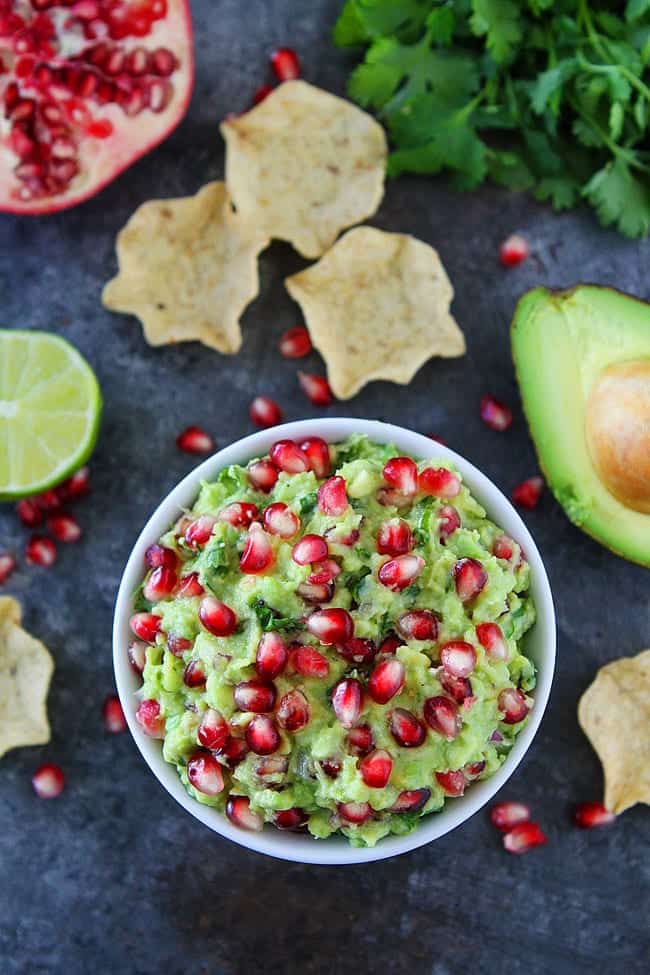 Pomegranate Guacamole
This easy guacamole with pomegranate arils is the perfect party dip for the holiday season. Everyone loves this easy appetizer! 
Try this recipe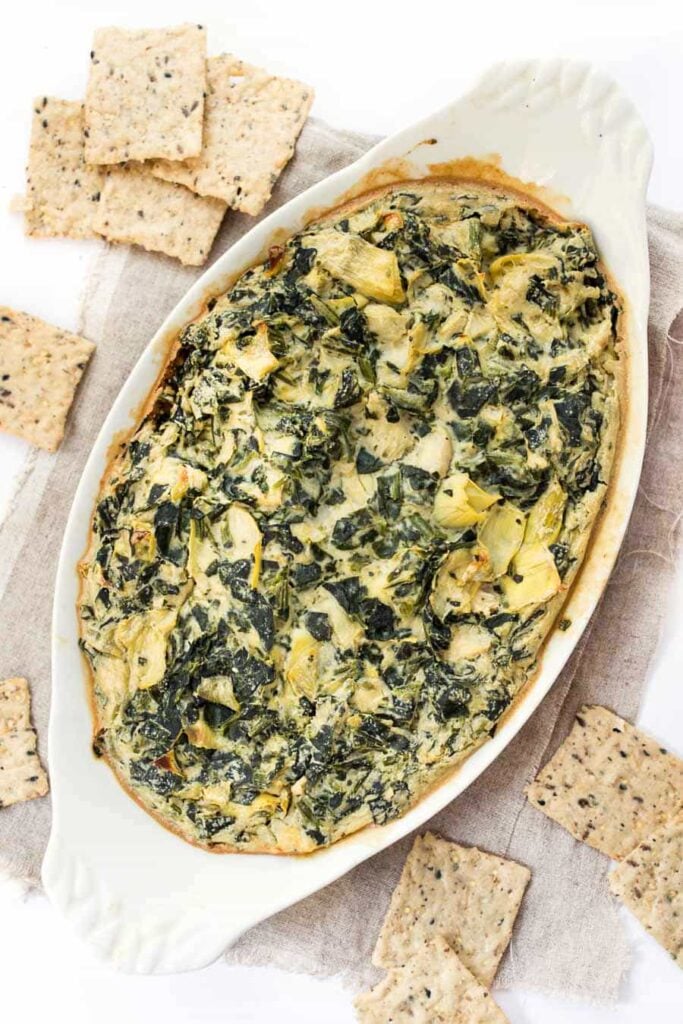 Vegan Spinach Artichoke Dip
This easy vegan spinach artichoke dip is made with less than 10 ingredients, cooks in just about 30 minutes and tastes just like the traditional recipe!
Try this recipe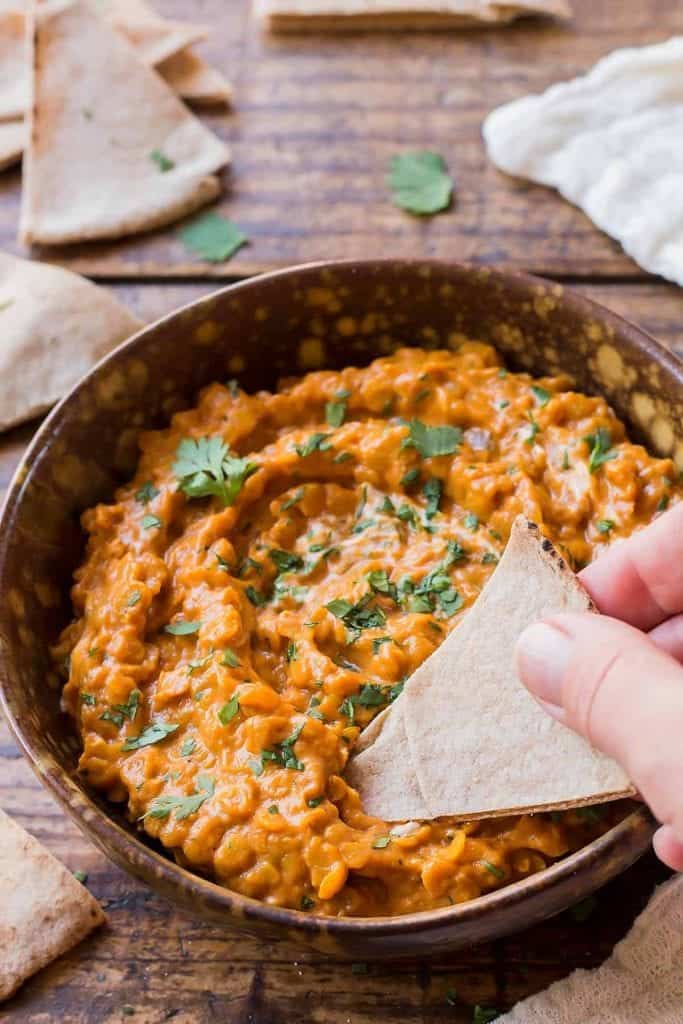 Curried Lentil Dip
This flavorful Red Lentil Dip is a wonderful appetizer version of Indian Dal dishes. Great for dipping flat bread triangles or veggie sticks.
Try this recipe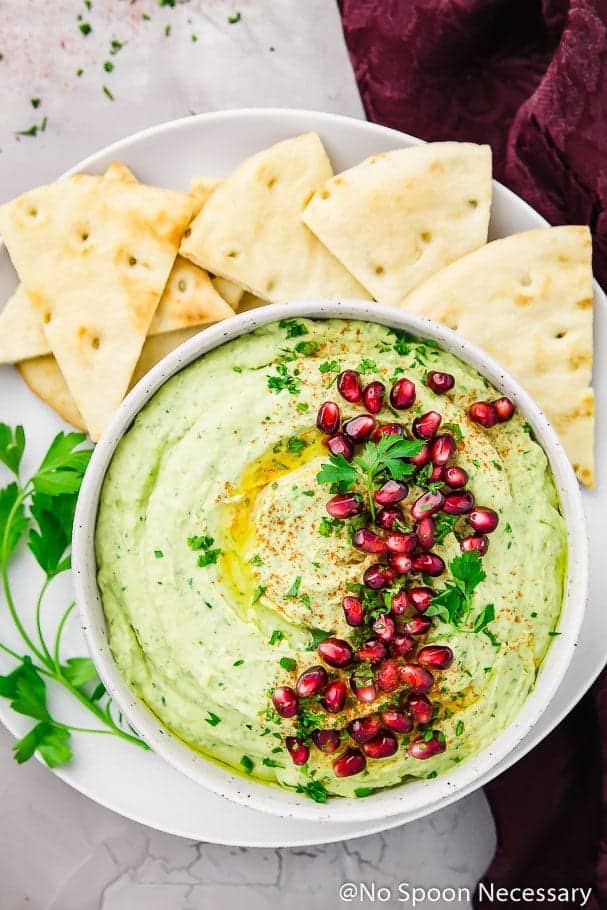 Holiday Hummus with White Beans
This Holiday Hummus is creamy, dreamy, festive and fabulous!! Kick off your parties with a bowl full of this healthy arugula and roasted garlic white bean hummus, because the holidays don't have to be filled with just fattening foods!
Try this recipe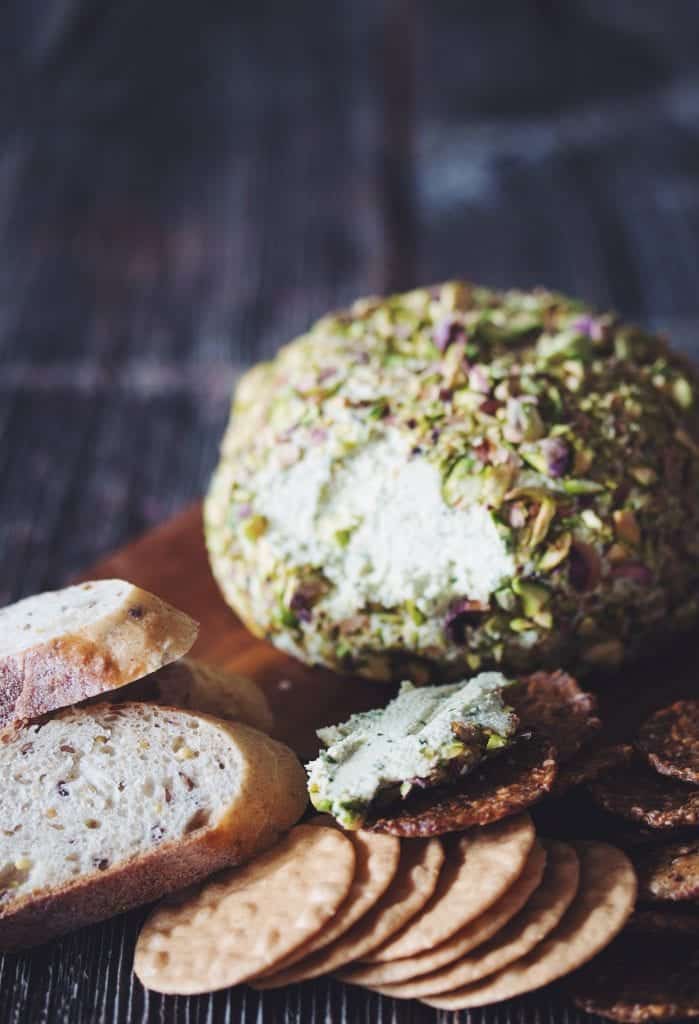 Pistachio Crusted "Cheese" Ball
Try out this recipe for a pistachio crusted cashew cheese ball. It's super delicious and you will be very impressive if you serve this at your next dinner party!
Try this recipe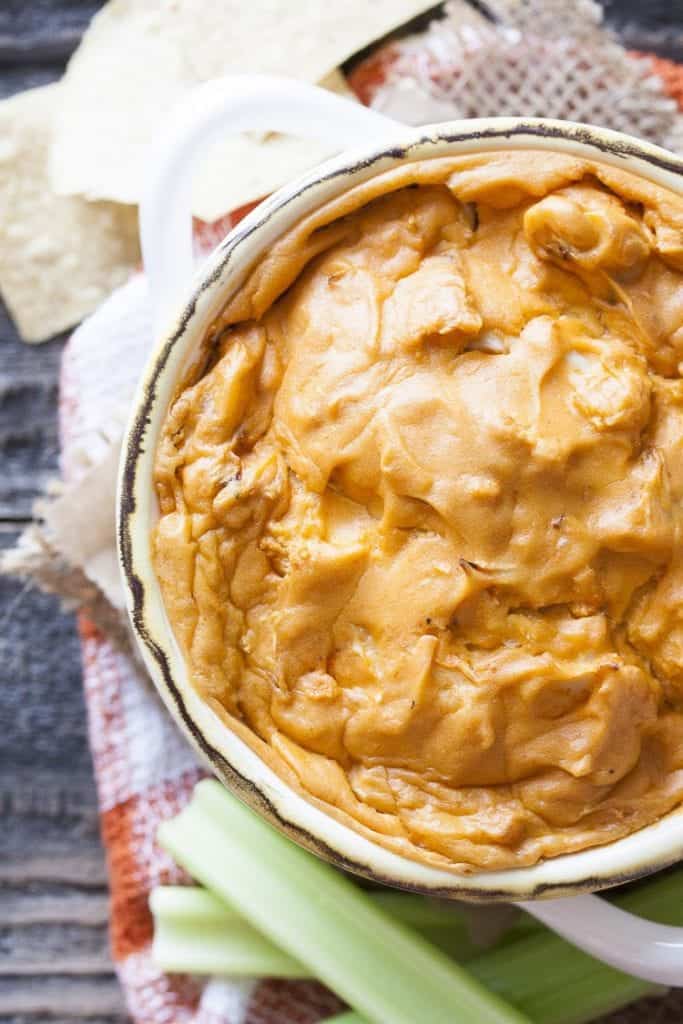 Vegan Buffalo Cauliflower Dip
This vegan buffalo chicken dip will knock the socks off even the biggest cheese lovers. It's so creamy, none of my guests believe me that it is dairy free!
Try this recipe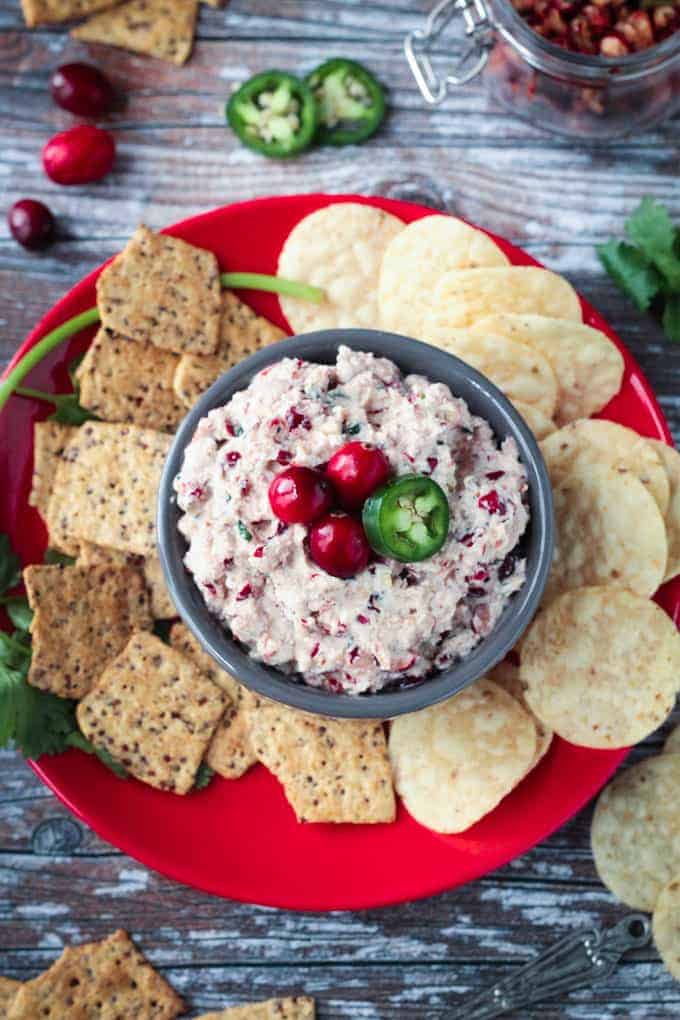 Creamy Cranberry Salsa Dip
This Cranberry Jalapeno Dip is creamy, sweet, tangy, and a little spicy. Serve it up with tortilla chips or whole grain crackers and it's the perfect holiday appetizer or snack. Always a hit at parties! Easily made in the food processor.
Try this recipe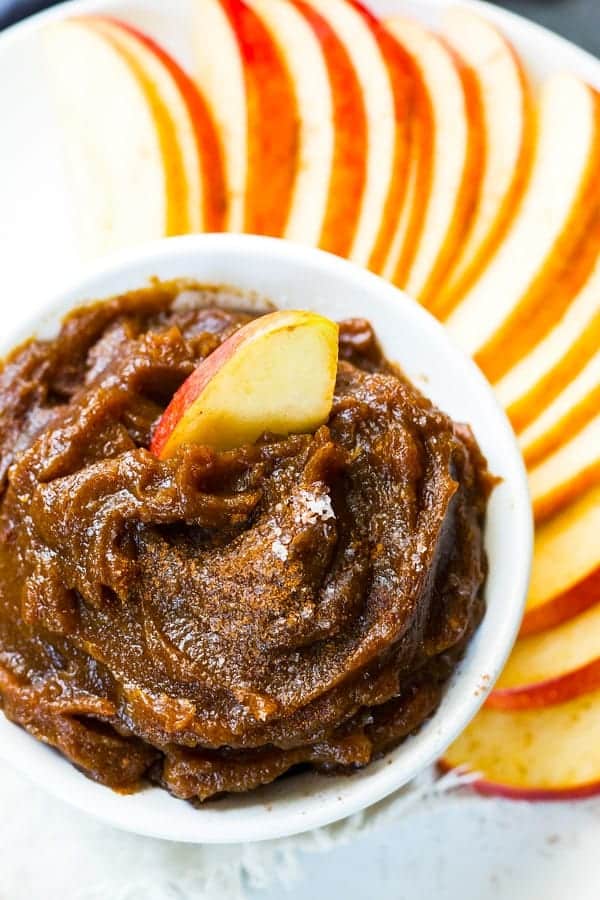 Vegan Pumpkin Caramel Dip
This dip is just as sweet and buttery as the original, but with a pumpkin-and-pie-spices punch. It's like every happy autumn day was whirled and blended into the dreamiest, creamiest dip imaginable.
Try this recipe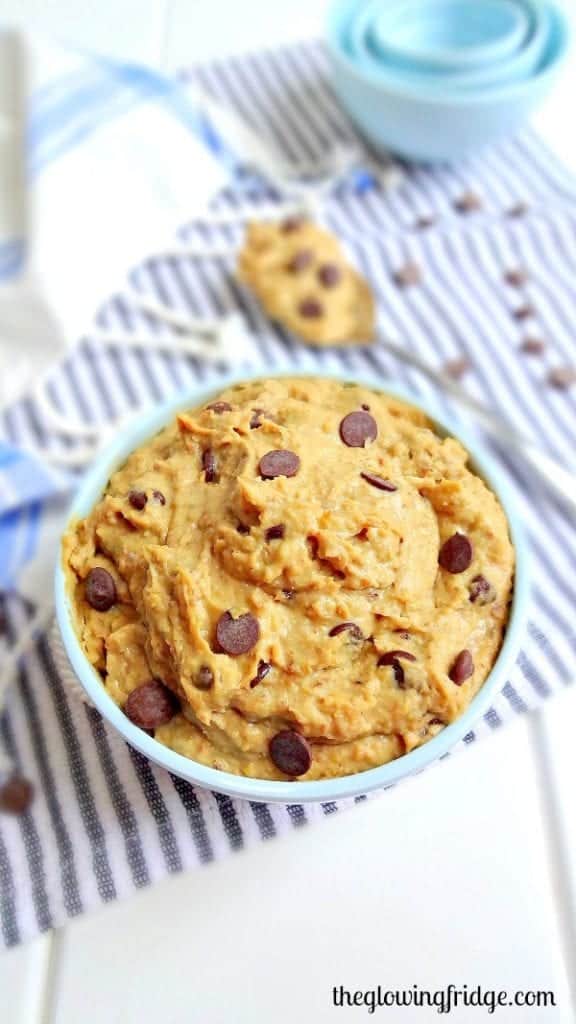 Edible Cookie Dough Dip
This Healthy Vegan Cookie Dough Dip is nut-free and made without eggs, so you can eat as much as you want and not worry about the possible consequences of eating raw eggs as you would from normal cookie dough.
Try this recipe
Your Favorite Holiday Dips
Do you have any favorite holiday dip recipes that you share with family and friends? We'd love to hear about them if so! Drop us a comment below and we'll add them to our list!
Additional Holiday Recipes to try
share what you make
Tag #simplyquinoa on Instagram with your creations! We love sharing what you make with the community. We can't wait to see!

follow on instagram