How to Make Cashew Cream
Learn how to make cashew cream! This super simple recipe uses just 4 ingredients and is the perfect vegan replacement for heavy creamy in all of your favorite recipes.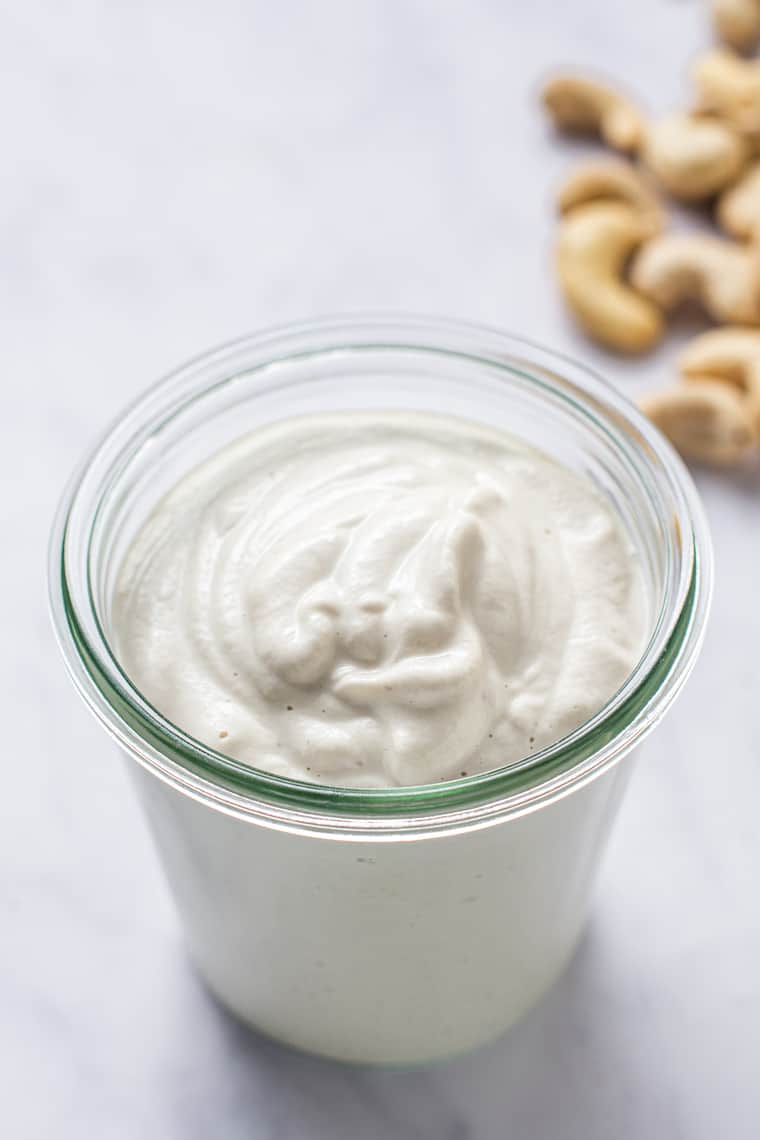 Ever wondered how to make vegan recipes super creamy without the cream? The secret – which probably isn't an actual secret to you – is cashew cream.
Cashew cream has been a staple in many of my recipes for years – it's easy to make, it's relatively flavorless and it gives recipes the most amazing texture.
And since I reference it a fair amount in my recipes, I figured it was time for it to have its own post. So today I'm showing you how to make cashew cream using just 4 ingredients AND we're talking all about ways you can use it.
What is Cashew Cream?
Cashew cream is a vegan replacement for heavy cream which is made out of raw cashews that have been soaked and are then blended with water. The result is a heavy cream-like texture that doesn't have much flavor and works perfectly as a replacement in all your favorite recipes!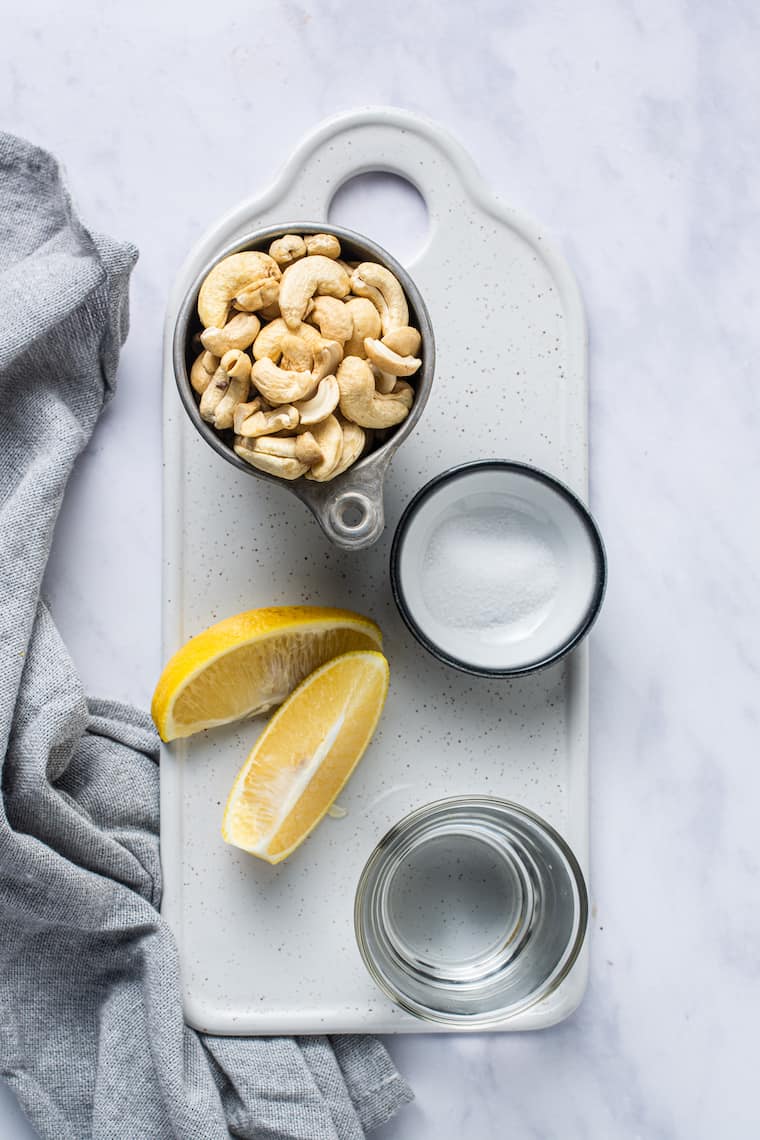 Ingredients in Cashew Cream
Typically cashew cream only has two ingredients: cashews and water. But I actually like to add a few extras which helps give it some tang and elevates the flavor of the recipes you put it in.
Here's what I use to make cashew cream:
Raw cashews: you need to make sure they're raw otherwise they'll have a toasted flavor and won't get quite as creamy.
Filtered water: I personally use filtered water, but really any cold water should be fine.
Lemon: this helps give the cashew cream a tang which heavy cream also kind of has. It will really help with the flavor!
Salt: a little salt goes a long way in elevating flavor and just a pinch is all you need.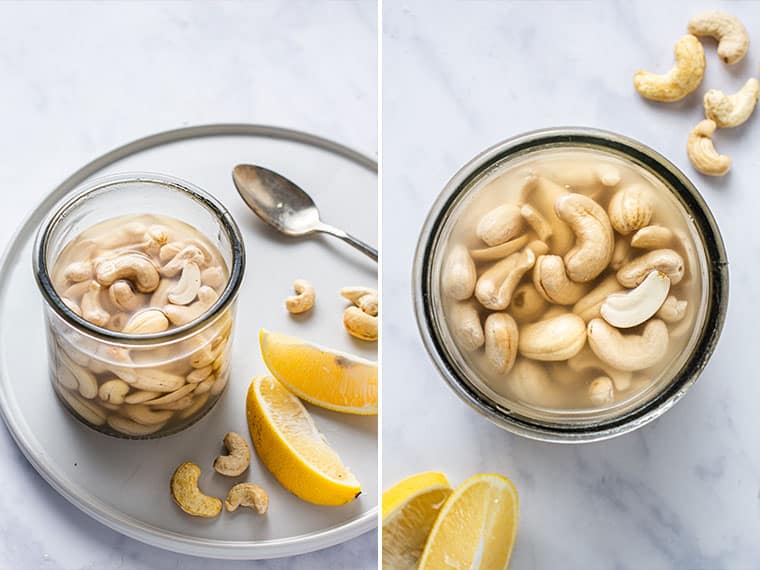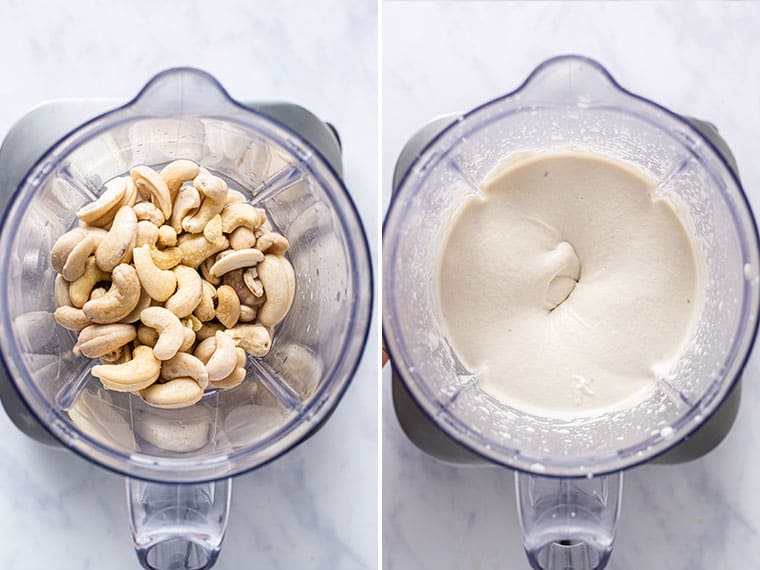 How to Make Cashew Cream
Cashew cream is simple to make but does take a bit of time because of the soaking. But I do have a trick that I'll share with you! Here's how to make cashew cream:
STEP ONE: Soak
First you'll need to soak your cashews. Typically this takes about 4 – 6 hours, but if you're in a rush, you can get away with soaking them in boiling water for about 3o minutes. The soaking helps to soften the cashews and makes them easier to blend (i.e. get nice and creamy).
STEP TWO: Drain
Once your cashews have soaked and softened, you'll want to drain and rinse them. They can get a tiny bit slimy sitting in that water, so a quick rinse is recommended.
STEP THREE: Blend
From there, add the cashews, along with the water, lemon, and salt into a blender. You need to use a blender here or the cashew cream won't get smooth – sorry, a food processor won't work. Then just blend it all up until the cashew cream is smooth!
STEP FOUR: Use
And finally, put that cashew cream to use! I've linked some of my favorite recipes down below.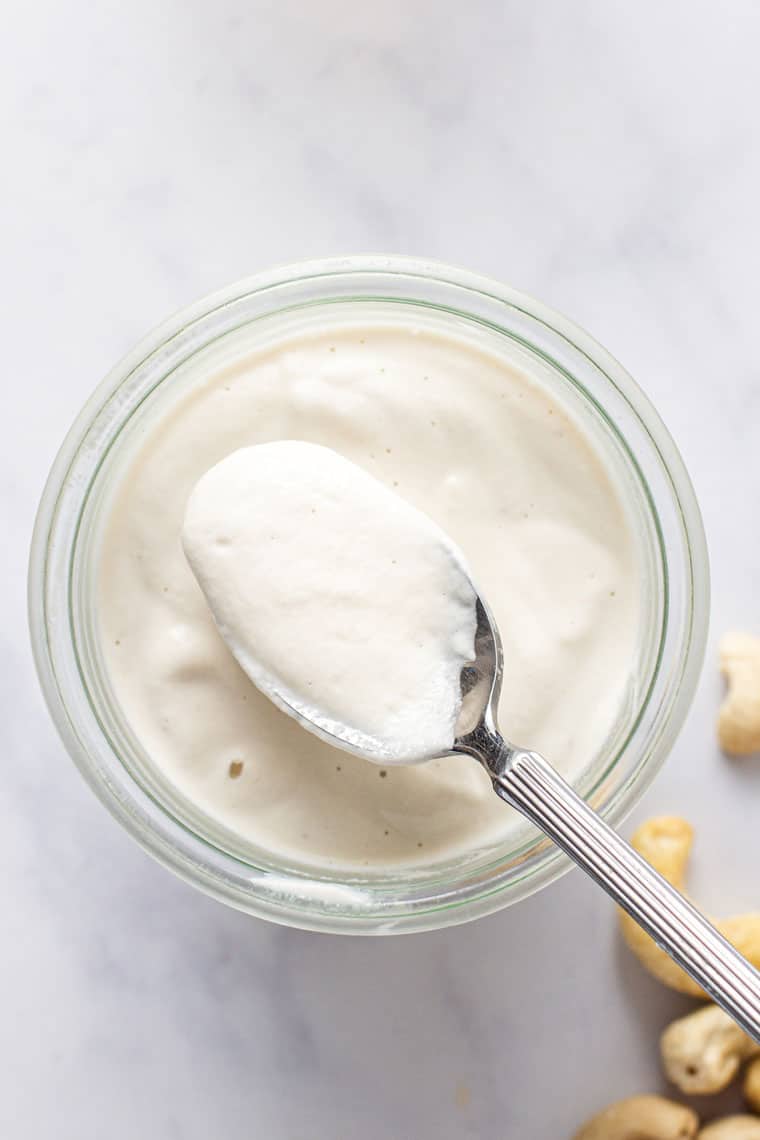 What to Use Cashew Cream For
Now that you know how to make cashew cream, it's time to use it!
There so many ways to use cashew cream, but the short answer is anything that uses heavy cream (minus whipped cream), you can replace for cashew cream. That means you can use cashew cream in:
Soups/Stews
Chili
Pasta
Coffee
Casseroles
Cheesecake
And the list goes on!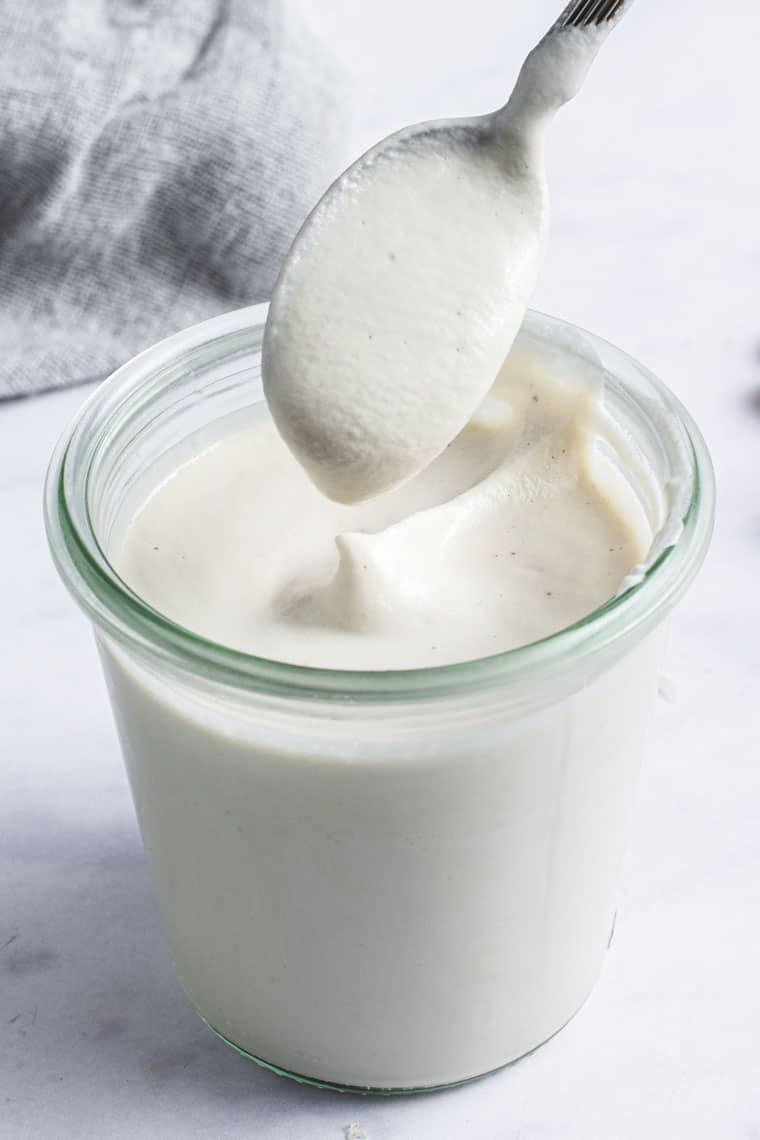 What If I am Allergic to Cashews?
Now I'm guessing that if you're reading this post, you're not allergic to cashews, but if you are and you need to replace them, here are some ideas:
Walnuts
Pumpkin seeds
Sunflower seeds
Tofu
Macadamia nuts
Coconut milk
I haven't personally tested all of those, but I've had readers share that they all work! I personally want to try the pumpkin and sunflower seed options.
Now… you know how to make cashew cream, it's time to use it. What do you plan on trying first? Let us know in the comments!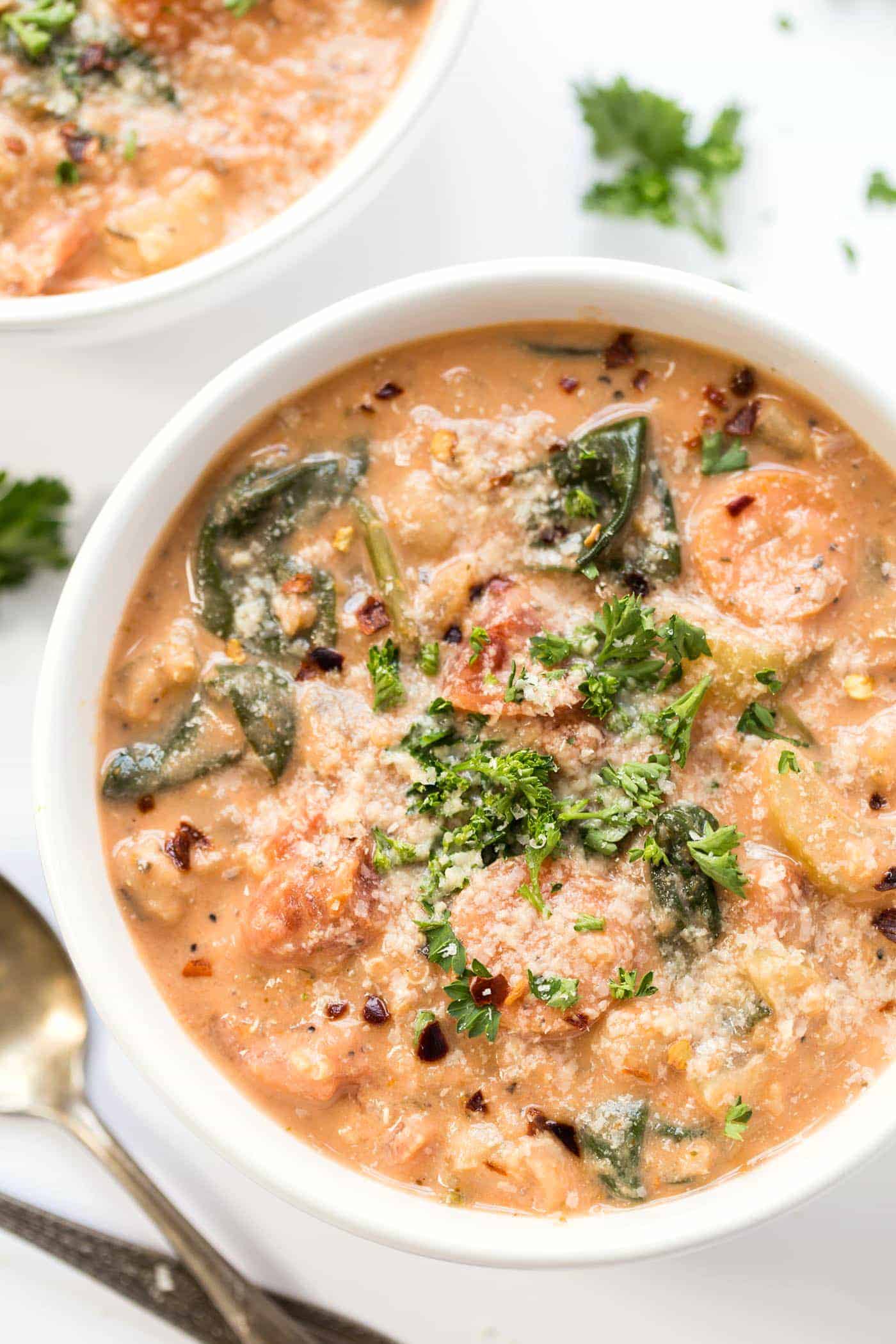 Recipes that Use Cashew Cream
Cashew Cream Recipe
Learn how to make cashew cream! This super simple recipe uses just 4 ingredients and is the perfect vegan replacement for heavy creamy in all of your favorite recipes.
Servings 6 servings
Calories 119kcal
Ingredients
1 cup raw cashew
2/3 cup water + more as needed
1 tablespoon lemon juice
Pinch of salt
Instructions
Soak the cashews in hot water for at least 30 minutes, preferably 4 - 6 hours.

Drain and rinse in a fine-mesh strainer and add to a blender with the rest of the ingredients.

Blend on high until smooth and creamy. If it's too thick, blend in a splash more water.

Use as you would a heavy cream or sour cream!
Nutrition
Serving: 0.25cup | Calories: 119kcal | Carbohydrates: 7g | Protein: 4g | Fat: 9g | Saturated Fat: 2g | Sodium: 3mg | Potassium: 142mg | Fiber: 1g | Sugar: 1g | Vitamin C: 1mg | Calcium: 8mg | Iron: 1mg
share what you make
Tag #simplyquinoa on Instagram with your creations! We love sharing what you make with the community. We can't wait to see!

follow on instagram