This Slow Cooker Vegan White Quinoa Chili is a hearty and comforting fall meal. It's healthy, protein-packed and perfect for game day. Not to mention it's absolutely delicious!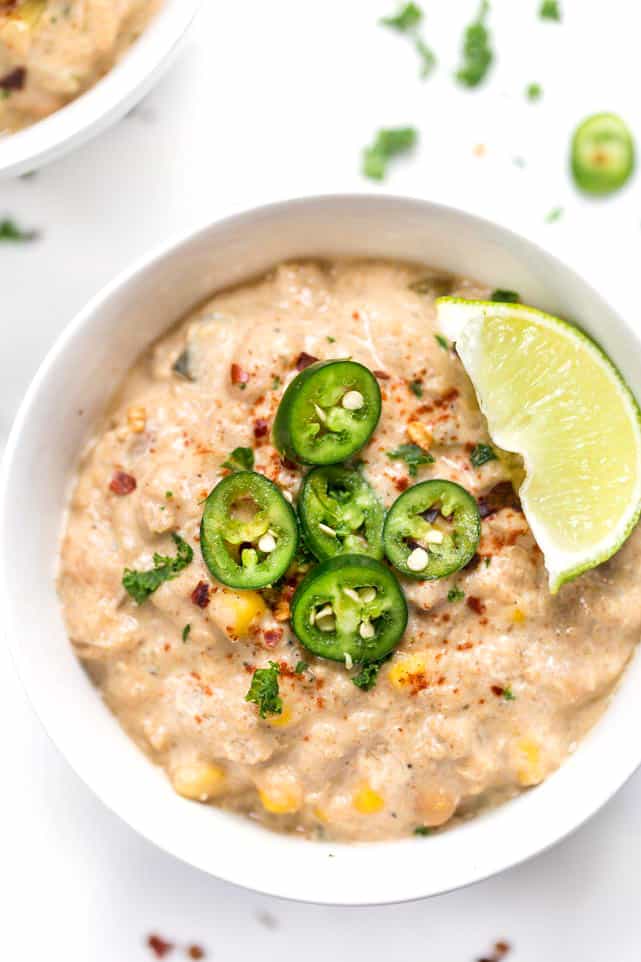 We're whipping out the slow cooker today!
It's sat in the back of my cabinet for over 6 months, so it's time. Time to bring it out in all its glory and make a simple, yet absolutely delicious, quinoa chili.
But friends, this isn't your normal red chili. In fact, it's the exact opposite. It's a creamy, vegetarian white quinoa chili that is flavorful, hearty, comforting and a refreshing twist on the classic.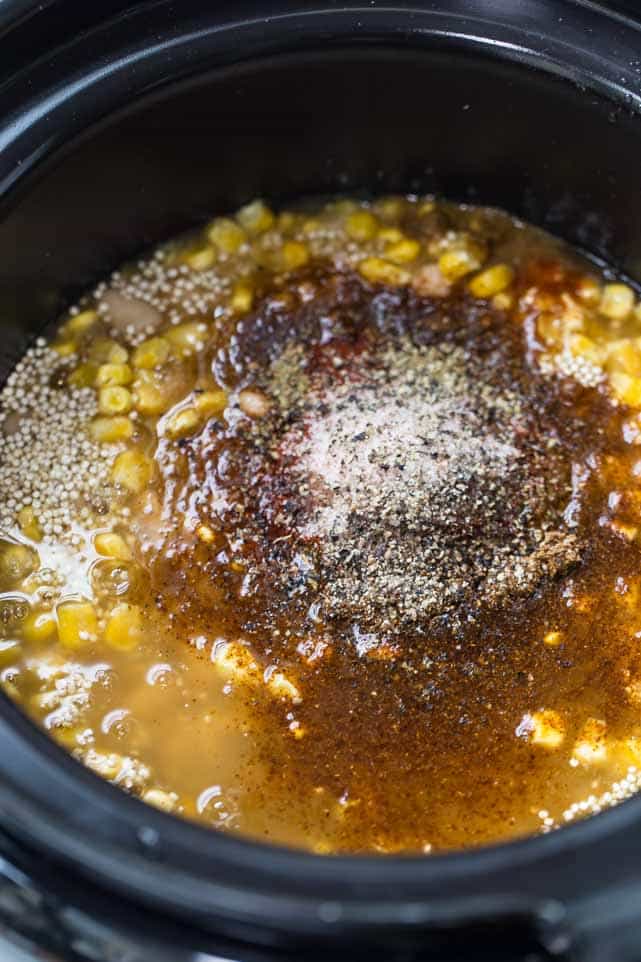 I'm sure many of you of heard of, or even tried, classic white chilis before. Yes?
Even if you haven't, let me explain. White chilis are typically made without tomatoes and are served with some sort of shredded meat. Sometimes there's a milk or cream stirred in, other times it's just broth-based.
Well, today we're taking that concept and reimagining it with a vegan spin. No meat, no cream. Just pure, plant-based goodness.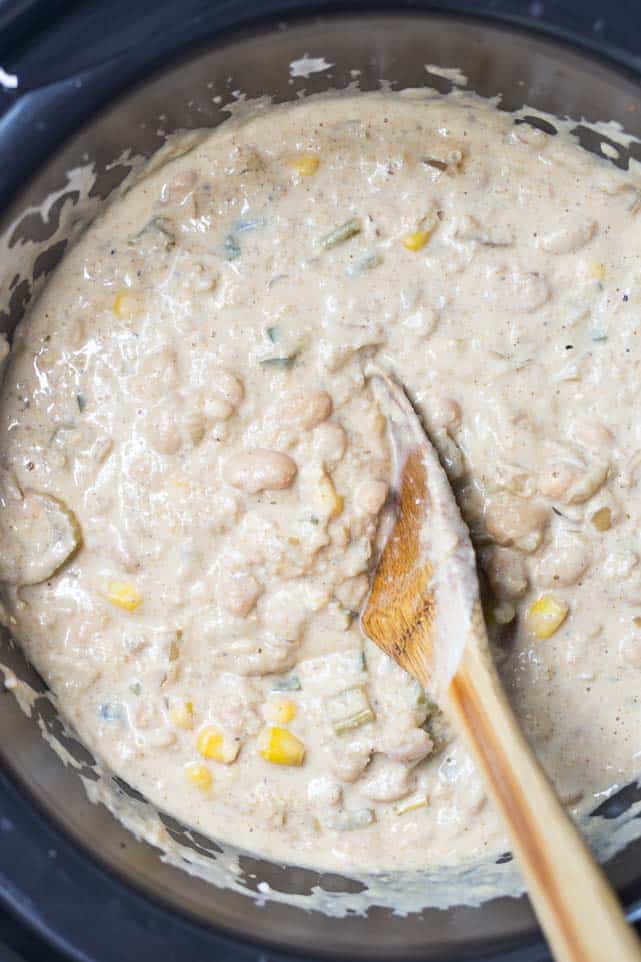 We have my standard chili spices: chili, cumin, paprika, but I also added some oregano to brighten it up a bit.
And unlike me Sweet Potato + Black Bean Quinoa Chili, which has all the traditional chili fixins' + sweet potato, we're doing celery, corn and poblano peppers for the veggies. (even though it would be quite tasty with some white sweet potatoes!)
Honestly though, the true secret to making this white quinoa chili so perfectly creamy and delicious? Homemade cashew cream.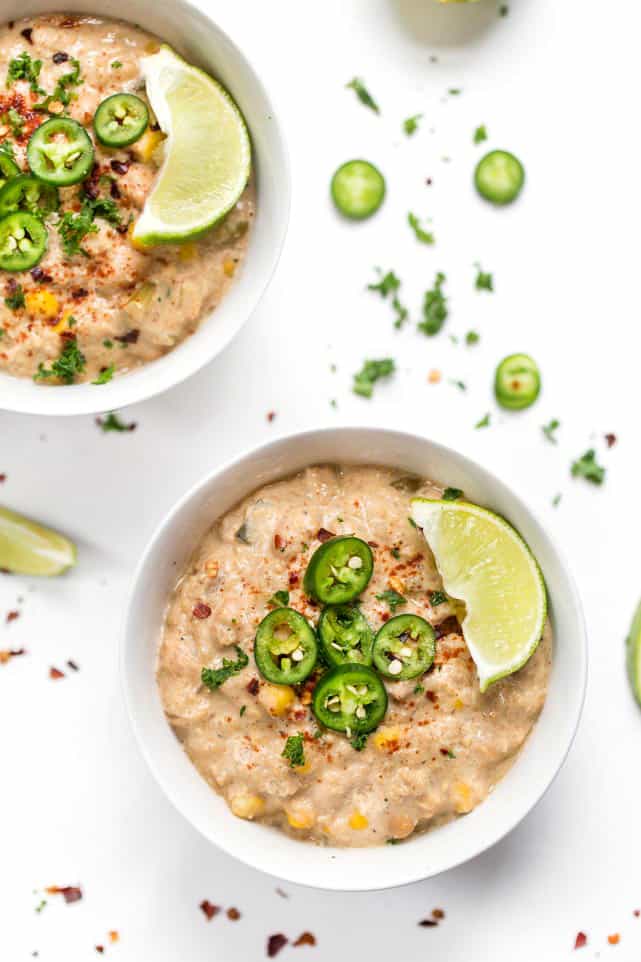 I've made cashew cream in some of my other soup recipes, but it's certainly the star of this dish. And since cashews themselves don't have a ton of flavor, it's really just giving it that thick, glorious texture.
I will say, the cashew cream can be optional. If you're allergic to tree nuts or simply don't have access to raw cashews, you could either just use another non-dairy milk OR you could make your own hemp milk. You would use the same proportion and would have a very similar creaminess. The only thing you might notice is a bit of a stronger flavor, but otherwise, it should be virtually identical.
And lastly, a few things I want to mention in case you want to change things up:
You can use 1 can of beans and add shredded chicken/pork
You can use green pepper instead of poblano
Use chicken stock instead of veg
Use a different variety of quinoa (or stir in quinoa flakes at the end)
Make the cream swap I mentioned above
So I hope you're ready to pull out your slow cooker and dive head first into chili season. This recipe is perfect for a crowd, perfect for meal prep, perfect for freezing and perfect for game day. It's definitely a winner all around!
(p.s. make sure to watch the video below to see how this puppy is made!)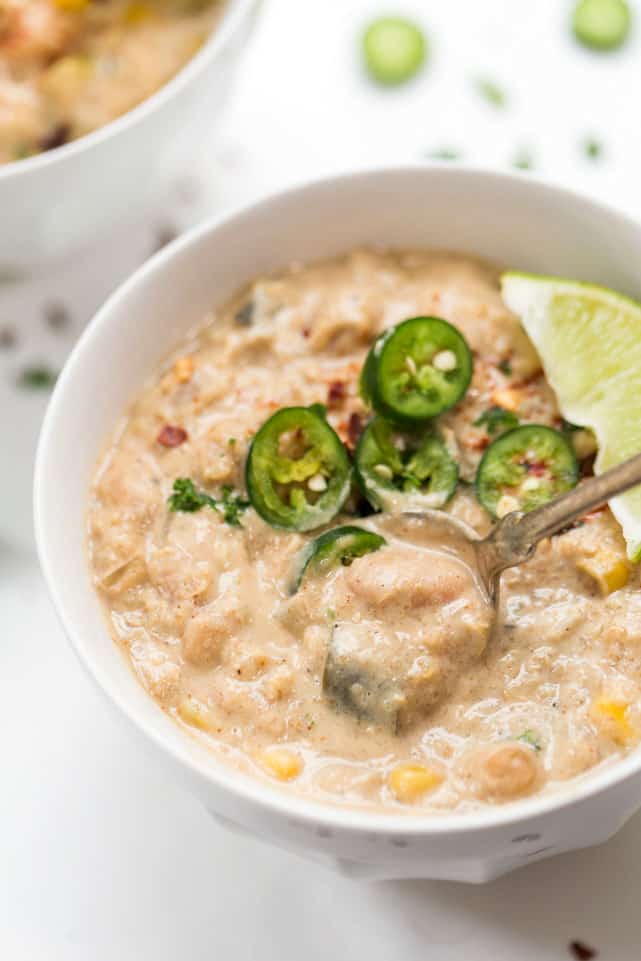 If you end up trying this awesome quinoa chili recipe, I'd absolutely LOVE to see a pic! You can share something with me on Instagram by tagging @simplyquinoa or using #simplyquinoa ❤️ scrolling through these photos is honestly one of the best parts of my day! #youremyfriends
More Delectable Soup Recipes to Try:
Slow Cooker White Quinoa Chili
This Slow Cooker Vegan White Quinoa Chili is a hearty and comforting fall meal. It's healthy, protein-packed and perfect for game day. Not to mention it's absolutely delicious!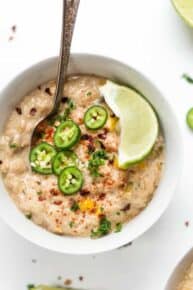 Instructions
Add chopped vegetables, beans, quinoa, corn, broth and spices to your slow cooker. Stir together and cover. Cook on high for 4 - 5 hours, low for 5 - 6.

When nearly ready to serve, place cashews and boiling water in a small bowl. Let sit for 15 minutes then transfer to a blender and blend on high until smooth and creamy.*

Stir cashew cream into chili, taste and adjust seasonings as needed.

Serve warm with your choice of garnish! (I like fresh cilantro, pepper flakes and sliced hot peppers)
Notes
* you can also soak the cashews all day and blend them up when you get home OR substitute non-dairy milk (it just won't be as creamy)
One of our awesome readers (hi, Eden! ????????) has come up with Instant Pot instructions!!
Place all ingredients (EXCEPT for the cashews and cashew water) into the Instant Pot. Add 5 cups water or broth (instead of 4). Select manual or pressure cook HIGH 12 minutes. 15 mins NPR (natural pressure release). Remove lid, stir in cashew cream, stir and enjoy.
NOTE: if using DRIED beans: increase water to 6 CUPS and increase time to 58 minutes HIGH pressure, 20 minutes NPR.
Nutrition
Calories:
359
kcal
|
Carbohydrates:
54
g
|
Protein:
17
g
|
Fat:
10
g
|
Saturated Fat:
2
g
|
Sodium:
412
mg
|
Fiber:
10
g
|
Sugar:
4
g
Filed Under: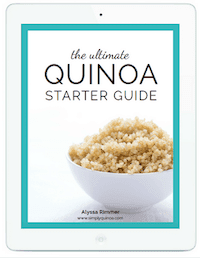 New to cooking quinoa? Grab your FREE Quinoa Starter Guide!
Become part of the Simply Quinoa community and receive weekly emails with exclusive content that I only share in email, as well as my in-depth guide to starting your quinoa journey.