Considered switching to a non-toxic makeup routine? Here is a 6-step method to teach you how!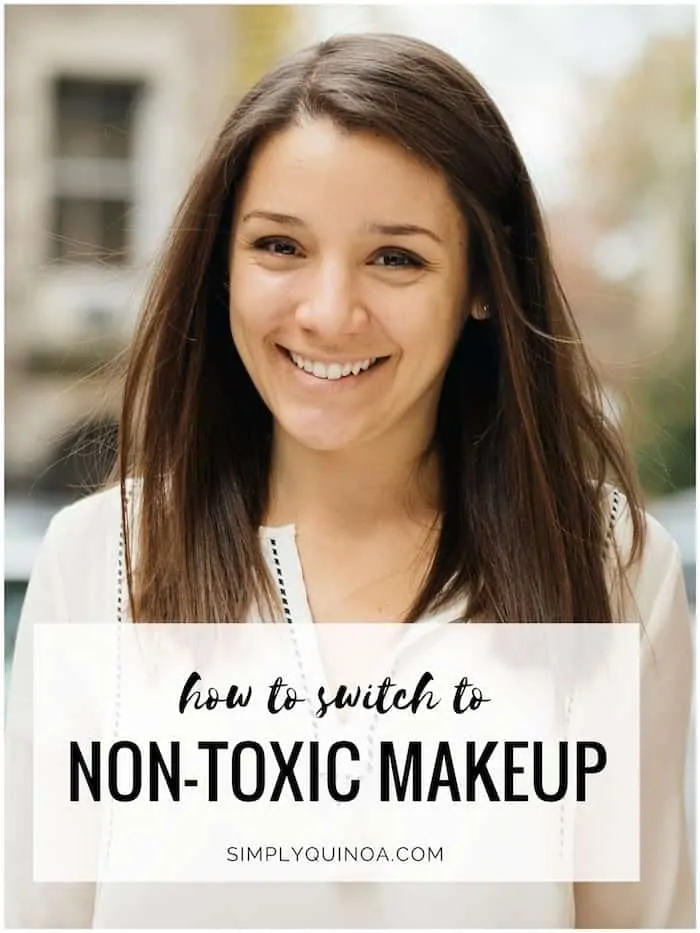 We've been starting to talk more and more about natural living because I honestly believe that how we live and eat are almost equally important, so I want you to have simple strategies that you can incorporate into your everyday routine that will help you live a more full and balanced life.
So…expect more topics outside of just food, friends ???? because a healthy life is more than what we eat!
Today we're chatting all about non-toxic makeup, getting started with the transition, and I'll walk you through the steps you can take to switch to non-toxic makeup routine!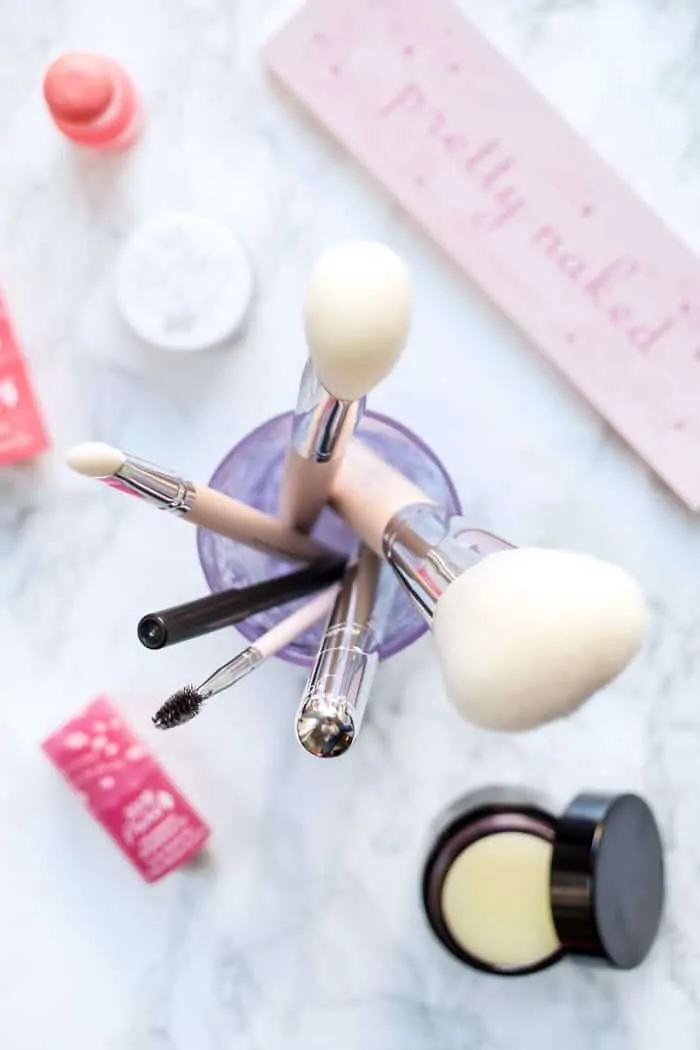 I feel like it would make sense to start by talking about why we should go non-toxic in the first place. Our skin is our largest organ and a lot of what we put on our skin is absorbed into our bloodstream (even more quickly than if we ate it). So when we put something on our body that is full of toxic chemicals, those chemicals get into our bloodstream.
Here are a few facts about the current state of affairs with the beauty industry in the US:
There are more than 80,000 chemicals on the market today
The Food and Drug Administration (the agency that regulates cosmetics in the US) allows companies to use chemicals known to be extremely harmful in the products we put on our bodies and on our kids' bodies every single day
The US has not passed a major federal law to regulate the safety of ingredients used in personal care products since 1938
There are only 30 partially banned ingredients in the US, but more than 1,400 in the EU
Unfortunately, this problem has only just started to get in front of consumers so the big cosmetic brands (Maybelline, Cover Girl, etc.) are the ones with GIANT budgets and can get their message in front of millions of people who aren't aware of the harmful, toxic chemicals that live inside their products.
What do we do about it?
We take a stand and we make a change! Because fortunately for us, there are brands out there that are actually creating AMAZING makeup products that are also non-toxic and totally safe for your skin.
But here's the thing: making the transition can be a bit overwhelming and also a little pricey if you do it all at once.
So rather than just give you a list of brands I personally like (ahem, 100% PURE — more on them in a second), today I want to give you a formula process to follow and show you how you can switch to a non-toxic makeup routine in just 6 simple steps!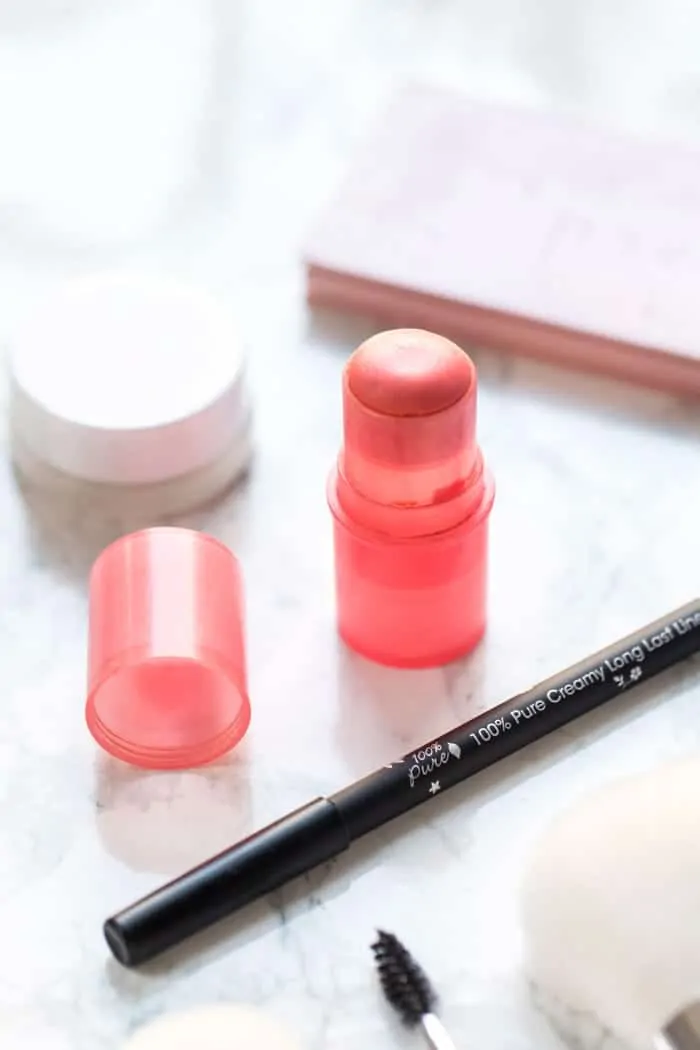 How to Transition to a Non-Toxic Makeup Routine
1. Take an audit.
The first thing you'll want to do is take an audit of what you have. I recommend pulling everything out and laying it out on the floor. Begin by organizing into categories (lips, eyes, face, etc) and figuring out what you actually have. Chances are you have more than you realize and more than you actually use. So just get it all out there and take an audit of what you own.
2. Edit down.
From there it's time to edit. This is a concept I learned when I was organizing my pantry and kitchen, but essentially it's about cutting things out that you a) don't use, b) are expired and c) are duplicates. I think most of us naturally collect more than we actually need, so this is your chance to get rid of what doesn't serve you and make space for the new.
3. Be your own detective.
Now that you have your edited down list, it's time to see what's actually in those products. If you don't have the boxes anymore, you can either go to the brand's website and *hopefully* the ingredients will be listed, or you can use a site like EWG's Skin Deep or an app like Think Dirty to figure out how they're rated. This step is more about awareness than anything. You want to be aware of what's in your makeup and then you'll be able to make a more informed decision going forward. As the saying says, knowledge is power!
4. Choose your essentials.
What do you use every single day? What are the most essential pieces in your collection? For me, that's eyeliner, mascara, under eye concealer and blush. Those are the things I wear somewhat regularly and the others are just ancillary. Once you have your essentials list, you have a priority list of products that need to be replaced.
5. Find a brand you love.
When I first decided to make the switch, I didn't do a ton of research. I already knew the brand I wanted to try because another blogger that I followed raved about their mascara. That brand was 100% PURE, and almost five years later, I'm still a raving fan. What I love about 100% PURE is that 1) their name says it all, 2) they're reasonably priced (because natural makeup can be super pricey) and 3) their products actually work.
I'll be sharing a list of my favorites with you down below, but I encourage you to browse their line because there is something for everyone. All of their makeup comes from natural (non-synthetic) sources and have undergone a chemical change created by a naturally occurring biological process (like fermentation, distillation, etc.). They're also organic, cruelty-free, fruit-dyed, cold-pressed, no fillers, no water and NO synthetics.
And yet their products work even better than traditional makeup brands!
Of course, 100% PURE isn't the only player on the market, but they are one of my favorites. I've been using their products for over 5 years and they're still my favorites. I love their formulas, I love what the company stands for and I love the integrity that goes into each and every product. I encourage you to do your research, test out a few brands (definitely try 100% PURE) and find what works best for you.
6. Replace strategically.
Once you've found your brand, it's time to clean things up. I think there are two ways to replace, either all at once or piece by piece. For me, it was all my essentials all at once and then my non-essentials have been replaced over time. I recommend this way because this is going to make the biggest impact on your health in the quickest way possible because you've replaced what you use on a daily basis. But again, I encourage you to do what works for you and your budget.
And you're done!
Now you're on the pathway to cleaner makeup and I promise you will notice the difference. Not has my skin cleared up almost completely (with an occasional pimple popping up here and there), but I'm using products that I can tell are gentle and good for my skin. Pores aren't clogged, I don't spend hours trying to get all the makeup off and again, my skin feels amazing!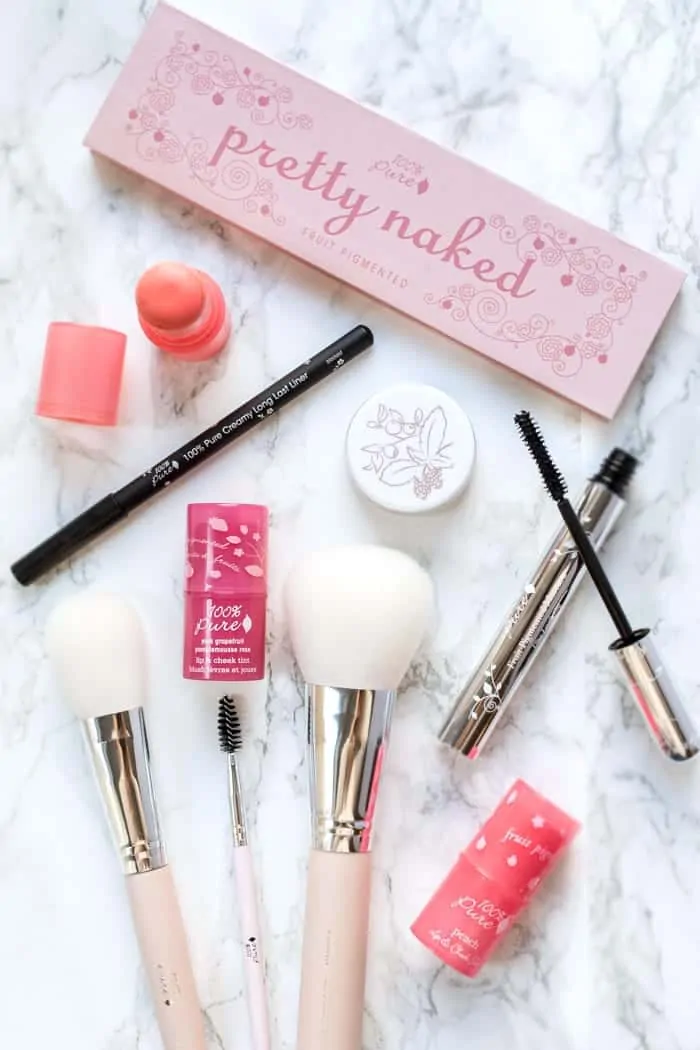 My Non-Toxic Makeup Product Must-Haves
As you can tell from this post, 100% PURE is one of my go-to non-toxic makeup brands and many of my essential products are from their line. Here are some of my favorites:
1. Fruit Pigmented Ultra Lengthening Mascara. Goes on smooth, really does lengthen and doesn't clog up my lashes. This is the mascara I've been using for years and I love it!
2. Fruit Pigmented Naked Pallete. I'm a big fan of this palette because it's simple, elegant and has everything I need for my natural, everyday look.
3. Creamy Long-Lasting Liner. I love a good black eyeliner and this creamy pencil is perfect. Just like the mascara it goes on smooth and lasts all day long!
4. Long Last Brows. My eyebrows weren't something I used to pay much attention to, but now that I fill them in, I notice such a difference in the overall look. It just makes it all feel complete and this is one of the best products I've found to fill mine in!
5. Fruit Pigmented Lip & Cheek Tint (Peach Glow). This is one of the two blushes that I use and I'm obsessed. It goes on so creamy, blends really well and has the best glow. I love this color for a little soft, summery look!
6. Fruit Pigmented Lip & Cheek Tint (Grapefruit Glow). My second favorite color from this line, this is the one I use on nights out. It's a bit richer in color, is a tad darker, but has that same amazing consistency!
7. Cruelty-Free Brushes. Another simple change you can make is swapping out your brushes. Most make up brushes are either made from animal hair OR they're synthetic. Not 100% PURE! Their brushes are vegan, cruelty-free and green-friendly. They're made exclusively from recycled plastic bottles! Just look at that picture below – they're so fluffy and soft!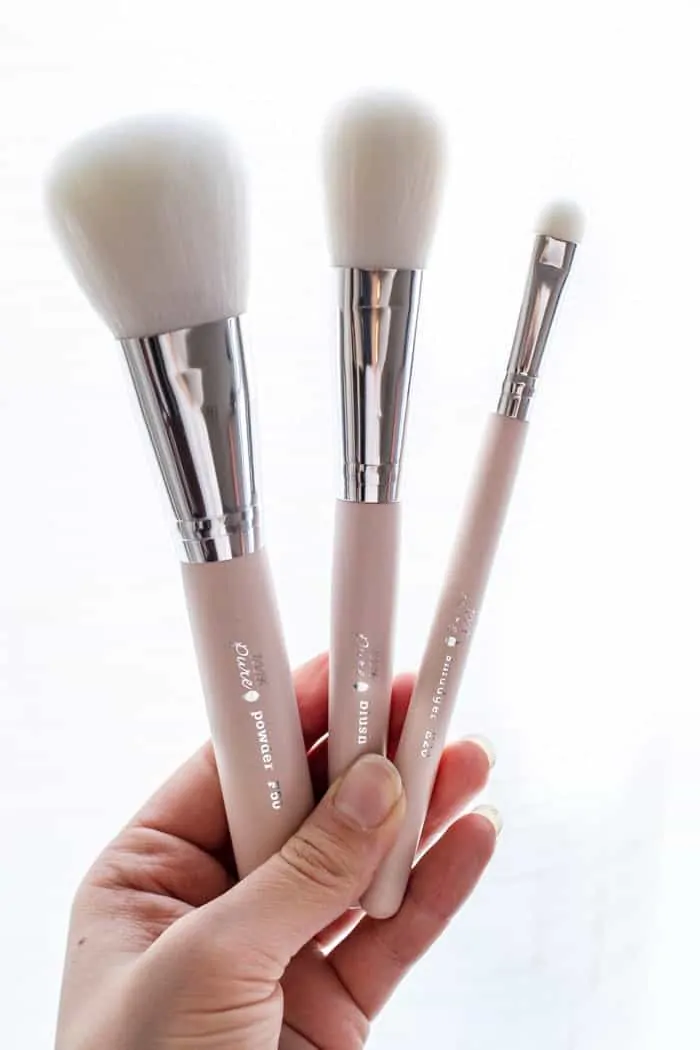 I hope you found this post helpful! What brands you're using and loving? Share with my in the comments below!
This post is brought to you in partnership with 100% PURE. As always, all opinions are my own. I only share companies I love and trust, so thank you for continuing to support Simply Quinoa!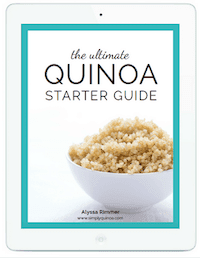 New to cooking quinoa? Grab your FREE Quinoa Starter Guide!
Become part of the Simply Quinoa community and receive weekly emails with exclusive content that I only share in email, as well as my in-depth guide to starting your quinoa journey.