These healthy oatmeal cookies are made without gluten, dairy, sugar or oil, but are packed with fiber! Enjoy them as a light breakfast or pre-workout snack!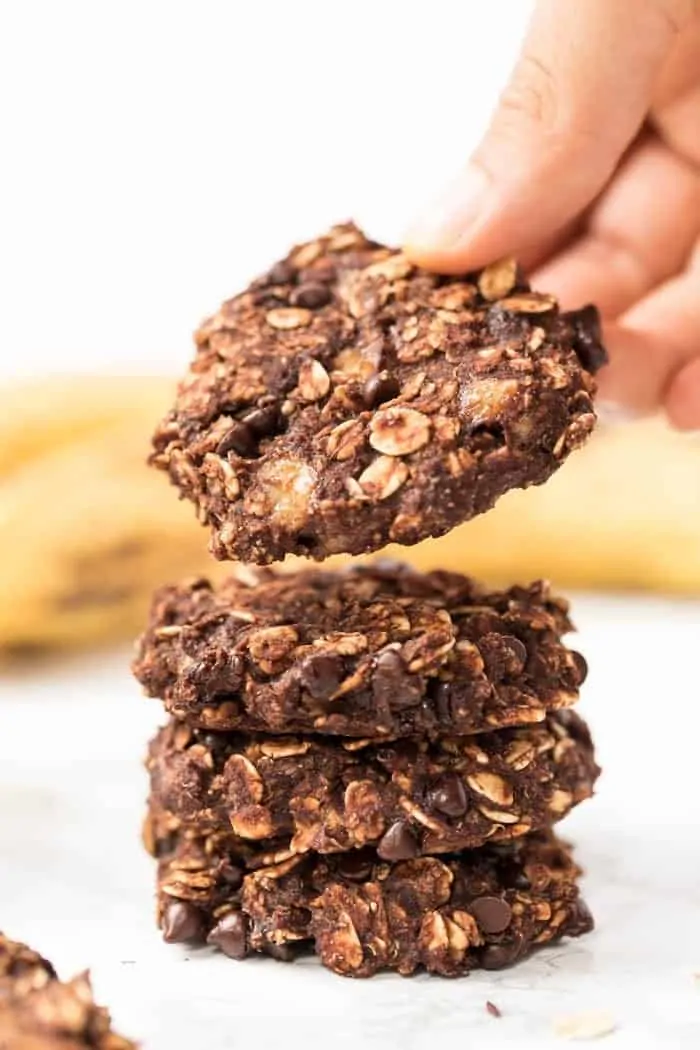 I know these aren't the most beautiful cookies you've ever seen, but boy are they delicious. They're moist, chocolatey, chewy and actually. That's the perfect combo in my book!
What makes these chocolate oatmeal cookies so healthy? For starters, they're made without any gluten, dairy, sugar, oil or eggs. And they're loaded with fruit!
They're also essentially like eating a bowl of oatmeal in cookie form. They're great for on-the-go, they're definitely kid-friendly, and they made an awesome pre-workout snack.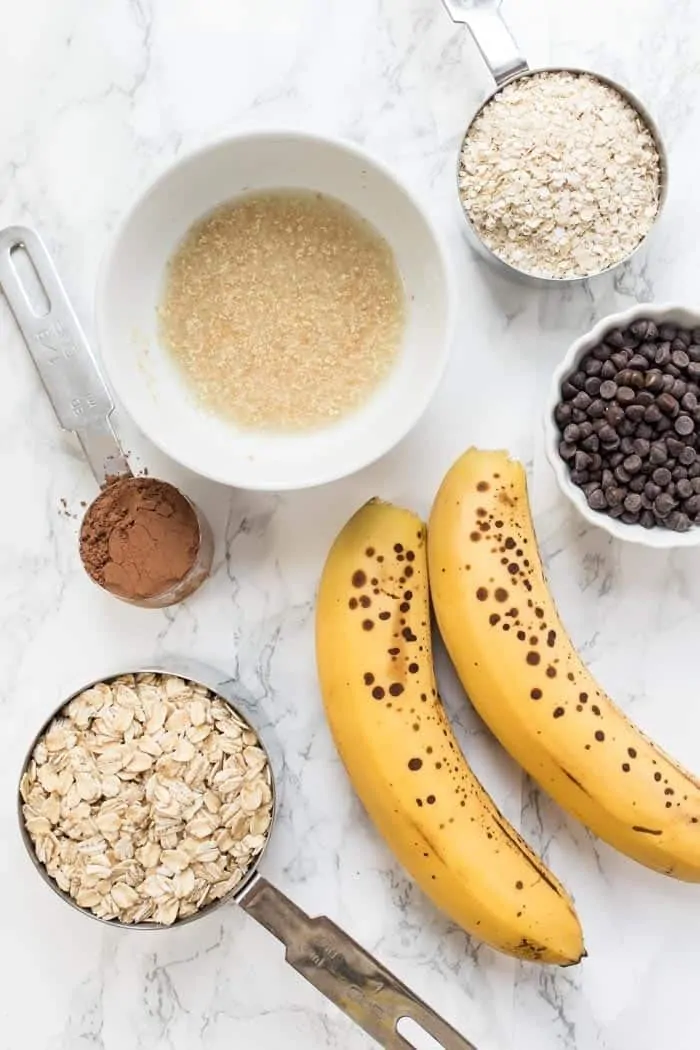 Our Healthy Cookie Ingredients
What's great about these healthy oatmeal cookies is that they use just 6 simple ingredients:
Banana
Flaxseed Meal
Oats
Quinoa Flakes
Raw Cacao Powder
and Chocolate Chips
And combined, these ingredients are giving us a ton of amazing fiber, along with a touch of protein, a bunch of complex carbohydrates and some antioxidants!
So instead of spiking your blood sugar like crazy and leading to a sugar crash, or going through your system super quickly and leaving you ravenous an hour later, these cookies will sustain you, they'll give you energy and they will take longer in your system to digest.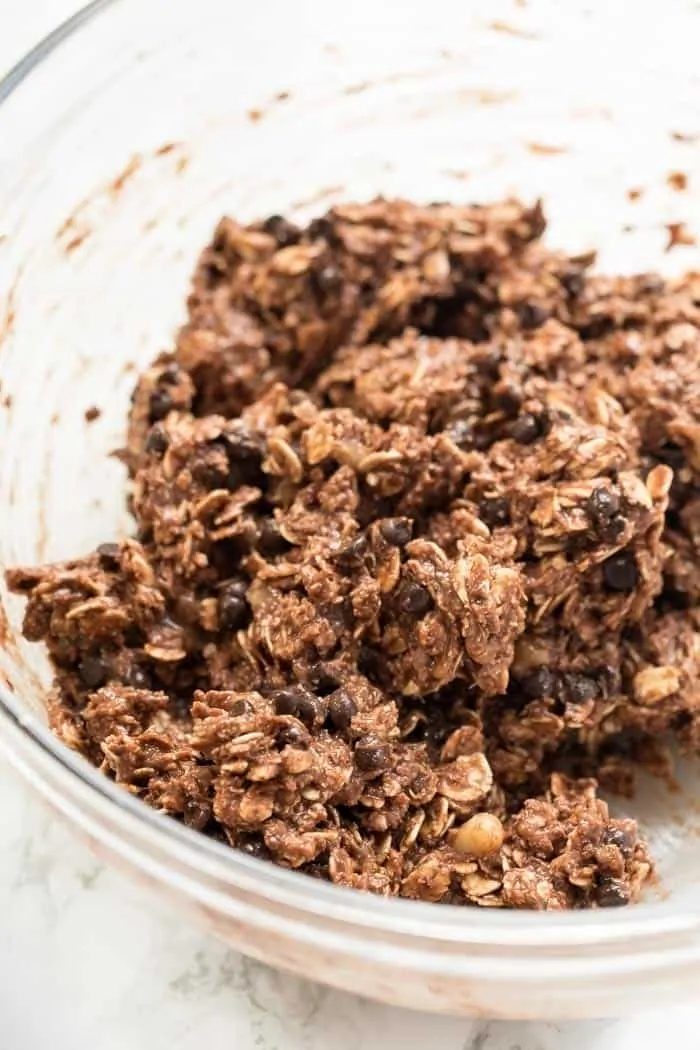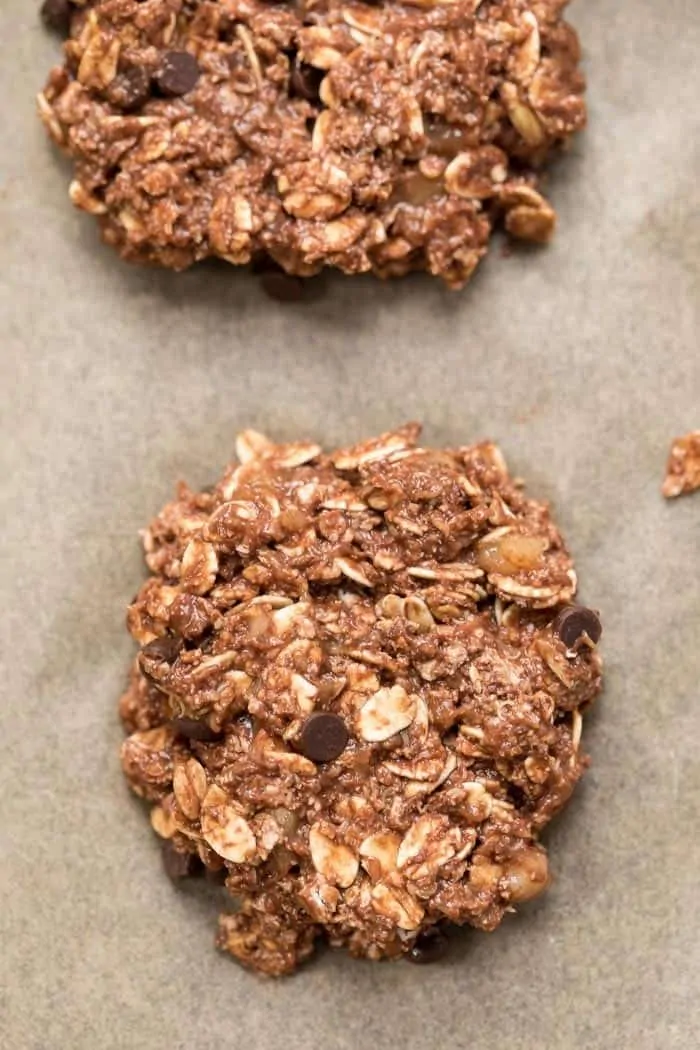 How to Make Healthy Oatmeal Cookies
Again, we've got another reason to be in love with these vegan cookies…they're crazy simple to make!
You'll need just one bowl and about 5 minutes. Start by mashing your banana! Then you'll add in your flax egg, stir in your dry ingredients and bake 'em up!
My only tip with baking these chocolate oatmeal cookies? You're going to want to shape them so they bake evenly and stick together properly.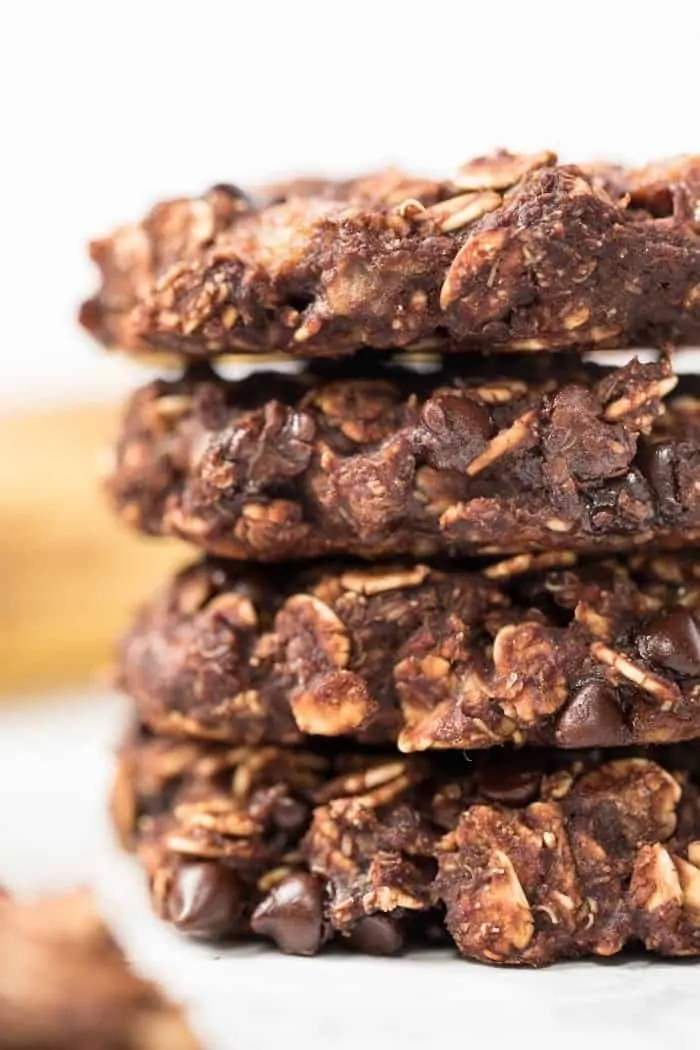 Substitution Ideas for Our Vegan Cookies
Okay, now before we dive into the recipe, let's talk substitutions! I know there might be some ingredients you are allergic to or you can't find locally, so here are some ideas for swapping out ingredients:
Banana: unfortunately, this one is the trickiest. I think you could potentially get away with a blend of another fruit puree plus an additional flax egg, but I haven't tried it so can't be sure!
Flax Egg: a regular chicken egg or chia egg will also work!
Rolled Oats: You can swap in quinoa flakes or another flaked grain of choice
Quinoa Flakes: quick cooking oats or another flaked grain will work here as well
Raw Cacao: either another form of cocoa powder OR you could try powdered peanut butter
Chocolate Chips: these are totally optional, so feel free to just leave them out or stir in some chopped nuts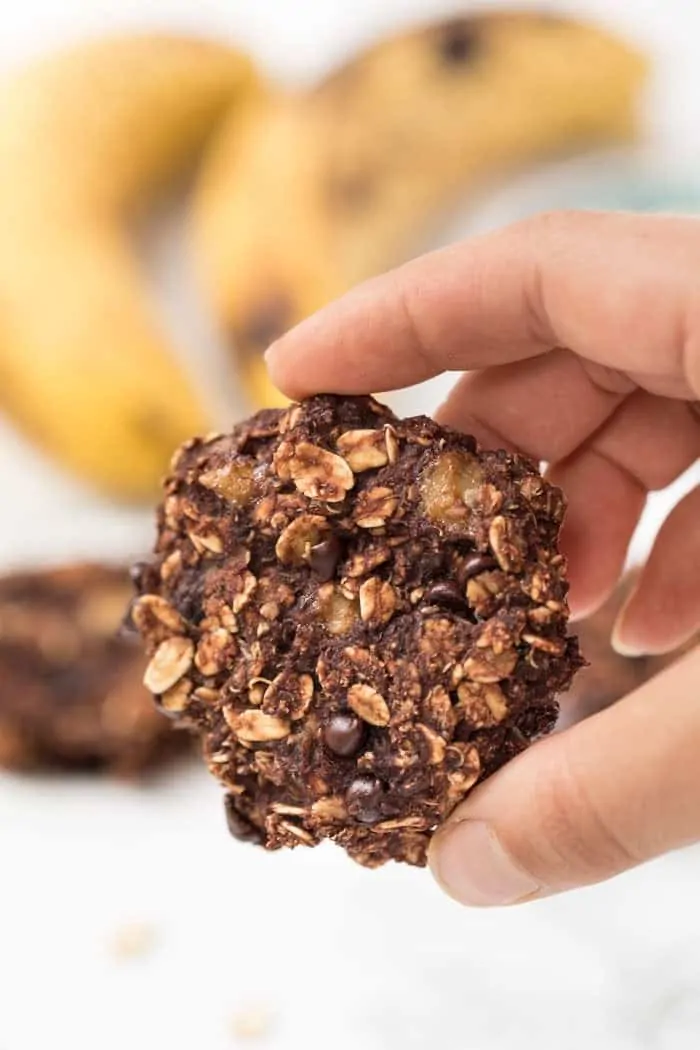 If you're a cookie lover like me, this is definitely going to become a staple for you!
Granted, they're not your typical indulgent cookie, but they're still delicious! The combo of banana and chocolate is perfection, they have a lovely chewy texture and the added sweetness from the chocolate chips make them feel a little bit more indulgent.
My favorite thing to do? Spread on a layer of peanut butter before I head out the door to my yoga or spin class!
Now it's time to get your cookie on. Enjoy!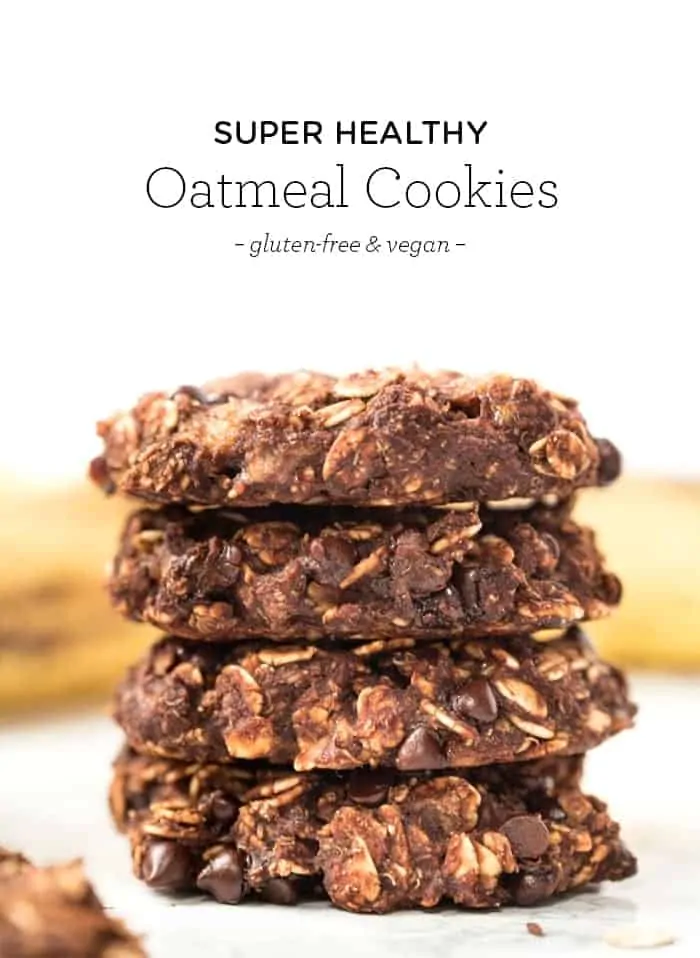 More Healthy Oatmeal Cookies to Try:
Banana Oatmeal Cookies
These chewy banana oatmeal cookies are made without gluten, dairy, or sugar, but they're packed with fiber to keep you full and satisfied!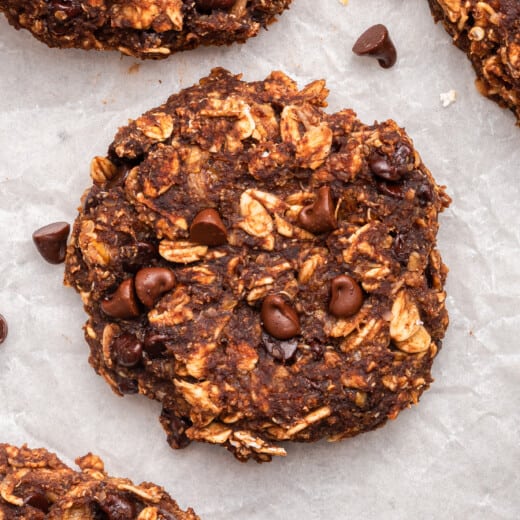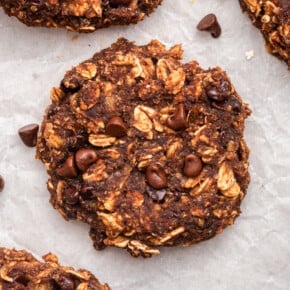 Instructions
Preheat the oven to 350 degrees F and grease a cookie sheet with non-stick cooking spray.

In a small mixing bowl, completely mash the banana. Stir in the flax egg.

Add the remaining ingredients and mix until fully combined.

Spoon the cookie dough on the cookie sheet, and gently flatten with the back of a spoon.

Bake 13 - 15 minutes, until browned and only slightly tender to the touch. Remove from oven, transfer to a wire rack and cool.

Store in a covered container for 2 – 3 days (if they last that long!).
Notes
This recipe could be easily doubled, tripled, quadrupled even!
Nutrition
Serving:
1
cookie
|
Calories:
84
kcal
|
Carbohydrates:
15
g
|
Protein:
2
g
|
Fat:
2
g
|
Sodium:
3
mg
|
Potassium:
114
mg
|
Fiber:
2
g
|
Sugar:
5
g
|
Vitamin A:
20
IU
|
Vitamin C:
1.7
mg
|
Calcium:
12
mg
|
Iron:
0.7
mg
Filed Under: