These amazing banana breakfast cookies are made with a blend of oats, quinoa, banana and tahini for a high protein, low sugar breakfast treat!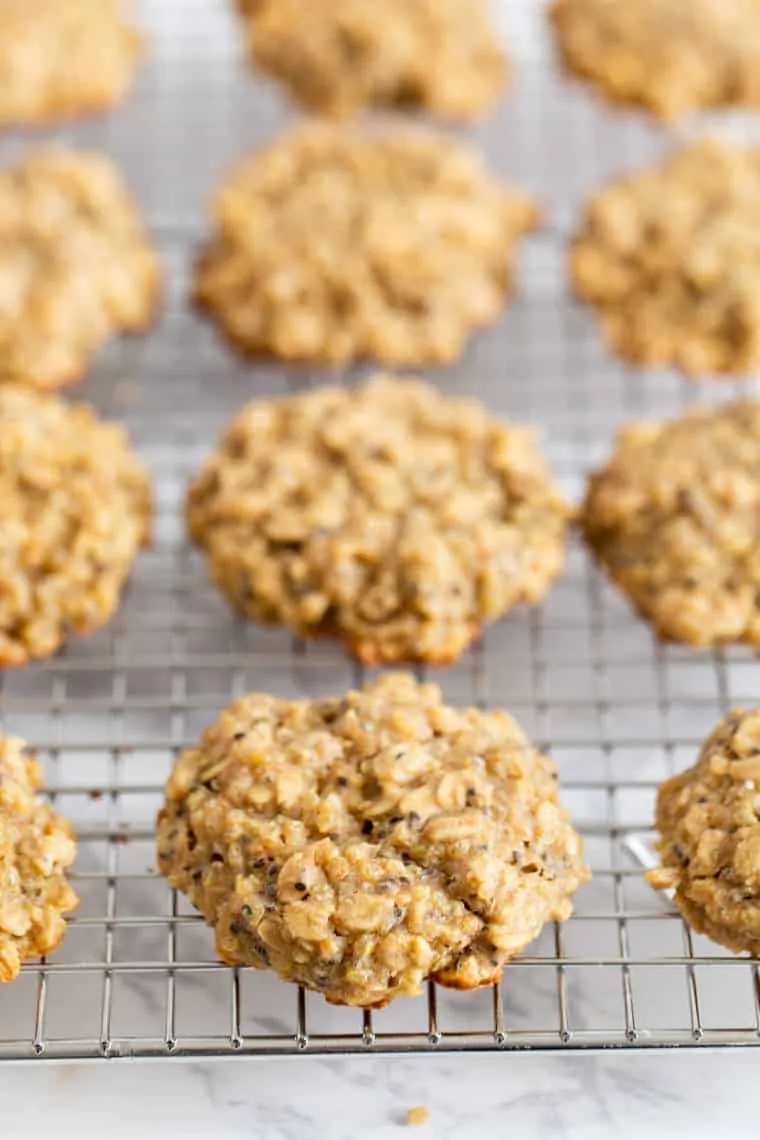 As we're all getting a little low on supplies, and trying to limit our trips to the grocery stores, we've gotta make do with what we've got. And these banana breakfast cookies are a prime example of that.
I was looking for a way to use my one overripe banana. I didn't have enough for banana bread or muffins but also didn't want to just stir it into oatmeal. But I realized I hadn't made breakfast cookies in forever, so that's what we went with.
If you've ever made one of my quinoa breakfast cookies before, then you probably know we follow kind of a "formula" of sorts. Well, today I was out of a few of the ingredients, so we're changing things up a little bit! And I can't wait to hear what you think.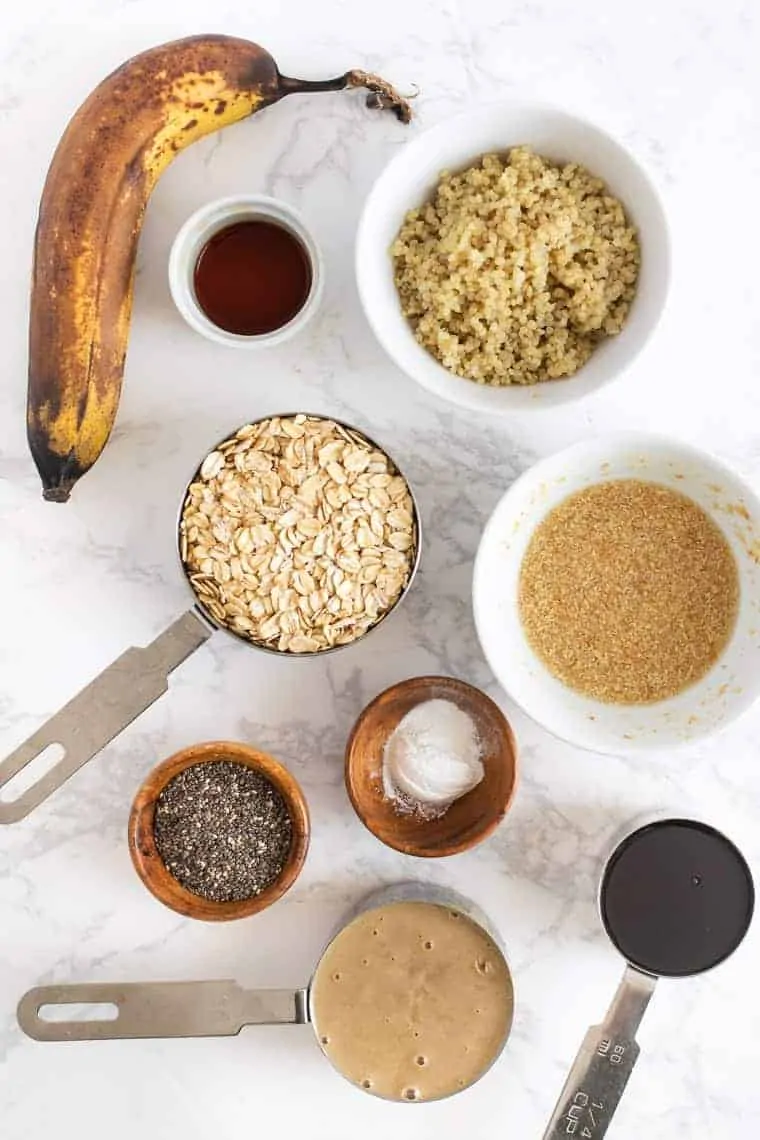 Ingredients for Banana Breakfast Cookies
I mentioned these are a bit different than our traditional breakfast cookies, but they're every bit as delicious.  We're swapping peanut butter for tahini and changing the dry ingredients slightly because that's what I had on hand right now. And I think these are ingredients you're like to have on hand too!
Here's what you need to make these cookies:
Tahini: has a really nice nutty flavor that I think just tastes fabulous!
Banana: these are banana breakfast cookies after all, but you can swap for any other fruit puree
Maple syrup: just for a bit more sweetness
Flax egg: to keep the vegan, but feel free to use a regular egg if you'd like
Oats: you can use quick oats or regular rolled oats
Cooked quinoa: I don't think many people have quinoa flakes on hand, and I had some leftover cooked quinoa, so that's what we went with!
And then we'll just add in some baking powder, sea salt, vanilla and some optional mix-ins like coconut and chia seeds!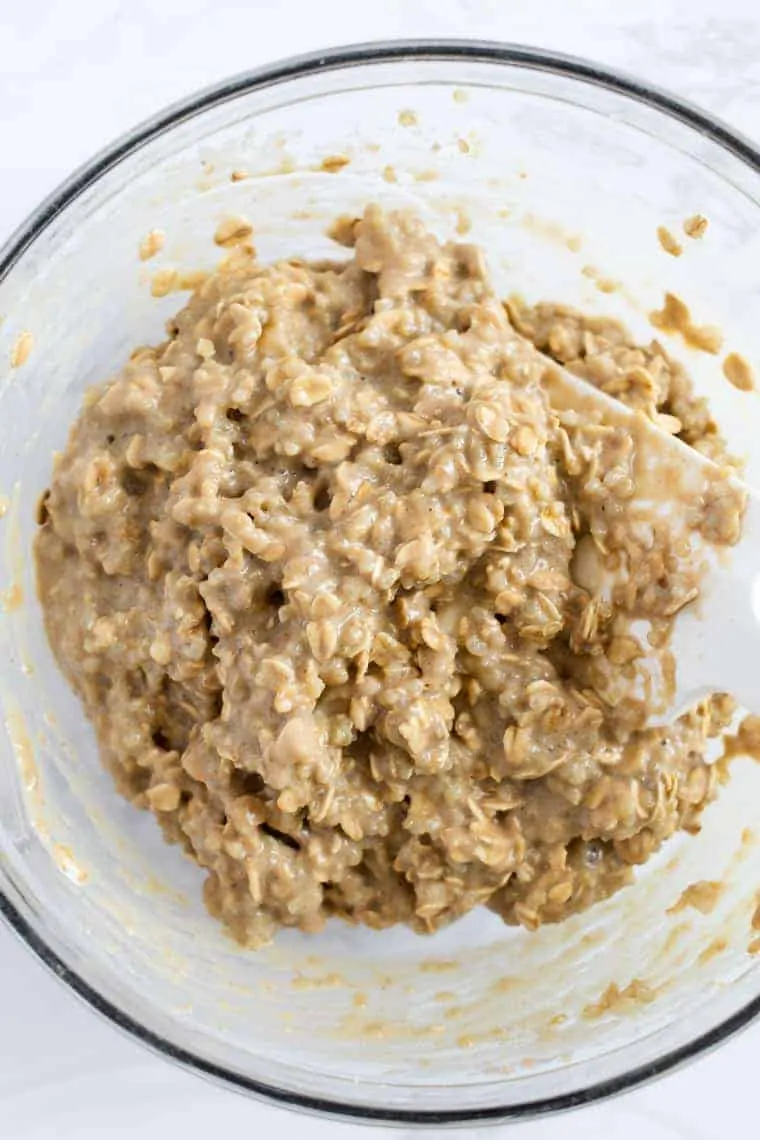 How to Make Healthy Breakfast Cookies
What I love about breakfast cookies is how easy they are to make! All you need is one bowl, about 15 minutes and a little patience to let them cool. Otherwise, they are just the most delicious little breakfast treat!
STEP ONE
Mash your banana into your bowl until it's as smooth as possible. Then you'll stir in the tahini, syrup and flax egg. Just stir it up until it's completely mixed.
STEP TWO
Next, it's time to add in the dry ingredients. Depending on what oats you're using, you might want to add in the chia seeds. The chia seeds will help hold the mixture together, especially if you're using old fashioned rolled oats.
STEP THREE
It's time to bake! I love this cookie scoop to make perfectly even cookies – and I basically just do a BIG scoop of dough and plop it onto the cookie sheet.
STEP FOUR
You gotta let these babies cool! Since they're a fairly soft texture, I find that letting them cool really helps them keep their texture together.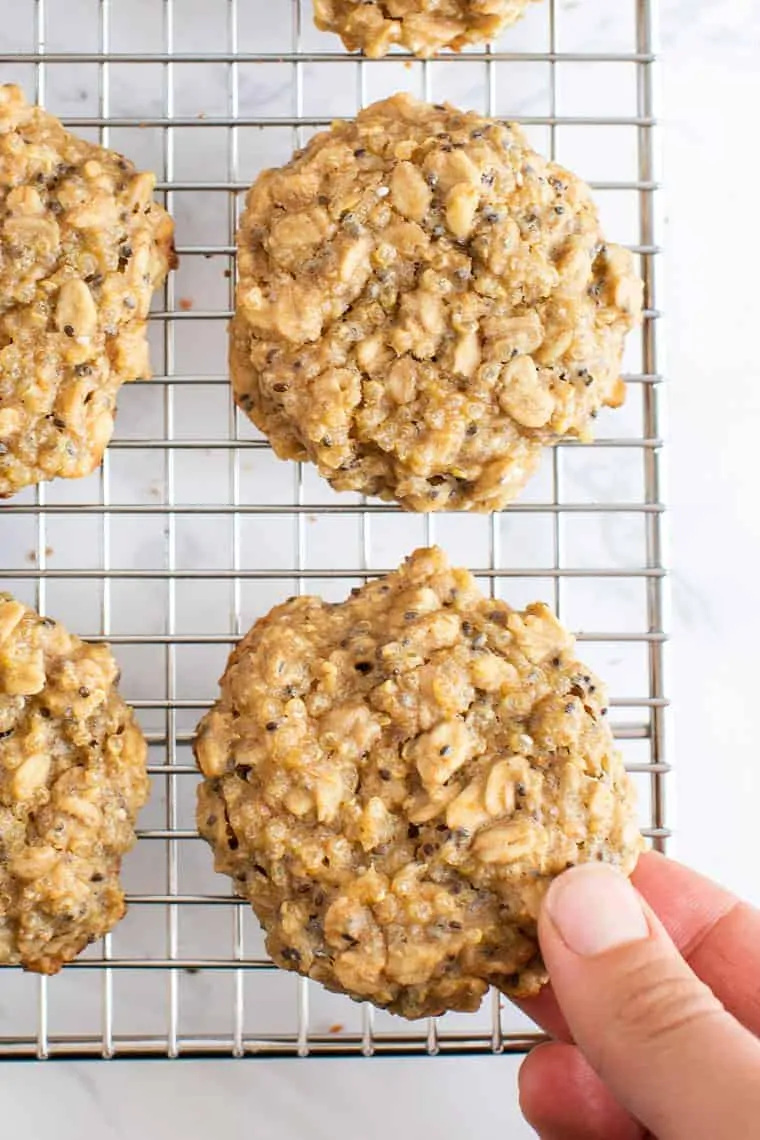 How to Make Cookies Healthy
I love making healthy cookies and I feel like I've found a few ways to make them healthy. If you're looking to make your cookies healthier, here are a few ideas:
Cut back the sugar by using a fruit puree instead
Swap refined sugar with something less refined like coconut sugar
Cut the oil by using fruit puree as well
Add more healthy fats by swapping some oil or nut butter
Stir in superfoods – things like chia seeds, hemp seeds, coconut, etc. are all easy things to stir in
Ways to Jazz up Your Breakfast Cookies
And you can actually use a similar approach with our banana breakfast cookies. If you want to make these cookies even healthier, feel free to jazz them up with some additional mix-ins.
For this particular flavor of cookie I would go for things like:
chopped walnuts
coconut
hemp seeds
dried cranberries/blueberries
dark chocolate chips
But whatever you feel like would taste great with these cookies, I'd say…GO FOR IT!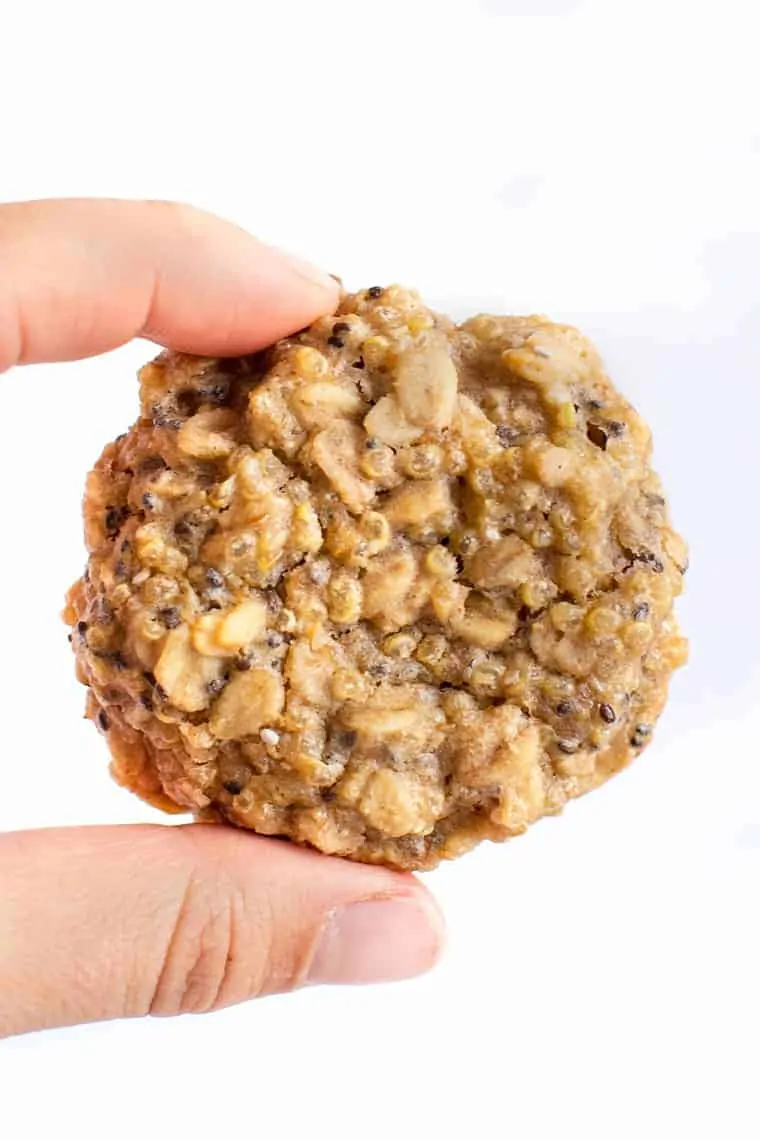 Substitutions for Banana Breakfast Cookies
Before I let you go, I want to provide just a few ideas for substitutions just in case you don't have these ingredients on hand.
How to make changes to our breakfast cookies:
Tahini: any nut or seed butter will work
Maple syrup: honey or agave will also work
Banana: you could swap this with applesauce or pumpkin, but they won't be quite as sweet
Oats: if you don't have oats, I would say you could use quinoa flakes or another flaked grain
Quinoa: I think you could actually just do more oats to replace the quinoa
If you need any other substitution ideas, let me know in the comments! I'm happy to help you figure it out with what you have on hand.
I hope you love these new breakfast cookies! If you need any other ideas, I actually have an entire ebook dedicated to breakfast cookies – you can check that ebook out right here. I hope you love these!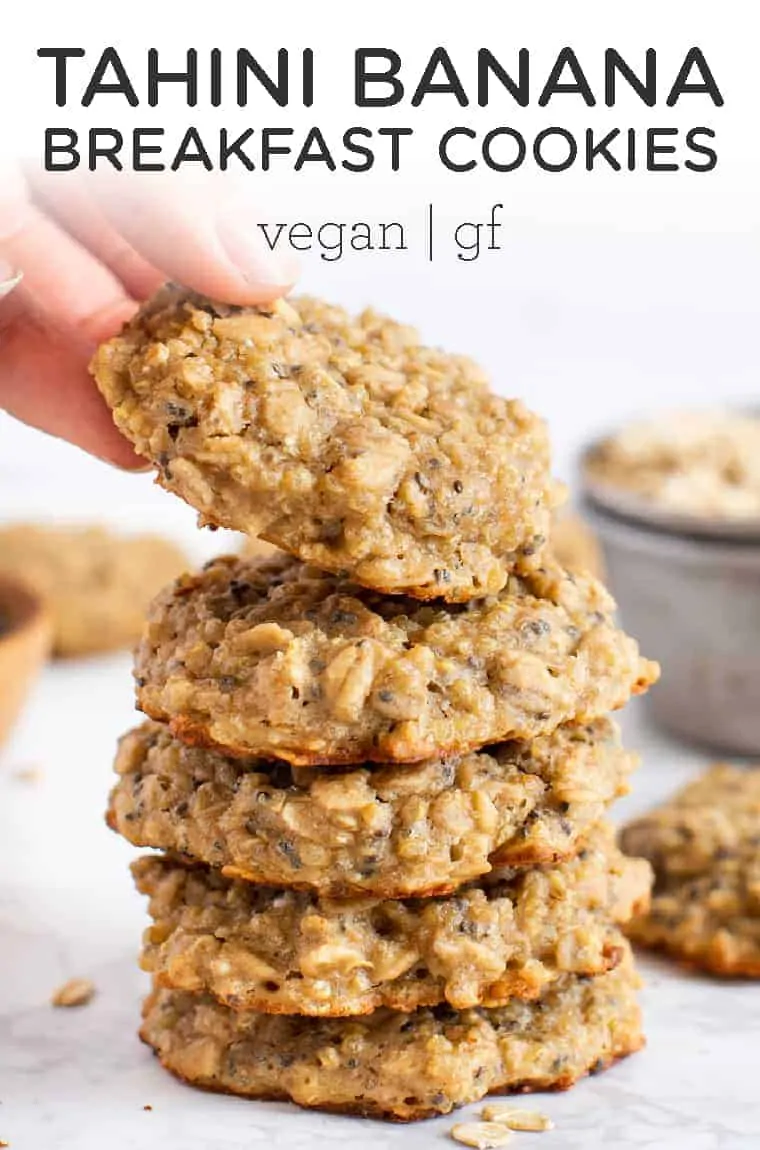 More Flavors for Banana Breakfast Cookies:
Tahini Banana Breakfast Cookies
These healthy banana breakfast cookies are perfect! Made with a blend of oats, quinoa, banana and tahini they're high protein, vegan, and low sugar too!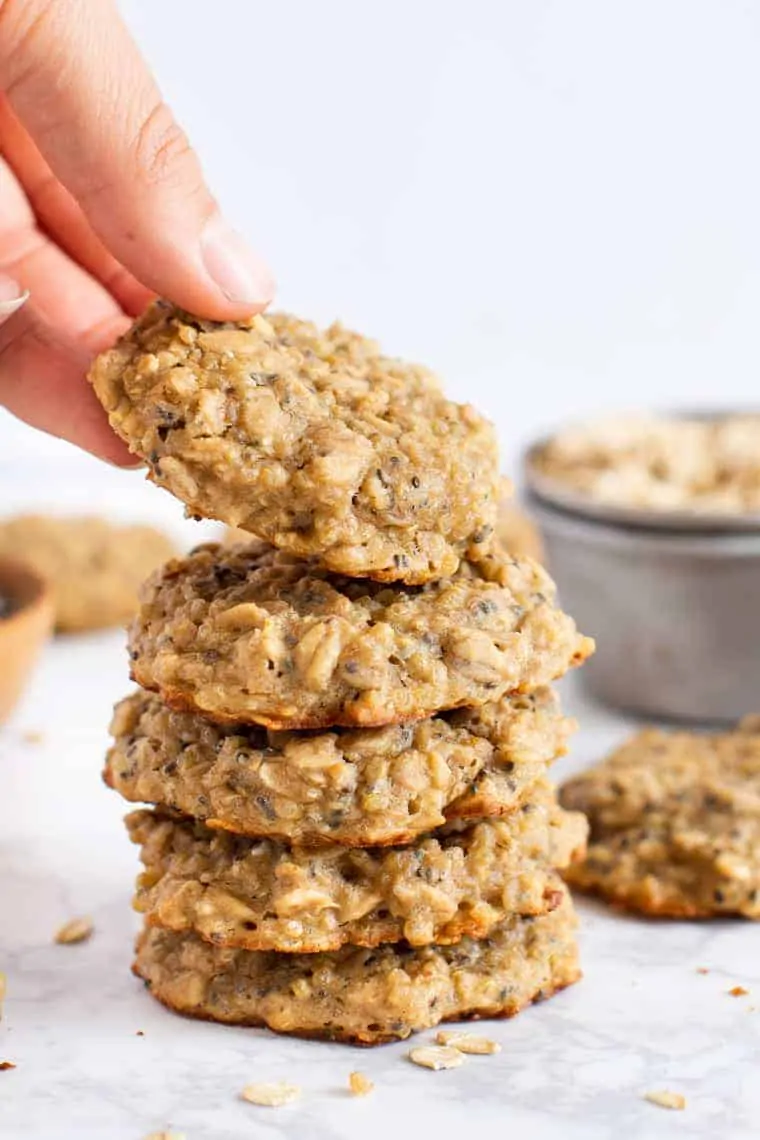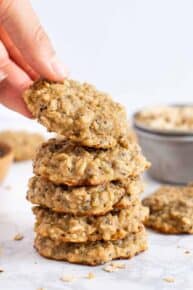 Instructions
Preheat oven to 350ºF. Line a baking sheet with parchment paper and set aside.

Add tahini, syrup, banana, flax egg, and vanilla in a large bowl. Mix until combined. Add oats, quinoa, baking powder and salt to the bowl and stir together. Fold in the coconut and chia seeds if using.

Spoon 2 tablespoons of dough onto the baking sheet and repeat until no dough remains.

Bake cookies on center rack for 15 - 18 minutes until edges are golden brown. Remove and let cool on the pan for 5 minutes then transfer to a wire rack and cool completely.

Enjoy at room temp or slightly reheated in a microwave.
Nutrition
Serving:
1
g
|
Calories:
134
kcal
|
Carbohydrates:
16
g
|
Protein:
3
g
|
Fat:
7
g
|
Saturated Fat:
1
g
|
Sodium:
11
mg
|
Potassium:
179
mg
|
Fiber:
2
g
|
Sugar:
6
g
|
Vitamin A:
13
IU
|
Vitamin C:
1
mg
|
Calcium:
48
mg
|
Iron:
1
mg
Filed Under: