A perfect dish for the holidays, this kale and shredded brussels sprout quinoa salad is easy to make, is healthy, festive and absolutely delicious.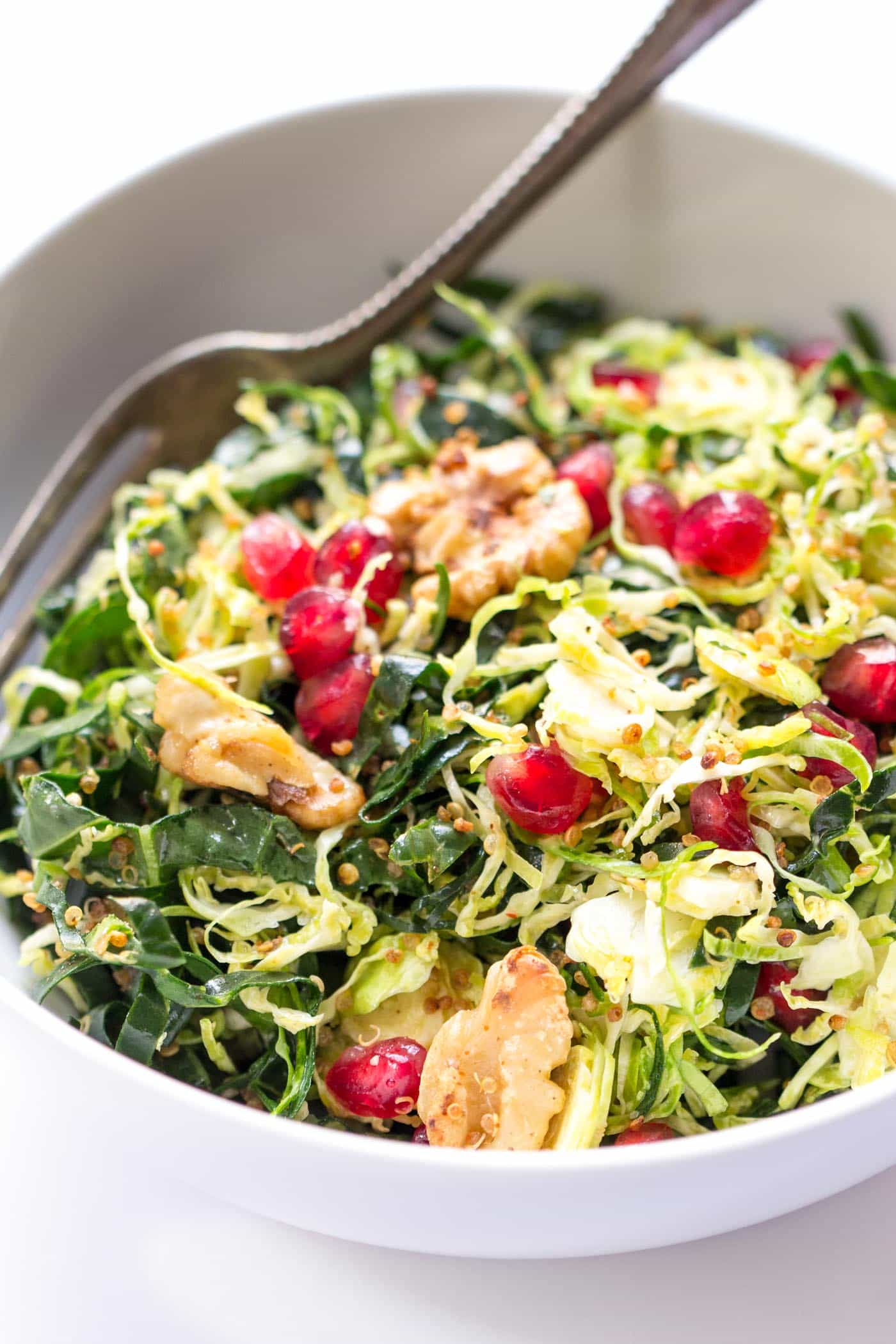 This year my Christmas is going to be just a leeetle bit different.
You see I come from a large Italian family and Christmas is by far our biggest and most celebrated holiday. We drink a lot, eat, even more, open presents and get really loud. It's a tradition.
My mom grew up just south of Philadelphia and my whole family still lives there, so for as long as I can remember we have made the trek all the way from VT down there to spend Christmas as a family. It's around an 8-hour drive and I can only imagine what it was like for my parents with two little kids and a car full of presents.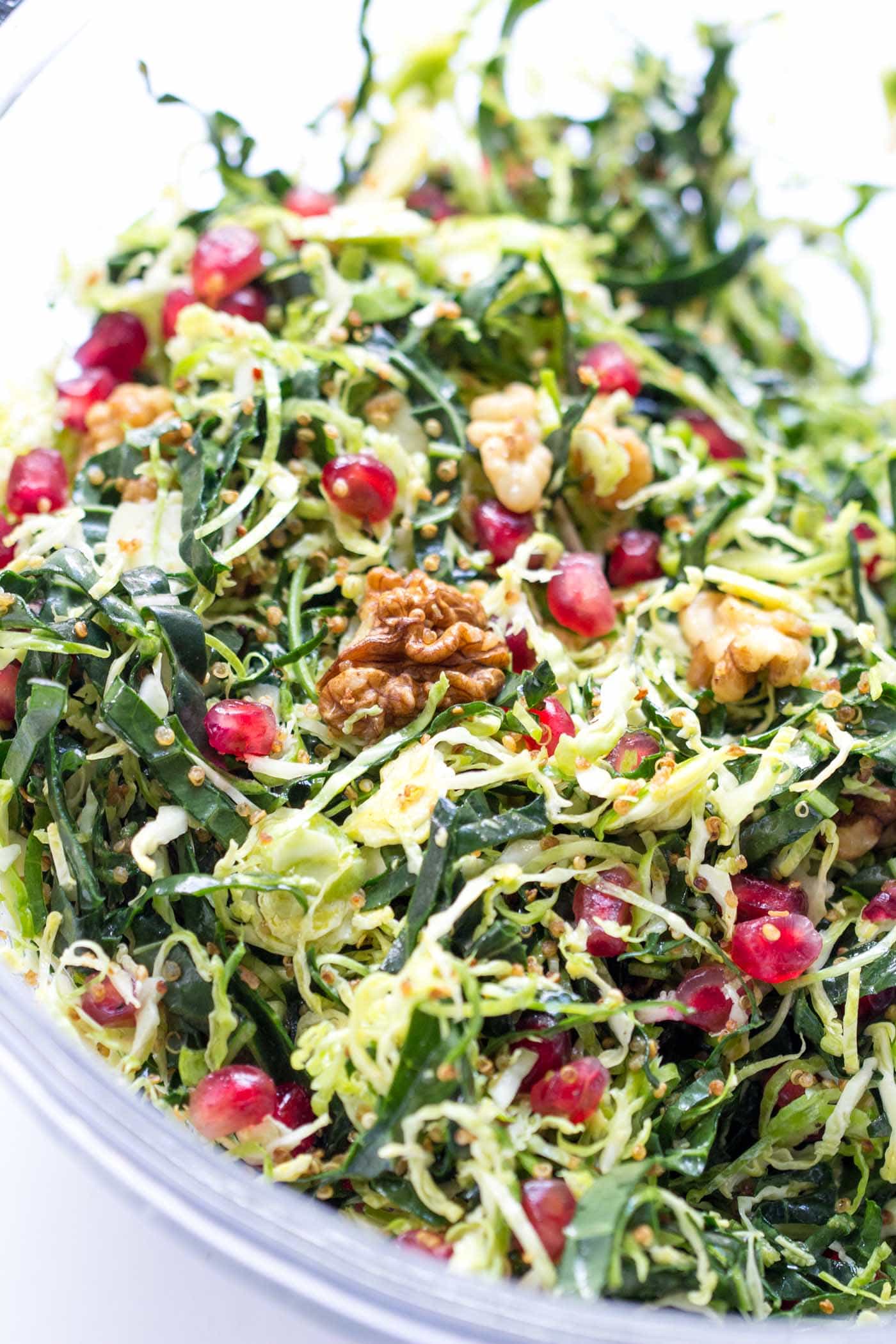 But as we've gotten older, we've had less and less need for STUFF. Like I understand that Christmas is about giving and presents is part of the tradition, but I'm at the point in my life where a) I don't really need anything else, b) the stuff I do want is usually business-related (photography equipment, etc.) and I'm better off buying it myself for tax reasons, and c) when I want something and have thought about it for a long time, I usually just end up buying it.
So the idea of just accumulating more stuff just because it's Christmas seems kind of silly…and my family agrees.
So what are we doing instead? WE'RE GOING ON VACATION!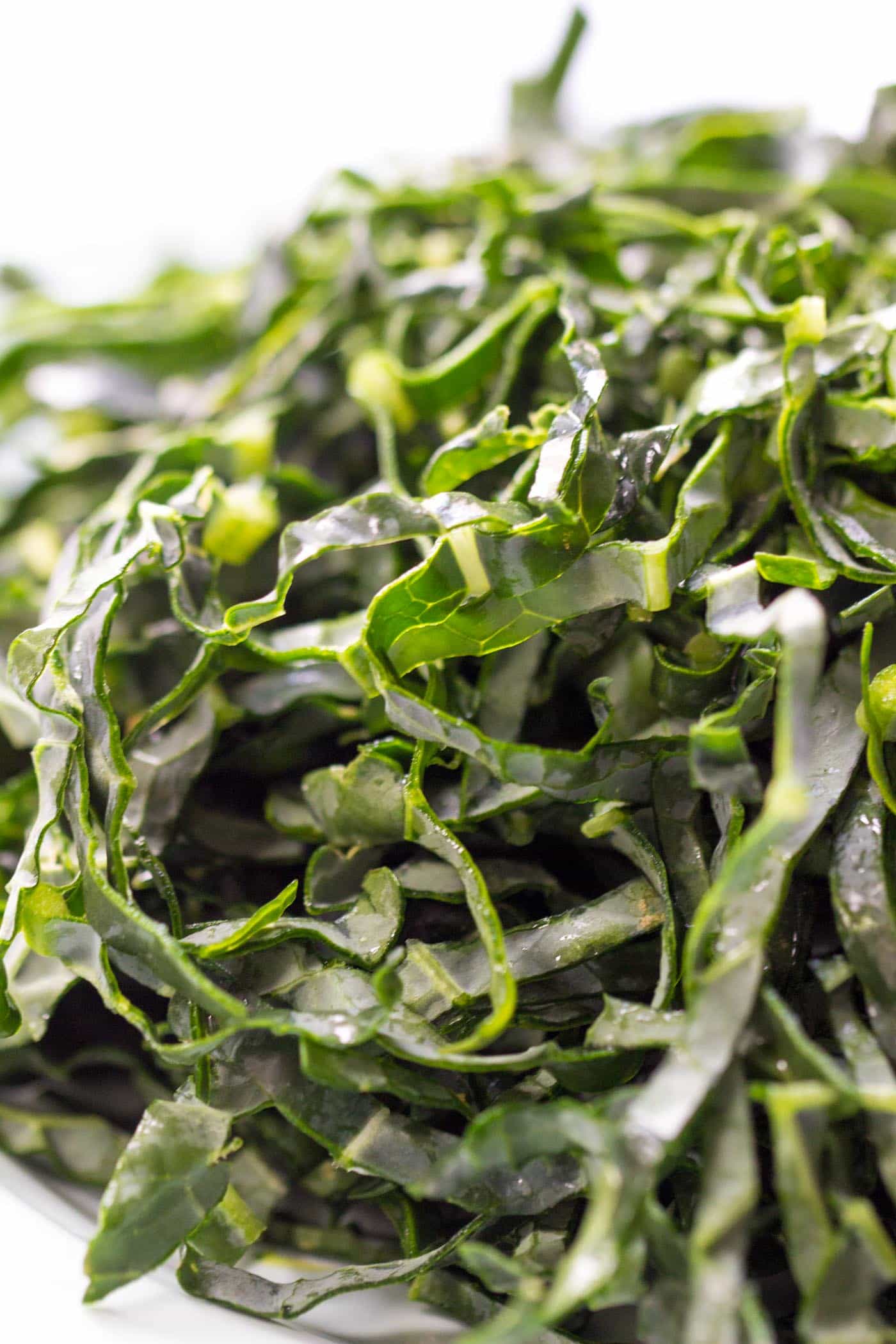 That's right, me, my brother, Matt, my brother's gf Samantha and my parents are all packing our bags and heading for the tropics!
In lieu of gifts, we're going to be spending 12 days on the island of St. Lucia – we rented a villa up in the mountains and plan to do lots of hiking, swimming, beaching and relaxing. I'm not going to lie, it's going to be a bit strange celebrating Christmas with palm trees and no presents (and no big Italian feast), but I know we're just going to love it.
I honestly don't think my family has taken a trip together like this since I was in high school….which was a looooong time ago. So this is going to be quite a treat!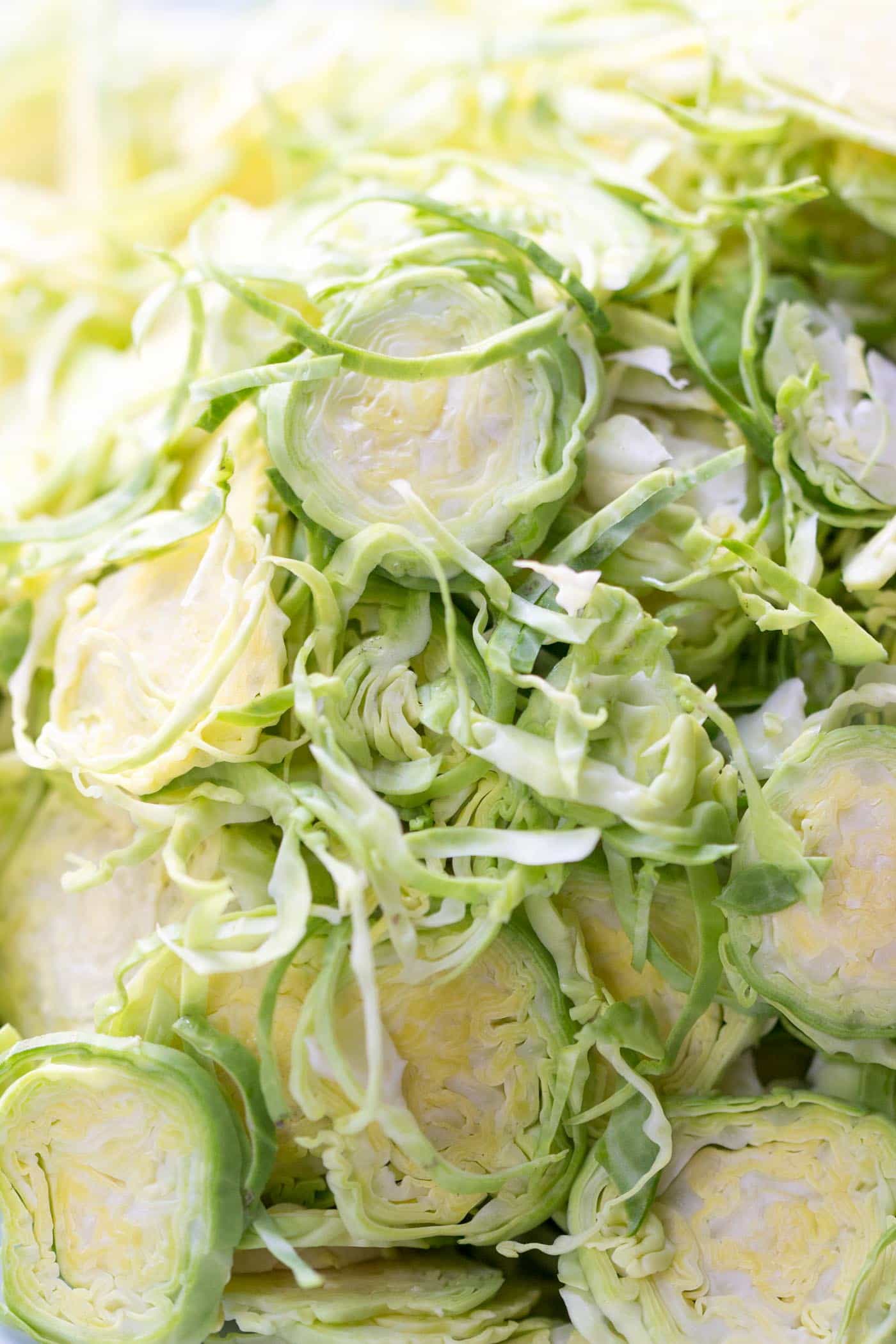 Which brings me to a salad. Particularly, this shredded brussels sprout quinoa salad which is loaded with nutritious ingredients like kale, walnuts, pomegranate seeds, lemon, apple cider vinegar, and honey. It's tangy, sweet, crunchy, filling and perfect for the holidays!
These past few weeks leading up to our trip, I've really been making an effort to fill up on fruits and veggies so that I feel confident in my bathing suit (even though I'm going to be with my family and have nothing to be self-conscious of, it still helps you feel good about yourself). So I've been whipping up big salads like this for both my lunches and dinners because when you have a salad like this, you don't really need anything else!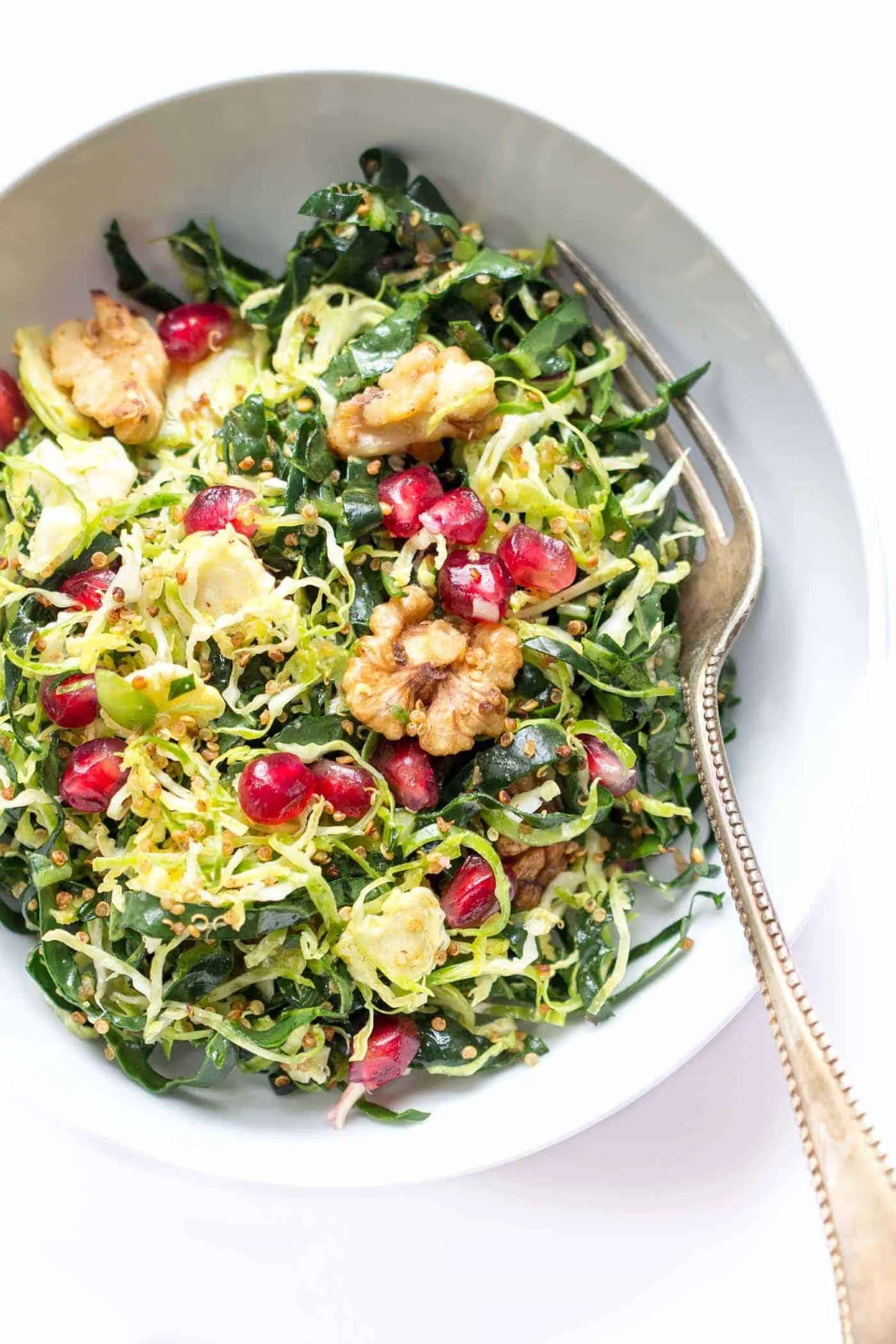 It's filling, it's nourishing, it's detoxifying and it's delicious!
If we were at home and doing our normal Christmas, I would totally bring this salad to enjoy on the side. Plus, it never hurts to sneak in some veggies to a meal that is focused around ravioli! My family can always do with a little more greens.
So whether you're looking for a dish you can serve at Christmas or just want something healthy and detoxifying during this crazy time of year, you're going to adore this salad. And make it soon because pomegranates aren't in season too long and we need to enjoy them as much as possible while we can!
xo Alyssa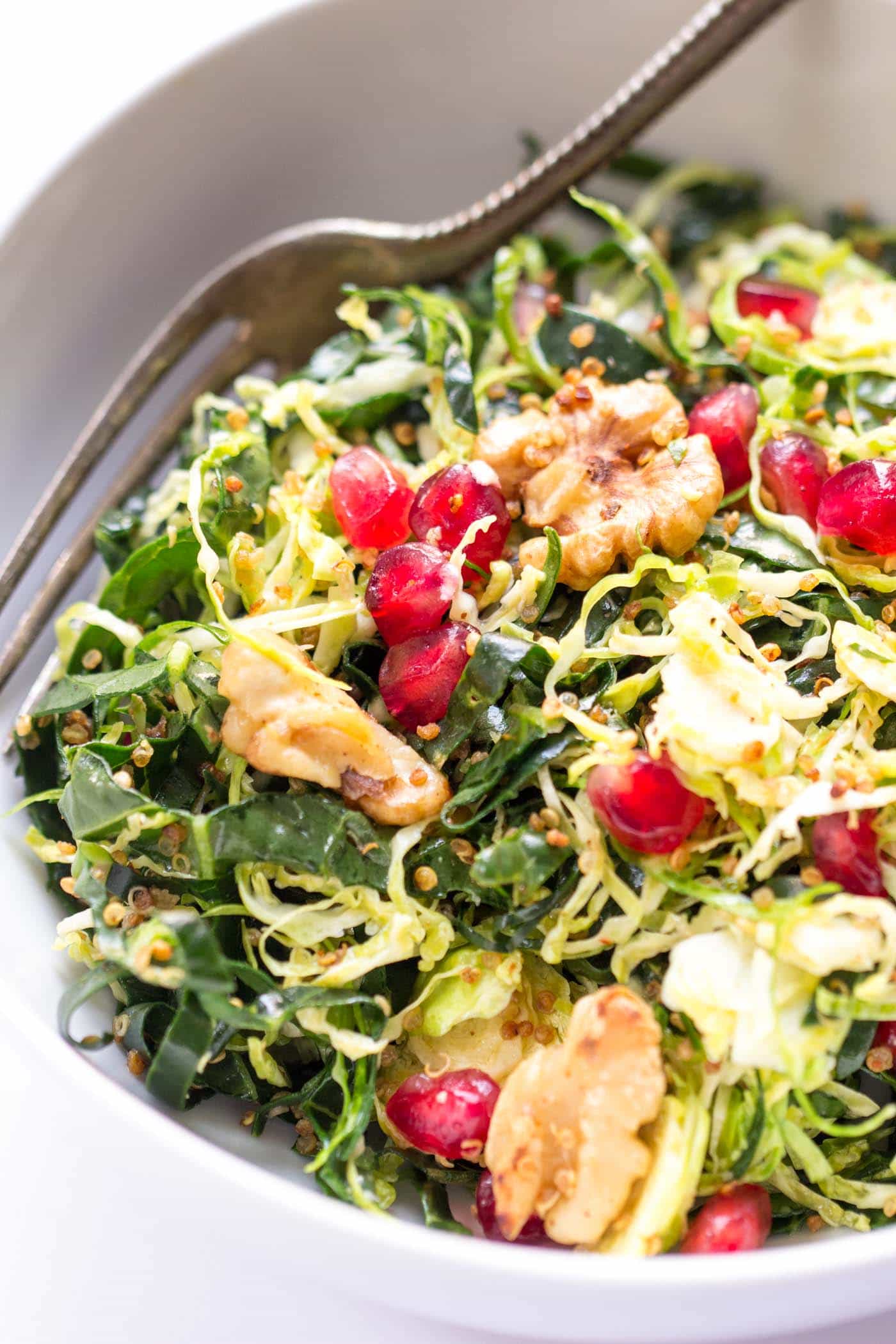 More Delicious Detoxifying Recipes to try:
Kale + Shredded Brussels Sprout Quinoa Salad
this shredded brussels sprout quinoa salad which is loaded with nutritious ingredients like kale, walnuts, pomegranate seeds, lemon, apple cider vinegar and honey. It's tangy, sweet, crunchy, filling and perfect for the holidays!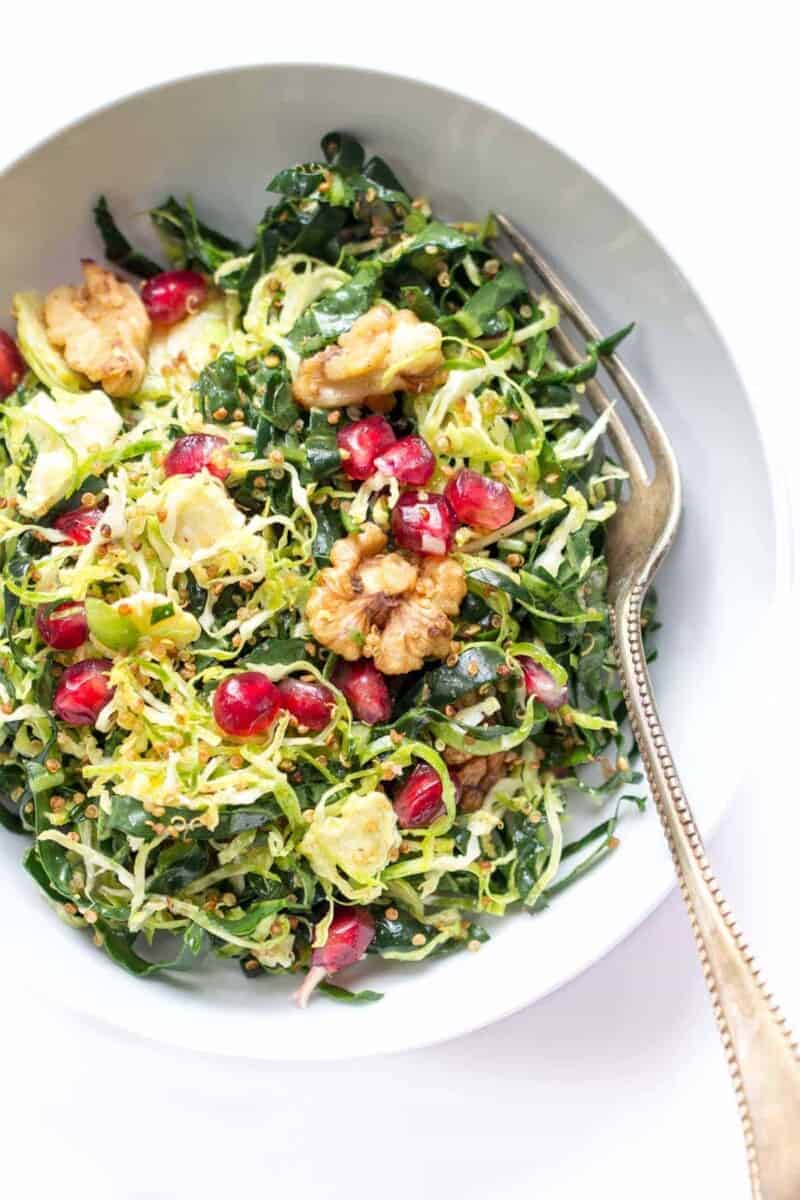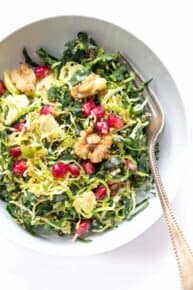 Ingredients
1

lb

brussels sprouts

2

cups

finely chopped kale

any variety; I used lacinato

1/4

cup

cooked quinoa

1/4

cup

walnuts

1/4

cup

pomegranate seeds

1

tablespoon

oil

Juice of 1 lemon

2

teaspoons

apple cider vinegar

1

teaspoon

honey

Salt + pepper to taste
Instructions
Using a mandolin slicer or a sharp knife, shred the brussels sprouts. Place them in a large bowl and add the kale. Set aside.

Add quinoa and walnuts to a dry skillet over medium heat. Toast for 8 - 12 minutes until the quinoa is crispy and the walnuts are golden brown, stirring around every few minutes so they don't burn. (I found that covering the skillet helped)

While the quinoa and walnuts are toasting, whisk together the oil, lemon juice, vinegar and honey. Season with salt and pepper, taste and adjust seasonings as needed.

Once the quinoa and walnuts have cooled slightly, add them, along with the pomegranate seeds, to the bowl with the vegetables and toss to combine. Add dressing and toss to coat.

Serve immediately or allow to sit in fridge for no more than 1 hour.*
Notes
I don't recommend making this salad too far ahead of time. I left mine overnight and the brussels sprouts started to smell pretty funky.
Nutrition
Calories:
179
kcal
|
Carbohydrates:
22
g
|
Protein:
7
g
|
Fat:
9
g
|
Sodium:
115
mg
|
Potassium:
719
mg
|
Fiber:
6
g
|
Sugar:
6
g
|
Vitamin A:
4200
IU
|
Vitamin C:
152
mg
|
Calcium:
112
mg
|
Iron:
2.6
mg
Filed Under: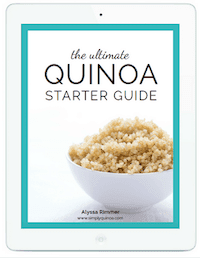 New to cooking quinoa? Grab your FREE Quinoa Starter Guide!
Become part of the Simply Quinoa community and receive weekly emails with exclusive content that I only share in email, as well as my in-depth guide to starting your quinoa journey.