A superfood packed salad that's full of detoxifying ingredients, this detox quinoa salad comes together in minutes and is also gluten-free and vegan.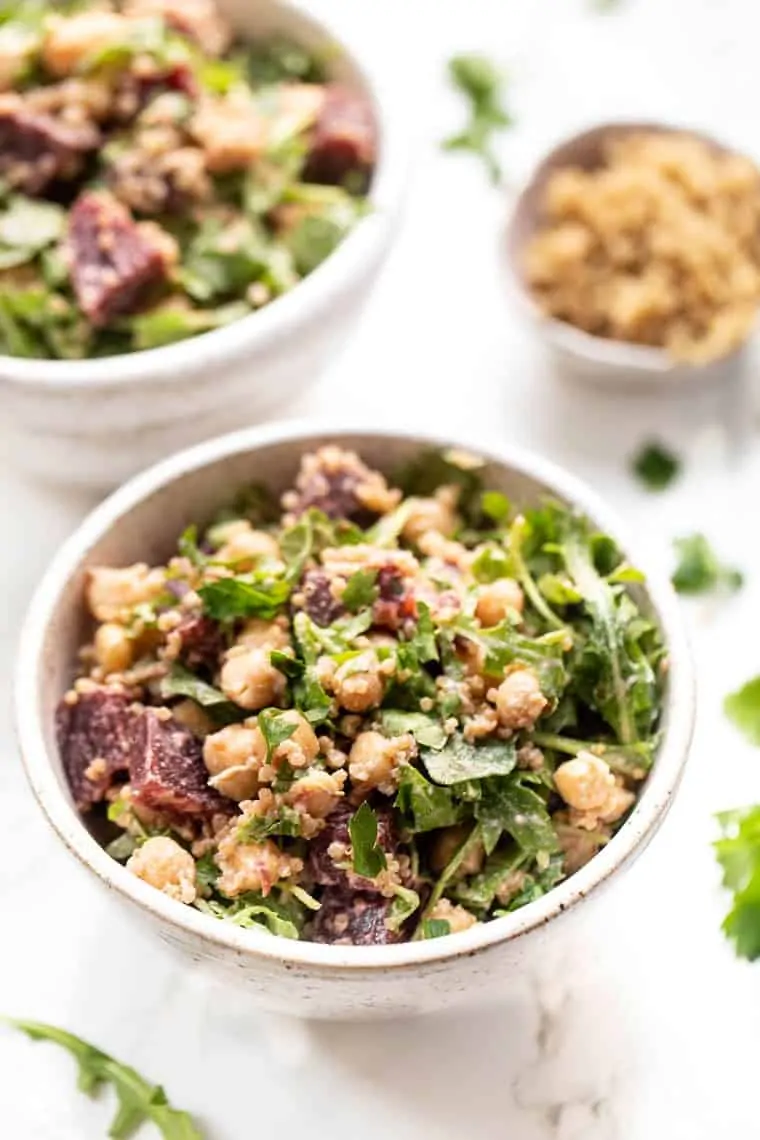 I think the most sacred part about food is its ability to heal. And not in just the curb your cravings kind of way (lookin' at you chocolate!). I mean really heal us from the inside out.
If you remove all the flavors and aromas that come with food and think about its purpose, what I'm saying makes sense. Our ancestors weren't necessarily concerned with how their food tasted. They needed it to survive. Food is our fuel. It's what helps keep our cells and organs working, and without it, we wouldn't be here.
So if and/or when you find yourself reaching for something that isn't so healthy (like chips, cookies, french fries, etc.), try thinking about this: everything we put into our bodies either helps or hinders how we function.
Wouldn't we want to make sure that we're eating the best possible ingredients we can source?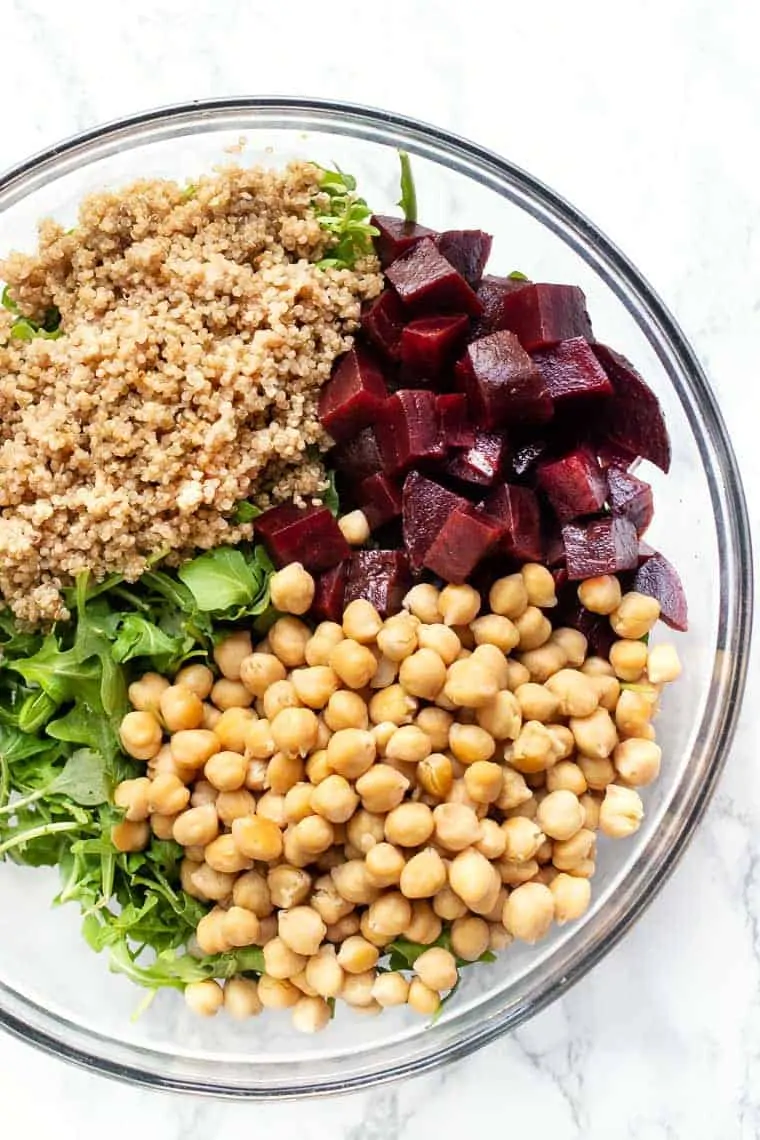 Why This Detox Quinoa Salad Rocks
As this idea continues to grow and gets more attention, and the wellness world continues to expand, we as consumers are getting smarter. We're learning, we're evolving and with that change, the market shifts with us.
You can now find healthy, nutrient-dense food is becoming more accessible to us every day. It's available at airports, gas stations, restaurant menus, even fast food chains. And is almost as if eating healthy has become our new normal. It's embraced and celebrated.
So that's what we're doing with this detox quinoa salad. We're making healthy food taste good, but also deeply nourishing for your body. Here were my goals for creating this salad:
It had to be full of foods that detoxify your body
It had to be a salad that was allergy friendly (this has no: gluten, dairy, meat, egg, corn, soy, nuts, shellfish or sugar)
The ingredients had to be easy to find (read: anyone can make this)
It had to use fewer than 10 ingredients
You have to be able to make it in less than 10 minutes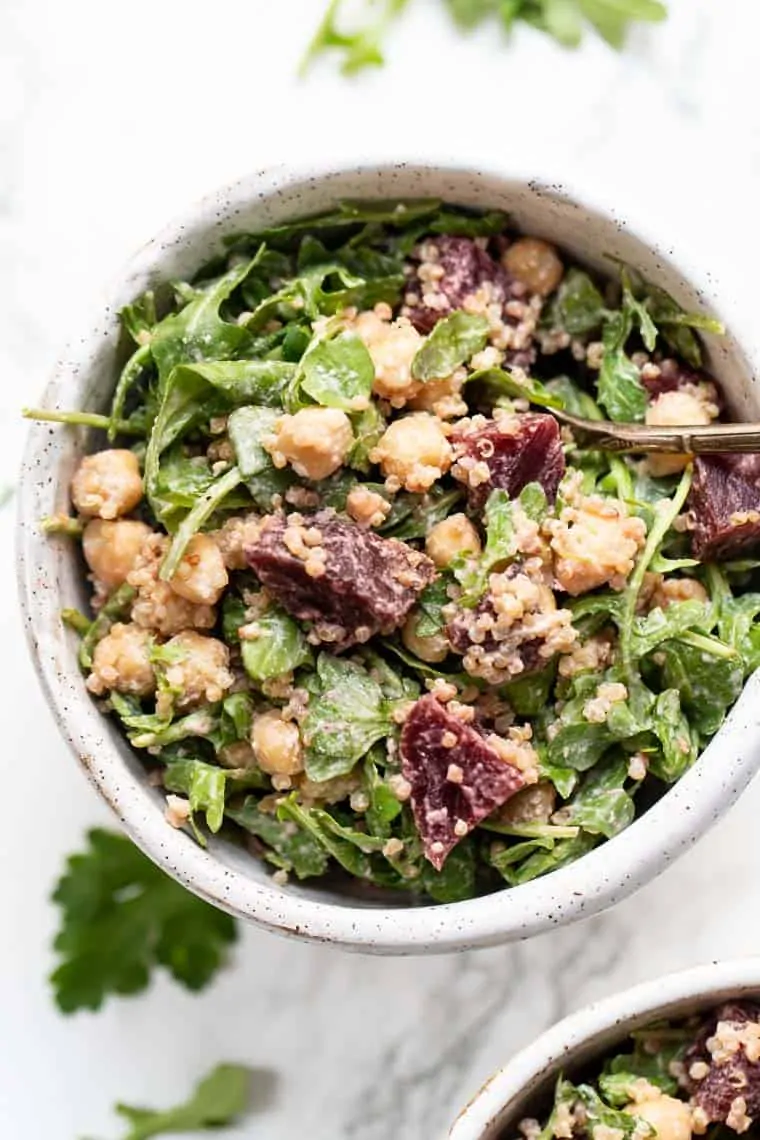 What Foods Help with Detox?
The first was where I needed to do a little homework. I started researching foods that promoted detoxification and after getting a lot of conflicting information out there, I was able to finally narrow down a list of my 8 favorite detox foods.
To me, the term detox really means to support your internal systems that are responsible for detox. You don't need to go on any crazy cleanse or juice fast to detoxify. Your body does it naturally every single day.
So what you can do is support your organs – mainly your liver and digestive system – by feeding/fueling them with foods that help them do their jobs more effectively.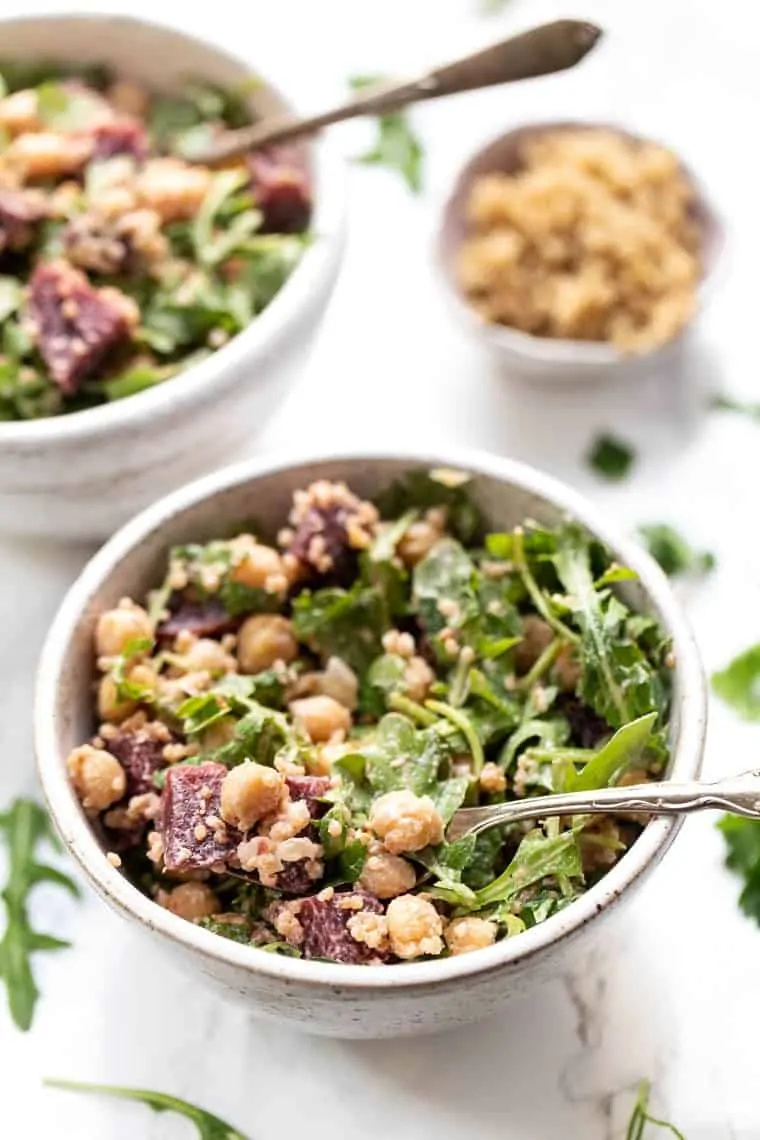 Our Detox-Friendly Ingredients for this Quinoa Salad
After getting my list together it guided me in the right direction and from there I was able to check off those boxes I wanted to get. And while perhaps not every ingredient in this salad is detoxifying, many of them are. From that list (and a few others), I chose to include:
Beets. Beets not only contain many vitamins and minerals (like zinc, iron, and magnesium), but they also support both the gallbladder and the liver. Both organs are critical to our health as they help break down food and remove toxins.
Lemon. Lemon is often on the forefront when we talk about detoxing; and really, who doesn't love a little lemon? Lemons are alkaline-forming, meaning they help to balance out the acidity of many of the other foods we consume. Not only that, but lemon also stimulates enzymes that help to convert toxins into a form that our bodies can more easily release.
Garlic. Garlic is known to repel monsters, right? Well, it works the same with toxins. It's an antiviral, an antiseptic and an antibiotic. It all helps with detoxification.
Arugula. Arugula is part of the cruciferous family of vegetables (think broccoli, kale, cabbage, etc.) which means it's high in fiber and antioxidants. The fiber helps keep you regular which keeps your tummy happy and your digestive system in track.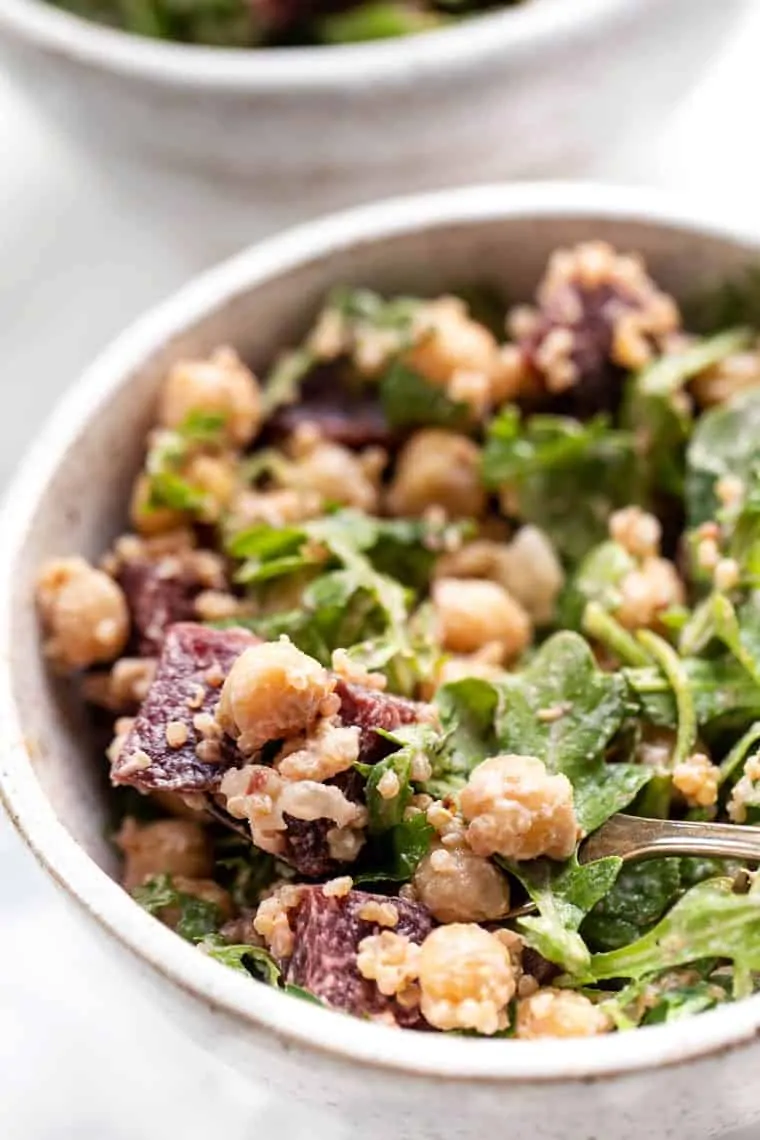 And on top of it all, this detox quinoa salad could not be easier to make. Really, you just toss the main salad ingredients into the bowl – arugula, steamed beets, chickpeas, and quinoa – then whisk up the dressing and toss it all together.
It makes a quick lunch, a perfect side dish or could even be eaten as a main course! Any which way you choose to whip it up, I think your taste buds and your tummy are going to be quite happy!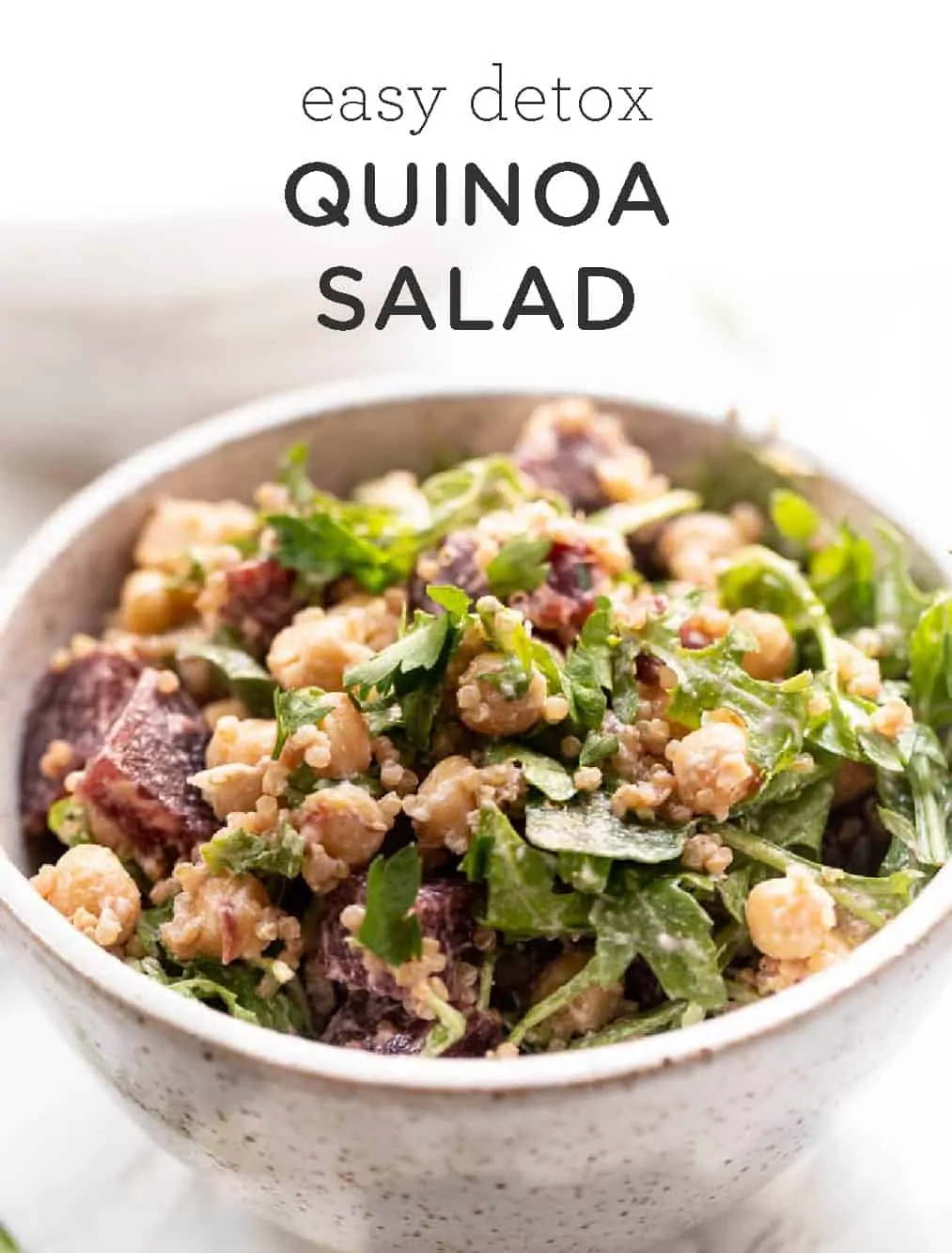 More Detox Recipes to try:
Easy Detox Quinoa Salad
This healthy detox quinoa salad combines beets, chickpeas, arugula and quinoa into a delicious and nutritious salad packed with detoxifying properties!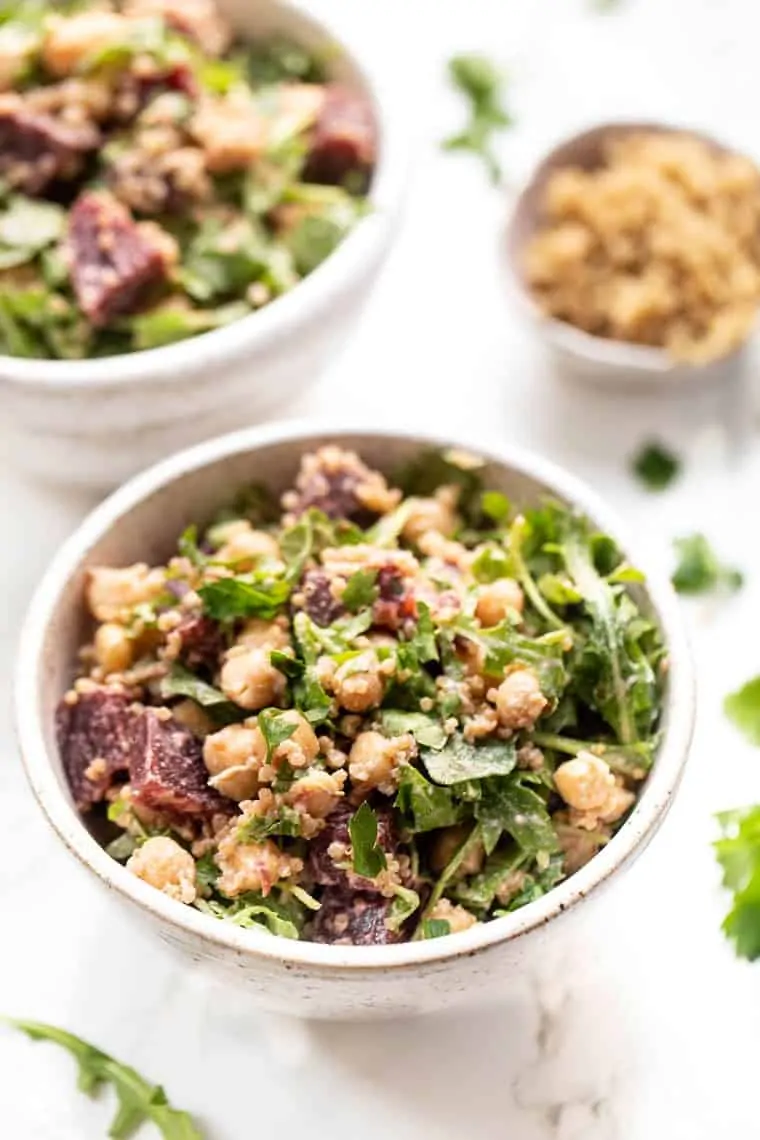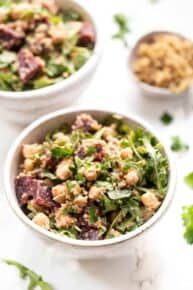 Ingredients
4

cups

arugula

1

cup

cooked quinoa

1

cup

cooked beets

preferably organic, diced
for the dressing:
Juice of 1 lemon

2

tablespoons

tahini

1

tablespoon

coarse mustard

1

garlic clove

, grated

1

tablespoon

water

(if needed)

Salt & pepper to taste
Instructions
In a large bowl, mix together all the salad ingredients.

Whisk together the vinaigrette ingredients. Pour of the salad and toss until everything is combined.

Refrigerate for 30 minutes (optional) or serve immediately.
Nutrition
Calories:
475
kcal
|
Carbohydrates:
71
g
|
Protein:
19
g
|
Fat:
14
g
|
Saturated Fat:
1
g
|
Sodium:
998
mg
|
Potassium:
849
mg
|
Fiber:
16
g
|
Sugar:
17
g
|
Vitamin A:
1035
IU
|
Vitamin C:
9.2
mg
|
Calcium:
188
mg
|
Iron:
5.8
mg
Filed Under: