These healthy coconut macaroons are easy and delicious! Sweetened only with honey, then we use quinoa and combine it with the coconut for a superfood-packed cookie.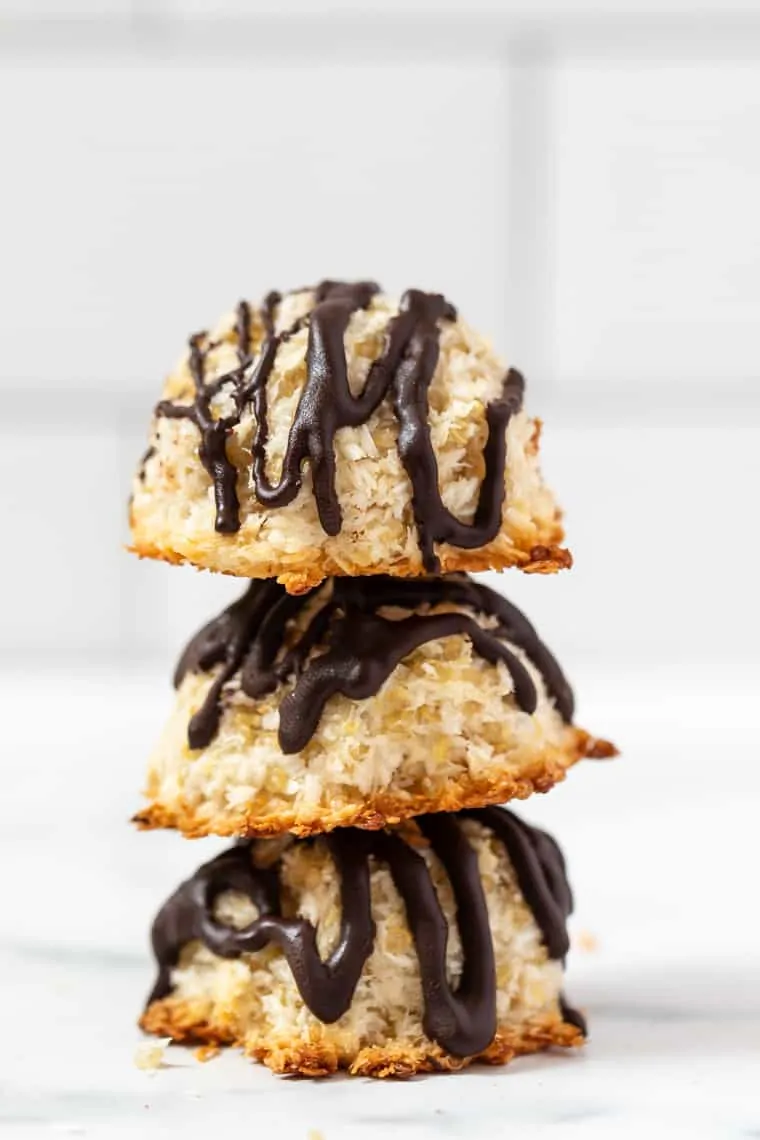 Coconut macaroons have been one of my favorite cookies since going gluten-free. I'm a huge coconut fan, but they're also one of the only cookies that's almost always naturally gluten-free.
I've tried my hand at making them before, and today I've got my new and improved recipe for you. A recipe that's easy to make, that has all the classic flavors and texture of traditional macaroons, but with a healthy twist.
You know I'm all about making better-for-you dupes, so I'm super excited for you to try these healthy coconut macaroons!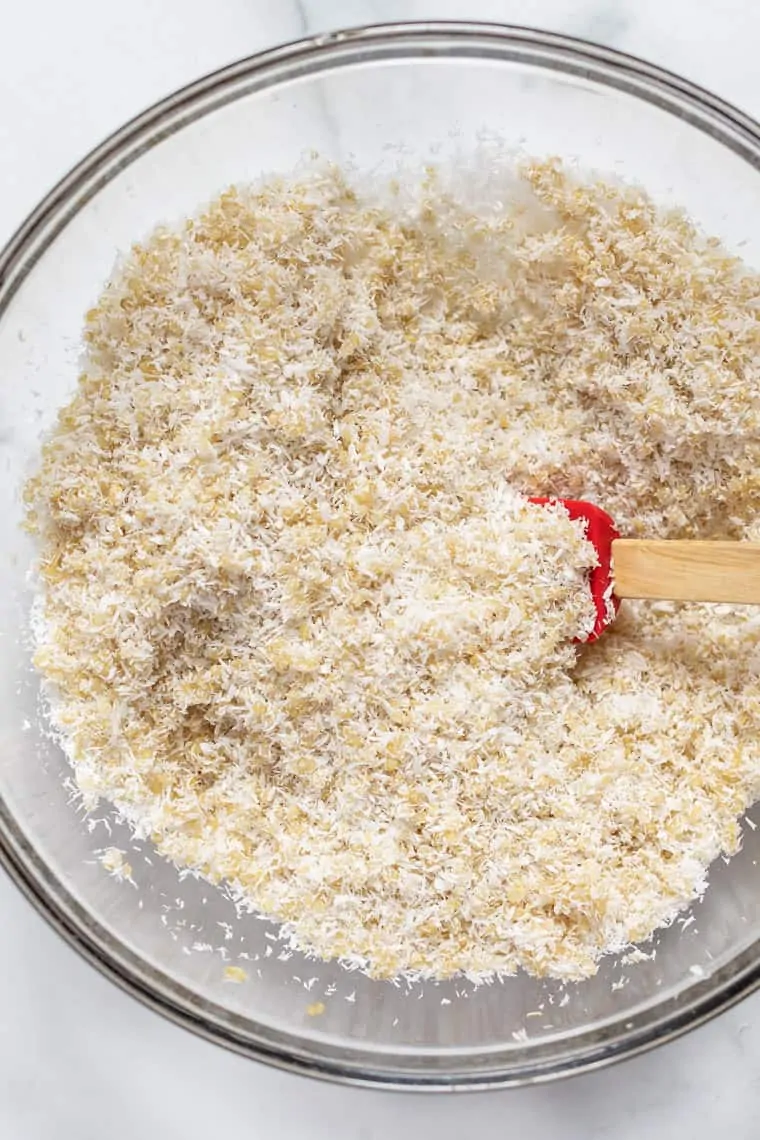 The 5 Simple Ingredients You Need
Traditional coconut macaroons are made with sweetened condensed milk. I wanted to skip that part because a) I don't think these need dairy and b) that makes them too sweet. So instead I kept the sugars as natural as possible and kept the ingredient list to just 5 simple things:
Eggs: we're going to be using whipped egg whites to help hold these cookies together. I don't think there is a vegan replacement, unfortunately.
Honey: since sweetened condensed milk is kind of sticky, I wanted to do something sweet and sticky. The perfect substitute: honey.
Shredded coconut: the main ingredient for coconut macaroons is shredded coconut. I like unsweetened personally!
Cooked quinoa: not a traditional ingredient, but one that adds a really nice texture. Feel free to swap this with more coconut.
Salt: and just to help the flavor pop a little more, add a sprinkle of salt!
We'll also be drizzling on some chocolate at the end, but that's optional. These cookies are perfect without it!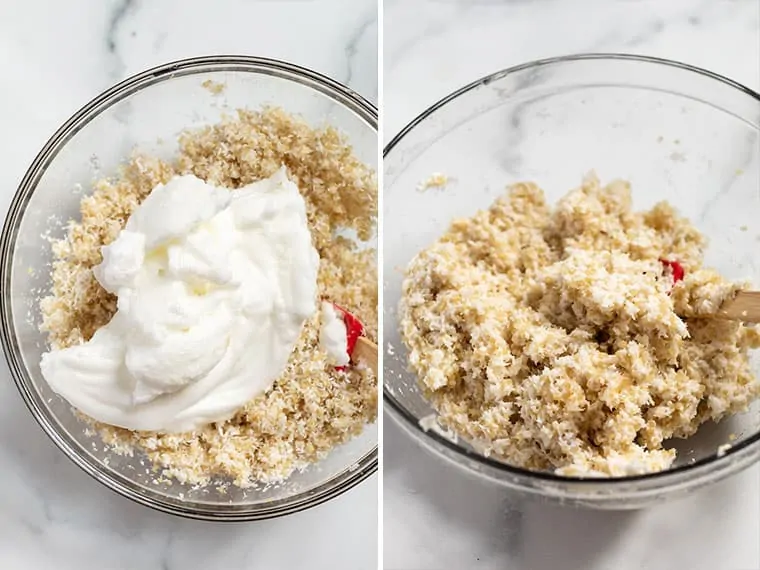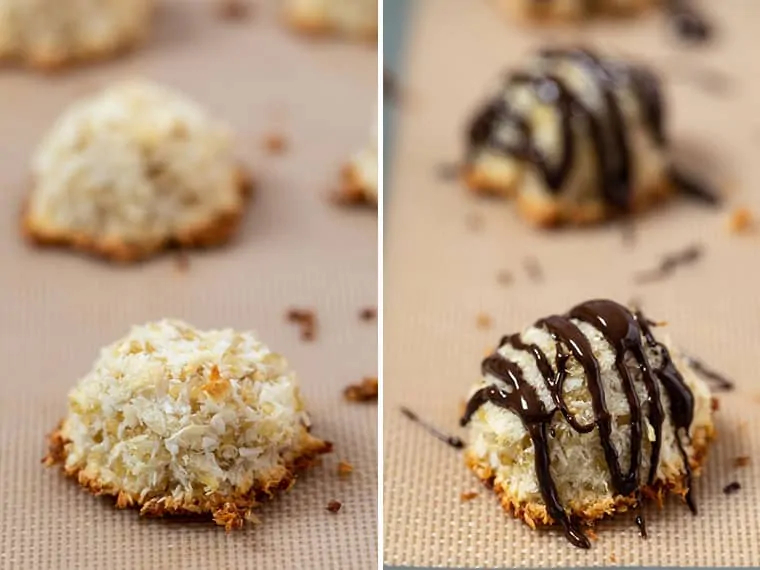 How to Make Healthy Coconut Macaroons
Making these macaroons is super easy. It's just a few simple steps:
STEP 1: Whip
The first thing we'll need to do is whip the egg whites. Add them into a bowl, then using an electric mixer, whip them into stiff peaks. It should take about 2 – 3 minutes.
STEP 2: Mix
Once you've got your egg whites whipped, set them aside. Mix together the rest of your ingredients into the bowl, then fold in the egg whites. You want to be careful not to deflate the egg whites too much. That will help keep the cookies nice and light.
STEP 3: Bake
Now that you've got your dough all mixed up, it's time to bake them. I like to use a cookie scoop to form the dough into little mounds, then place them on my parchment-lined baking sheet (or use a Silpat). Then you'll bake them up for about 20 minutes until they're golden brown!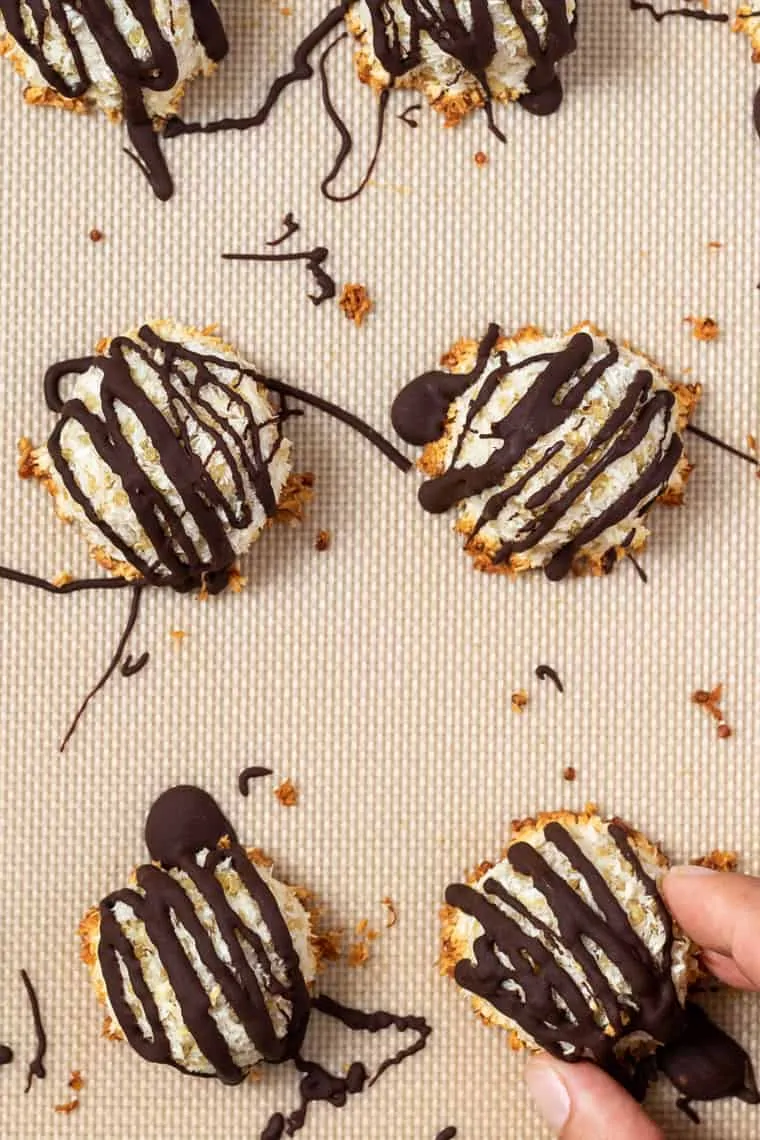 Adding Quinoa to Your Cookies
You know I love adding quinoa into my cookies.
If you have yet experimented with quinoa in your baking, I highly suggest that you do. It will change your world. This healthy little gem brings rich texture and amazing flavor to your treats. Plus it adds nutrition that you don't normally find in baked treats. Everything from cookies, to waffles, to pancakes, to muffins, to cakes, to you-name-it, quinoa rocks it all.
Another reason that baking with quinoa is fun is that quinoa comes in a bunch of different forms that you can play around with. You have cooked quinoa of course (which we used for these quinoa macaroons), you have quinoa flour which is quinoa finely milled into a flour, you have quinoa flakes which are similar to oats AND you have quinoa crispies which are the quinoa form of rice crispies.
Every which way you use quinoa in your baking, I know you're going to enjoy it.
Why You'll Love These Healthy Macaroons
There's so much to love about these little bites of coconut goodness. They're not only easy to make, but they're also:
gluten-free
dairy-free
refined sugar-free
high protein (2g per cookie!)
full of healthy fats
crunchy on the outside, soft on the inside
reminiscent of the classic, but good for you!
And of course, they also taste delicious. I'm so excited for you to try this recipe and can't wait to hear what you think. Make sure to tag me if you make them – @simplyquinoa on IG!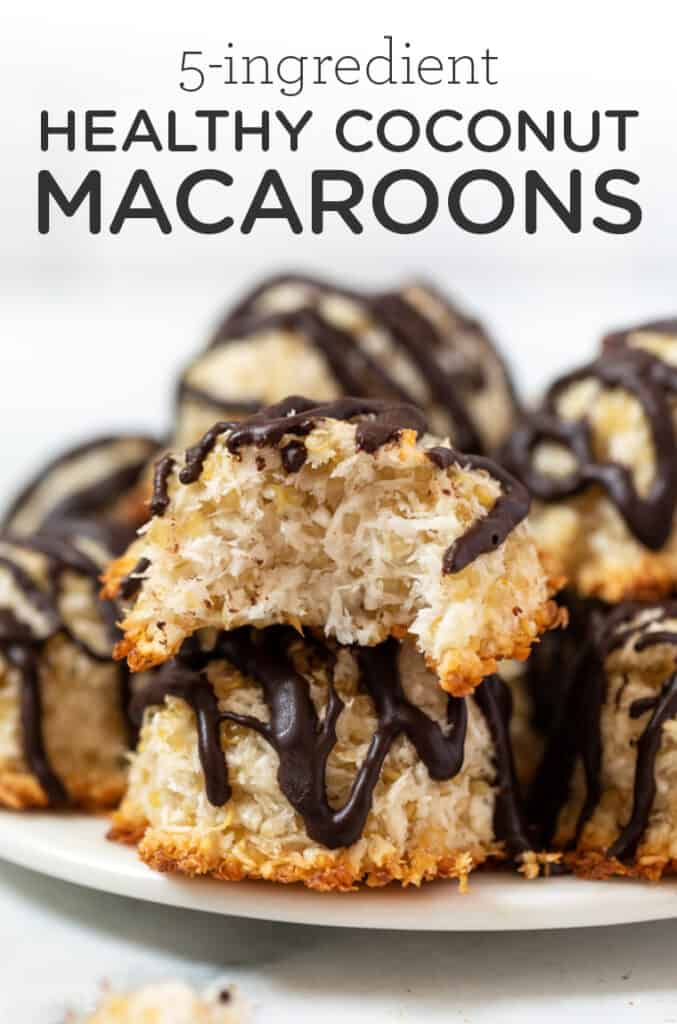 More Healthy Quinoa Cookies to try:
Healthy Coconut Macaroons
These healthy coconut macaroons are easy and delicious! Sweetened with honey, then mixed with quinoa for a tasty superfood-packed cookie.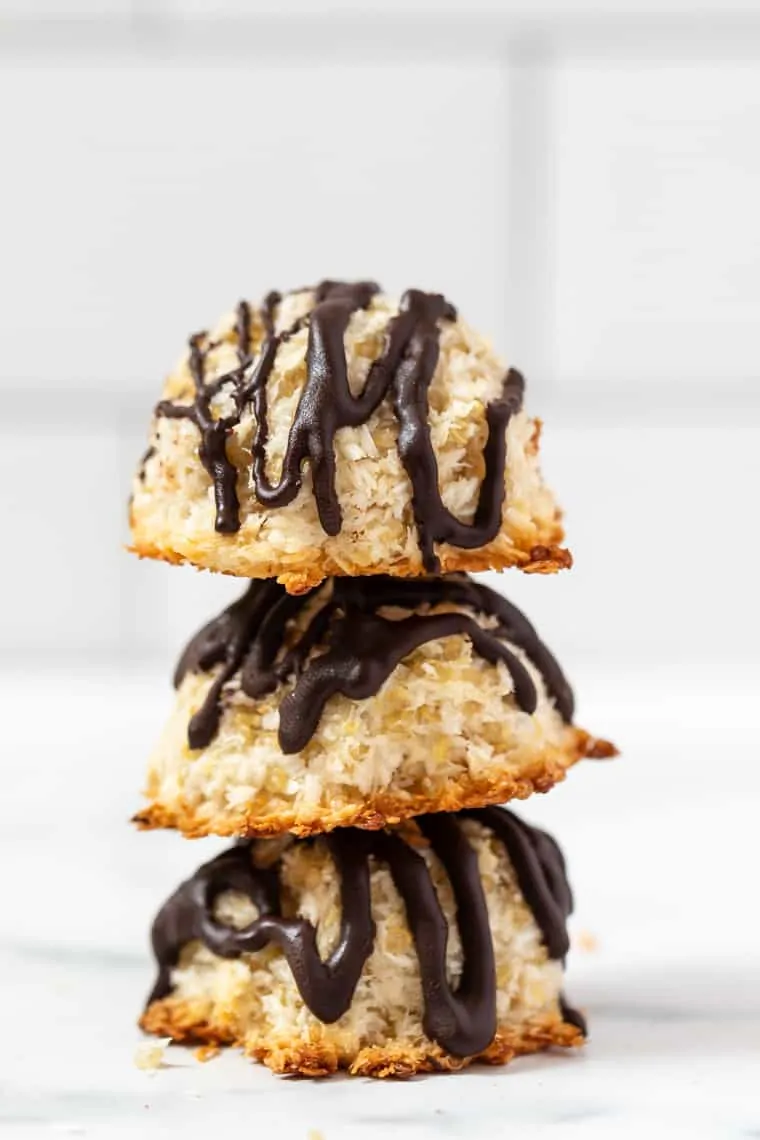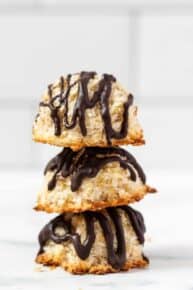 Instructions
Preheat the oven to 325ºF and line a baking sheet with a non-stick baking mat or double parchment paper (the bottoms are sensitive and will burn easily).

Using an electric mixer, beat the egg whites to stiff peaks, about 2 - 3 minutes. Set aside.

Mix the honey, coconut, quinoa and salt in a large bowl. The honey might be a bit tough to stir together, but continue to stir and it should get fairly evenly distributed.

Transfer the egg whites into the bowl and fold everything together. Do this step gently so as not to deflate the egg whites completely.

Using a cookie scoop (or two spoons), scoop the coconut macaroon dough onto the baking sheet. You will probably need to form the cookies into little round half domes with your fingers slightly.

Bake in the center of a warm oven for 20 - 25 minutes until the cookies are nice and golden brown.

I like to let them cool in the oven – with the door propped oped – for at least 30 minutes. If that's not an option, let them cool for at least 10 minutes or until completely cooled.

Melt the chocolate chips in the microwave. Drizzle on top of the macaroons. Enjoy!
Nutrition
Serving:
1
cookie
|
Calories:
124
kcal
|
Carbohydrates:
13
g
|
Protein:
2
g
|
Fat:
8
g
|
Saturated Fat:
6
g
|
Cholesterol:
21
mg
|
Sodium:
16
mg
|
Potassium:
78
mg
|
Fiber:
2
g
|
Sugar:
9
g
|
Vitamin A:
42
IU
|
Vitamin C:
1
mg
|
Calcium:
14
mg
|
Iron:
1
mg
Filed Under: