Healthy tahini brownies made with quinoa flour. These brownies are soft and gooey, but also packed with good-for-you ingredients. Gluten-free & vegan too!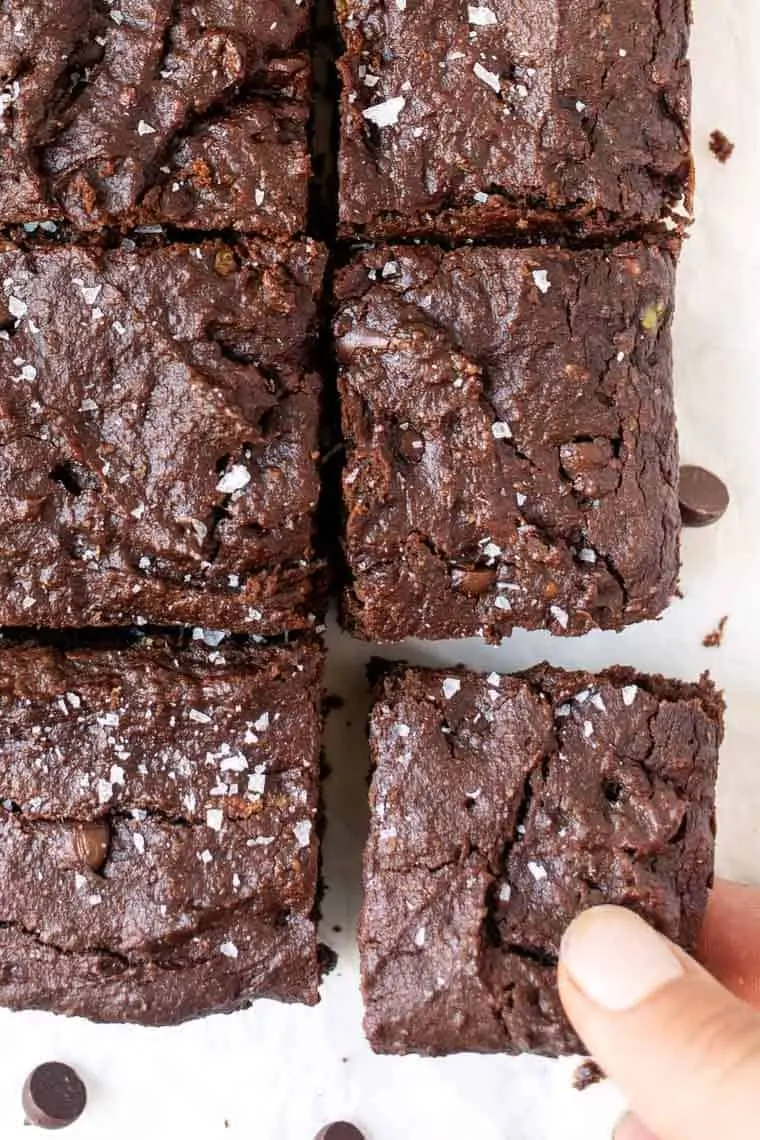 For the past week, I've been feeling a little under the weather, so haven't been my usual, cheery self. I've been drinking lots of tea, eating lots of soup and baking.
For some weird reason, baking is something I like to do when I'm not feeling well. I think it's partly because I just stay home and it fills the time, but it's also really soothing for me. So while I've been wrapped in my scarf inside, I've also been busy creating yummy new recipes for you!
First up…brownies. But these aren't just any old brownies. These brownies are healthy (duh) and made with tahini. I know, that sounds super strange, but it's actually incredible!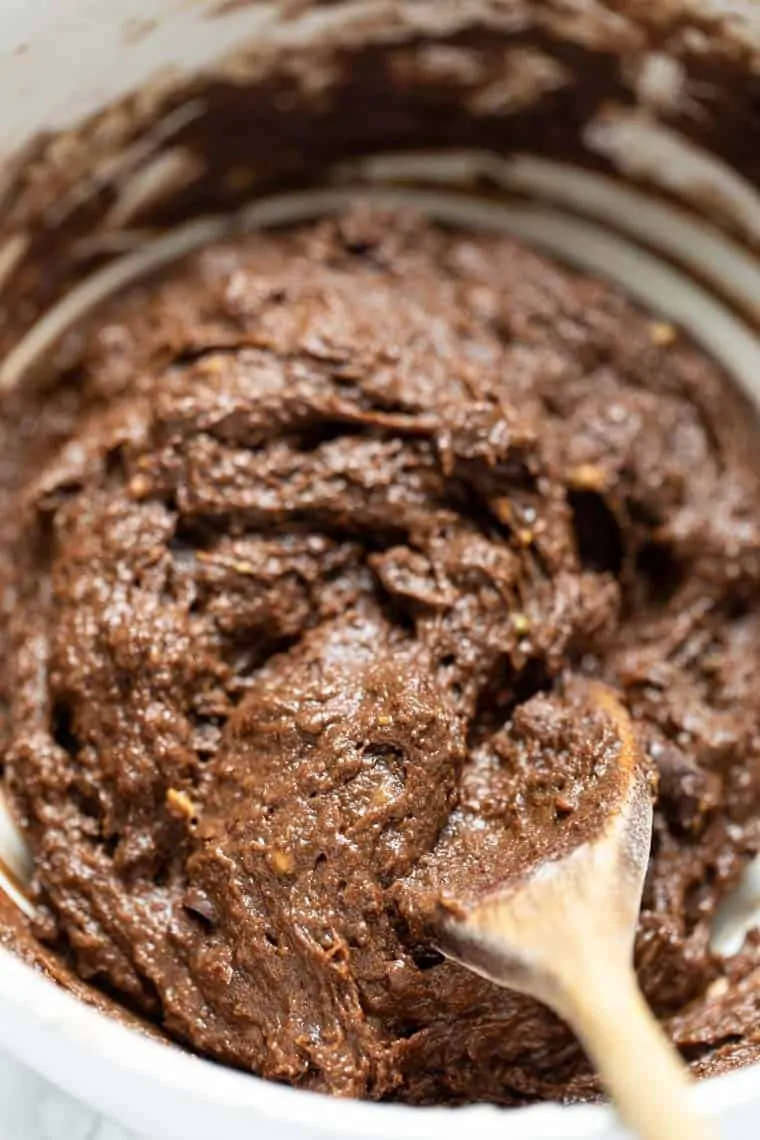 What is Tahini?
Tahini, if you're unfamiliar, is sesame seed paste (or butter). Think of it like almond butter but made from sesame seeds. Unlike most other nut butter, tahini doesn't have a naturally "sweet" flavor. Most often you'll see it in savory dishes and I use it mostly for dressings.
Tahini is most commonly used in Middle Eastern, Mediterranean, and some North African cuisines. You'll find it as a condiment, but it's also one of the main ingredients in hummus.
However, even though tahini is usually used in savory recipes, it can lend itself well to sweet dishes. Halva, for example, is a classic dessert that is made mostly from tahini and sugar.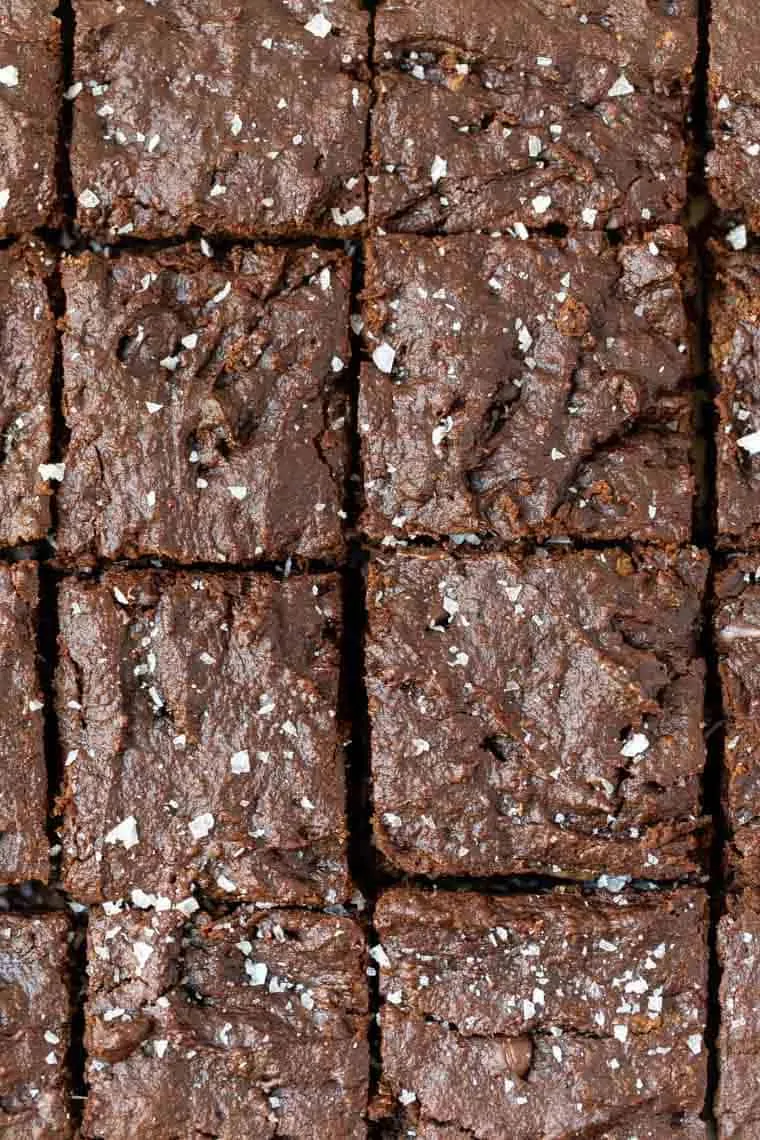 How to use Tahini in Dessert Recipes
What's great about tahini is the flavor. It's incredibly nutty, with a slight bite to it, so when you combine it with sweetness, it becomes a truly balanced dish.
Since tahini is a seed butter, you can use it 1:1 for other nut and seed butter. But, if you're new to tahini, or aren't a huge fan of the taste, I would start by using it in your desserts sparingly. Try replacing just a tablespoon at a time until you're more accustomed to the flavor.
And you can pretty much use them in everything. I love using tahini in cookies, muffins and yes, brownies!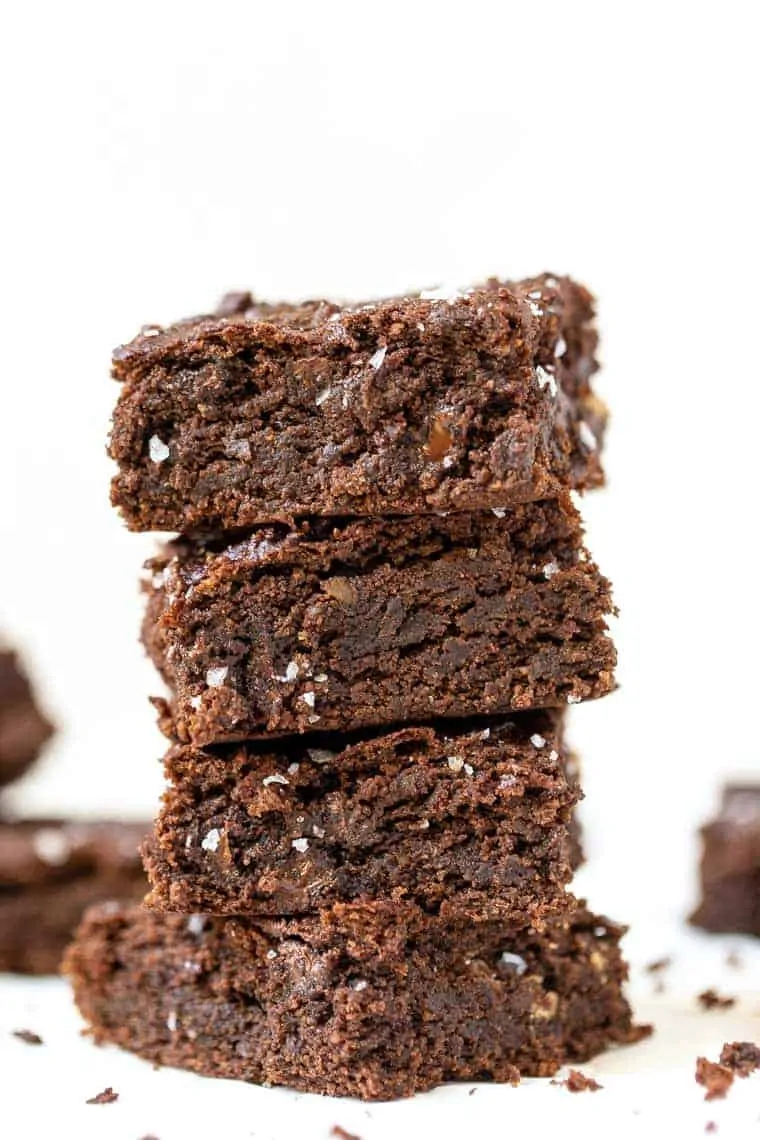 Easy Vegan Tahini Brownies
Making vegan brownies is actually easier than it might seem. In standard recipes, we'd just need to replace the eggs and butter with vegan alternatives.
We're doing that with the eggs by using flax eggs, but I'm not the biggest fan of using vegan butter in my recipes because more often than not, it's filled with things I don't really want to eat. So my solution?
BANANA and AVOCADO! Both are incredibly creamy, add moisture to the brownies, but also help hold them together. Plus they're way healthier than vegan butter so that's a win in my book!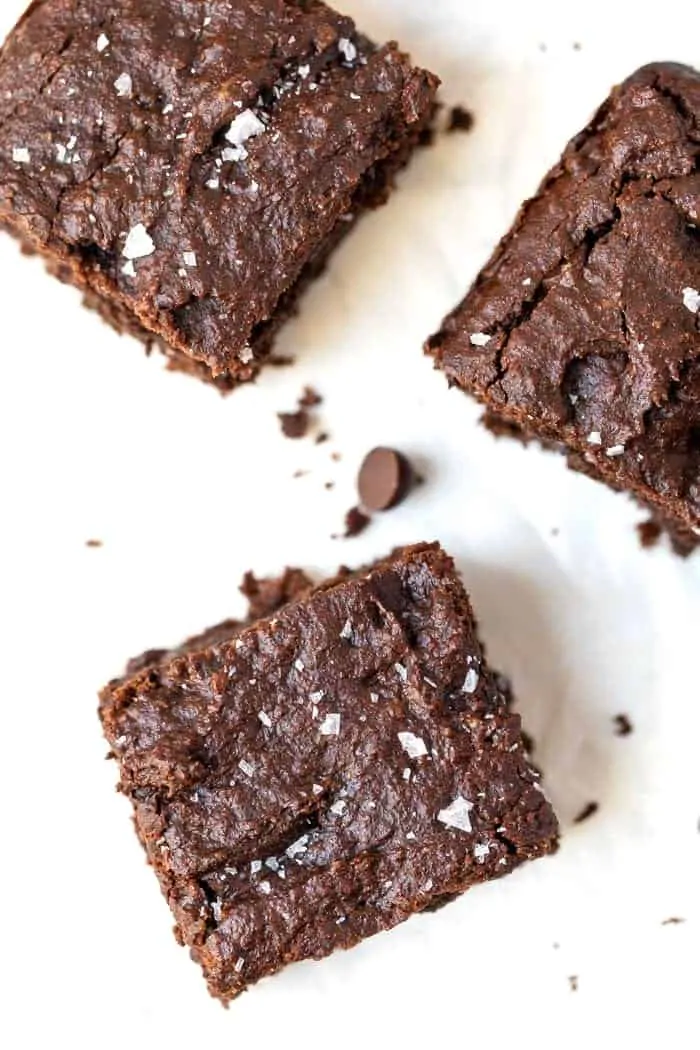 Healthy Quinoa Flour Brownies
I've made a few different brownie recipes on the blog before, but today's I'm especially excited about because it uses quinoa flour as the main ingredient. I love using quinoa flour in baking because it's high in protein and fiber, but also has a really nice texture.
One thing to keep in mind is that quinoa flour can have quite a strong flavor, especially if you're sensitive to it.
I've been using it for so long that I don't really notice the bitterness – not to mention I think it bakes out a bit – but if you do find that your baked goods have a strong quinoa flavor that you just don't love, toast it!
I wrote a post about how to toast quinoa flour and even though it's not something I do often (mostly out of sheer laziness), I will say it has an incredible flavor and would be so delicious with these brownies. When quinoa flour is toasted it has this rich nuttiness that reminds me of peanut butter almost.
And it would pair so nicely with the chocolate and tahini that we're using in these brownies!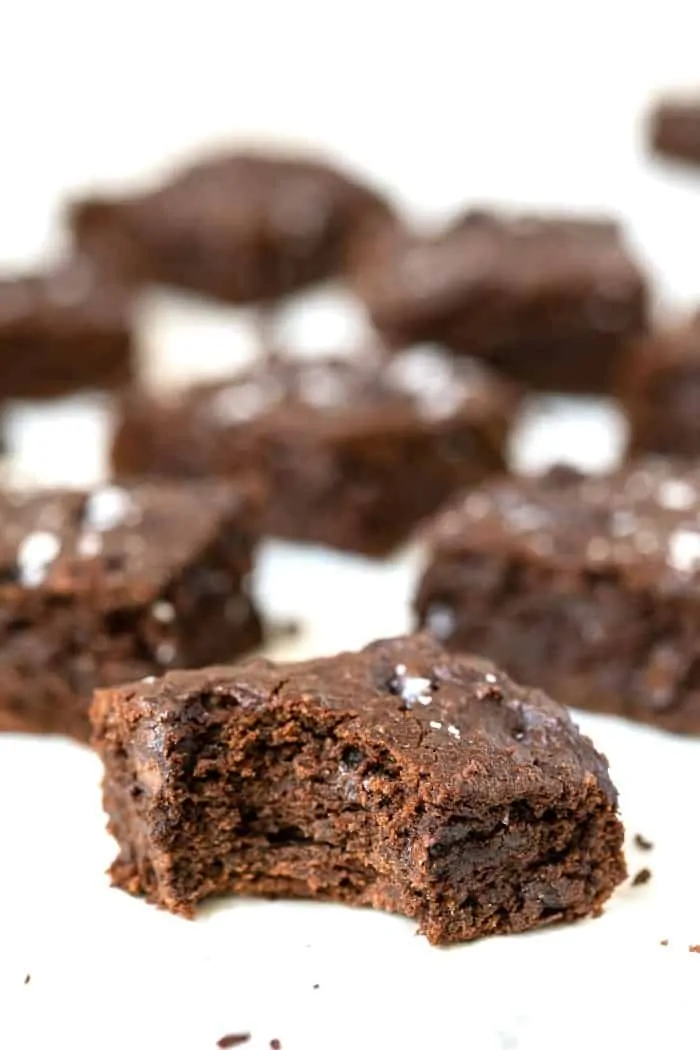 What to add to Brownies
Finally, let's chat add-ins! I kept these tahini brownies simple and plain, but you can definitely feel free to add in some extra ingredients. Here are a few ideas:
Dark chocolate chips/chunks
Chopped walnuts or pecans
Freeze dried fruit like raspberries or strawberry
Coconut flakes
A simple sprinkle of sea salt
Or pretty much anything else that strikes your fancy!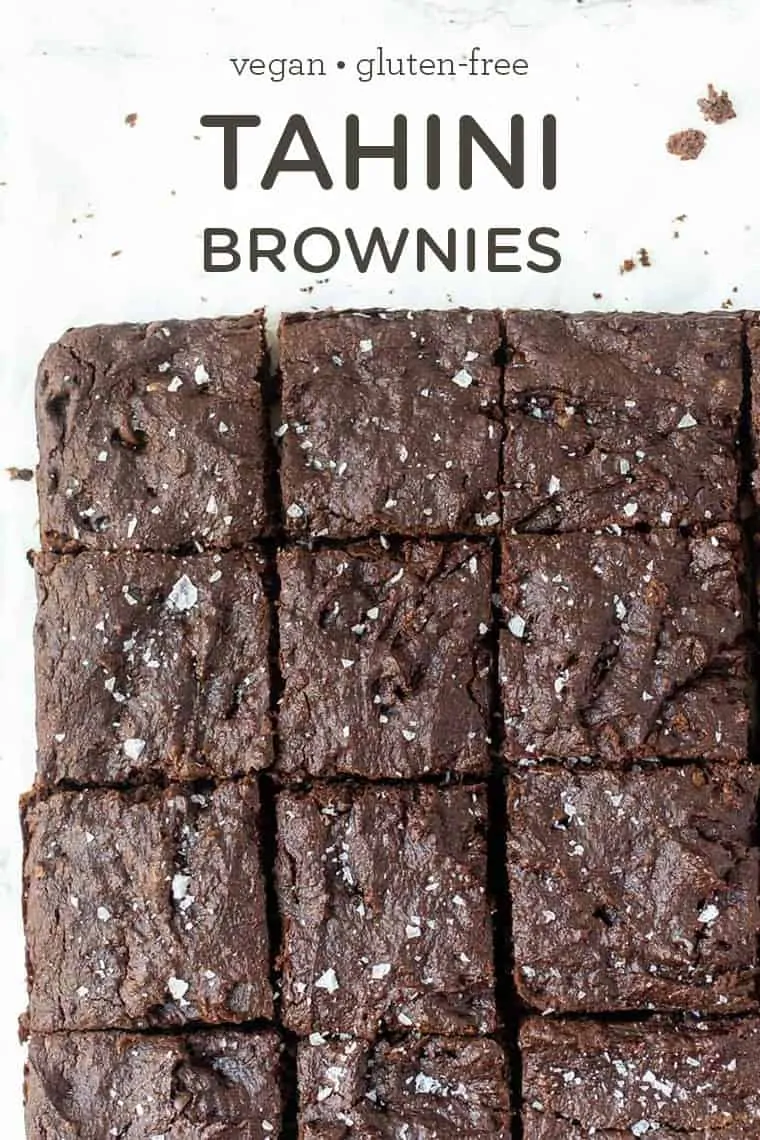 No matter what, you're going to love these healthy, wholesome, high protein, vegan, and gluten-free tahini brownies. They might be free of a lot, but they definitely don't sacrifice on taste or flavor. They're full of rich dark goodness, are moist and perfectly gooey. They'll get devoured in no time!
More Healthy Chocolate Dessert Recipes:
Quinoa Flour Tahini Brownies
A healthy vegan brownie recipe that's made with quinoa flour! These amazing tahini brownies are fudgy, chocolatey, with a fun nutty flavor twist.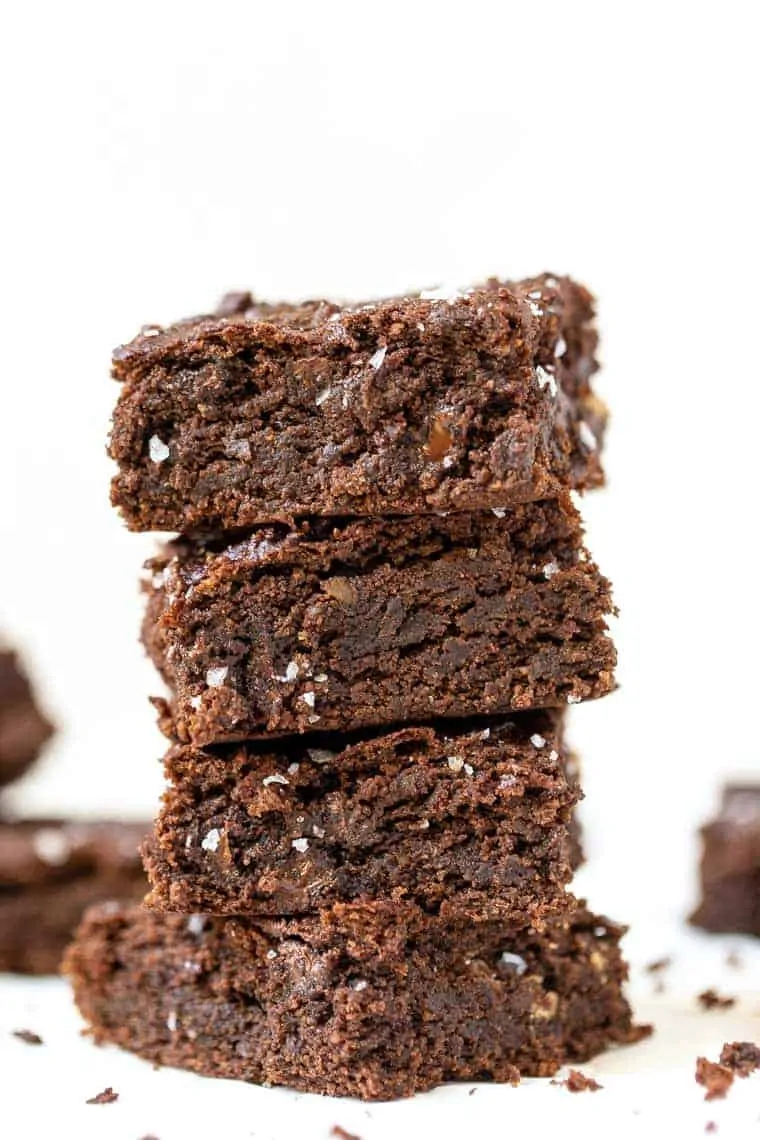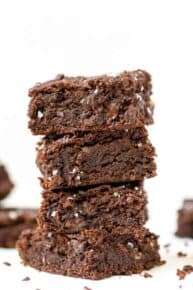 Instructions
Preheat oven to 350 degrees F. Line an 8 x 8 baking pan with parchment and set aside.

Beat together banana, avocado, tahini, sugar, eggs and vanilla until smooth and creamy.

Add to quinoa flour, raw cacao, baking soda and salt, mixing until incorporated. Fold in chocolate chips.

Transfer batter to the prepared baking pan. Press it into the corners of the pan using wet hands or a pastry roller. Bake on the center rack for 20 – 24 minutes.

Remove from the oven and let the brownies cool in pan completely before slicing into squares. (*very important or they'll be crumbly!!*)

Store in a sealed, airtight container for optimal fudginess.
Nutrition
Calories:
117
kcal
|
Carbohydrates:
13
g
|
Protein:
2
g
|
Fat:
6
g
|
Saturated Fat:
1
g
|
Sodium:
52
mg
|
Potassium:
123
mg
|
Fiber:
1
g
|
Sugar:
5
g
|
Vitamin A:
15
IU
|
Vitamin C:
1.2
mg
|
Calcium:
28
mg
|
Iron:
0.9
mg
Filed Under: