These quinoa energy balls might taste like candy, but they're actually filled with nutritious ingredients. They're also naturally gluten-free and vegan too!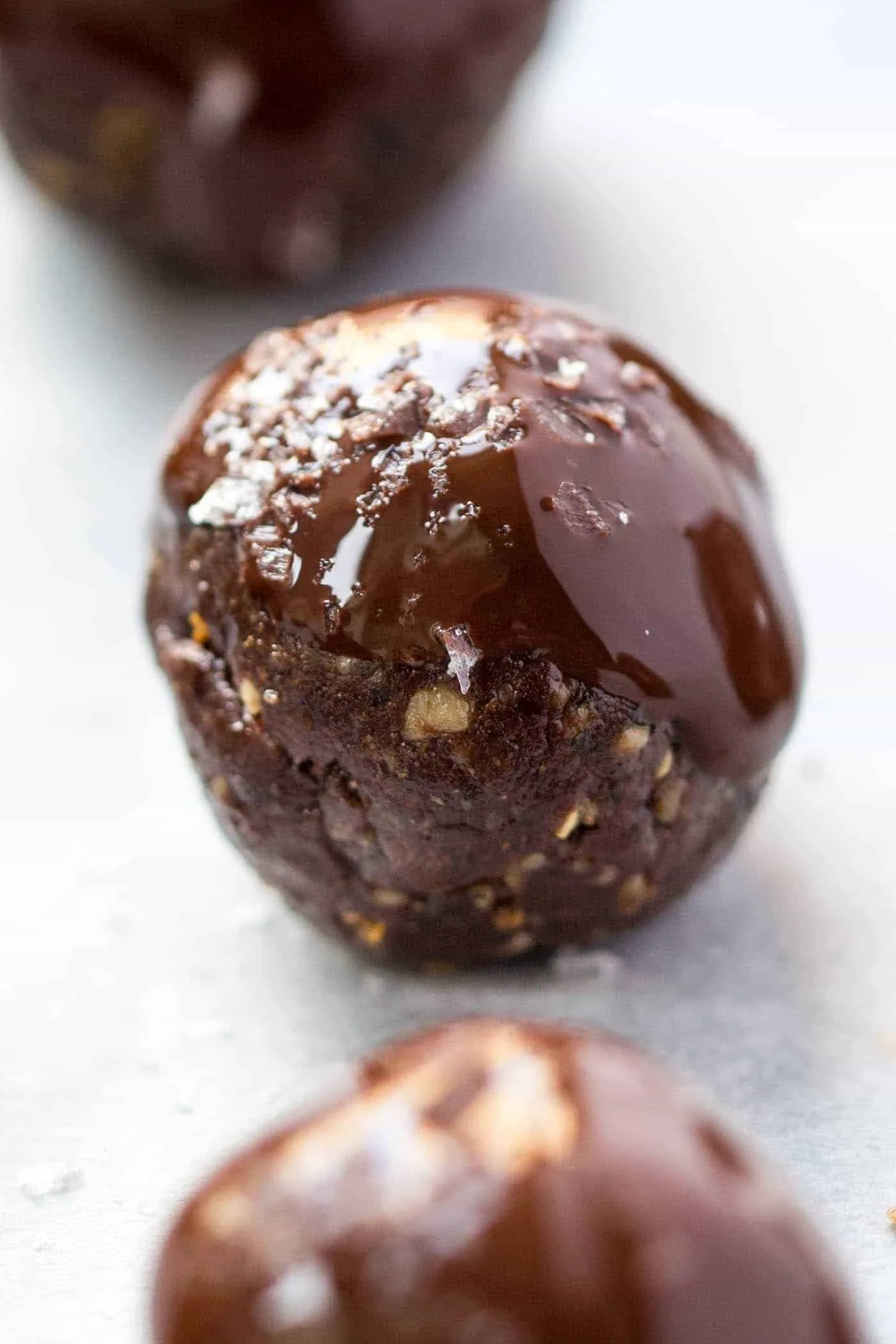 One of my New Year's goals/intentions was to nix my after-dinner sweets habit.
It's not like I'm downing a pint of ice cream or anything, but I do like to have something sweet every night. Usually, it's in the form of high-quality dark chocolate, but sometimes it's an energy ball or two, or maybe some banana ice cream.
It's been a habit of mine for years, one that I actually got from my mom, and there's something kind of comforting about it. It's become almost like a ritual; I always make a cup of tea, munch on my treat and wind down before bed. I mean I know there are worse things that I could be consuming, but still, I do feel like it's probably increasing my dependency on sugar.
Honestly though? I've just done a really bad job of keeping my promise to myself. Oops!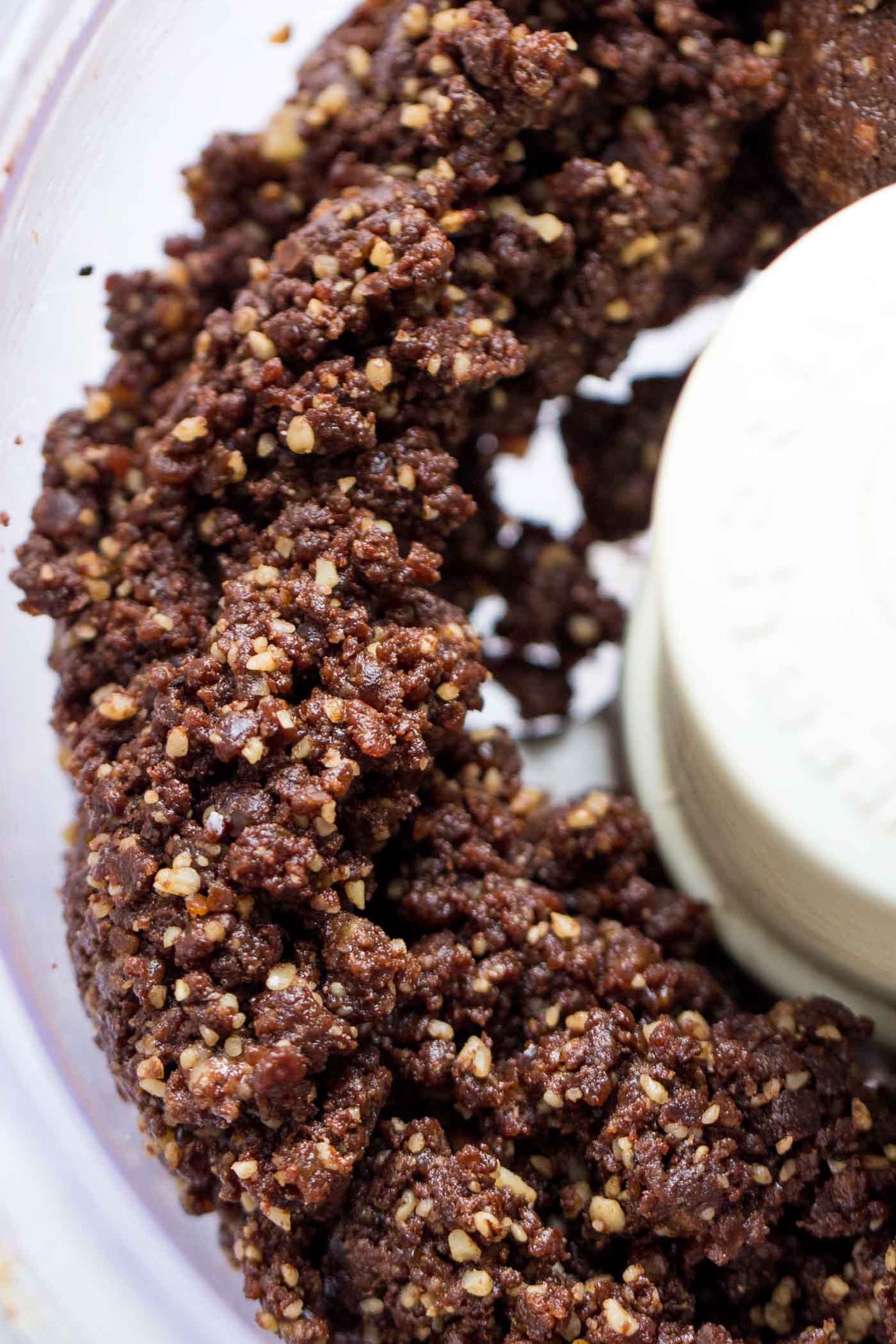 That's why I like to make sure that I always have healthy things in our freezer and pantry. As long we're keeping natural, clean and nutritious sweets, I don't really feel bad about having one from time to time.
While I tend to find myself reaching for a few squares of dark chocolate, these dark chocolate energy balls have been in constant supply. Plus, Matt, who almost never has dessert, is liking them too which means I'm making them even more often.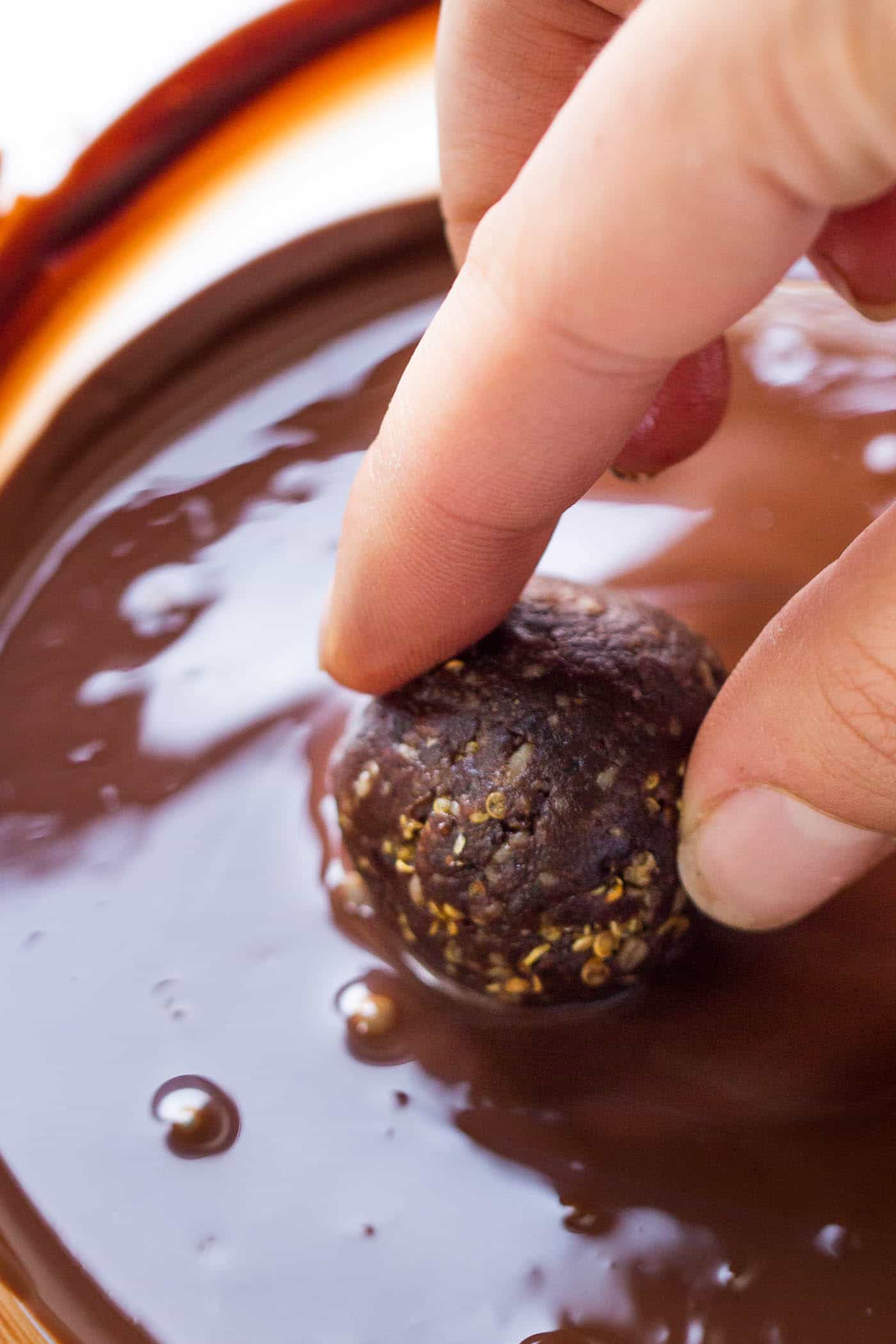 Also…another funny story about this particular recipe? (and yes, this is kind of a non-sequitur…)
My cousin who moved to Manhattan last fall joined a cookie swap at her work over the holidays. Everyone was tasked with bringing in a batch of cookies and being that my cousin is also really into clean eating, she wanted to come over and bake together. But when we started brainstorming, we decided that rather than baking we would make energy balls and call them cookies!
As long as they were sweet and chocolatey we figured no one would know the difference.
The best part of the whole thing? Her cookies were the first to be gone! Out of all the other options – like chocolate chip, classic sugar, thumbprint, peanut butter kiss, etc. – the dark chocolate coated energy balls were the most popular. How cool is that!?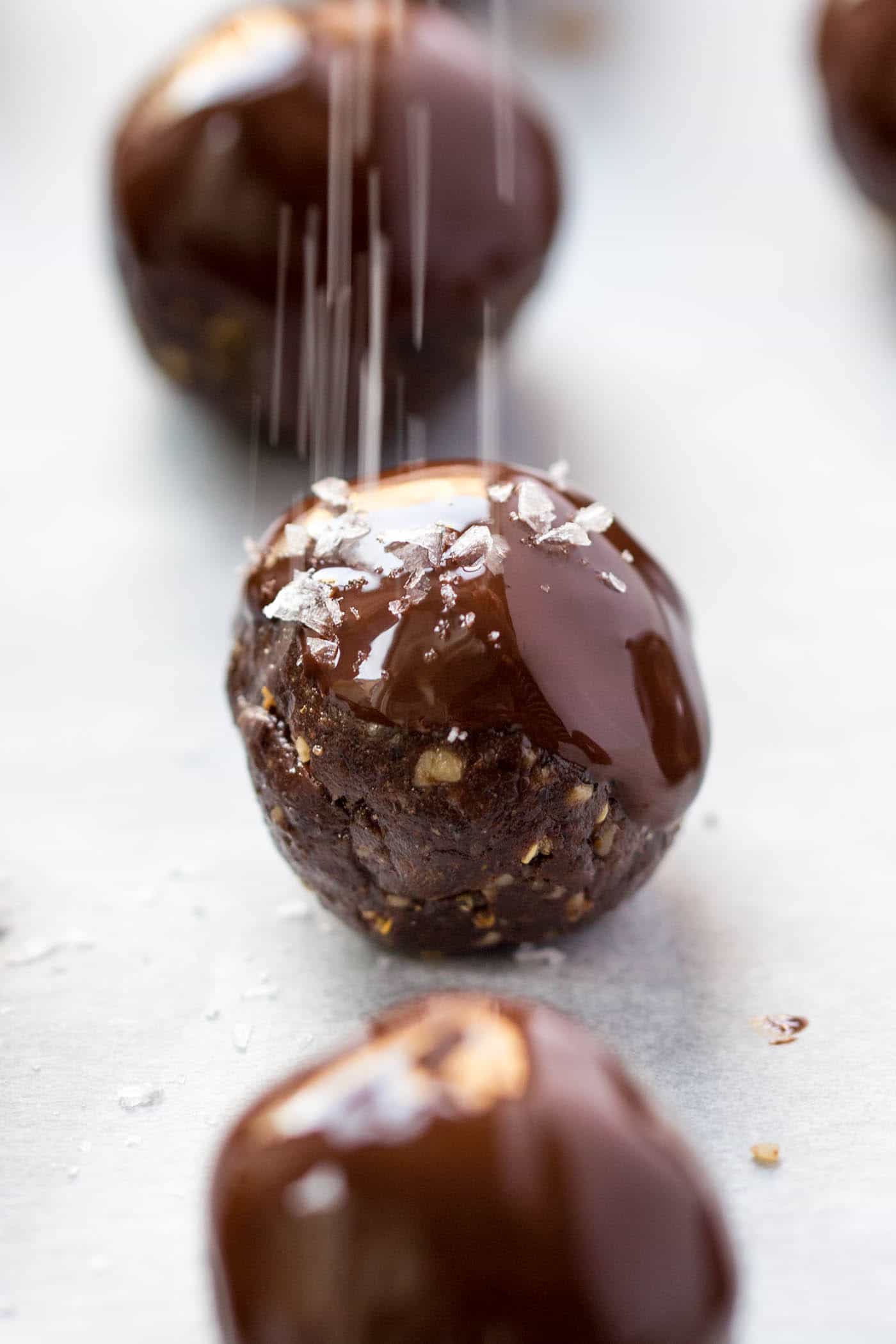 That just goes to show us all that even though something might be labeled as "healthy" it doesn't mean it doesn't have mass appeal.
And of course, after she told me how popular they were, I knew I had to recreate them (using actual measurements) and bring you the recipe!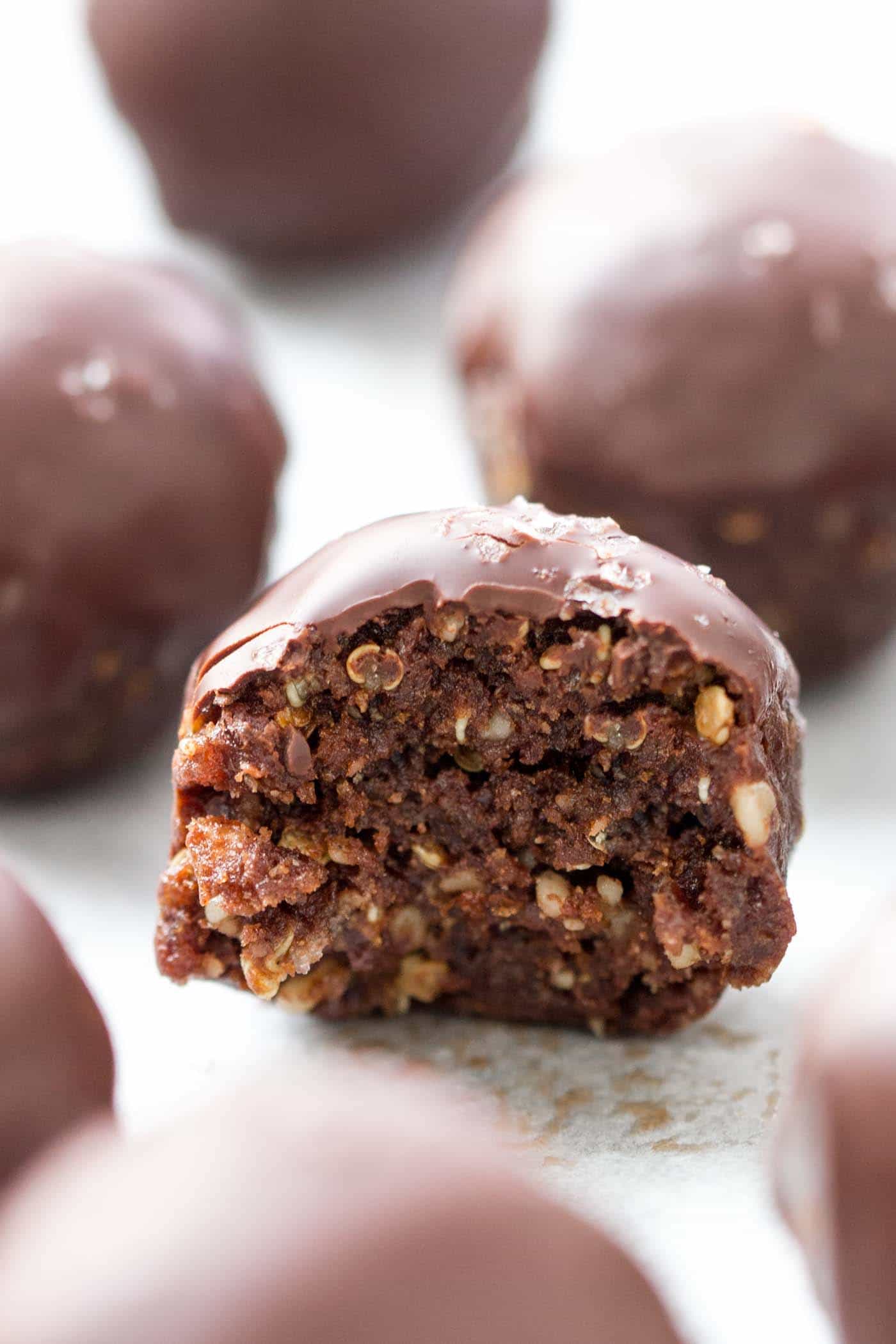 So here it is!
Made with a base of dates and pecans, these dark chocolate energy balls, which could actually be called double dark chocolate energy balls, are a nutritious and delicious sweet treat (night cap if you're like me). They've got a super simple ingredient list, are whipped up in your food processor, and while the dark chocolate coating is certainly optional, I highly recommend it 😉
With an ever so faint hint of sea salt and a pleasant crunch (thanks, quinoa crispies!), these little balls could even be labeled as a good for you candy!
Your turn…
What is your favorite after-dinner sweet treat? Do you also get that craving for all things chocolatey like I do? I'd love to hear if you have another nutritious swap. And if you end up making this recipe, or any others, upload a pic and share it to Instagram using #simplyquinoa so we can all take a peek. Getting to see your creations is one of my favorite things!
xo Alyssa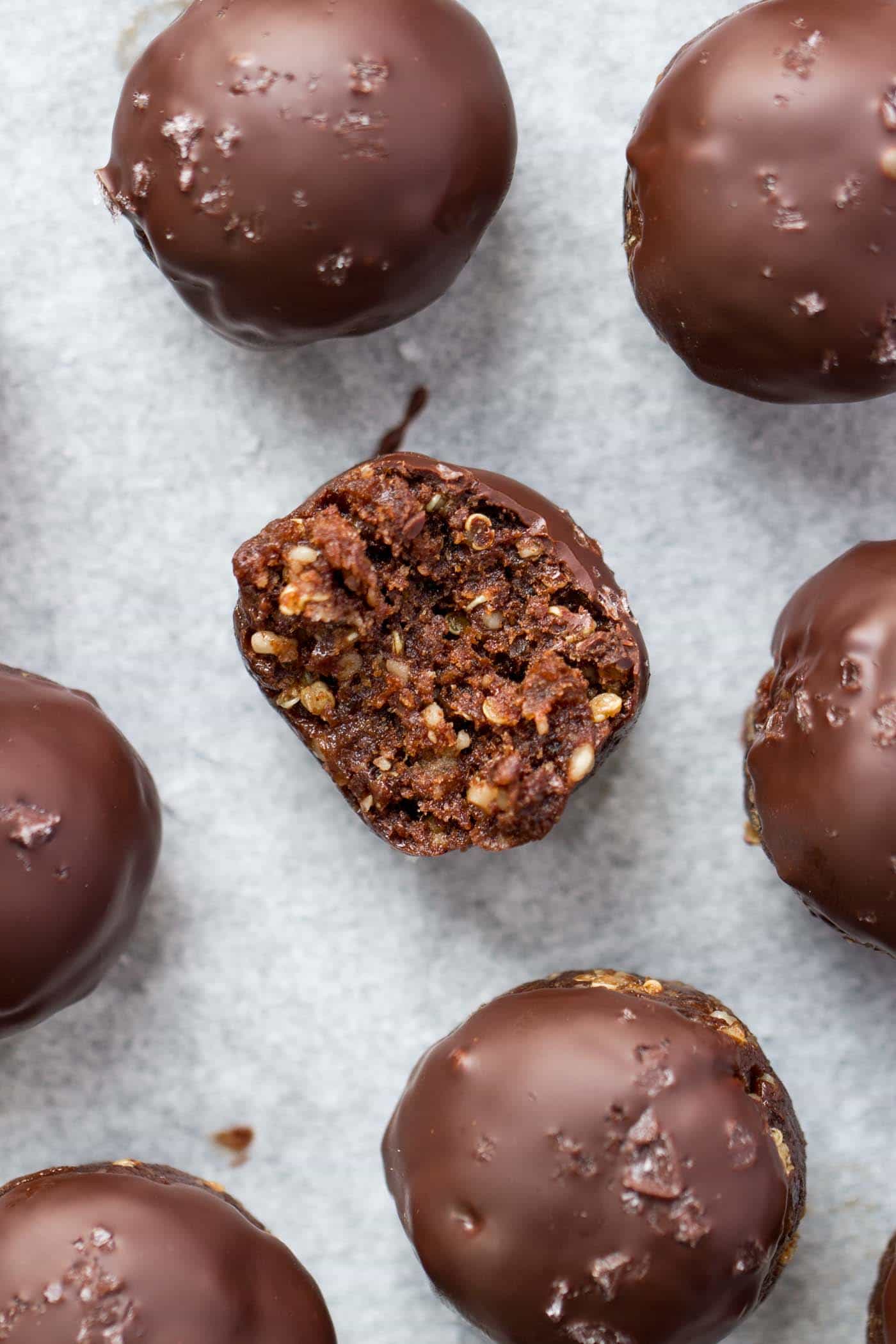 More Delicious Energy Ball Recipe to try:
Sea Salt + Dark Chocolate Quinoa Energy Balls
Made with a base of dates and pecans, these dark chocolate energy balls, which could actually be called double dark chocolate energy balls, are a nutritious and delicious sweet treat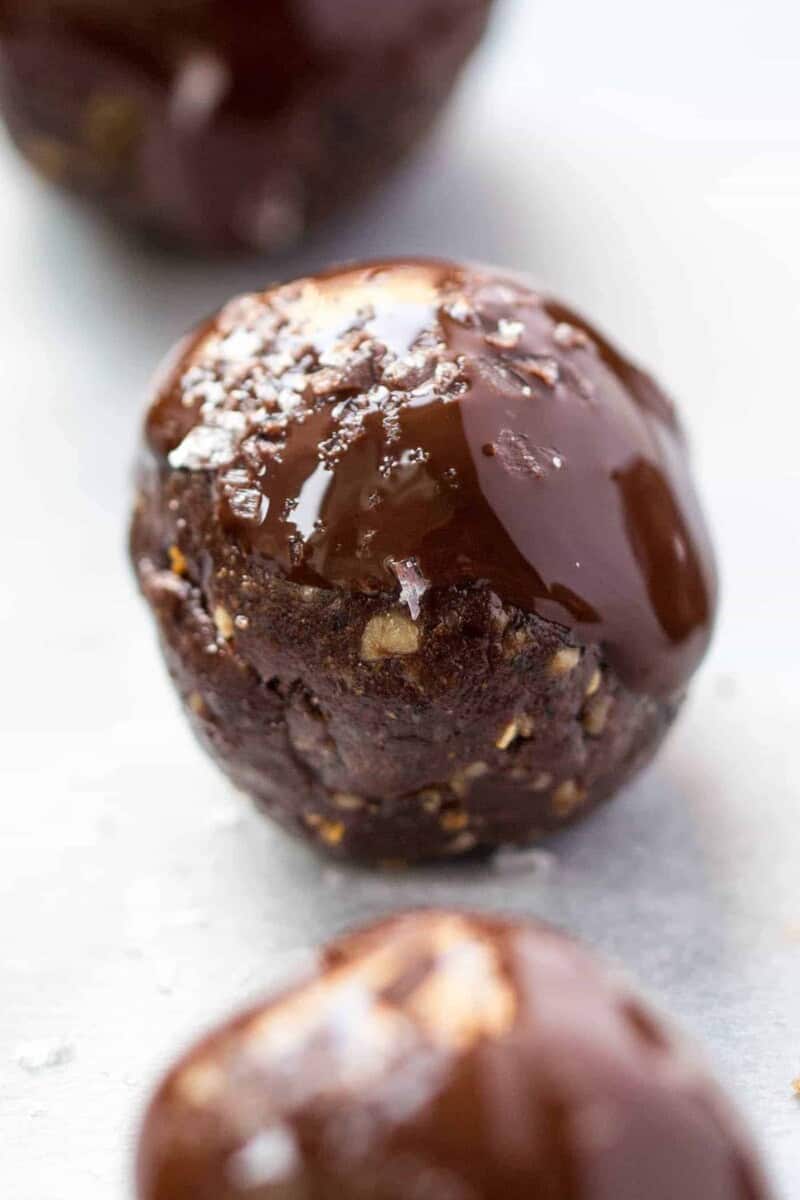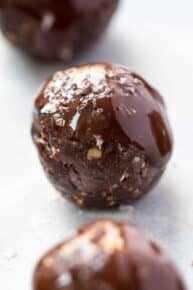 Instructions
To the food processor, add the dates. Process until broken apart and sticky, about 30 seconds. Add walnuts and process until ground and evenly distributed in the dates.

With the food processor running, add the remaining ingredients (minus the crispies and chocolate bar) and process until a dough begins to form. You should be able to pinch it between your fingers and it will stay together. Pulse in the quinoa crispies.

Form the dough into golf ball-sized truffles (you should get 20 - 24 balls). Place the ball on a parchment lined baking sheet and set aside.

Melt the chocolate bar over a double boiler. Once melted, dip the top of each ball into the melted chocolate and return them to the baking sheet. Sprinkle with sea salt flakes while the chocolate is still shiny.

Allow energy balls to chill in the refrigerator for 30 minutes until chocolate has set, then serve.

Store in an airtight container in the fridge for 5 days.
Nutrition
Calories:
81
kcal
|
Carbohydrates:
10
g
|
Protein:
1
g
|
Fat:
4
g
|
Saturated Fat:
1
g
|
Sodium:
36
mg
|
Potassium:
99
mg
|
Fiber:
1
g
|
Sugar:
7
g
|
Vitamin A:
15
IU
|
Vitamin C:
0.1
mg
|
Calcium:
18
mg
|
Iron:
0.6
mg
Filed Under: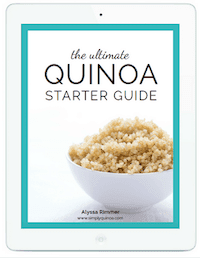 New to cooking quinoa? Grab your FREE Quinoa Starter Guide!
Become part of the Simply Quinoa community and receive weekly emails with exclusive content that I only share in email, as well as my in-depth guide to starting your quinoa journey.
Want more quinoa dessert recipes?
Follow my board on Pinterest!