Red Quinoa Salad with Roasted Squash & Brussel Sprouts
This red quinoa salad is perfect for fall. Tossed with roasted squash and baby brussel sprouts, served over kale with a creamy maple-tahini dressing.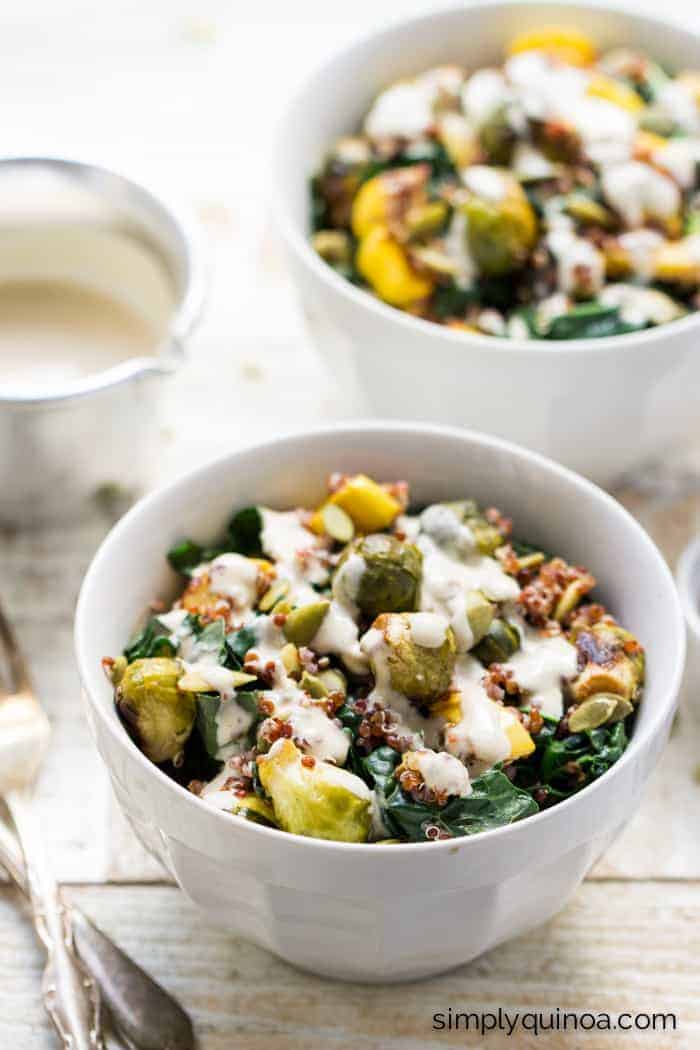 Well, there's a lot to be excited about today!
But honestly, I can't decide what's the best reason. Is it that this is my first delicata squash of the season? Or the fact that these baby brussels sprouts are the cutest things ever? Or that I'm finally giving you a salad made from something other than white quinoa? Or maybe that I got a ginormous bunch of lacinato kale at the farmer's market for like $3? Or is it the amazingness that is maple + tahini?
Welp, there's no way a decision can be made with choices like that. They're all pretty much spectacular if you ask me.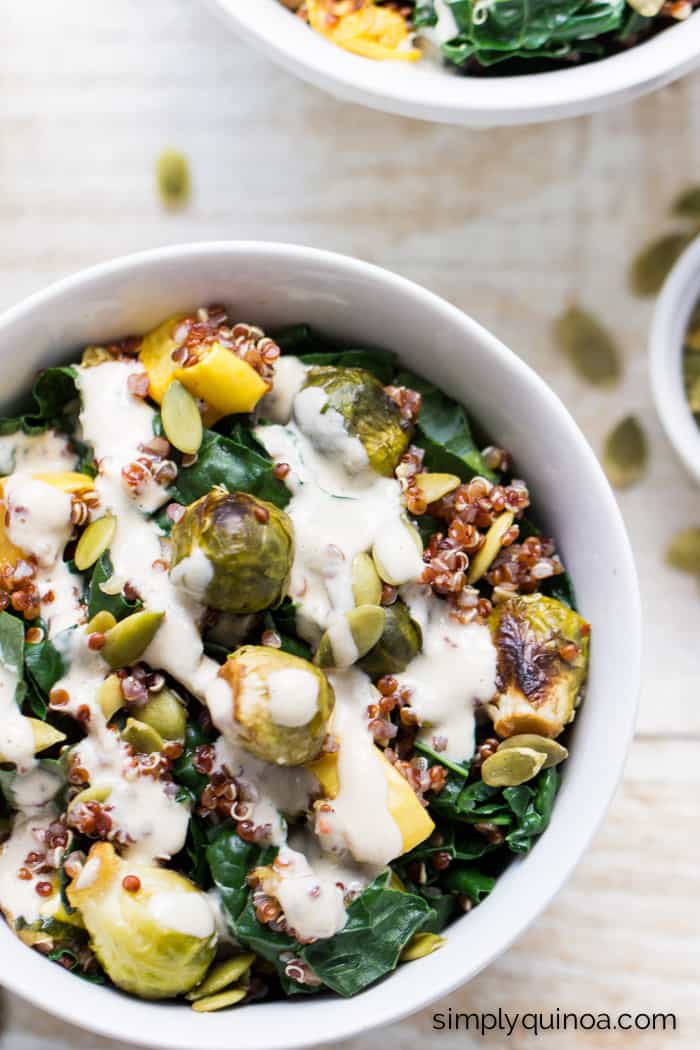 So, I have a small confession to make. As you might have noticed, these last few months my recipes have been primarily plant-based, with just a few eggs thrown in here and there.
While I'm totally addicted to eating this way and have found a whole new appreciation for vegetables, ever since the weather turned slightly cooler, I've been really bad about eating my greens.
Guys, it's kind of a problem. During the summer, Matt and I pretty much only ate salad for dinner. Like humungous salads. But now? I'm just not feelin' it.
But I knowwwww. Greens are good for me. I have to eat them. Even if I don't want to.
(good thing I have you – you force me to eat my veggies because you're always asking for new ways to use them with quinoa – so thank you!)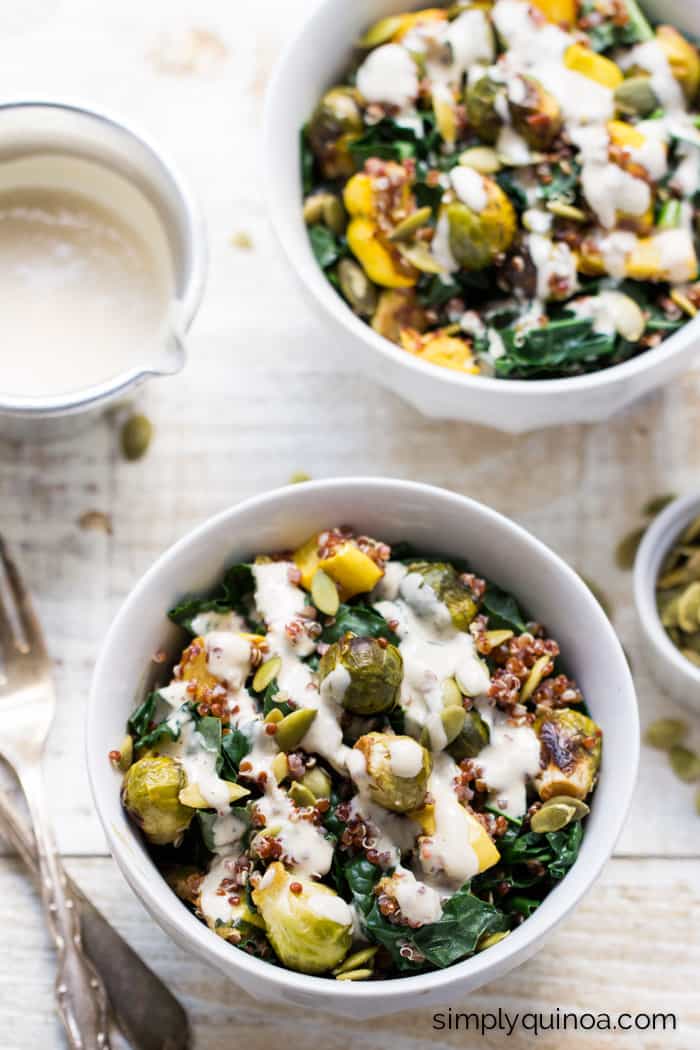 I will say, I think I've found a good compromise with this red quinoa salad though.
Rather than eating them raw in a crunchy, cold salad, we're quickly steaming fine ribbons of lacinato kale, then tossing them with maple roasted veggies and red quinoa. And we can't forget the generous drizzle of maple-tahini dressing. Or the added crunch from the raw pepitas.
It makes greens feel comforting, hearty and crave-able again. And it's everything I love about autumn (well, minus pumpkin puree and leaves – which totally DO NOT work in a salad), all wrapped up into one bowl of plant-powered deliciousness.
So if you're feeling down in the dumps about your green intake, serve yourself a big ol' helping of this salad. It's gonna make your greens eating a whole lot more fun.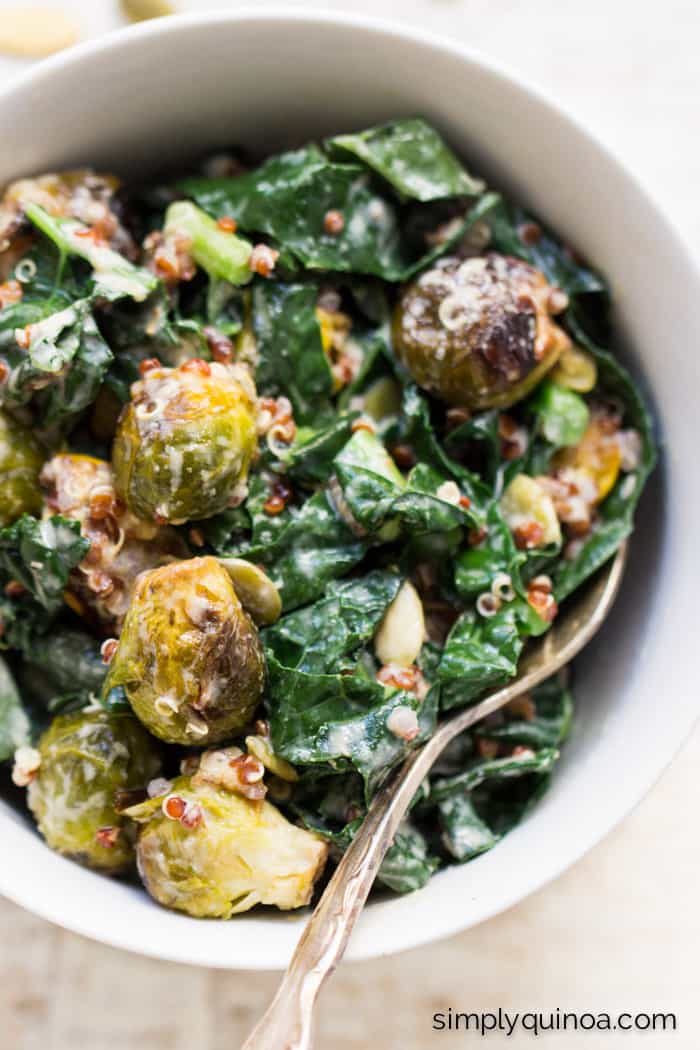 More Crave-able Fall Salads to try:
Red Quinoa Salad with Roasted Squash, Brussel Sprouts + Maple-Tahini Dressing
If you're feeling down in the dumps about your green intake, serve yourself a big ol' helping of this salad. It's gonna make your greens eating a whole lot more fun.
Servings 4 Servings
Calories 354kcal
Ingredients
1 medium delicata squash
2 cups baby brussel sprouts or regular ones quartered
1 tablespoon olive oil
Salt + pepper to taste
1 cup red quinoa cooked
4 - 5 cups lacinato kale finely chopped
1/2 cup raw pepitas or sunflower seeds


Instructions
Heat your oven to 375ºF.

Cut the squash lengthwise and scoop out the seeds. Flip onto a flat surface, flesh side down, and slice into small half moons, about 1/2" thick. Chop each half moon into 4 pieces and add to a large mixing bowl.

To that bowl, add your brussel sprouts and drizzle with olive oil. Season with salt and pepper and toss to combine.

Transfer veggies to a baking sheet and roast for 25 - 35 minutes until squash has softened. Remove and let cool for 10 - 15 minutes.

While the veggies are cooling, gently steam the kale, 60 seconds. Strain and transfer to the mixing bowl. Add the veggies and quinoa and toss to combine.

Whisk together the dressing ingredients (or better yet, add them to your blender) until completely smooth. Pour over the salad and toss to evenly coat. Sprinkle in pepitas.

Taste and adjust seasonings as desired. Serve immediately.
Nutrition
Calories: 354kcal | Carbohydrates: 47g | Protein: 13g | Fat: 14g | Saturated Fat: 2g | Sodium: 174mg | Potassium: 1009mg | Fiber: 7g | Sugar: 5g | Vitamin A: 3980IU | Vitamin C: 77.3mg | Calcium: 120mg | Iron: 4.6mg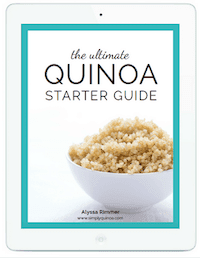 New to cooking quinoa? Grab your FREE Quinoa Starter Guide!
Become part of the Simply Quinoa community and receive weekly emails with exclusive content that I only share in email, as well as my in-depth guide to starting your quinoa journey.
share what you make
Tag #simplyquinoa on Instagram with your creations! We love sharing what you make with the community. We can't wait to see!

follow on instagram