This warm lentil salad is the perfect cozy meal. Tossed with spinach, quinoa, roasted fennel and pine nuts, it's healthy, vegetarian and just delicious.
I admit it. I'm in love with a salad.
A salad that is warm, comforting and nourishing. A salad that actually satisfies. A salad that's filled with flavors of roasted vegetables, earthy lentils and toasted nuts. A salad that is dressed in a simple, yet totally amazing, maple-miso dressing.
This might just be the salad of my dreams.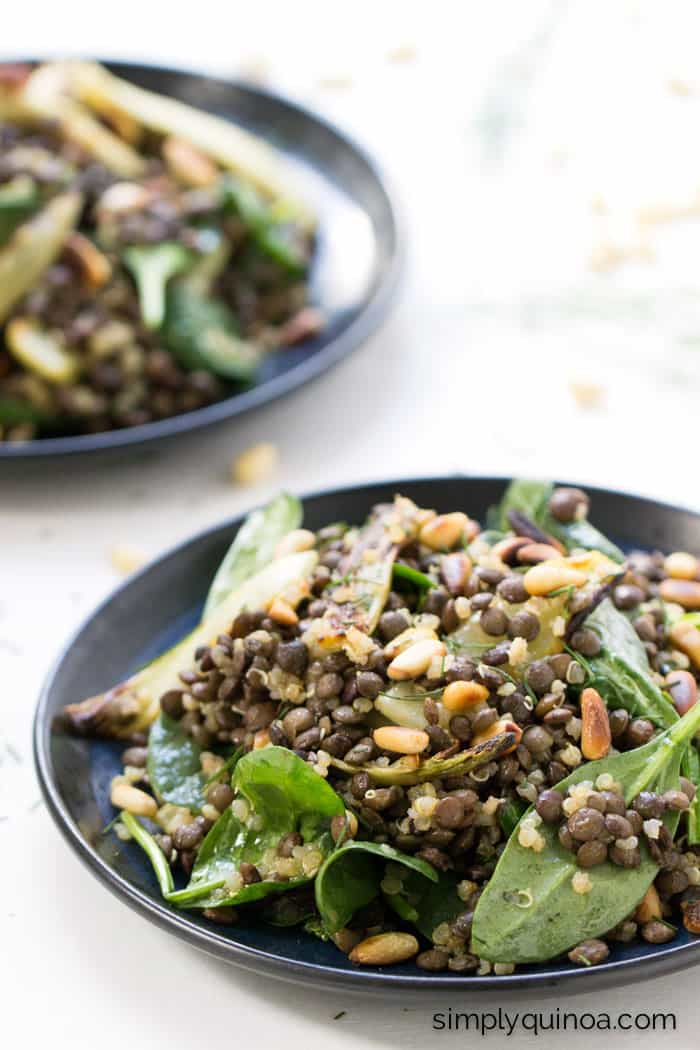 Actually, scratch that. It is the salad of my dreams.
Since, you know it's fall and everything, my adoration for green salads is pretty much gone. But a warm lentil salad with wilty spinach, roasted fennel and quinoa? Now that's more my speed.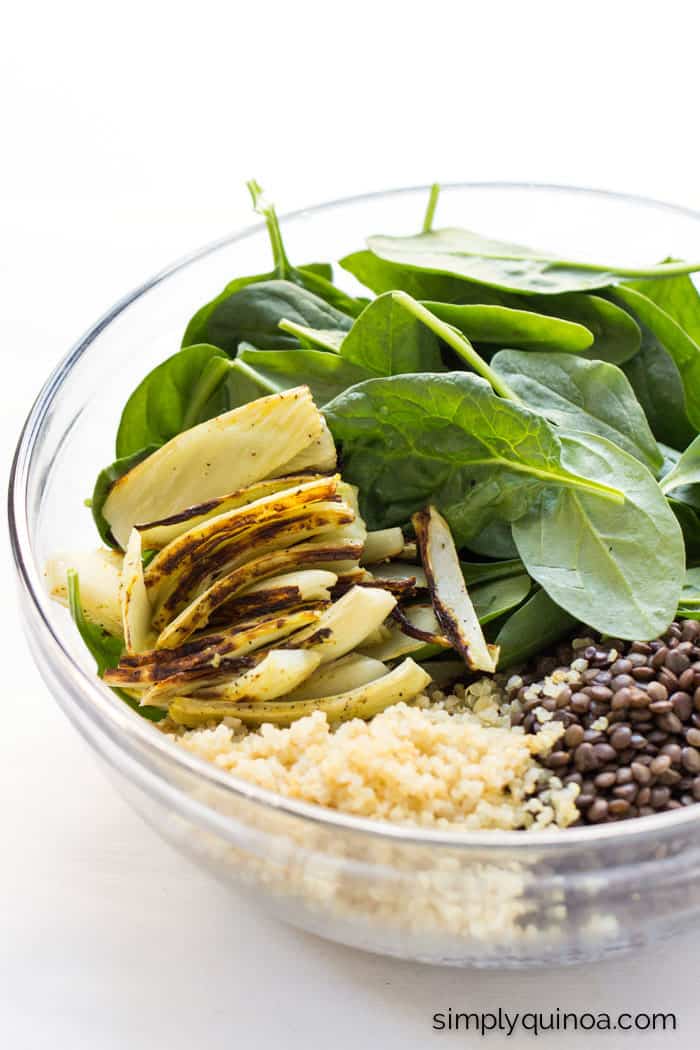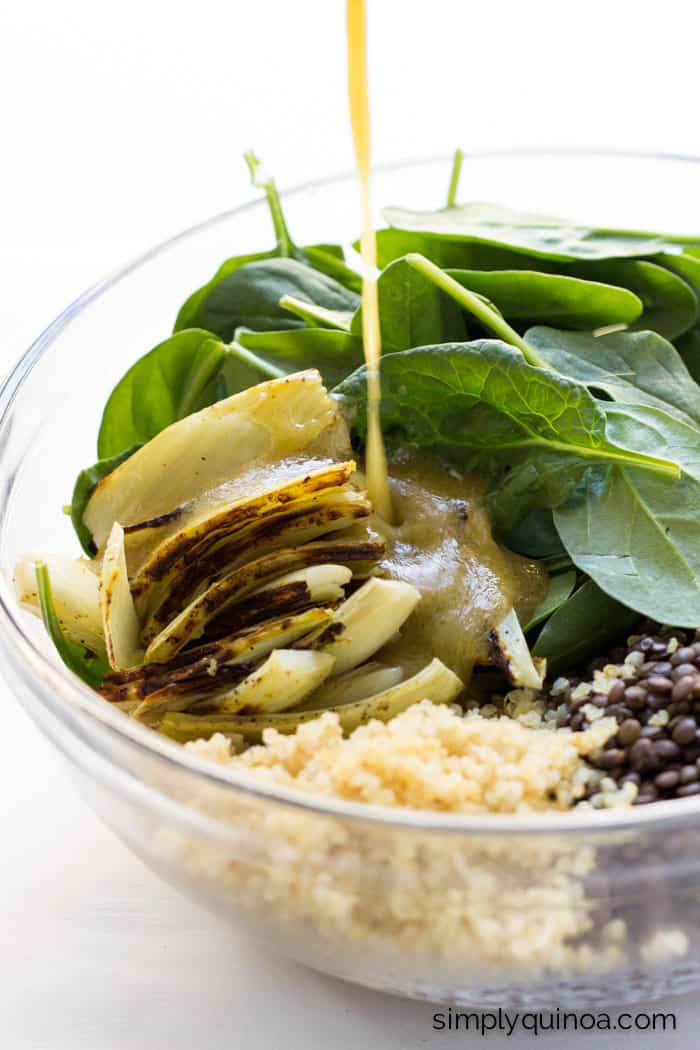 Can we just talk about fennel for a second? This is kind of a new to me vegetable, and it took me a while to actually come around to the taste. I kind of hated it in the beginning and I couldn't put my finger on why.
Anise. That's why. It tastes like anise. Which tastes like licorice. Which tastes totally disgusting to me.
But me and fennel seem to have made our peace. Once I started adding it to juices, I kind of started enjoying the taste (although you still won't find me anywhere near licorice).
And then I roasted it…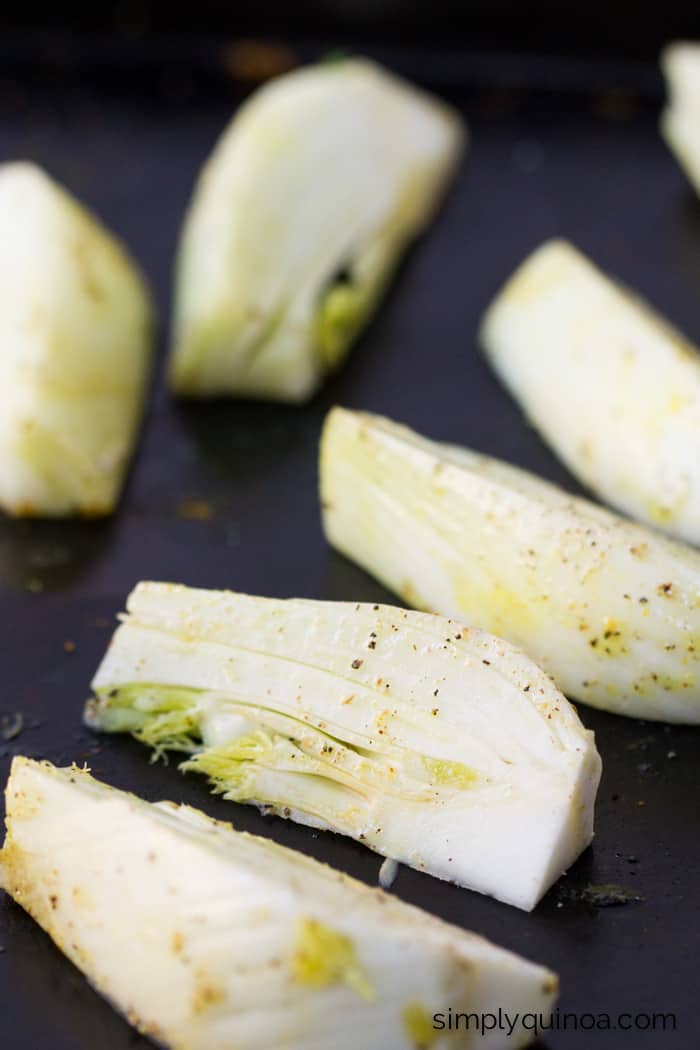 My oh my. Out of this world delicious. The bitterness that it has when raw, transforms into a subtle sweetness to pops in your mouth with every bite. And the smokiness from the crispy brown edges make gives the flavor a whole other level of complexity.
But the real magic happens when you mix it with warm lentils.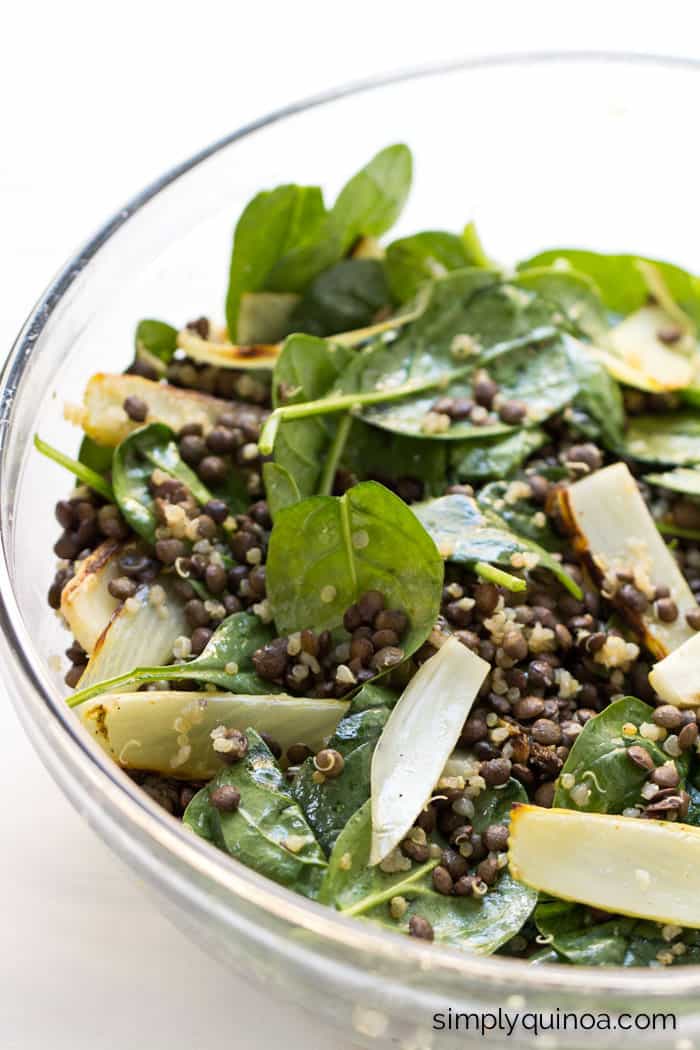 This was the type of salad that I seriously could not stop eating.
Real life: usually when I make a big batch of something for the blog, I end up throwing some of it away. I hate doing it, but it's the reality. Because I'm cooking all the time, and we live in NYC and don't have close neighbors to give the extras away to, I end up having too many leftovers than I know what to do with.
So inevitably some goes into the garbage.
But not this salad. I woke up every day excited to eat the salad for lunch. And spread it out across as many meals as possible. (case in point, my lunch from Thursday)
And it's already on the menu again for next week. It's addicting how good this salad is.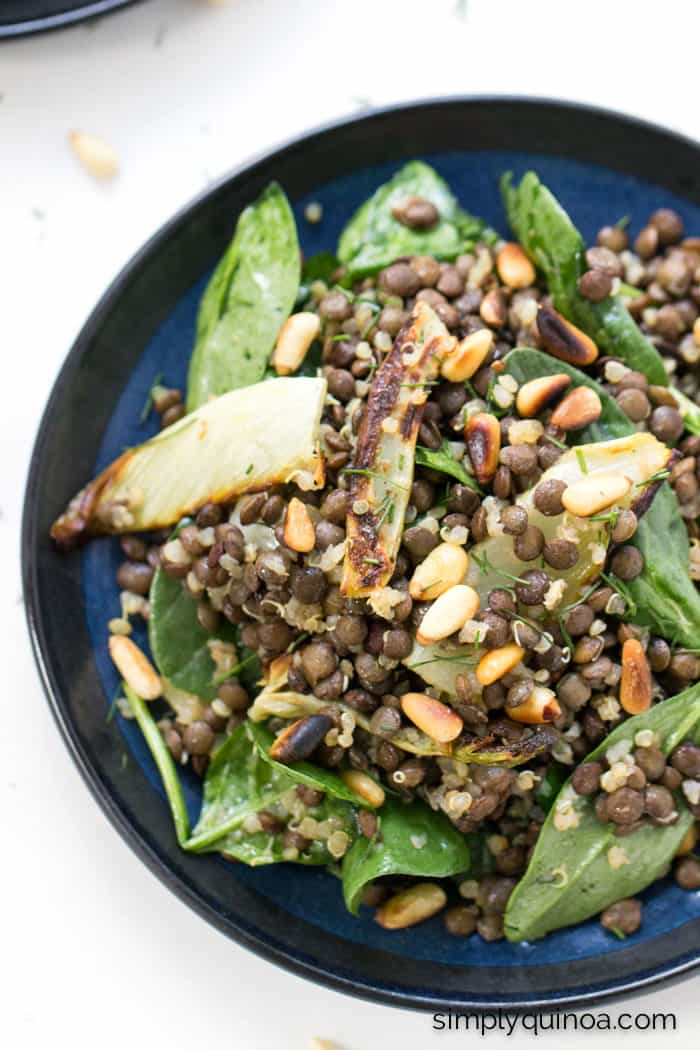 But before I let you run off and make it, I just have to take one more second and tell you about the dressing.
It starts with maple. Ends in miso. With brown rice vinegar and olive oil in between. It's sensational.
It brings out the sweetness in the fennel, adds that touch of acid that every salad needs, and is the perfect amount of salty that all the flavors come to life. I want to bottle this up and take it with me everywhere. Like I'm not kidding when I tell you that I licked the bowl after I pour it over the salad. Licked. The. Bowl.
But hey, if it tastes good and it's good for you, it's fine by me.
Okay…now it's time to let you go. Hopefully, so you can go race to the kitchen and make this salad pronto. And make sure to come back and tell me how it is!
xo Alyssa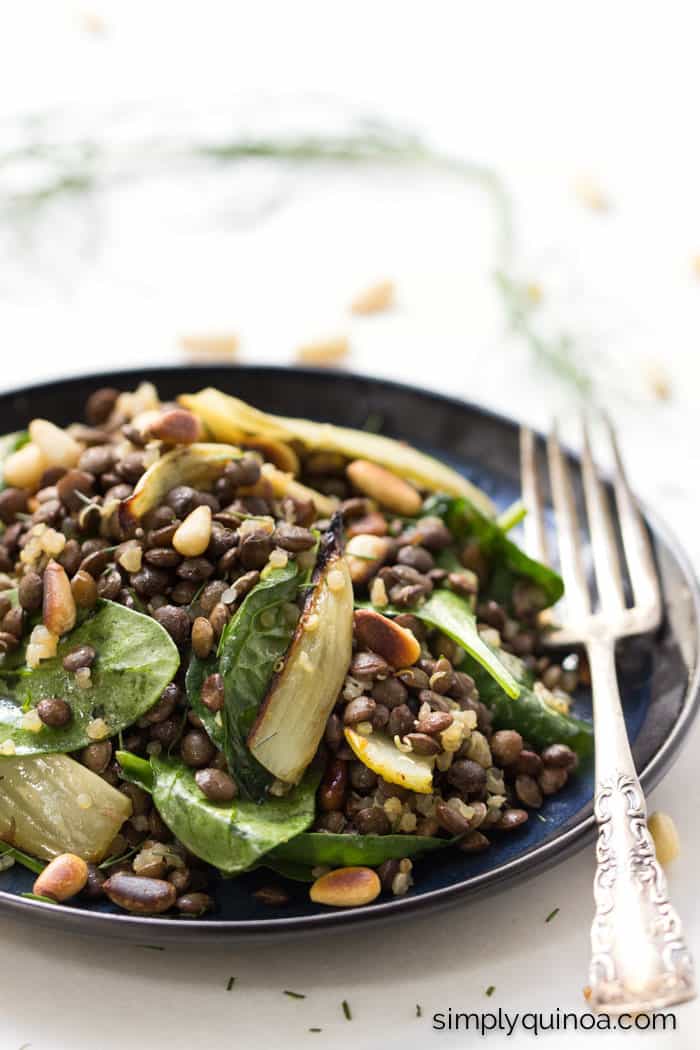 Share this recipe!
More of My Favorite Healthy Salad Recipes:
Warm Lentil Salad with Spinach & Quinoa
This is

the type of salad that I seriously could not stop eating.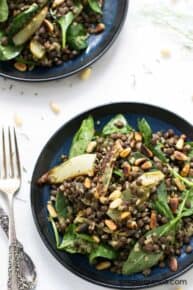 Ingredients
Instructions
Preheat the oven to 400ºF.

Combine all the ingredients for the lentils into a small saucepan. Bring to a boil, cover and reduce to simmer for 20 minutes.

Slice the fennel bulb into small slices. (I cut it into quarters, then cut each quarter into three pieces)

Add to a bowl with oil and salt and pepper and toss to combine. Transfer to a baking sheet and roast in the oven for 20 - 25 minutes, until fennels is soft and starting to brown.

Meanwhile, quickly toast the pine nuts in a dry skillet until golden brown. Set aside.

Whisk together the dressing ingredients in a small bowl and set this aside also.

Once fennel is cooked, slice off the ends where it comes together to break into small pieces. Add this to a large bowl along with spinach and quinoa.

Remove the lid from the saucepan with the lentils and take out the shallots and bay leaves. Transfer the lentils to the bowl as well. Pour dressing over the salad and toss to combine. Sprinkle in pine nuts and toss one more time.

Serve immediately.
Nutrition
Calories:
505
kcal
|
Carbohydrates:
65
g
|
Protein:
25
g
|
Fat:
17
g
|
Saturated Fat:
2
g
|
Sodium:
292
mg
|
Potassium:
1516
mg
|
Fiber:
26
g
|
Sugar:
4
g
|
Vitamin A:
2285
IU
|
Vitamin C:
24.3
mg
|
Calcium:
130
mg
|
Iron:
9
mg
Filed Under: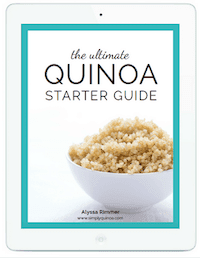 New to cooking quinoa? Grab your FREE Quinoa Starter Guide!
Become part of the Simply Quinoa community and receive weekly emails with exclusive content that I only share in email, as well as my in-depth guide to starting your quinoa journey.