This creamy Tuscan pasta recipe is a cinch to make and seriously delicious! Perfectly cooked pasta tossed in a creamy tomato sauce, beans, and spinach.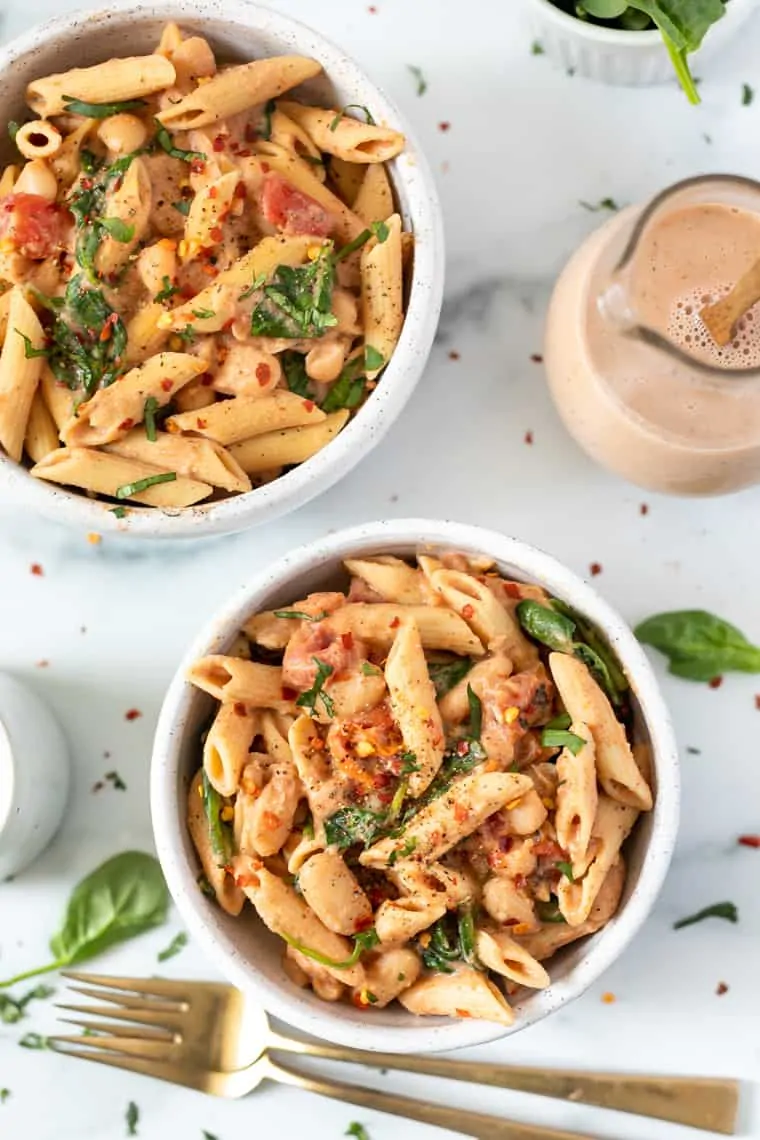 Creamy and heart-stoppingly delicious. Pure love with each bite. 
This is the only kind of dish that I want to be eating on Valentine's Day because with every taste it's like you're being wrapped you up in a giant love hug. And trust me, if food really could hug you, it would only be when it was this rustic Tuscan pasta with white beans.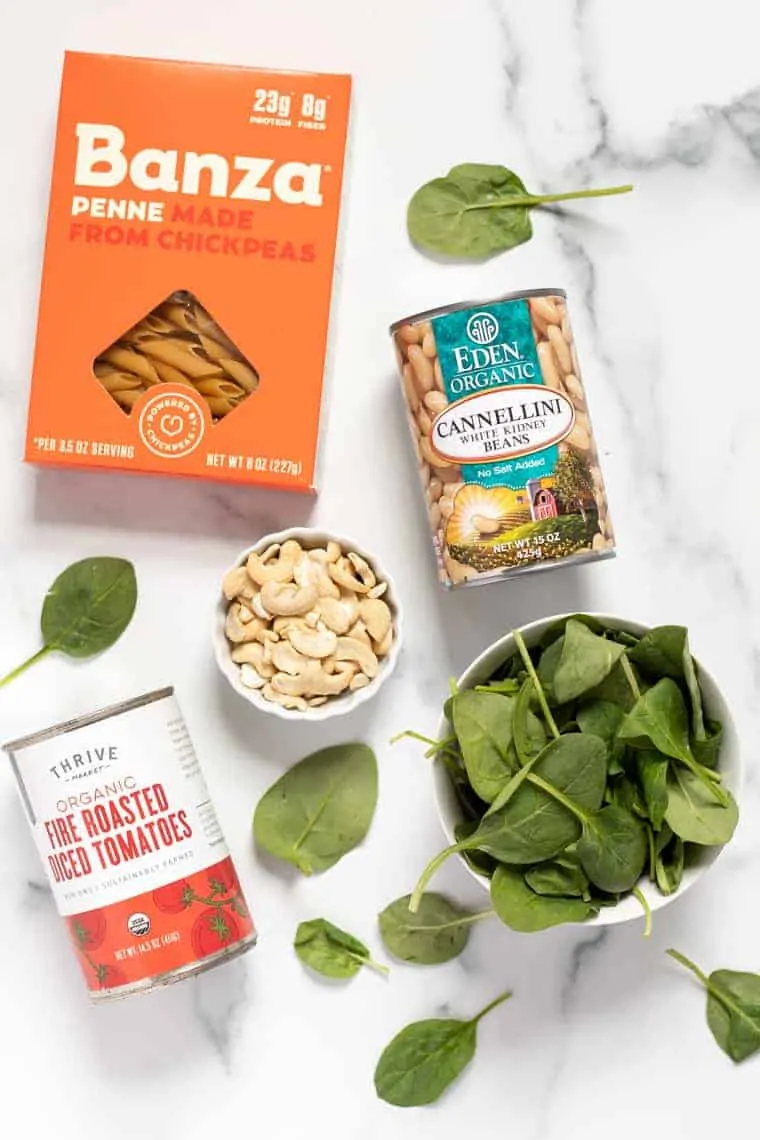 What is Tuscan Pasta?
Tuscan pasta is typically a rustic style pasta that's made with chunky tomatoes, greens, and some form of protein. Usually you'll find chicken in the pasta, but since I like to keep things plant-based around here, we're using beans! Beans are actually a very traditional ingredient in Tuscany and they're amazing in this dish. They add creaminess, they've got a slight bite, and of course, you also have protein. So it actually helps make the pasta a bit more filling!
What You Need to Make Tuscan Pasta
For this recipe, we're keeping things simple. Like pantry simple. You likely already have all these ingredients on hand, which was my goal. Here's what we're using to make this creamy pasta:
Pasta: whatever variety will work! I used a chickpea penne, but I also love it with farfalle, rigatoni, and fusilli.
White beans: again, any variety will work! You could use cannellini beans, navy beans, great northern beans, or even chickpeas.
Canned tomatoes: use what you've got! I had fire-roasted diced tomatoes, but you could also do crushed, regular diced or whole peeled that you chop first.
Spinach: I love stirring greens into my pasta since it adds extra nutrients and you could do spinach, kale, chard or really whatever you have!
That's our base. And then we'll also be making a really delicious vegan cream sauce!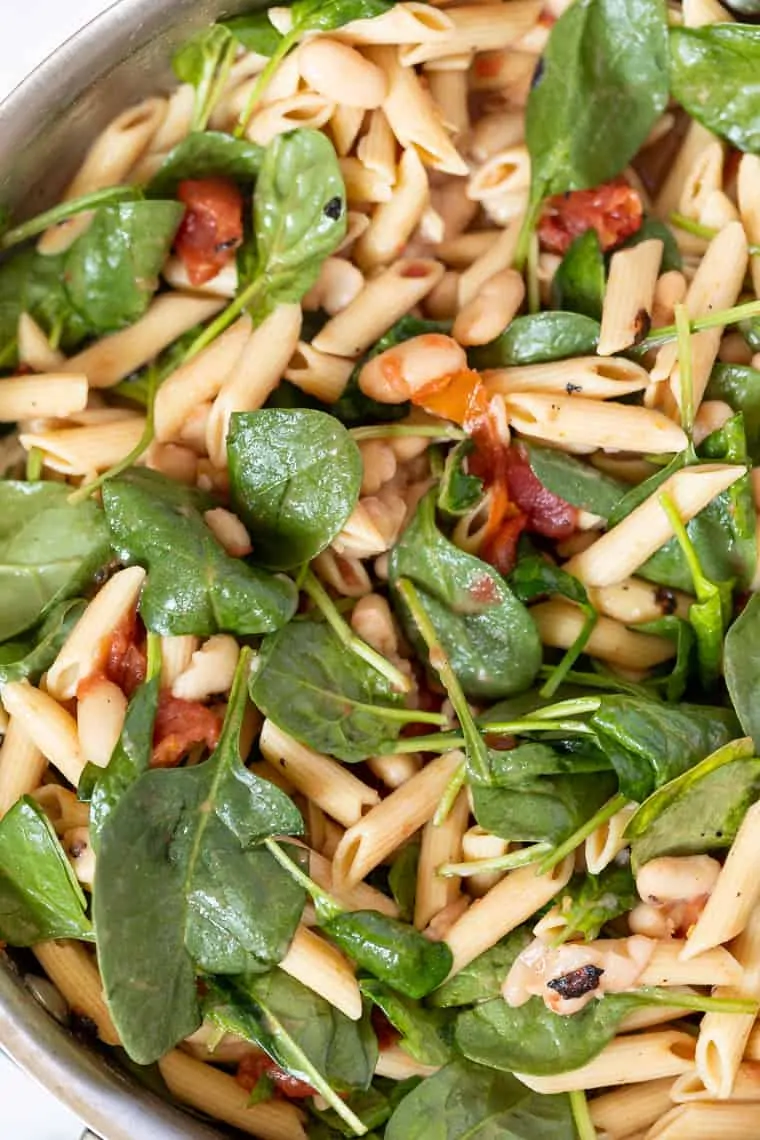 Our Simple Vegan Cream Sauce for Pasta
So the cream sauce. So good. And actually crazy simple to make!
We're going to use half of the can of tomatoes, along with some raw cashews – you know I love raw cashews in creamy pasta sauces – miso pasta for some salt and umami flavor, mustard and lemon juice. Blend that up with a little water in your blender and it's the perfect topping for this pasta. It's saucy, tomato-y, kind of sweet, but perfectly salty too. I also added in some Italian seasoning which just rounds out the flavor and gives it the classic Tuscan flare.
How to Make Tuscan Pasta
What you're going to love most about this dish, aside from the simple ingredient list, is how easy it is to make!
The first trick is to cook your pasta slightly under. Since we'll be finishing everything in the pan, I like to cook my pasta about 2 minutes less than the package instructions say. Make sure to reserve some of the cooking liquid – it really adds extra creaminess to the pasta.
Once you've drained and rinsed your pasta, you'll basically just throw everything else together into the pan and cook it until the spinach has wilted down, stir in your sauce and you're good to go!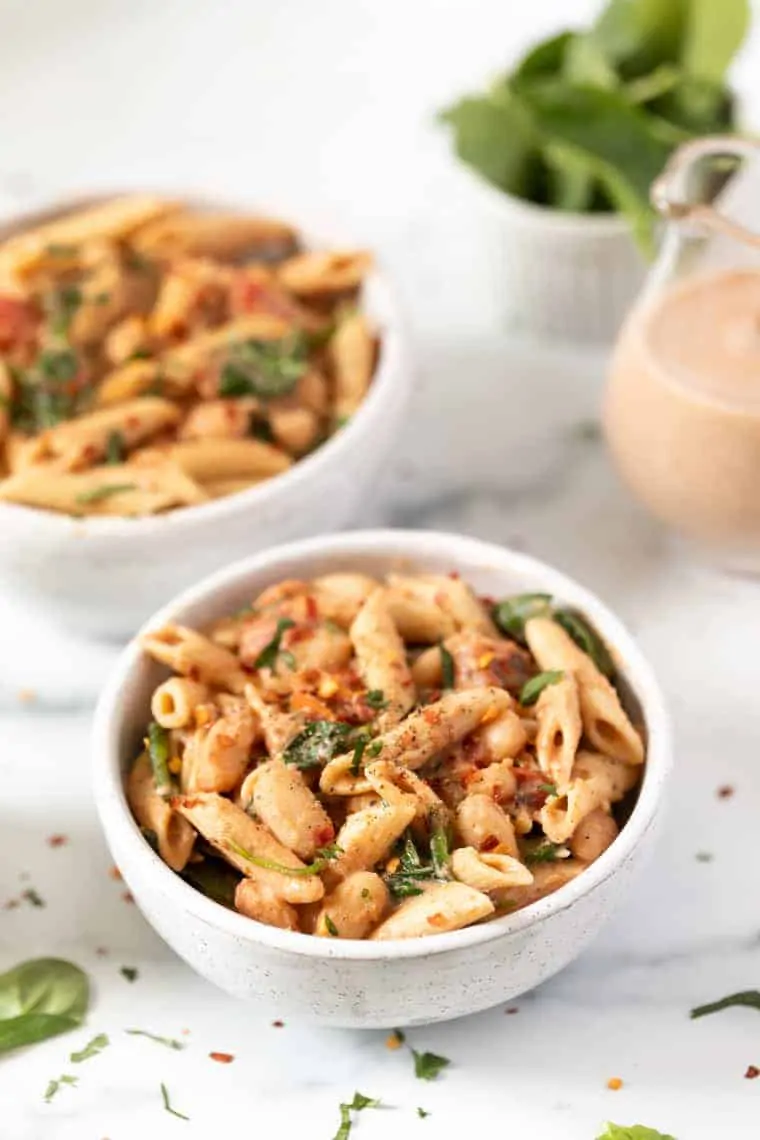 A Pantry Meal that Takes 10 Minutes
Whenever we're in a bind for dinner, pasta in our answer. Because it's so darn easy. And quick! Here's why you'll love this recipe:
it takes no more than 15 minutes to make
there's no chopping or cutting
it keeps well for lunch the next day
And you can also swap things in and out if you don't have some of these exact ingredients. I shared some of my ideas above, but feel free to add in things like sun-dried tomatoes, grilled chicken, vegan parmesan, or even capers!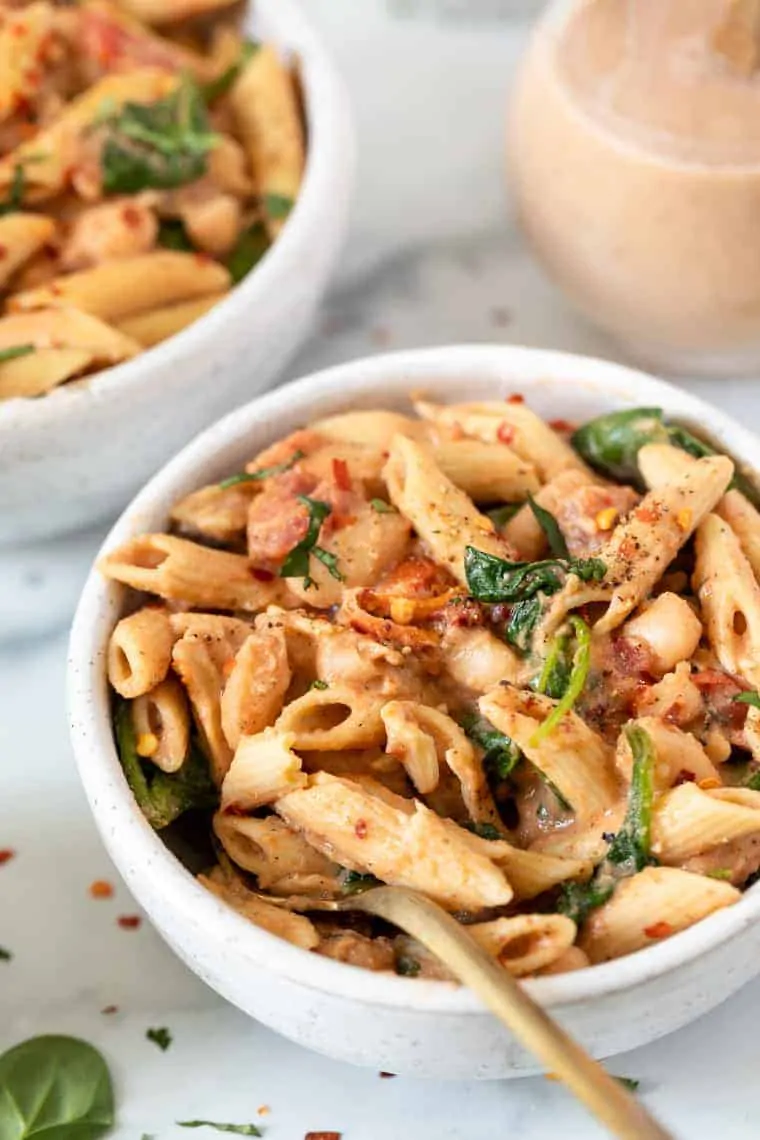 The DREAMIEST Vegan Pasta Ever!
Okay this pasta. It is seriously so dreamy. And it's not just the hearty white beans, or the juicy tomatoes or, the handfuls of kale, or even the little specks of quinoa. Nope, it's the tomato cream sauce.
A luxurious sauce that's only three ingredients and tastes out of this world. It coats each noodle with a rich, sweet flavor and makes the whole dish satisfyingly delicious.
And get this: it's vegan too! Oh heck yes I did that.
For all of you lovelies who can't have dairy but still adore your cream-based sauces, this pasta will forever change your life. That might be a little bold yes, but this is a sauce that you can use over and over again, dish after dish. It's quick, it's easy and it's basic so it will go with pretty much every ingredient under the sun. 
I just happened to toss it on this v-day worthy Tuscan pasta, but I'm already thinking of more ways to use it.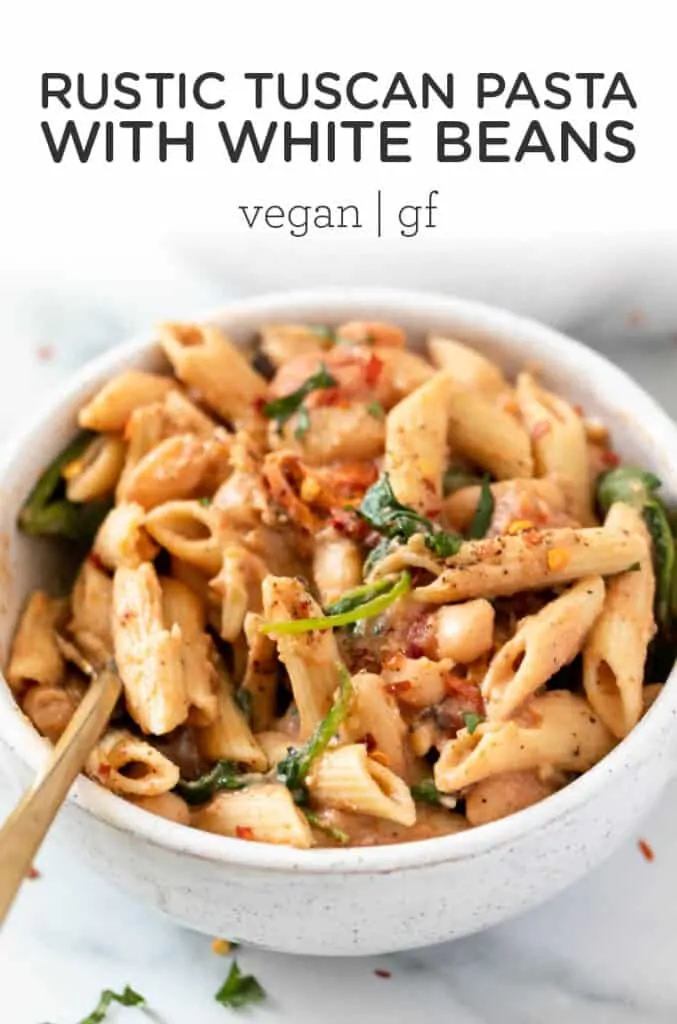 More Vegan Pasta Recipes to try:
Rustic Tuscan White Bean Pasta
Creamy and heart-stoppingly delicious. Pure love with each bite.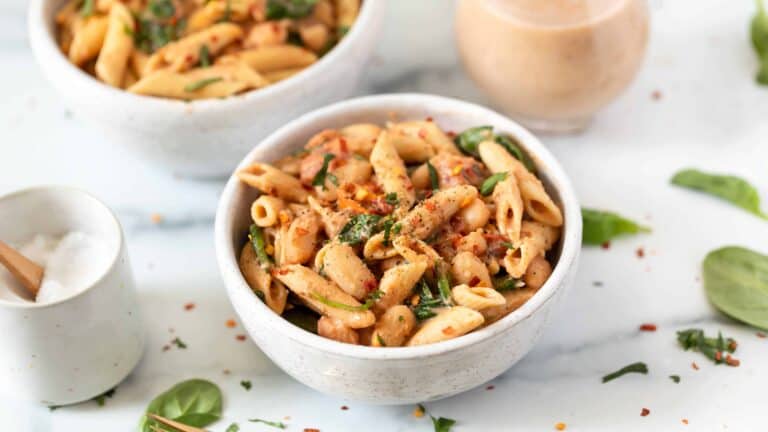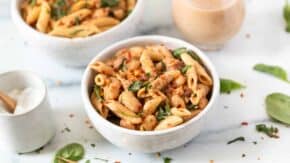 Ingredients
for the sauce:
1/4

cup

raw cashew pieces

1

tablespoon

mustard

1

tablespoon

miso paste

1

tablespoon

Italian seasoning

1/4

cup

pasta water

Salt & pepper to taste
Instructions
Cook pasta according to package instructions or until al dente. Reserve 1/4 cup of the cooking liquid.

In a large skillet, add pasta, 1/2 the can of tomatoes, beans and greens. Saute with a bit of pasta water until greens have wilted and everything is heated through, about 3 - 5 minutes. Add a splash more of pasta if it begins to get dry.

While the pasta and veggies are cooking, make the sauce by combining the remaining tomatoes, cashews, mustard, miso, italian seasoning and 1/4 cup the pasta water into a high powered blender. Blend on high until smooth and creamy.

Transfer the sauce to the pan and cook for another few minutes until everything is evenly coated and warm. Season with salt and pepper and serve immediately.
Nutrition
Calories:
593
kcal
|
Carbohydrates:
98
g
|
Protein:
40
g
|
Fat:
12
g
|
Saturated Fat:
1
g
|
Sodium:
491
mg
|
Potassium:
815
mg
|
Fiber:
23
g
|
Sugar:
13
g
|
Vitamin A:
3492
IU
|
Vitamin C:
51
mg
|
Calcium:
242
mg
|
Iron:
15
mg
Filed Under: