This simple walnut pasta is made with roasted butternut squash, spinach and tossed in the most delicious vegan cream sauce…made from walnuts! It's GF too!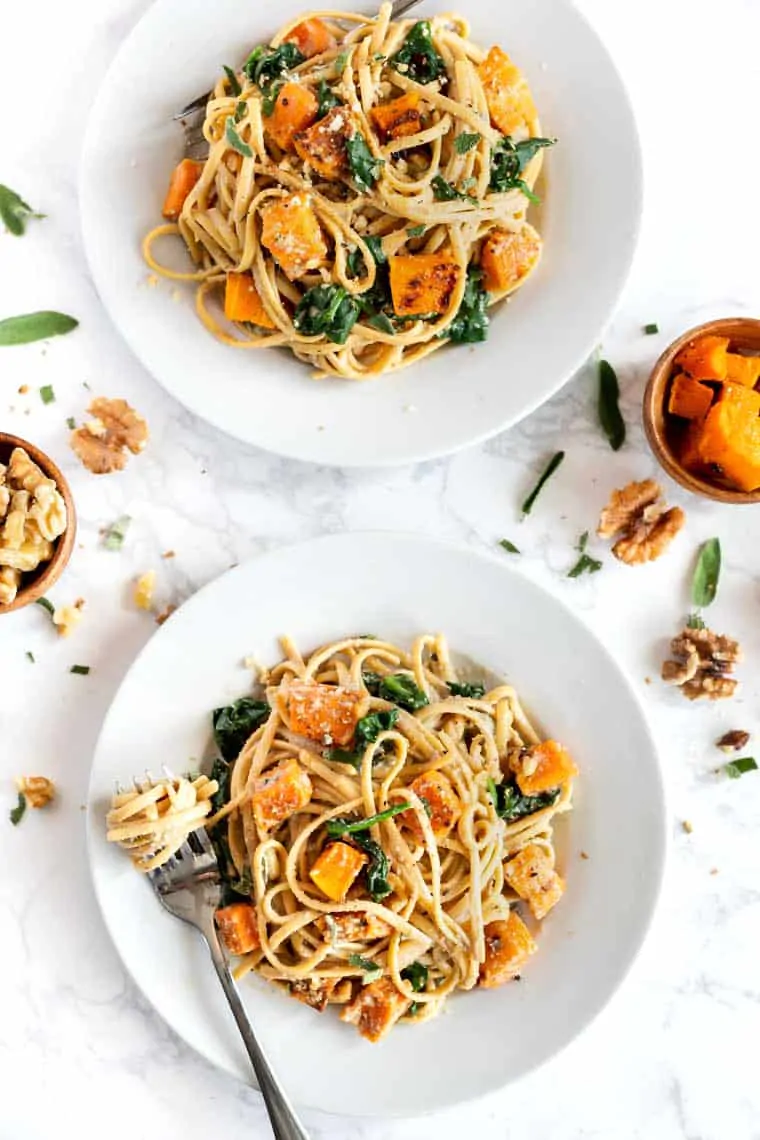 There's nothing that makes my heart happier than a plate of pasta for dinner. Pasta is my comfort food. A love language of sorts. It's just one of those things that makes me happy no matter what!
If you've read some of my other posts before then you probably know I'm also a fan of creamy foods. We're talking dressings, soups, and yes, pasta. Pour a homemade creamy sauce on top of my meal and I'm thrilled!
And today I'm so excited for you to try my newest invention: Creamy Walnut Pasta. It's decadent, it's filling, and it's seriously delicious. Oh, and did I mention it's also tossed with roasted butternut squash, spinach, and fresh sage? It's seriously heaven on a plate!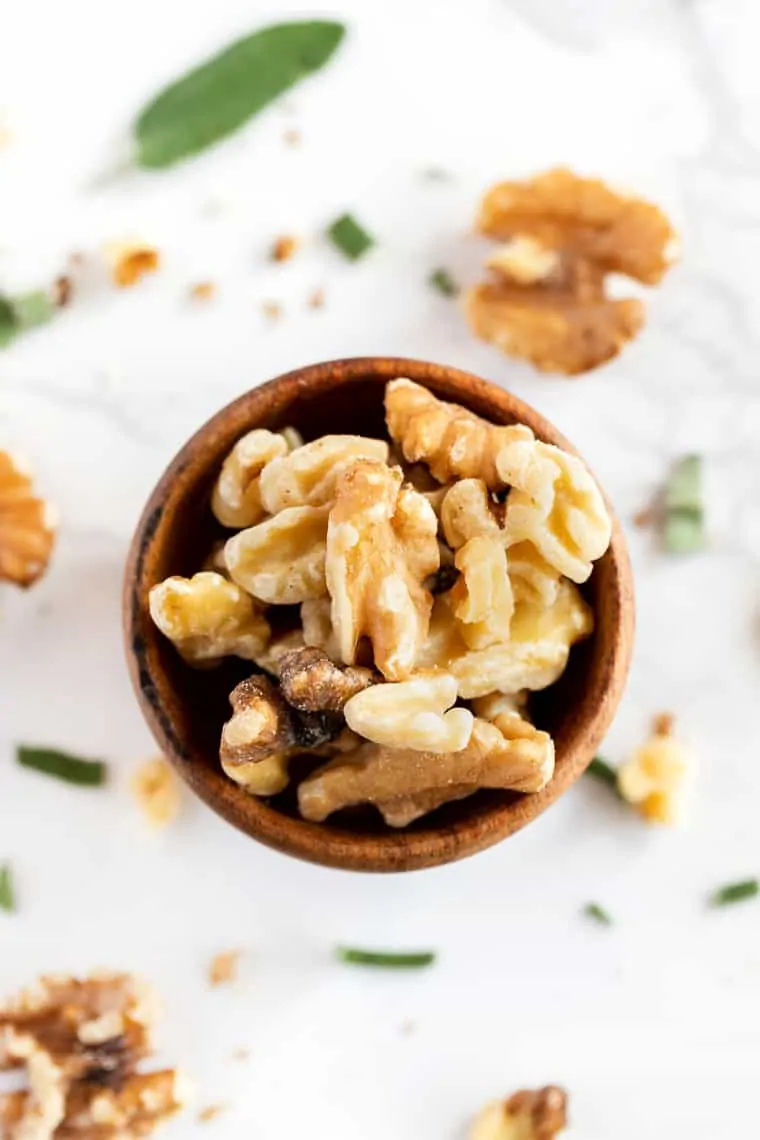 So Many Reasons to Love Walnuts!
Are you a walnut fan? If so, then you'll probably be nodding your head with all these bullets, but if you're still kinda new to the walnut game, let's talk about why they're so awesome. When it comes to nuts, walnuts are one of my favorites for so many reasons:
They're versatile: you can use them in baking, you can enjoy a small handful as a nutritious snack, you can add them into your favorite trail mix, they're a great addition to breakfast, and, as today's walnut pasta proves, they can also be used for savory recipes!
They're unique: walnuts are the only nut that is an excellent source of omega-3 ALA (2.5 grams per ounce), an essential good fat. And they also have fiber (2 grams per ounce) and protein (4 grams per ounce)!
They're supportive: walnuts are certified as a heart-healthy food

[1]

by the American Heart Association through their Heart Check Program [2], meaning they can be incorporated as part of a heart-friendly diet.
I'm so excited to be partnering up with California Walnuts on today's post to share the amazingness of walnuts, but also in celebration of American Heart Month (this February!). Our goal is to bring more awareness to heart disease and share recipes that are easy to make and also heart-friendly.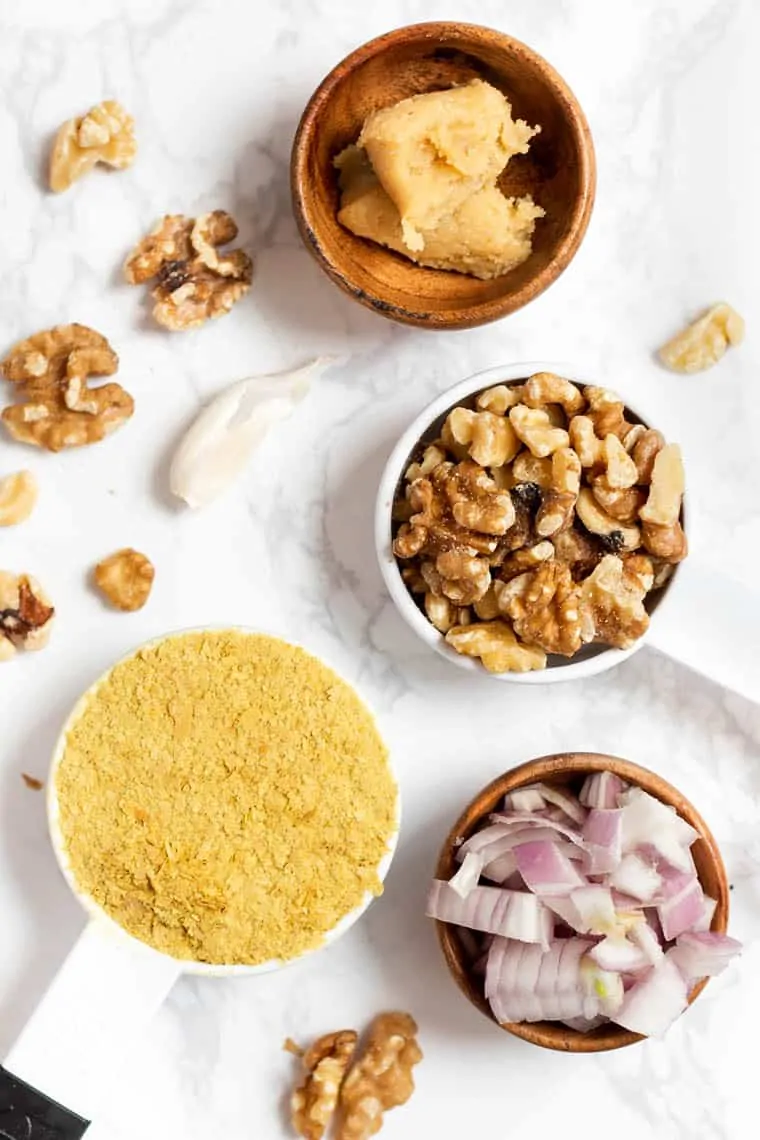 Vegan Creamy Walnut Pasta Sauce Ingredients
The secret to our vegan cream sauce is actually our walnuts believe it or not! Walnuts have an incredibly creamy texture as well as a unique flavor that works so well in this recipe.
Here's what we're using in our walnut pasta sauce:
Walnuts: I'm of course using California walnuts in this recipe – they're fab!
Nutritional yeast: my secret to giving a recipe a "cheesy" flavor without actually adding cheese!
Shallot: I like using shallots over onions because I think they're sweeter and less spicy tasting. They're just kind of mellow!
Garlic: because what would a pasta sauce be without garlic – am I right!?
Miso paste: I love using miso instead of just plain salt because it has a more flavor. It's salty, but it also adds an umami flavor to the dish that works so well.
Water: we just use some water to thin it out!
Together they make a sauce that has an incredibly rich texture, but also an intensely delicious flavor. It's "cheesy" while still being vegan, it's tangy and it's got that perfect umami boost that pairs perfectly with the rest of our dish.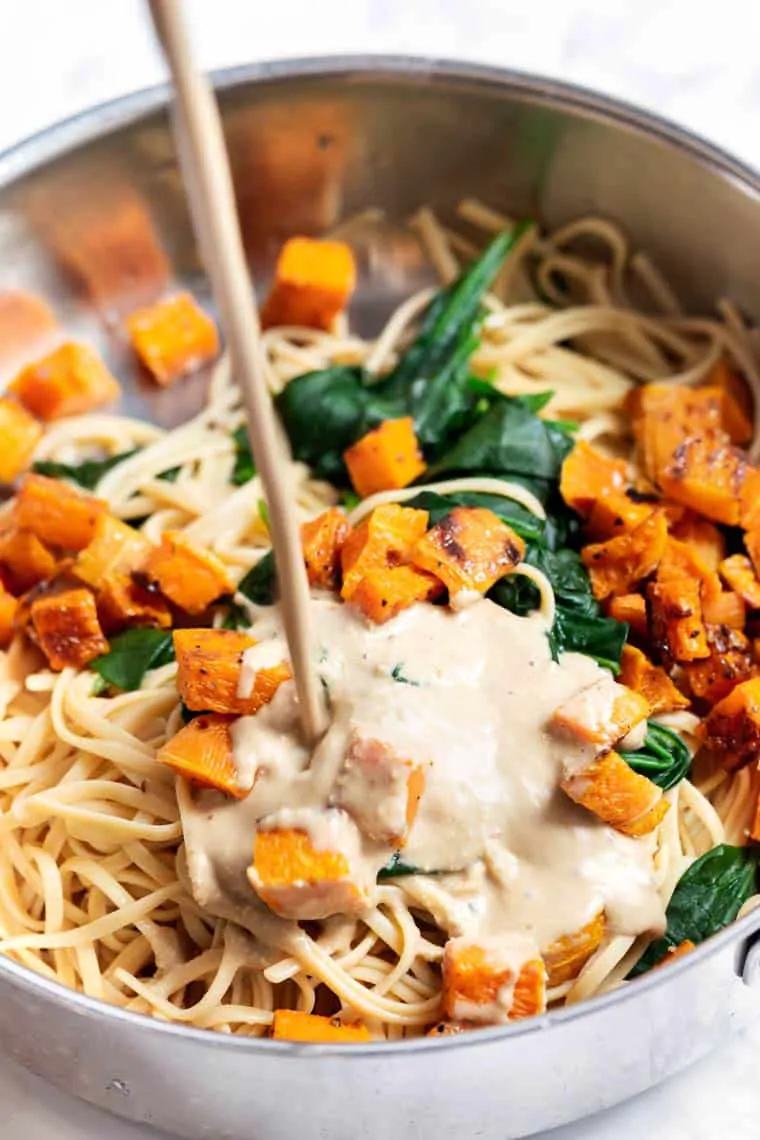 How to Make a Walnut Pasta Sauce
Making this pasta sauce couldn't be easier. We make it all while the squash is roasting and it takes about 20 minutes (including the soaking time!).
STEP ONE
Soak your walnuts in hot water for about 20 minutes. This will help soften them up so they blend more easily and get super duper creamy.
STEP TWO
Drain & rinse your walnuts then add them to a blender. I recommend a high powered blender like a Vitamix if you have one!
STEP THREE
Add the rest of your ingredients and blend them all up. That's how simple it is – 1, 2, 3!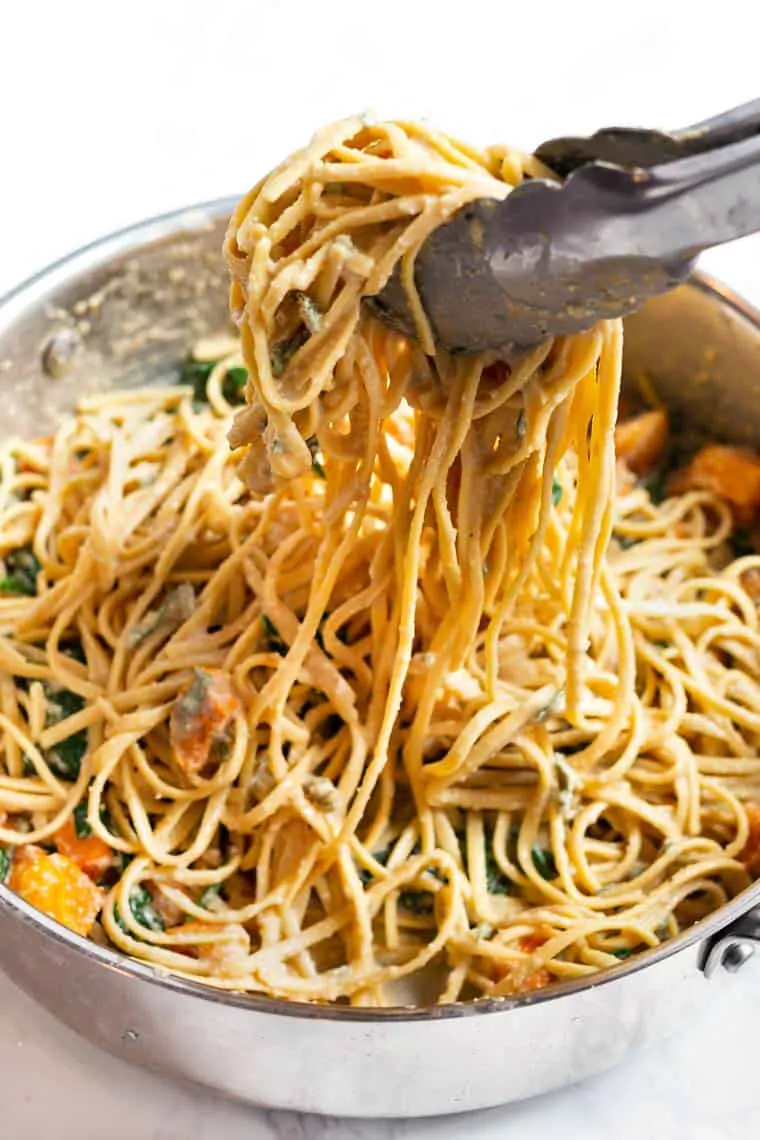 A Super Easy Vegan Pasta Recipe
In addition to our walnut sauce, we're only using a few other ingredients in this pasta. And guess what? You'd never know it! This is a recipe that feels and looks fancy but is actually a total cinch. Perfect for date night or a dinner party!
The other things we're adding in:
Roasted butternut squash
Spinach
Lemon juice
Fresh sage
And you can serve it over your favorite pasta!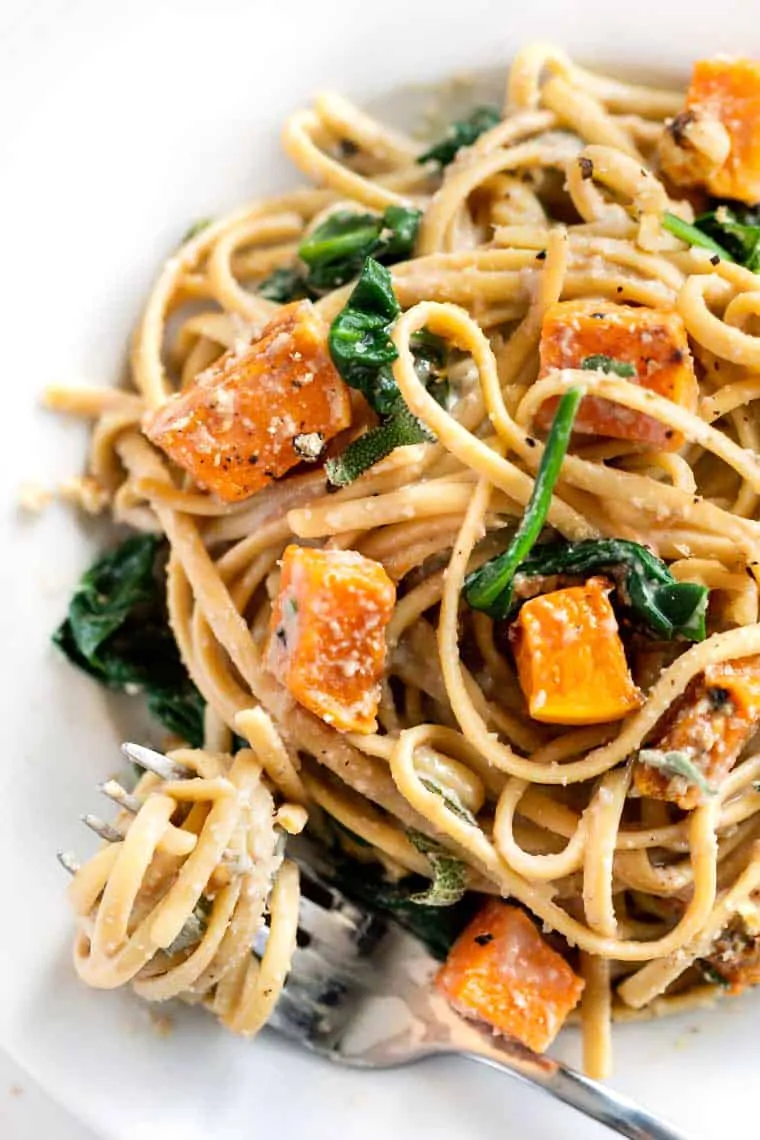 Tips & Tricks for Pasta Making
Over my many years of cooking (and eating) pasta, I've gathered a few tricks along the way that I think will really help you with our walnut pasta recipe.
Add protein to your meal by choosing a bean-based pasta like chickpea or lentil
Undercook your pasta slightly – I recommend cooking for about 1 minute less than most packages recommend
Reserve some cooking liquid to add into your sauce at the end – it makes this SO creamy!
Reheat pasta in a skillet rather than the microwave – just add a splash or two of water if you need to thin it out
Best Way to Store Leftover Pasta
This is yet another recipe that works well for meal prep. All you need to do to store this recipe is to transfer your extra portions into a container (I recommend these glass ones), and let it cool completely before sealing it up and popping it in the fridge.
As I said for reheating, I recommend tossing it into a pan, but if you're bringing it to work and don't have access to a stove, a microwave will totally work as well!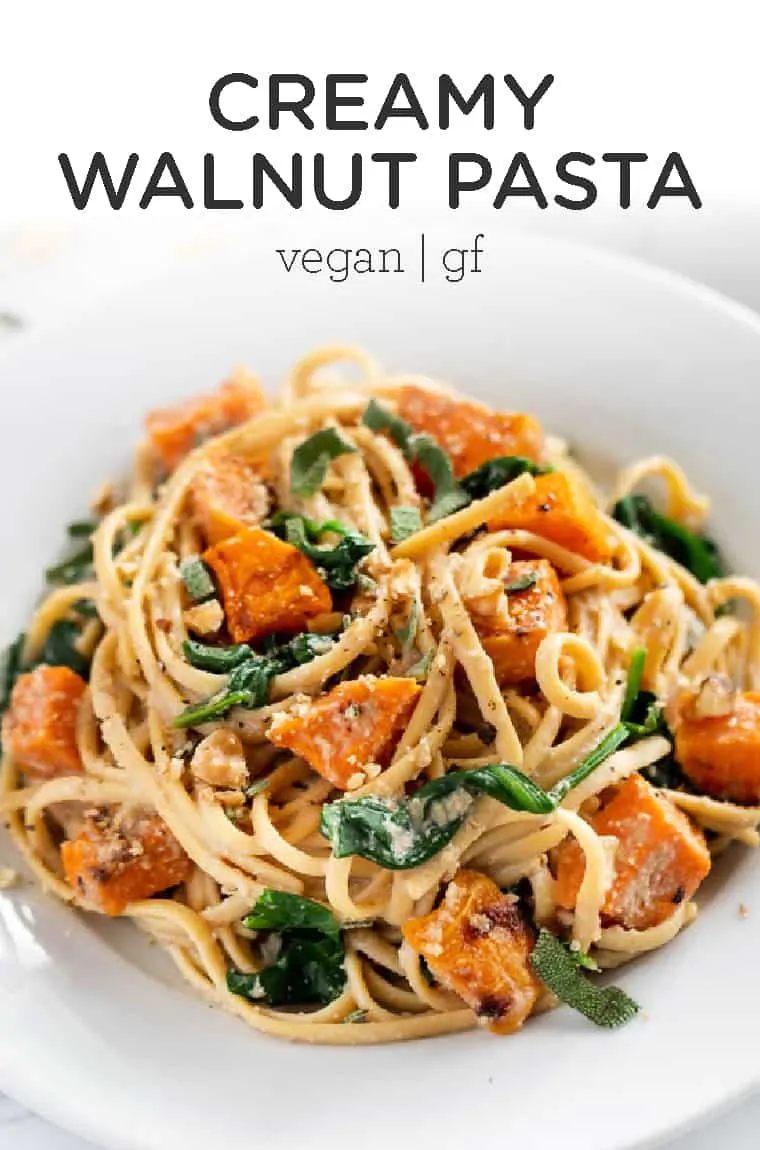 And that's pretty much it! I can't wait for you to try this recipe – I think you're going to LOVE it. And if you want to learn more about walnuts check out these studies – there are so many interesting facts in there ?don't forget to also check out California Walnuts' website to learn more about American Heart Month!
More Creamy Vegan Pasta Recipes to try:
Creamy Walnut Pasta with Butternut Squash & Spinach
This simple walnut pasta is made with roasted butternut squash, spinach and tossed in the most delicious vegan cream sauce...made from walnuts!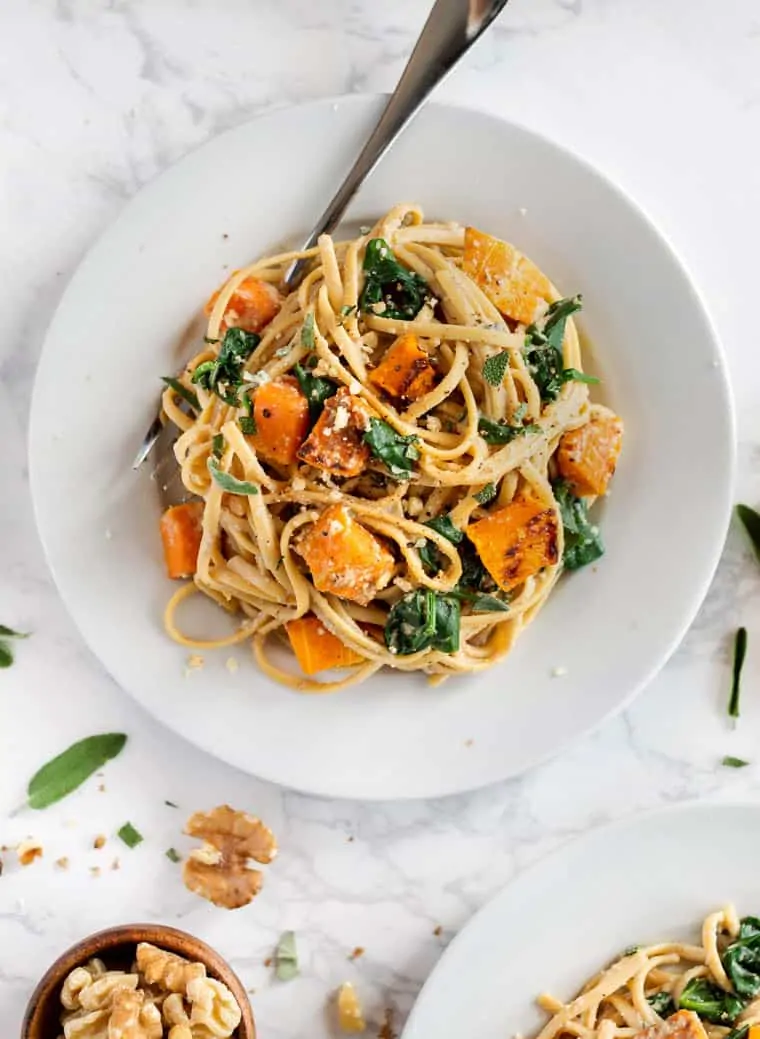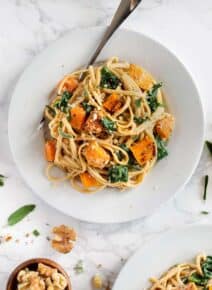 Ingredients
1

cup

cubed butternut squash

2

teaspoons

olive oil

Pinch of black pepper

1/4

cup

walnuts

2/3

cup

water

+ more for soaking

2

teaspoons

miso paste

1

garlic clove

1

small shallot

1/3

cup

nutritional yeast

juice of 1 lemon

1

packaged chickpea pasta

(or pasta of choice)

2

cups

spinach

1

tablespoon

fresh sage

chopped
Instructions
Preheat the oven to 425ºF. Add the butternut squash into a bowl and top with olive oil and pepper. Toss to coat.

Transfer the squash onto a baking sheet and bake for 25 - 30 minutes until the squash is tender.

Meanwhile, add the walnuts into a small bowl. Top with hot water and allow to soak for at least 20 minutes. Once soaked, drain and add to a blender.

Along with the walnuts, add the nutritional yeast, miso paste, garlic, shallot and water into the blender as well. Blend on high until creamy.

With 10 minutes left in the cooking time on the squash, start the pasta. Cook according to package instructions and in the last 30 seconds of cooking, remove 2 - 3 tablespoons of pasta water and add the spinach. Give it a stir until the spinach is wilted.

Drain the pasta and spinach in a colander, then transfer it back into the pot. Add the roasted squash, 2 tablespoons of pasta water and the sauce. Also, add the lemon juice and fresh sage and toss to combine.

Serve immediately and garnish with a touch more sage, pepper, and crushed walnuts.
Nutrition
Calories:
490
kcal
|
Carbohydrates:
73
g
|
Protein:
32
g
|
Fat:
14
g
|
Saturated Fat:
1
g
|
Sodium:
248
mg
|
Potassium:
333
mg
|
Fiber:
19
g
|
Sugar:
12
g
|
Vitamin A:
5157
IU
|
Vitamin C:
12
mg
|
Calcium:
127
mg
|
Iron:
12
mg
Filed Under:
 

1

Supportive but not conclusive research shows that eating 1.5 ounces of walnuts per day, as part of a low saturated fat and low cholesterol diet, and not resulting in increased caloric intake may reduce the risk of coronary heart disease. One ounce of walnuts provides 18g of total fat, 2.5g of monounsaturated fat, 13g of polyunsaturated fat, including 2.5g of alpha-linolenic acid, the plant-based omega-3.
2

Heart-Check Certification does not apply to scientific research by an organization other than the American Heart Association, unless expressly stated.