This amazing vegan roasted cherry tomato pasta sauce is going to be your new favorite way to eat pasta. Only 5 ingredients, it's easy and seriously delicious!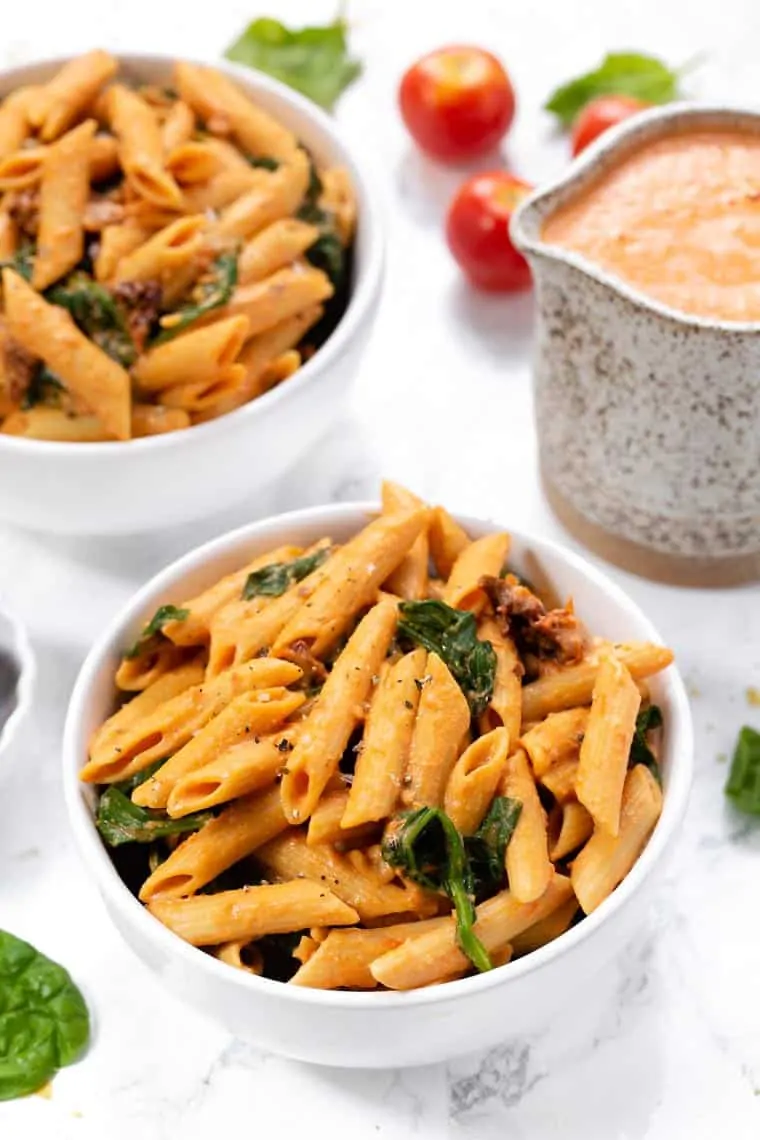 Who doesn't love a good bowl of pasta, right? Especially when those noodles are drenched in a warm tomato sauce that's loaded with flavor.
Pasta is one of those things that I eat at least two times per week. It's fast, it's easy, it's delicious and it's nutritious!
One of the ways to keep pasta tasting light and balanced is to make a tomato-based sauce and add in loads of veggies for good measure. That's exactly what we're doing today! We're making the BEST cherry tomato pasta sauce and then throwing in some extra veggies for good measure. It ends up being a meal that is naturally vegan, totally delicious and also fantastic for meal prep.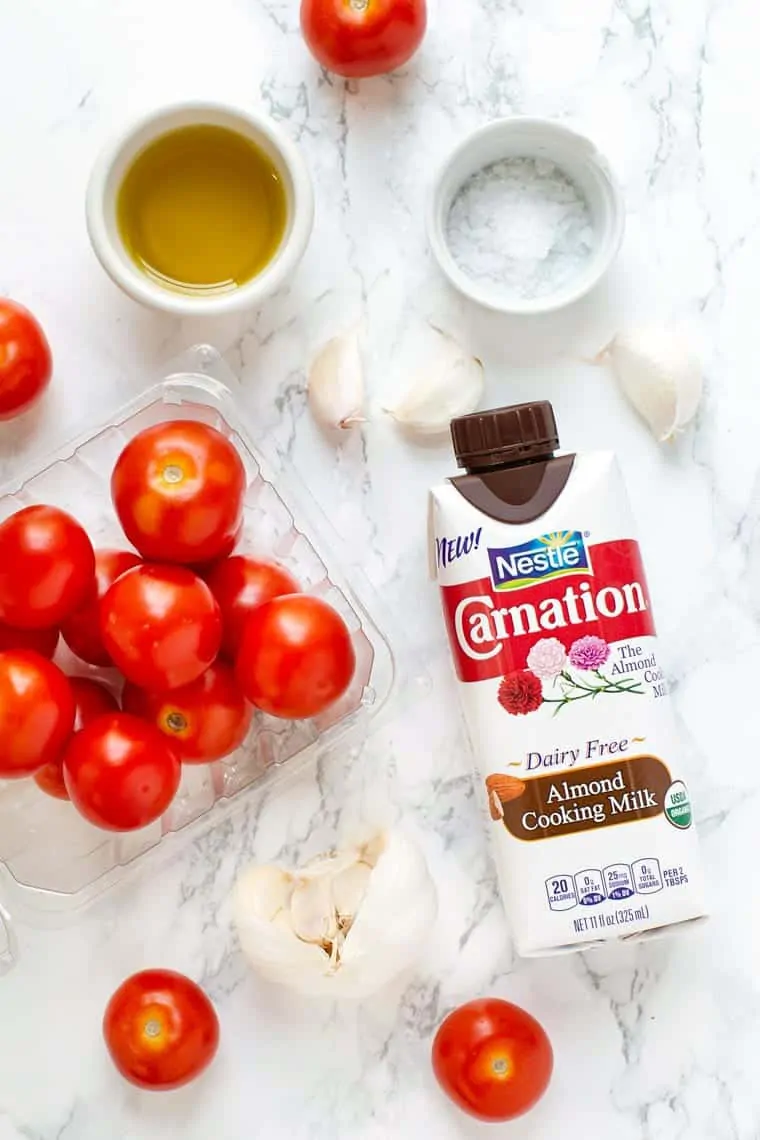 A New Heavy Cream Alternative
I've been dairy-free for nearly a decade, so I'm always on the lookout for dairy-free products that help me recreate some of those foods that my family and I love, without anyone even knowing. Carnation® Almond Cooking Milk is just that: super rich, without any dairy!
What's great about the Carnation® Almond Cooking Milk is that it's made with less water than other almond drinking milks, so it has a naturally thicker texture. This makes it a perfect alternative to heavy cream – in both sweet and savory recipes! It's obviously delicious in this Roasted Cherry Tomato Pasta Sauce, but it would also be a great addition to soups, oatmeal or even a pumpkin pie. Not a fan of coconut? Because of the thicker texture of the Almond Cooking Milk, you can totally replace canned coconut milk with it!
I also love that the Carnation® Almond Cooking Milk is sold in a re-closable tetra pack so it's not only shelf-stable, but you can also use just what you need. It will last 10 days in the fridge, so you don't have to worry about wasting a thing! This makes it a true pantry staple, in my opinion.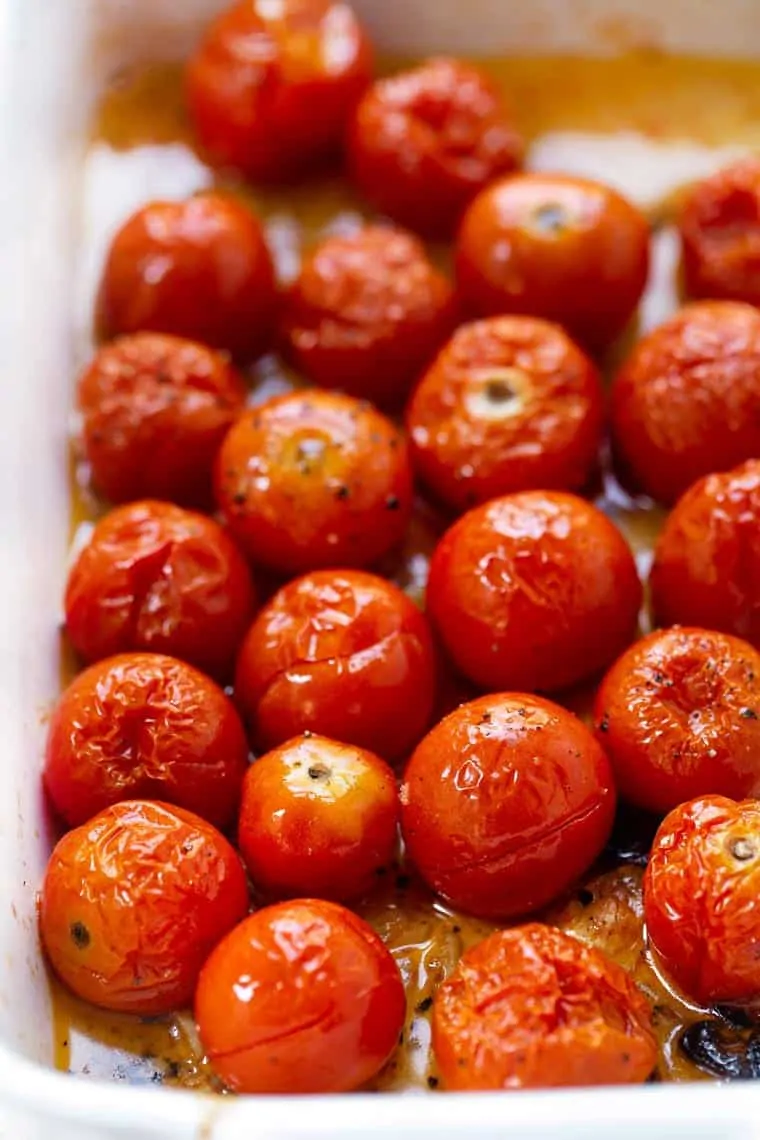 Ingredients for Cherry Tomato Pasta Sauce
The beauty of this vegan pasta sauce is the short ingredient list. I'm all about simplifying and I just love when dinner can be thrown together with a few simple ingredients.
Here's what we're using to make our pasta sauce:
Cherry Tomatoes
Garlic
Olive Oil
Salt & Pepper (technically two, but I think of them as one ????)
And that's all you need! The secret to this sauce's decadently smooth texture – aside from the Almond Cooking Milk of course – is your blender.
Trying to find the cooking milk? You can snag some at Kroger or Walmart! I love seeing that these non-dairy alternatives are available at giant retailers like this. It makes this lifestyle so much more accessible for so many more people!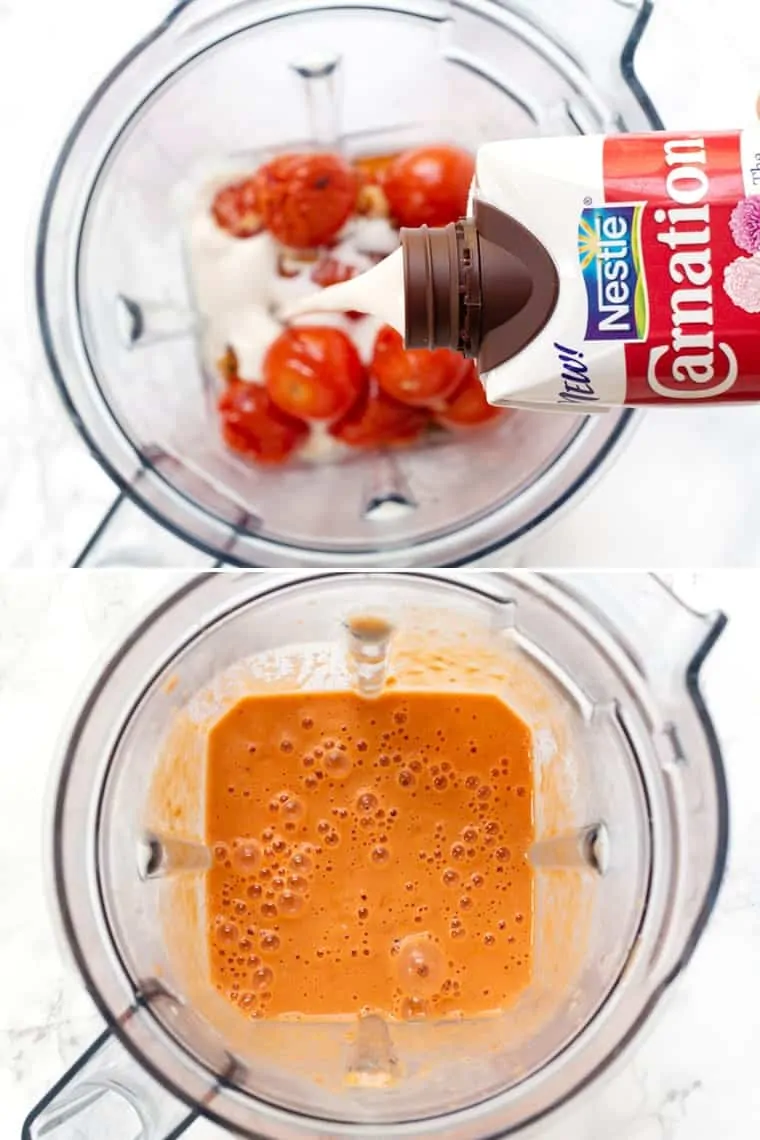 How to Make Homemade Tomato Sauce
And making this pasta sauce is even easier than the ingredient list! We start by roasting the cherry tomatoes with some garlic, olive oil, salt, and pepper. You're looking for the tomatoes to be bubbling, juicy and partly bursting in your pan.
From there, transfer all those gorgeous little tomatoes into your blender where you'll simply add the Carnation® Almond Cooking Milk. Blend it up until the texture is totally smooth and that's IT!
Honestly, it doesn't get easier. The hardest part of this recipe is simply waiting for your tomatoes to cook. Because the Carnation® Almond Cooking Milk has such a lovely texture, but also a very mellow flavor (unlike coconut milk), it doesn't overpower the sweetness from the tomatoes and the bang from the garlic.
It's just a simply delicious sauce that makes an amazing base for your dinner!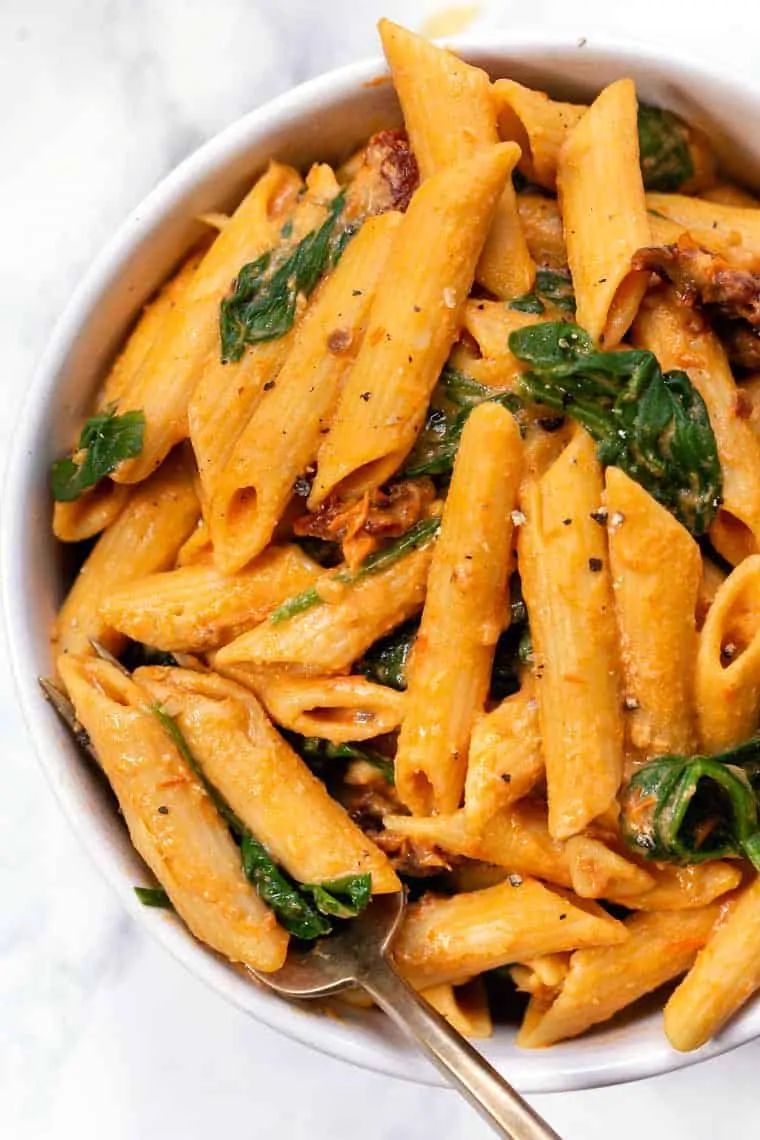 Ways to Serve this Cherry Tomato Pasta Sauce
The obvious choice for serving this cherry tomato sauce is with your favorite pasta. I've given you my recipe down below, but in case those add-ins don't strike your fancy, I thought I could give you a few combinations that would work well.
Since this sauce has a super smooth texture and rich flavor from the roasted tomatoes – it can be enjoyed just on its own. But if you want something a little fancier, here are some serving ideas:
Rustic: white beans + kale + sausage (vegan or chicken)
Bright: spinach + sun-dried tomatoes + nutritional yeast (<– the one you see here)
Fresh: basil + chopped tomatoes
Hearty: sauteed mushrooms + cooked lentils (kind of like a bolognese)
And if you eat meat or seafood, this would be fabulous with some roasted chicken or sauteed shrimp!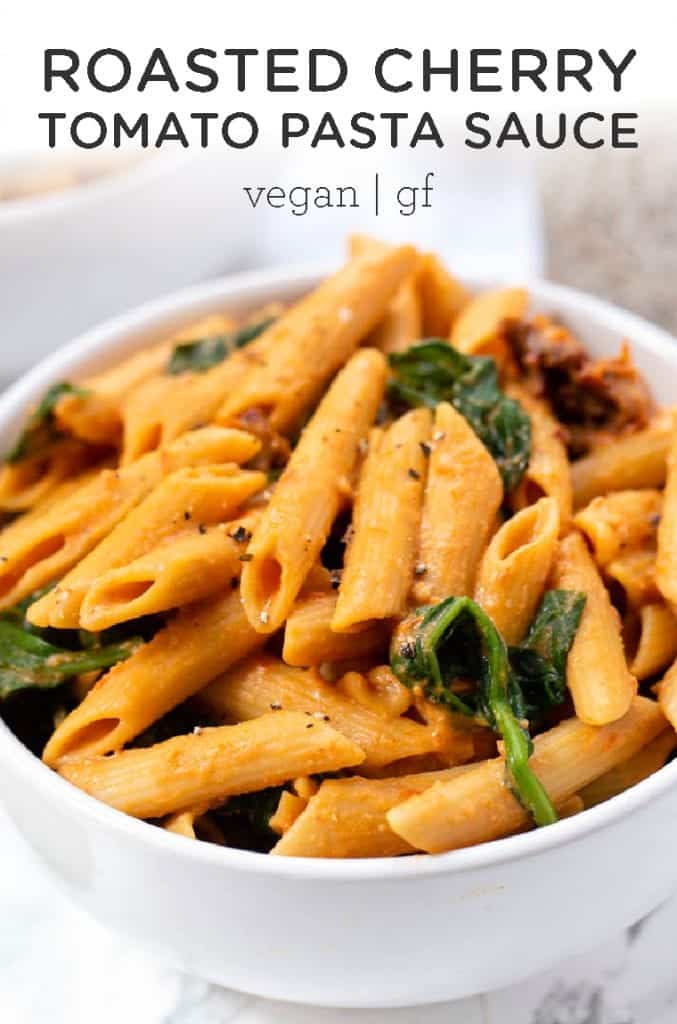 More Vegan Pasta Recipes to try:
Vegan Roasted Cherry Tomato Pasta Sauce
This amazing vegan roasted cherry tomato pasta sauce is going to be your new favorite way to eat pasta. Only 5 ingredients, it's easy and seriously delicious!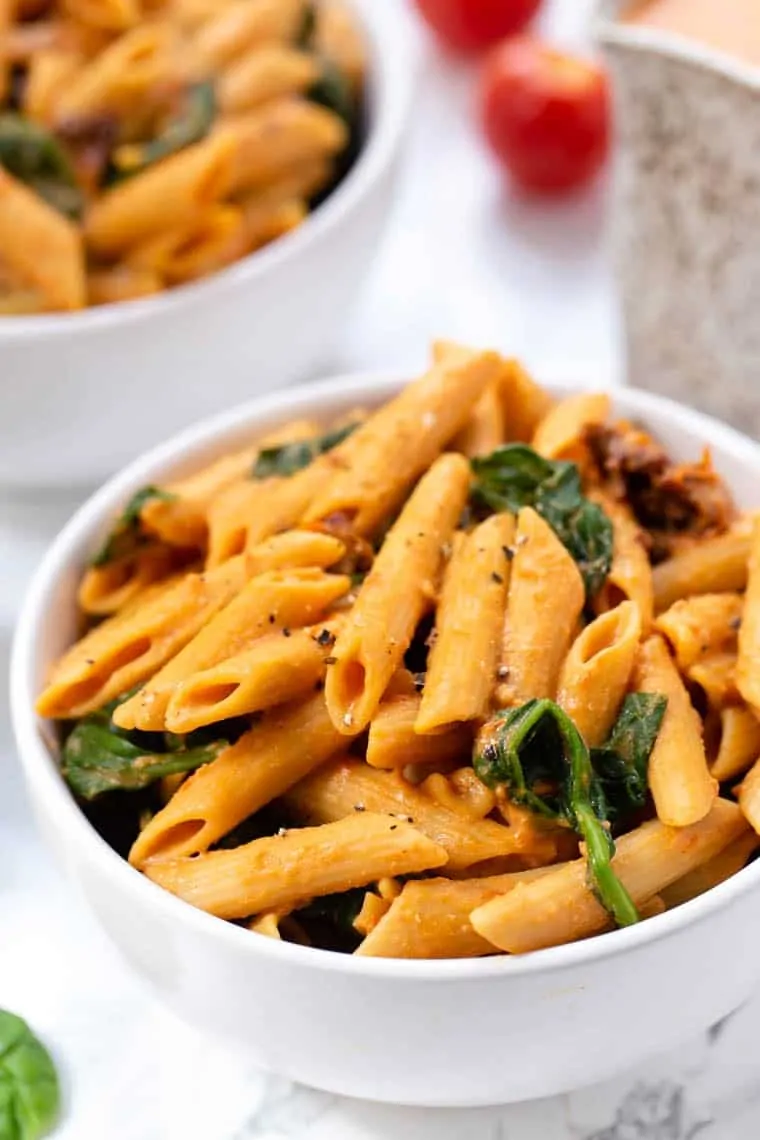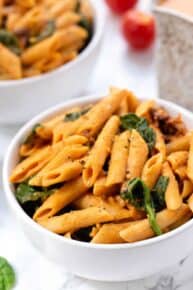 Ingredients
for the sauce:
2

pints

cherry tomatoes

1

tablespoon

olive oil

3

garlic cloves

, sliced

Salt & pepper to taste
Instructions
Add tomatoes to a small pan. Toss with oil, garlic, salt and pepper, and roast at 350ºF for 35 minutes.

Once cooked, add the contents of the pan to a blender with the almond cooking milk. Blend until smooth.

Cook the pasta according to the package instructions. Just before draining, add the spinach and stir until it's wilted. Drain the pasta (and spinach), then add it back to the pan.

Add the sun-dried tomatoes, nutritional yeast, and pasta sauce and stir to combine. Serve immediately and enjoy!
Nutrition
Serving:
1.5
g
|
Calories:
517
kcal
|
Carbohydrates:
102
g
|
Protein:
16
g
|
Fat:
7
g
|
Saturated Fat:
2
g
|
Sodium:
135
mg
|
Potassium:
1135
mg
|
Fiber:
6
g
|
Sugar:
11
g
|
Vitamin A:
2684
IU
|
Vitamin C:
64
mg
|
Calcium:
60
mg
|
Iron:
5
mg
Filed Under:
This post is sponsored by Nestlé Carnation® but all opinions are my own.