These spring pesto quinoa bowls are packed full of seasonal vegetables and homemade pesto, making for a perfect light and refreshing meal.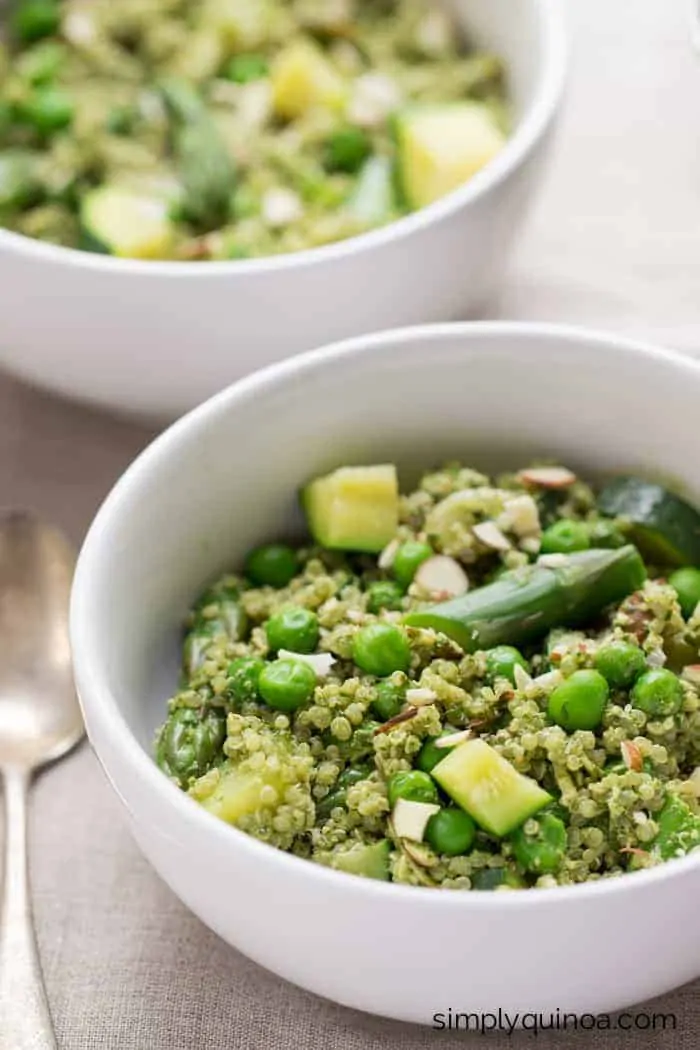 Pesto. Pesto. PESTO. One of my all time favorite condiments/sauces in the entire world. And it's totally the star of these spring pesto quinoa bowls.
I think what I love most about pesto, aside from the wonderful flavor and vibrant green color is how easy it is to make at home. It's one of those things that I think a lot of people end up buying at the grocery store out of convenience (like jarred tomato sauce and hummus), not realizing how simple and affordable it is to make yourself. Plus, store-bought pesto can be surprisingly high in fat and sodium, so when you're making it at home, you have the ability to really control the number of ingredients that you're adding.
It might take you a few tries to find the perfect ratio of basil to oil to garlic to nuts, but once you get the hang of it and find a combination that you love, I say it's high time to experiment!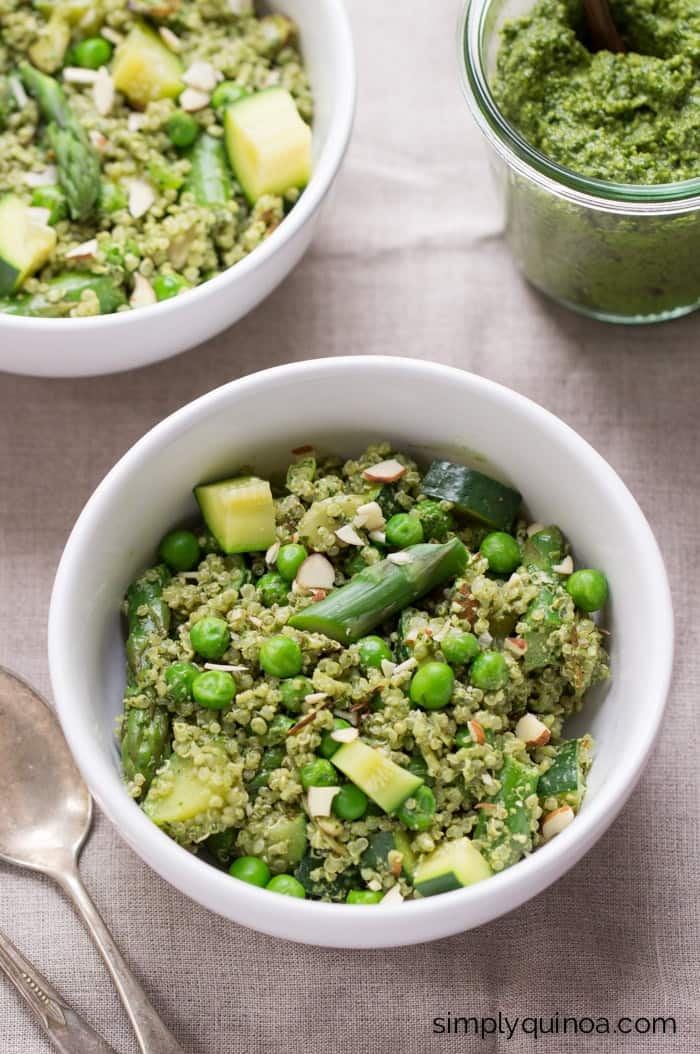 A traditional pesto recipe is usually just a simple blend of basil, oil, parmesan/romano cheese, pine nuts, garlic, and some salt and pepper. And while outrageously delicious, we're all for breaking traditions, right?
Rather than just sticking with plain old basil pesto, why not try adding in some other ingredients? I personally always add some dark leafy greens to the mix to up the nutritional value and give the pesto a bit more flavor. I also swap out the cheese for nutritional yeast which still gives it that cheesy flavor, but nixes the dairy. And I also like to change up the nuts I use.
Frankly, pine nuts are SUPER expensive and while they're totally delicious, they're just not in the budget all the time. Luckily, I've found that you honestly can have a totally delicious pesto with pretty much any type of nut. My favorite is probably walnuts (like I've used in this recipe), but you can also use almonds, brazil nuts, cashews, and even pistachios!
Basically, what I'm trying to say is that the possibilities are endless with pesto! So have some fun 🙂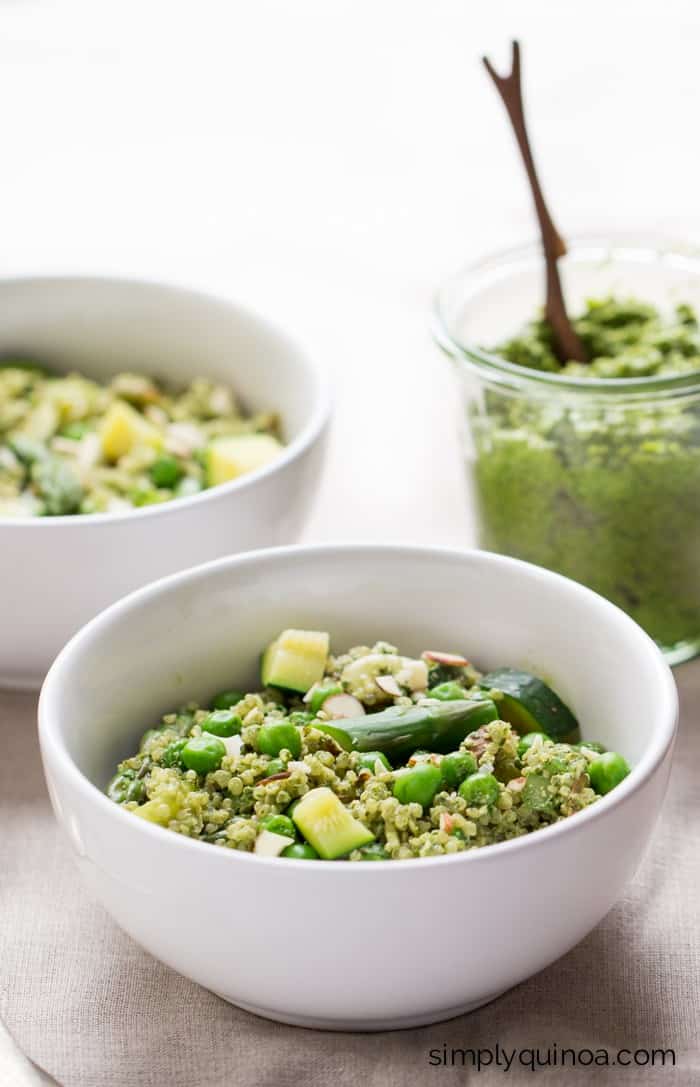 Typically, I like to enjoy my pesto on top of gluten-free pasta or zucchini noodles, but with each batch, I find myself trying out new things. Sometimes it's used as a spread for toast, other times a dip for crackers and this time it's mixed in with fresh spring veggies and fluffy quinoa.
And friends, let me tell you these quinoa bowls are pure perfection. It starts with a base of fluffy white quinoa, which is then tossed with lightly steamed veggies – including zucchini, asparagus, and peas – and drizzled with my homemade basil-kale pesto. It's simple, yet it's packed with flavor and is light and refreshing. Just right for an easy lunch or you could even jazz it up with your favorite protein for a more filling and hearty dinner (my vote would be chickpeas…yum!).
More Healthy & Delicious Ways to eat Pesto:
Spring Pesto Quinoa Bowls
These quinoa bowls are pure perfection.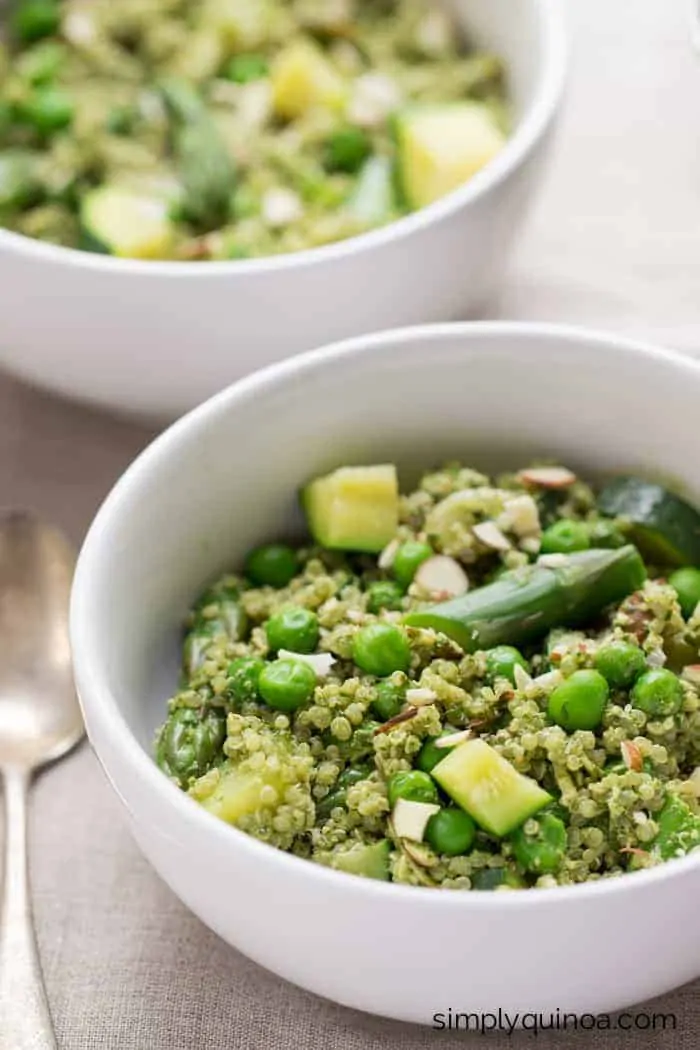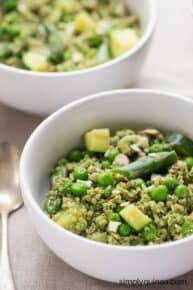 Ingredients
for the quinoa bowls:
2

cups

cooked quinoa

1/2

bunch asparagus

cut into 1" pieces

1

medium zucchini

cut into bite-sized pieces

1

cup

fresh

or frozen peas

1/2

cup

pesto

1/2

cup

sliced almonds

optional
Instructions
Add basil, kale, garlic and walnuts into the bowl of a food processor. Process on high until finely chopped and combined.

Add nutritional yeast and salt then turn the food processor on and slowly drizzle in the oil until the pesto is creamy. Pulse in the lemon juice. You may have to remove the top and wipe the sides down as you go.

Transfer pesto to an airtight container and set aside.

Add asparagus, zucchini and peas into a steamer basket and gently steam until zucchini is tender, about 1 - 2 minutes.

Remove from steamer basket and transfer to a mixing bowl. Add quinoa and almonds and toss to combine.

Add pesto and mix the salad together until all the ingredients are evenly coated in sauce. If you want the dish to be a bit more "creamy", add 1 - 2 tablespoons of almond milk (or water) and mix to combine.

Serve immediately and enjoy!
Nutrition
Calories:
617
kcal
|
Carbohydrates:
57
g
|
Protein:
19
g
|
Fat:
73
g
|
Saturated Fat:
10
g
|
Cholesterol:
4
mg
|
Sodium:
481
mg
|
Potassium:
985
mg
|
Fiber:
11
g
|
Sugar:
6
g
|
Vitamin A:
4580
IU
|
Vitamin C:
48.8
mg
|
Calcium:
257
mg
|
Iron:
6.1
mg
Filed Under: