How to stay in shape on vacation with 4 easy tips and workout ideas. These workouts include no equipment ones, travel workout equipment, and gym workouts.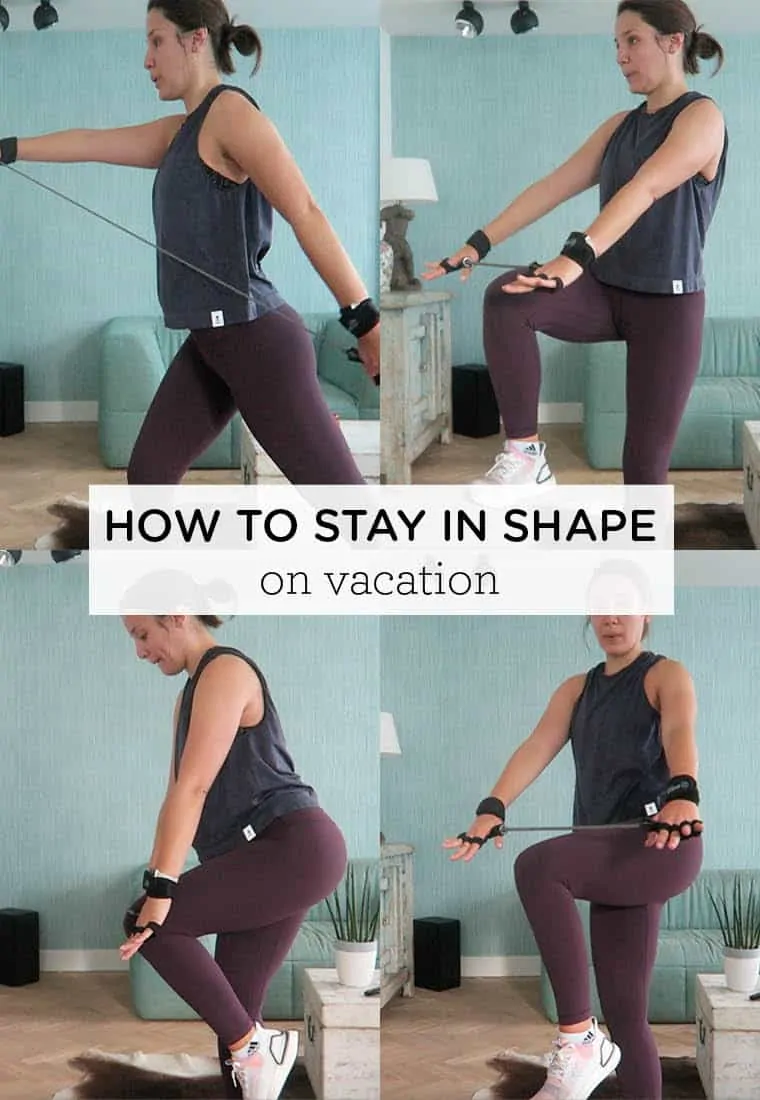 Being away from your workout routine, even for just a week, can make you feel sluggish. I never used to be someone who would exercise while I was on vacation and I would come back home, feeling heavier and then feel this big push to "get back on track". I would push myself harder in workouts, I would be more strict with my food, just so that I could get back to normal and lose any of that holiday weight.
Nowadays? Vacation doesn't mean that I have to forgo my workouts. I've come up with some ways to stay in shape on vacation that really work. I come home feeling almost exactly like I did when I left (maybe just needing a few days break from wine ????).
So that's what I wanted to share today. The 4 workout ideas that I use while I'm vacation that help me stay in shape!
How to Stay in Shape on Vacation
The key to staying in shape on vacation is to move every single day. Now that doesn't mean you have to do something intense, but getting your body moving, burning some calories and hopefully breaking a little bit of a sweat can be a huge help.
Everyone's workouts can be and feel different, but over the years of traveling, while also being on this big 4-month Europe trip, I feel like I've found some good ways to keep active. And I wanted to share them with you!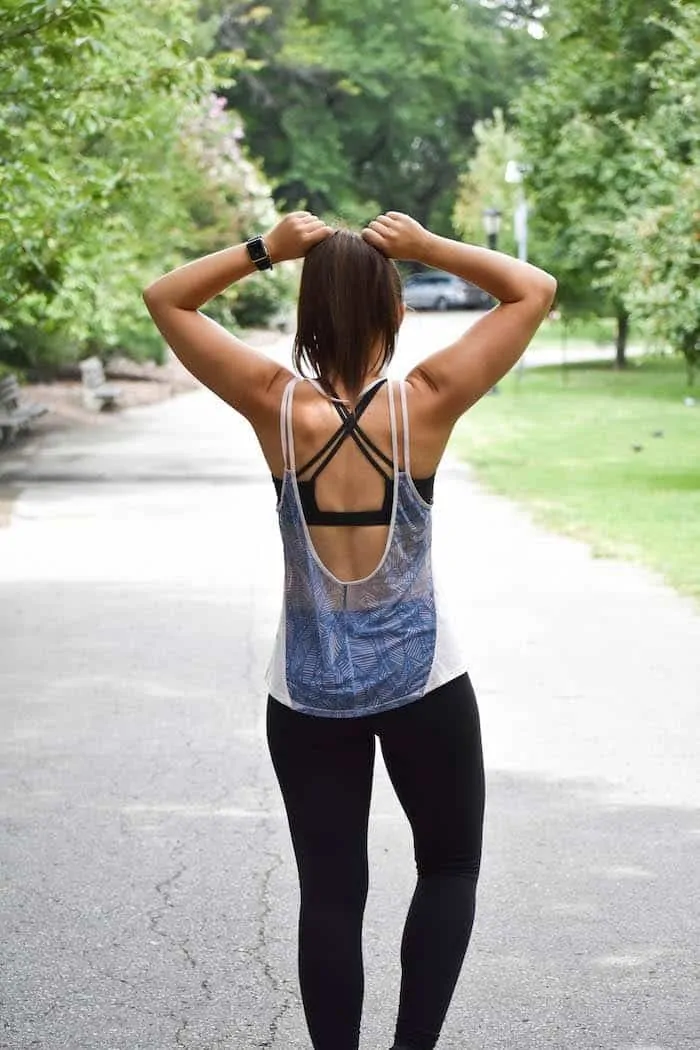 1. Walking
First up is walking. You really can't beat it! And it's SO easy to do. Whether you're exploring cities, hiking, or even at the beach, you can go for a walk.
While we're over here in Europe, I use my Apple Watch to count our steps. At home I have a goal of 10,000 steps per day, but when I'm traveling I up that to 15,000. That's about 6 miles! This is super easy in cities – we're averaging about 18 – 20K steps – and it helps SO much! Plus you get to explore where you are which is just a bonus.
2. Running/Cardio
I've never been a big runner, but it's something that I do like to pick up when I'm traveling because it's so darn easy. I always have sneakers with me, and while I'm away I'll try to run 2 – 3 times per week. The great thing about running is that you get to explore your surroundings, you get a good sweat on, your heart is pumping and you usually feel so good afterward! I aim for a 2 – 3 mile run, so it's nothing crazy!
Not a runner? How about renting some bikes! Biking is another great way to explore cities and most cities these days have bike-share programs that are cheap and accessible!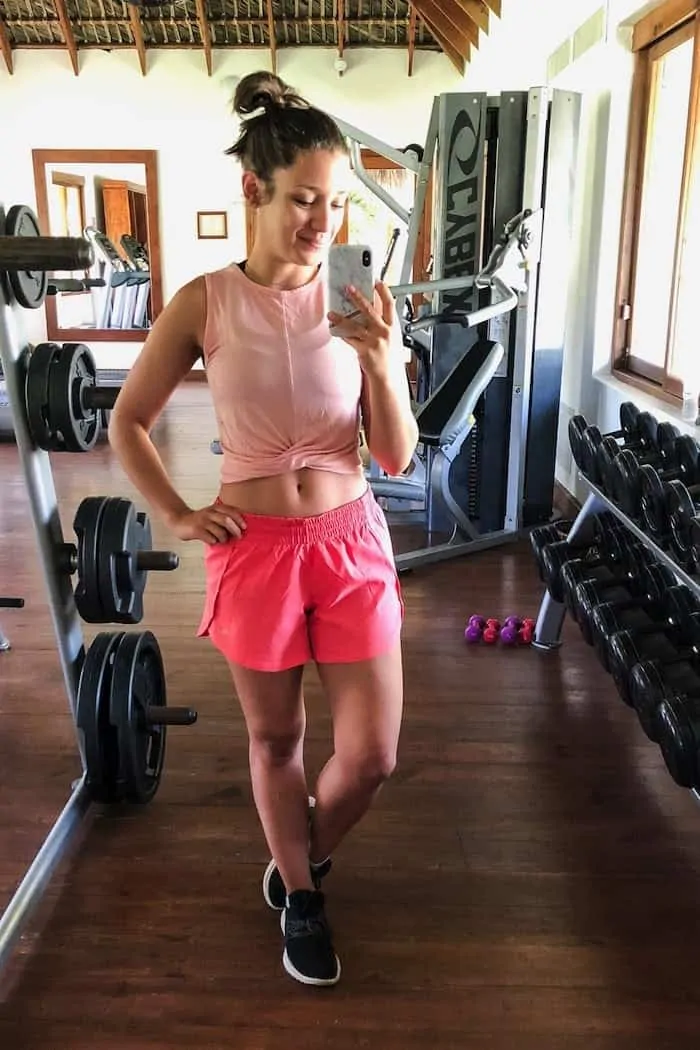 3. Hotel Gym Workouts
I try my best to also incorporate strength training into my workouts while I'm away. And I think this is a huge help when you're trying to stay in shape on vacation!
Strength training has a longer calorie burn than strictly cardio workouts, so even if your heart isn't pumping as high, you're still getting amazing benefits. Plus, it just makes you feel strong!!
When I'm away and staying in hotels, I try to find ones that have fitness centers. In most hotel search engines these days, that's something you can filter by. And most big hotel chains do have gyms. You can make up your own workout while you're there, but I like to do something that's about 30 minutes and total body.
Here's what I do: 3 circuits (lower body, upper body, core), made up of 3 exercises each. I do 10 reps per exercise and repeat the whole circuit three times through.
Here's an example workout:
Lower body: weighted step-ups, weighted back lunches, kettlebell swings
Upper body: bicep curls, tricep extensions, bent over rows
Core: Russian twist, crunches on an exercise ball, standing oblique crunches
But again, you can do whatever works best for you!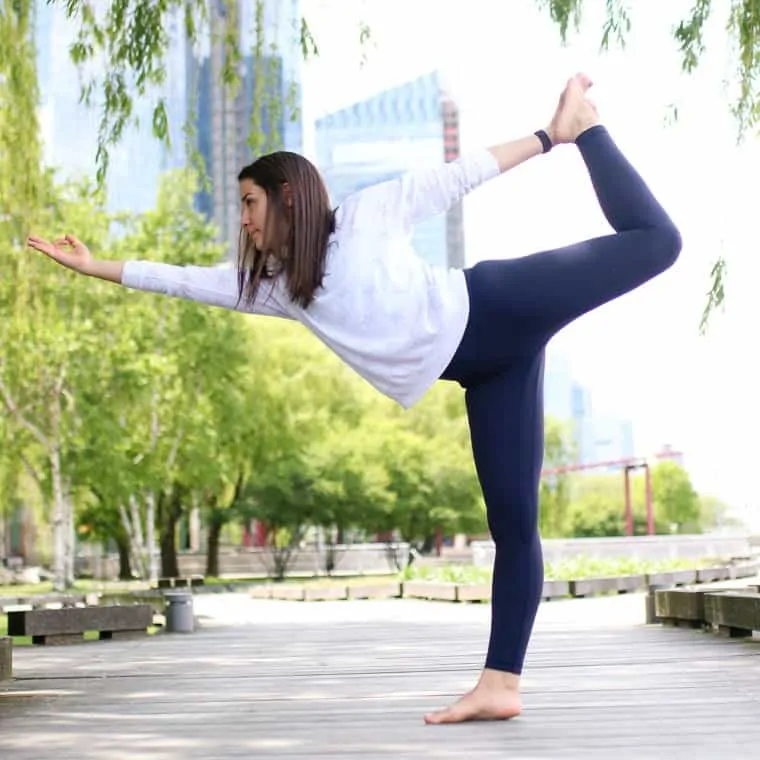 4. At Home/Travel-Friendly Workouts
Lastly, I also sometimes like to travel with workout equipment! On this trip right now, I'm following a workout called P.volve that uses resistance bands and core sliders. They're easy to pack, super light and also very effective!
I have four pieces of equipment that I brought on this trip are:
If you don't want to do stuff like that, there are always online yoga classes or bodyweight only workouts that you can find! My favorite place to find free workouts like that is Fitness Blender (they also have videos you can follow in the gym!).
Do you have any healthy travel tips?
I'd love to know if you have tips for how to stay in shape on vacation! Anything you've done that has been super helpful? Let me know in the comments!