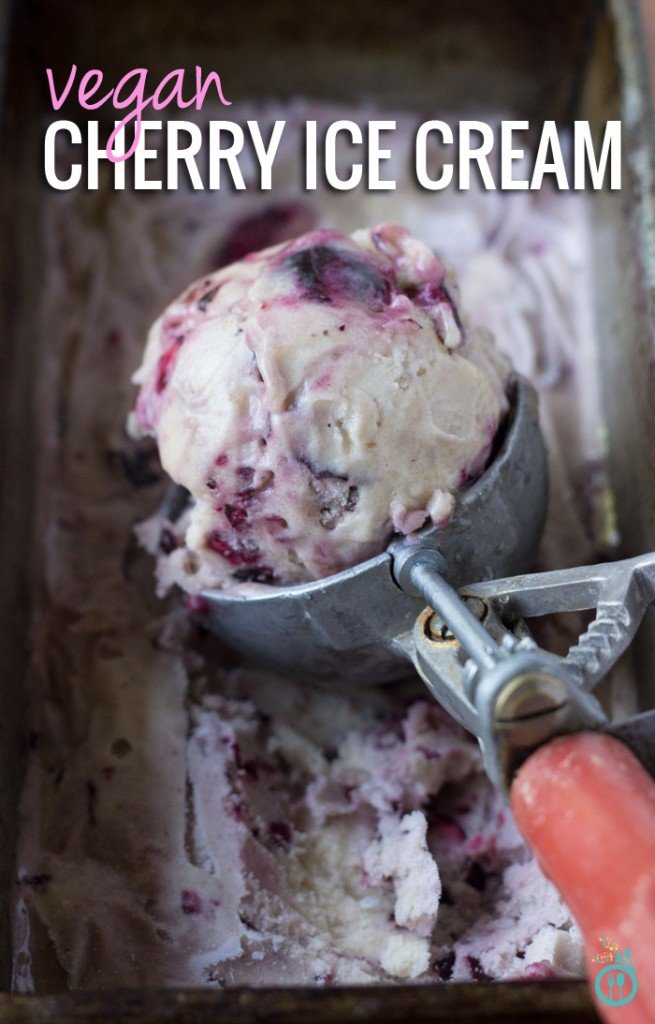 I had full intentions of posting a different recipe today, but a few things got in my way. First, the recipe I was hoping I would nail in the first try was a complete and total flop (back to the drawing board on this one). And second, my sweet tooth totally got the better of me (like in the vegan cherry ice cream kind of takeover).
So today we're going to embrace the sweetness and chat about ice cream.
The trouble is, when you're an ice cream lover like me, and you're sitting in a house that's 95 degrees and you step outside and the weather is just as sticky, it's hard to get over the fact that you can't eat ice cream because you can't have dairy. Dang lactose!
Ice cream is one of the only summer treats we get for relief from the heat, so when your only option is to purchase a sugar-laden sorbet for a $6 pint of ice cream…I bet you just throw your hands up in aggravation and skip them both. I know, I do. At least we have cookies…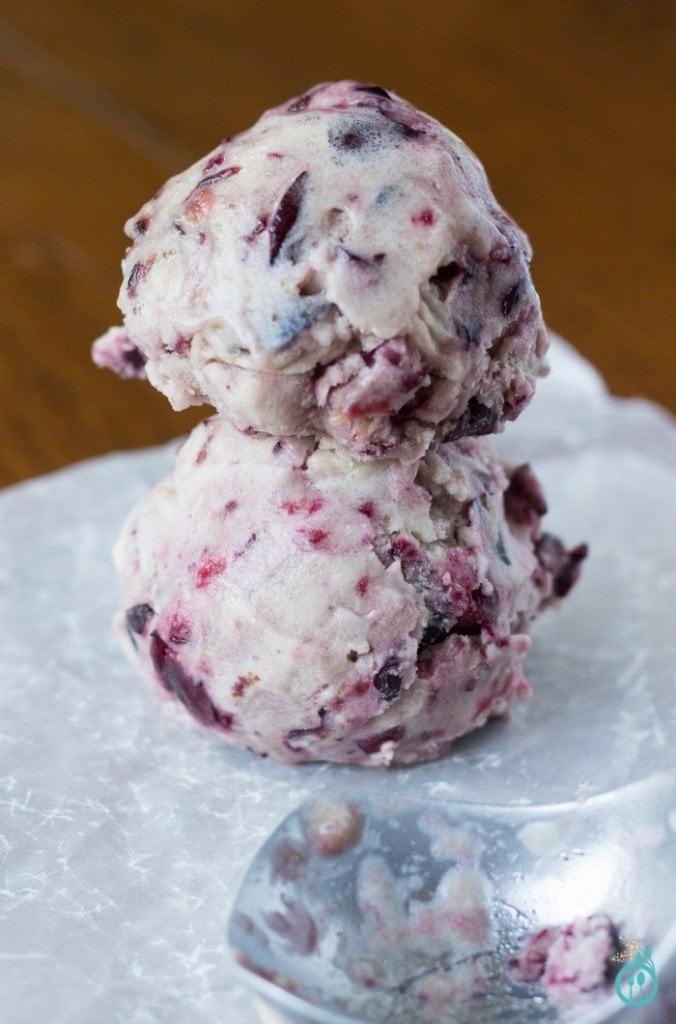 So what are your options?
Well, you could purchase an ice cream maker and whip up a fabulous batch of coconut milk ice cream. It's relative easy, but it takes time. Like time that you don't have when you want ice cream RIGHT. NOW. and you don't have anything in your freezer.
When you make ice cream at home you also have to remember that you're not only going to have a bowl of high-fat yumminess, but there are also added sugars and sometimes gums. Granted, it's definitely better than what you purchase in the store, but still there are some fillers that you might want to avoid (especially when it's bikini season).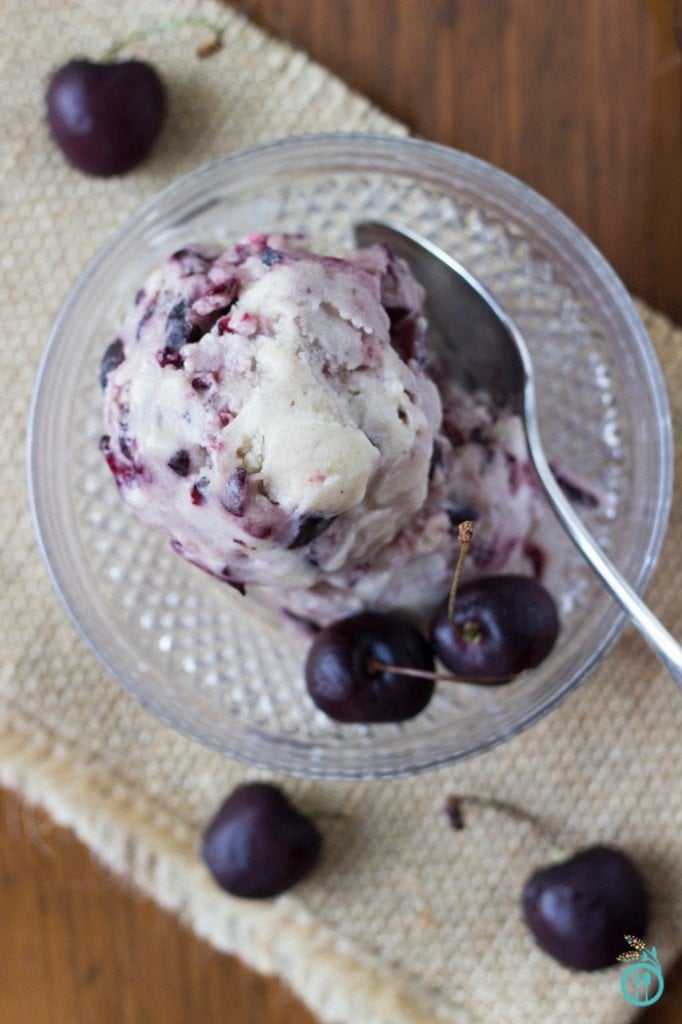 Wouldn't it be great if we could eat a bowl of ice cream that was not only healthy for us, but also vegan and gluten-free? Oh and that cost less than $3 to make?
I thought we'd be on the same page with that one.
Well my friends, I have a little secret when it comes to making vegan ice cream at home (well, not really that secret since we've talked about it before): all you need is fruit.
Frozen bananas to be exact. With just a few simple ingredients, you can have a luscious, creamy, frozen treat that satisfies those ice cream cravings and tastes heavenly. Light, fluffy, low in sugar, zero fat and low in calories, how can you go wrong?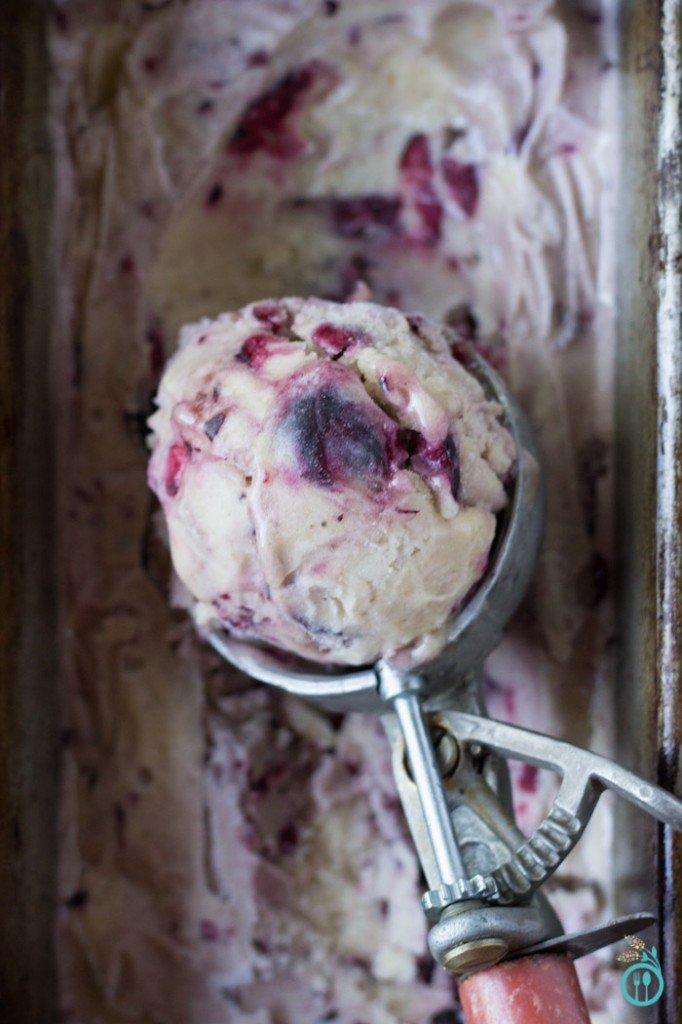 Seriously, don't you just love that this ice cream is made from fruit?
In all honesty, I had some for lunch today. I rationalized it that I was simply eating banana and cherries (and a little quinoa of course).
If you haven't jumped on the banana ice cream train yet, this is your chance. This vegan cherry ice cream will change your whole mind about what's possible for dairy-free ice cream lovers.
And the fact that it takes less than 5 minutes to make? Pure benefit.
And clearly chocolate chips are totally okay. Go wild. You're allowed.
Vegan Cherry Ice Cream
This vegan cherry ice cream will change your whole mind about what's possible for dairy-free ice cream lovers.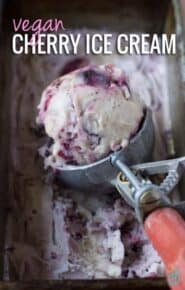 Instructions
Add frozen bananas to the bowl of a food processor. Process until broken up.

Remove lid and add vanilla. Process again until starting to become smooth.

Remove lid and add quinoa. Process until completely smooth and creamy. Add splashes of almond milk to get the right consistency. You want it to me smooth like soft serve ice cream.

Remove lid, add cherries and pulse to combine (2 – 3 pulses).

Transfer to a freezer-safe container and freeze for 30 minutes. Remove and serve.

Garnish with chocolate chips (especially if you love Cherry Garcia!).
Nutrition
Calories:
98
kcal
|
Carbohydrates:
23
g
|
Protein:
1
g
|
Sodium:
22
mg
|
Potassium:
336
mg
|
Fiber:
2
g
|
Sugar:
11
g
|
Vitamin A:
55
IU
|
Vitamin C:
7.7
mg
|
Calcium:
23
mg
|
Iron:
0.4
mg
Filed Under: