These are the best ever coconut oil chocolate chip cookies – they're made without butter, wheat flour, and no refined sugar!

Crispy, chewy AND dark chocolate chips?
That, my friends, describes my perfect chocolate chip cookie. It has brown crispy edges, a soft chewy center, is thin but still a little dense, and is studded with dark chocolate chips throughout.
Oh and I must be able to dunk them in a big glass of almond milk. Yes, that's a must.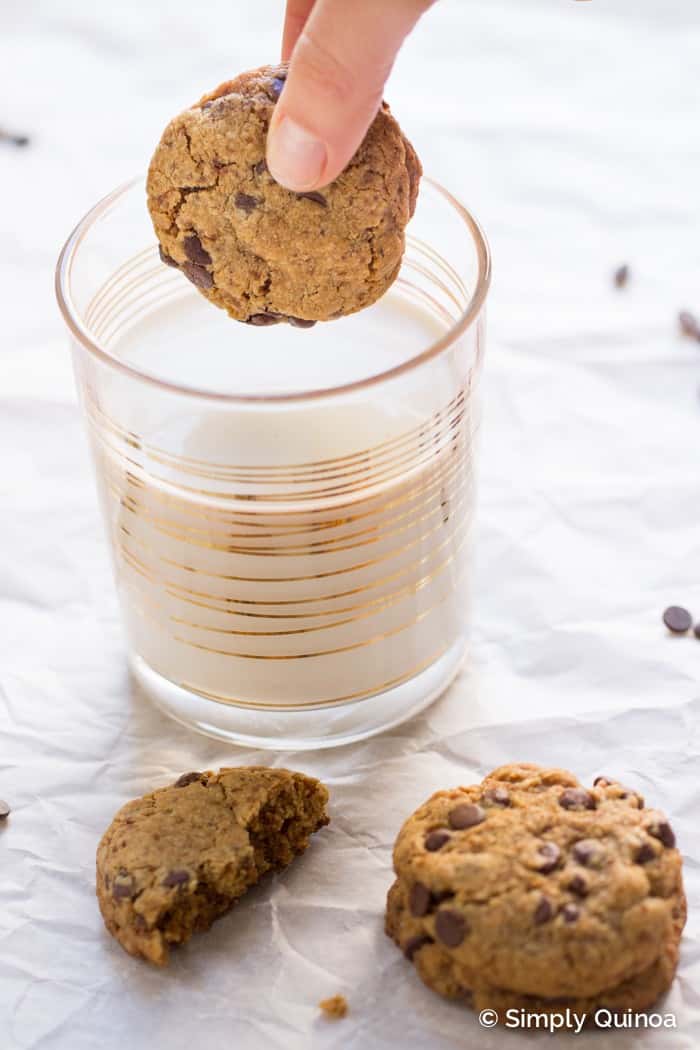 But what I've come to realize, after baking hundreds of batches of cookies in my 26 years of life, getting it just right is easier said than done.
5 years ago, before I was gluten-free, I had my go-to recipe. I knew exactly how to make it, knew all the proportions and it turned out perfectly every time.
So much for that! Everything I knew was thrown out the window when I could no longer use flour, butter or refined sugar.
Uhm…is the cookie that I've loved for my whole life even possible anymore?
Well, I'll tell you, honestly I've been on the hunt for that perfect cookie recipe ever since.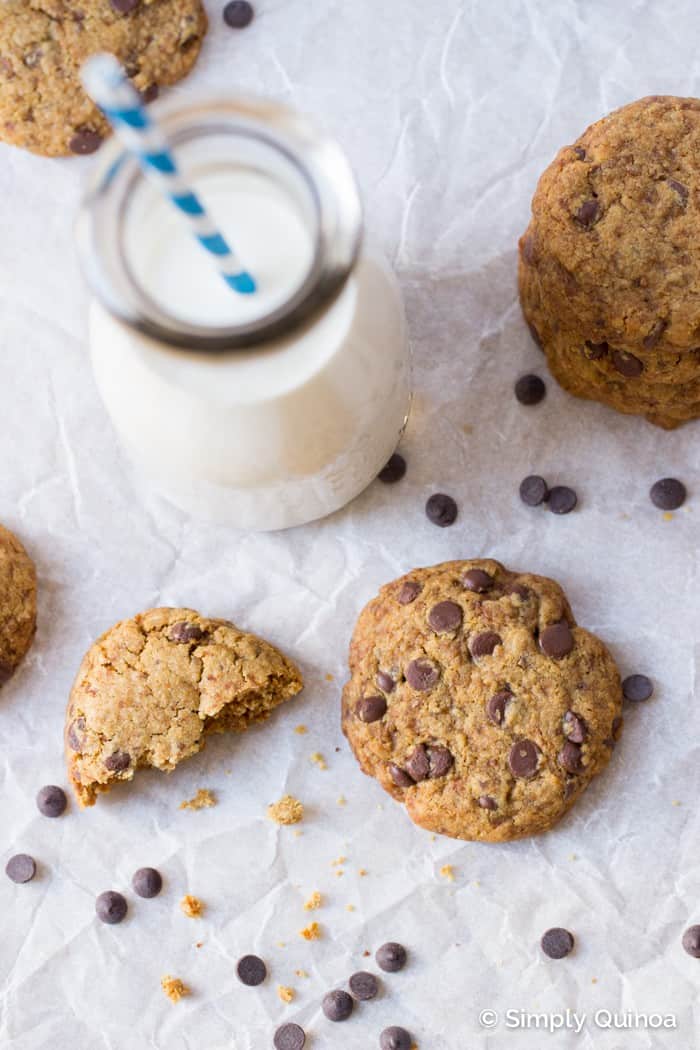 After much testing, and just as much tasting, I narrowed it down to my essentials: quinoa flour, coconut sugar, coconut oil and flax. And I can now happily say that if you think cookies need to be made with butter, flour, sugar and eggs, think again.
It is totally possible and these are proof. These are the best ever coconut oil chocolate chip cookies right here.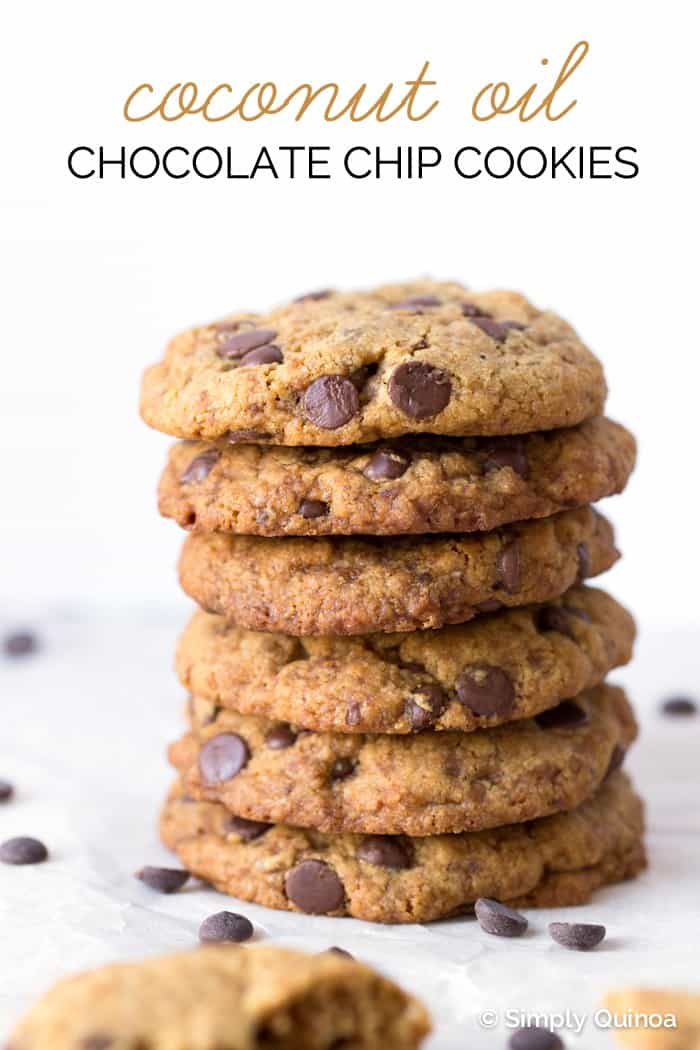 They're everything that I love in a cookie. They've got the crispy outer edges, the chewy centers, the melty chocolate chips. They're heavenly. And they're gluten-free and vegan.
In fact, if Matt's opinion is proof, he's sitting on the couch behind me right now eating one from our fourth batch and just said, "I think these are the best cookies I've ever had". I kid you not. Word for word.
To me? That feels like a small victory in and of itself.
Oh and did I mention that they're gluten-free and vegan? There's that too.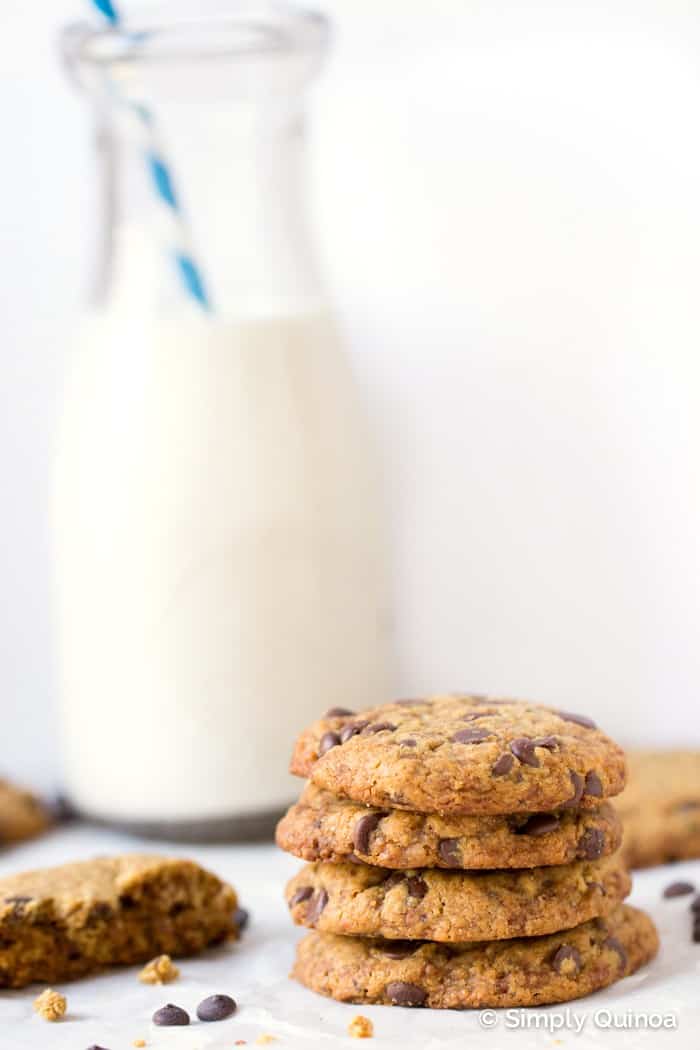 Now a few tips for the glorious cookies:
CHILL IT babayy! Chilling the dough is a must – it helps the cookies stay ultra chewy. But since the coconut oil becomes hard in the fridge, you'll want to let the dough rest for a few minutes before you scoop them onto the baking sheet.
Softened coconut oil is your friend. You'll cream it with the sugar like you do butter and it helps give the cookies just a little bit more lightness.
Shape to your liking. For puffier cookies, leave the balls of cookie dough in tact on the baking sheet. For thinner cookies, flatten them slightly between your palms.
Embrace the coconut. You might be wondering if these cookies have an overpowering coconut taste, but I can assure you, it's very subtle. In fact, I'd argue that the coconut oil enhances the flavors of the other ingredients – the dark caramel of the coconut sugar, the nuttiness from the quinoa flour and even the sweetness from the chocolate chips.
And after all, it really is all about the coconut oil with thees cookies.
It makes them so crazy good that I think you should probably go make a batch right now and then we can be coconut oil cookie monsters together…forever and ever.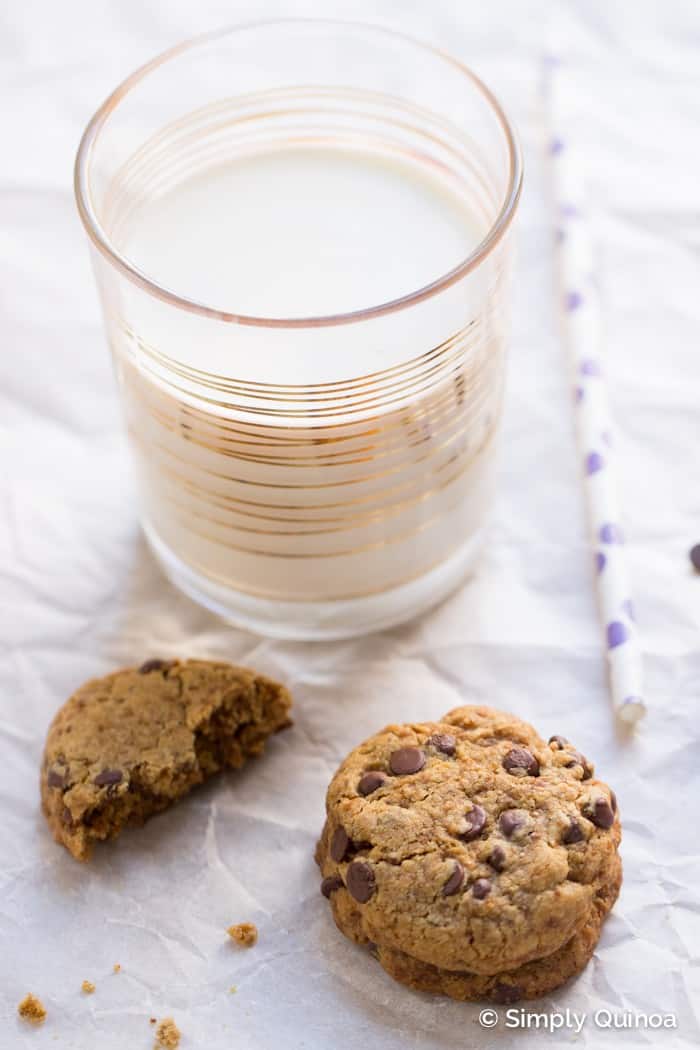 Vegan Coconut Oil Chocolate Chip Cookies
Crispy, chewy AND dark chocolate chips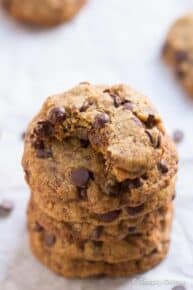 Instructions
In a small mixing bowl, whisk together all dry ingredients and set aside.

Beat together softened coconut oil and coconut sugar until creamy. Add flax egg and vanilla and beat until smooth.

Add flour mixture into wet ingredients in three additions, mixing fully between each. Fold in chocolate chips.

Cover bowl and chill dough for 1 - 2 hours.

With 30 minutes left in the chilling, preheat oven to 350 degrees F and line a baking sheet with parchment paper.

Remove dough from fridge and let sit for 5 minutes. Scoop 2 tablespoons of dough and shape into balls. Place on parchment and repeat until no dough remains. For a thicker cookie, leave balls as is, but for a thinner cookie, gently flatten them between your palms.

Bake cookies for 9 - 11 minutes until edges are brown and crispy.

Let cool on pan for 5 minutes, then transfer to a wire rack and cool completely.
Nutrition
Calories:
127
kcal
|
Carbohydrates:
15
g
|
Protein:
1
g
|
Fat:
7
g
|
Saturated Fat:
5
g
|
Sodium:
102
mg
|
Potassium:
25
mg
|
Sugar:
7
g
|
Calcium:
13
mg
|
Iron:
0.6
mg
Filed Under: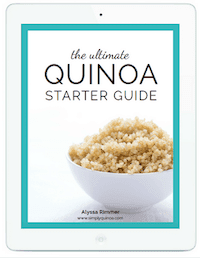 New to cooking quinoa? Grab your FREE Quinoa Starter Guide!
Become part of the Simply Quinoa community and receive weekly emails with exclusive content that I only share in email, as well as my in-depth guide to starting your quinoa journey.
Want more quinoa dessert recipes?
Follow my board on Pinterest!