This easy vegan spinach lasagna recipe is a cinch to make! It uses just 5 ingredients, tastes incredible and can easily be made gluten-free. Great for meal prep and freezer-friendly!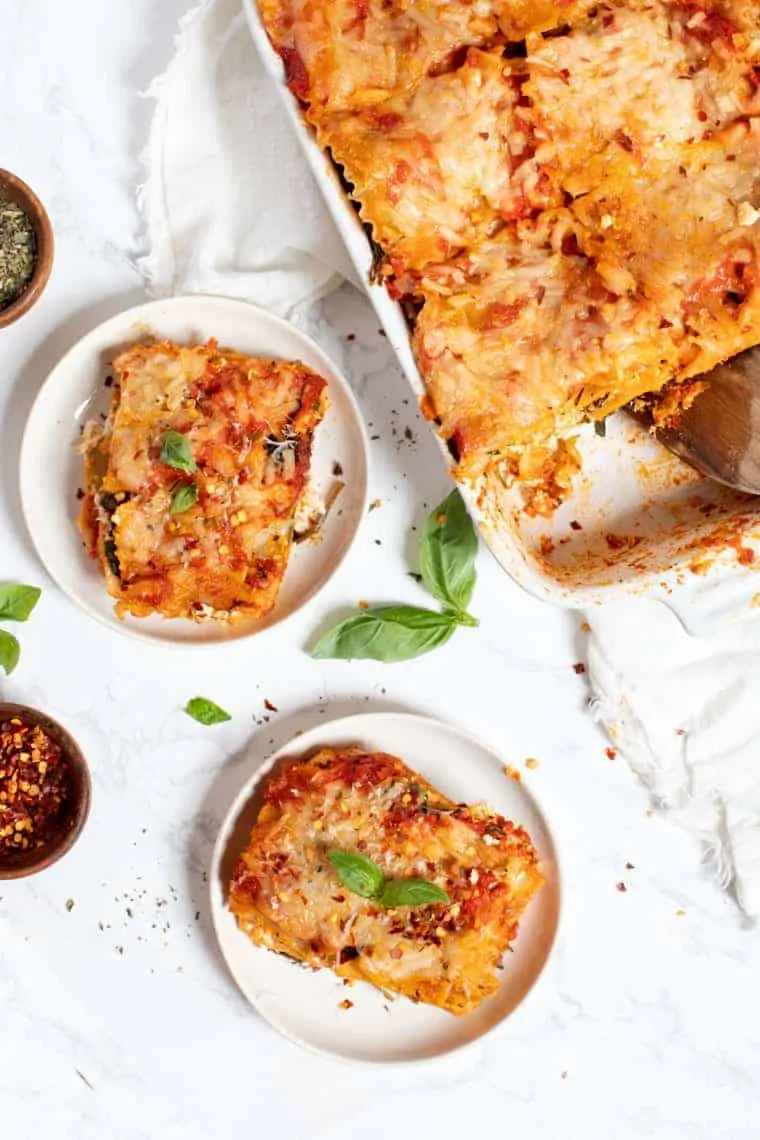 When your short on ingredients and you're looking to use stuff up in your fridge, lasagna is always a good choice! Right now we're aiming to go to the grocery store only every two weeks and this vegan spinach lasagna came at the very tail end of:
a) dwindling supplies
b) a box of spinach that was on its last legs
So we ended up with this simple – yet absolutely scrumptious – meal that uses just 5 ingredients, is gluten-free and vegan, and works super well for meal prep. The best spinach lasagna recipe is coming right up!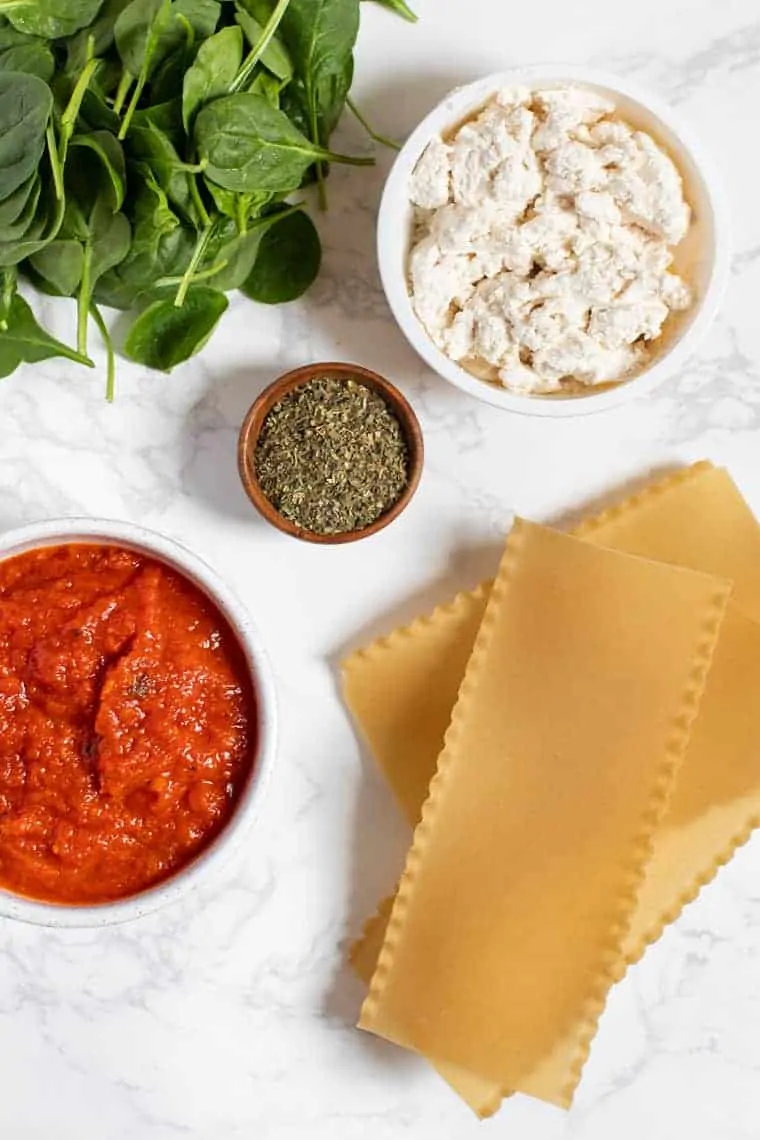 Our 5 Simple Vegan Lasagna Ingredients
For this recipe you only need a few simple ingredients:
Lasagna noodles: I use brown rice ones because I'm gluten-free, but feel free to use whatever type you like. They can also be the kind you have to cook beforehand or the kind you can cook in the lasagna itself.
Spinach: I used fresh spinach, but you could also use frozen if that's what you've got!
Pasta sauce: use any type you like – we had classic marinara, but tomato basil, roasted garlic, etc., would all be fab.
Vegan ricotta: I love the almond milk from Kite Hill, but if you can't find that you can make your own using tofu! Here's my recipe for tofu ricotta, but you can also just use regular dairy-full ricotta if you're not vegan (or df).
Shredded cheese: again, I used vegan cheese here, but feel free to use any type that works for you.
It's that easy. I also included some Italian seasoning in the layers for a bit more flavor, but that's totally optional. And please, I encourage you to customize based on whatever you have on hand!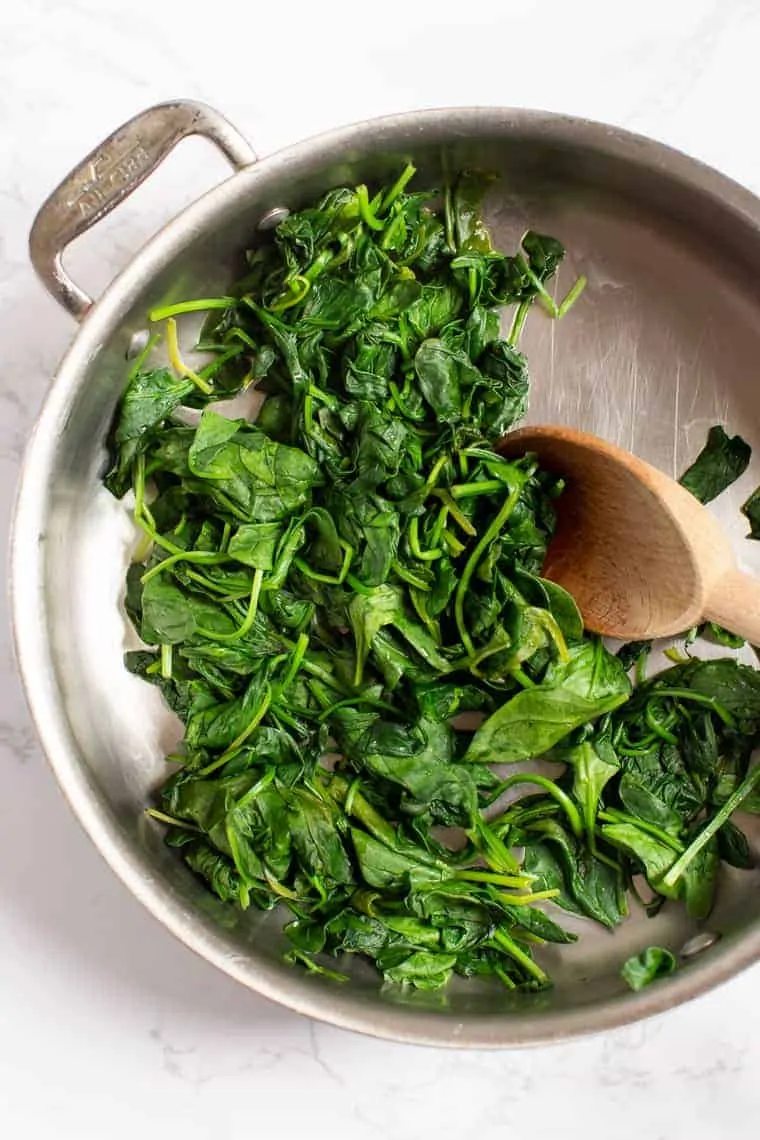 How to Saute Spinach
If you are planning to use fresh spinach in this recipe, the first thing we'll need to do is saute it. Sauteeing spinach is the easiest thing ever!
All you need to do is:
add it into your pan
add a splash of water
cook the spinach until its wilted
I do this all the time for lunches and dinners! It's quick, easy and is also gentle on your digestive system. I just LOVE it!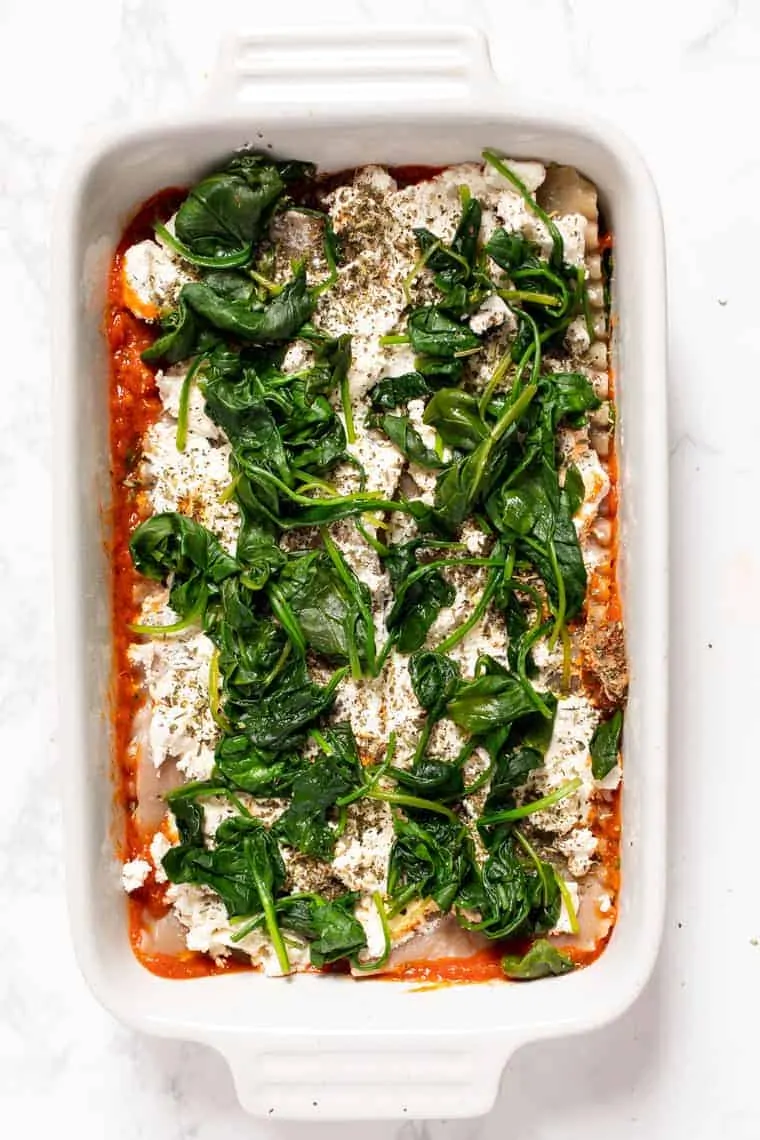 How to Make Vegan Lasagna
Now that we've gotten our ingredients covered and we talked about how to saute spinach, let's focus on how we actually make this spinach lasagna recipe!
STEP ONE
Cook your noodles! Make sure to check the package instructions for your noodles first. If you have the kind of lasagna noodles that need to be cooked first, do that. If not, you can skip this step!
STEP TWO
Cook the spinach. Just follow the description above and you'll be good to go!
STEP THREE
Assemble the lasagna. I personally think this is the most fun part of the whole recipe. I like to start with a layer of tomato sauce, then a layer of noodles followed by ricotta, spinach and more sauce. And then I just repeat it until the pan is full!
STEP FOUR
Bake it up!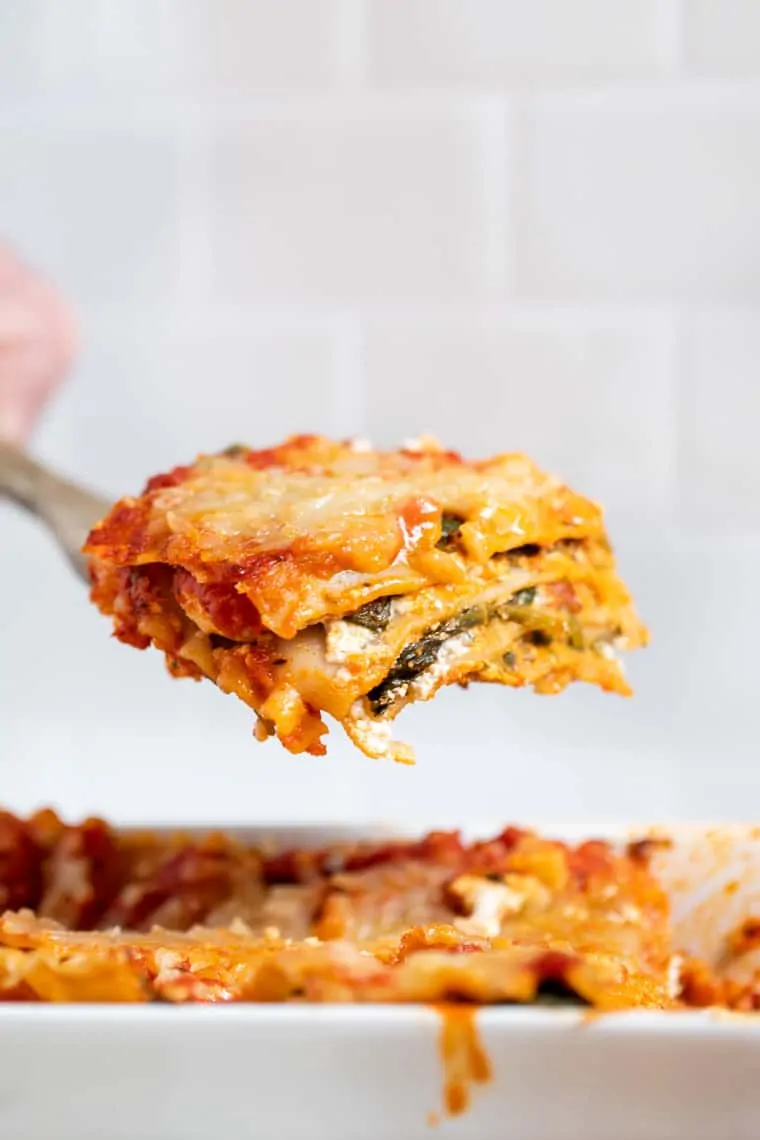 How Long Does Lasagna Need to Bake?
Lasagna cooking time actually depends on the type of noodles that you're using. Typically all the ingredients you're adding into lasagna are pre-cooked, so it's essentially a matter of a) cooking the noodles and b) heating everything through. If you pre-cook your noodles, you'll have a reduced baking time. If you don't pre-cook the noodles, the baking time will be longer and you'll likely also want to
Can You Add Spinach to Meat Lasagna?
Yes, yes, YES! I actually highly recommend that you DO add spinach to your lasagna. It's such an easy way to sneak in a lot of greens and I find that you can't even really taste it. If you've got picky eaters at home, definitely worth a shot!
Can You Freeze Lasagna?
You sure can! Lasagna is a totally freezer friendly and meal prep friendly recipe. You can either freeze the whole thing prior to cooking, or you can freeze the individual squares after they've cooked. And if you plan on eating it within a 4 day period, just leave it in a sealed container in your fridge.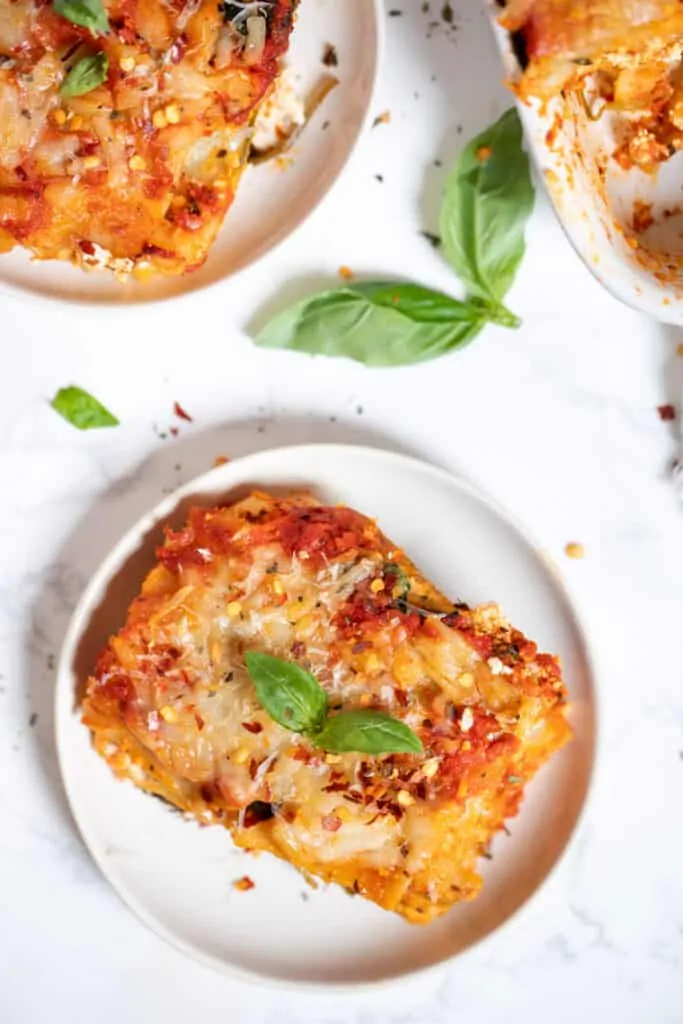 The Best Spinach Lasagna Recipe EVER
I would have to say, out of the three lasagna recipe that I've shared on the blog before (linked below!), this is my favorite! Not only is it super duper easy to make, but it's also just delicious.
With the creamy ricotta, the salty-sweet tomato sauce, the soft lasagna noodles. It's a pure slice of heaven if you ask me!
If you have any substitution questions, let me know! Feel free to add whatever greens you want and/or add in more sauteed veggies. Lasagna is a great recipe for sneaking veggies into your meals, so I'd say if you've got more to use up, GO FOR IT!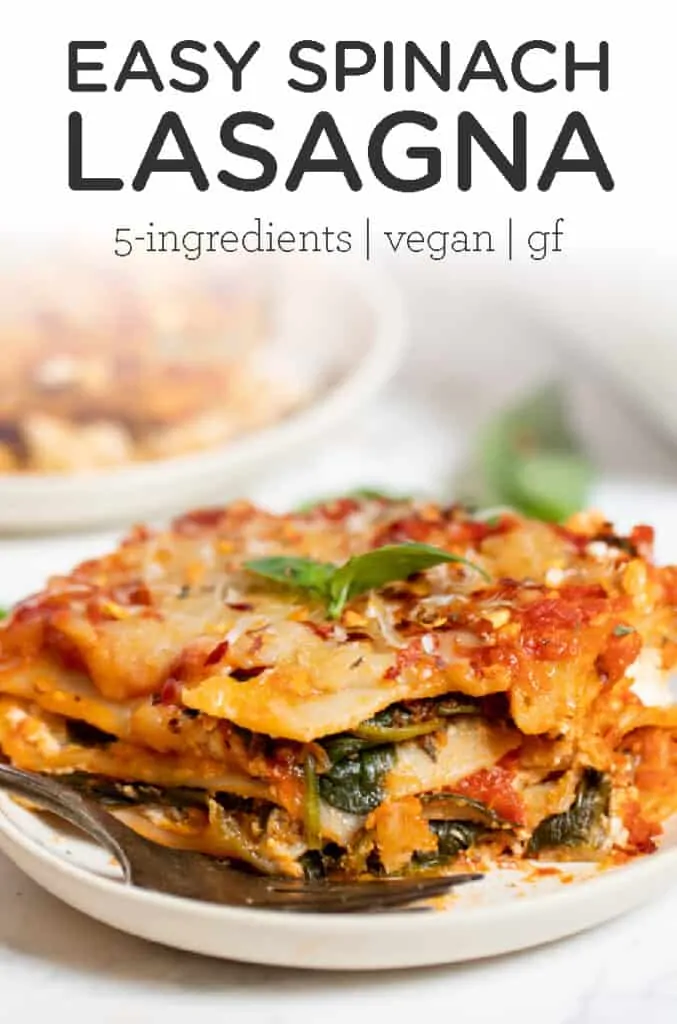 More Baked Vegan Pasta Recipes to try:
5-Ingredient Vegan Spinach Lasagna
This easy vegan spinach lasagna recipe is a cinch to make! It uses just 5 ingredients, tastes incredible and can easily be made gluten-free. Great for meal prep and freezer-friendly!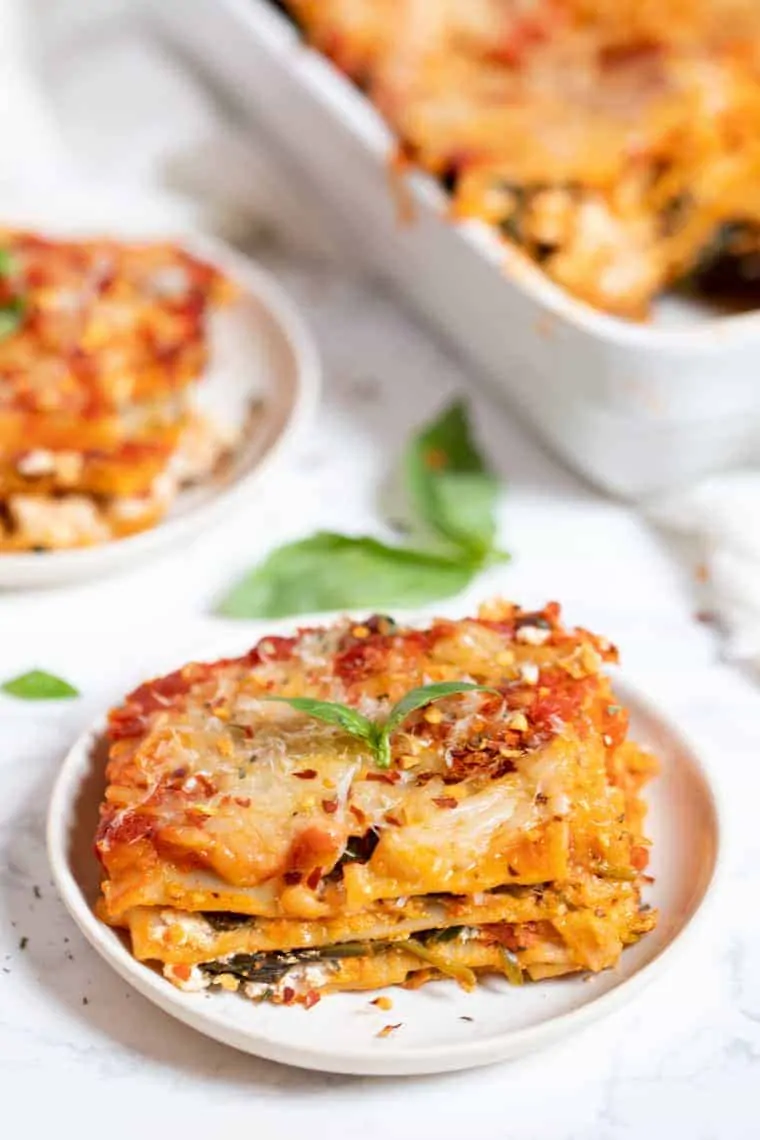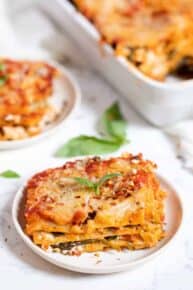 Ingredients
1

package gluten-free lasagna noodles

(or lasagna noodles of choice)

6

cups

fresh spinach

1.5

cups

vegan ricotta

(or homemade*)

1 - 2

tablespoons

Italian seasoning (optional)

1

cup

shredded vegan cheese

Salt & pepper if needed
Instructions
Preheat the oven to 375 degreesºF.

Cook lasagna noodles according to the package instructions.

While the pasta is cooking, add the spinach in a small saute pan. Add a splash of water and allow spinach to wilt. Transfer the spinach to a colander and press out as much additional as possible. Set aside.

Once the noodles have finished cooking, line the bottom of a 9" x 13" with a thin layer of tomato sauce. Add a layer of noodles and some dollops of the ricotta. Spread evenly across the noodles. Sprinkle with Italian seasoning (if using), then top with some spinach and about 1/4 cup of tomato sauce and again spread evenly across the layer.

Repeat this step for another two or three layers (depending on the size of your pan and noodles).

Top with a final layer of noodles, spread with sauce and sprinkle with the shredded vegan cheese.

Bake in the center of the oven for about 35 - 45 minutes, until the cheese has melted and the lasagna is fully cooked and heated through.

Cool for about 10 minutes, then slice and serve immediately. Garnish with red pepper flakes and some fresh herbs if desired!
Nutrition
Calories:
356
kcal
|
Carbohydrates:
59
g
|
Protein:
16
g
|
Fat:
7
g
|
Saturated Fat:
1
g
|
Sodium:
403
mg
|
Potassium:
622
mg
|
Fiber:
5
g
|
Sugar:
5
g
|
Vitamin A:
10710
IU
|
Vitamin C:
13.2
mg
|
Calcium:
203
mg
|
Iron:
4.5
mg