An amazing vegan truffle mac and cheese recipe that's easy to make, creamy and so delicious. This mac and cheese is baked to perfection with a crunchy truffle topping!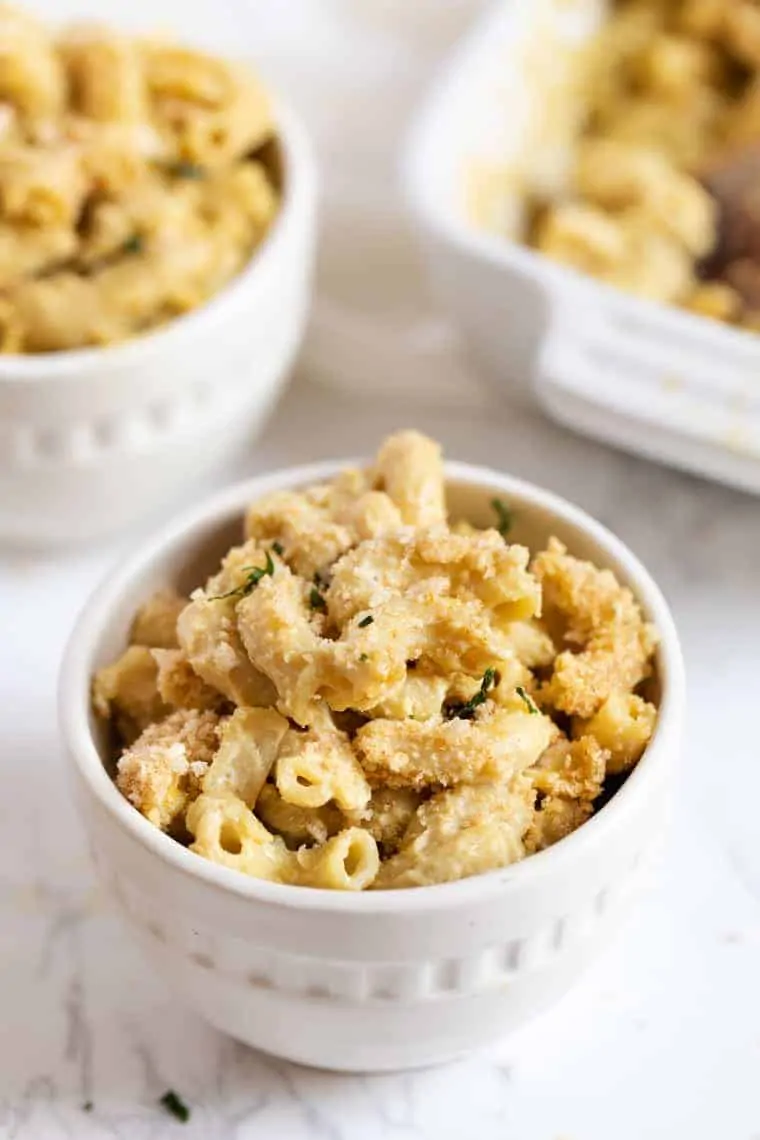 There's nothing more comforting than mac and cheese! It's creamy, it's cozy, it's full of carbs and it's just delicious!
But making vegan mac and cheese is sometimes hit or miss for me. There are a few boxed varieties that I enjoy, but the homemade ones just don't taste like the "real" thing. I mean granted they're skipping out on the actual cheese part, but I'm still a firm believer that you can replicate the traditional recipe and turn it into a dairy-free, vegan version.
And that's exactly what we're doing today! I'm showing you how to make the absolute best vegan truffle mac and cheese. This recipe is super easy to make, it's full of flavor and it's got that fancy little twist at the end: truffles.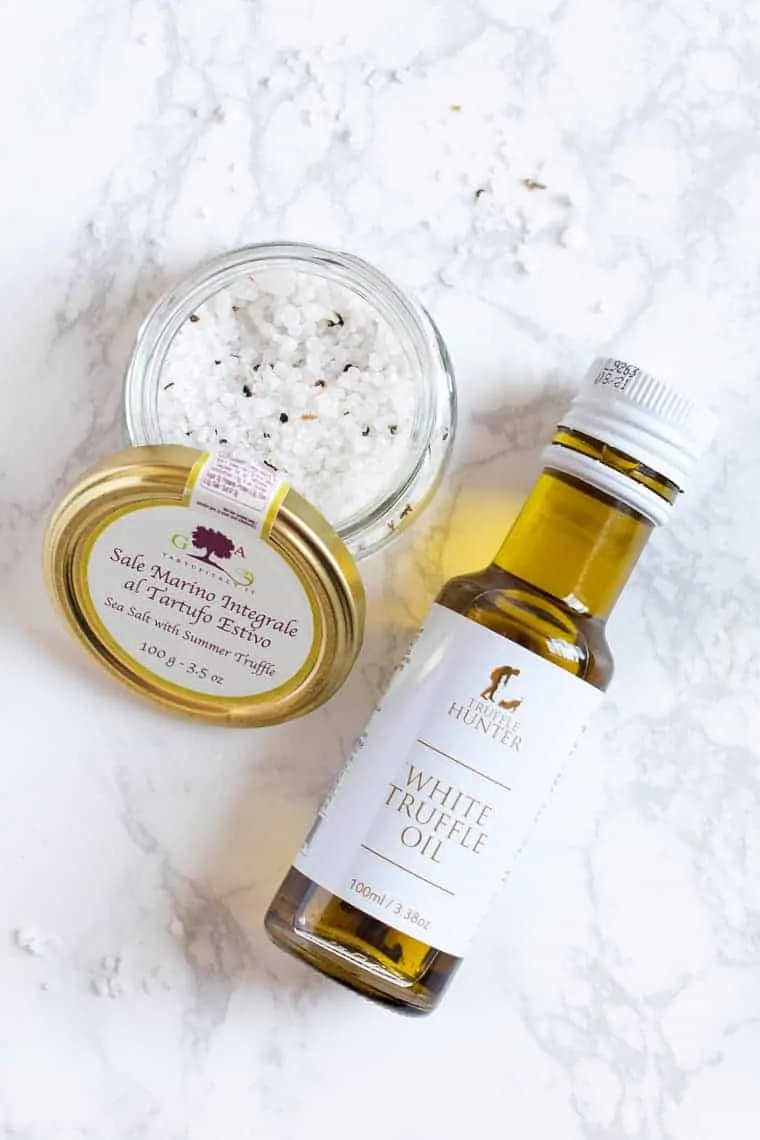 What are Truffles?
If you're not familiar with truffles, let me share what they are real quick. Truffles are actually part of a fungus that lives underground (kind of like a mushroom), and is technically a tuber. They grow naturally near certain types of trees – like oat and hazelnut – and tend to like a somewhat temperate climate. They come in white and black, which depends on the season as well as the type of tree.
Truffles do grow in the wild, but they can also be cultivated. Here in the US, there are farms in North Carolina, Tennesee, Arkansas, and even Idaho!
A little fun fact: the breed of dog that Trevi is (Lagotto Romagnolo), are bred in Italy to hunt for truffles! We haven't trained her obviously but did meet some in Italy that were!
What do Truffles Taste Like?
Truffles have been described as the "diamond of the kitchen" by some chefs. Partly because they're rare (which makes them expensive), but also because of their flavor. There is nothing else I have ever tasted that is similar to truffles.
I would describe their flavor as earthy, musky, and kind of nutty at the same time. They are quite strong, so a little goes a long way and typically they're used fresh to preserve that flavor. Essentially they taste exactly how they smell!

Easy Vegan Cheese Sauce for Pasta
For this recipe, we're using two types of truffles and we're using it in a few different places. First, is in the sauce.
My favorite way to make vegan cheese sauce is with cashews. We've talked about this a million times before, but essentially we start by soaking the cashews first. Then we blend them up with the rest of our ingredients and that's our sauce. The cashews are creamy, they easily take and they're the perfect base for vegan cream sauce.
Types of Truffles in this Recipe
As I said, we're using two types of truffles in this dish: truffle salt and truffle oil.
The truffle salt we actually purchased in Italy, but you can definitely find it online. It's essentially just sea salt mixed with dried black truffles. Truffle oil is olive oil that has been infused with truffle. You can also find this online! Just know that anything with real truffle is going to be pricey, so if the price sounds too good to be true, it probably is!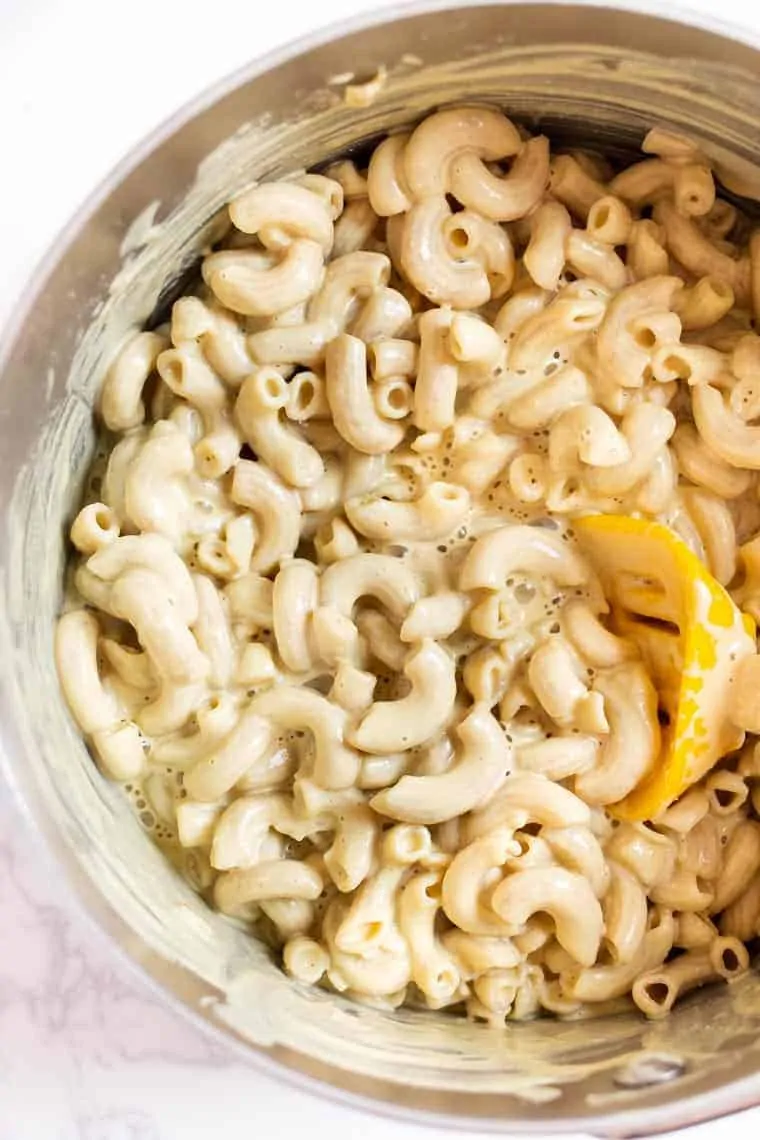 Ingredients for Vegan Truffle Mac and Cheese
Our vegan mac and cheese today as three different components: the sauce, the pasta, and the topping. So in addition to the truffle, we've only got a few other simple ingredients.
Here's what we're using for our vegan cream sauce:
Cashews: we're using soaked raw cashews as the base of our sauce
Nutritional yeast: the "cheesy" flavor in our sauce
Almond milk: that we'll use to blend everything up to make our sauce
Lemon juice: to give the sauce a little brightness
Truffle oil: one area we're infusing the truffle flavor
Arrowroot starch: adding a bit of this thickens the sauce slightly and makes it more creamy
Garlic powder: just for a little extra flavor boost
Truffle salt: the second place we're using truffles!
And then we have our pasta – I used gluten-free brown rice elbows – and our topping!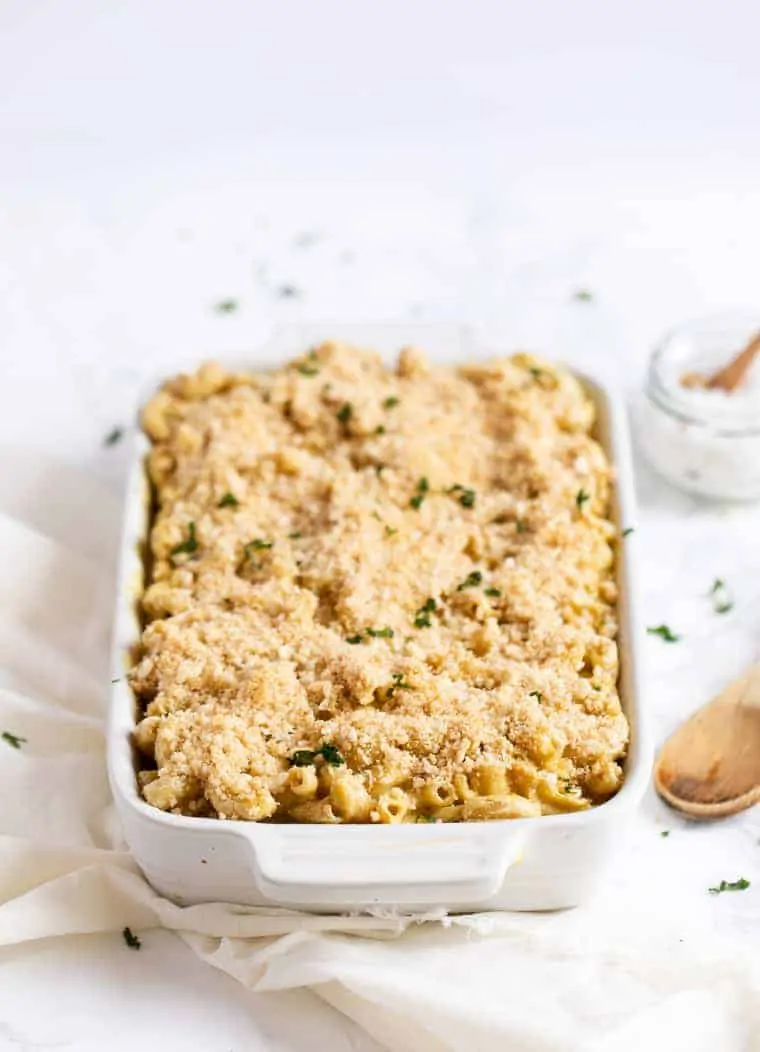 How to Make Vegan Mac and Cheese
While the ingredient list might seem a little daunting, this recipe is actually super easy to make. It only involves four steps!
STEP ONE
Make your sauce! And all we need to do is just add all the sauce ingredients into a blender and blend it up. The longest part here is just allowing time for your cashews to soak.
STEP TWO
Cook the pasta! What's great about mac and cheese is you can really use any type of pasta you want (well maybe aside from spaghetti or linguine). I chose elbows because it's classic, but this would also work with penne, bowties, etc. And you can also use whatever kind of pasta you want – gluten-free, regular, chickpea, etc.
STEP THREE
Make your topping! We're using a substitution for panko breadcrumbs that I've found to work really well. We mix that with a little truffle salt and oil and call it a day. So tasty!
STEP FOUR
Bake it up! Our final step is just to bake it until it's hot. Since everything is pretty much done, the mac and cheese only needs about 25 minutes in the oven.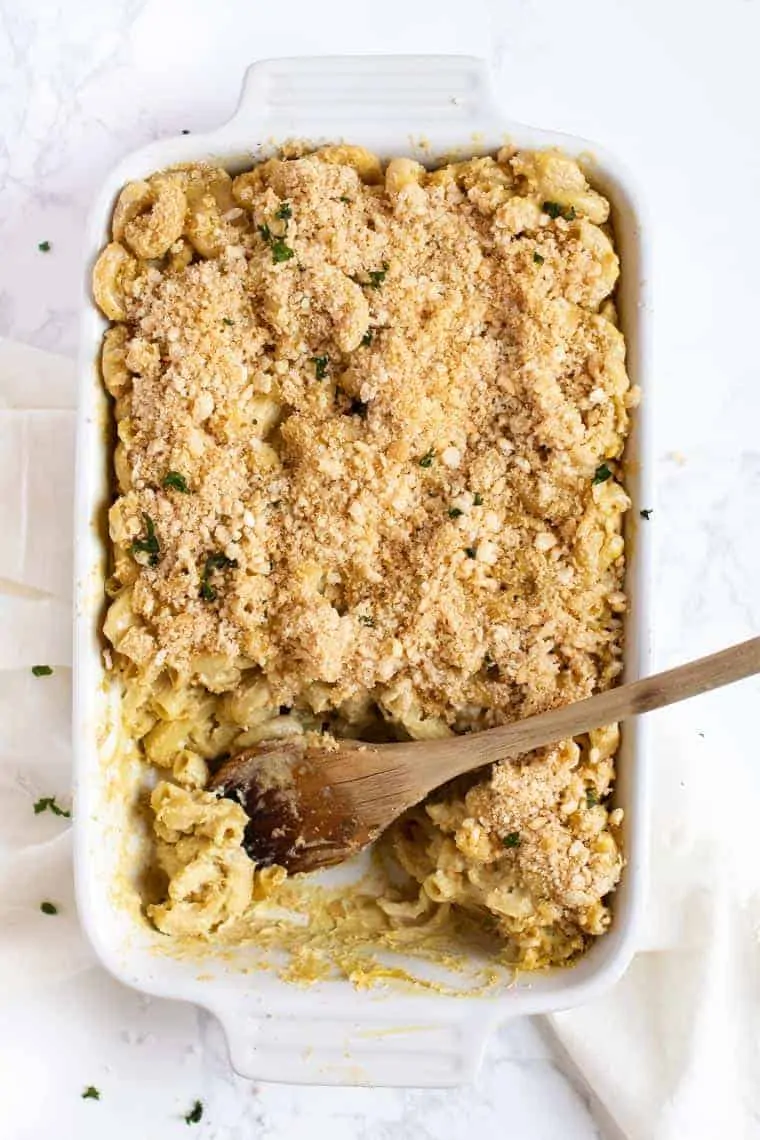 Gluten-Free Substitute for Panko
Now I've been dancing around the topping this whole post, so let's talk about it!
Traditional mac and cheese toppings involve breadcrumbs. I a) didn't have them on hand and b) think buying gluten-free breadcrumbs is too expensive and c) think buying gluten-free breadcrumbs is unnecessary because you can make them at home.
All that being said, I have the perfect gluten-free substitute for panko breadcrumbs: RICE CRISPY CEREAL!
I simply take the rice crispy cereal, crush it up on a cutting board and it so closely resembles panko. It's super crunchy, it's easy to work with, it's really affordable and it works. And it's awesome in this vegan truffle mac and cheese!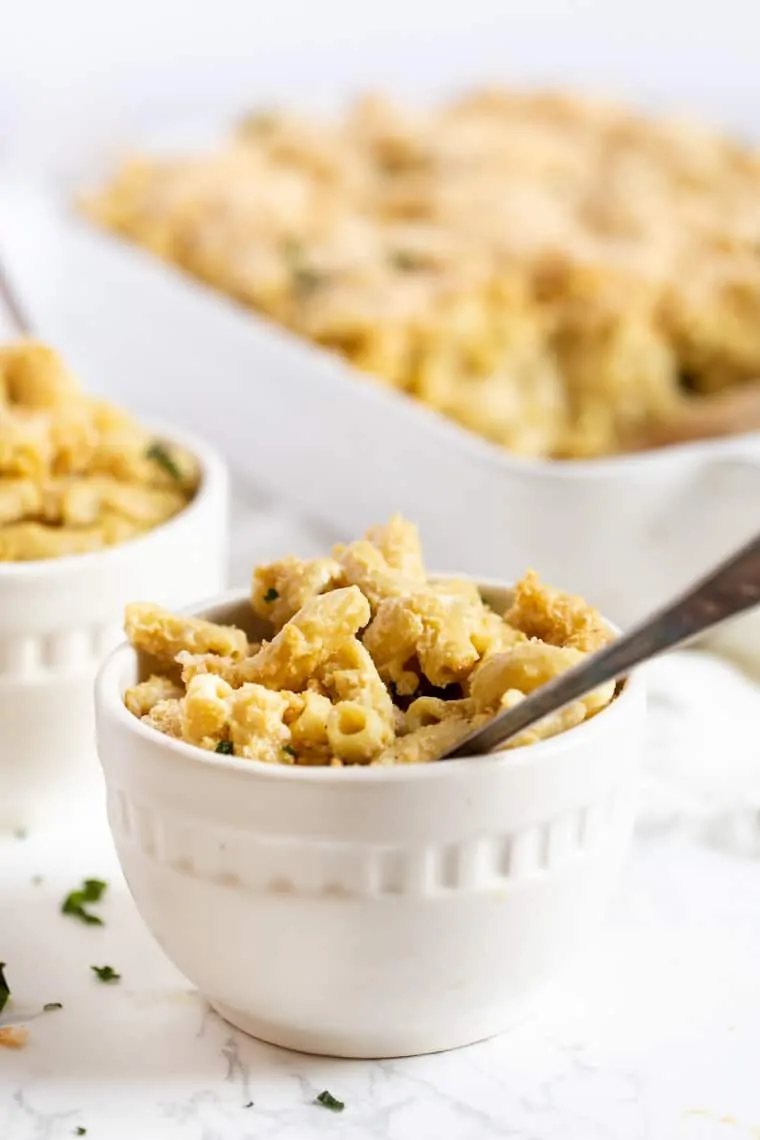 Best Ways to Store Mac and Cheese
Before you dash off and make this amazing recipe, let me just give you a few quick tips for storing it. Mac and cheese is definitely one of those meals that can be used for meal prep, so here are my suggestions:
Make it ahead: if you want to prep this for a party or potluck, I'd recommend assembling the whole mac and cheese, then leave it in the fridge unbaked. Then just bake it up before your party. I think baking it same day is the best!
Refrigerate it: if you have leftover – we did! – you can just store them in the fridge. I recommend reheating in the microwave with a splash of almond milk.
Freeze it: and yes, this vegan truffle mac and cheese is also freezer-friendly! You can store your unbaked or baked mac and cheese in the freezer and just let it thaw before heating it up.
And that's pretty much it! I hope you love this recipe as much as we did. It's creamy, it's cheesy and it's so so good!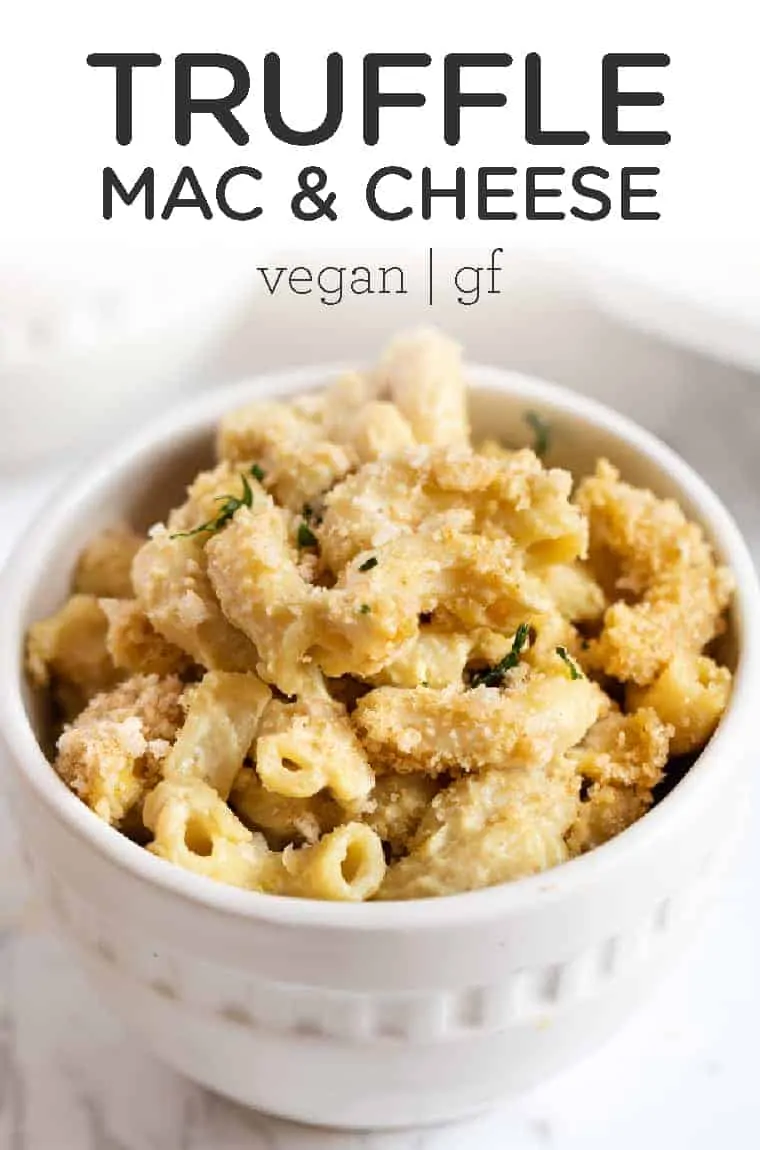 Other Vegan Mac and Cheese Recipes
Vegan Truffle Mac and Cheese
An amazing vegan truffle mac and cheese recipe that's easy to make, creamy and so delicious. This mac and cheese is baked to perfection with a crunchy truffle topping!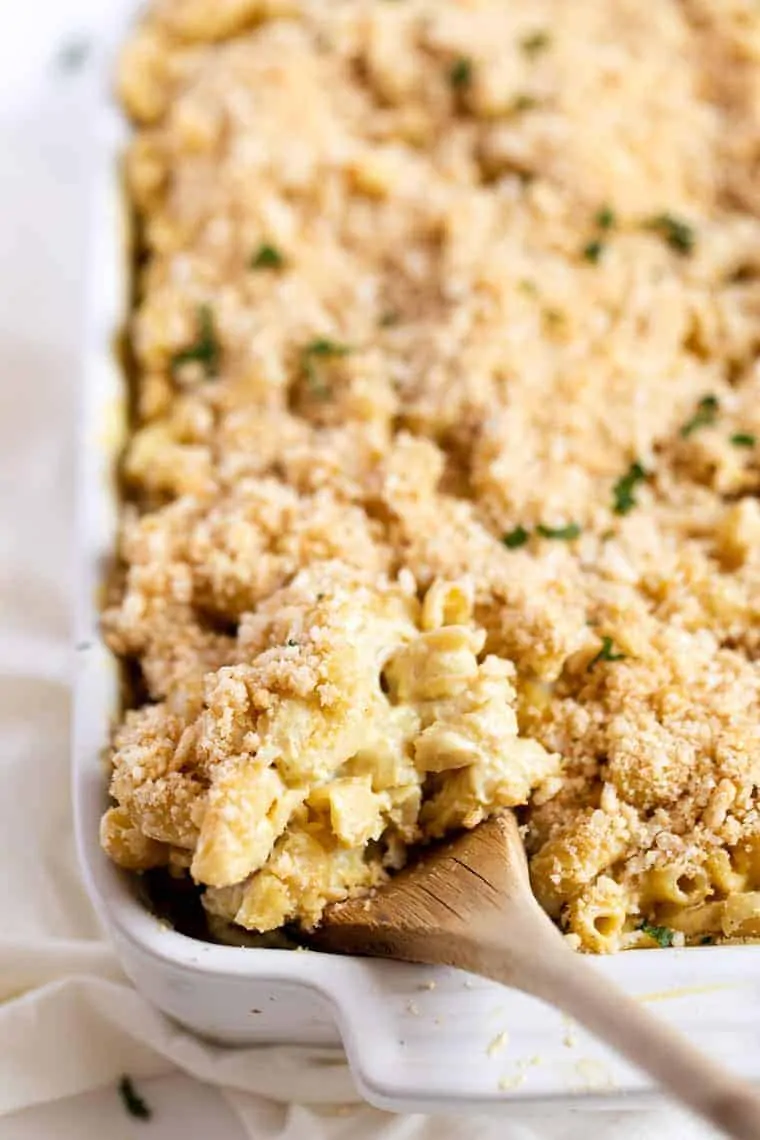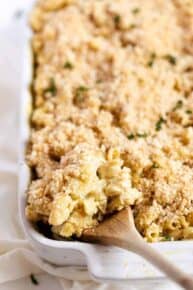 Ingredients
for the topping
1

cup

breadcrumbs

(or crushed rice crispy cereal)

1/2

teaspoon

truffle salt

1

teaspoon

truffle oil
for the pasta
1

pound

gluten-free elbow pasta

(or any variety)
Instructions
Add the cashews into a small bowl and cover with hot water. Soak for a minimum of 30 minutes.

Preheat the oven to 350ºF.

Once the cashews have soaked, drain them and add them into a blender. Add the remaining sauce ingredients into the blender and blend on high until smooth and creamy.

Cook the pasta according to package instructions. Once cooked, drain and add the noodles back into the pot. Pour in the sauce and stir to combine.

Transfer the noodles into a baking sheet (I use a 9"x13").

In a small bowl, combine the breadcrumbs, salt, and oil. Stir together until combined. Sprinkle the coating on top of the mac and cheese.

Bake the mac and cheese for 23 - 25 minutes until it's bubbling and the topping is golden brown.

Remove from the oven and allow to sit for 5 - 10 minutes. Serve immediately and sprinkle with a bit more truffle salt if you want!
Nutrition
Serving:
1.5
cups
|
Calories:
380
kcal
|
Carbohydrates:
58
g
|
Protein:
12
g
|
Fat:
12
g
|
Saturated Fat:
2
g
|
Sodium:
203
mg
|
Potassium:
188
mg
|
Fiber:
3
g
|
Sugar:
2
g
|
Vitamin C:
1
mg
|
Calcium:
96
mg
|
Iron:
3
mg
Filed Under: