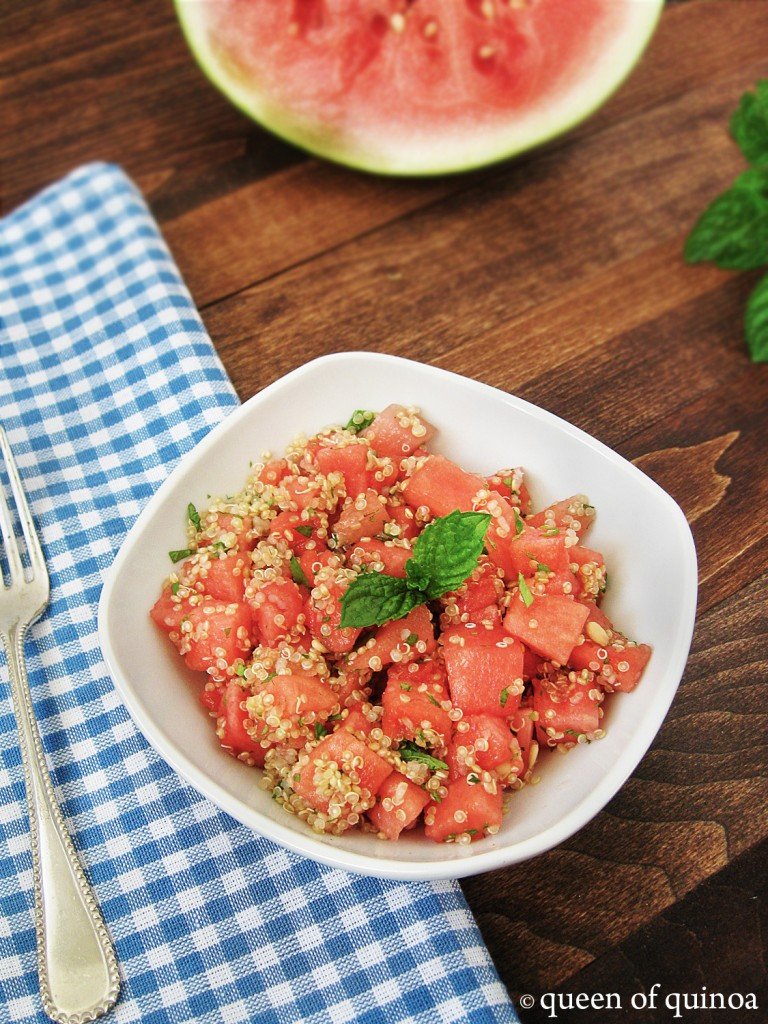 Summer is a time to enjoy the heat. For all of us in VT, this time of year is special. We get warm, sunny days, mixed with sticky, humid weather. Glorious to agonizing in minutes. Although totally miserable at times, the summer brings with it some amazing things. Most notably its food.
If you're like me, when it's hot outside all your body craves is something cooling and refreshing. A light, simple dish that is easy to whip up, but is still seriously delicious. A dish that doesn't require standing behind a hot stove, melting with the heat outside.
And to me, there is one, sweet little gem that is the epitome of summer.
Watermelon.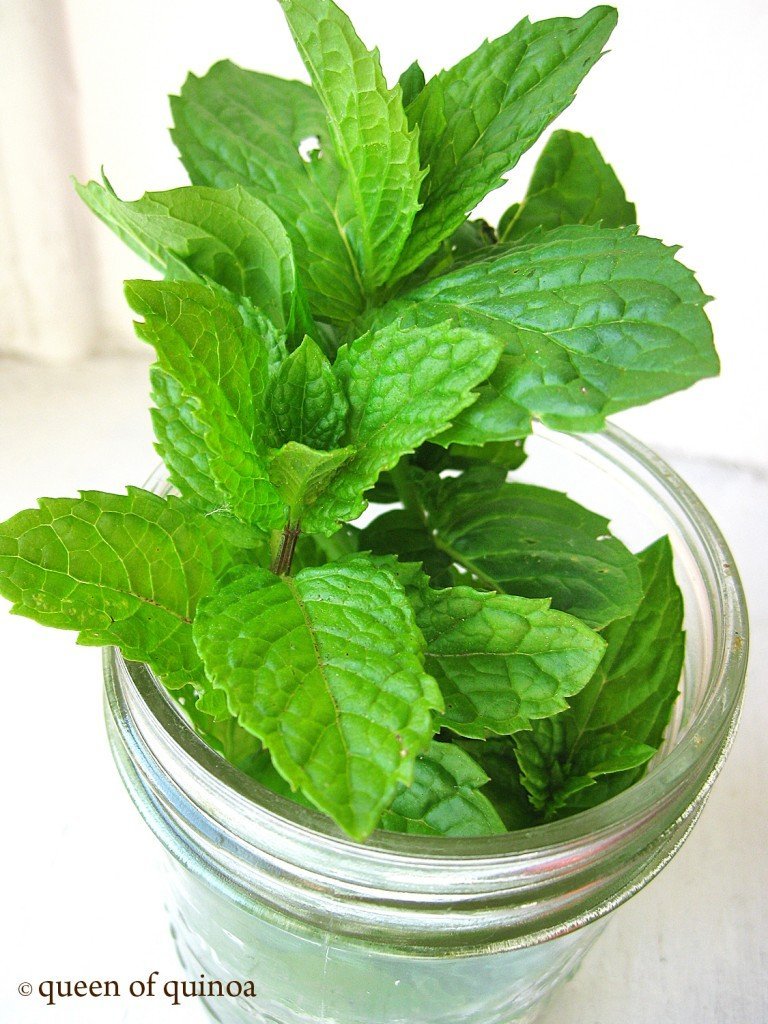 During Wednesday's Attune Chat, hosted this week by my friend Amy from Simply Sugar & Gluten-Free, we were talking about balance and it got me thinking. How do I maintain balance throughout the summer? Here's what I came up with:
I don't push myself as hard during workouts, but still make a point to exercise everyday
I make sure to spend more time outside – less TV watching in this house
I try to walk during the day – get myself out from behind my computer
I eat summery, in-season foods (like this recipe)
I eat more frequently, but smaller meals – about 4 small meals a day (this is the hardest)
I make a point to vacation with Mr. Henderson and my family – what's the point of summer if you can't enjoy it, right?
And with all these ideas swimming around in my head, I set off with a goal to make sure I hold myself to these values. Today, it began with food.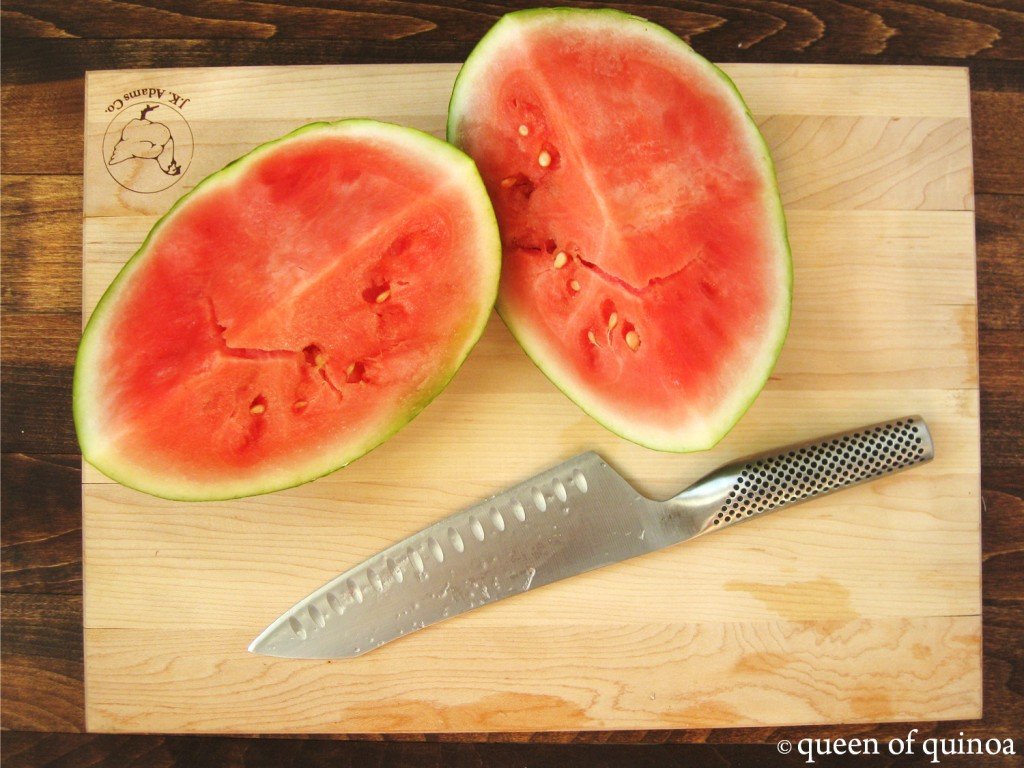 Watermelon is simply glorious. It's one of those foods, that with every bite, you're reminded how special summer truly is. It's everything you look for in a summery treat.
So when I was walking through the market yesterday and saw a bin of organic watermelon, I knew what it meant. It meant summer was here and here to stay. It meant that I now could enjoy all that summer has to offer with this one tasty food. I meant a new recipe was on the way.
Now I have to admit, I haven't experimented a lot with watermelon. It's usually one of those things that I snack on when I'm hungry, when I want something light, and never really incorporate into a larger meal. I eat it off the rind, letting the juice drip down my face, a smile from ear to ear. It makes me feel like I'm a little kid again.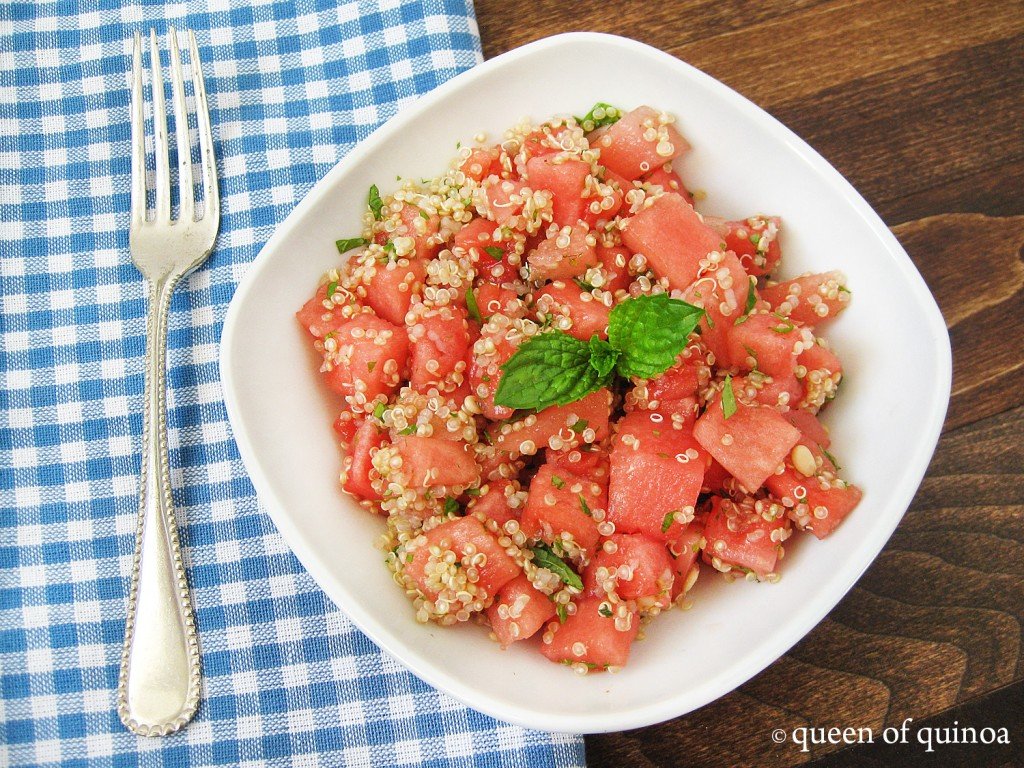 Whenever I'm looking to test a recipe, quinoa is always the first thing that comes to mind. How can I make this dish using quinoa? This recipe was inspired by a juice that I stumbled across from Against All Grain. The flavor combination sounded sensational and I just had to try it. With quinoa of course.
Boy did this turn out tasty! The watermelon is amazing. Mixed with a bit of freshly picked mint and lemon juice, then served with quinoa, oh man, heavenly. It was the perfect summer side dish (and lunch for tomorrow). It's refreshing and filling at the same time, and absolutely perfect for summer!
Watermelon Mint Quinoa Salad
serves 2
ingredients:
1/4 cup dry quinoa
3 cups diced watermelon
1 teaspoon lemon juice
4 sprigs fresh mint, leaves removed and finely chopped
Pinch of salt
Prepare the quinoa by bringing 1/2 cup water to boil on the stove. Add quinoa, cover and turn down to simmer for 8 – 10 minutes, until all the water has been absorbed. When done, remove from heat and let sit for another 5 minutes. Fluff with a fork and set aside, allowing to cool for 5 minutes.
Add the cooled quinoa, watermelon and remaining ingredients into a large mixing bowl. Gently toss the salad together until all ingredients are combined.
Serve cool or chill in the refrigerator for 1/2 hour. Enjoy with a nice glass of iced tea, lemonade, or in my case white wine!