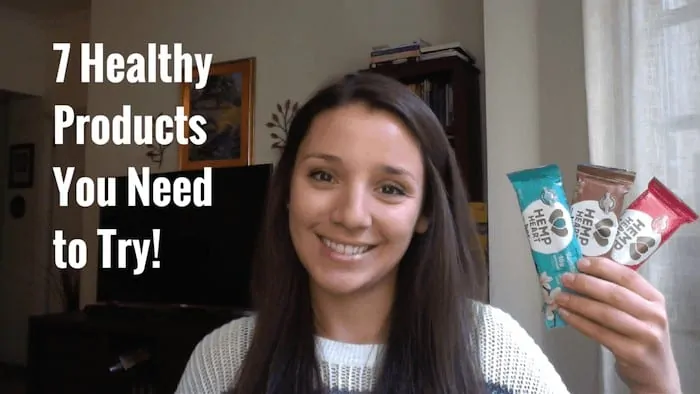 Hey there! I just got back from the Natural Product Expo East in Baltimore, MD and it was amazing. It's an enormous gathering of people and brands that focuses on natural, organic and healthy products – specifically food, beauty and supplements. Thousands of people attended, hundreds of companies showcased their products and, despite being just a tad bit overwhelmed, I discovered some pretty great new products I want to share with you.
I spent just one day on the floor, and man was it incredible. I tasted tons of amazing food and drinks, got to sample luxurious natural beauty products and chatted with tons of like-minded folks like you and me – people who are passionate about helping people feel healthy and happy.
While I wish I could share everything with you, I've picked 7 (well actually 8) of my favorite ones that I think will really make an impact for you as well. And rather than just typing everything up, I decided to create a quick video where I talk all about the products that I'm the most excited about!
Here are some of the highlights…
Crunchy, all natural energy bites
Plant-based protein bars
On-the-go breakfast cups
A starter kit for making one of my favorite drinks at home
A super green powder to add to smoothies
My favorite snack of all time
A fun (and tasty) alternative to green juice
---
Want to goodies I've mentioned above? Here are the links to (most) of them:
1. Hemp Heart Bites from Manitoba Harvest
2. Hemp Heart Protein Bars from Manitoba Harvest (not online yet)
3. Gluten-Free Granola Cups from Bob's Red Mill
4. Kombucha Starter from Cultures for Health
5. Super Greens + Protein from Sunfood (not online yet)
6. Truffle Salt Popcorn from LiveLovePop (pronounced their name wrong in the video…oops!)
7. Pink Himalayan Coconut Oil Popcorn from Lesser Evil
AND bonus…!
8. Cold-Pressed Turmeric Juice from Temple Turmeric
Interested in seeing more videos? Let me know what you'd like to see in the comments below!