This apple lemon ginger juice recipe is ultra-green and healthy! It's made with kale, romaine, lemon, apple, and ginger and makes for the most delicious detoxifying, cleansing and nutrition drink!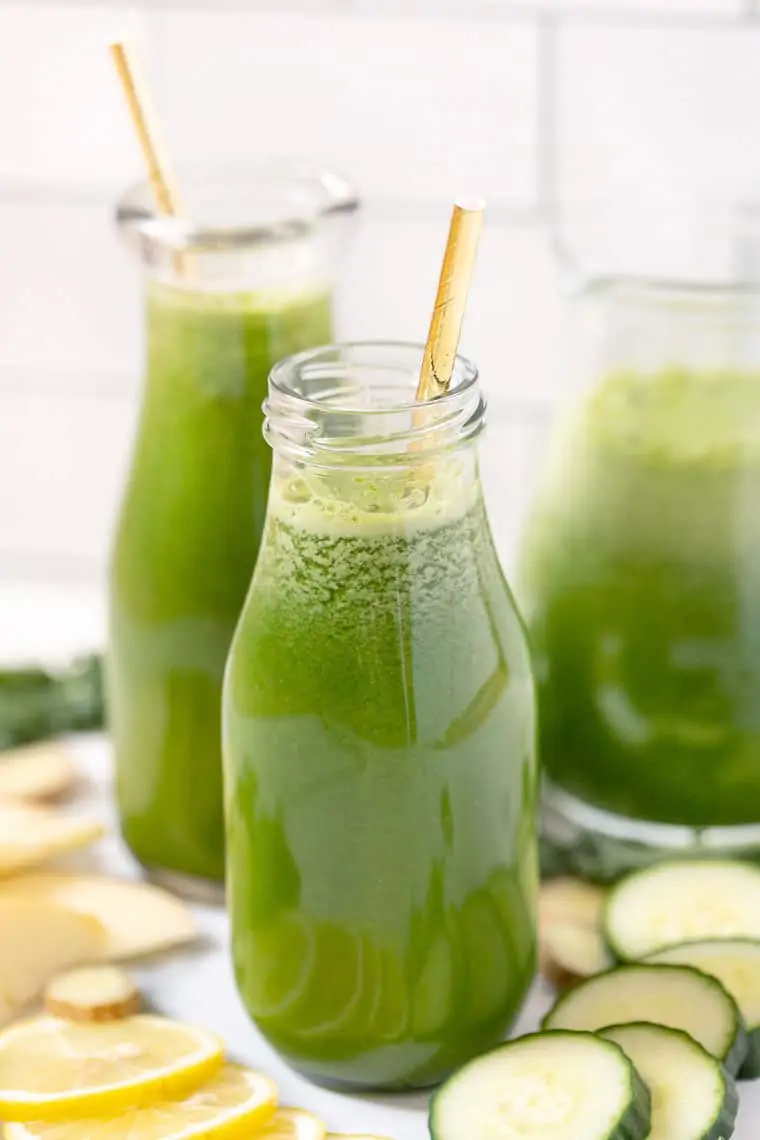 I'm just coming off a pretty nasty cold and wanted to pop in and share this super green juice recipe that helped nurse me back to health.
It's never fun catching a cold, and it's oftentimes unavoidable, but there are some things we can do to support our immune system and help our body fight back. One thing I personally swear by is lots and LOTS of greens.
Whenever I'm sick, I try to drink as much green juice and green smoothies as possible. I tend to lean more towards the smoothie side of things, but drinking the same green smoothie for multiple meals a day does get a teeny bit boring. That's where this delicious green juice recipe comes into play!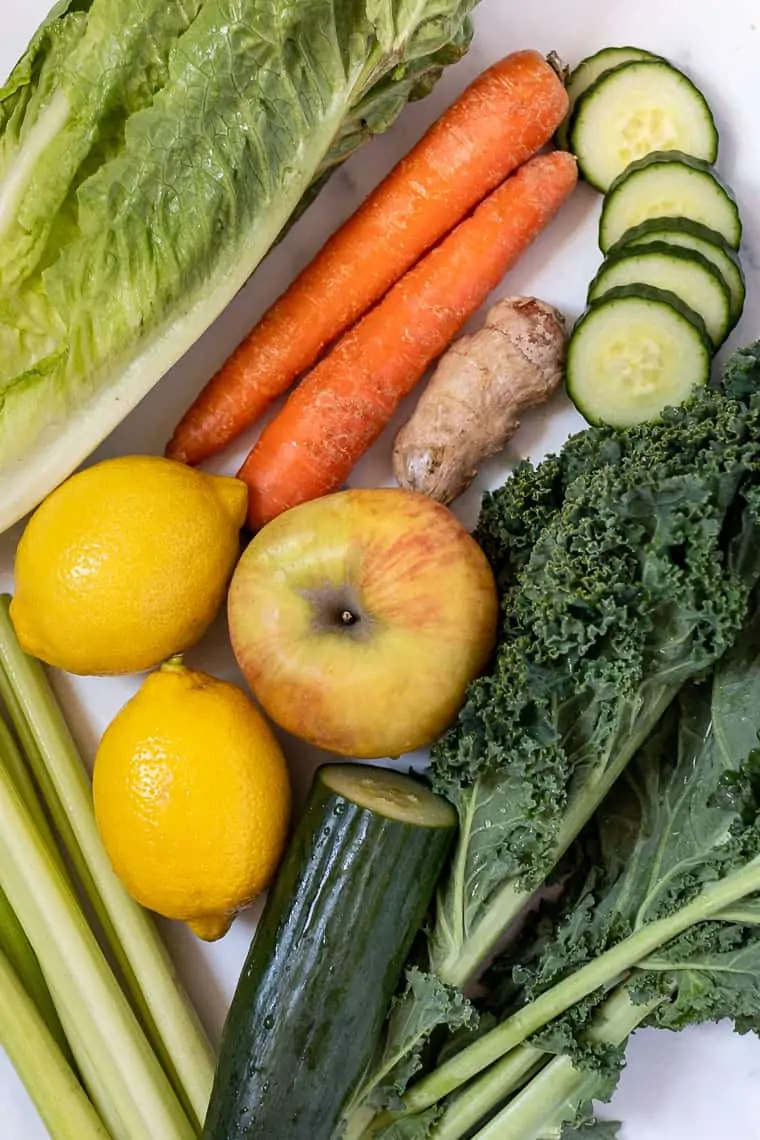 How to Make the Best Green Juice Recipe
Building a green juice is super simple, but personally, I like to make sure that I have a good blend of greens, veggies, fruit, and boosters. I also like to go with watery vegetables so that I can maximize the volume of juice that I'm getting.
Here are some ideas for each of those. Really you can't go wrong, and which way you combine these ingredients, you'll have a tasty, healthy juice that will fill your body with nutrients and boost your energy throughout the day.
Greens: kale, romaine, collards, swiss chard
Watery veggies: celery, cucumber, zucchini/summer squash, fennel, broccoli stems
Root veggies: carrots, beets (I like to use yellow)
Fruit: apples, pears, grapefruit
Boosters (for flavor!): lemon, lime, ginger root, turmeric root, fresh herbs (parsley, cilantro & basil are my faves), jalapeno
Use a combination of greens, roots, and fruits and I promise you'll have a delicious juice on your hands. It's important to balance your sugars, so try to incorporate one of the greens into each of your juices.
What's Inside this Apple Ginger Lemon Juice
This is the perfect green juice for beginners. It's easy to make, it's tart, but with slight sweetness, and it tastes amazing.
Here are the goodies you'll find inside:
Kale + romaine
Celery + cucumber
Carrots
Apple
Lemon + ginger
I also sometimes like to add parsley or cilantro in there as well!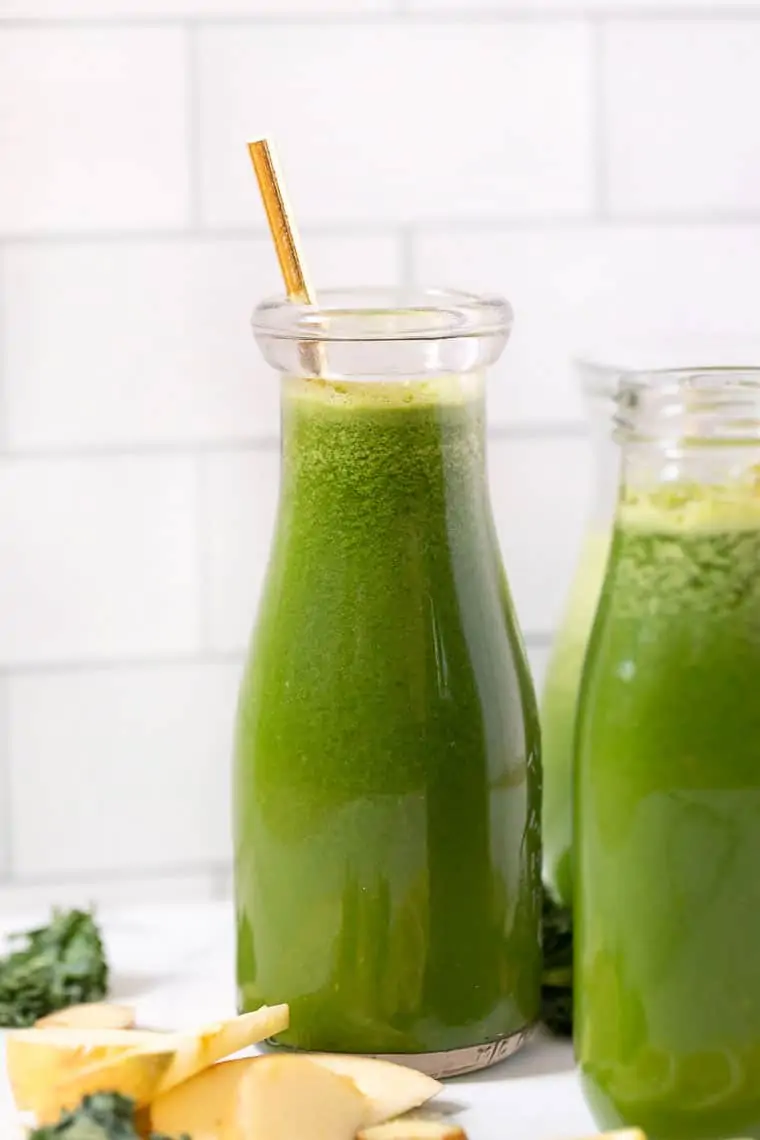 What is Green Juice?
Green juice is a juice that has been made with greens, veggies, and fruit. It's usually made in a juicer, but can also be made in a blender (more on that in a sec).
I've talked a little bit about juicing before (remember when I did that 3-day Green Juice detox?), but I think it's important to note that juicing and blending (i.e. making smoothies), is very different. That's not to say that one is better than the other, they're just…different.
Unlike smoothies, juicing removes all the fiber from your fruits and veggies, leaving you with a delicious liquid that is packed with nutrients. Unlike smoothies that take longer to digest because of the fiber, the juice is easily absorbed and gives you the jolt of nutrients that each ingredient has. That's why it's also a great tool to add to your cold-fighting arsenal. That instant rush of nutrients helps give your immune system a nice little boost.
Is Green Juice Good For You?
Green juice is definitely good for you, but there's a caveat. Depending on the ingredients, green juice can also contain a TON of sugar. And since there is no fiber, it can spike your blood sugar like crazy.
If you want to make a healthy green juice, then make sure to only include 1/2 a piece of fruit per serving. This juice for example? It only uses 1 apple and still has 17g of sugar PER serving.
So you just want to be mindful of the amount of fruit you're adding. And use the least amount that you can and still enjoy the taste of your juice.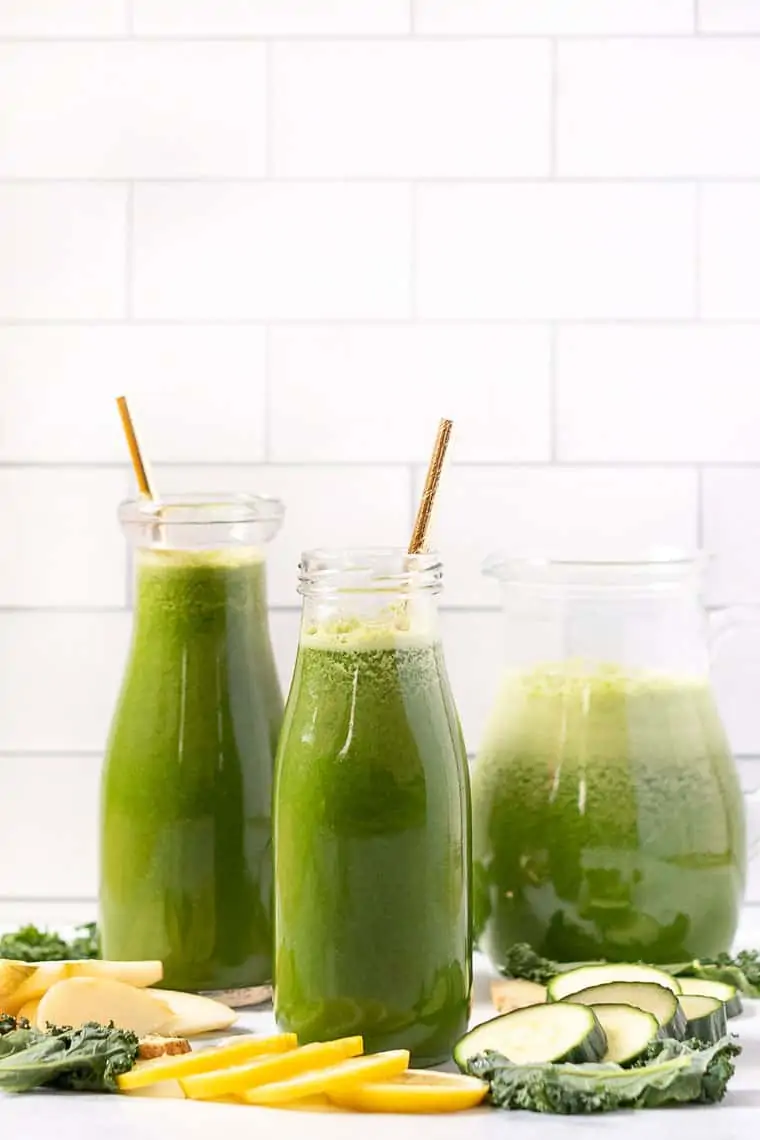 Can I Make Green Juice with Ginger in a Blender?
You can definitely make green juice in a blender.
Here's how to make juice in a blender:
Add all your ingredients into a blender (make sure to peel your lemon!) and add about 1/2 cup of water
Blend the juice on high until it's mostly smooth
Place a nut milk bag over a bowl and pour the juice into the nut milk bag
Use your hands to squeeze the juice out of the bag, leaving the pulp behind
And then you can just sip and enjoy! If you're someone who plans to drink green juice a lot, I would suggest investing in a juicer. I love my Breville juicer and have had it for almost 6 years with no problem!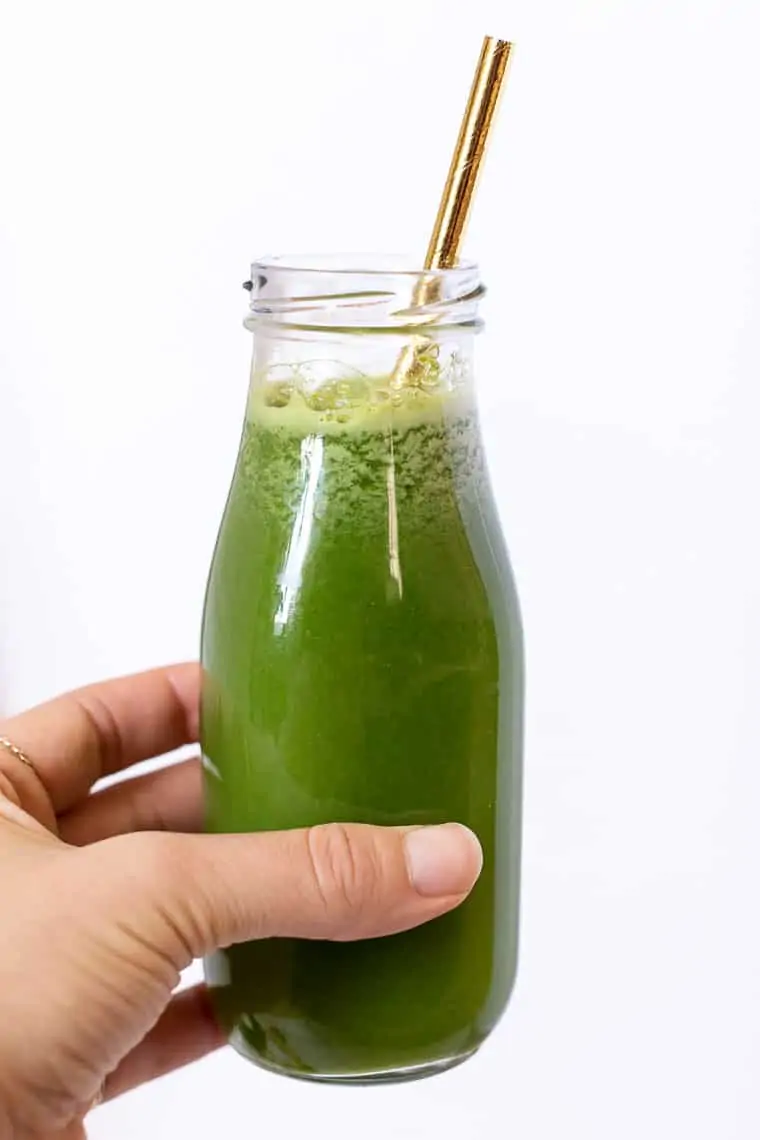 More Healthy Smoothie + Juice Recipe to try:
Healthy Green Juice with Lemon
Use a combination of greens, roots and fruits and I promise you'll have a delicious juice on your hands. It's important to balance your sugars, so try to incorporate one of the greens into each of your juices.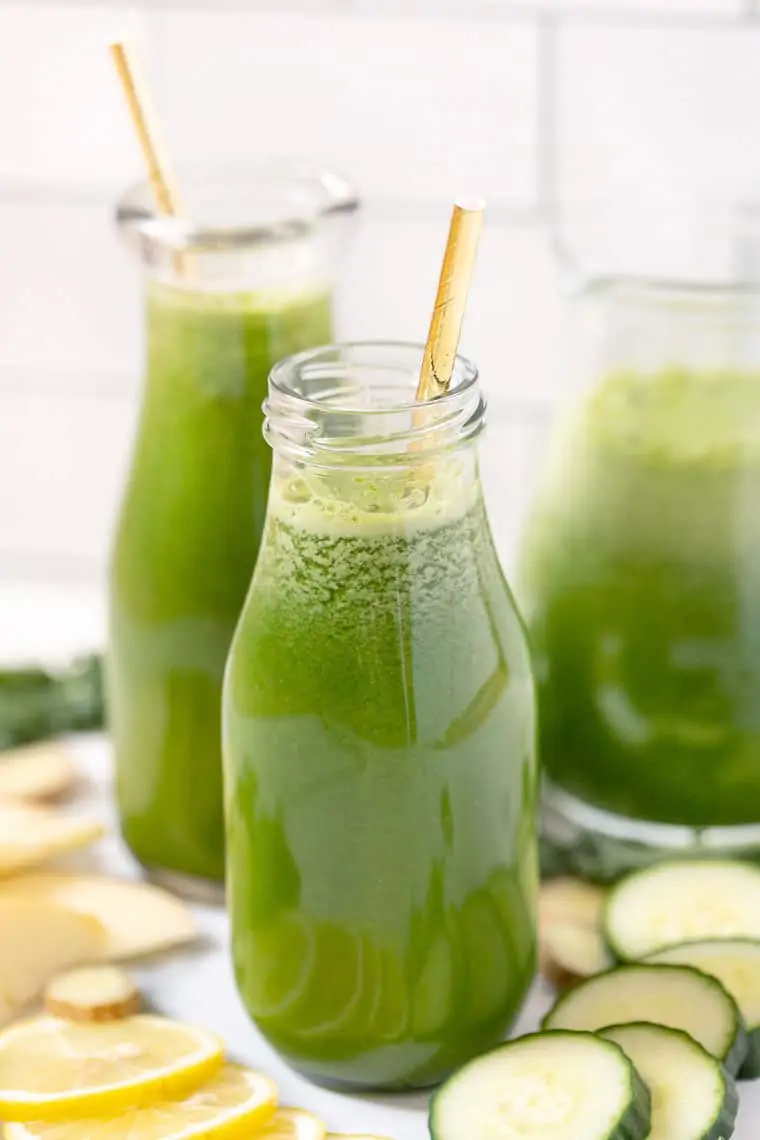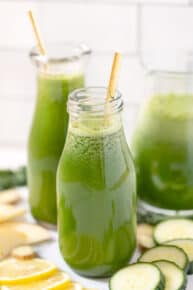 Ingredients
1

bunch of kale

1

head romaine lettuce

1

medium carrot

optional

5

celery stalks

1

medium cucumber

1

green apple

2

lemons

1"

piece of fresh ginger
Instructions
Wash all your ingredients.

Juice ingredients according to your juicer's instruction manual. If you don't have a juicer, you can use the blender method (see above).

Sip slowly and enjoy!
Nutrition
Serving:
20
oz
|
Calories:
184
kcal
|
Carbohydrates:
41
g
|
Protein:
9
g
|
Potassium:
1969
mg
|
Fiber:
5
g
|
Sugar:
17
g
|
Vitamin A:
31922
IU
|
Vitamin C:
315
mg
|
Calcium:
429
mg
|
Iron:
5
mg
Filed Under: