The air fryer is a quick and easy way to make crispy, perfectly cooked bacon that can be used in all sorts of meals. Air fryer bacon only takes 6 minutes and just might become your new favorite way to make it!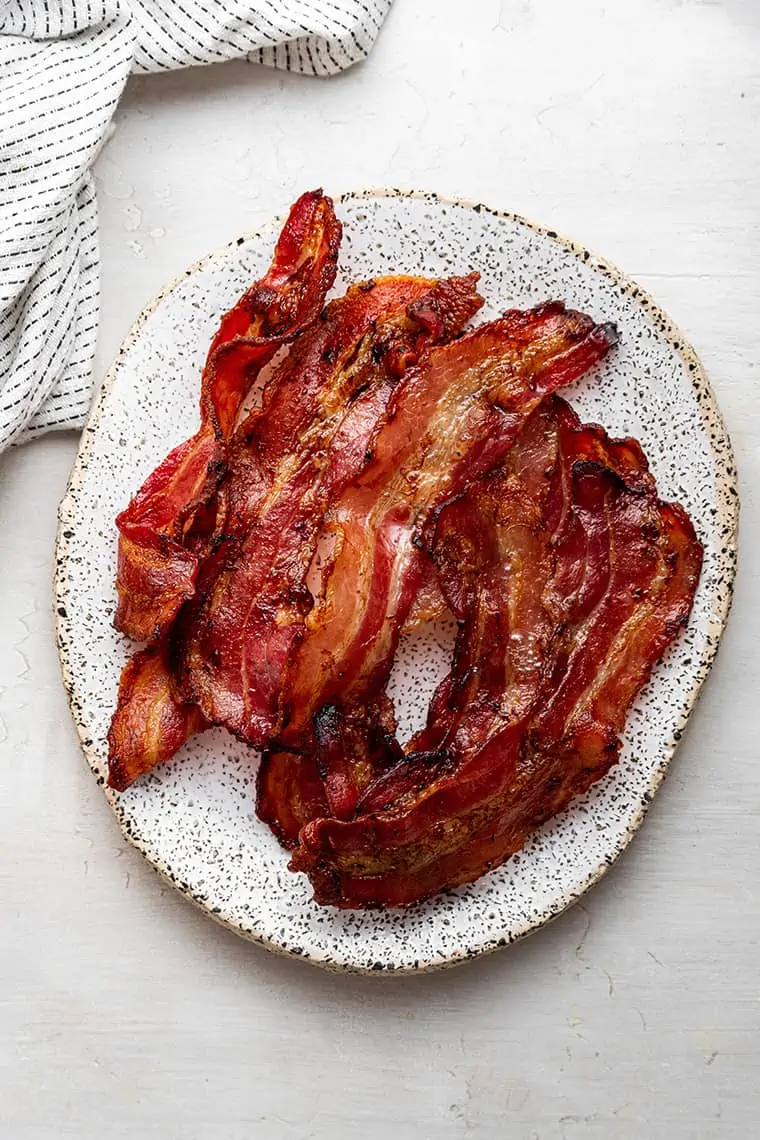 Bacon is a nearly perfect food. And air fryer bacon is a modern approach to an old classic.
Air fryers are an amazing kitchen tool that make a lot of recipes easier without sacrificing quality. That's the case when you make bacon with your air fryer. It still has the great fatty, salty, umami flavor of bacon cooked any other way, with the same crispy texture. It will revolutionize your bacon game!
If you like finding new things to cook in your air fryer, check out my Air Fryer Grilled Cheese recipe. You could even fill it with bacon!
What You'll Need
As you're about to see, there aren't very many ingredients in air fryer bacon. Here they are:
That's it! But there are a lot of different types of bacon you can use. In addition to traditional bacon, you can cook thin-slice and thick-cut bacon in the air fryer. You can also cook beef bacon, turkey bacon, meatless bacon, or any other kind of bacon that you like! It will all work in the air fryer.
What's the Benefit of Cooking Bacon in the Air Fryer?
Quick & Easy. This is the most convenient way to make this bacon. The main benefit of this method is the speed. Cooking bacon in the air fryer is significantly faster than in the oven, and about the same amount of time as if you cook it in a skillet.
No grease or smoke to deal with. Unlike cooking it in a skillet, however, you don't have to fuss over bacon cooking in an air fryer. And even more importantly, you don't have to deal with hot grease flying everywhere, or smoke filling up your kitchen.
Crispy and flavorful. Finally, there's the taste factor. The air fryer gives a more consistent cook to bacon, ensuring that it's evenly cooked and crispy all over. Add in the simplicity of cleaning the air fryer basket, and cooking bacon in an air fryer becomes a no-brainer.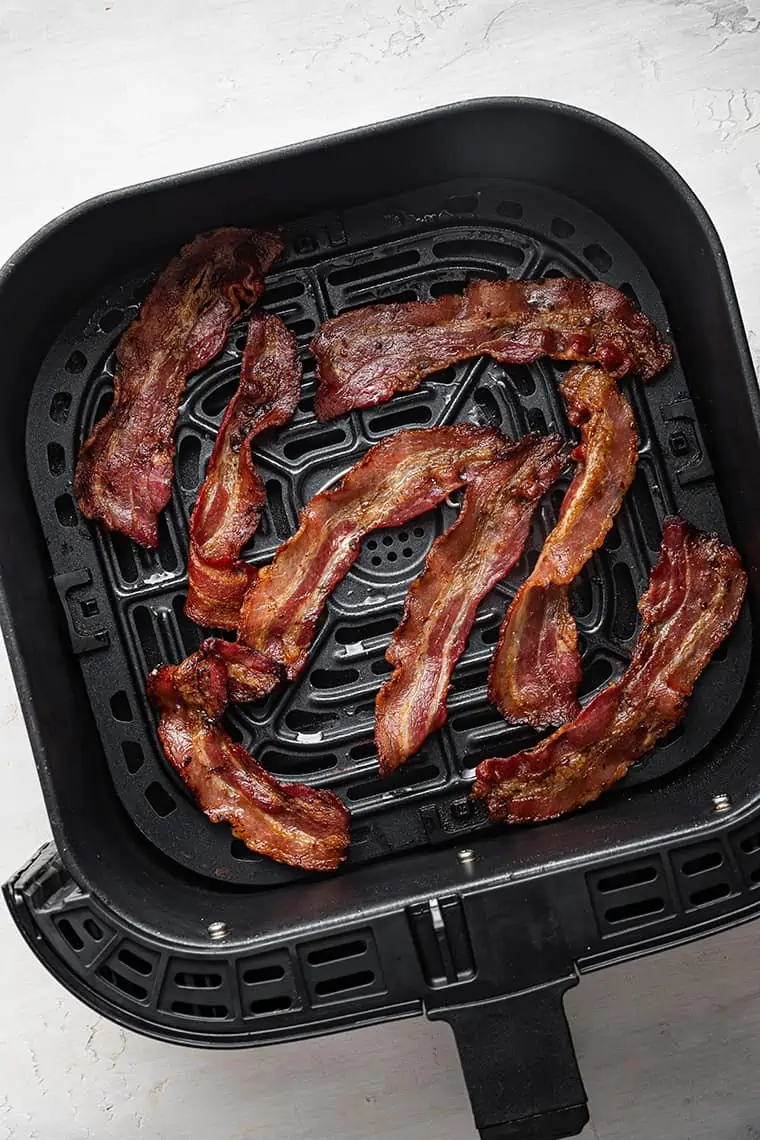 How to Make Air Fryer Bacon
This is an incredibly easy way to make bacon. Here's how to do it.
Preheat. Set the air fryer to 350F and let it come to temperature.
Place the bacon in the basket. Lay slices of bacon in the basket without any overlap.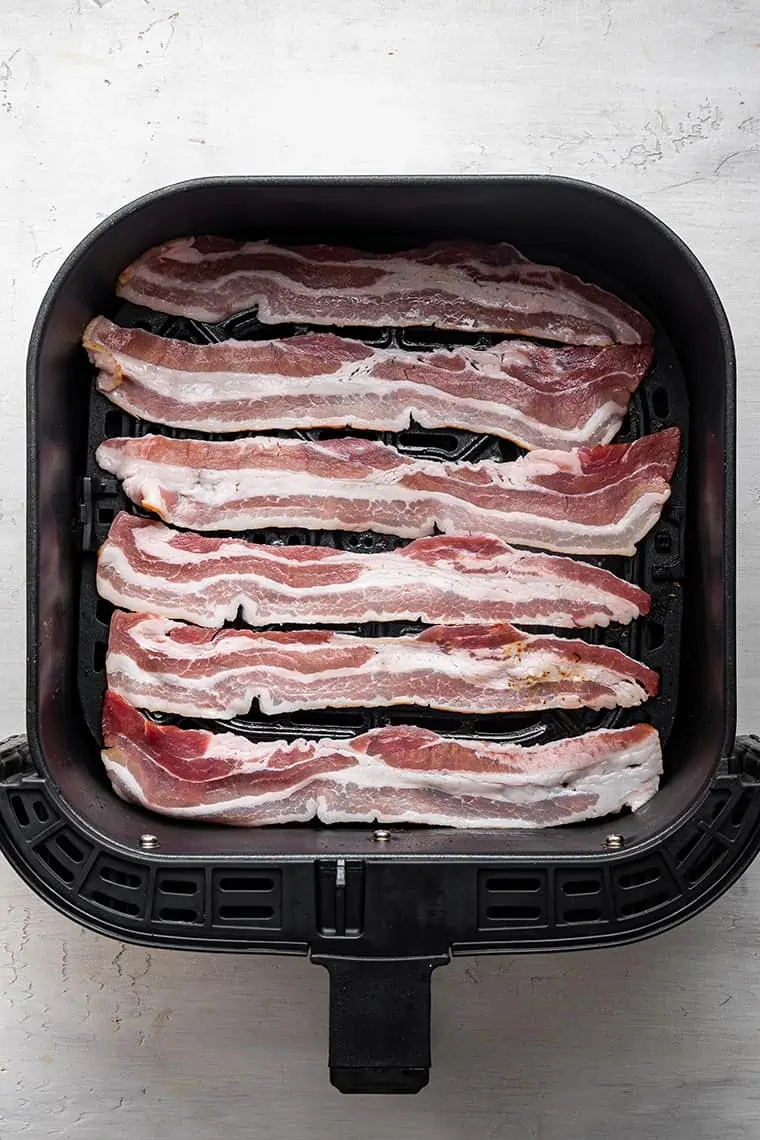 Cook. Cook the bacon for 6 minutes, or until it's crispy all over (or however you like your bacon). Flip the bacon halfway through the cooking.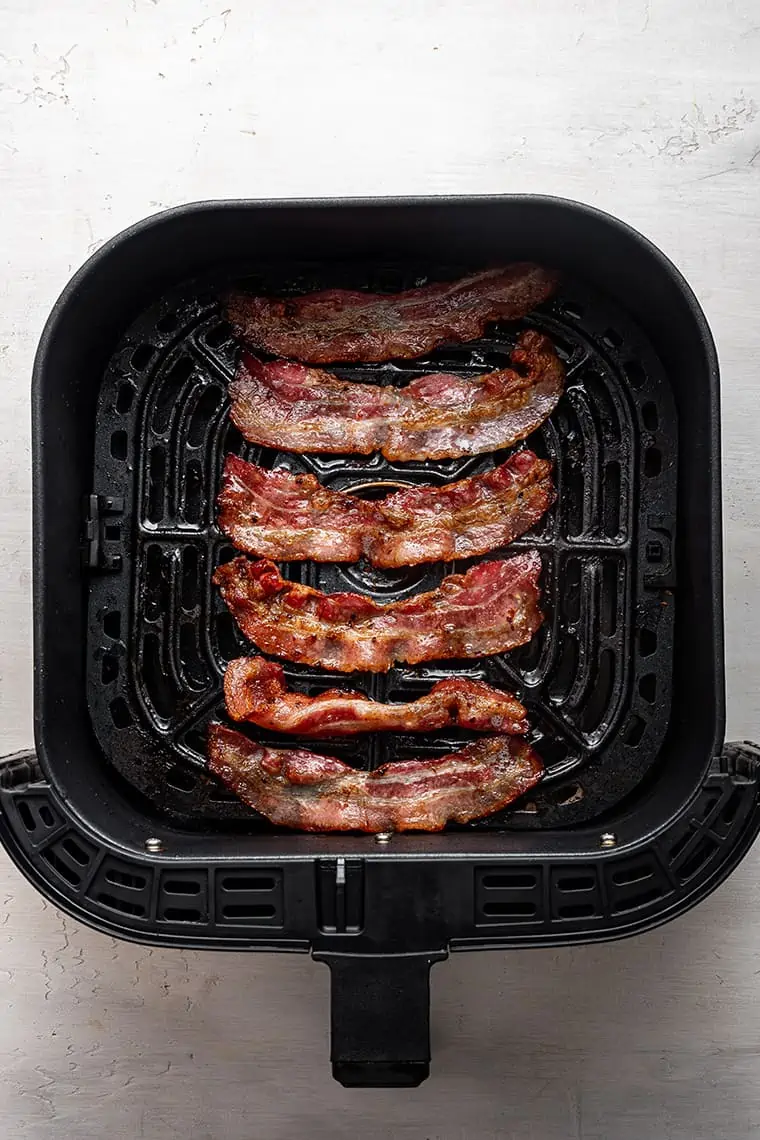 Remove. Take the bacon out of the basket and place it on a paper towel-lined plate.
Tips for the Best Air Fryer Bacon
Here are a few tricks and tips for making the best bacon in the air fryer.
Give it space. When you put it in the basket, make sure to leave a decent amount of space between each slice of bacon. This ensures that each piece can get sufficiently crispy, and cook evenly. If you can't fit all your bacon in the basket without a few pieces overlapping, just cook the bacon in a few batches.
Keep the bacon warm. If you're making multiple batches of bacon, keep it warm in the oven. Set your oven to the lowest temperature, and place the bacon on an oven-safe plate or dish on the middle rack. The bacon won't dry out, but it will stay warm until you're ready to eat it.
Adjust based on size. Different bacon comes in different sizes. It takes 6 minutes to cook standard bacon to a crispy state. If your bacon is extra thick, you'll need to cook it a few more minutes. If it's especially thin, start with 4 minutes.
How to Use This Bacon
You can use this bacon the same way you would use any other kind of bacon. Put it next to your eggs for breakfast, stick it in a Bloody Mary, throw it in a sandwich, or stuff it into a breakfast burrito [LINK]. Or you can eat it my favorite way: by itself, as a snack!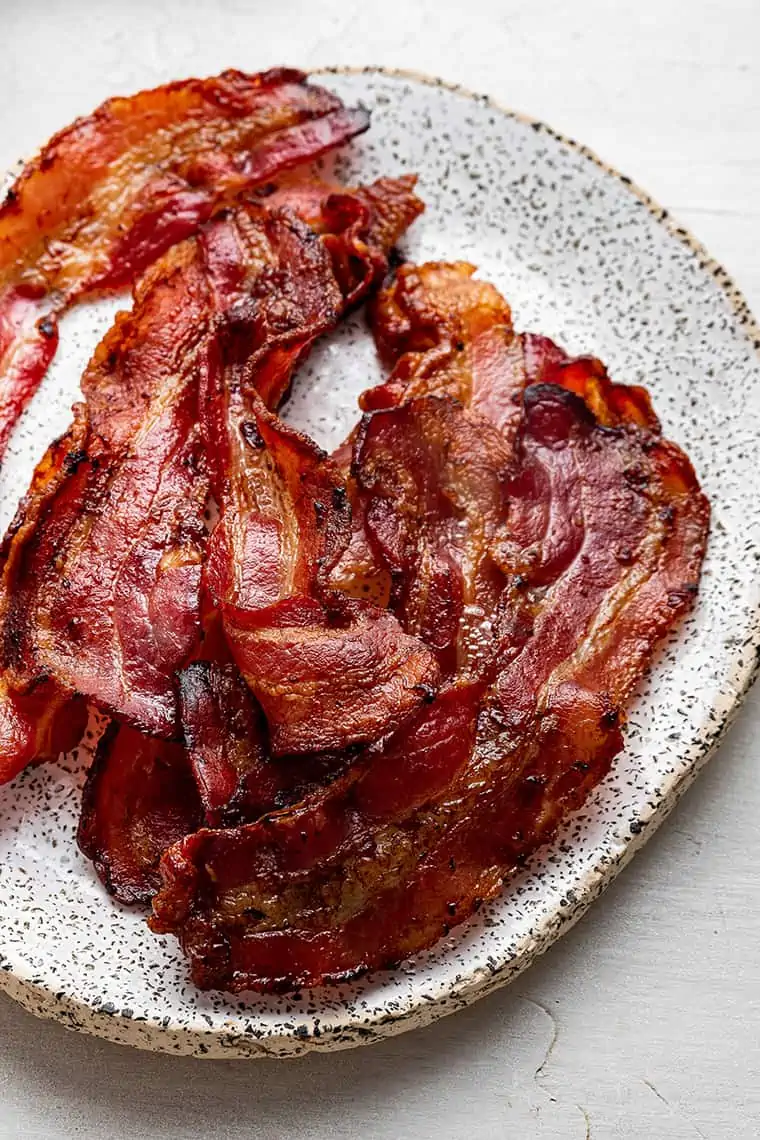 Air Fryer Bacon
Air fryer bacon is crispy all over, juicy, and takes less than 10 minutes to make.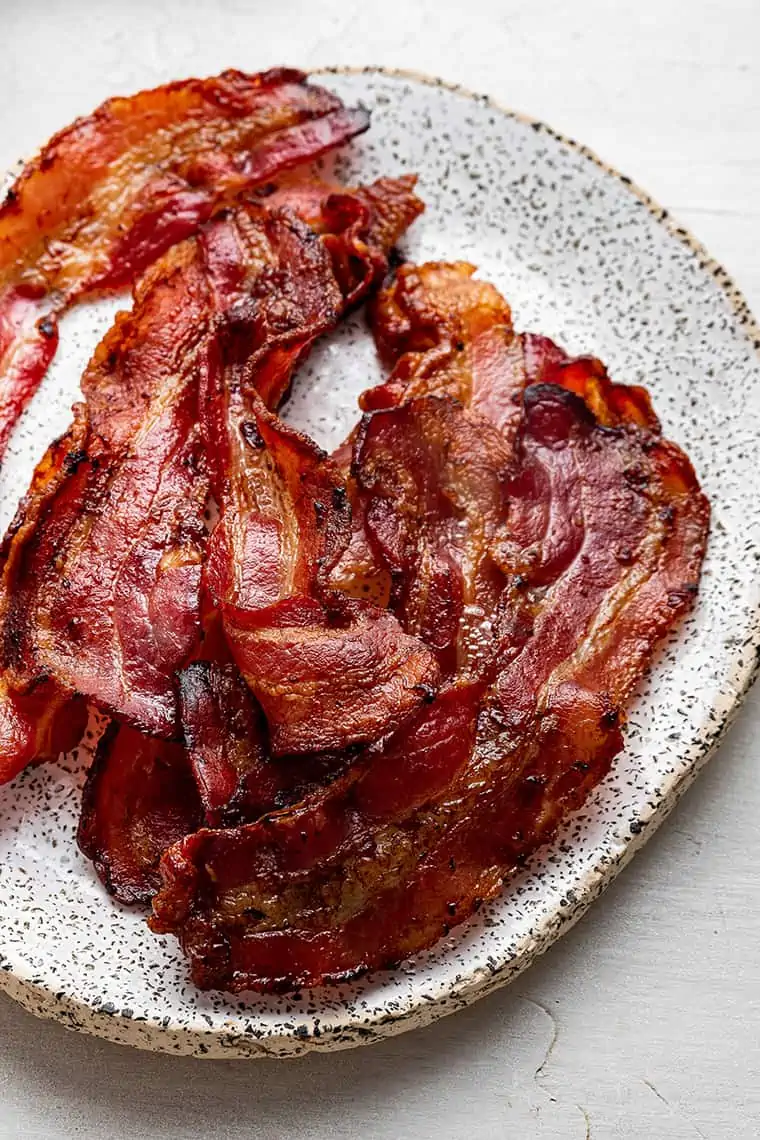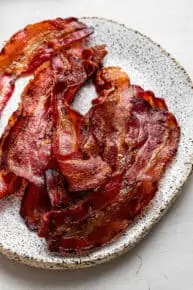 Instructions
Preheat the air fryer to 350F.

Lay the bacon slices in the air fryer basket, making sure they're not overlapping.

Cook for 6 minutes, or until crispy all over, flipping halfway through. The bacon may take more or less time depending on the thickness.

Remove from the air fryer basket and place on a paper towel-lined plate.
Nutrition
Serving:
1
g
|
Calories:
275
kcal
|
Carbohydrates:
1
g
|
Protein:
8
g
|
Fat:
26
g
|
Saturated Fat:
9
g
|
Polyunsaturated Fat:
4
g
|
Monounsaturated Fat:
12
g
|
Trans Fat:
0.1
g
|
Cholesterol:
44
mg
|
Sodium:
437
mg
|
Potassium:
131
mg
|
Vitamin A:
24
IU
|
Calcium:
3
mg
|
Iron:
0.3
mg
Filed Under: