These baked coconut tofu tenders are an awesome vegan alternative to chicken tenders. They're crispy, they're full of flavor and great for dipping!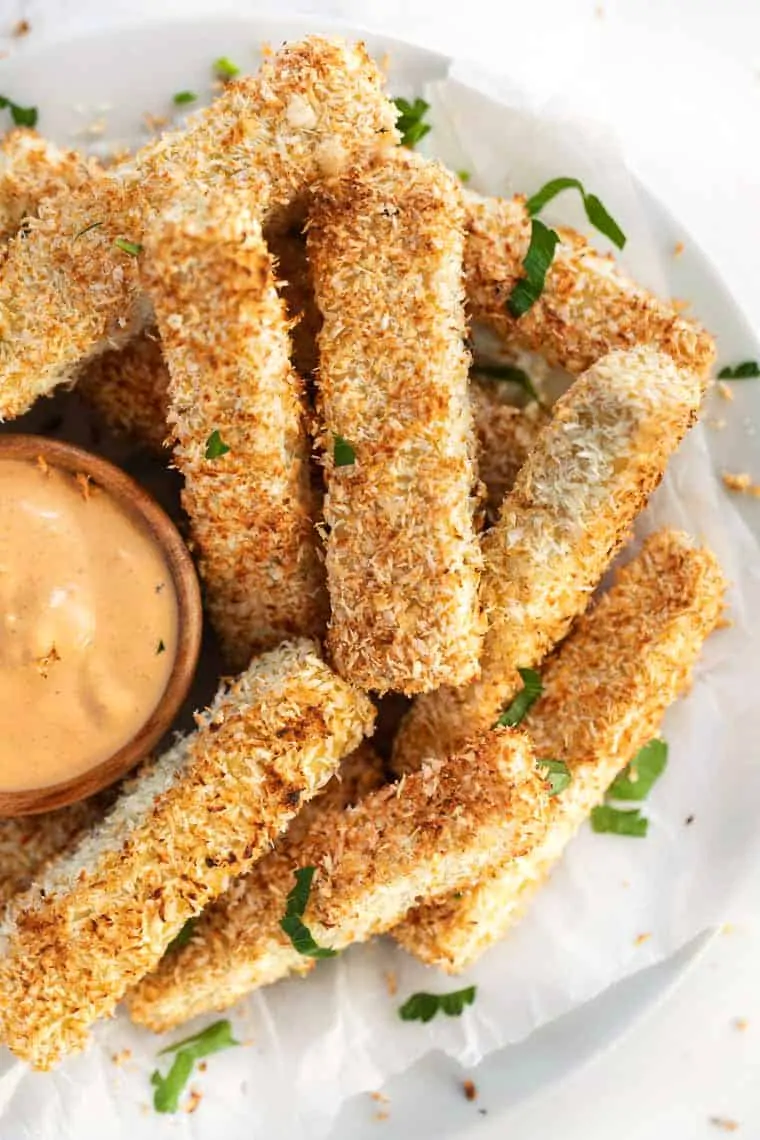 Did you grow up loving chicken nuggets and tenders? I did! They were my favorite meal, especially when dipped in a little ketchup.
A few years ago, when I was still eating chicken, I decided to uplevel my chicken nugget game and tried coconut chicken for the first time. Oh my gosh just loved them!
But as of about 4 years ago, chicken hasn't been part of my diet. So when I was craving something similar the other night, I turned to my trusty vegan protein source: TOFU! Instead of coconut chicken, we're making coconut tofu. Specifically, coconut tofu tenders that are naturally gluten-free and plant-based!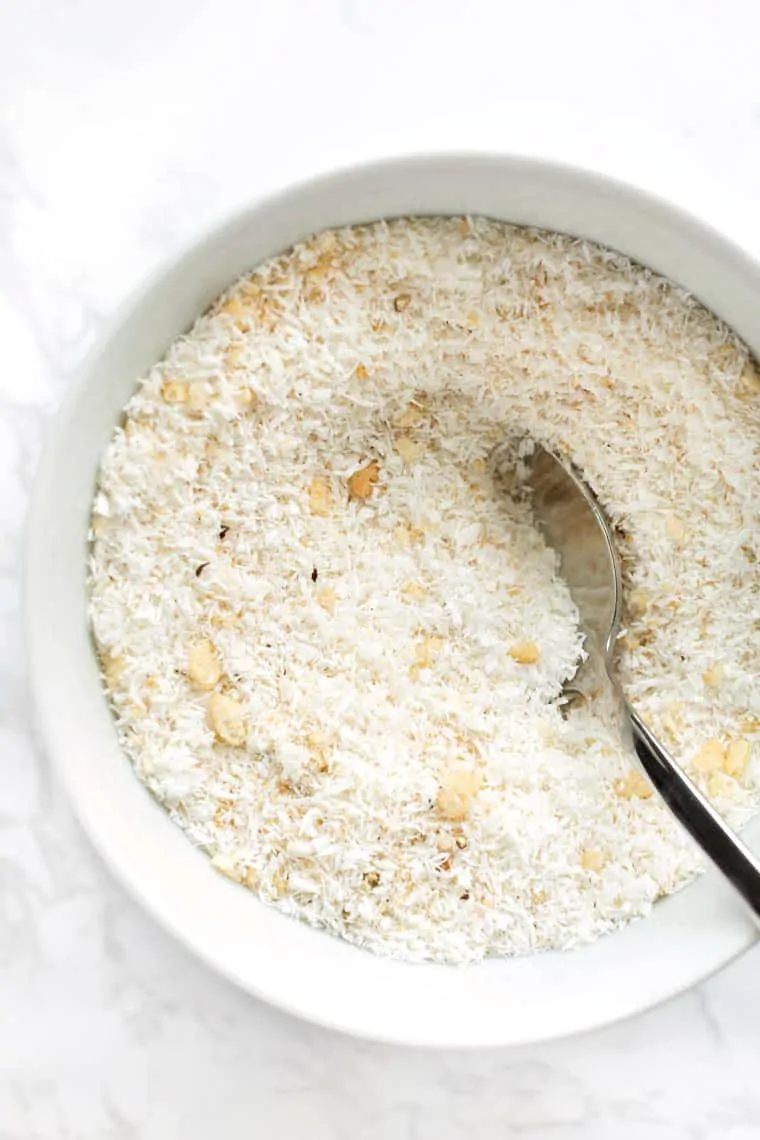 Ingredients for our Coconut Breading
The secret to perfect coconut tofu is the breading. I wanted to keep it simple and let the coconut really shine in this recipe, so we're only using 4 ingredients:
Shredded coconut: make sure to buy unsweetened!
Rice crispy cereal: I had some leftover from my gluten-free rice crispy treats, so I tossed some in. You could totally leave these out and just use more coconut – I just found that they added a bit more crunch.
Salt & pepper: just for a little added flavor!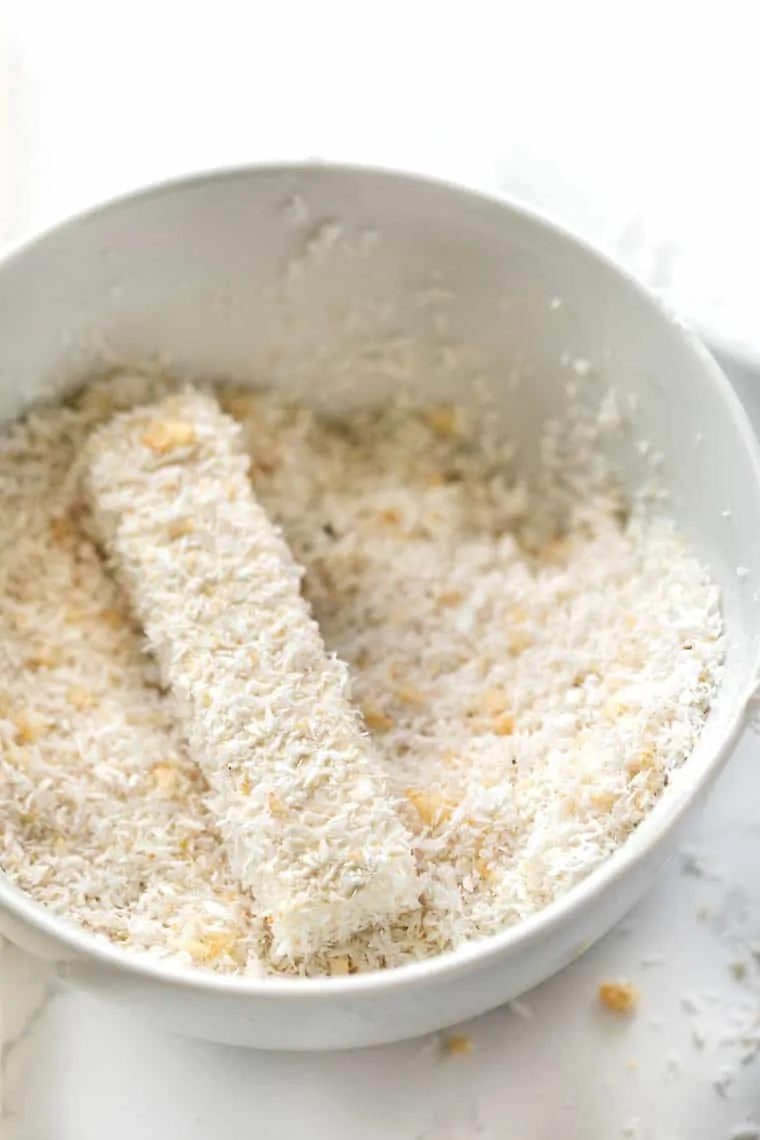 The Trick to Making Tofu Tenders
Similar to other breaded recipes I've shared before, in order to make our tofu tenders, we're going to have to follow somewhat of an "assembly line". It might seem complicated, but it's super easy!
STEP ONE
Press your tofu. You can use a tofu press, or you can cover your block of tofu with a paper towel and then place something heavy on top (I usually do a few cookbooks). Once you've pressed most of the water out, you'll cut the tofu into strips.
STEP TWO
Prepare your line & roll. You'll whisk together your coating ingredients in one bowl, and pour your coconut milk in another bowl. The coconut milk will be where you dunk your tofu strips first, and then you'll roll them in the coconut. The milk helps the coating stick.
STEP THREE
Bake your tofu. Once you've coated your tenders in the coconut mixture, place them on a parchment-lined baking sheet. You'll bake them for about 40 minutes, flipping them halfway through, until they're golden brown and crispy. I think you could also deep fry or air fry these as well!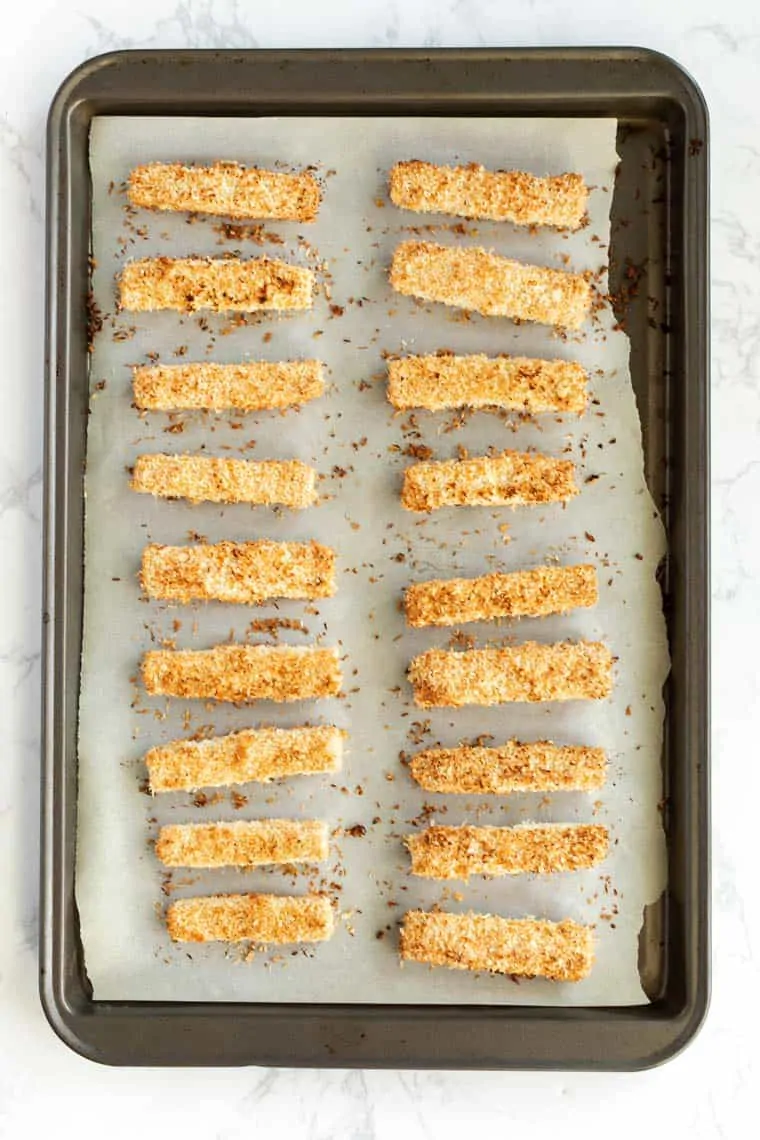 Is Baking Healthier Than Air Frying?
I don't personally have an air fryer (yet – hello, tiny NYC apartment), but from what I've researched and learned, they have a similar effect on the food. Air frying is still cooking your food on high heat, the air is just being circulated in a way that helps the item get crispy all the way around.
Both baking and air frying are definitely healthier than frying since you don't need to use oil. So if you are trying to make a more health-conscious decision, I'd say these are both a great bet!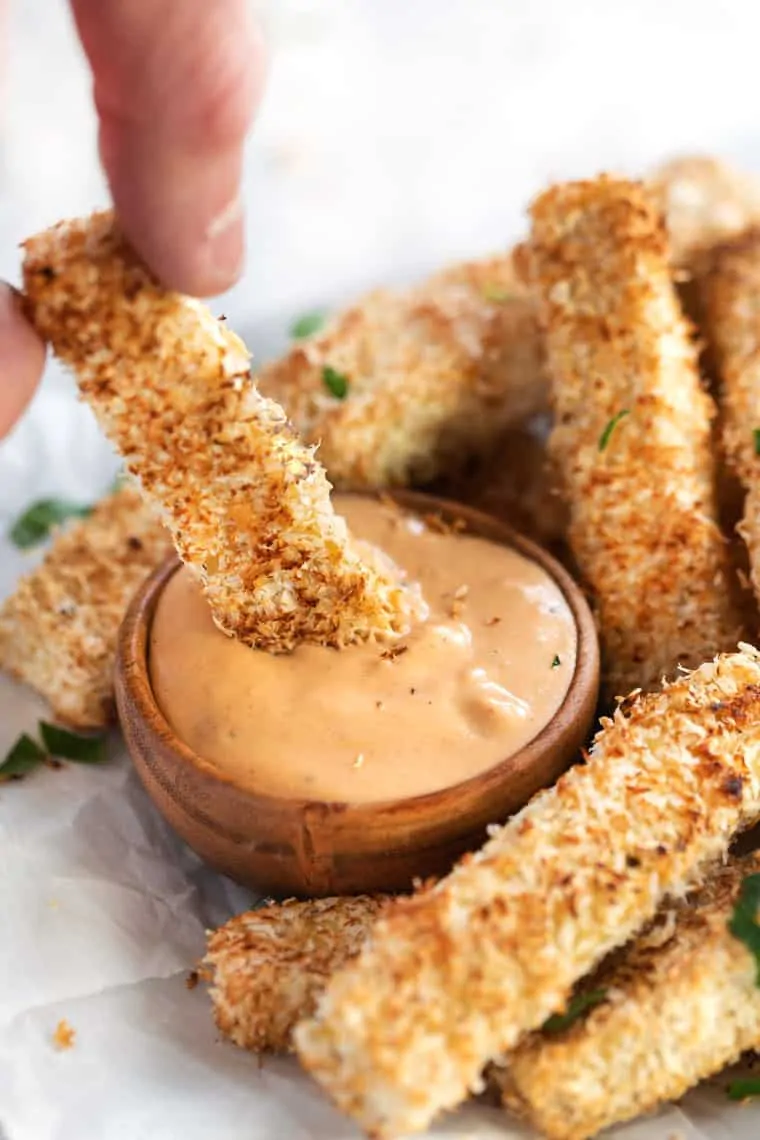 The Ultimate Tahini Dipping Sauce
Remember when I mentioned ketchup with my chicken tender? Well since we've upleveled our chicken tenders to coconut tofu tenders, let's also uplevel our dipping sauce, shall we?
I'm obsessed with tahini and found the ultimate dippings sauce:
Tahini: the base for all my favorite sauces!
Lemon juice: I love using something acidic in my sauces and lemon is great because it's tangy, but just a teeny bit sweet.
Sriracha hot sauce: one of my personal favorite hot sauces, but you can use whichever you like best!
Tamari: for some salt and umami flavor – it's a pantry staple if you ask me!
Water: because tahini + acid usually makes it very thick, you'll want to add some water to thin it out. Just add enough to get a similar consistency to ketchup.
You whisk with it all together until it's smooth and it's absolutely delicious! I pairs perfectly with the coconut flavor, has a bit of tang, some spice and also keeps well. You could even use it for a dressing on a salad the next day if you wanted!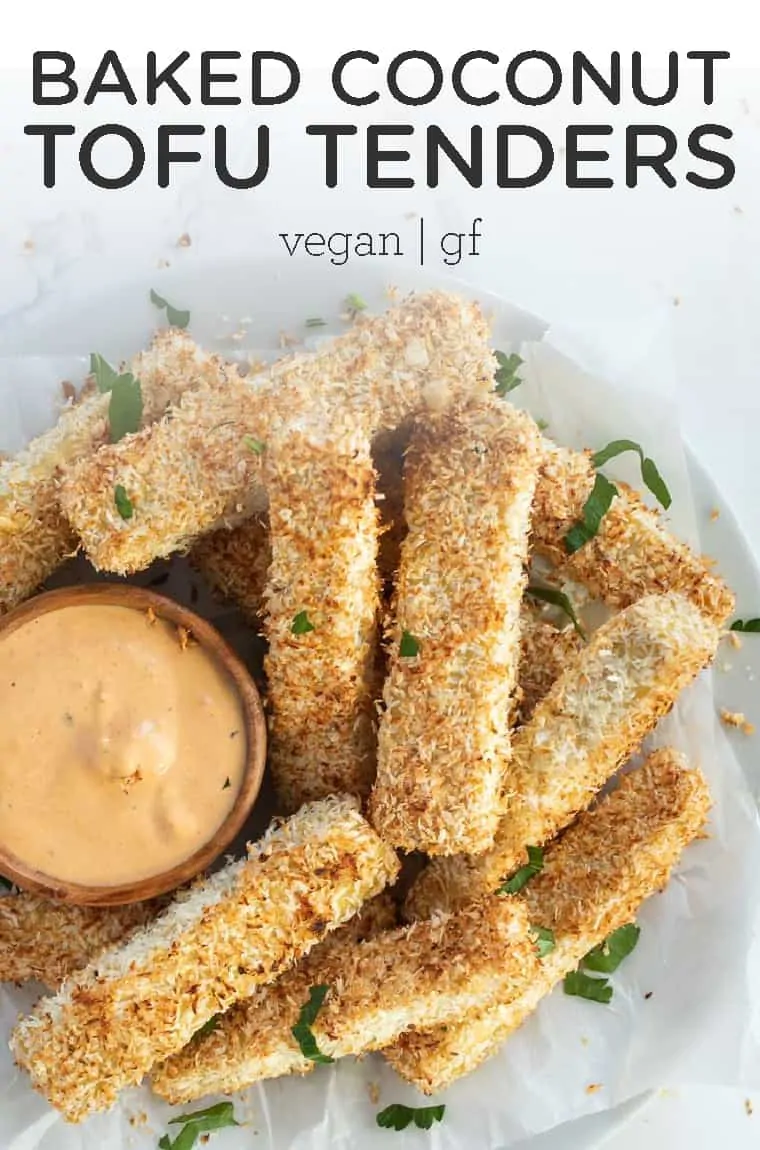 So if you, or someone in your world, have always loved chicken tenders and is either now trying to eat more plant-based or wants a healthier alternative, these coconut tofu tenders are it. They're super simple to make, they keep well in the fridge, they're delicious, they're kid-friendly and I think you're going to ❤️them!
More Ways to Use Tofu In Your Cooking
Baked Coconut Tofu Tenders
These baked coconut tofu tenders are an awesome vegan alternative to chicken tenders. They're crispy, they're full of flavor and great for dipping!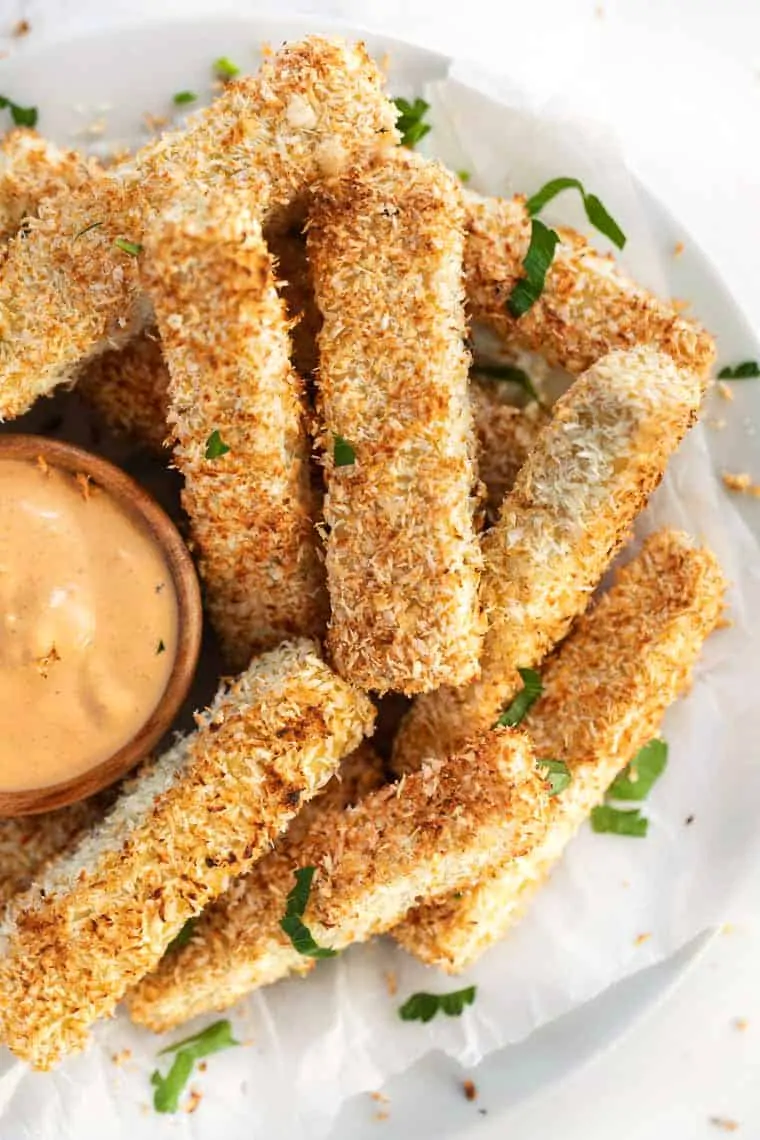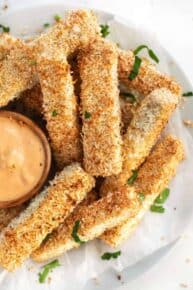 Instructions
Preheat the oven to 400ºF.

Place the tofu on a cutting board and cover it with a paper towel. Place a few heavy cookbooks on top of the paper towels and let the tofu sit for a good 20 minutes.

Once the tofu has been pressed, cut the tofu into strips. Set aside.

In a small bowl, combine the coconut, cereal, salt, and pepper. Stir to combine.

Prepare your "assembly line". Pour the coconut milk into a shallow dish. Start by dredging the tofu strips into the coconut milk, then transfer a strip to the coconut-cereal bowl and coat it with the mixture. Transfer the strip to a parchment paper-lined baking sheet and repeat with the other strips.

Bake for 20 minutes, then flip the tofu strips and bake for another 20 minutes more.

When ready to serve, quickly whip up the sauce. Combine everything in a small bowl and stir together with water as needed until you get a pourable texture.
Nutrition
Serving:
5
strips
|
Calories:
237
kcal
|
Carbohydrates:
13
g
|
Protein:
10
g
|
Fat:
17
g
|
Saturated Fat:
11
g
|
Sodium:
289
mg
|
Potassium:
300
mg
|
Fiber:
1
g
|
Sugar:
8
g
|
Vitamin A:
116
IU
|
Vitamin C:
2
mg
|
Calcium:
46
mg
|
Iron:
3
mg