You will love these healthy Chipotle Tofu Quinoa Bowls! This easy recipe is vegan, gluten-free, and meal prep friendly. Easy to make and absolutely delicious!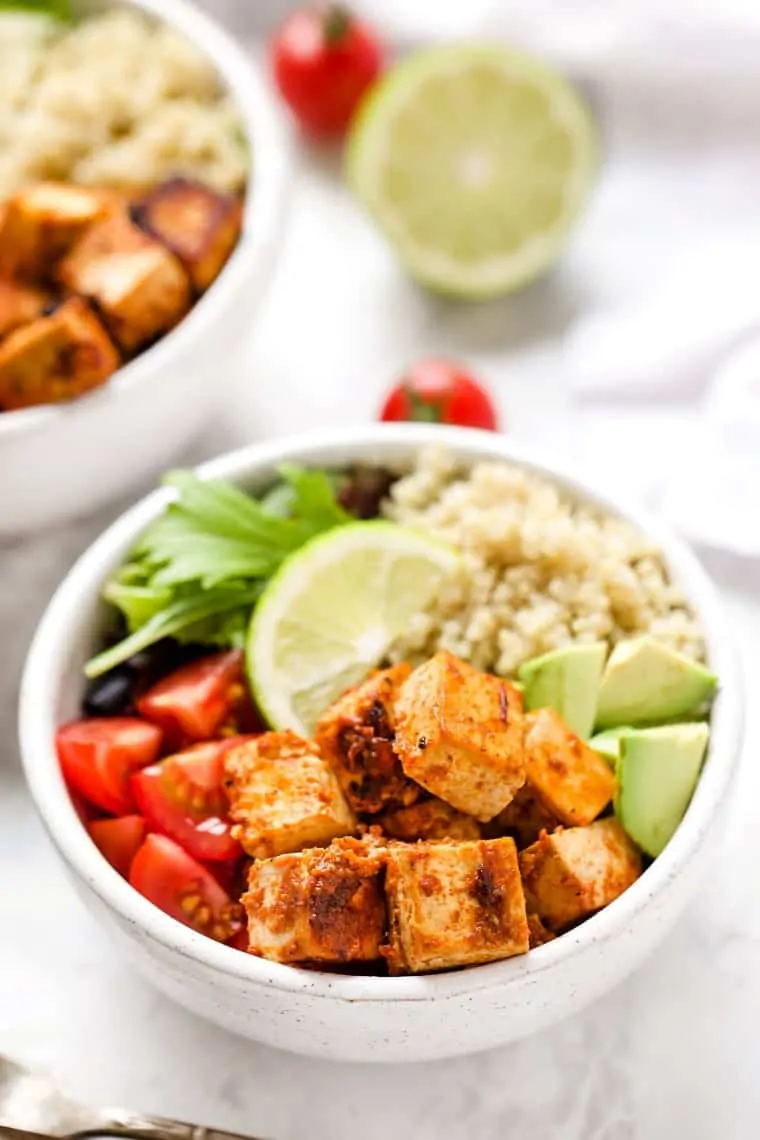 I love the idea of meal prepping. It makes total sense to me. Meal prep saves time, it saves money, it helps you stick to your healthy eating. And yet, I still find myself not doing it.
One of my goals for the rest of the spring is to start meal prepping my lunches. I love my smoothies in the morning and dinners I'm happy making for me and Matt, but lunches are where I get stuck. Because I work from home, I just grab whatever is easiest. Lately, it's been avocado toast and fried eggs. Which is fine, but I could do better.
So as I'm writing this, I'm vowing to spend some time each week to prep my lunches. And these chipotle tofu quinoa bowls are definitely getting thrown in the mix!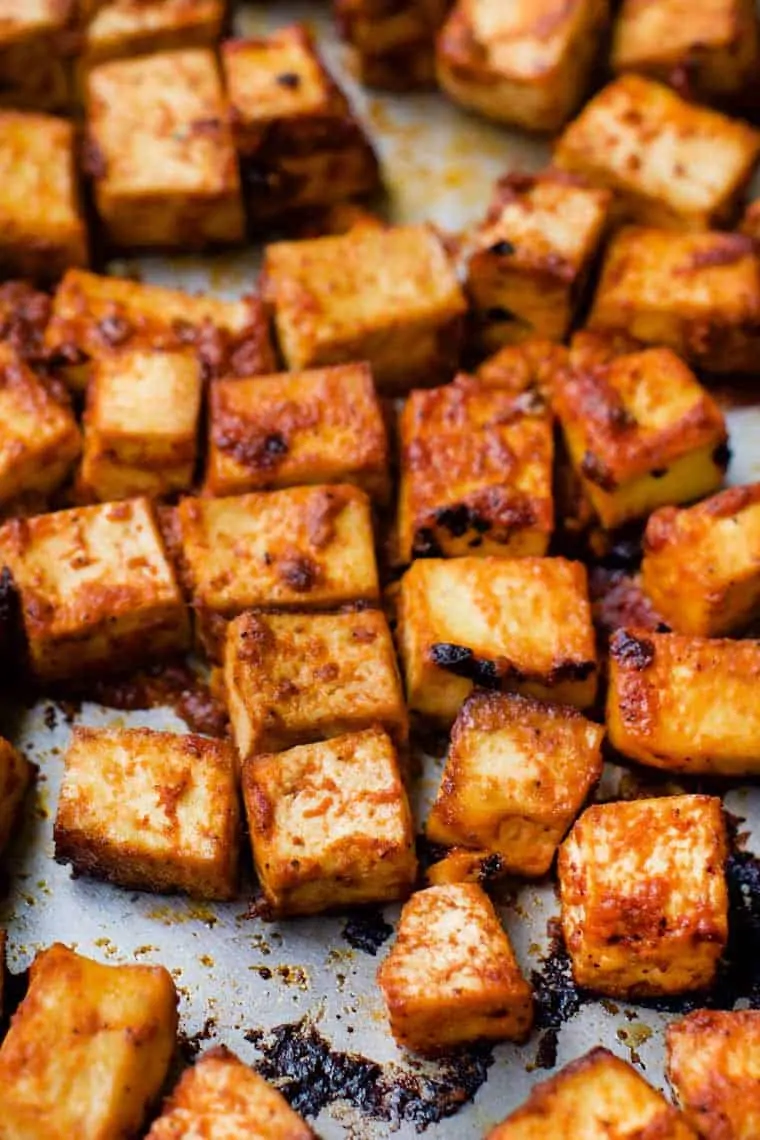 How to Make Chipotle Baked Tofu
I've really come to love tofu in the past year. I used to be scared of soy, but I've realized that as long as I'm buying it from a good source (i.e. organic, non-GMO, sprouted), it's totally fine to have in your diet occasionally. It's still not something I would eat every single day, but it's delicious and I love it, so I'm okay with sometimes.
Tofu is inherently very bland. My favorite way to make it flavorful is to toss it in a sauce and then bake it until it's crispy. I usually go in an Asian-inspired direction, but I wanted to change things up and give you something a bit more feisty.
This chipotle baked tofu is a little on the spice side thanks to the adobo sauce, but it's also flavorful. It reminds me of barbeque sauce but with a little more zing. And when the tofu gets baked, the sauce starts to caramelize which makes it taste that much more fuego!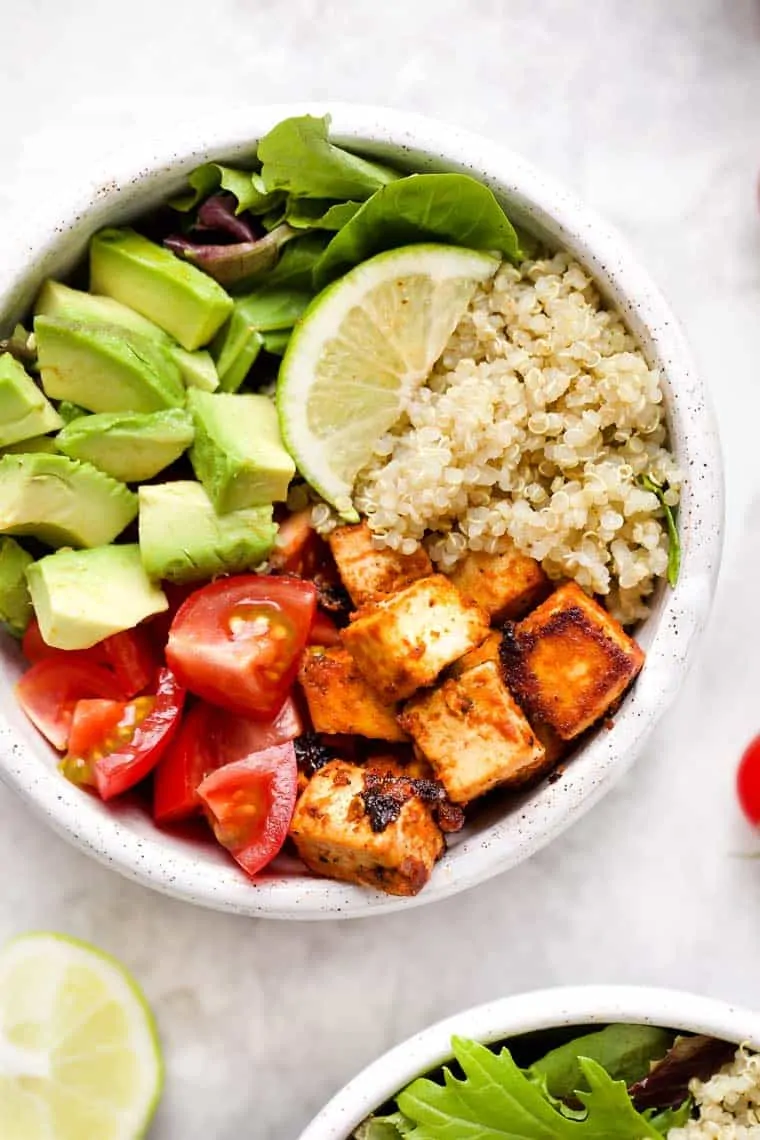 The Easiest Meal Prep Quinoa
I gotta say, this is probably the easiest quinoa bowl recipe we have on the site. You start with the tofu, which is just a block of tofu, cubed and then tossed in our homemade sauce. Then you bake the tofu up, let it cool slightly and assemble your bowls.
Here's what I put inside:
Greens (mixed, romaine, spinach, kale, etc.)
Cooked quinoa
Chopped tomatoes (or salsa)
Chopped avocado
Baked tofu
And finish it off with a little lime and olive oil. So basically the only thing we're really "making" is the tofu and it just uses one bowl and bakes in about 40 minutes!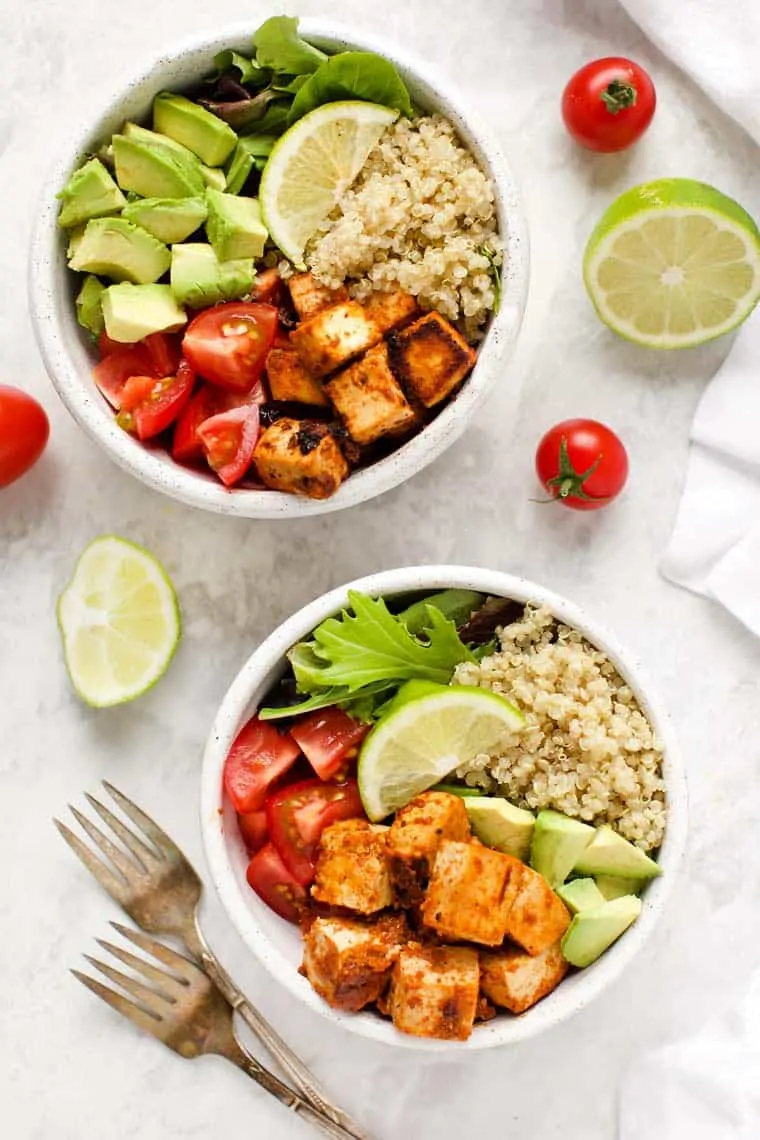 Tofu Quinoa Bowls for the WIN!
Why are these the ultimate meal prep recipe? I'll tell ya: they're high in protein, packed with flavor, filling and nutrient dense. They're also packed with antioxidants, fiber, and healthy fats.
Basically…they're everything you need in one meal.
So if you haven't jumped on the meal prep train, want to join me? I hope so! Let's vow together to make healthy lunches like this for ourselves. Let's decide to put time on the calendar to do it. It probably won't take more than one hour and we are going to feel SO much better!
If you're going to join me, drop a comment down below and let me know what you're going to make next ????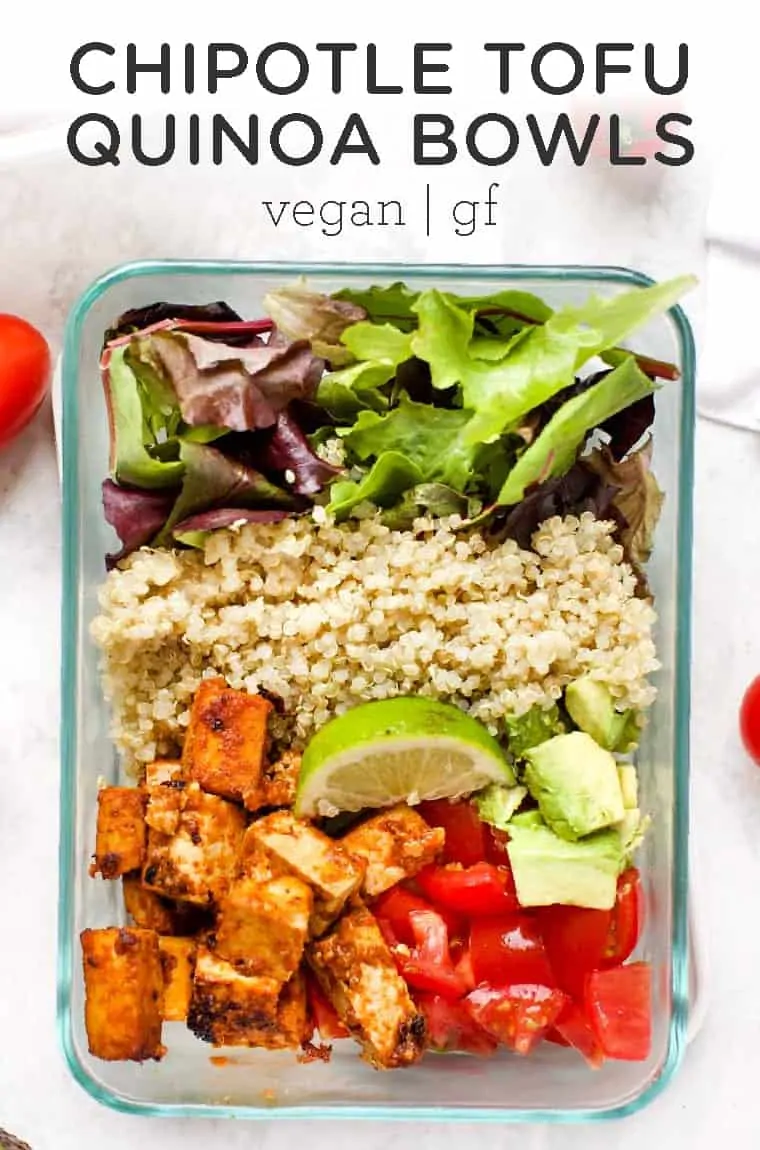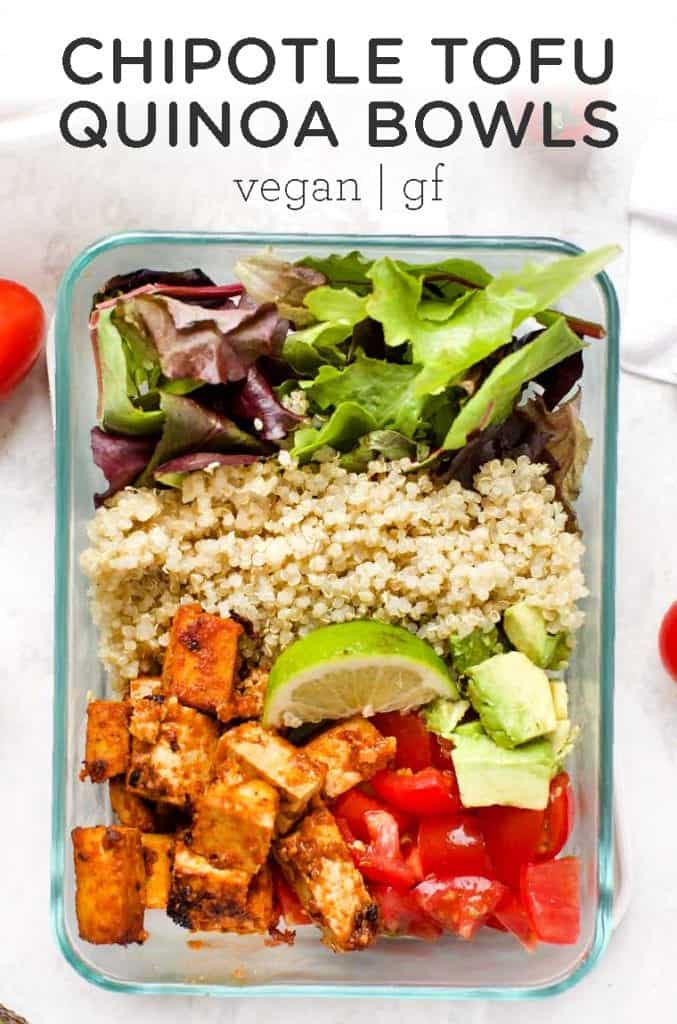 More Vegan Meal Prep Recipes

Meal Prep Chipotle Tofu Quinoa Bowls
These healthy meal prep quinoa bowls are packed with protein and flavor. With chipotle baked tofu, avocado, tomatoes and more!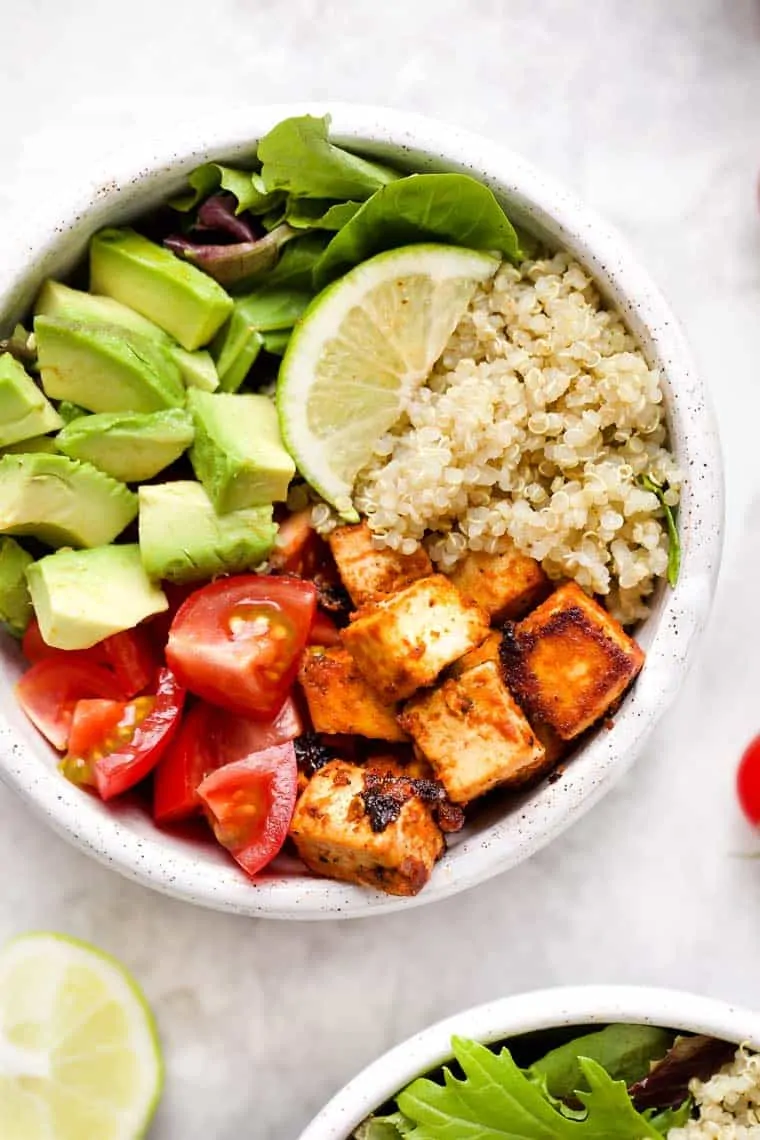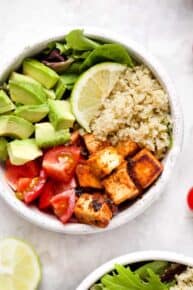 Ingredients
for the bowls:
2

cups

cooked quinoa

Chipotle Tofu

4

cups

greens

1

avocado

, quartered

1

pint

cherry tomatoes

, chopped

Lime
Instructions
Preheat the oven to 400ºF. Line a baking sheet with parchment paper and set aside.

Cut the tofu into cubes and set aside.

In a large mixing bowl, combine the rest of the tofu ingredients. Stir together to form a sauce, thinning with a splash or two of water. Add the cubes of tofu into the bowl and toss everything together. The tofu should be fully coated in the sauce.

Bake for 40 minutes, flipping halfway through, until the sauce has caramelized on the tofu.

Once ready to assemble, divide everything evenly between four bowls or containers (minus the avocado – serve that day of). Just before serving, drizzle with lime juice and some olive oil and enjoy!
Nutrition
Calories:
417
kcal
|
Carbohydrates:
42
g
|
Protein:
25
g
|
Fat:
17
g
|
Saturated Fat:
3
g
|
Cholesterol:
13
mg
|
Sodium:
990
mg
|
Potassium:
1152
mg
|
Fiber:
8
g
|
Sugar:
11
g
|
Vitamin A:
1680
IU
|
Vitamin C:
43.1
mg
|
Calcium:
455
mg
|
Iron:
4.3
mg
Filed Under: