These healthy Tofu Mason Jar Salads are the ultimate vegan meal prep recipe. Made with buffalo tofu, a creamy dressing, greens, and so many more goodies!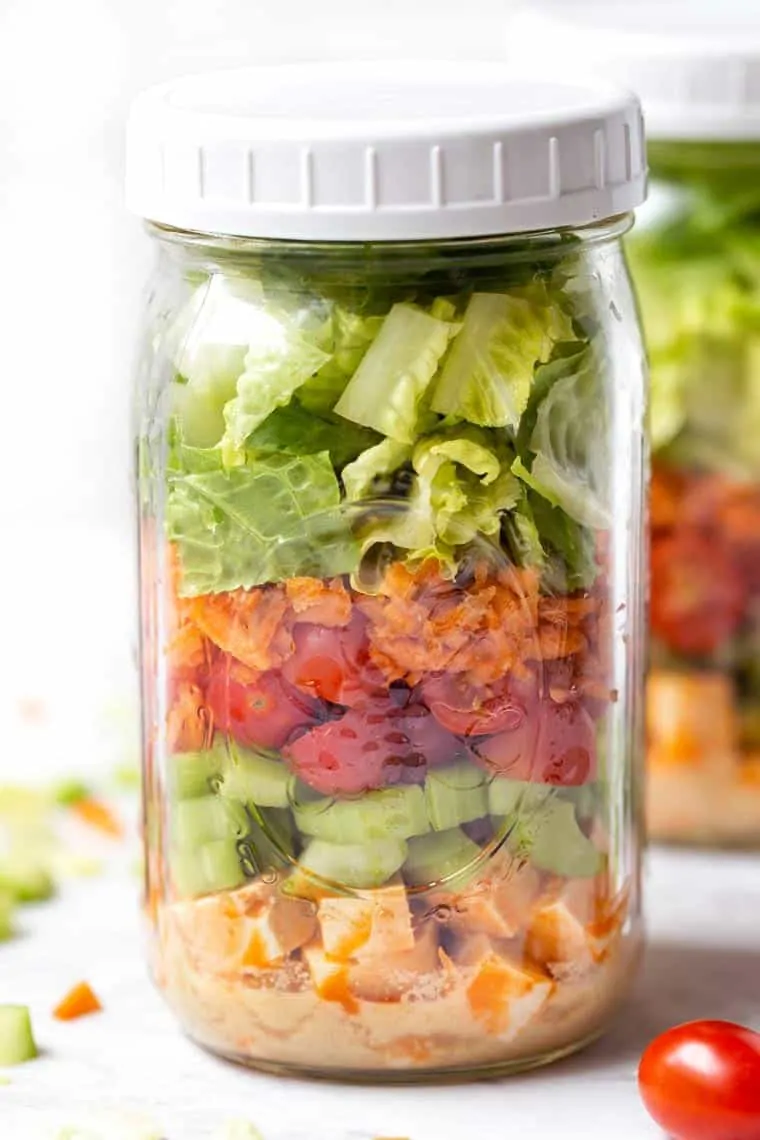 Tired of the same old boring lunches? Yea, me too! But not any more thanks to this incredible Buffalo Tofu Salad!
I'm all about making life easier in the lunch department which is why mason jar salads have become a major thing. If you're new to the world of mason jar salads, essentially it's just building a salad inside a mason jar! The beauty of these meals is that they will keep for multiple days in the fridge because of how we pack them (more on that to come).
So if you've been struggling to find a healthy, easy, and quick lunch, you're in good hands today. This salad is not only delicious, but it might just be the answer to your lunchtime woes ????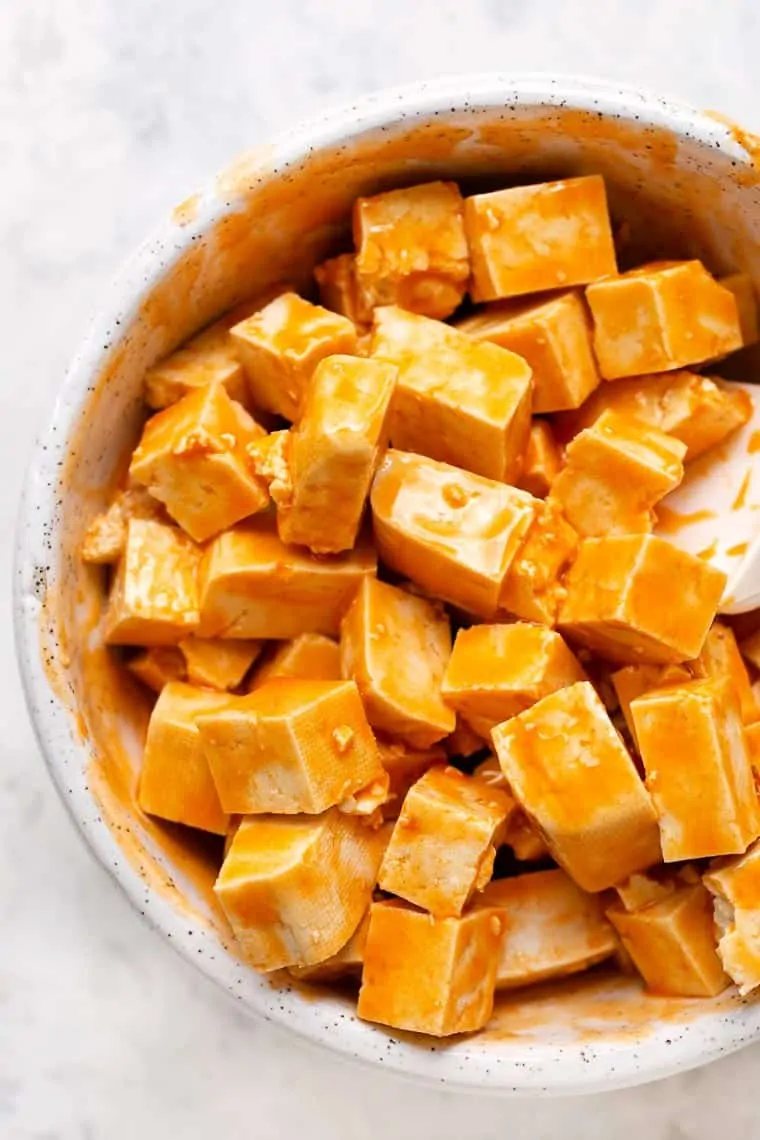 Our Salad in a Jar Ingredients
The thought behind this recipe is that I wanted to create a vegan buffalo chicken salad. I scoured Pinterest to see what typical ingredients are used with buffalo chicken, I came up with a list and put everything into a jar.
Instead of chicken, we're going to use extra firm tofu for our protein. I don't actually bother cooking the tofu since we're tossing it in buffalo sauce. It's super flavorful and I kind of like the non-cooked nature of it.
For our veggies, we're keeping it simple:
romaine
chopped celery
chopped cherry tomatoes
shredded carrot
Basically…these tofu mason jar salads are made up of the components you'd find with buffalo wings! And it TOTALLY works. This salad as so much flavor and tastes absolutely scrumptious.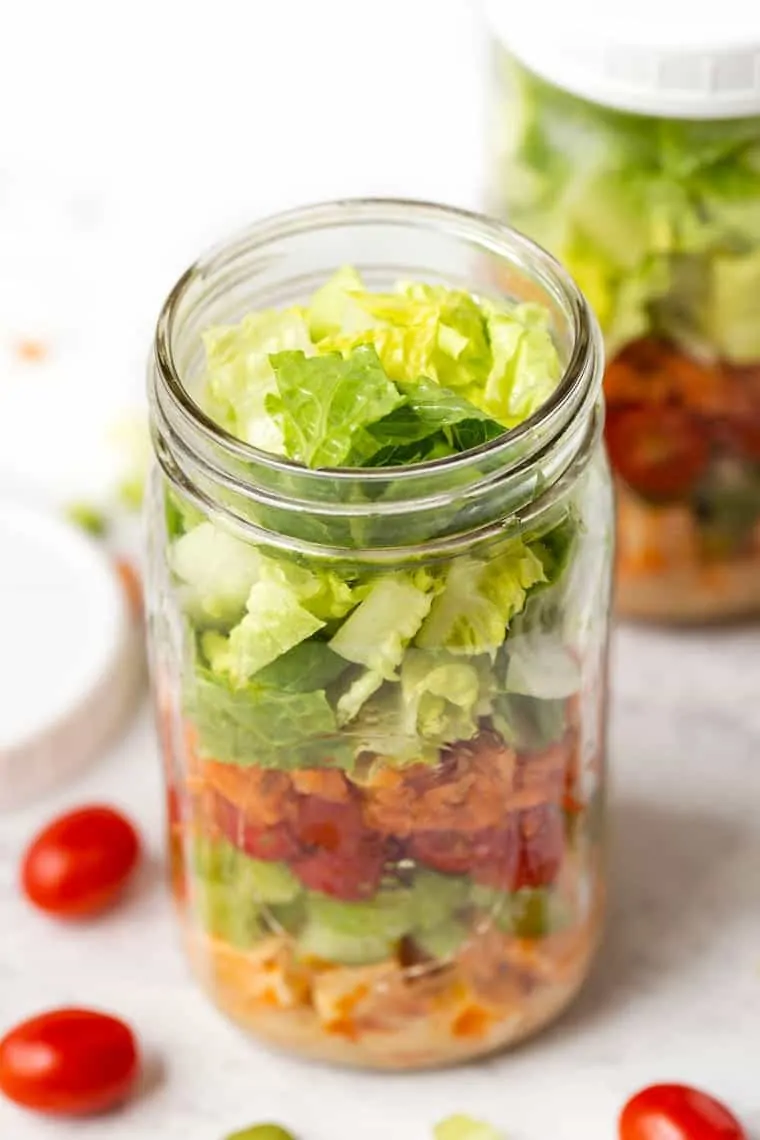 Best Size Mason Jar for Salads
Mason jars are awesome for so many things! I especially love using them in my pantry to store things like nuts, seeds, oats, sugar, etc. But they're also an awesome container to use for meal prep.
When you're making a mason jar salad, the best size to use is a quart (32 oz). I like to get the wide mouth ones because they're easier to stuff with ingredients and also easier to pour out of when you're ready to serve. But don't worry if you can't find those, the regular ones are fine.
The quart jars are just the perfect size for a single serving of salad. They allow you to cram in a lot of veggies and greens and don't leave you feeling too hungry. I definitely recommend picking some up for your office lunches! And also grab some of these plastic lids while you're at it – the metal ones they come with usually end up rusting!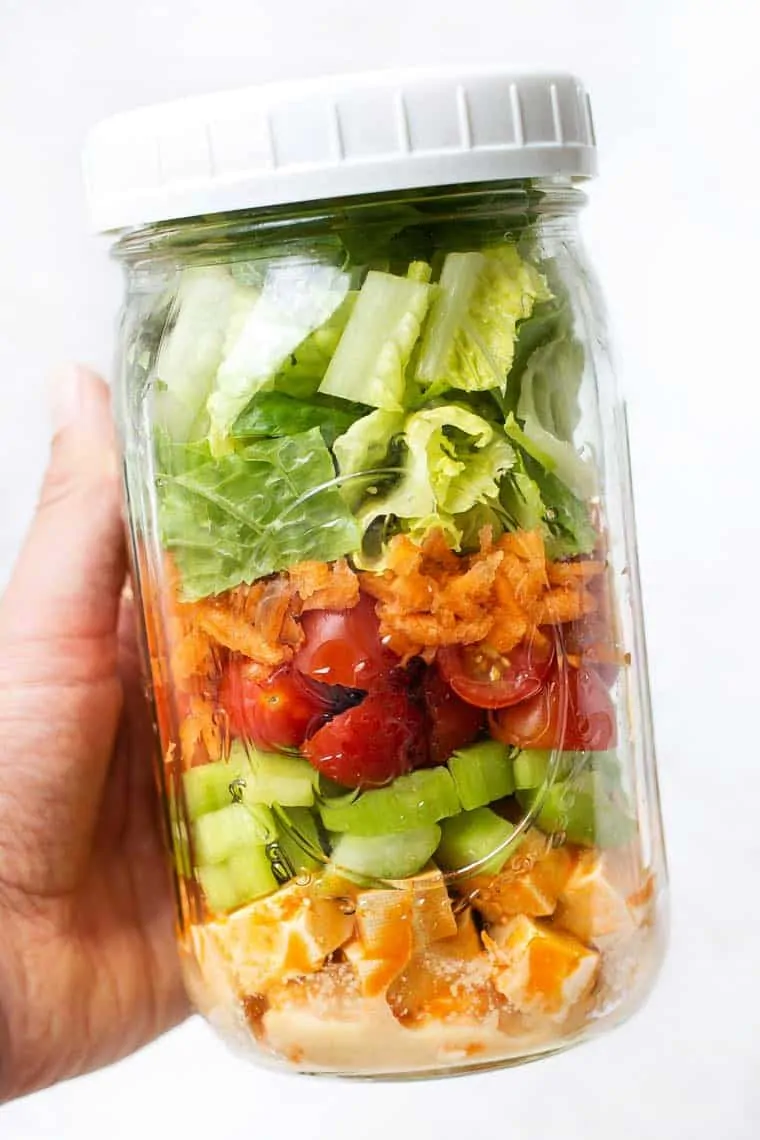 How to Make Mason Jar Salads
We've chatted about how to make mason jar salads before, but let's do a quick recap so you don't have to click around too much ????
You might think that mason jar salads are just a "stuff everything in the jar" type of recipe, but there is actually a formula to follow. The benefit of mason jar salads is that they're meal prep friendly, and if you don't follow the formula for making them, you'll end up with a soggy mess. And no one wants that!
So here's the step-by-step formula for making a mason jar salad:
make your dressing & pour it in the jar
add your protein (in this case tofu)
add the salad "toppings"
finish with your greens
The reason why we make them this way is two-fold; 1) the dressing and greens are separated so there's less risk for sogginess, and 2) when you dump the salad into your bowl, you'll have the greens on the bottom and dressing on top.
It's pretty darn perfect!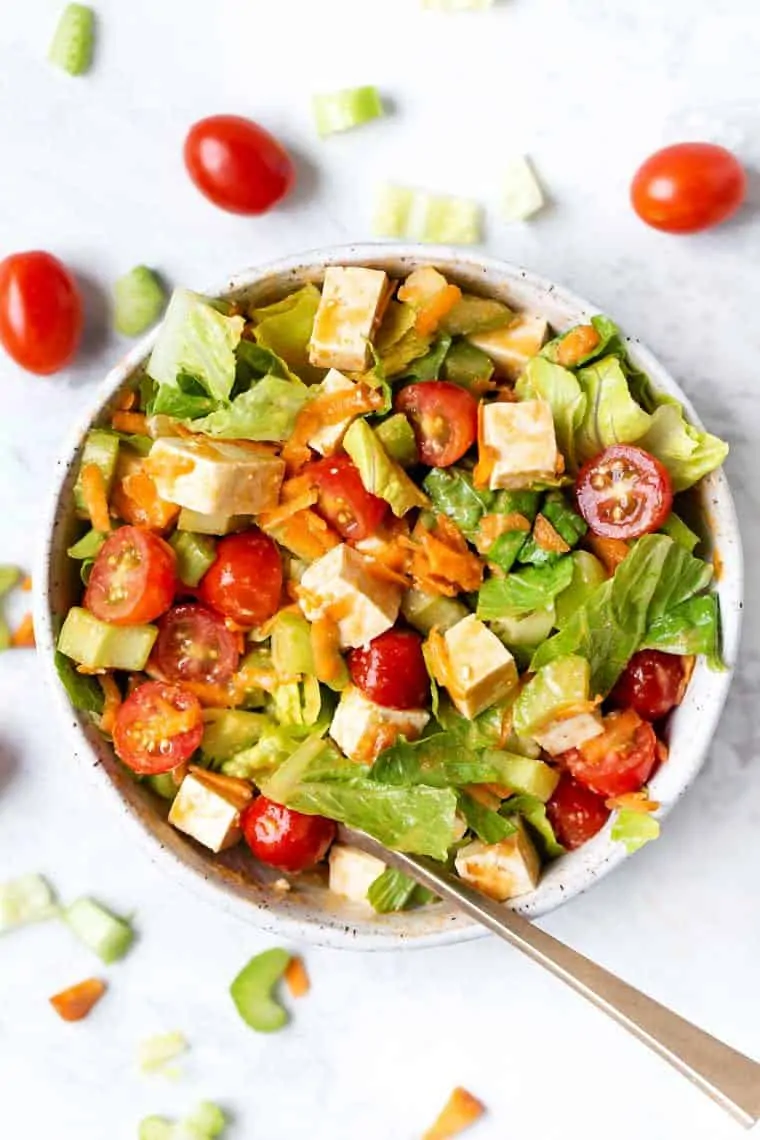 Easy Buffalo Tofu Mason Jar Salads
These tofu mason jar salads are probably one of the easiest meal prep recipes ever. It takes some chopping, but once you've got everything prepped, you just assemble and go. It's quick and absolutely delicious!
I recommend keeping these salads on hand for at least a few days. They'll remain good in the fridge and won't get soggy (especially since we're using crunchy romaine). The other benefit of meal prepping these salads? They only get more flavorful along the way!
If you end up making this yummy salad, make sure to share a photo with me on Instagram by tagging @simplyquinoa! ❤️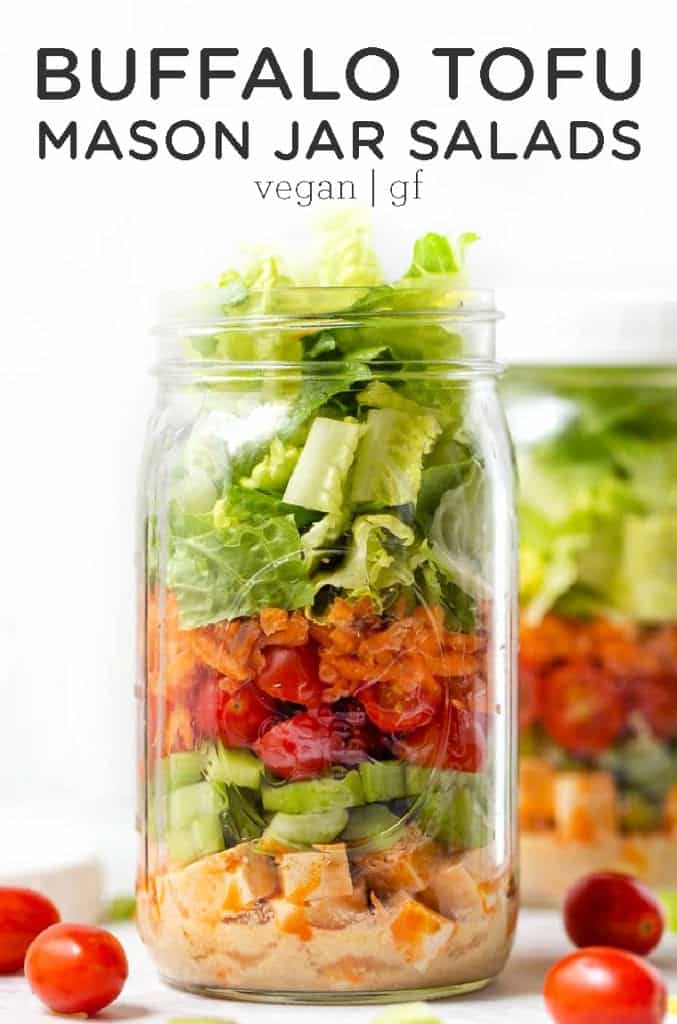 More Healthy Mason Jar Salad Recipes
Buffalo Tofu Mason Jar Salad
These healthy Tofu Mason Jar Salads are the ultimate vegan meal prep recipe. Made with buffalo tofu, a creamy dressing, greens, and so many more goodies!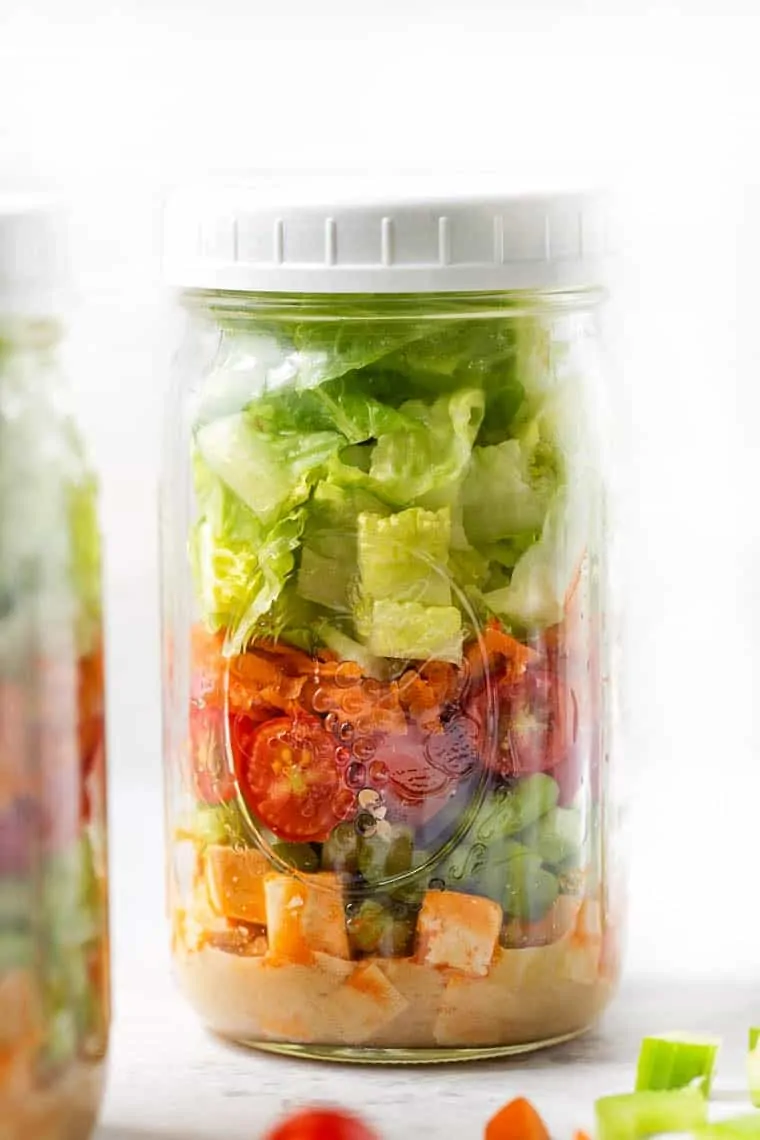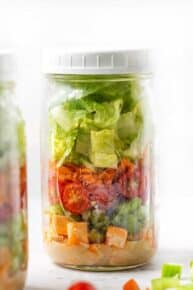 Instructions
Start by tossing the tofu and buffalo sauce together in a small bowl. Set aside.

In a separate small bowl, whisk together the dressing ingredients. Stir together and add a splash or two of water if needed to thin it out. Divide the dressing between the two mason jars.

Assemble the salad in layers. Start with the tofu on the bottom, followed by the celery, carrot, tomato, and top with the romaine. Seal the lid and store in the fridge until ready to eat.

When ready to serve, simply pour the contents of the jar into a bowl and enjoy!
Nutrition
Serving:
1
serving
|
Calories:
223
kcal
|
Carbohydrates:
20
g
|
Protein:
15
g
|
Fat:
11
g
|
Saturated Fat:
2
g
|
Sodium:
1685
mg
|
Potassium:
990
mg
|
Fiber:
6
g
|
Sugar:
8
g
|
Vitamin A:
19470
IU
|
Vitamin C:
27
mg
|
Calcium:
140
mg
|
Iron:
4
mg