These Fall Harvest Mason Jar Quinoa Salads are the perfect seasonal meal and great for meal prep. They're packed with protein, simple to make and delicious!
When it's 40ºF and howling wind does that mean we can't eat salad anymore? Heck to the no!
I'm all about enjoying those dark leafy greens even during the cooler months, but I do think it's important that we balance them out with some perfectly roasted veggies on top.
You see, for many of us, our bodies start to crave hearty, warm foods in the winter. That's natural. And there's an actual reason behind it. Our body needs more fuel in the colder months because it requires more energy to stay warm. So when it comes to our digestion, our body wants foods that are easy on the system, don't take a ton of extra energy to digest, and also are nourishing and substantial. Thus the craving for warm, cooked foods.
I've talked about this before in a few videos, but cooked foods, especially vegetables are often much easier on our digestion that raw.
Firstly, raw vegetables take longer to chew and many of us (myself included) aren't chewing them enough. That means when the food hits our stomach, it's not fully "digestible" and it's harder for our stomach to break it down before it moves into our intestines.
Have you heard the phrase, "our stomach doesn't have teeth"? That's where it comes from. It's just remembering that our teeth are there to break down our food as much as possible before it gets to our stomach.
Now chewing aside, another benefit of cooking your food vs. eating it raw, is that when we cook our food (essentially heating it), it breaks down the cell walls of the plants and makes it a) easier to digest and b) the nutrients are often more readily available to us for consumption.
Does that mean that we should only be eating cooked foods during the winter? Some will say yes, I say no.
I think having a balance is totally fine. And that's how I structure many of my meals. Salads for example, I'll have raw spinach or greens and then cooked foods on top. If I'm having a smoothie, I'll do raw fruit and cooked/steamed veggies.
It's all about trying your best to support your body and give it what it needs when it needs it. So for me, wintertime means a lot of cooked food. Summertime, I'll add more raw foods.
If you want to learn more about this, you can read this article!
Let's talk salad. Specifically, this Fall Harvest Mason Jar Quinoa Salad!
As you can tell from the photo above, we've got a good balance of cooked and raw, lots of protein, healthy fats and complex carbohydrates. Basically, everything you need for a balanced meal.
Our base is a lovely miso-tahini dressing, cooked chickpeas for protein, cooked quinoa for protein and fiber, roasted sweet potatoes and brussels sprouts for seasonal, hearty goodness, chopped pecans for crunch and healthy fats and spinach.
It's the perfect blend and you are seriously going to LOVE this recipe!
I share another mason jar salad recipe with you over the summer, but if you're new to this trend, let me explain:
Mason jar salads are exactly as they sound: a salad built in a mason jar! But the point of them is that you can build your entire salad, in a strategically layered way, so that all you have to do is dump it out into a bowl or plate and you're good to go.
One container. No sogginess. Just pure goodness.
You want to start with your dressing on the bottom, followed by protein and grains, then your veggies, your garnishes and finishing off with your greens.
The reason for this is that when you dump your salad onto your plate, it's going backward. So your greens will be on the bottom, then everything else and your dressing is on top. It's perfect!
Plus with the dressing on the very bottom, the chance of soggy, wilted greens is minimal. (<– no one wants soggy salad!)
So moral of this story is that you can (and should!) still enjoy your salad this fall and winter, just think about also adding some foods on top that will fuel your digestive fire and support that gorgeous body of yours!
I know you're going to just adore this recipe and can't wait to see your recreations ❤️ make sure to tag me on Instagram @simplyquinoa or #simplyquinoa so I can easily find your photo and give you some love in return!
More Healthy Lunch Ideas:
Fall Harvest Mason Jar Quinoa Salad
These Fall Harvest Mason Jar Quinoa Salads are the perfect seasonal meal and great for meal prep. They're packed with protein, simple to make and delicious!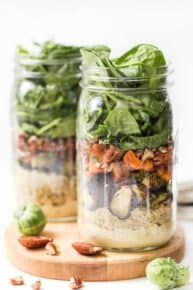 Instructions
Preheat the oven to 425ºF.

Add sweet potatoes and brussels sprouts into a bowl. Drizzle with olive oil and season with salt and pepper. Toss to combine, then transfer to a baking sheet and bake for 30 minutes. Flip halfway through so as not to burn. Allow the veggies to cool completely before making the salads.

While the veggies are roasting, prepare the dressing. Whisk together all the ingredients in a small bowl. Add water, 1 tablespoon at a time until you reach a consistency that is creamy, smooth and can be easily poured out of the bowl.

When ready to assemble the salads, grab two wide mouth mason jars (quart size). Divide the dressing evenly among the two jars, then top each with 1/2 cup chickpeas, 1 cup cooked quinoa, half of the roasted veggies, 1/4 cup pecans and 2 cups spinach. Seal the jars and leave in the fridge for at up to 5 days.
Nutrition
Calories:
796
kcal
|
Carbohydrates:
99.8
g
|
Protein:
24.4
g
|
Fat:
36.5
g
|
Saturated Fat:
4.4
g
|
Sodium:
706
mg
|
Fiber:
20
g
|
Sugar:
8.9
g
Filed Under: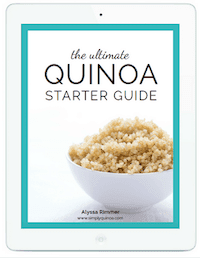 New to cooking quinoa? Grab your FREE Quinoa Starter Guide!
Become part of the Simply Quinoa community and receive weekly emails with exclusive content that I only share in email, as well as my in-depth guide to starting your quinoa journey.